Part 32: Your Best Nightmare
BGM: Once Upon a Time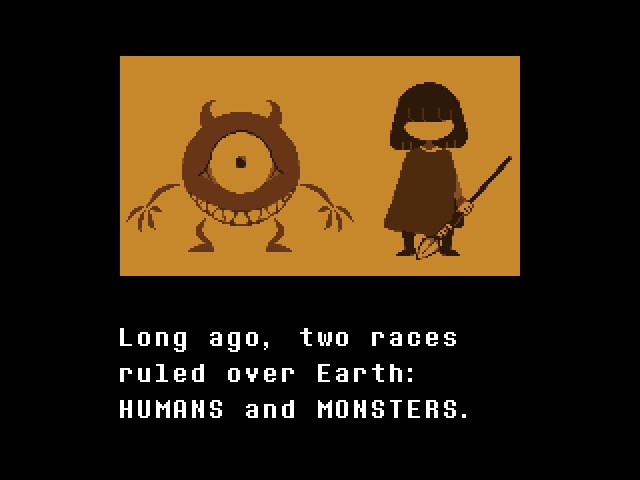 The story begins.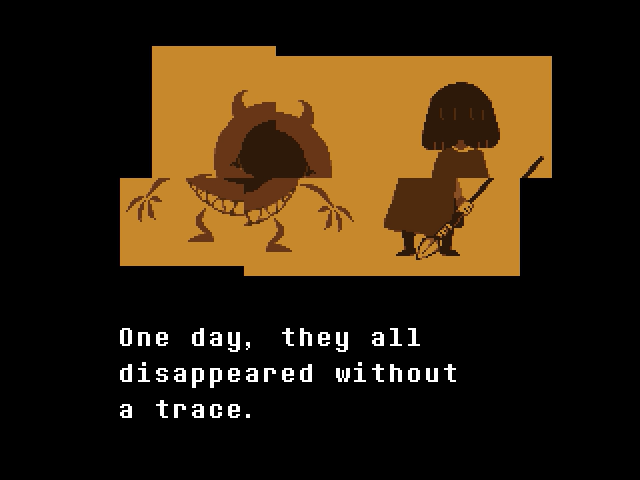 BGMBGMBGMBGMBGMBGMBGMBGMBGMBGMBGMBGMBGMBGMBGMBGMBGM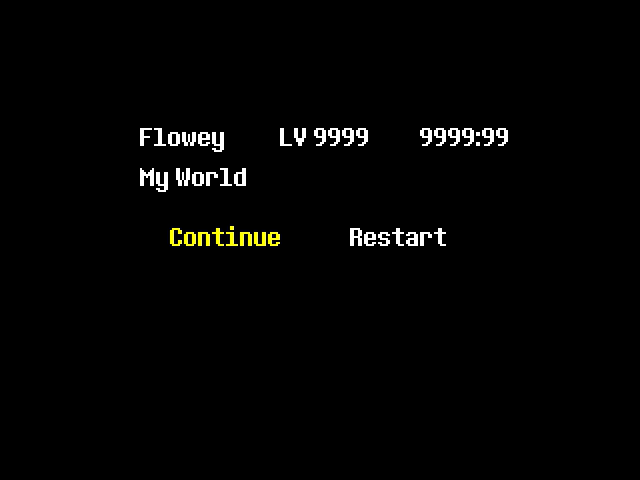 I load somebody's game.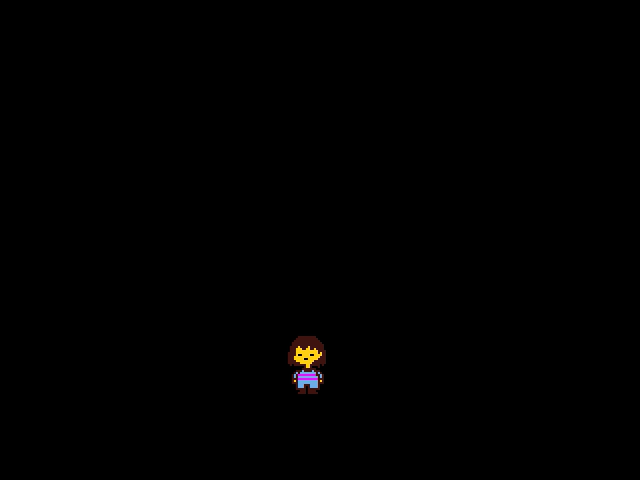 BGM: Silence
I head to the north.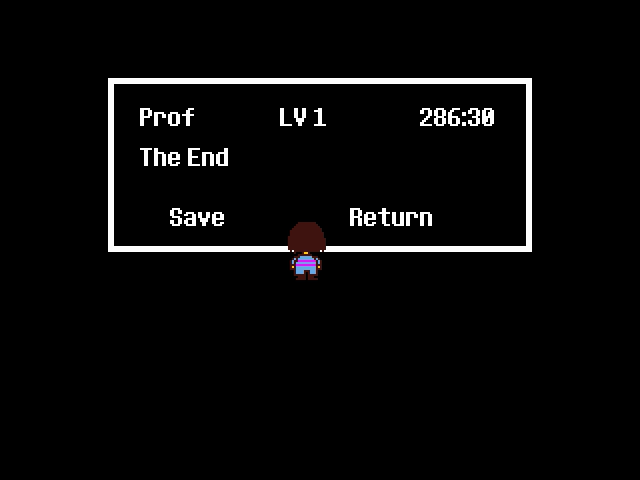 I save my g--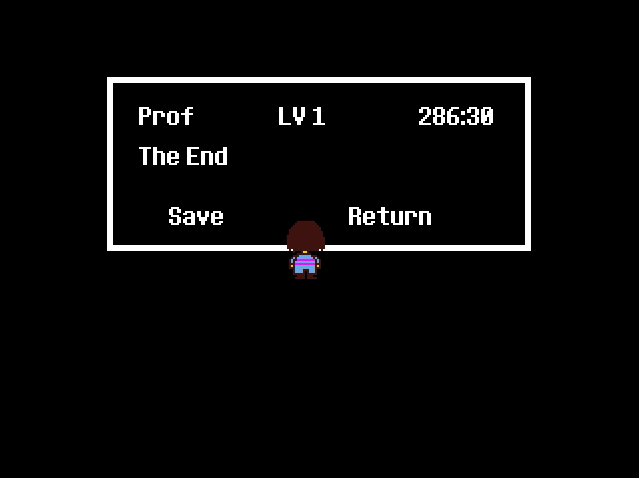 BGM: You Idiot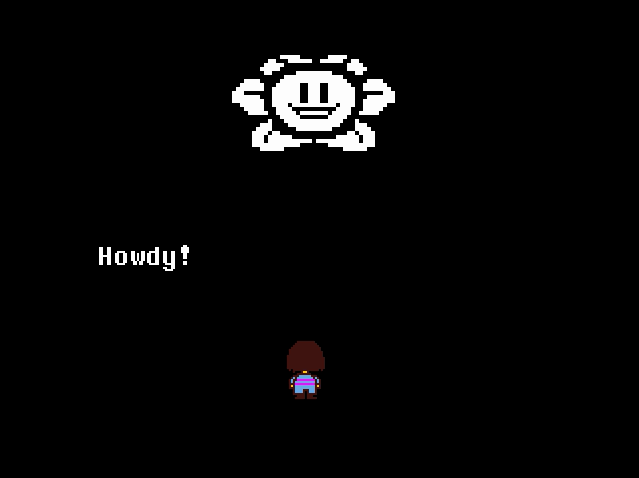 It's me, FLOWEY.

FLOWEY the FLOWER!

I owe you a HUGE thanks.

You really did a number on that old fool.

Without you, I NEVER could have gotten past him.

But now, with YOUR help...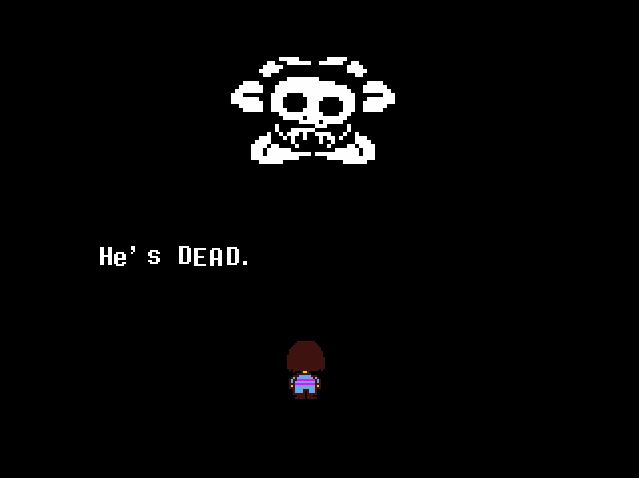 And I'VE got the human souls!

Boy!

I've been empty for so long...

It feels great to have a soul inside me again.

Mmmm, I can feel them wriggling...

Awww, you're feeling left out, aren't you?

Well, that's just perfect.

After all, I only have six souls.

I still need one more...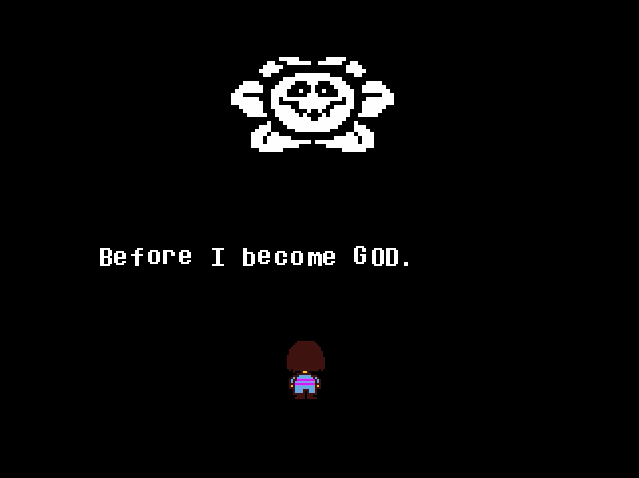 And then, with my newfound powers...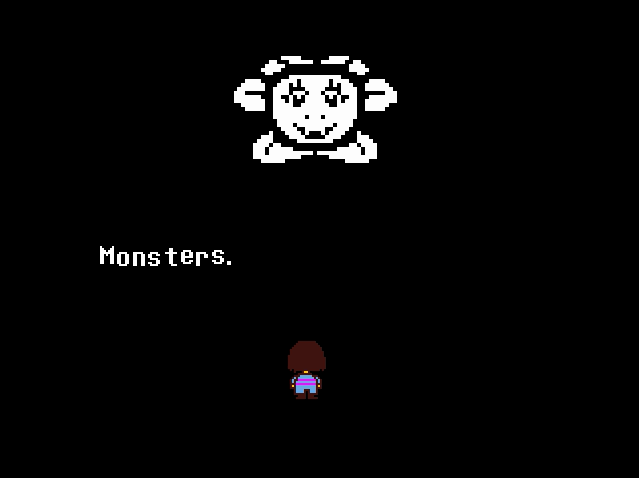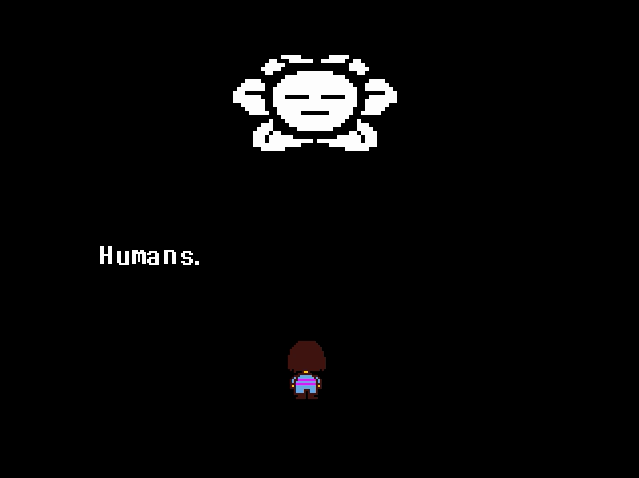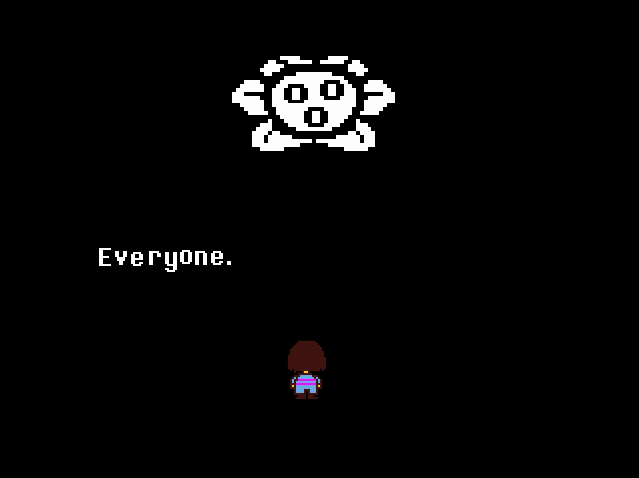 I'll show them all the REAL meaning of this world.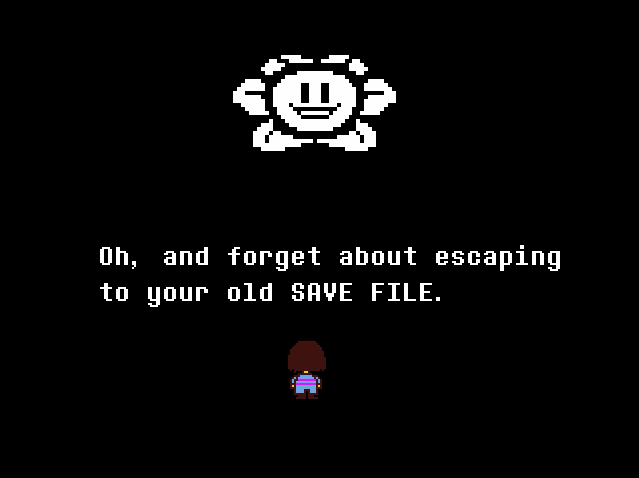 It's gone FOREVER.

But don't worry.

Your old friend FLOWEY...

Has worked out a replacement for you!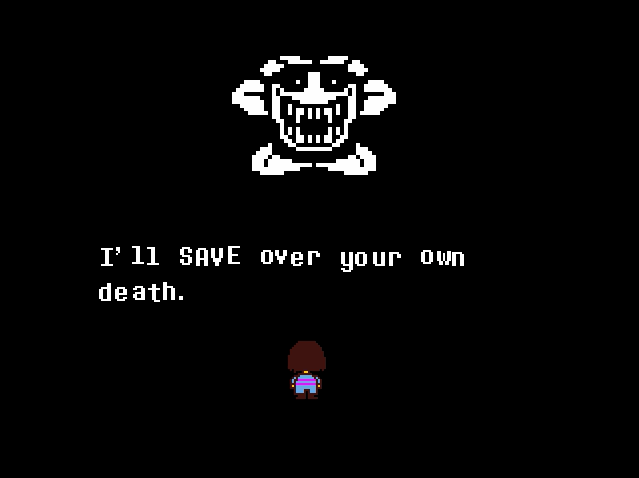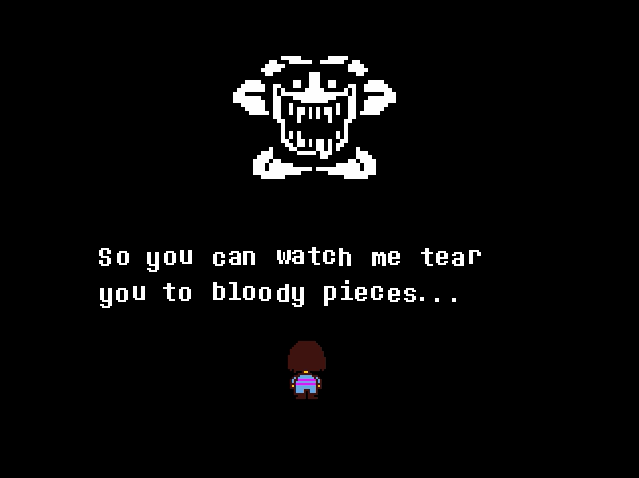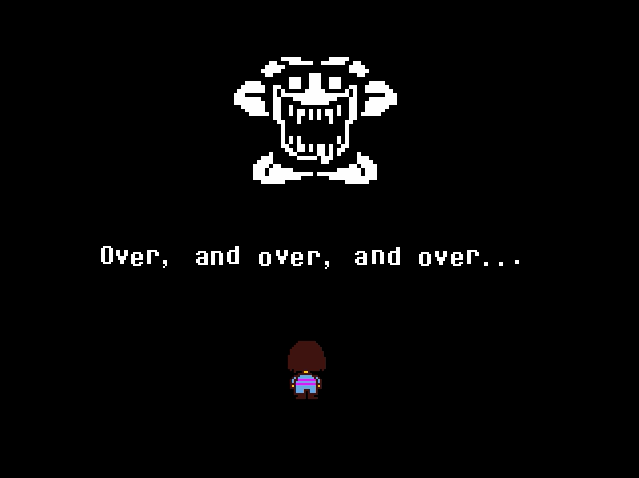 I step forward.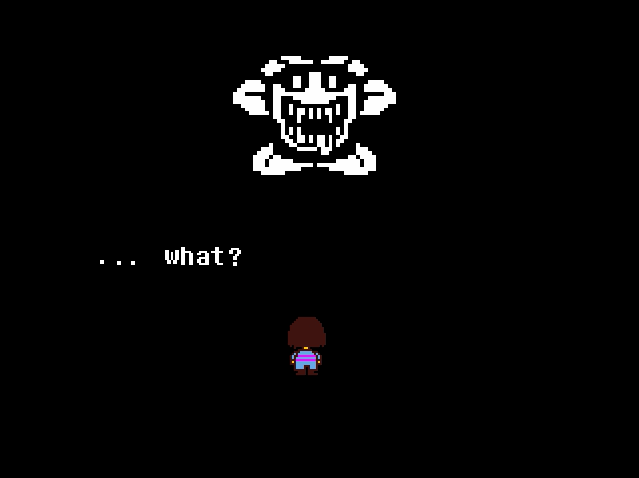 Do you really think you can stop ME?

Hee hee hee...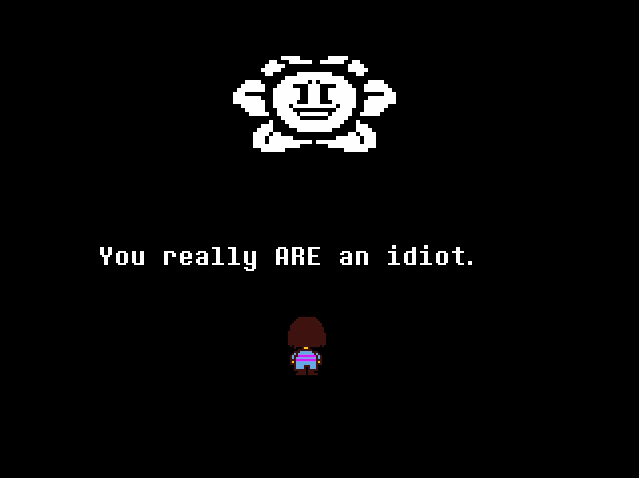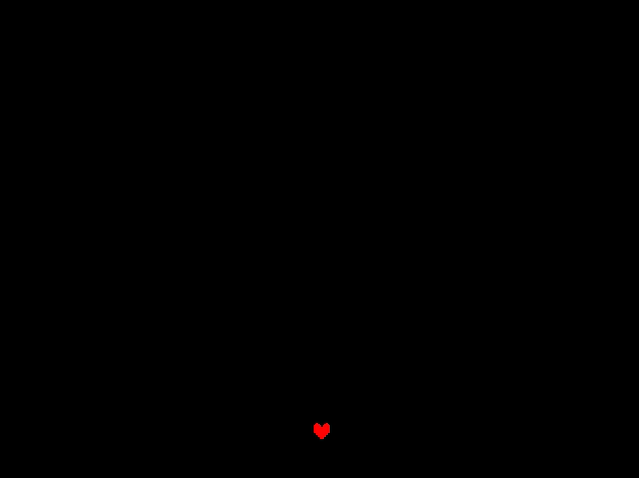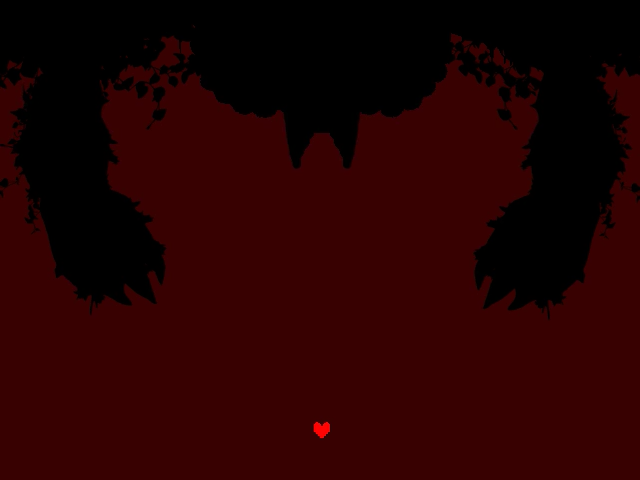 Video: LOVE 9999

(Please watch the video. Flowey's true form cannot be contained within mere screenshots.

Song is Your Best Nightmare. Boss art is by our very own Everdraed.)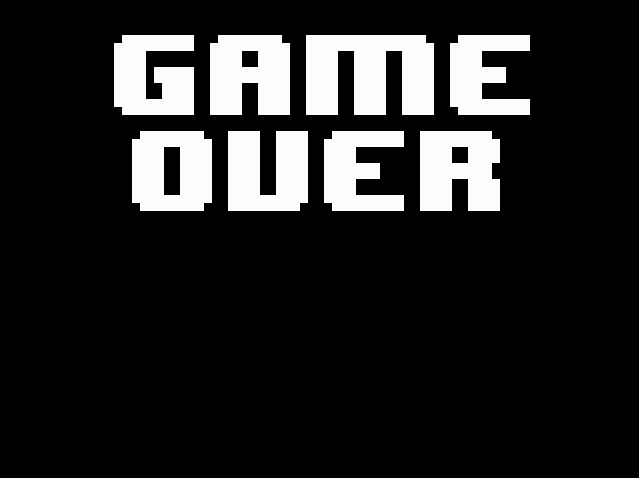 BGM: Determination
?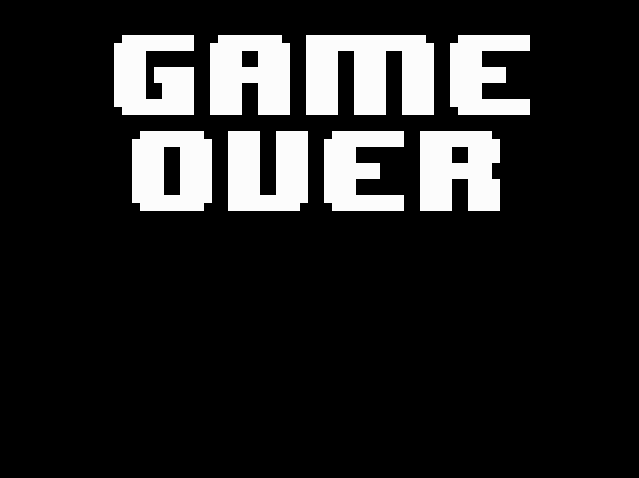 BGM.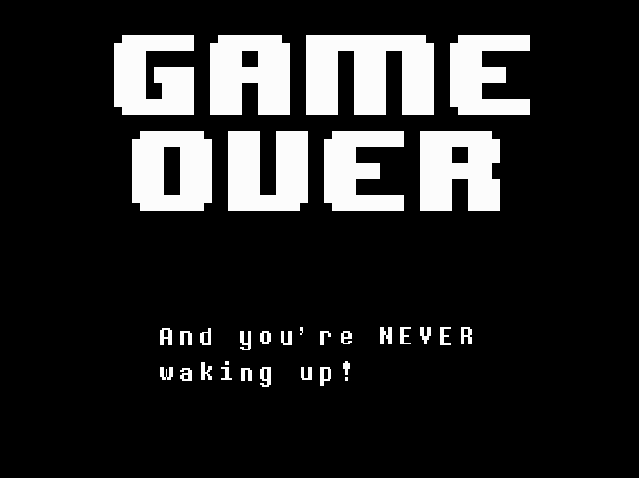 I restart Undertale, and load my--


Did you really think I was gonna be satisfied...

...killing you only ONE time?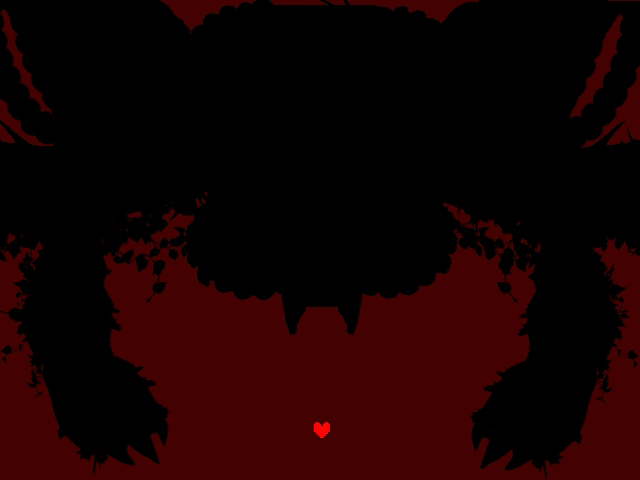 Video: But Nobody Came

(Watch this.

The other song used is Finale.)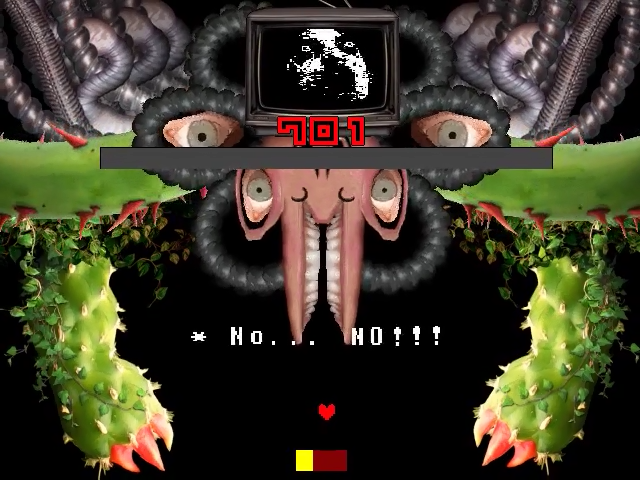 This CAN'T be happening!!!

You... YOU...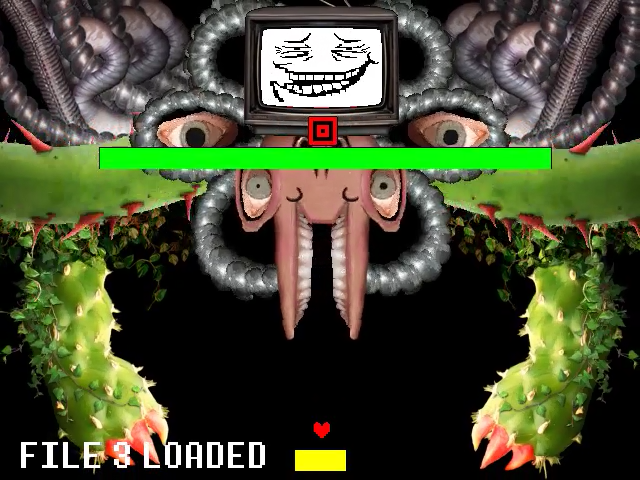 You IDIOT.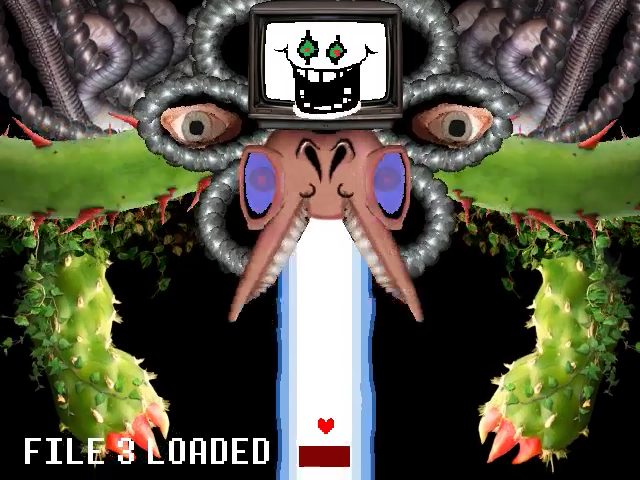 Flowey kills me.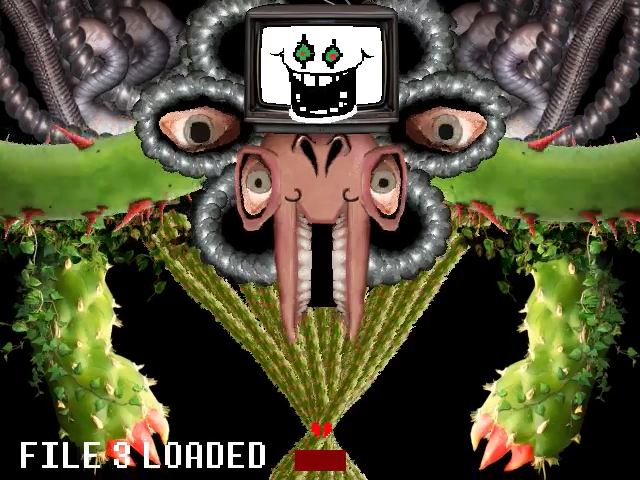 Then, loads his game, and kills me again.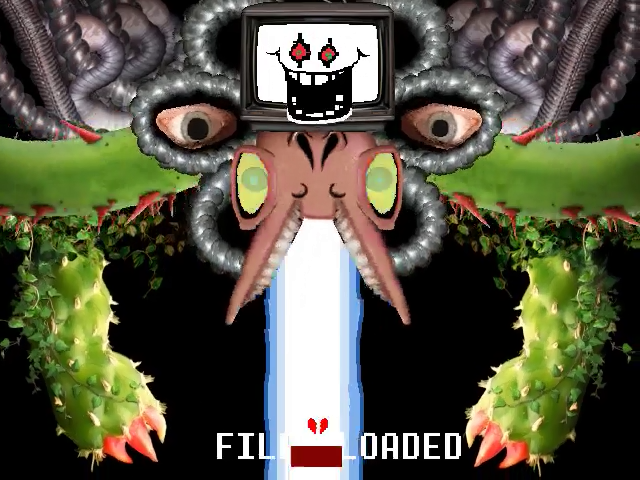 Again, and again, and again, and again, and again.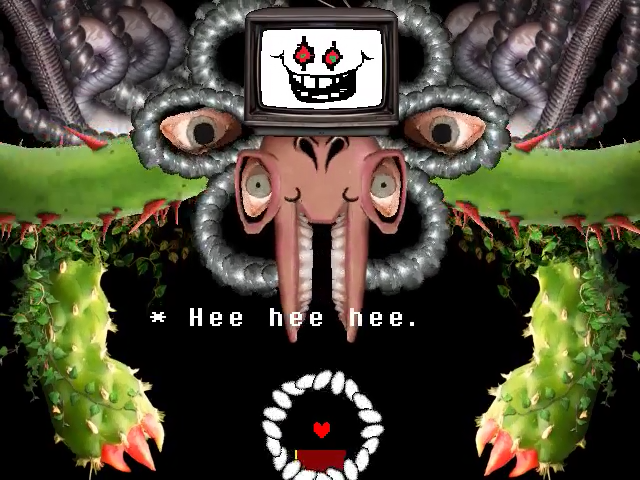 BGM: You Idiot

Did you REALLY think...

You could defeat ME!?

I am the GOD of this world.

And YOU?

You're HOPELESS.

Hopeless and alone...

Golly, that's right!

Your WORTHLESS friends...

...can't save you now.

Call for help. I dare you.

Cry into the darkness!

"Mommy! Daddy! Somebody help!"

See what good it does you!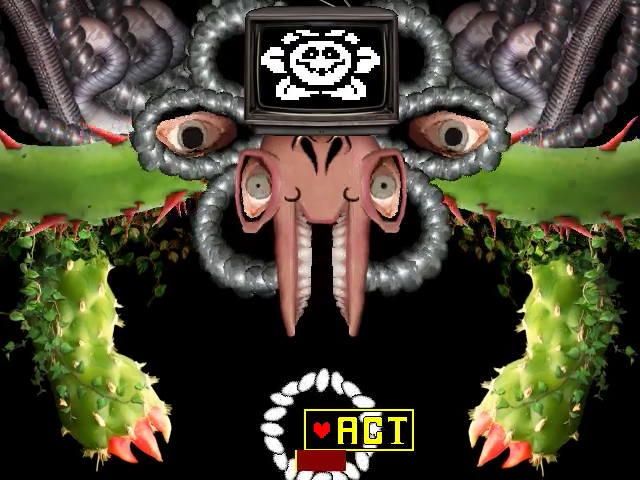 (You called for help.)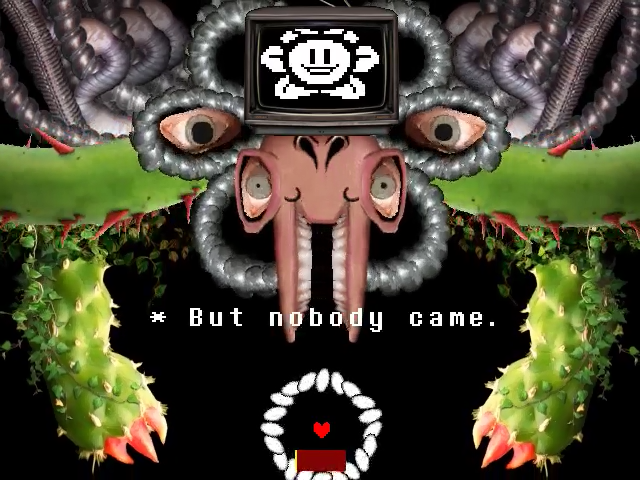 BGM: Silence

Boy! What a shame!

Nobody else...

Is gonna see you DIE!!!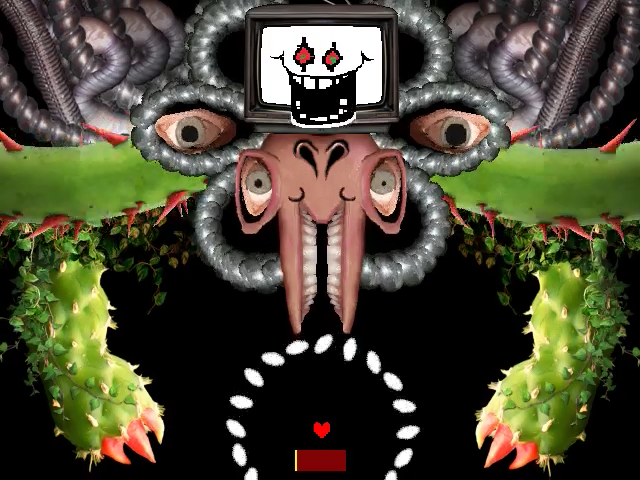 The ring of bullets expands, then slowly shrinks back down.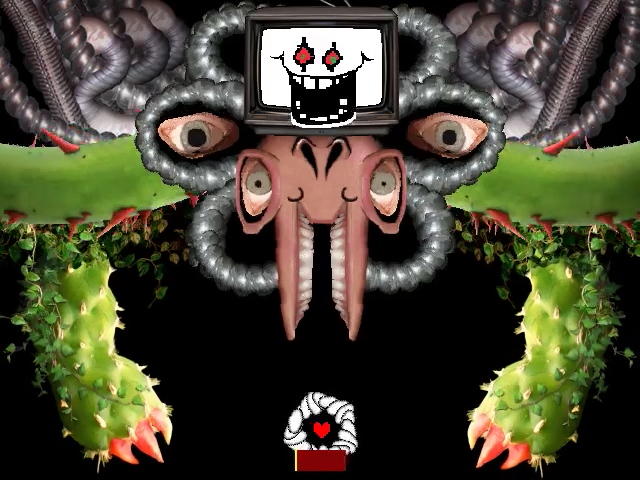 Well, it's been fun, but I guess the LP is about to end.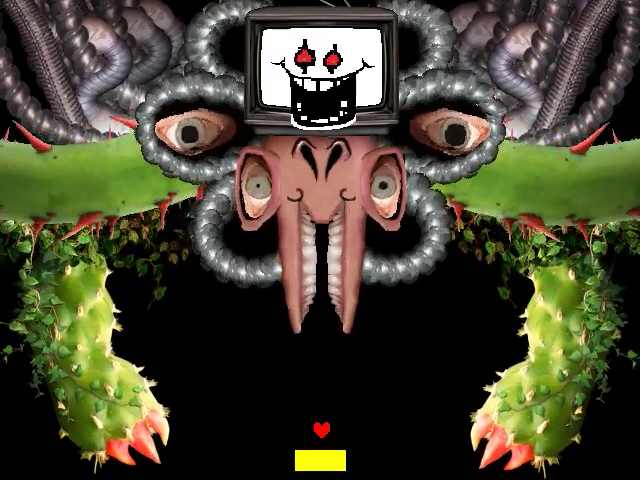 What?

How'd you...?

Well, I'll just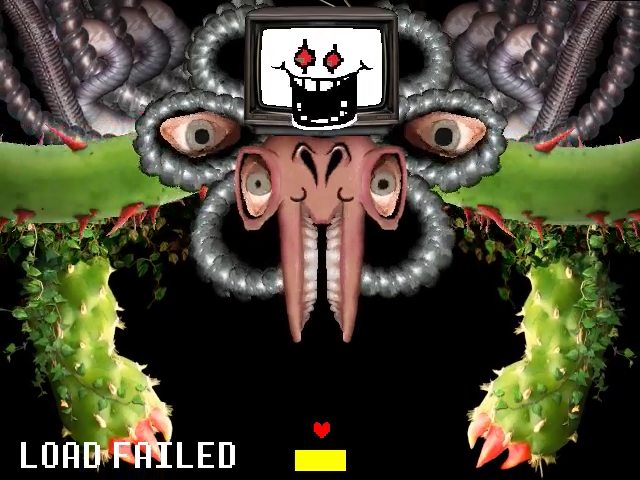 Wh...

Where are my powers!?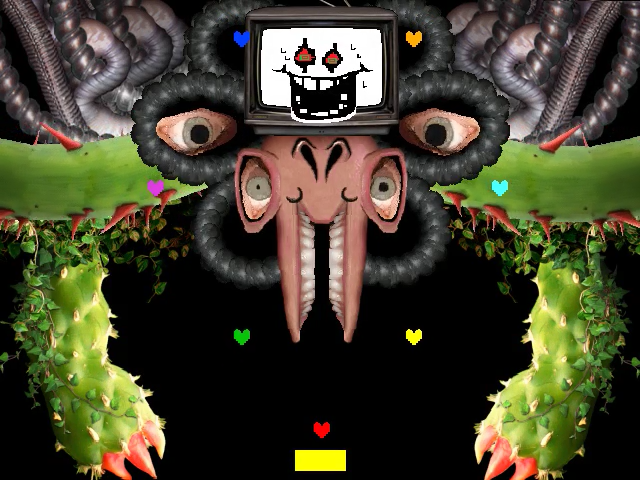 The souls...?

What are they doing?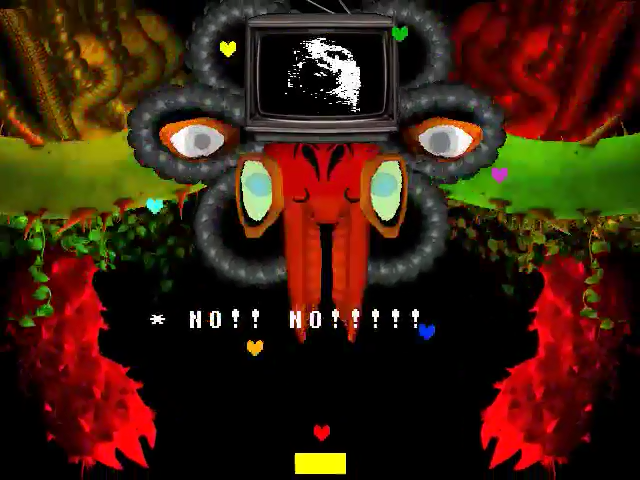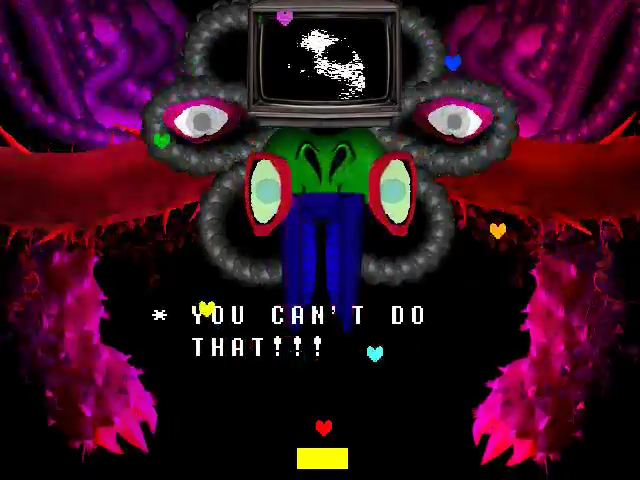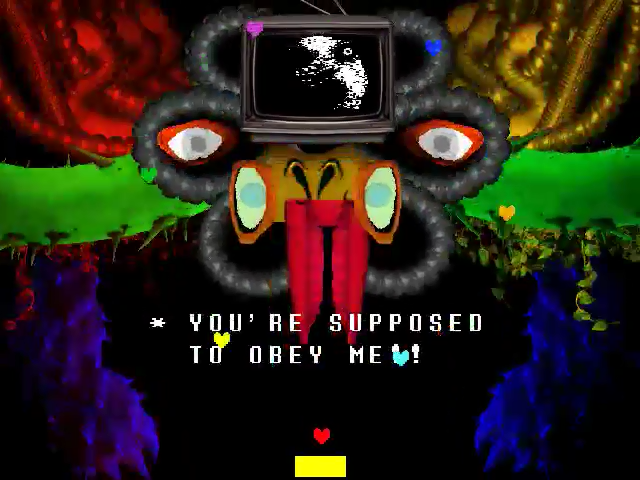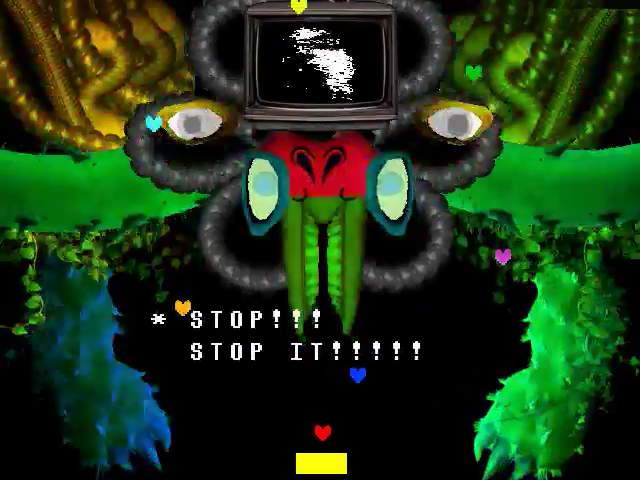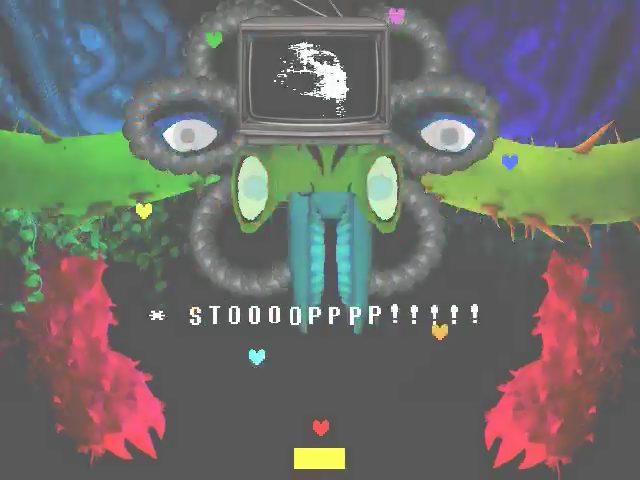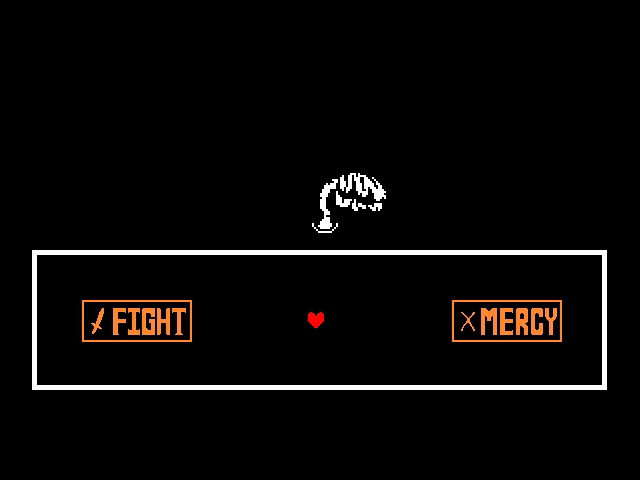 Flowey deserves to die.
If I killed him now, his suffering would be nothing compared to what he was going to do to the entire world.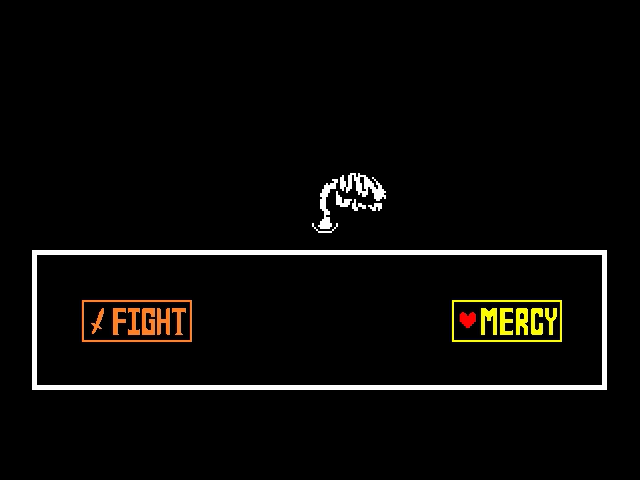 But he's wrong.
In this world, it isn't kill or be killed.


What are you doing?

Do you really think I've learned anything from this?

No.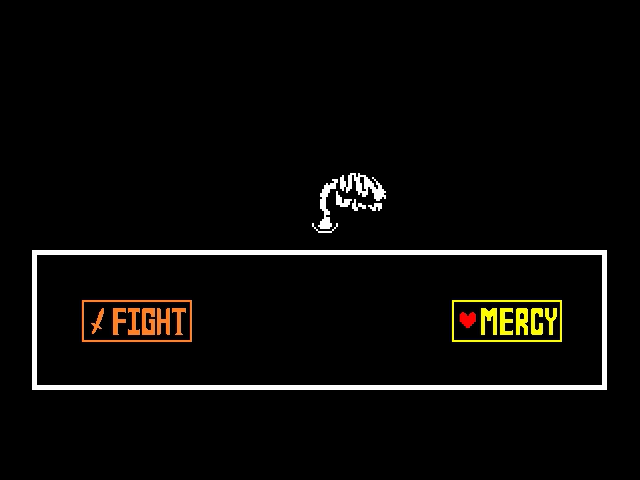 Sparing me won't change anything.

Killing me is the only way to end this.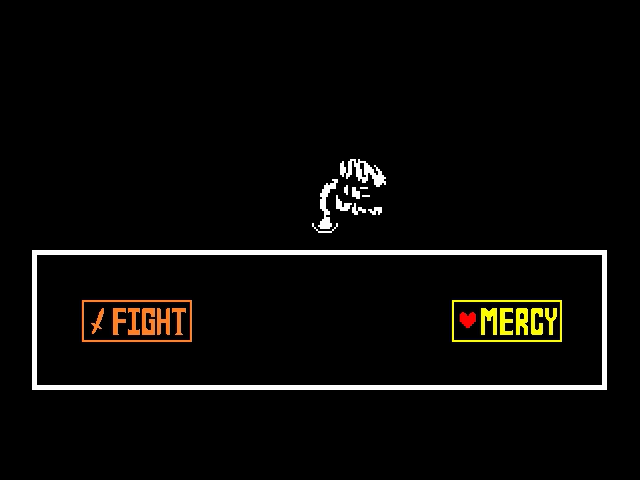 If you let me live...

I'll come back.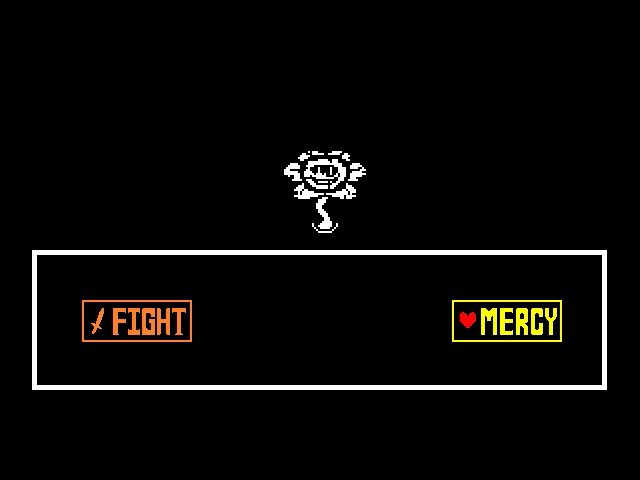 I'll kill you.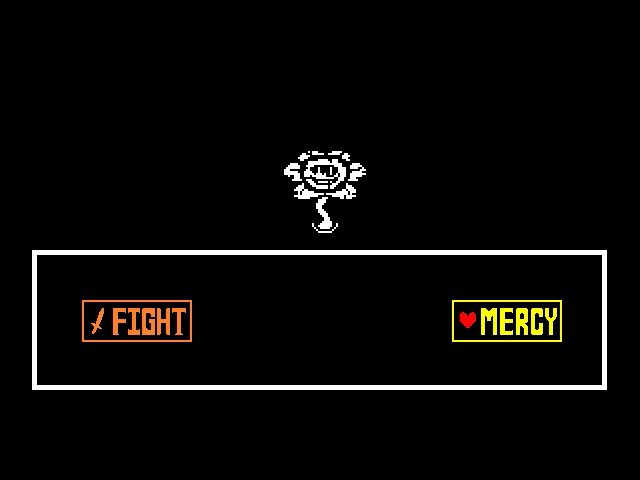 I'll kill everyone.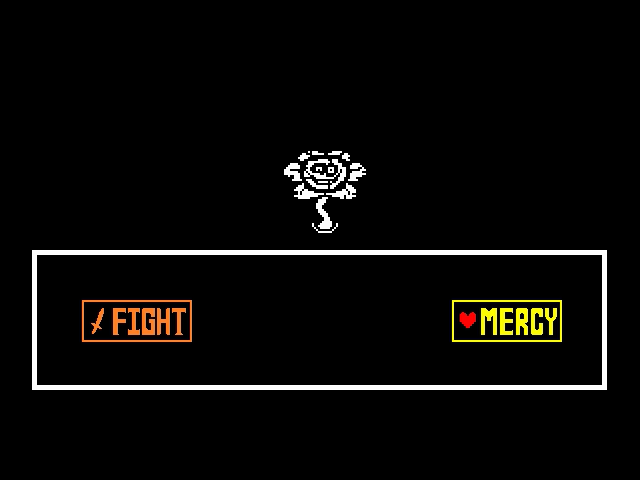 I'll kill everyone you love.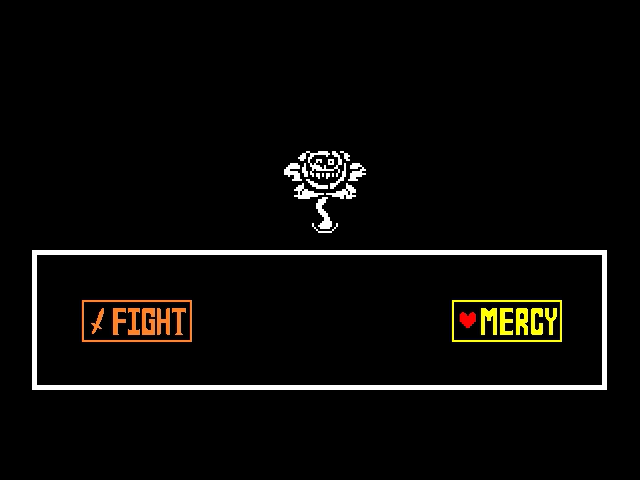 ...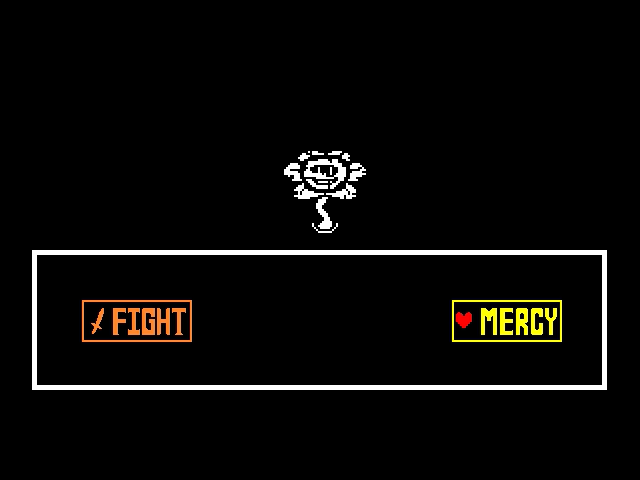 ...?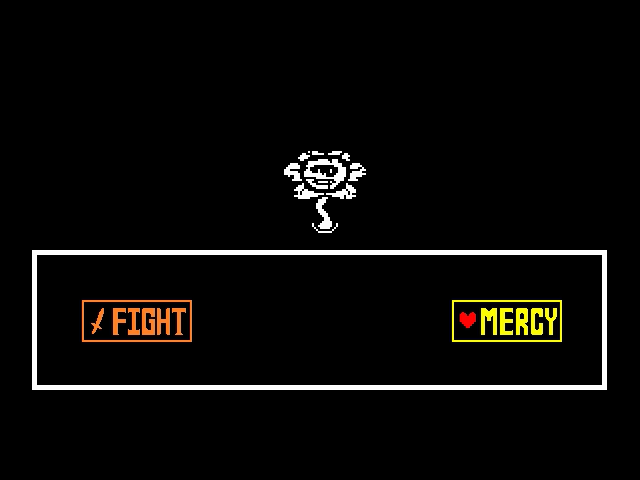 ...why?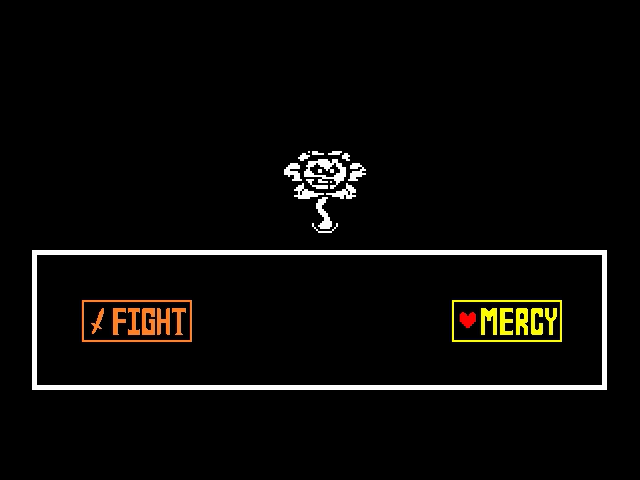 ...why are you being...

...so nice to me?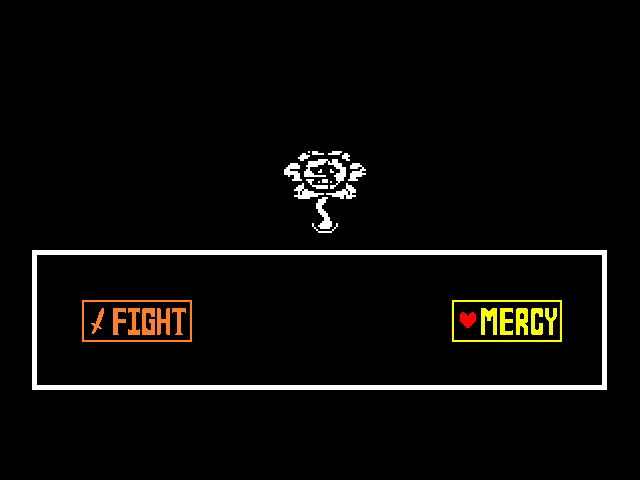 I can't understand.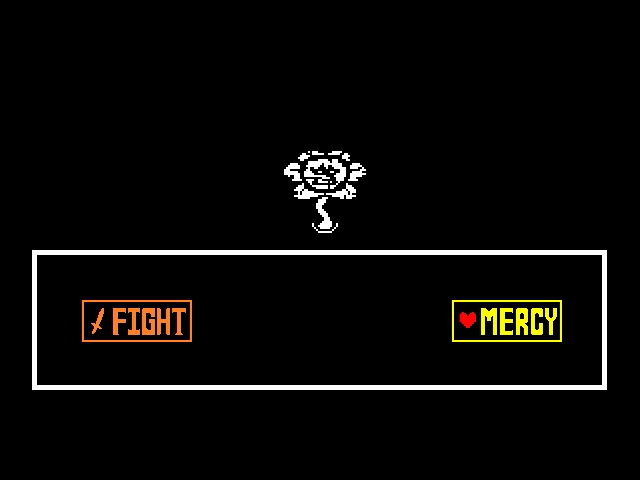 I can't understand!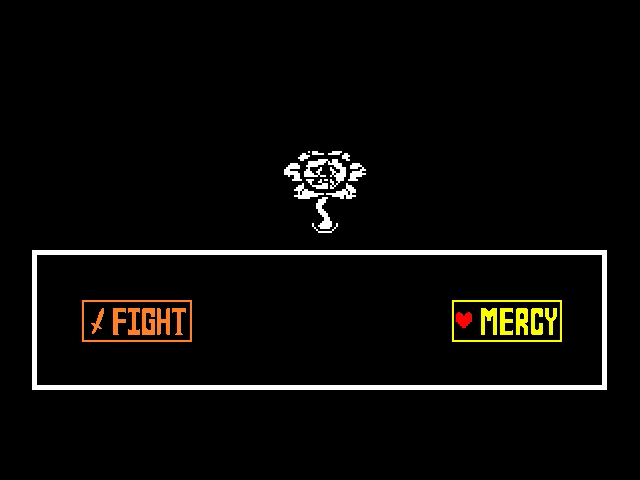 I just can't understand...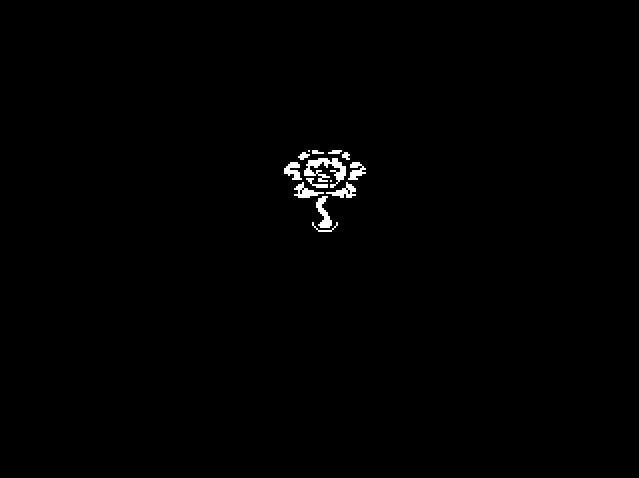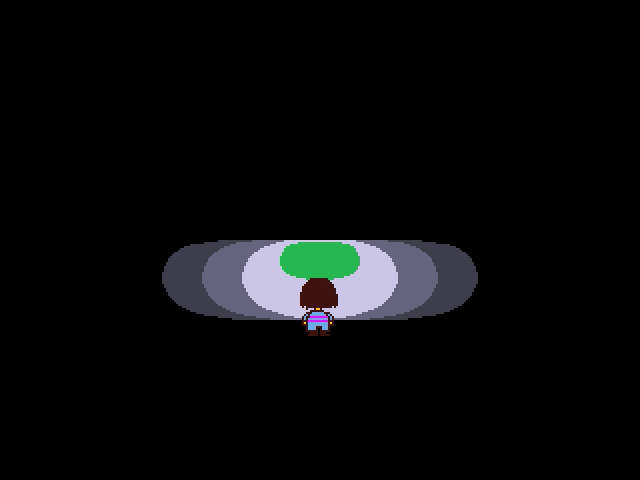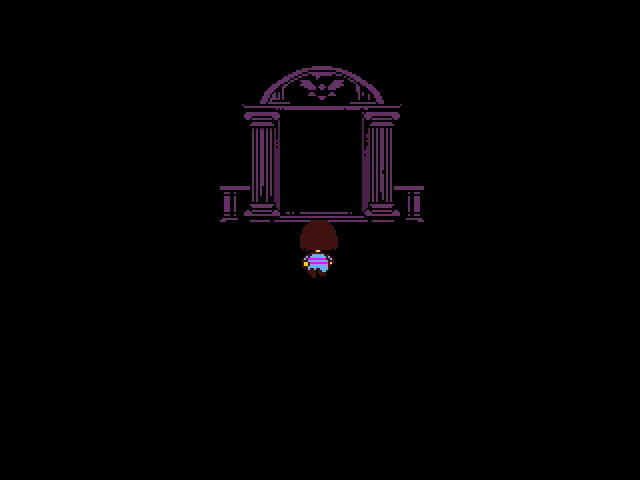 I leave the underground.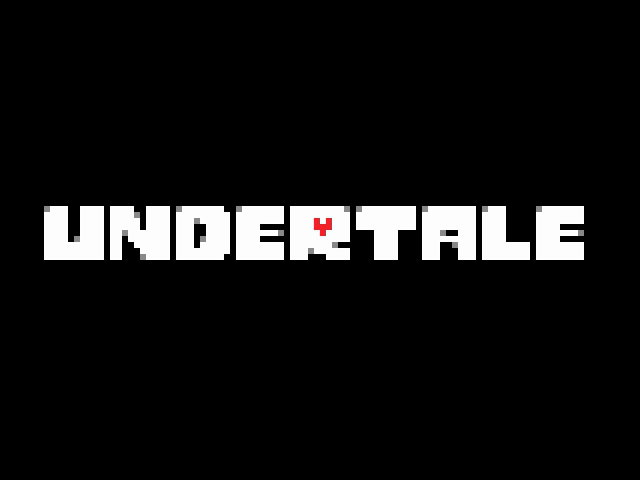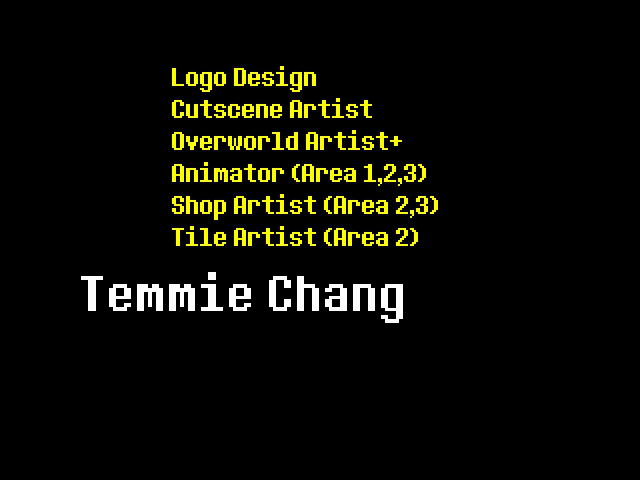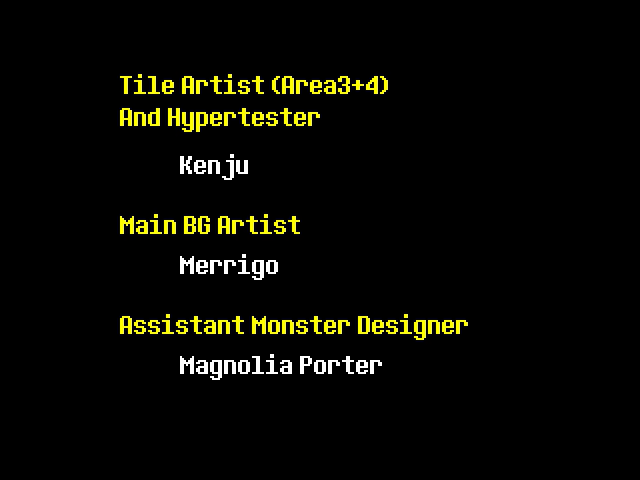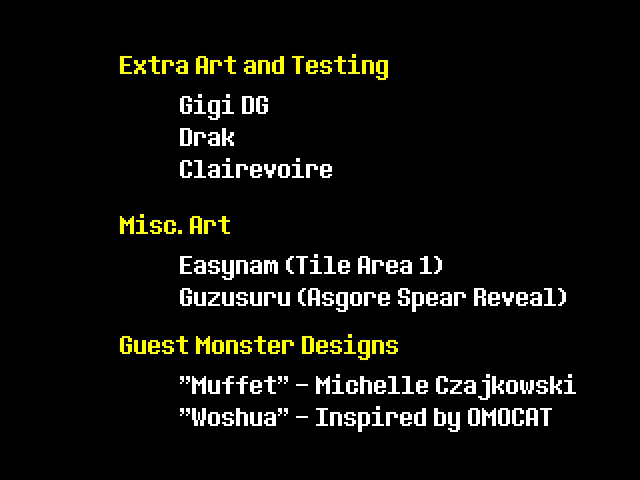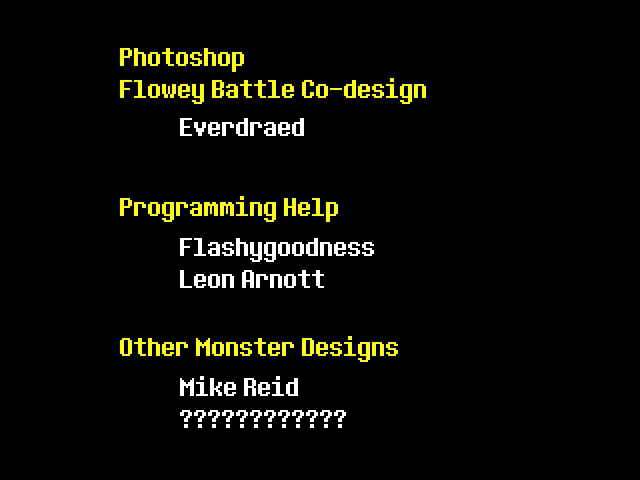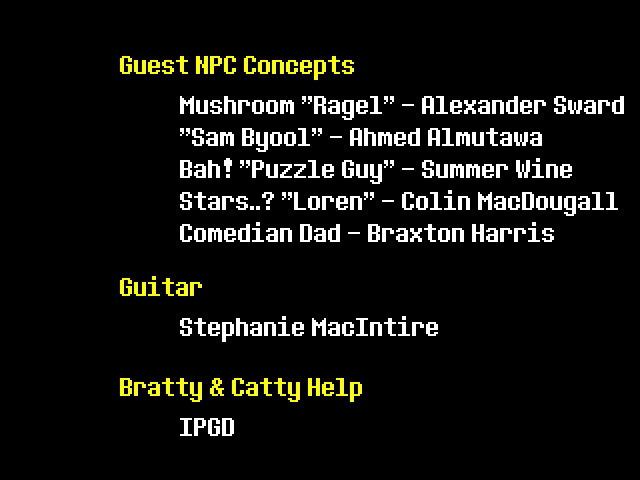 Much later, a phone rings.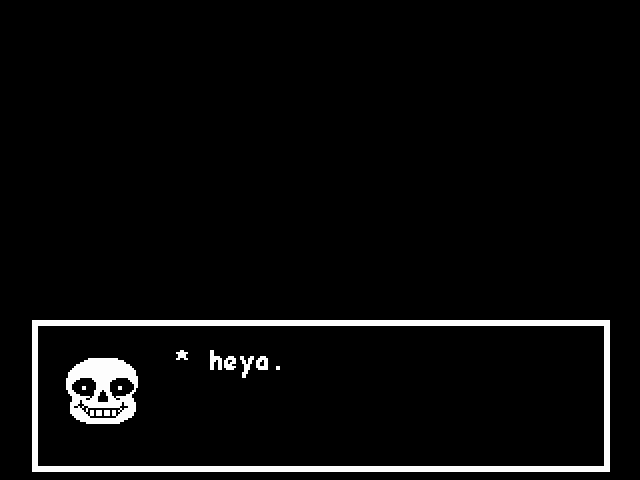 is anyone there...?

well... just calling to say.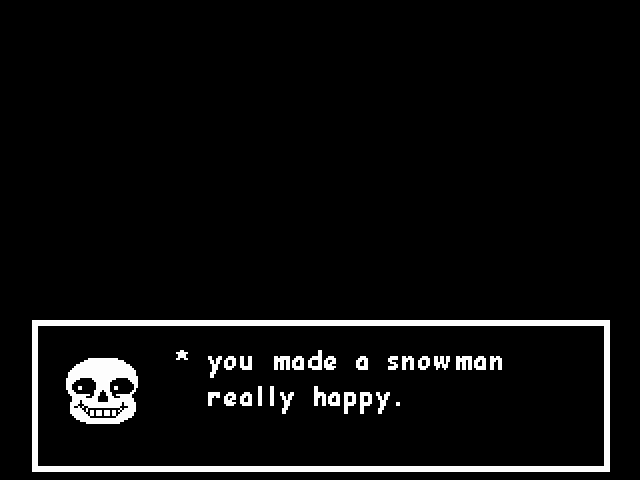 BGM: An Ending

...guess I should say something else, too.

so... it's been a while.

the queen returned, and is now ruling over the underground.

she's enstated a new policy...

all the humans who fall here will be treated not as enemies...

but as friends.

it's probably for the best, anyway.

the human souls the king gathered...

seem to have disappeared.

so, uh, that plan ain't happening any time soon.

but even thoguh people are heartbroken over the king...

...and things are looking grim for our freedom...

the queen's trying her best to not let us give up hope.

so, uh, hey...

if we're not giving up down here...

don't give up wherever you are, ok?

who knows how long it will take...

but we will get out of here.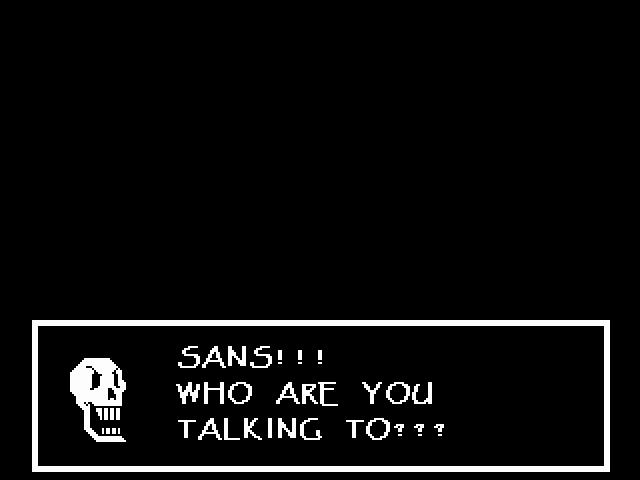 oh, nobody.

WHAT!? NOBODY!?

CAN I TALK TO THEM TOO???

here, knock yourself out.

WAIT A SECOND...

I RECOGNIZE THIS NUMBER!!!

ATTENTION, HUMAN!

I, THE GREAT PAPYRUS...

AM NOW CAPTAIN OF THE ROYAL GUARD!

IT'S EVERYTHING I'VE EVER DREAMED OF...

EXCEPT, INSTEAD OF FIGHTING, WE JUST WATER FLOWERS.

SO THAT'S EVER-SO-SLIGHTLY DIFFERENT.

AND, WE'RE HELPING DR. ALPHYS WITH HER RESEARCH!

SHE'S GONNA FIND A WAY TO GET US OUT OF HERE.

UNDYNE IS HELPING HER TOO!

THOUGH, TO BE HONEST, HER METHOD OF HELPING...

SEEMS KIND OF...

EXPLOSION-INDUCING.

BUT I THINK ALPHYS LIKES HAVING HER AROUND.

UH OH!!!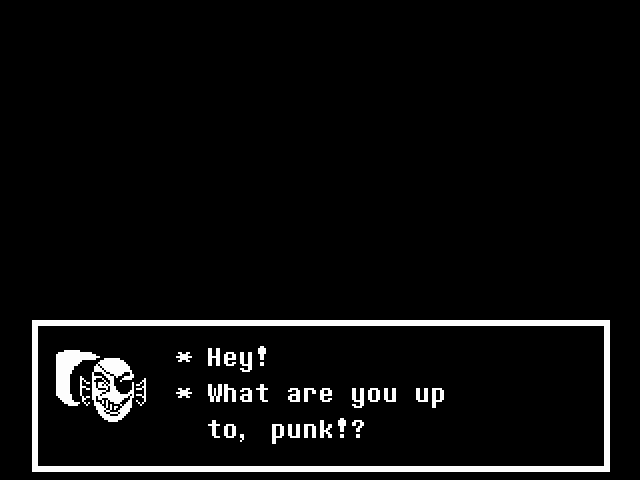 Ngahhhh!

PLEASE DON'T NOOGIE THE PHONE.

Hey! Who's in charge here!?

ME.

Oh... yeah, that's right!

I quit my job as leader of the royal guard.

Actually, since we won't be fighting anymore...

The Royal Guard totally disbanded.

There's, uh, only one member now.

BUT HE'S EXTREMELY GOOD.

Yeah!! He is!!! C'mere!!

PLEASE DON'T NOOGIE THE SKELETON.

Anyways, now I'm working as Alphys's lab assistant...

We're gonna find a way out of this dump once and for all!!

Oh, yeah, and I'm a gym teacher at the queen's new school.

Did you know I can bench press seven children!?

Awesome, right?

...

Hey.

I'm sorry about what happened with ASGORE.

You were just doing what you had to.

It's not your fault he...

...

Ah, darn it.

I miss the big guy.

...

Come on, Undyne! Snap out of it!

Uh, I guess I'll tell you how Alphys is doing.

Well, she's the same as ever.

Maybe a little more reclusive than normal.

Seems like something's really bothering her...

But she can get through it!

I'm there supporting her!!

That's what friends are for, right?

...

Hey, wherever you are...

I hope it's better than here.

It took a lot of sacrifice for you to get there...

So, wherever you are...

You have to try to be happy, okay!?

For our sakes!

We'll feel better knowing our trouble was worth it.

We're all with you! Everyone is! Even the queen!

...

HEYYY! WAIT a second!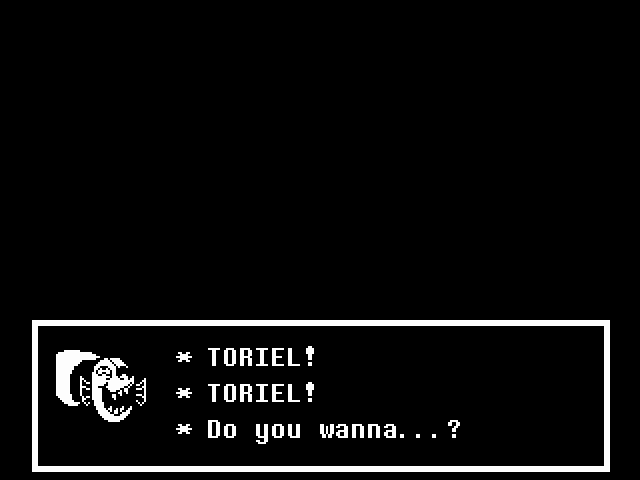 ...

Heh, she says she's busy.

BUT IF SHE KNEW WHO WE WERE TALKING TO...

we wouldn't get the phone back for at least a few hours.

WE HAVE THE MERCY TO SPARE YOU FROM HER!

But call back any time, ok?! She'd love to talk!

oh, whoops.

this thing's almost outta batteries.

so, hate to cut this short, but...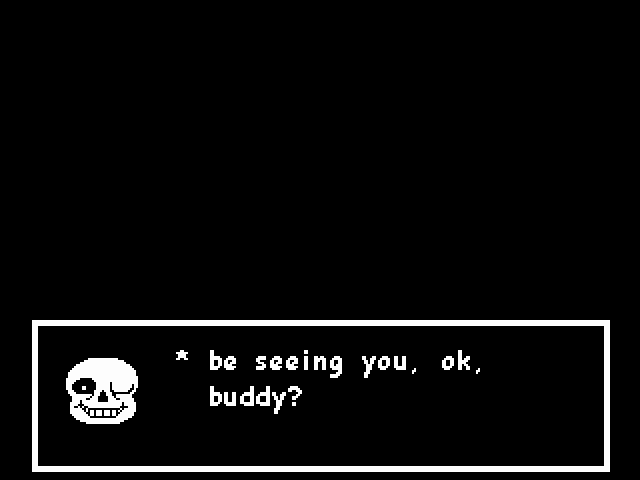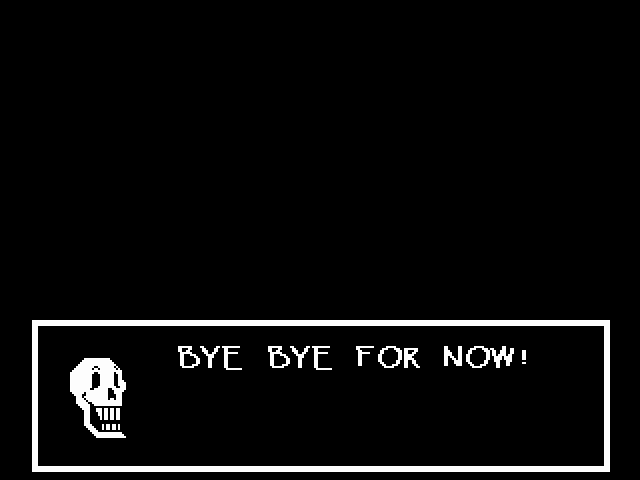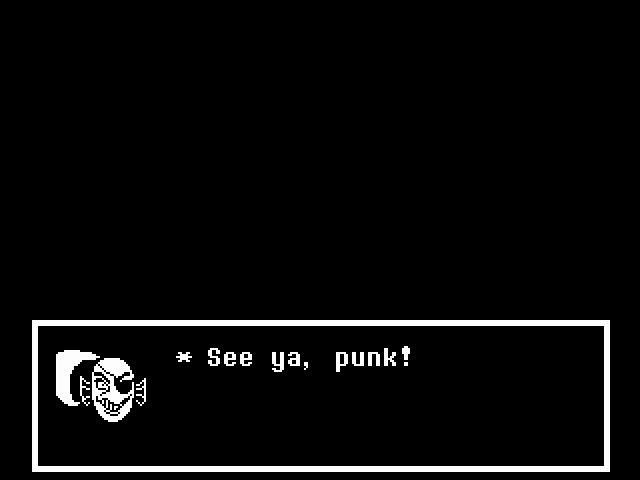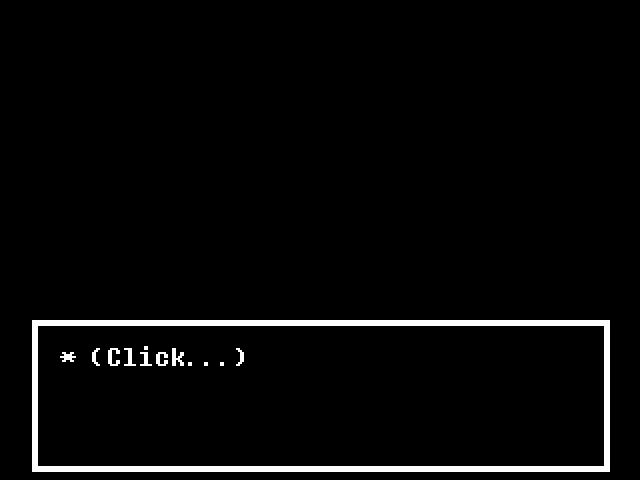 Why...?


Don't you realize that being nice...

...just makes you get hurt?

Look at yourself.

You made all these great friends...

But now, you'll probably never see them again.

Not to mention how much they've been set back by you.

Hurts, doesn't it?

If you had just gone through without caring about anyone...

You wouldn't have to feel bad now.

So I don't get it.

If you really did everything the right way...

Why did things still end up like this?

Why...?

Is life really that unfair?

...

Say.

What if I told you...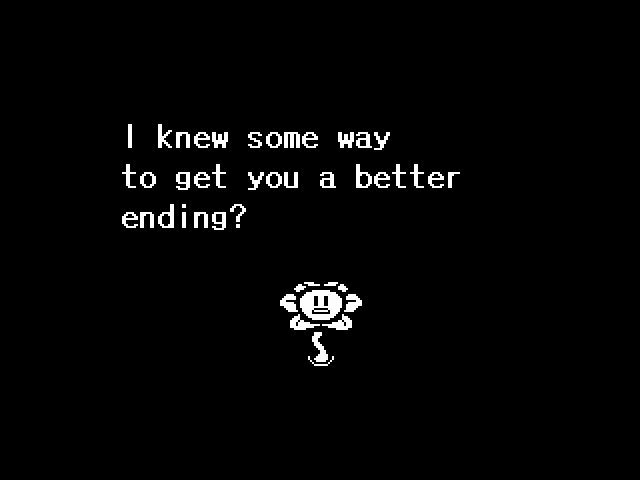 You'll have to load your SAVE file, and...

Well, in the meantime, why don't you go see Dr. Alphys?

It seems like you could have been better friends.

Who knows... maybe she's got the key to your happiness...?