Part 33: Alphys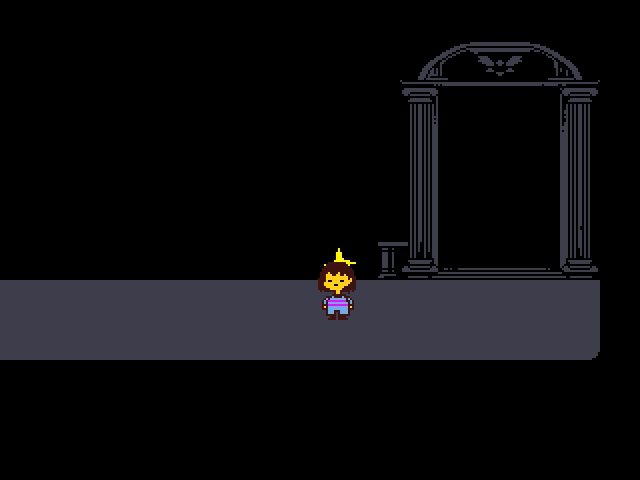 I load my game.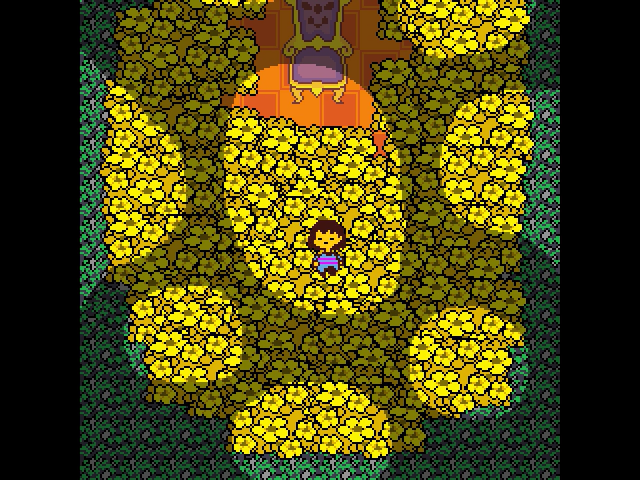 Asgore offered to let me go back and resolve my unfinished business.
I'm going to take him up on that offer.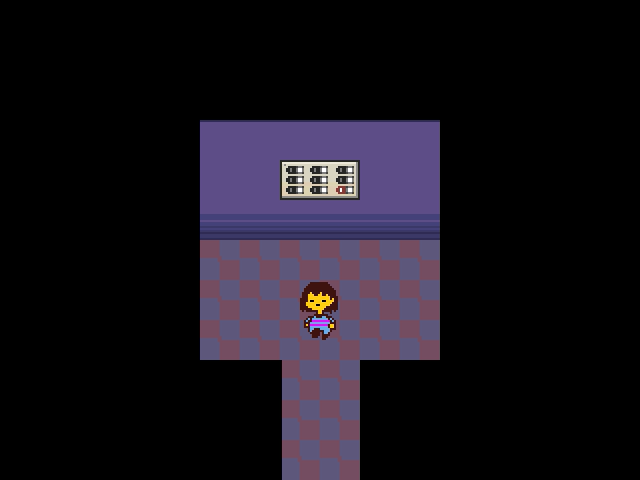 I leave the castle.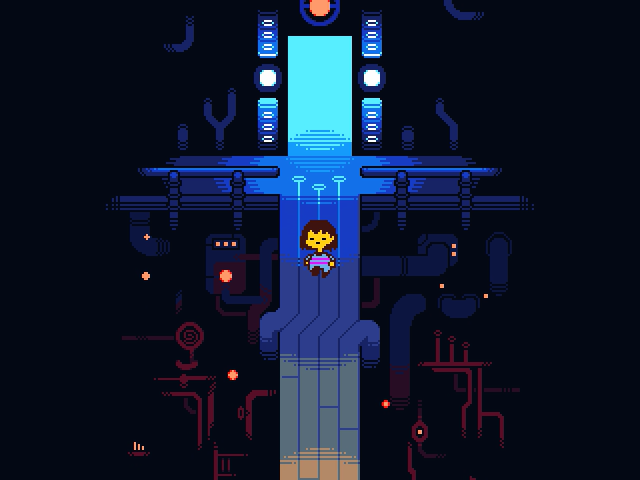 I leave the Core.
My phone rings.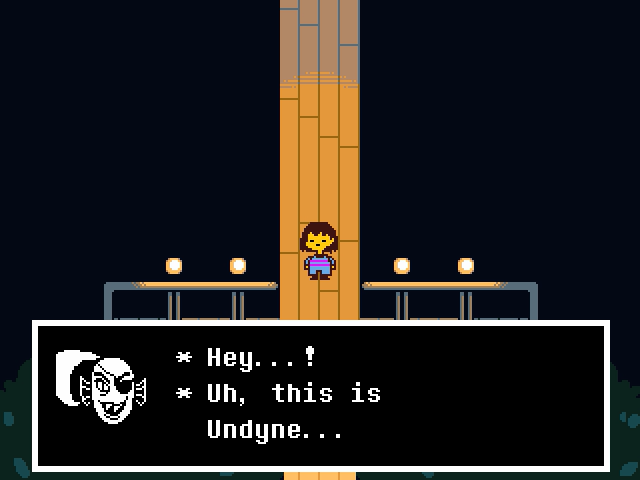 (Shut up, Papyrus! This was YOUR idea!)

HUMAN! You have to deliver something for me!

Uh, please?

I'm at Snowdin in front of Papyrus's.

See ya, punk!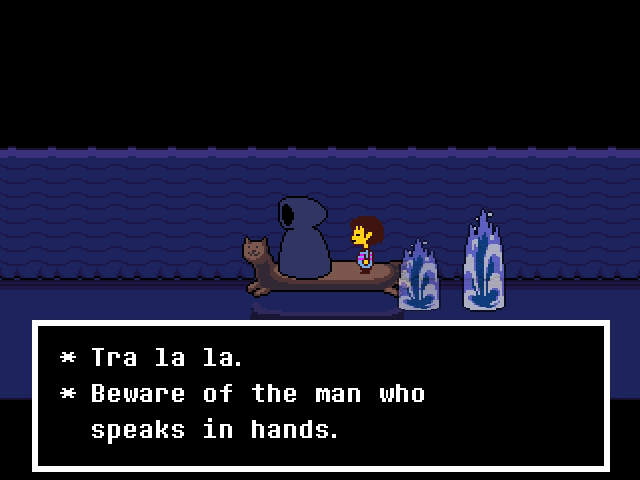 Well, who am I to say no to a friend like Undyne?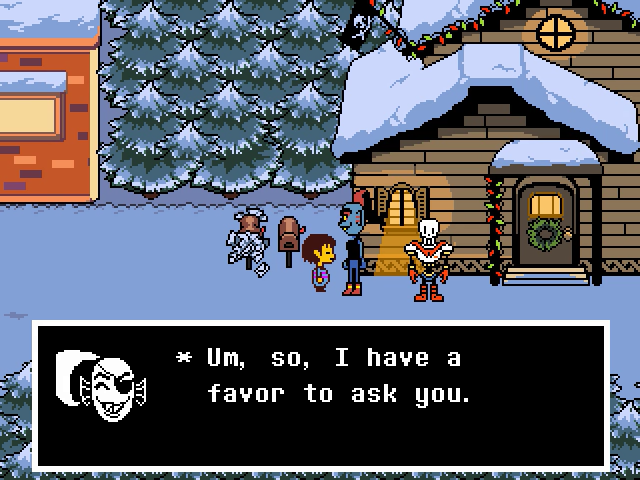 Uuuuh, I... I need you to deliver this letter.

To Dr. Alphys.

Huh!? Why don't I do it myself...?

...um. W-well...

I-it's kind of personal, but we're friends... so...

I'll t-tell you...

Hotland SUUUUCKS!!! I don't wanna have to go over there!!!

So here you go.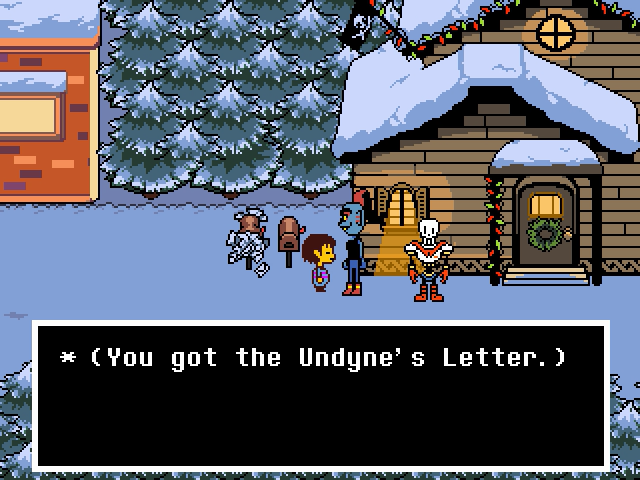 Oh, and if you read it...

I'll KILL you.

Thanks so much! You're the best!!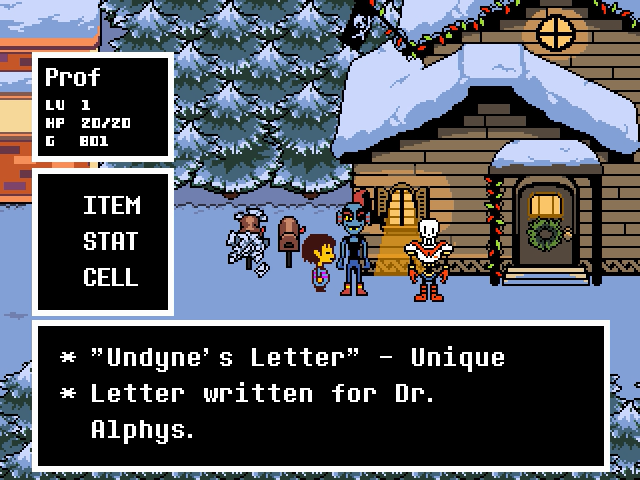 I open the letter immediately.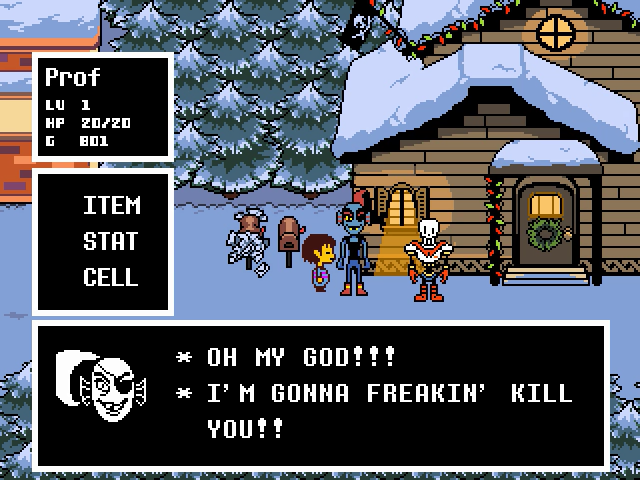 JUST KIDDING UNDYNE IT WAS A JOKE I SWEAR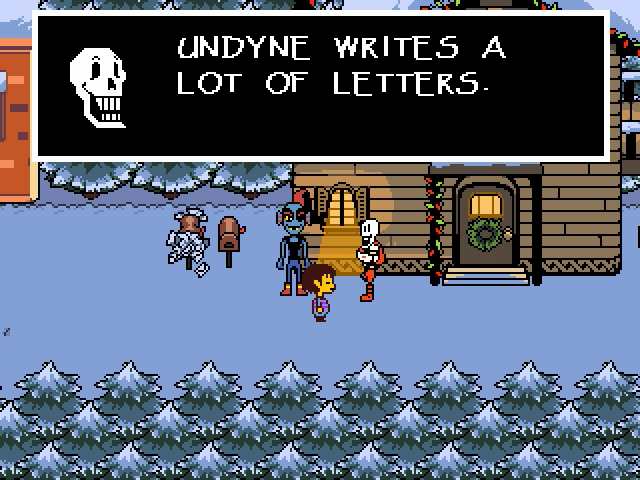 BUT, SHE CAN NEVER SEEM TO FIND THE RIGHT WORDS.

SO WHEN SHE GOES TO DELIVER THEM HERSELF...

SHE ALWAYS QUITS SO SHE CAN GO BACK AND REWRITE.

THAT'S WHY SHE ASKED YOU!

BECAUSE YOU HAVE NO STANDARDS!!!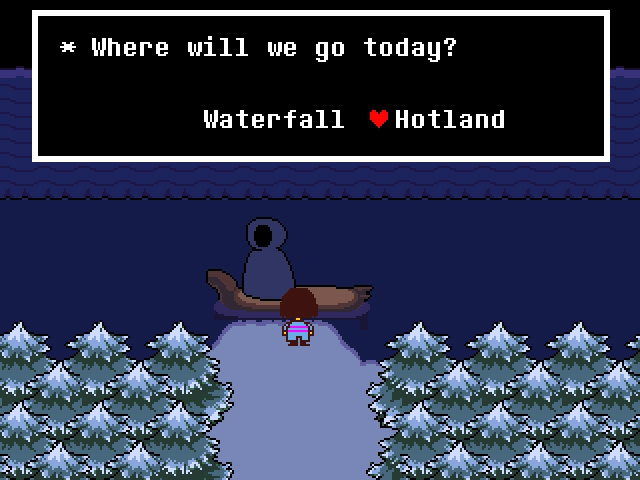 Back to Hotland.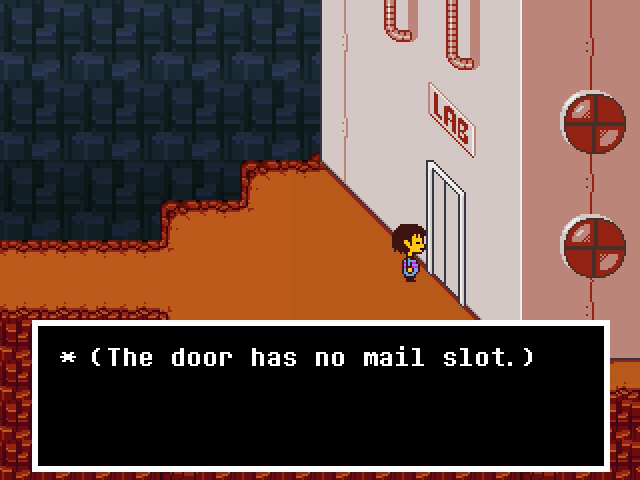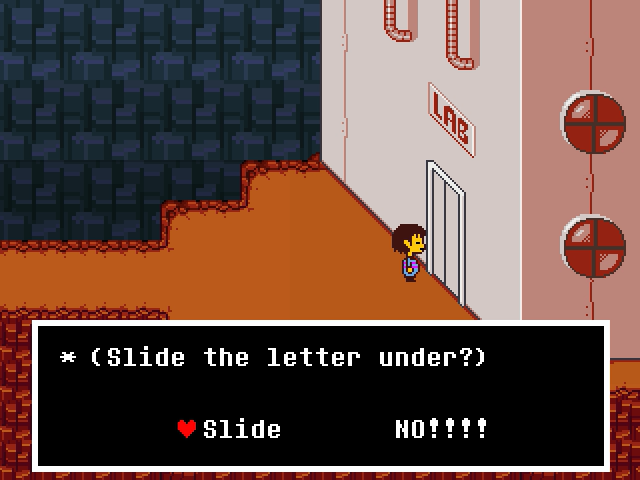 (You slide the letter under the door and give it a knock.)
(...)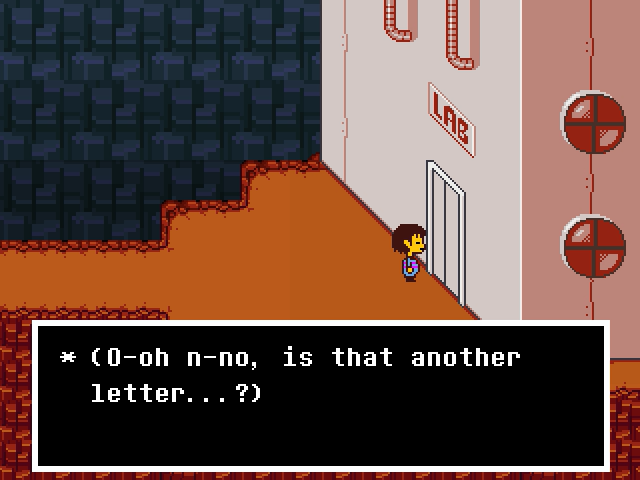 (I don't want to open it... C-can't I just slide it back out...?)

(...)

(N... no... I can't keep doing this. I'll read this one.)

(...)

(Um... I-it's shut k-kind of strongly, isn't it?)

(Wait a second...)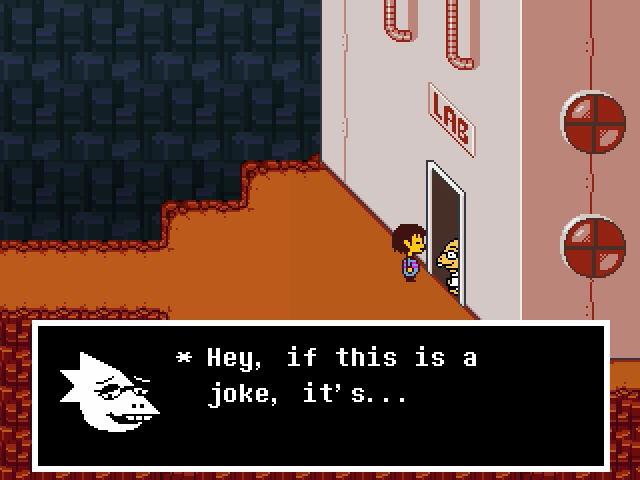 ...

Oh My God?

Did YOU write this letter?

It wasn't signed, so, I had no idea who could have...

Oh my god. Oh no.

That's adorable...

And I h-had no idea you, um, wrote that way!

It's surprising, too... After all the gross stuff I did...

I don't really deserve to be forgiven.

Much less, um...

This?

And so passionately, too.

...

You know what, okay! I'll do it!

It's the least I can do to make it up to you!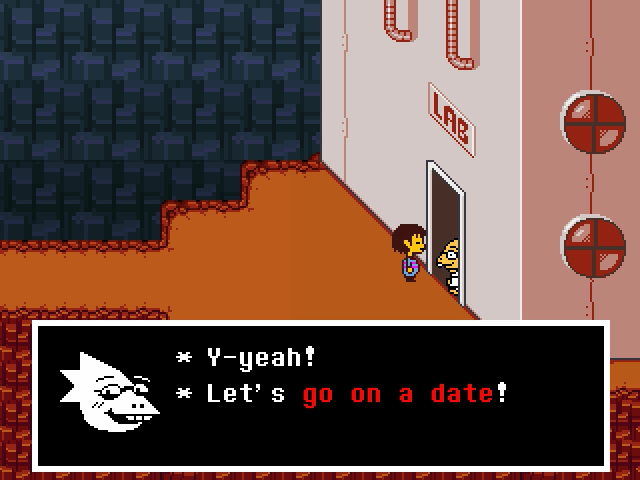 Video: Dating Start...?



Uhhh, sorry! I'm still getting dressed!


My friend helped me pick out this dress.

She's got a great sense of...

Um, anyway! Let's do this thing!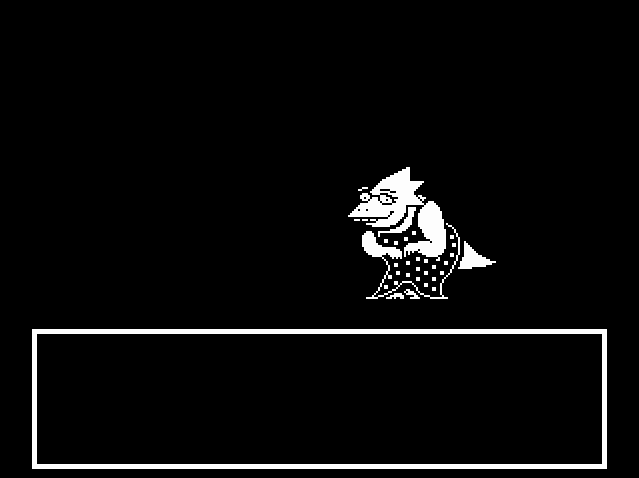 Actually, we still can't start the date yet!!!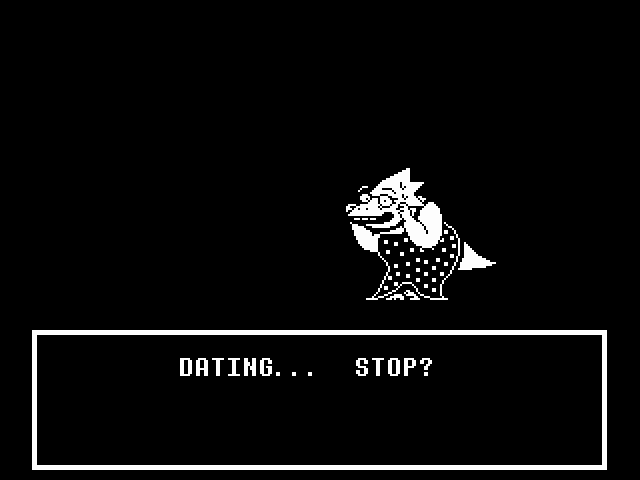 BGM: Alphys

Umm, I've gotta give you items to raise your affection statistic, first!

That'll increase the chance of a successful outcome to the date!

Right...?

Anyway, d-don't worry! I'm prepared!

I-I've been stockpiling gifts in anticipation for a date like this!

F-first, I've got...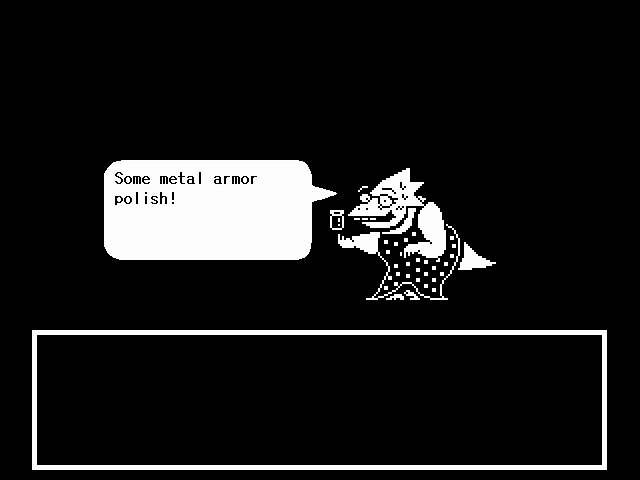 ...

Um, maybe you can't use that.

But!!!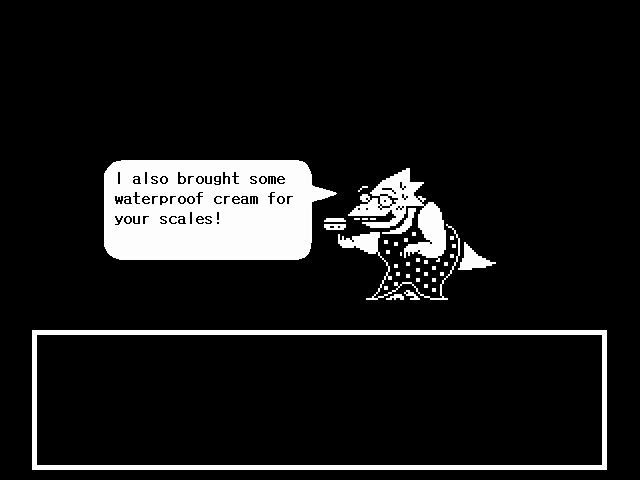 Your, uh... scales...

Uh, well, how about...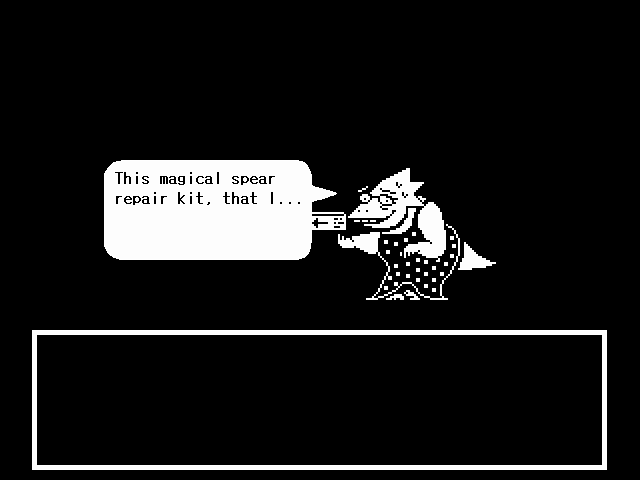 Um...

Hey, let's forget about the items!

Let's just start the date!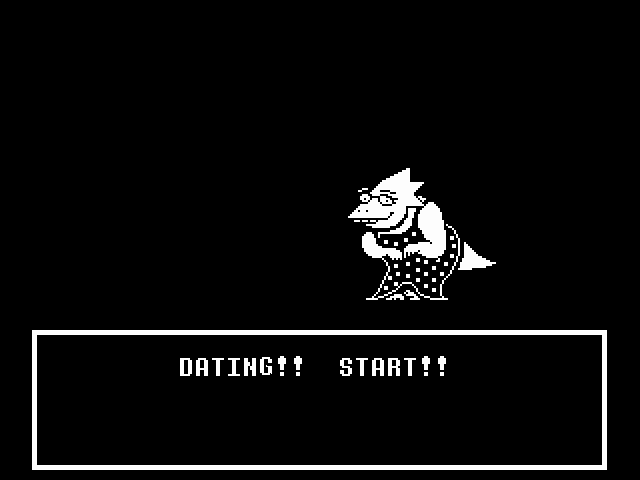 BGM: Silence

Yeah!!! Let's, uh, date!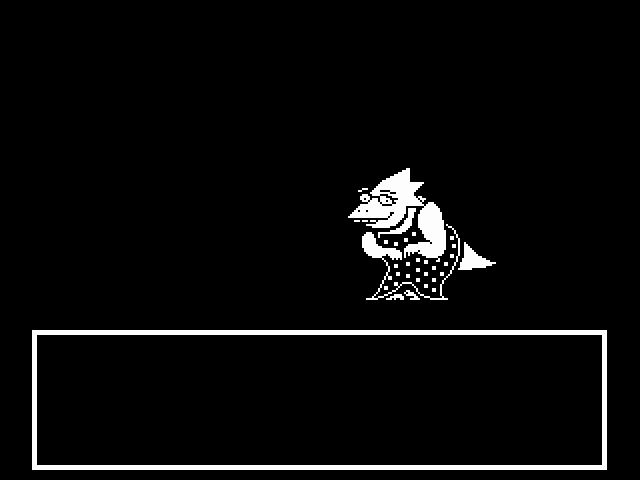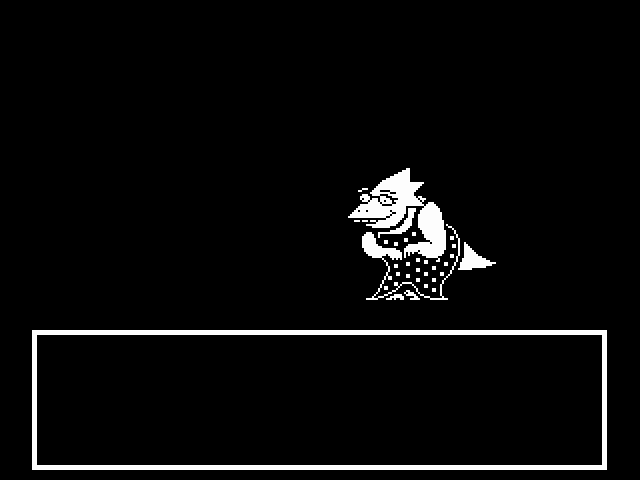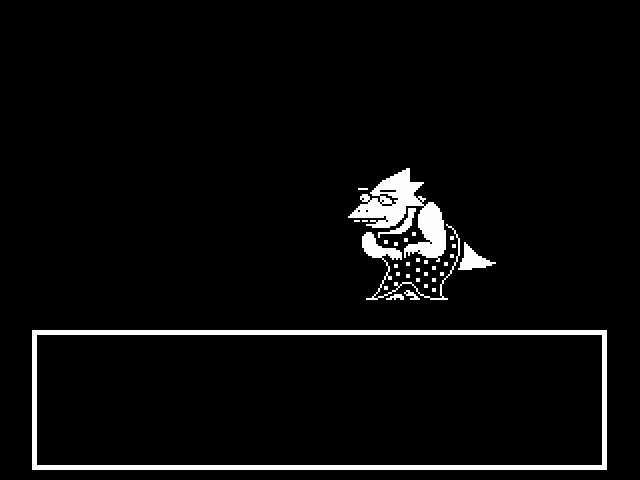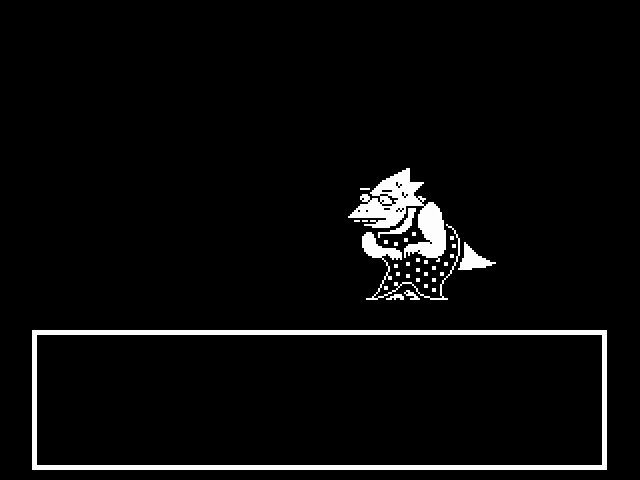 ...uh...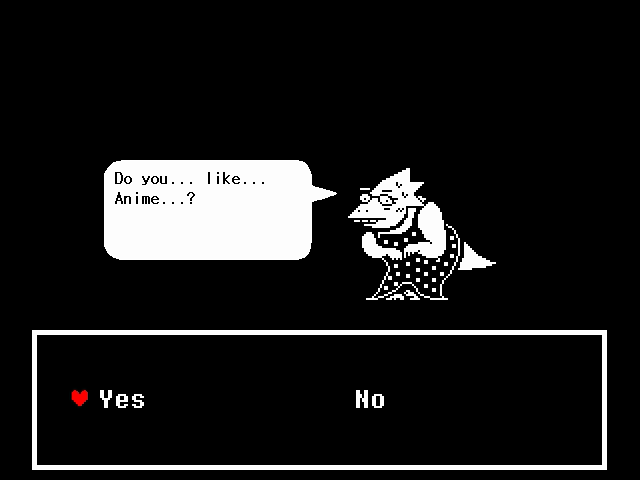 H-hey! Me too!!

...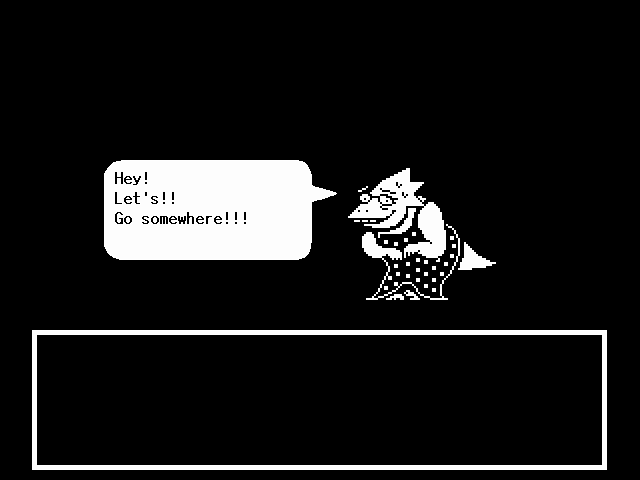 But where's a good place to go on a date...?

...

I've got it!!!

Let's go to the garbage dump!!!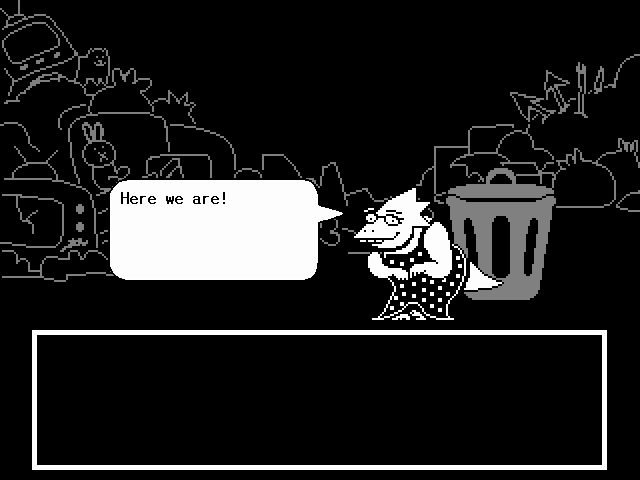 This is where Undyne and I come all the time...

We find all sorts of great stuff here.

Heh, she's really...

Uh...

Oh no.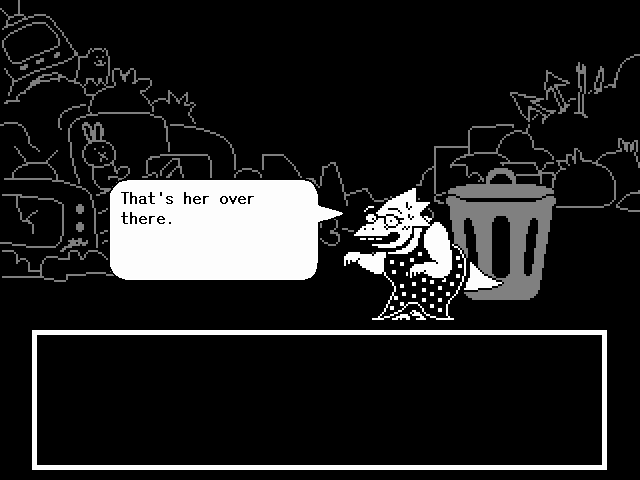 BGM: Dating Tense!

I c-can't let her see me on a date with you!

Why...?

Because, uh... Well...

Oh no, here she comes!!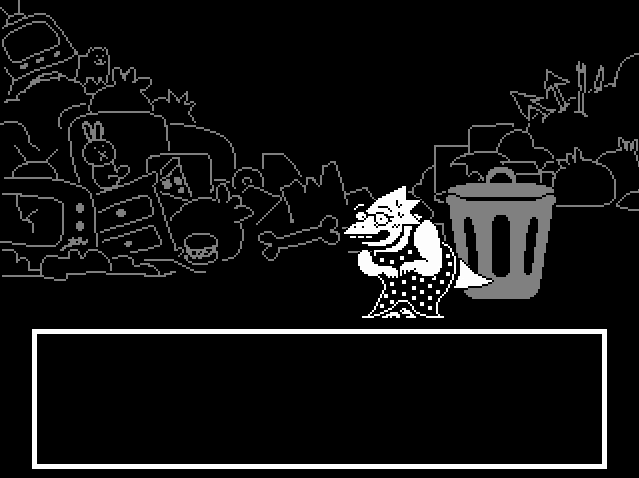 I, uh, realized, if you deliver that thing...

It might be a bad idea.

So I'm gonna do it!!! Give it to me!!!

Huh!? You don't have it!?

Ngggaaahhh!!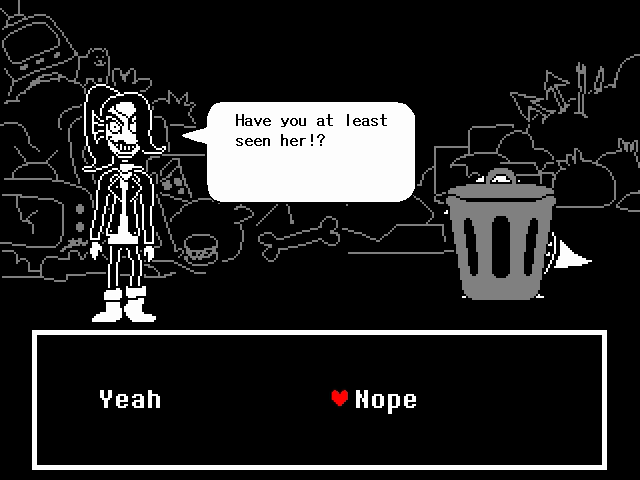 No???

But she wasn't at home...

Where the heck could she be!?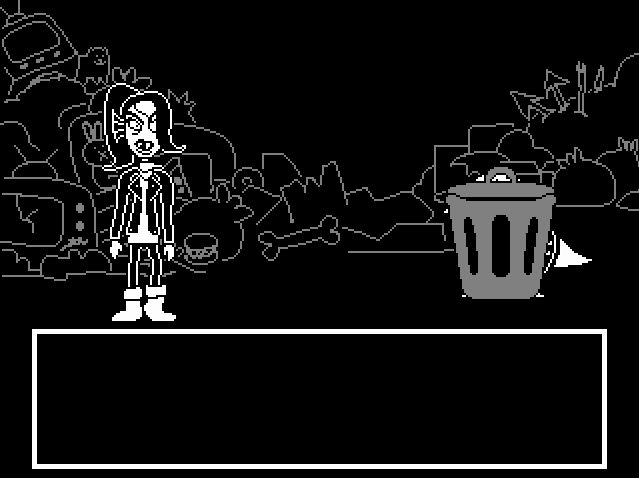 BGM: Alphys

W... well, I guess it's obvious, huh?

I... uh... I really like her.

I mean, more than I like other people!

I'm sorry.

I j-just figured, y-you know...

It'd be f-fun to go on like, a cute, kind of...

Pretend date with you? T-to make you feel better?

...

Well, it sounds even worse when I put it like that.

I'm sorry. I messed up again.

Undyne's the person I, um... really want to go on a date with.

But, I mean... she's way out of my league.

N-not that you aren't, um, cool!

B-but... Undyne...

She's so confident... And strong... And funny...

And I'm just a nobody.

A fraud.

I'm the royal scientist, but...

All I've ever done is hurt people.

I've told her so many lies, she thinks I'm...

She thinks I'm a lot cooler than I actually am.

If she gets close to me, she'll...

She'll find out the truth about me.

...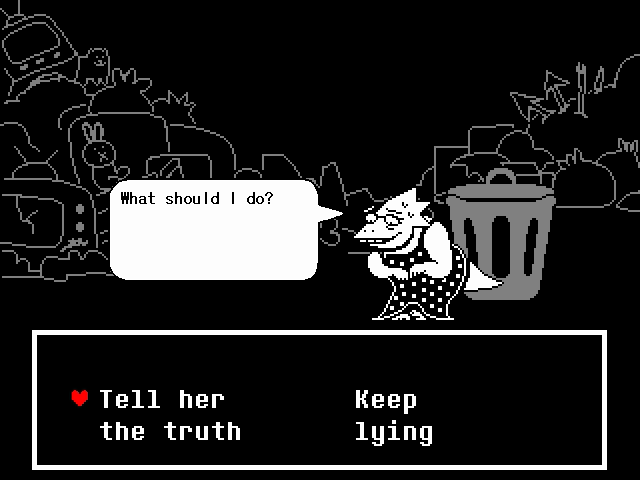 The truth..?

But if I tell her that, she'll hate me.

Isn't it better this way?

To live a lie where both people are happy...

Or a truth where neither of us are?

They say "be yourself."

But I don't really like who "myself" is.

I'd rather just be whatever makes people like me.

Eheheh...

...

...

No, you're right.

Every day I'm scared...

Scared what will happen if people learn the truth on their own.

They'll all get hurt because of me...

But how can I tell UNDYNE the tr... truth?

I d-don't have the confidence...

I'm going to mess it up! How can I practice!?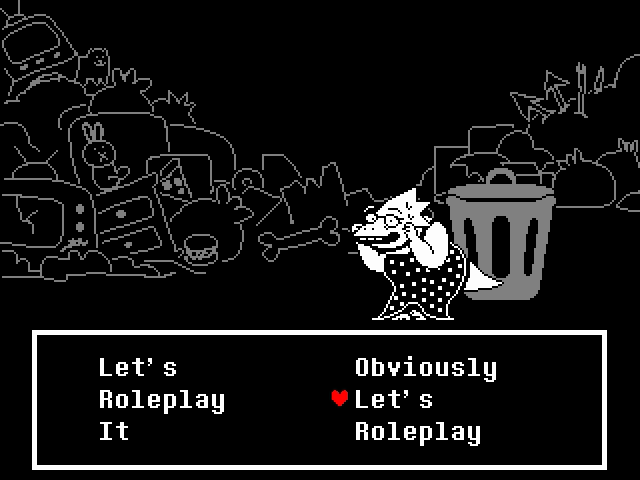 R... roleplay?

...

...That actually sounds kind of fun!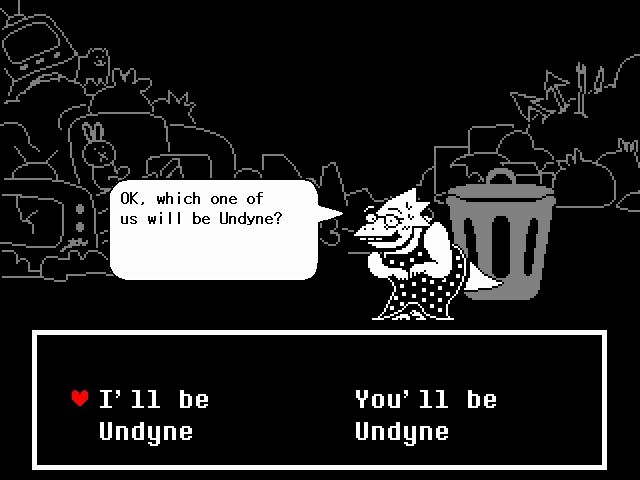 Oh. Right. Obviously. Ehehe.

Ahem.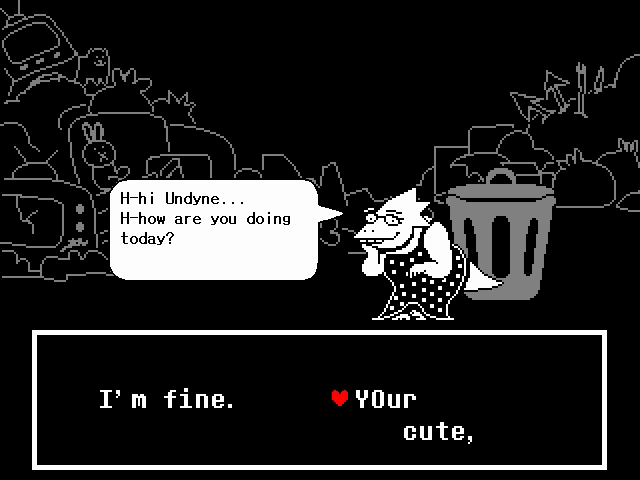 Th... thanks!

You say that to me a lot, and I never know what to say!!

But I know, you just, mean it platonically, because we're just friends!

Eheheh!!!

...

Uhhh, so I'd like to, um, talk to you about something.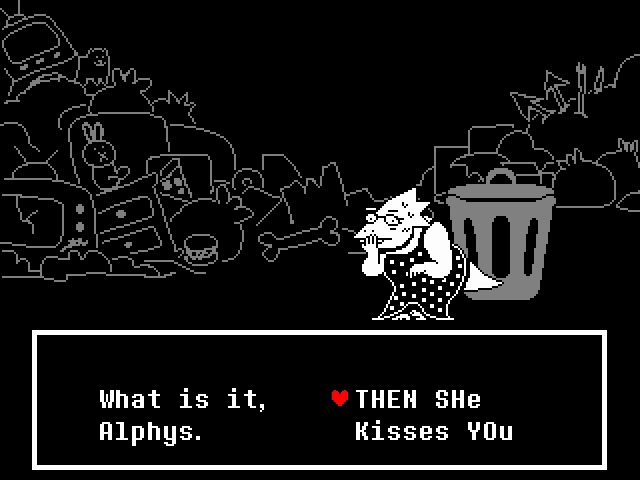 WH-WHAT!?

UNDYNE WOULD NEVER, UH...

...

...

I kiss her back... S... softly...

I... l-look gently into her eyes...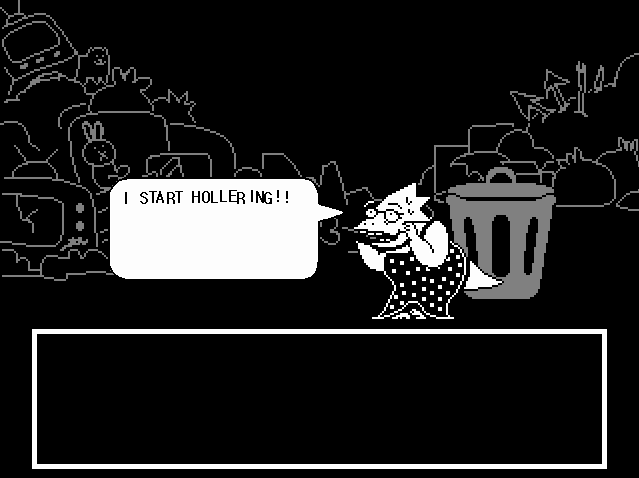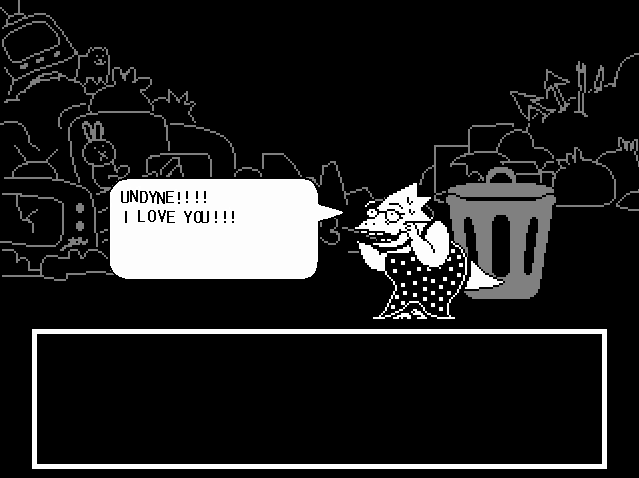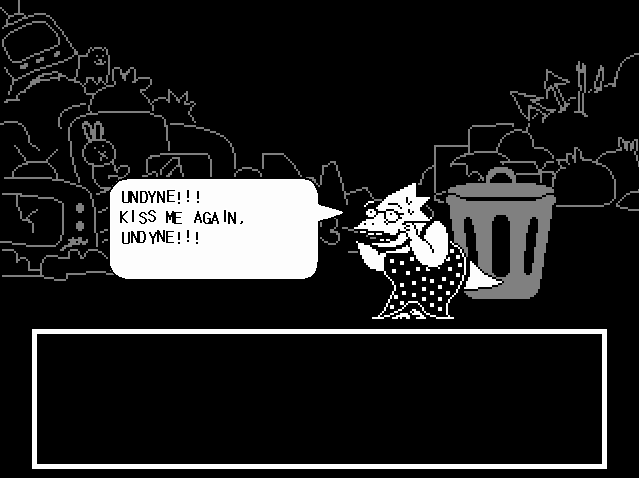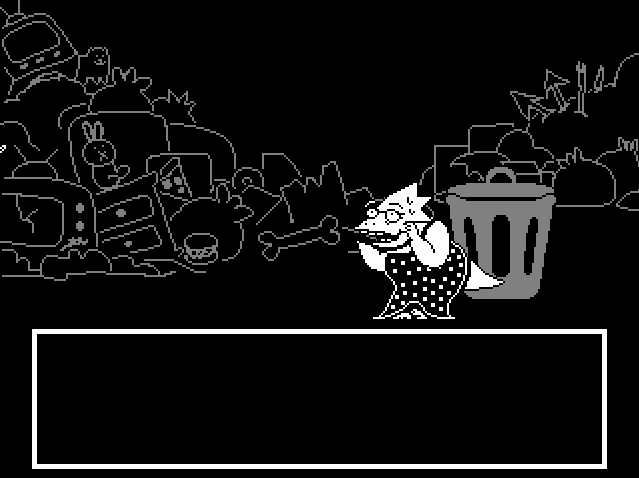 BGM: Silence

U... Undyne! I... was... just...

Hey, woah, wait a second!

Your outfit's really cute! What's the occasion?

...
Wait a second.

Are you two...

On a date?

UHHH, YES!

I mean, UHHH NO!

I mean, we were, but

I mean, actually we were only romantically roleplaying as you!

WHAT???

I MEAN!!!

I mean...

Undyne... I...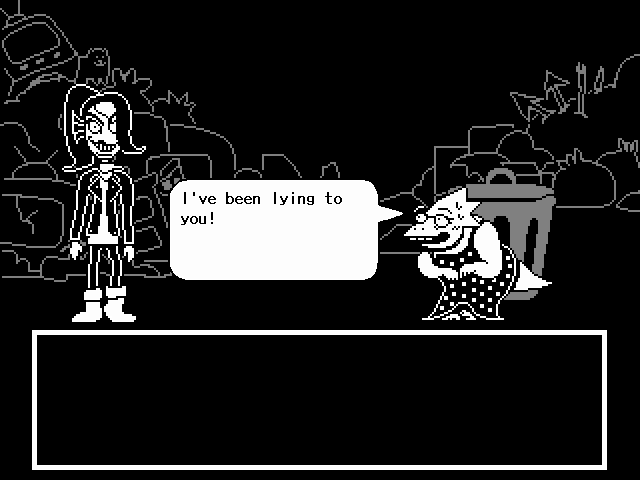 BGM: Confession

WHAT??? ABOUT WHAT???

About... well...

Everything!

I told that seaweed was, like... scientifically important... Really, I just... I use it to make ice cream!

And those human history books I keep reading... Those are just dorky comic books!

And the history movies... those... Those are just, uh, anime! They aren't real!

And that time I told you I was busy with work on the phone... I... was just eating frozen yogurt in my pajamas! That time I...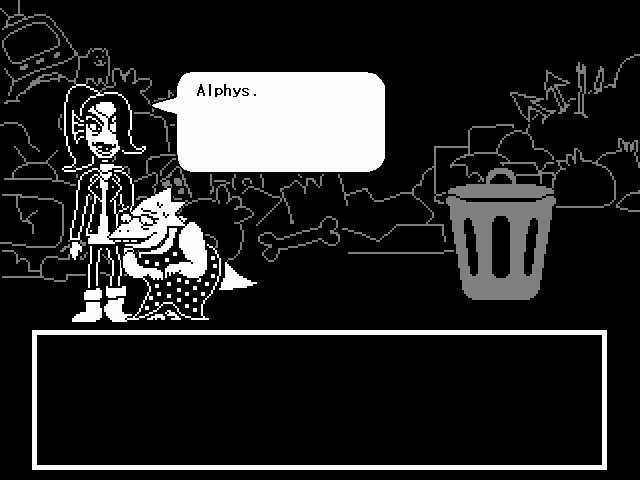 I... I just wanted to impress you!

I just wanted you to think I was smart and cool.

That I wasn't some... nerdy loser.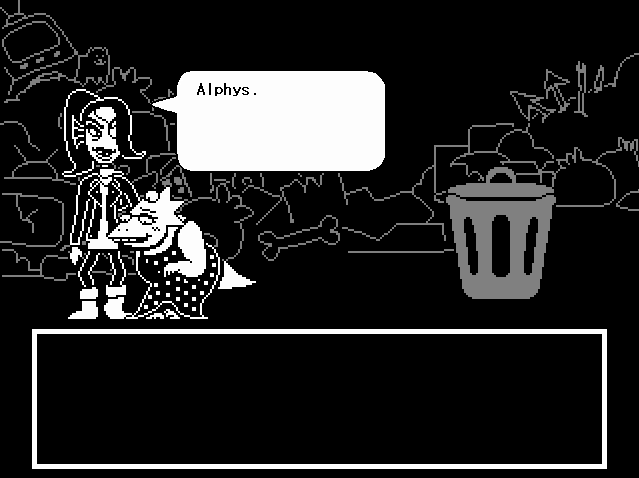 Undyne, I... I really think you're neat, OK...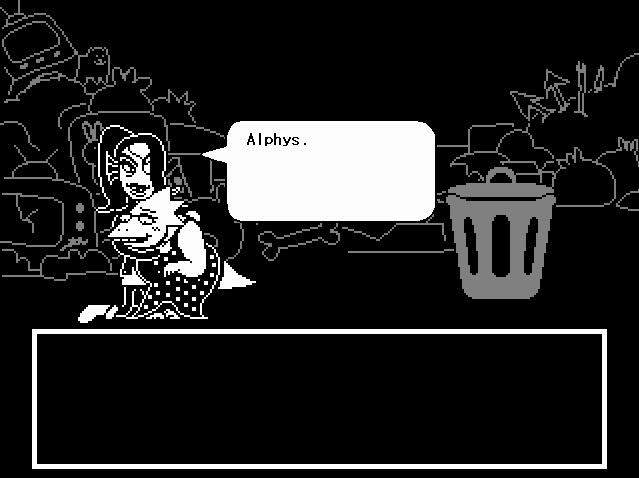 Shhhh.
Shhhhhh.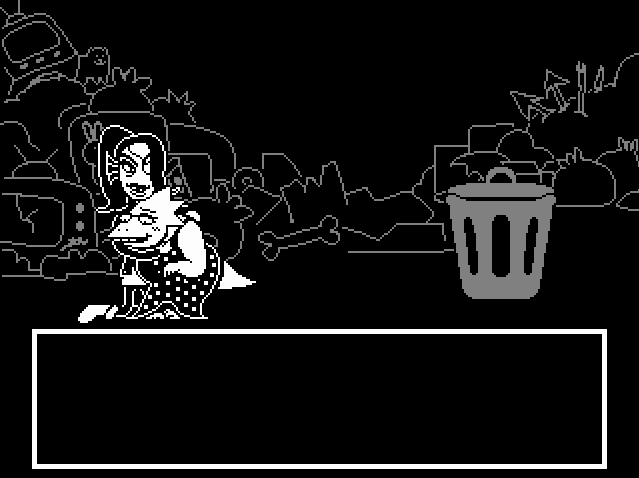 BGM: NGAHHH!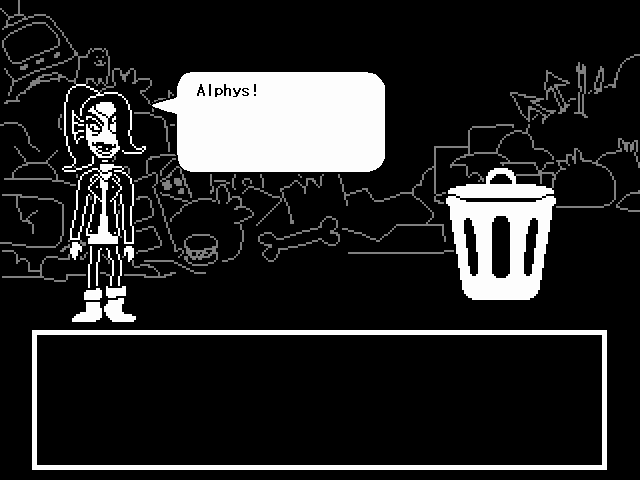 I... think you're neat, too, I guess.
But you gotta realize...

Most of what you said really doesn't matter to me.

I don't care if you're watching kid cartoons or reading history books.

To me, ALL of that stuff is just NERDY CRAP!

What I like about you is that you're PASSIONATE! You're ANALYTICAL!!

It doesn't matter what it is! YOU CARE ABOUT IT!!

100-PERCENT!! AT MAXIMUM POWER!!!

...so, you don't have to lie to me.
I don't want you to have to lie to anyone anymore.

Alphys... I want to help you become happy with who you are!

And I know just the training you need to do that!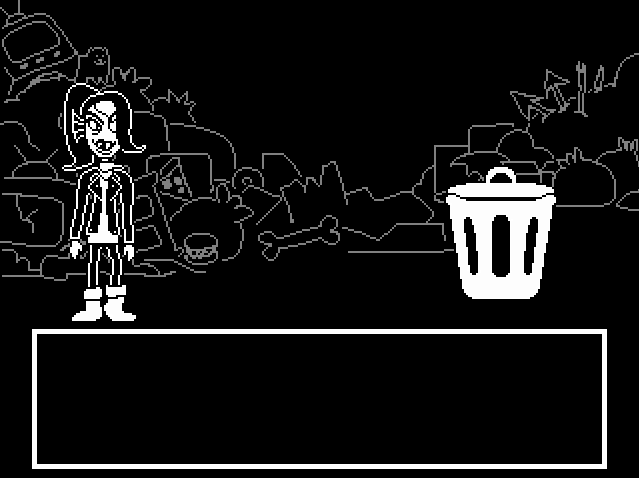 Y-you're gonna train me...?

Pffft, what? ME?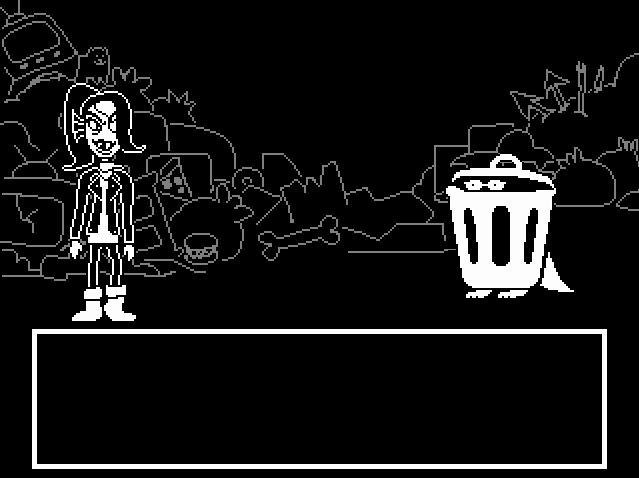 BGM: Silence

Nah, I'm gonna get Papyrus to do it.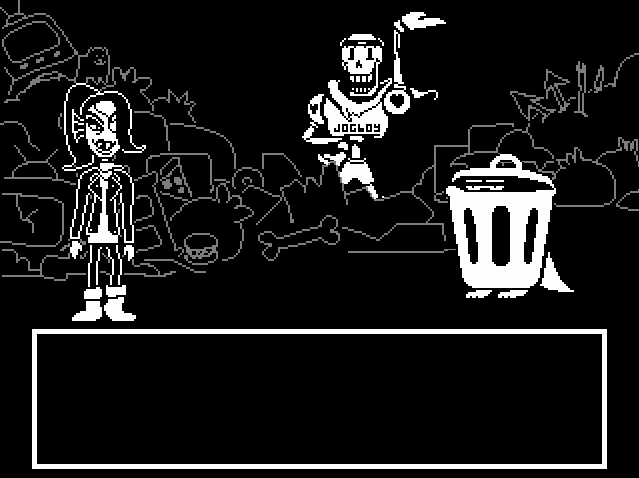 GET THOSE BONES SHAKIN'!!!

IT'S TIME TO JOG 100 LAPS, HOOTING ABOUT HOW GREAT WE ARE!!!

Ready? I'm about to start the timer!

U-Undyne...

I'll do my best...!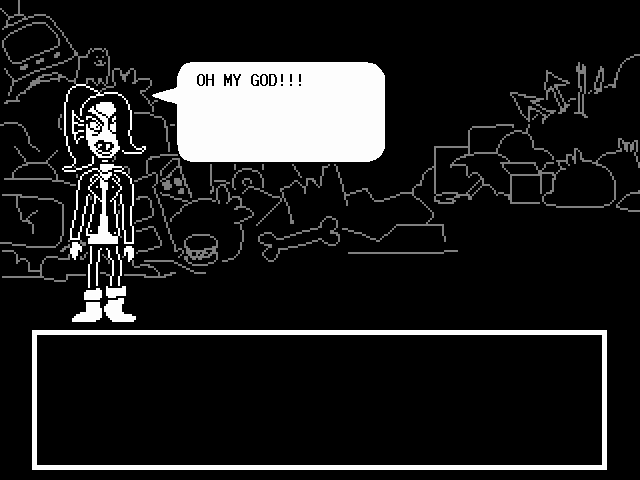 BGM: NGAHHH!
(At 4x speed)

She was kidding, right?

Those cartoons... Those comics...

Those are still REAL, right!?

ANIME'S REAL, RIGHT?!?!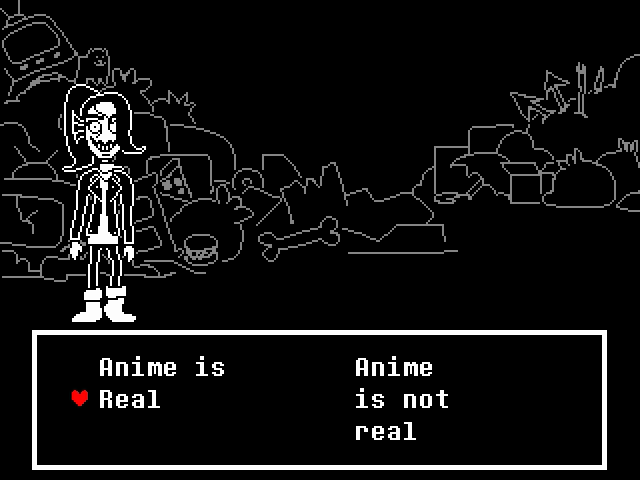 HA HA HA!!!

I KNEW IT!!!

GIGANTIC SWORDS!!! MAGICAL PRINCESSES! HERE I COME!!!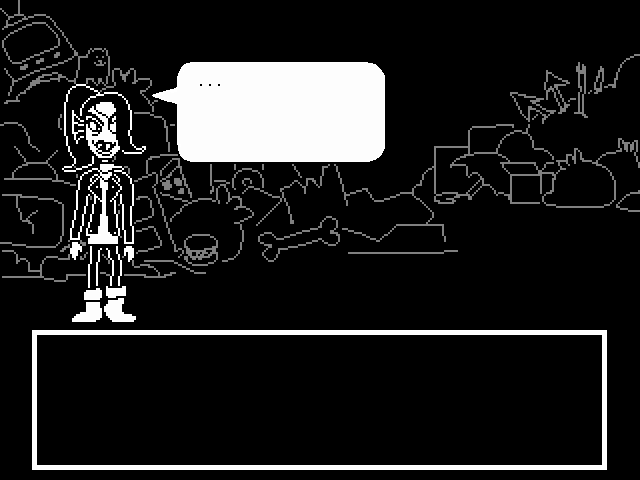 BGM: Silence

Uhh, thanks for taking care of Alphys.

I didn't get to say what I wanted to, but...

Things seem like they're going to get better for her.

Well, I gotta go catch up with them!

Later!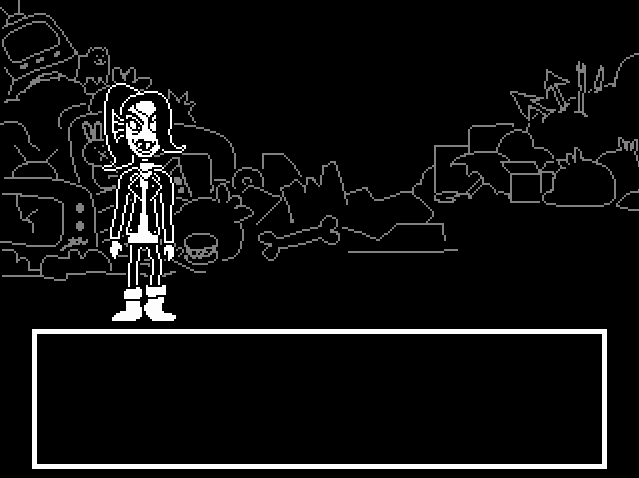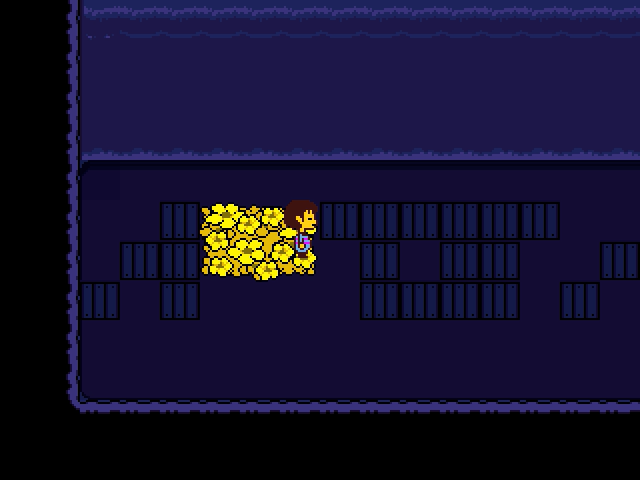 Well, that was incredible.
I guess my work is done here.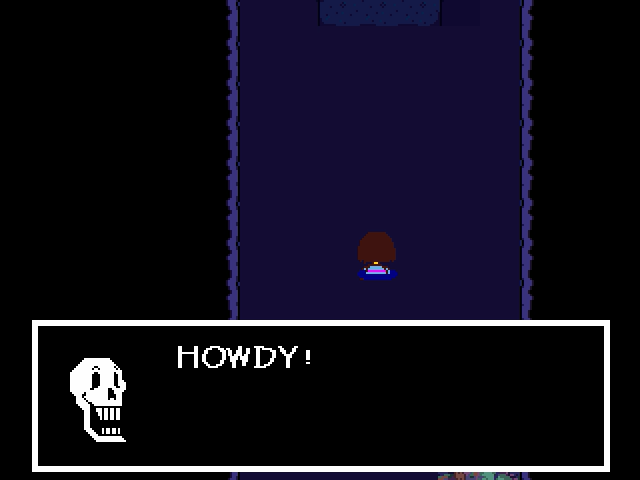 IF IT ISN'T MY GOOD FRIEND, WHO TRUSTS ME.

THIS IS PAPYRUS, YOUR ALSO MUTUAL FRIEND.

ALPHYS AND I FINISHED OUR TRAINING EARLY.

VERY EARLY.

SO I SENT HER HOME.

VERY HOME.

UH... NOW.

I FEEL STRONGLY AND FOR NO APPARENT REASON.

YOU SHOULD ALSO GO... THERE.

TO HER. LAB... HOUSE.

I HAVE ONLY GOOD FEELINGS ABOUT THIS.

GOODBYE.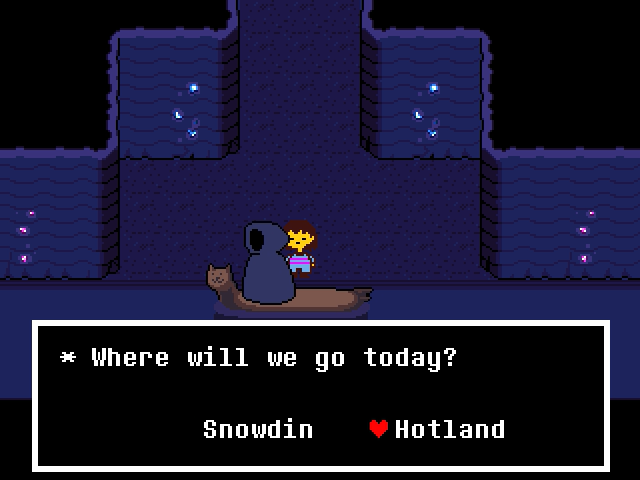 I would never turn down the request of a mutual friend, who I trust.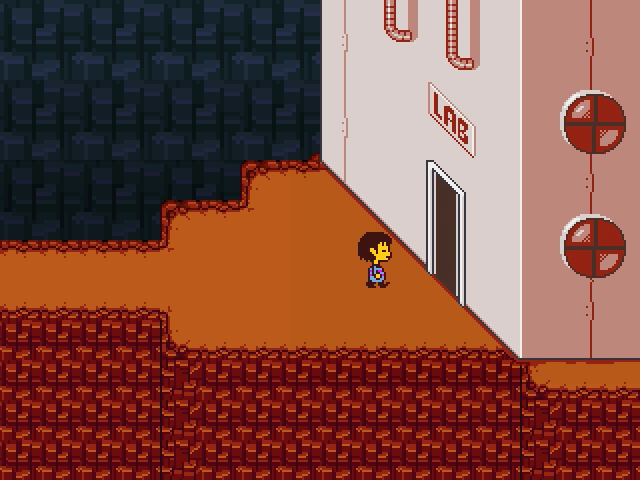 I enter the lab.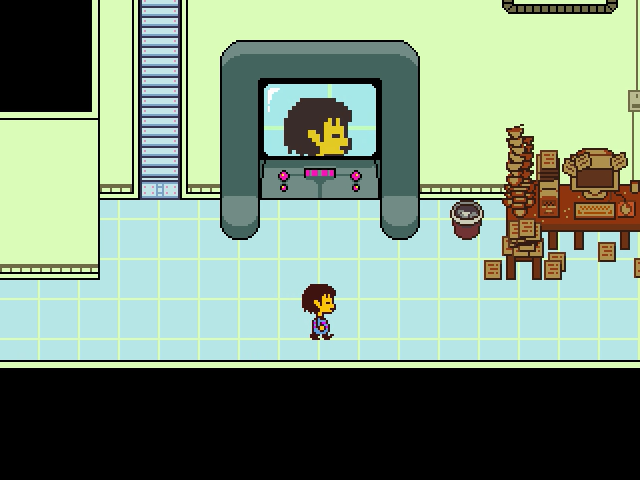 Doesn't seem like she's home.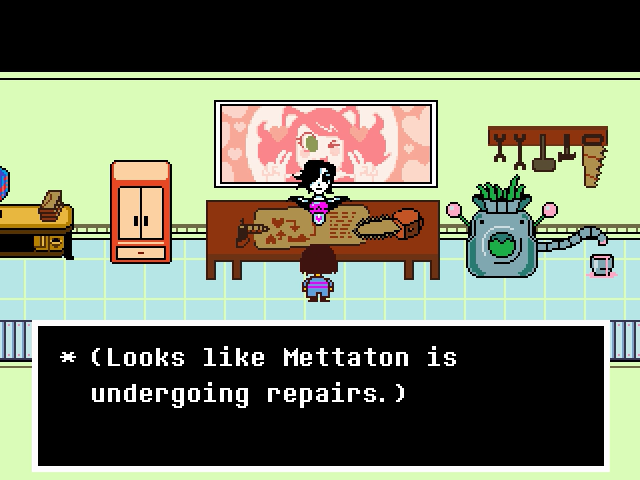 Mettaton is hanging out on her workbench.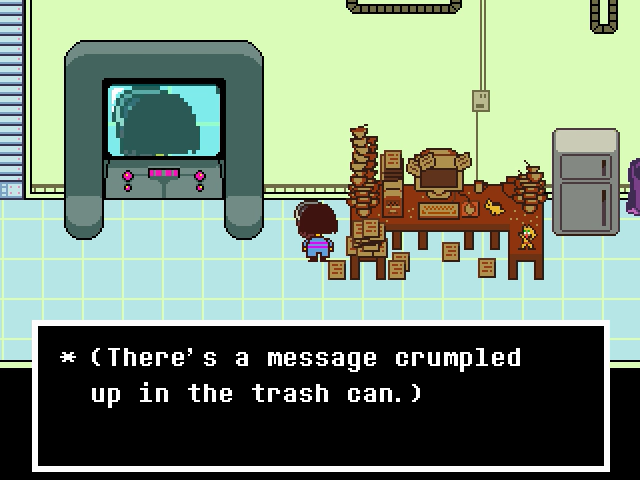 (It's in a strange kind of handwriting.)
(It says...)
(I KNOW WHAT YOU DID.)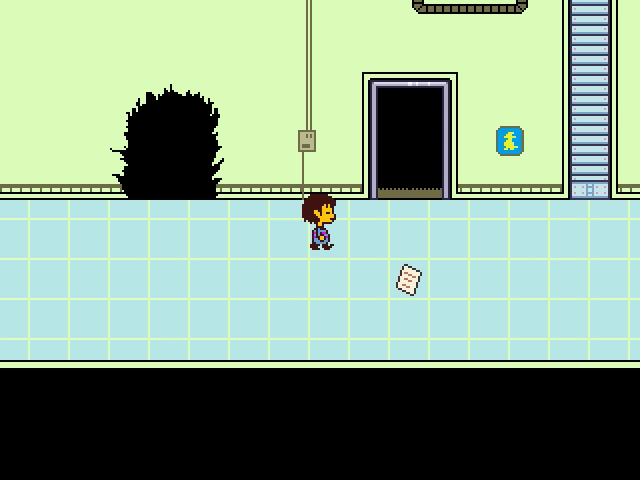 The door to Alphys's bathroom is open.
Wait a minute. Monsters don't have bathrooms.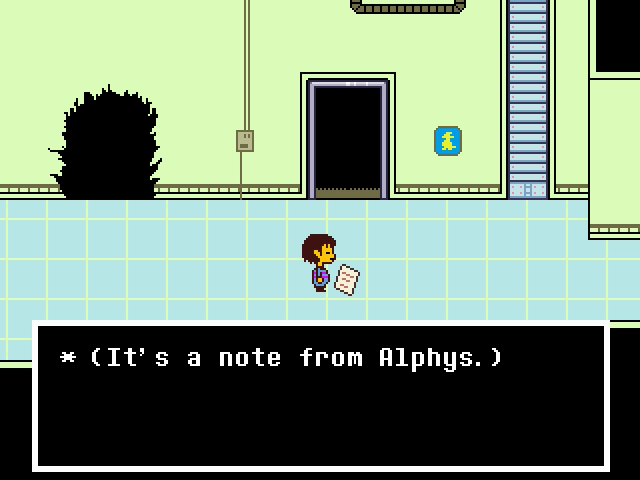 (It's hard to read because of the handwriting, but you try your best...)
Hey.
Thanks for your help back there.
You guys... Your support really means a lot to me.
But... As difficult as it is to say this...
You guys alone can't magically make my own problems go away.
I want to be a better person.
I don't want to be afraid anymore.
And for that to happen, I have to be able to face my own mistakes.
I'm going to start doing that now.
I want to be clear.
This isn't anyone else's problems but mine.
But if you don't ever hear from me again...
If you want to know "the truth."
Enter the door to the north of this note.
You all at least deserve to know what I did.
(That's all she wrote.)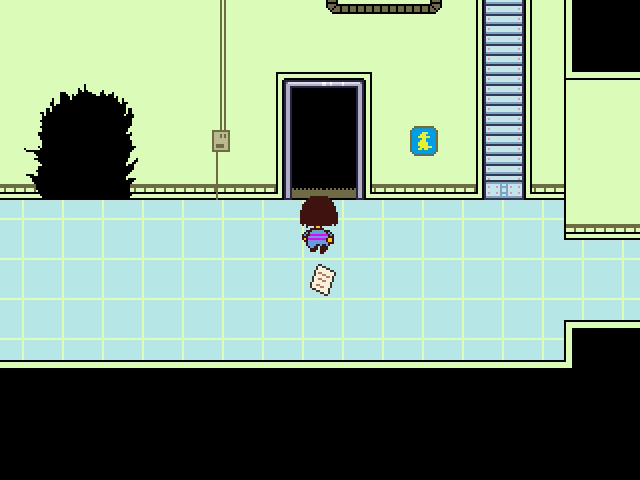 What did you do, Alphys?