Part 36: Don't Give Up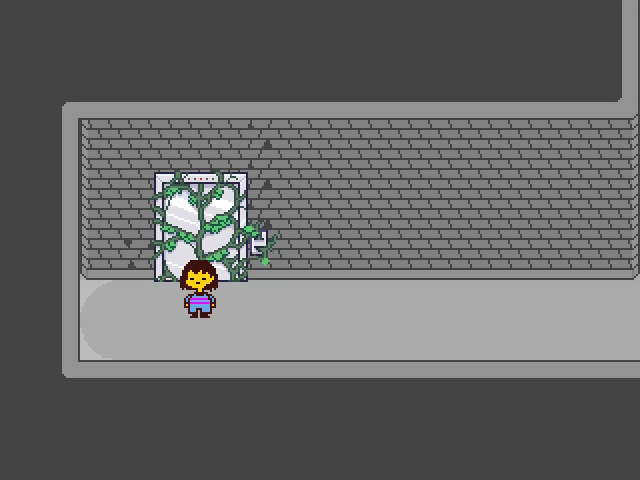 BGM: Silence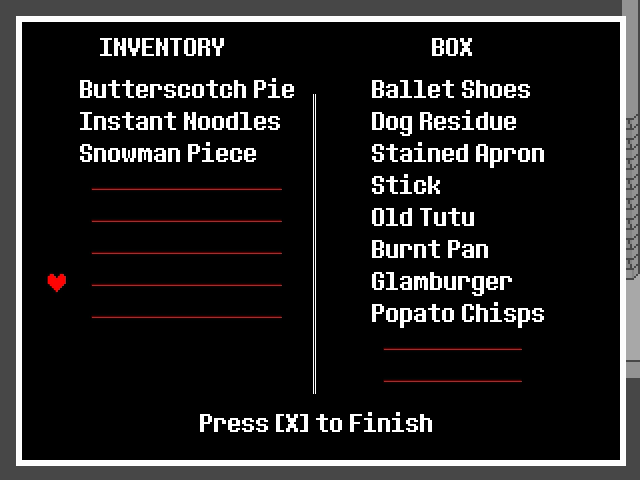 I fiddle with my inventory a bit.
This will be the last time.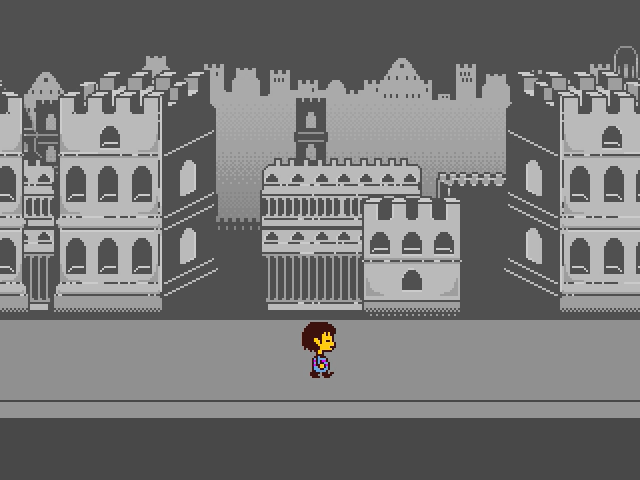 The elevator took me back to the final approach to Asgore.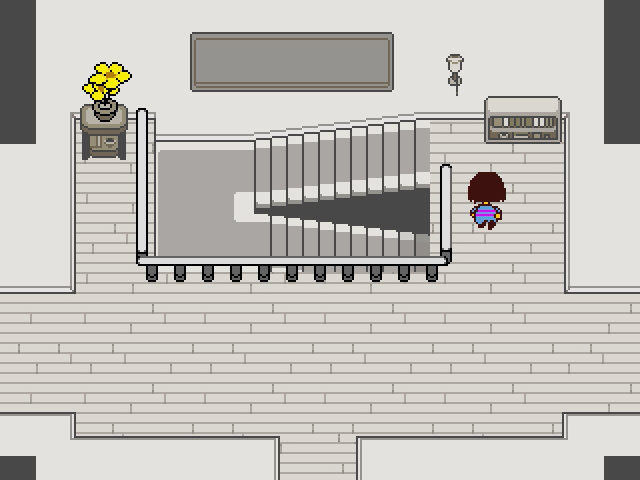 There are no monsters to tell me a story.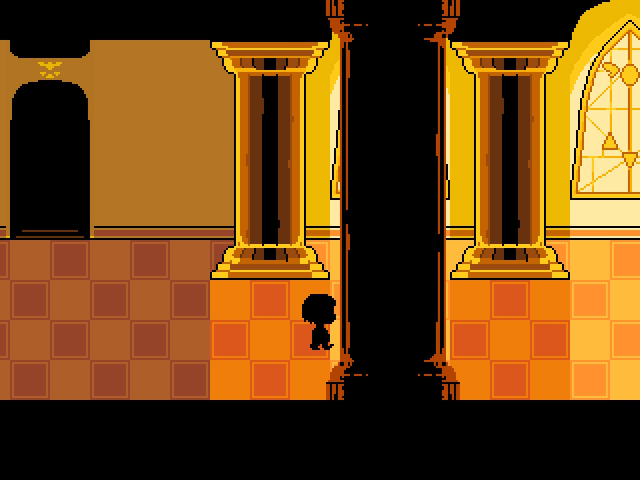 There is no sound at all.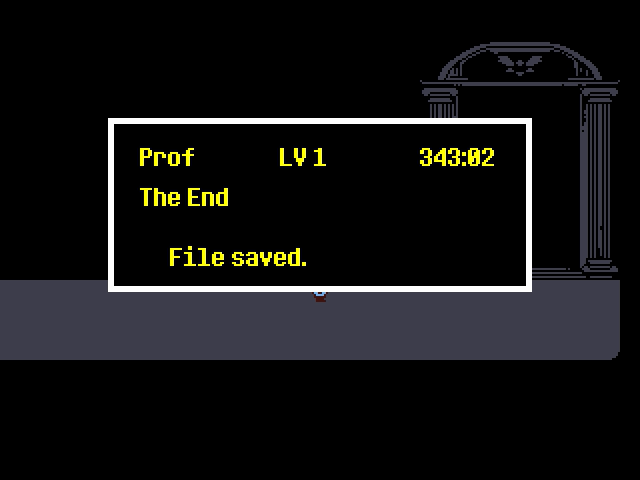 There are no save points, aside from one at the very end.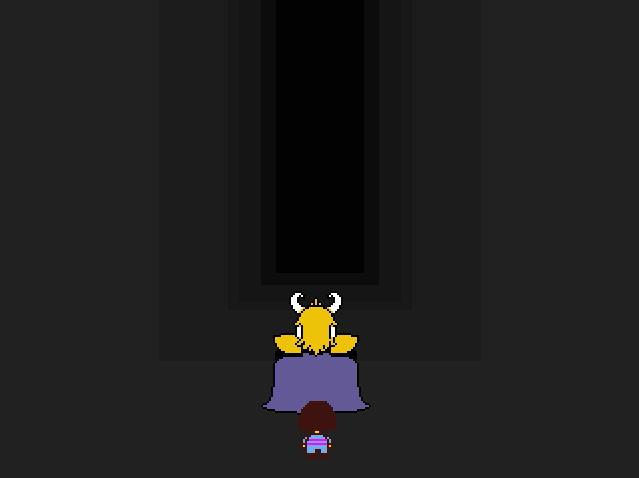 BGM: Barrier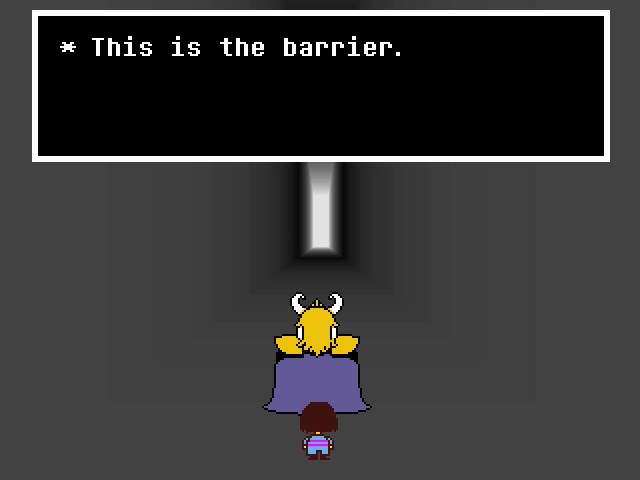 This is what keeps us all trapped underground.

...

If...

If by chance you have any unfinished business...

Please do what you must.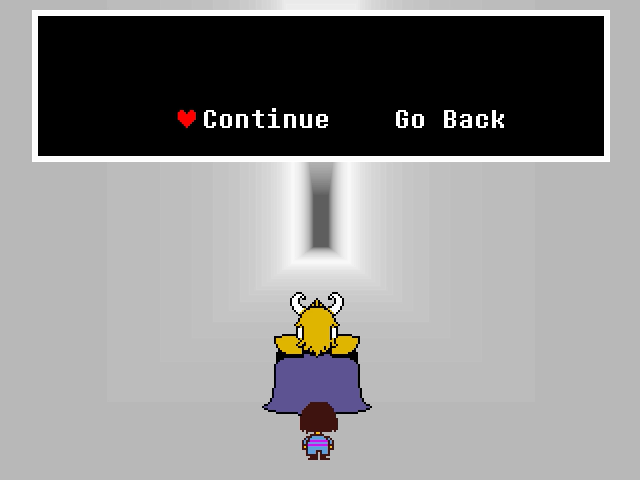 ......I see...

This is it, then.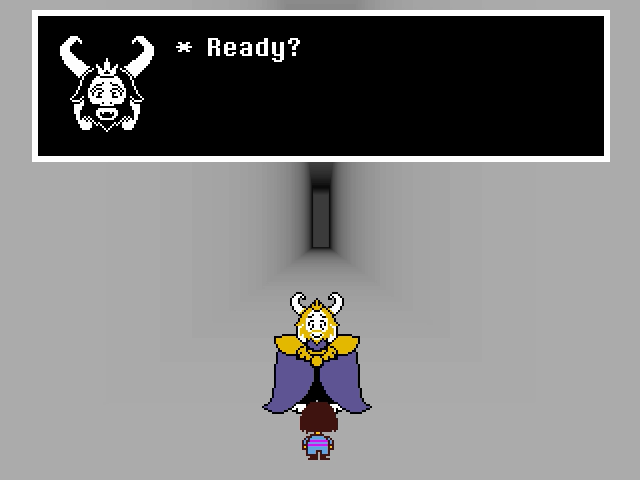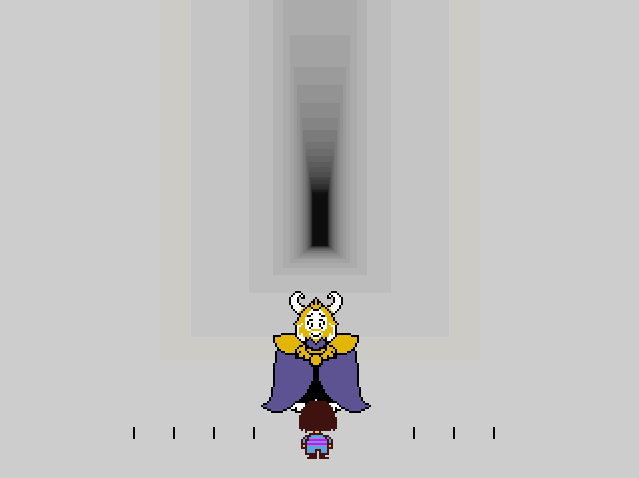 Video: The Final Battle?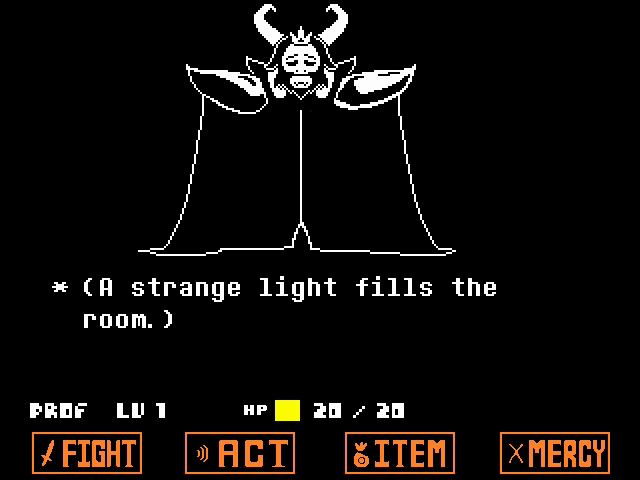 BGM: Bergentrückung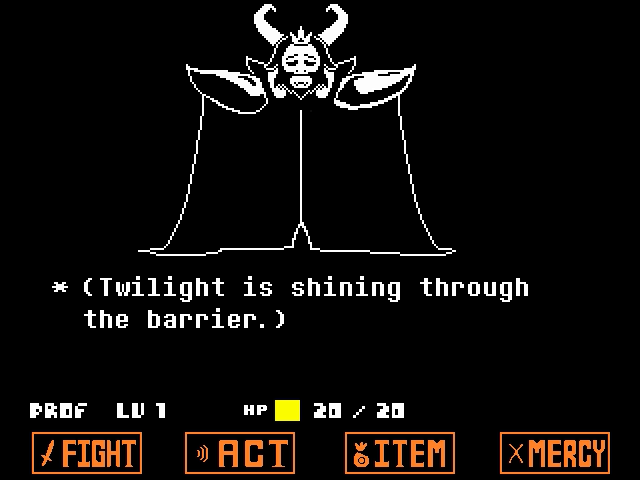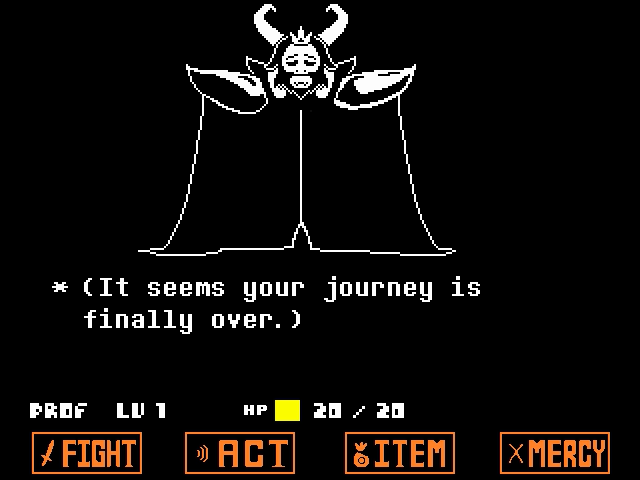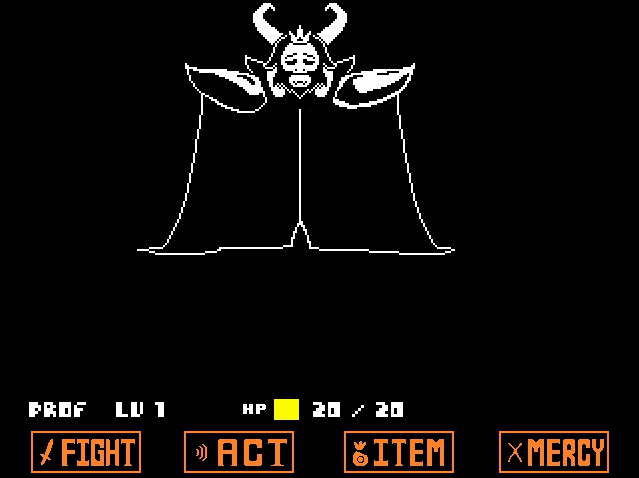 Human...

It was nice to meet you.

Goodbye.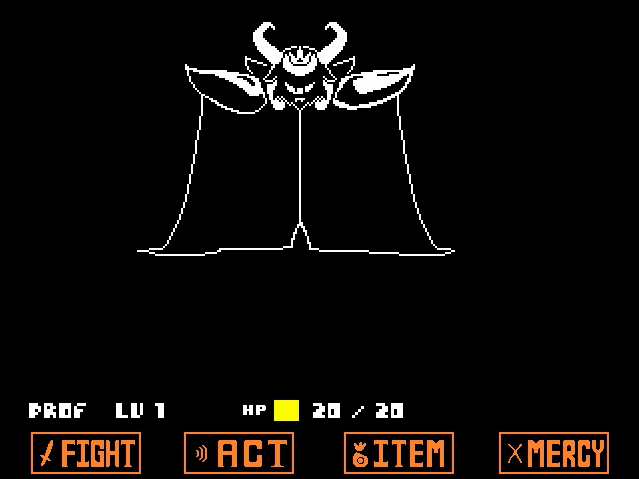 This part seems a little different.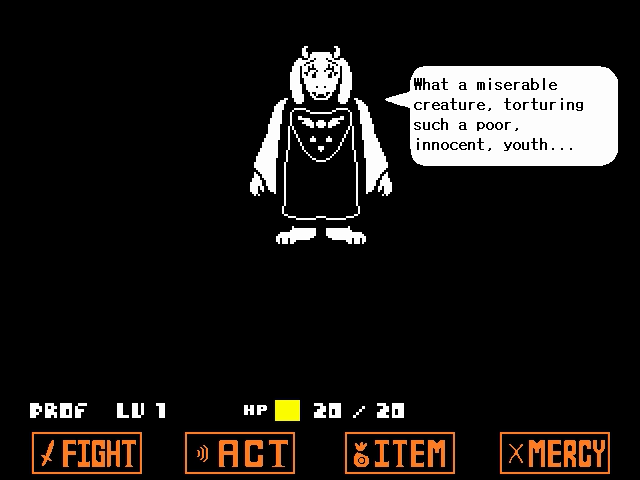 BGM: Fallen Down (Reprise)

Do not be afraid, my child.

It is I, Toriel, your friend and guardian.

At first, I thought I would let you make your journey alone...

But I could not stop worrying about you.

Your adventure must have been so treacherous.

...and ultimately, it would burden you with a horrible choice.

To leave this place, you would have to take the life of another person.

You would have to defeat Asgore.

However... I realized...

I cannot allow that.

It is not right to sacrifice someone simply to let someone leave here.

Is that not what I have been trying to prevent this whole time?

So, for now, let us suspend this battle.

As terrible as Asgore is...

He deserves mercy, too.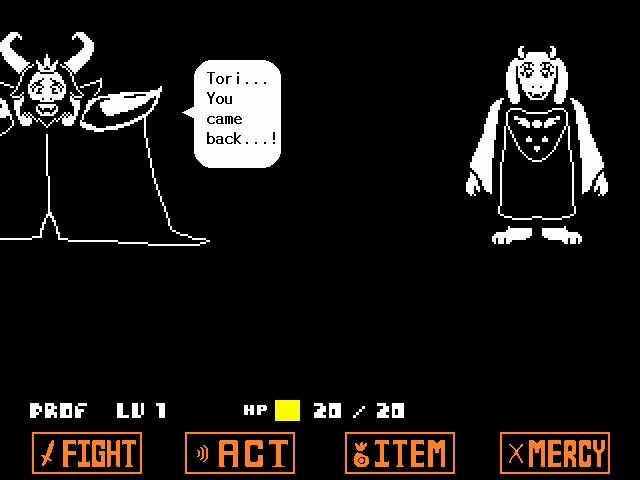 Do not "Tori" me, Dreemurr!

You pathetic whelp.

If you really wanted to free our kind...

You could have gone through the barrier after you got ONE soul...

...taken six souls from the humans, then come back and freed everyone peacefully.

But instead, you made everyone live in despair...

Because you would rather wait here, meekly hoping another human never comes.

...

...Tori...

You're right...

I am a miserable creature...

...but, do you think we can at least be friends again?

(Sigh.)

NO, Asgore.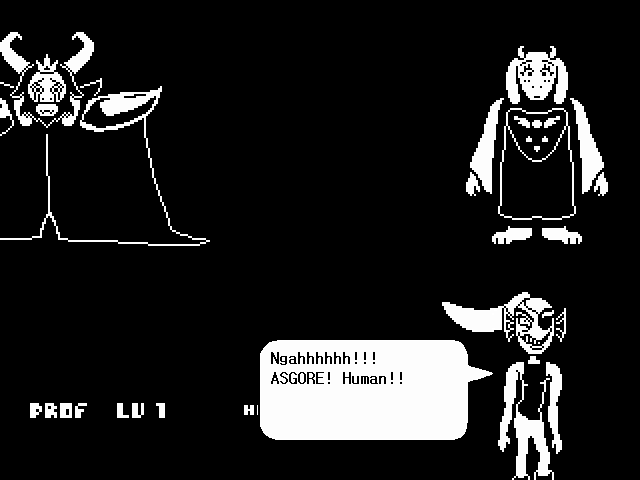 Nobody fight each other!!!

Everybody's gonna make friends, or else I'll...!

I'll...

...

Hello. I am Toriel.

Are you the human's friend?

It is nice to meet you.

Uh, yeah...?

Nice to meet you!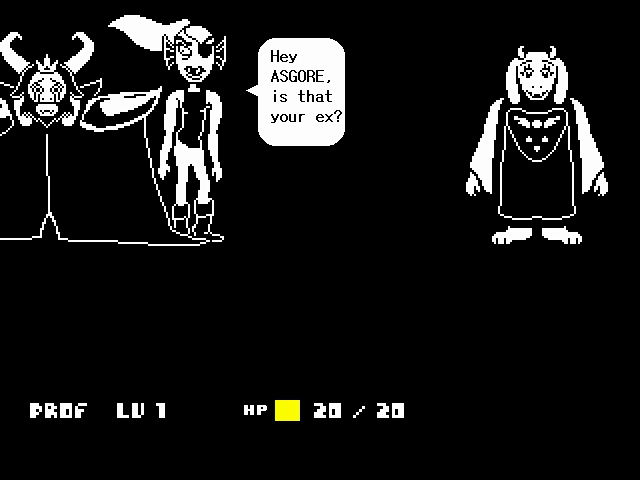 Jeez. That's rough, buddy.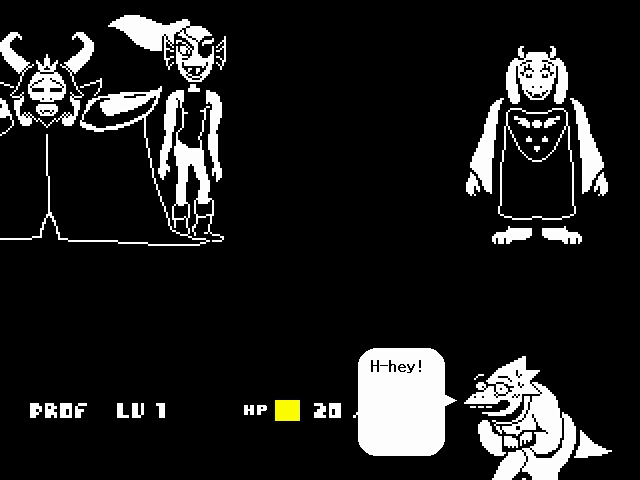 Nobody hurt each other!

...

...

Oh! Are you another friend?

I am Toriel. Hello!

Uh, h-h-hi!

...

(THERE'S TWO OF THEM???)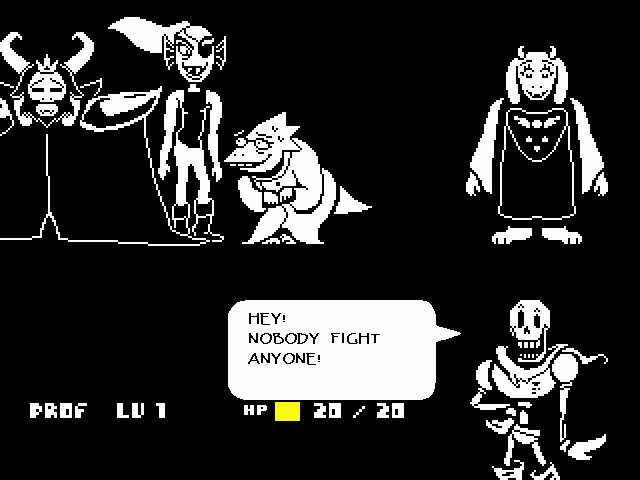 IF ANYONE FIGHTS ANYONE...!

THEN I'LL!!! BE FORCED!!!

TO ASK UNDYNE FOR HELP!!!

Hello!

OH! HELLO, YOUR MAJESTY!

PSST! HEY, HUMAN...

DID ASGORE SHAVE...?

AND... CLONE HIMSELF????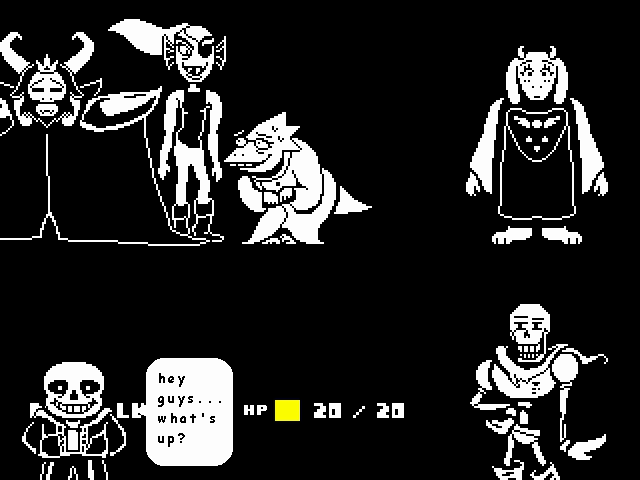 That voice...!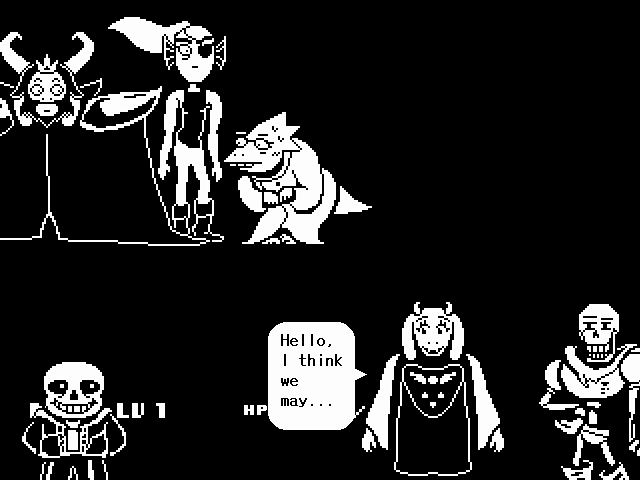 Know each other?

oh hey... i recognize your voice, too.

I am Toriel.

So nice to meet you.

the name's sans.

and, uh, same.

Oh! Wait, then...!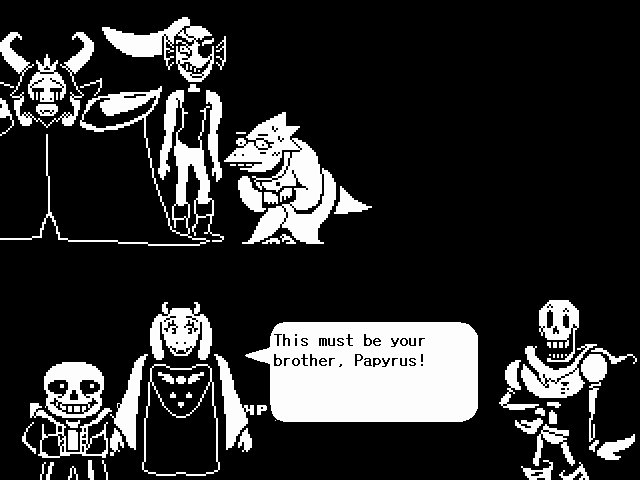 Greetings, Papyrus! It is so nice to finally meet you!

Your brother has told me so much about you.

WOWIE...

I CAN'T BELIEVE ASGORE'S CLONE KNOWS WHO I AM!!!

THIS IS THE BEST DAY OF MY LIFE!!!!!!!

Hey, Papyrus...

What does a skeleton like to tile his roof with?

HMMM... SNOW-PROOF ROOF TILES???

No, silly! A skeleton tiles his roof with...

SHIN-gles!

I CHANGED MY MIND!!!

THIS IS THE WORST DAY OF MY LIFE!!!

Come on, Asgore! It's gonna be OK!

There are plenty of fish in the sea...

Y-yeah, Asgore!!

Undyne's totally right about that fish thing!

S-sometimes you've just got to, uh...

S-stop going after furry boss monsters and, uh...

J-just get to know a really cute fish...?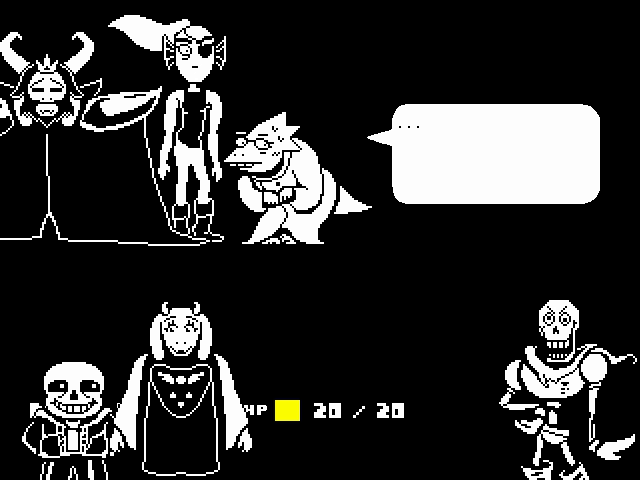 It's a metaphor.

Well.

I think it's a good analogy.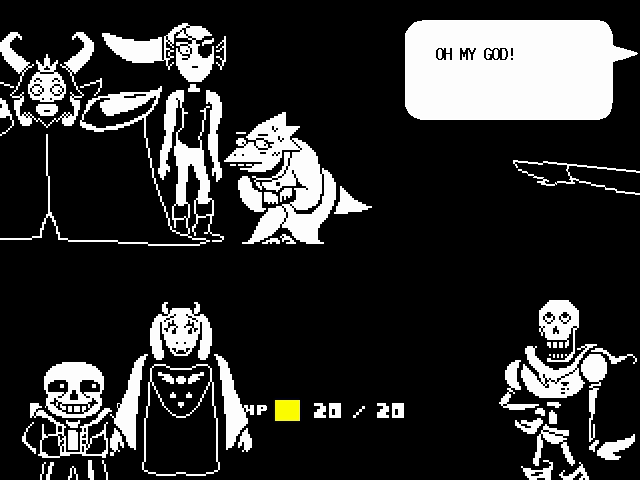 OH MY GOD!

WILL YOU TWO JUST
SMOOCH
ALREADY!?

THE AUDIENCE IS DYING FOR SOME ROMANTIC ACTION!!!

HEY, SHUT UP!!!

Man, the nerve of that guy!

Right, Alphys!??

...

Uh, Alphys?

...

No.

He's right.

LET'S DO IT.

???????????????????

Well??? Uh??? I guess??? If you want to??? Then???

Don't hold anything back!!!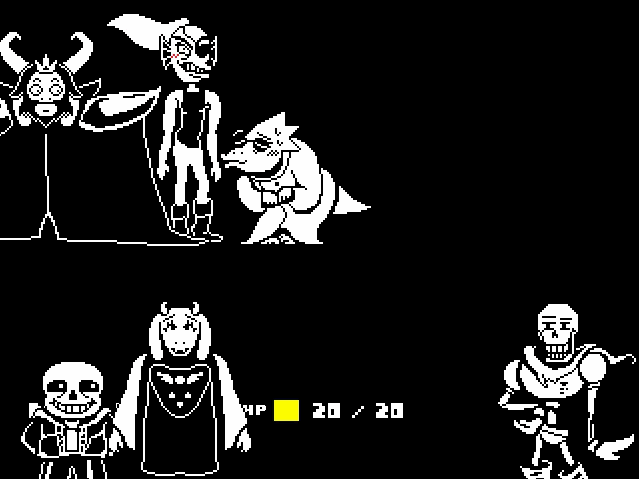 Not in front of the human!

Uhh, right! S-sorry, I got a little carried away there.

Hee hee hee.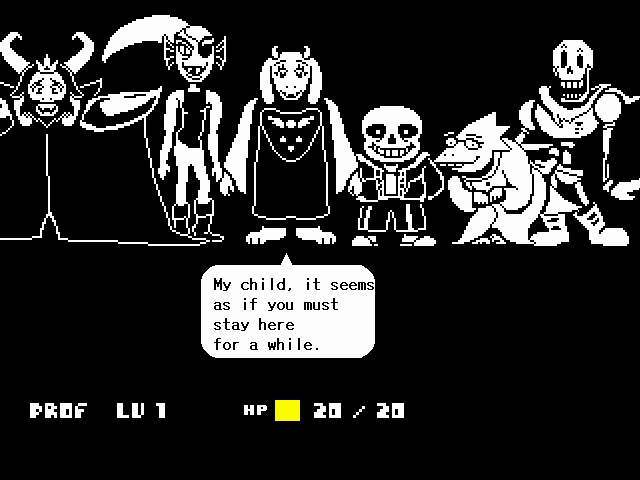 But looking at all the great friends you have made...

I think...

I think you will be happy here.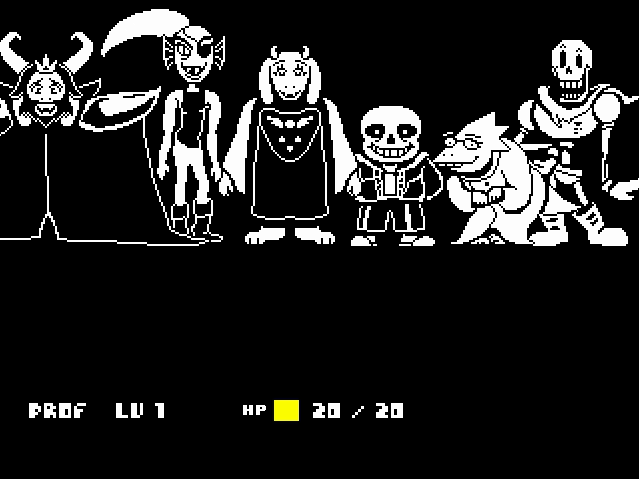 H-hey, that reminds me.

Papyrus... YOU called everyone here, right?

Well, besides, uh, her.

Uh, anyway... If I got here before you...

How did you know to call everybody?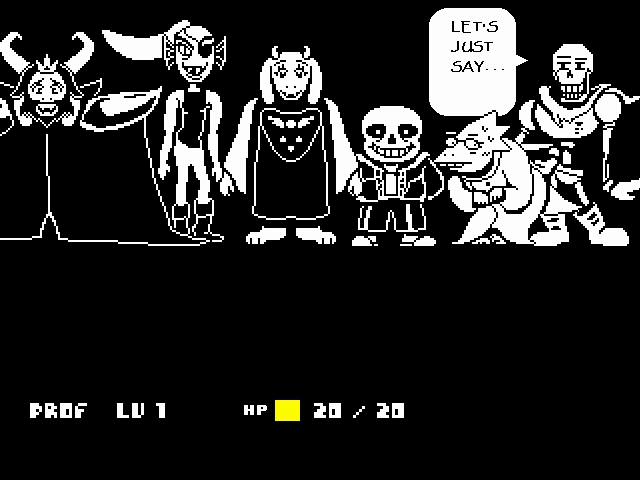 BGM: Silence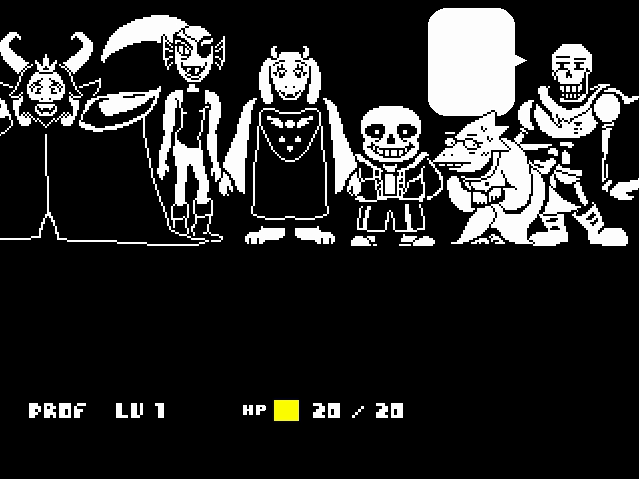 A tiny... flower?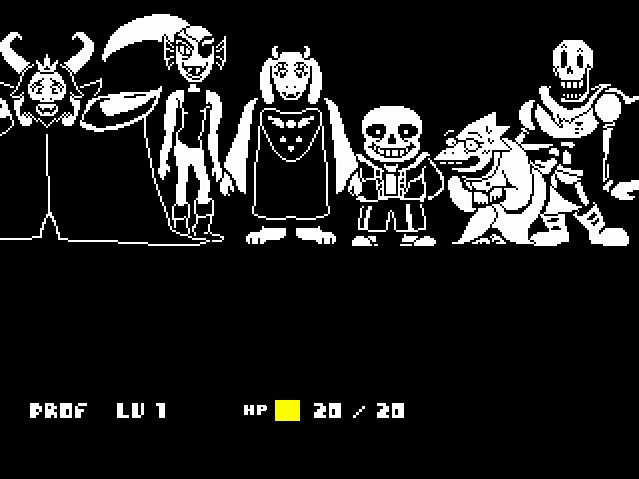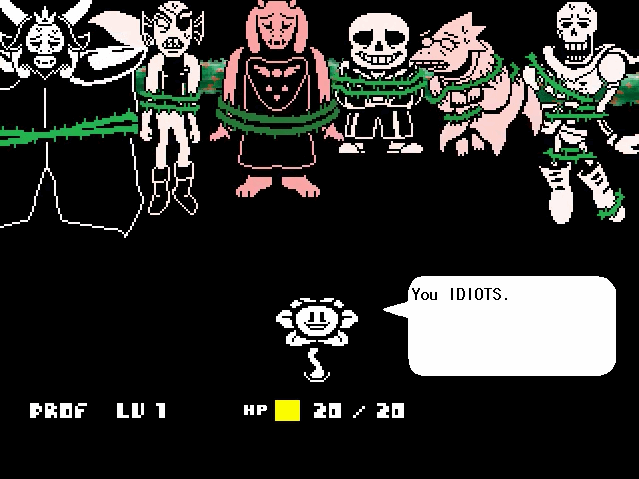 BGM: You Idiot

While you guys were having your little pow-wow...

I took the human souls!

And now, not only are THOSE under my power...

But all of your FRIENDS' souls are gonna be mine, too!

Hee hee hee.

And you know what the best part is?

It's all your fault.

It's all because you MADE THEM love you.

All that time you spent listening to them...

Encouraging them... Caring about them...

Without that, they wouldn't have come here.

And now, with their souls and the humans' together...

I will achieve my REAL FORM.

Hee hee...

Huh?

WHY am I still doing this?

Don't you get it?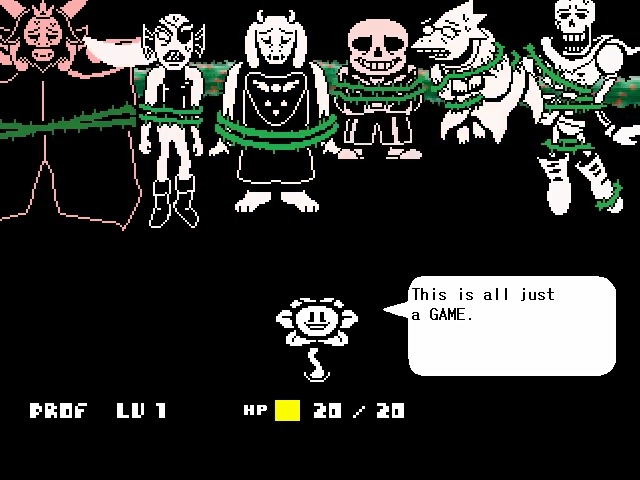 If you leave the underground satisfied, you'll "win" the game.

If you "win,", you won't want to "play" with me anymore.

And what would I do then?

But this game between us will NEVER end.

I'll hold victory in front of you, just within your reach...

And then tear it away just before you grasp it.

Over, and over, and over...

Hee hee hee.

Listen.

If you DO defeat me, I'll give you your "happy ending."

I'll bring your friends back.

I'll destroy the barrier.

Everyone will finally be satisfied.

But that WON'T happen.

You...!

I'll keep you here no matter what!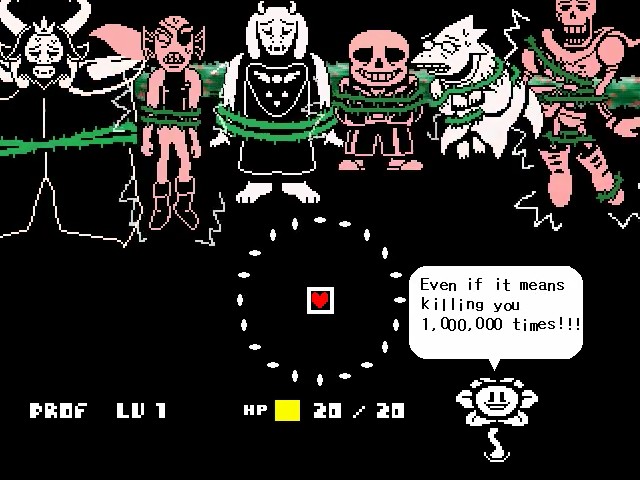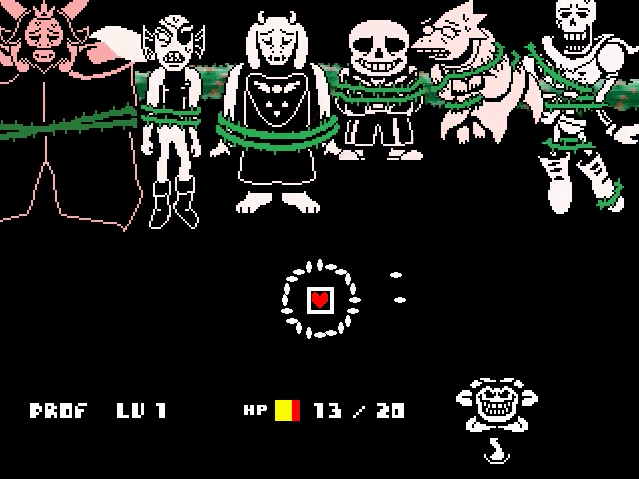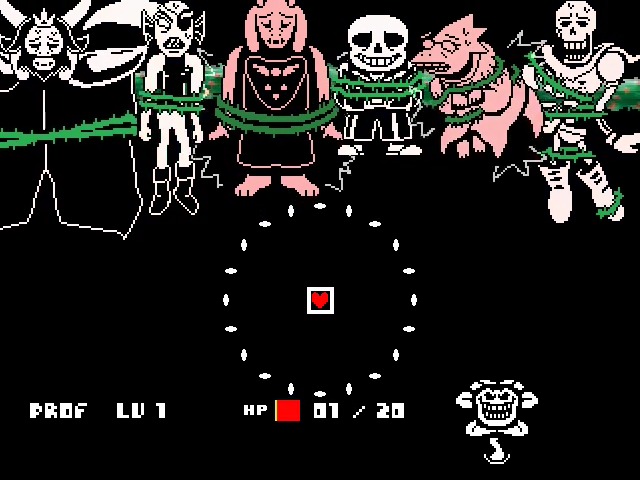 Well, it's been fun, but I guess the LP is about to end.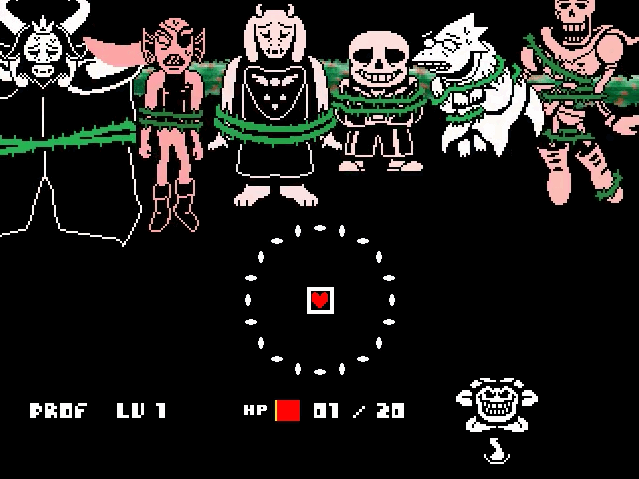 What?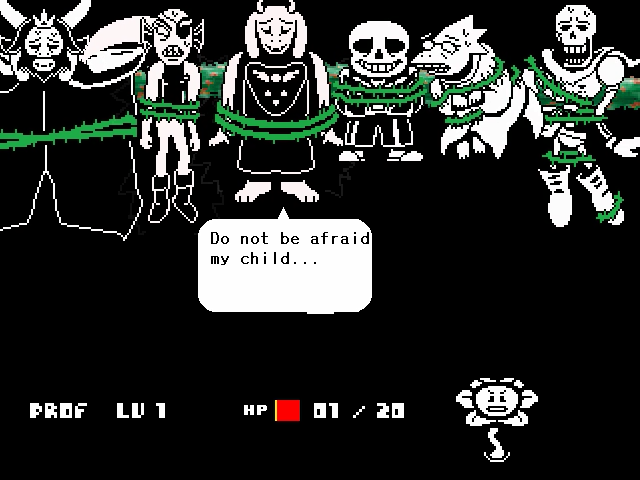 BGM: Don't Give Up


No matter what happens...

We will always be there to protect you!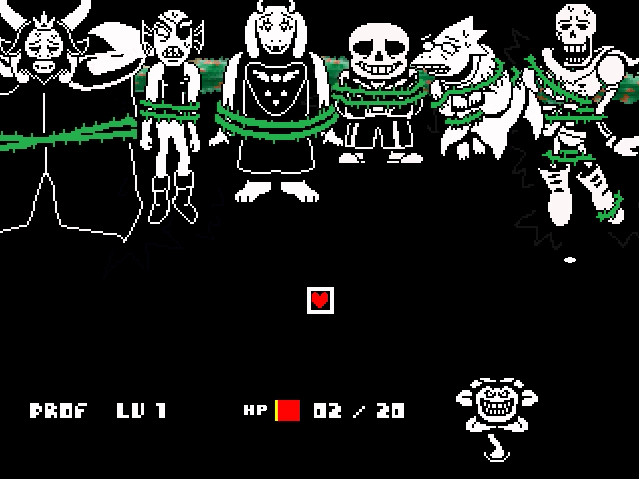 THAT'S RIGHT, HUMAN! YOU CAN WIN!

JUST DO WHAT I, WOULD DO...

BELIEVE IN YOU!!!

Hey! Human! If you got past ME, you can do ANYTHING!

So don't worry! We're with you all the way!

huh? you haven't beaten this guy yet?

come on, this weirdo's got nothin' on you.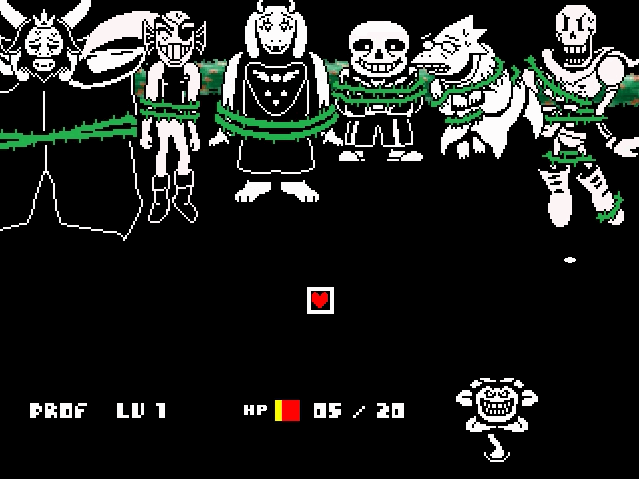 Technically, it's impossible for you to beat him...

B-but... Somehow, I know you can do it!!

Human, for the future of humans and monsters...!

You have to stay determined...!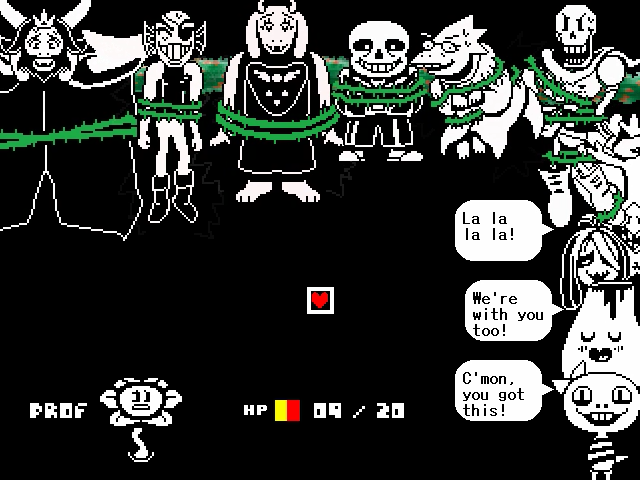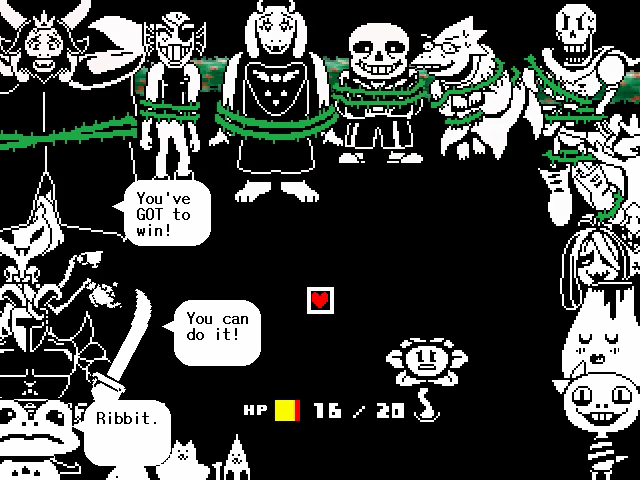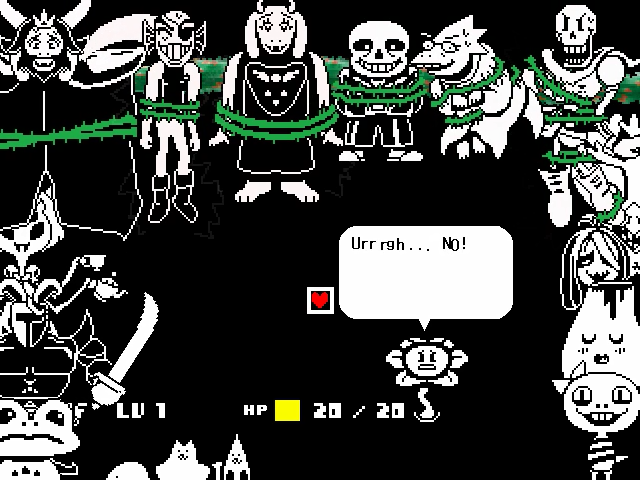 Unbelievable!!

This can't be happening...!

You... YOU...!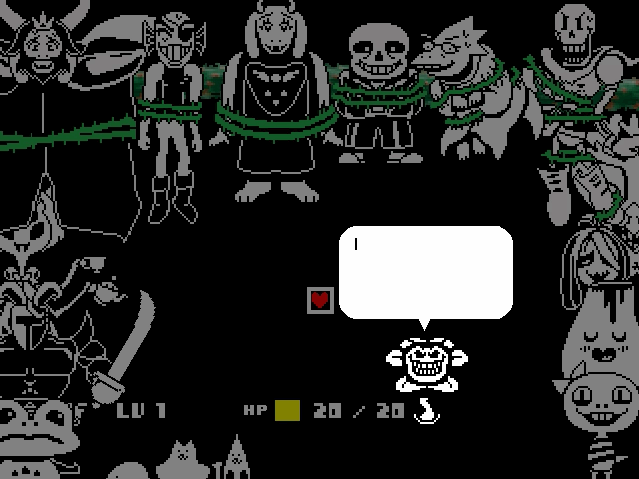 BGM: Silence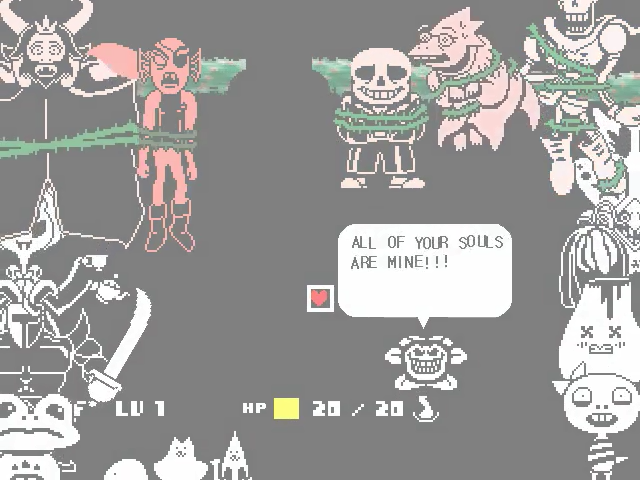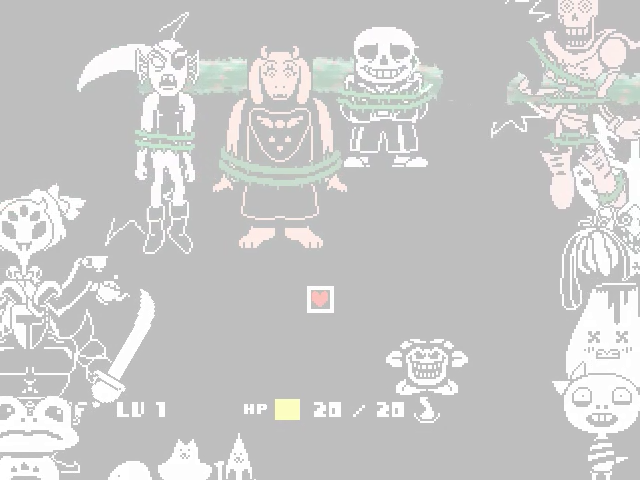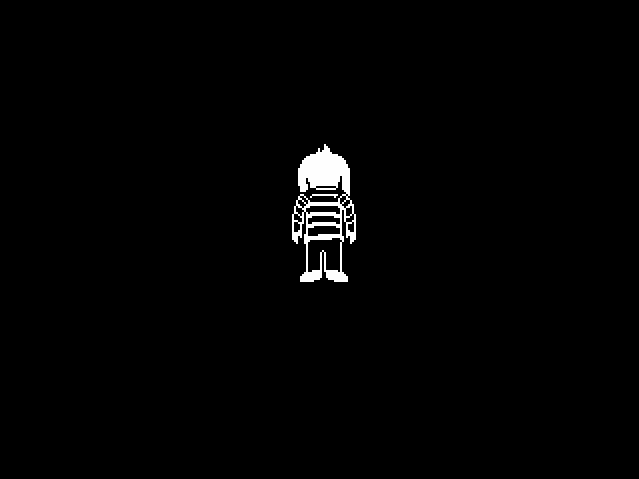 Finally.

I was so tired of being a flower.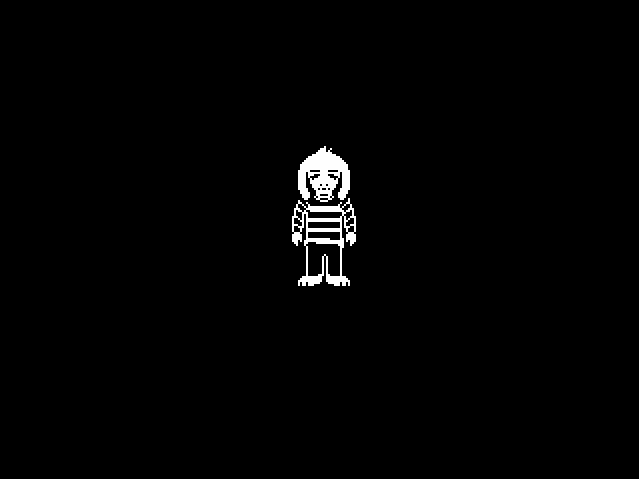 Howdy!

Prof, are you there?

It's me, your best friend.