Part 51: Snowy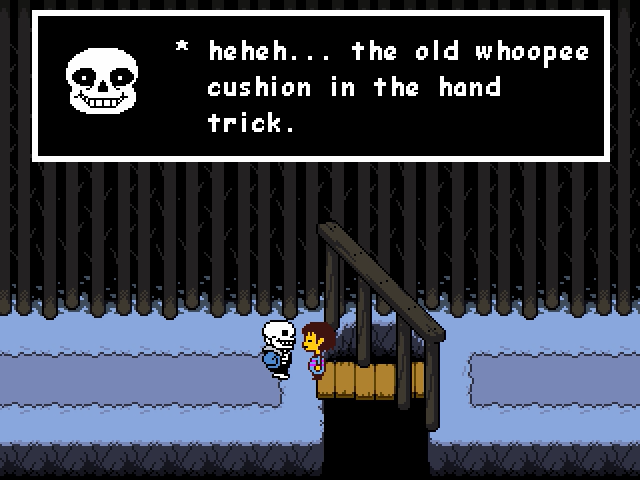 Hi, Sans.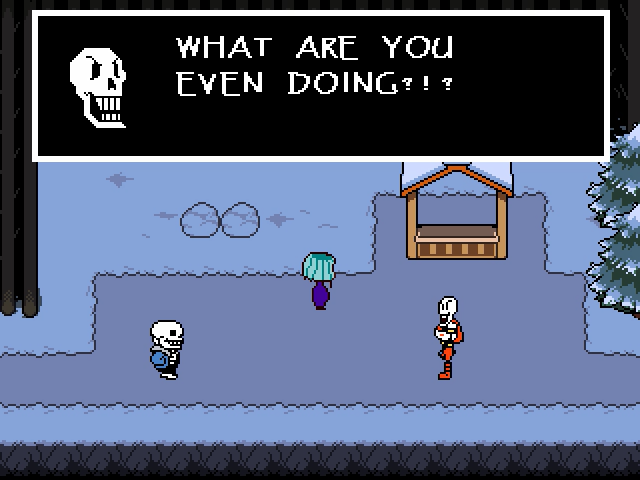 It can be kind of unnerving, talking to these characters after murdering them all in the previous timeline.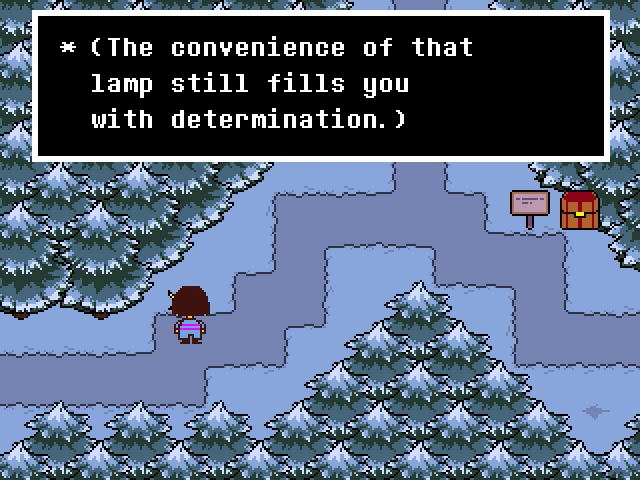 I save, pick up the Tough Glove, and move on.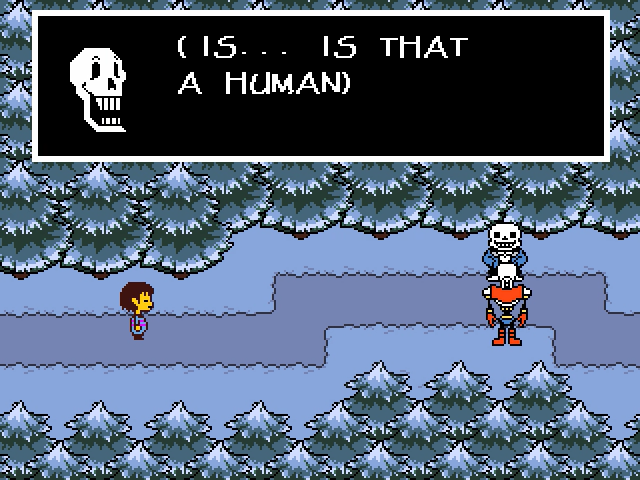 Another normal scene.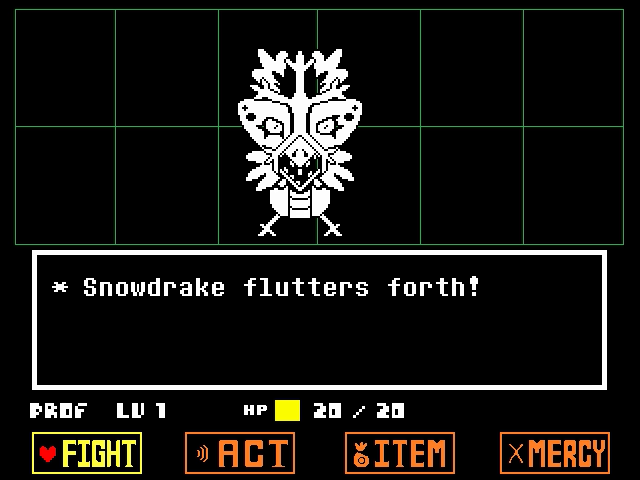 Snowdrake can be Spared by Heckling repeatedly, granting the white title "Still Looking For Laughs."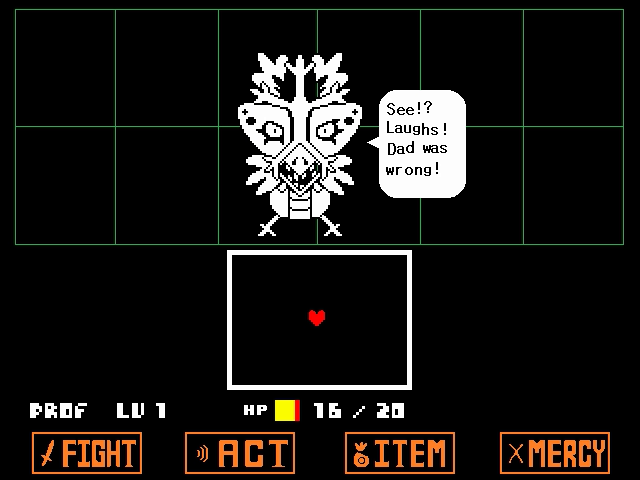 If you laugh at their jokes instead, they get the yellow title "Semi-successful Comedian."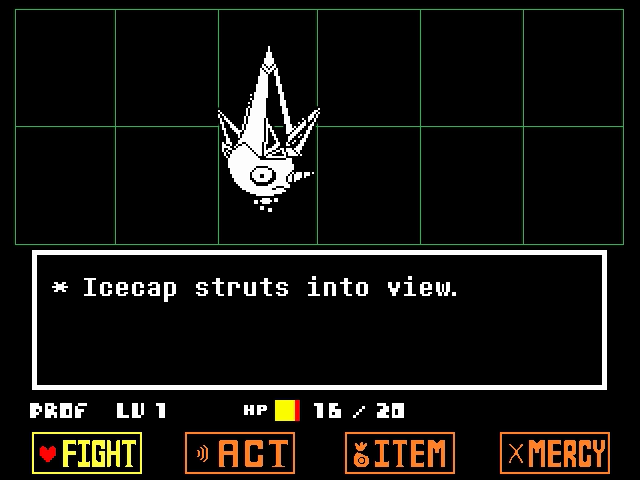 Icecap can be Spared by ignoring it twice, granting the white title "Thinking About Its Hat."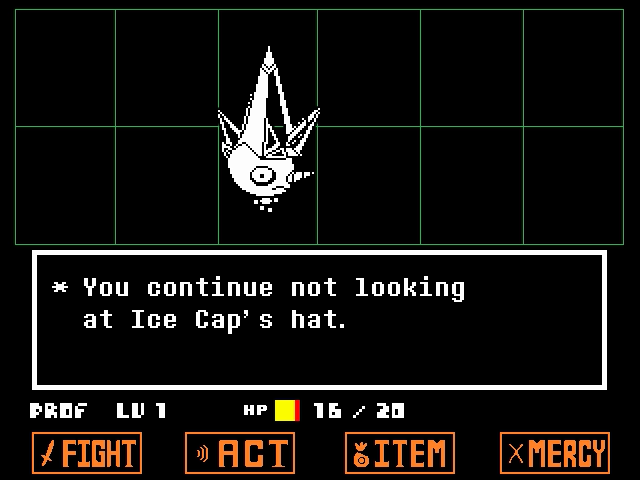 However, that's not the end of the fight!
After ignoring it into submission, I
Steal
.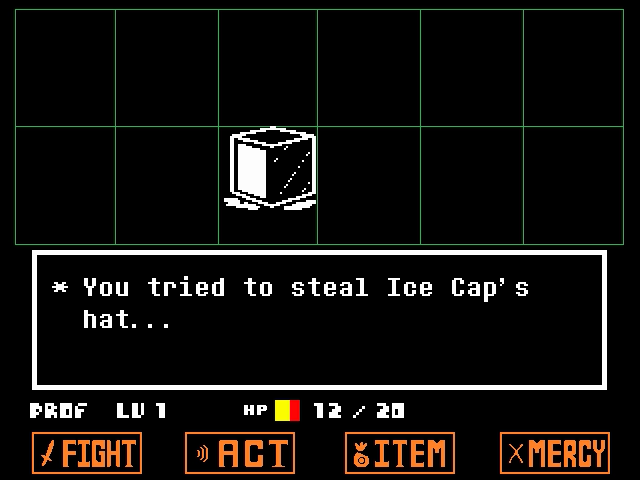 And succeeded! (It melts in your hands...)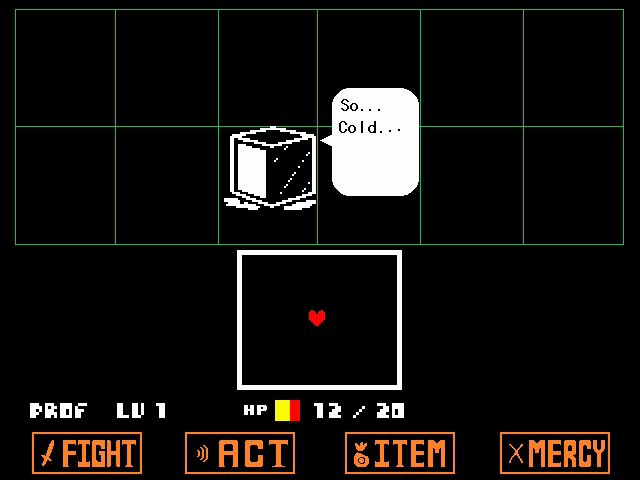 Icecap is no more. There is only...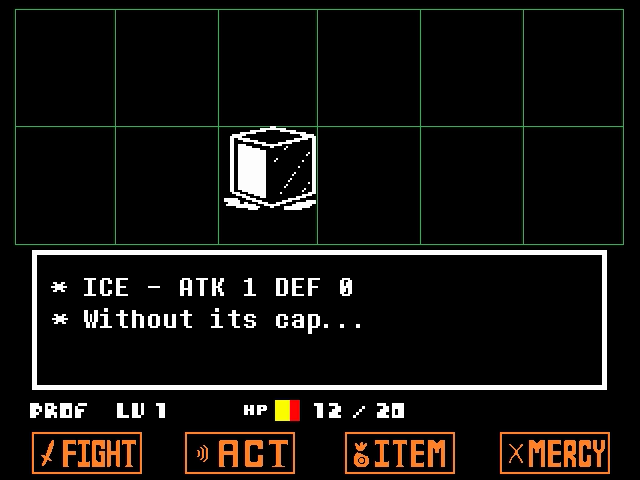 Ice.
I
Compliment
it.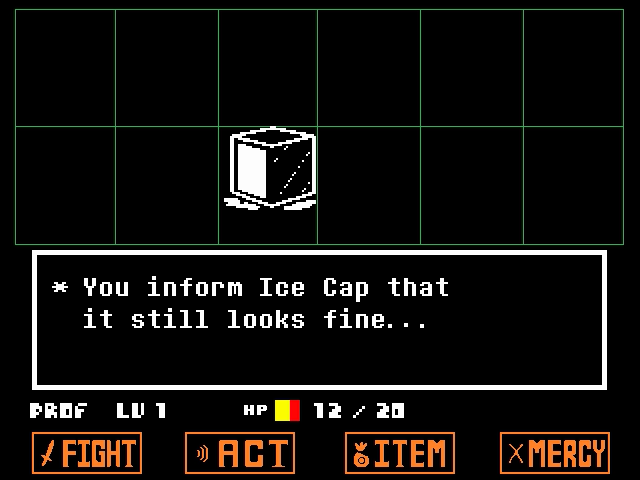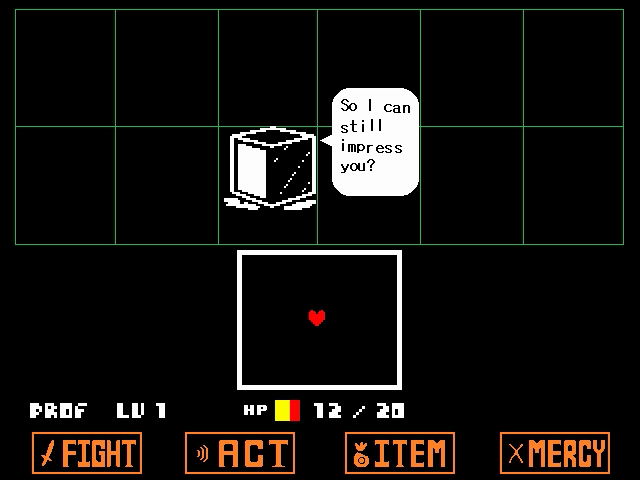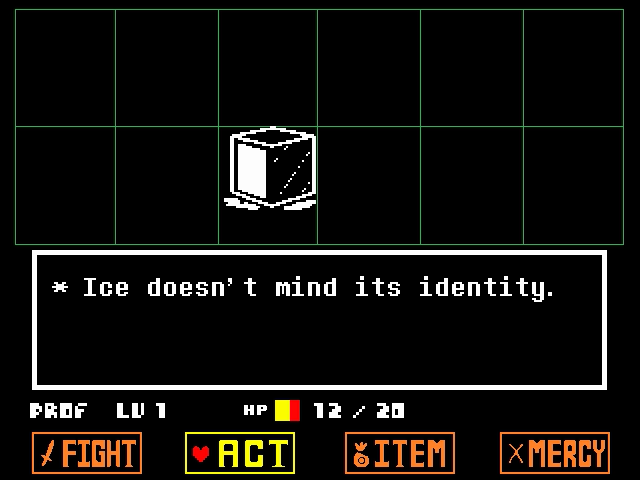 I Spare Ice, which will now have the yellow title "Fashion Designer".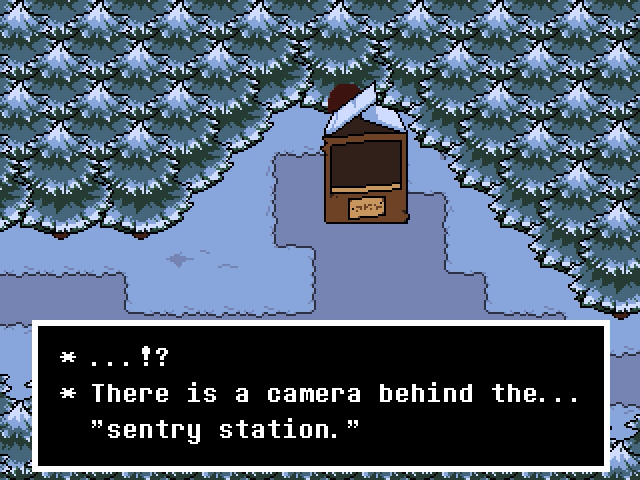 There are a whole lot of cameras hidden in Snowdin.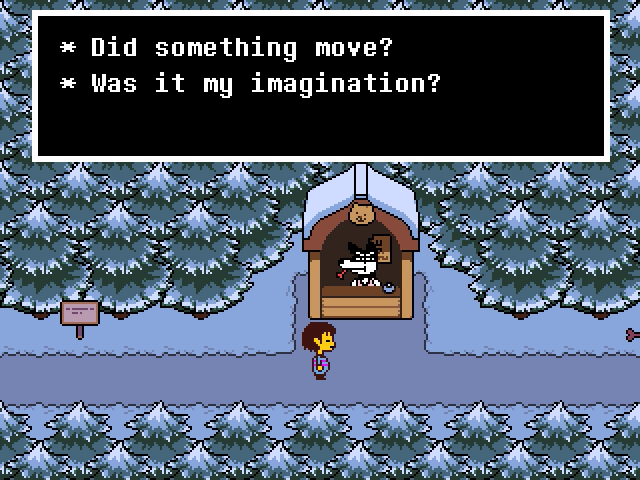 Time to reveal the secret of all dogs.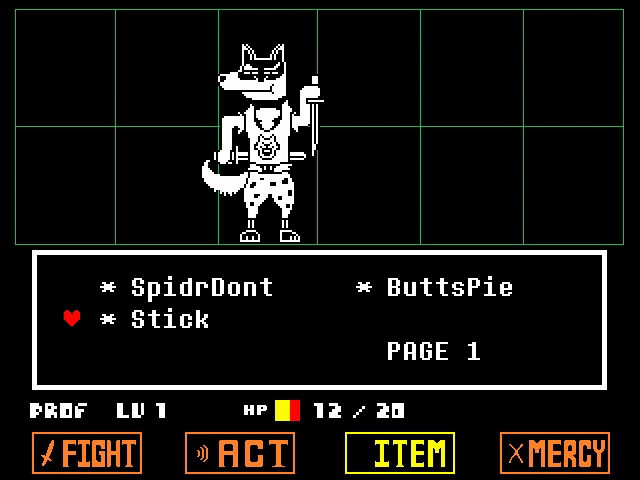 You threw the stick and the dog ran to get it. You played fetch for a while.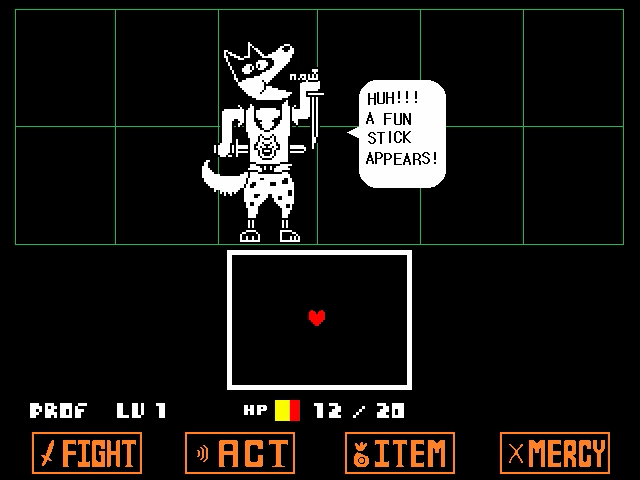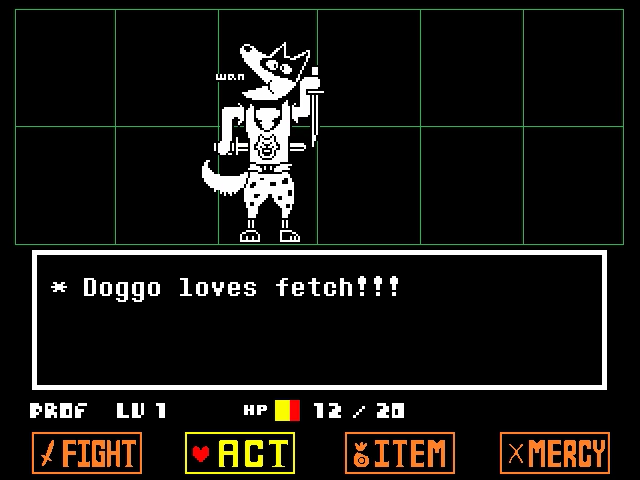 Doggo, like
every dog
, can be instantly made Spareable by using the Stick. Doing so for this particular dog grants the white title "Believes in the Almighty Stick."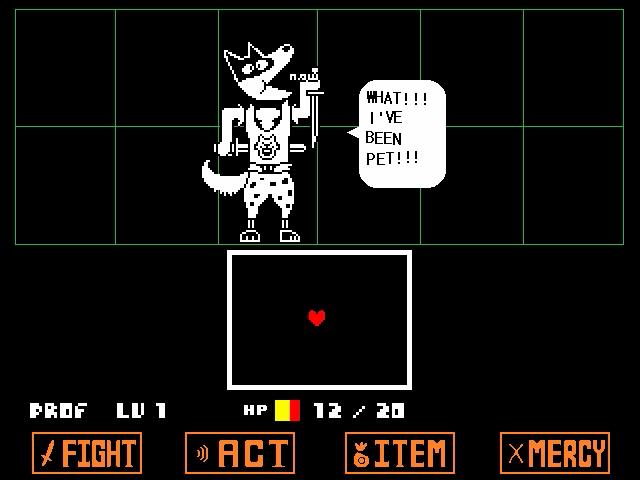 If I properly pet Doggo, that changes to the yellow title "Has His Own Seeing Eye Dog."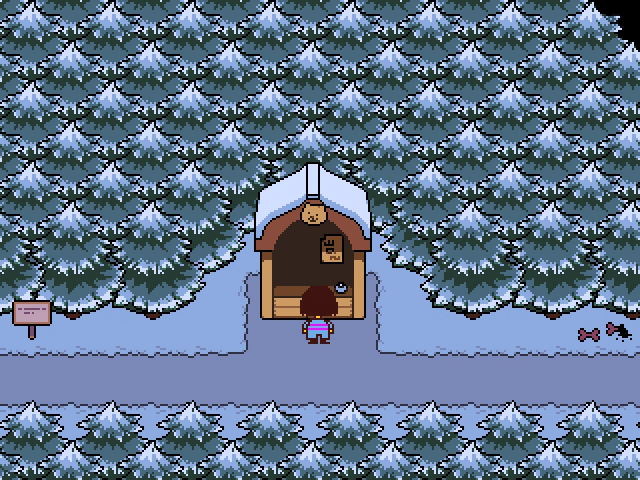 After the battle, I ring the bell.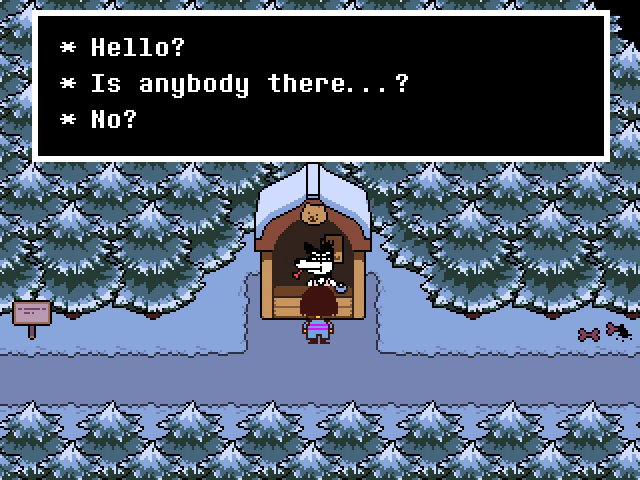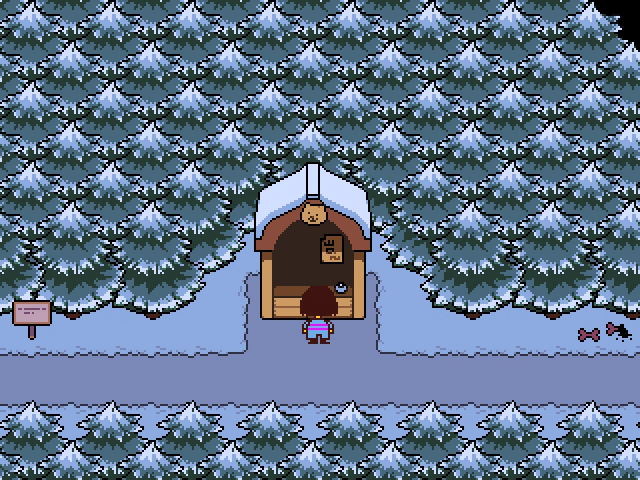 I ring the bell.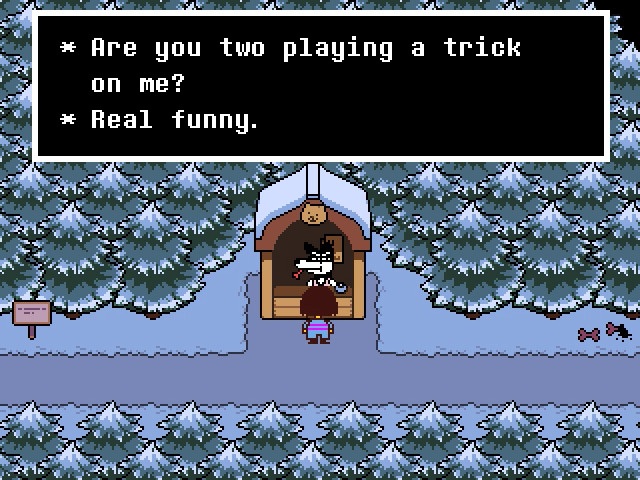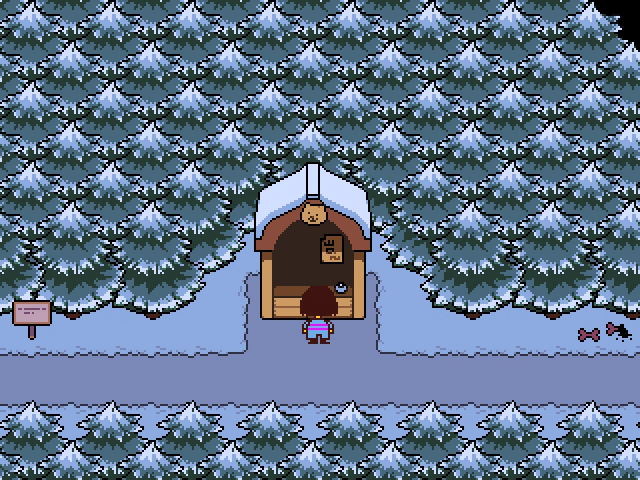 I ring the bell.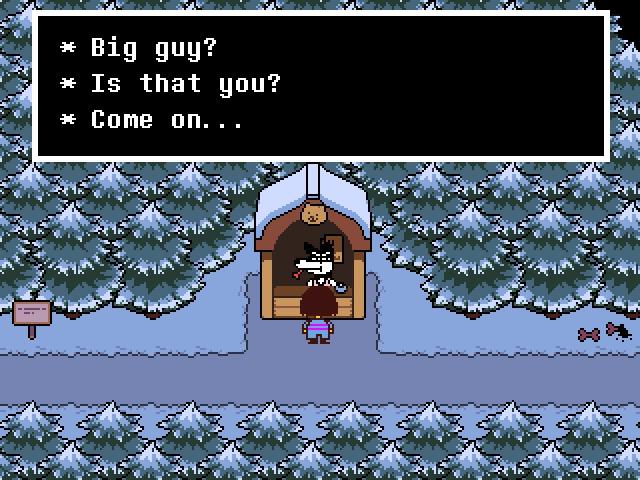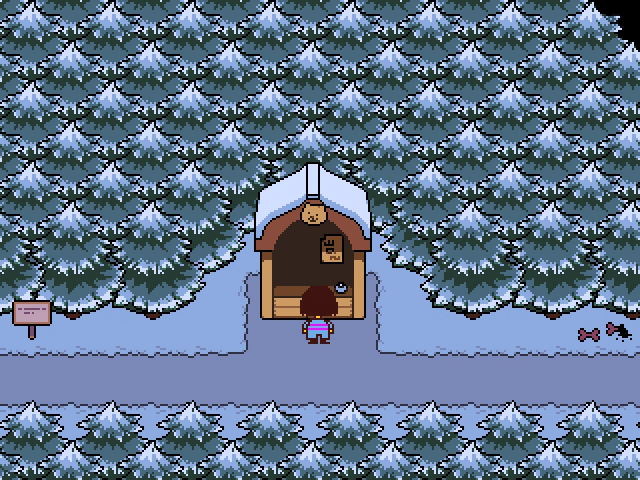 I ring the bell.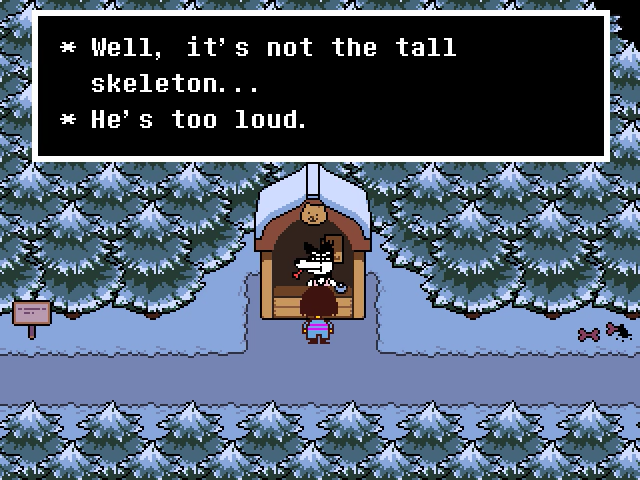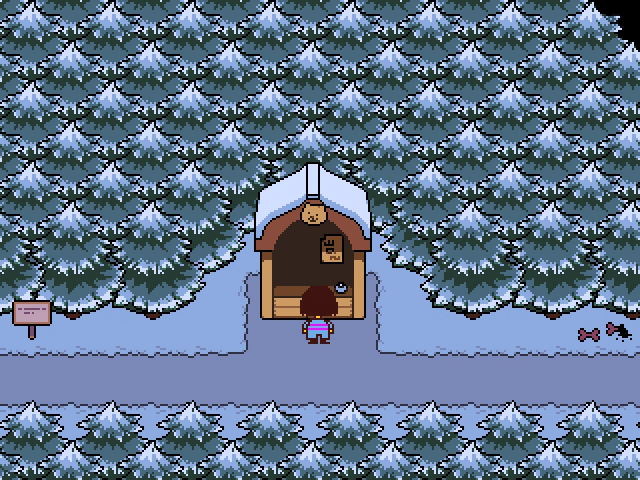 I ring the bell.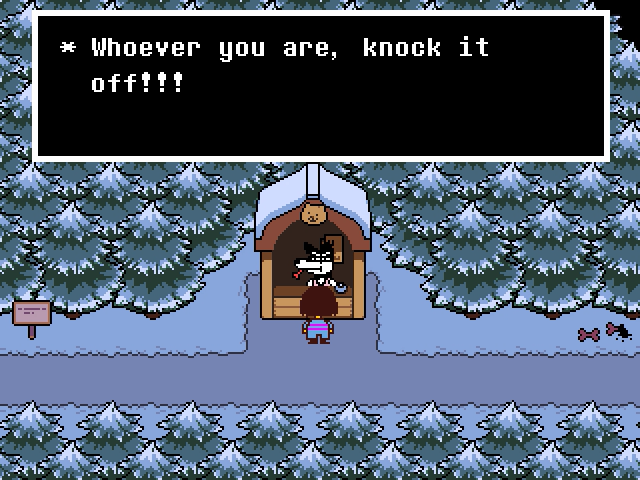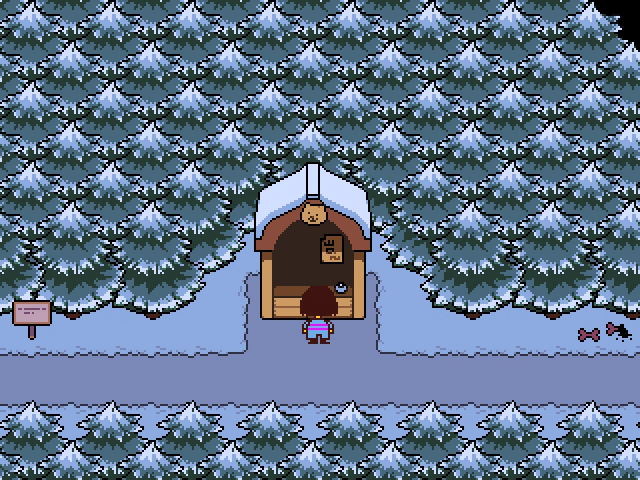 I ring the bell.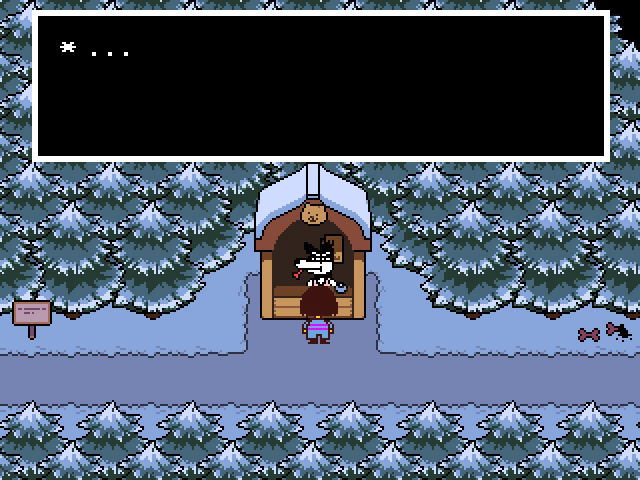 Oh, fine.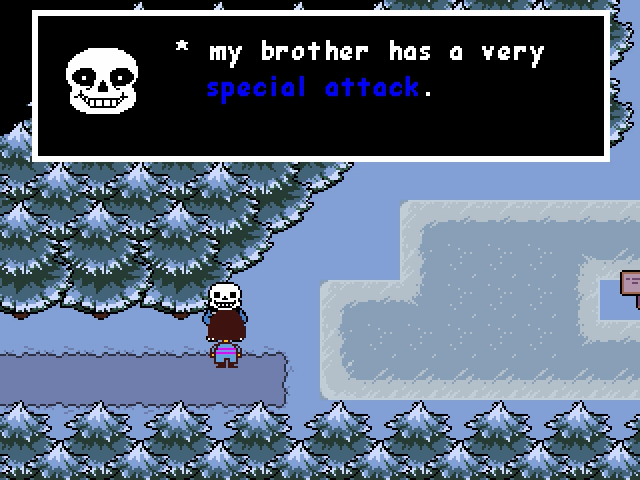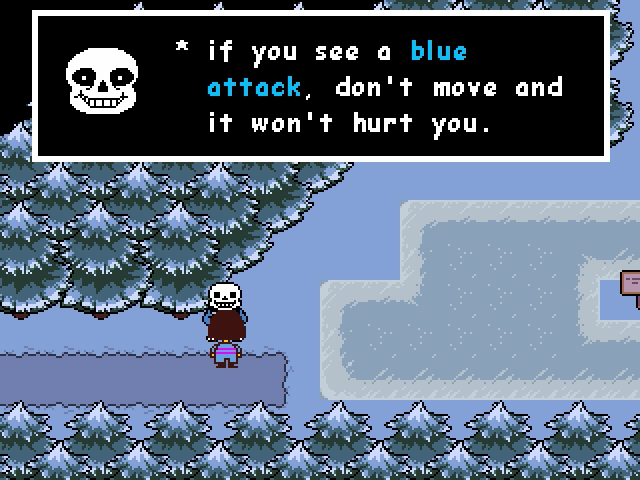 Sans's colored dialogue uses two shades of blue, hinting at how Papyrus's Blue Attack is a different beast from regular blue bullets.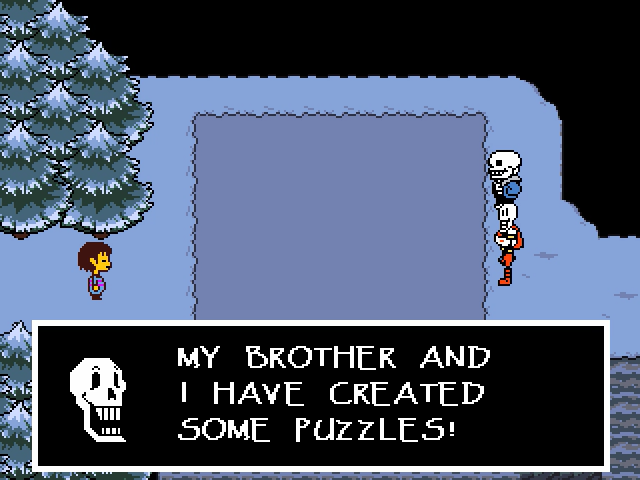 Puzzle time.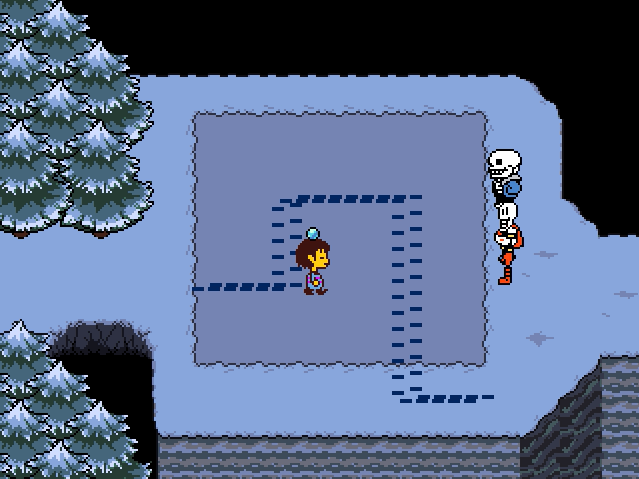 The walls of the "maze" do indeed shock you! I was a little surprised.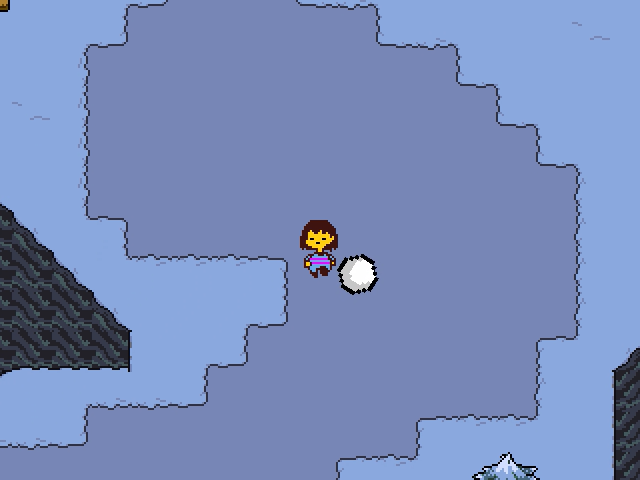 Now, let's talk about the Snowball game.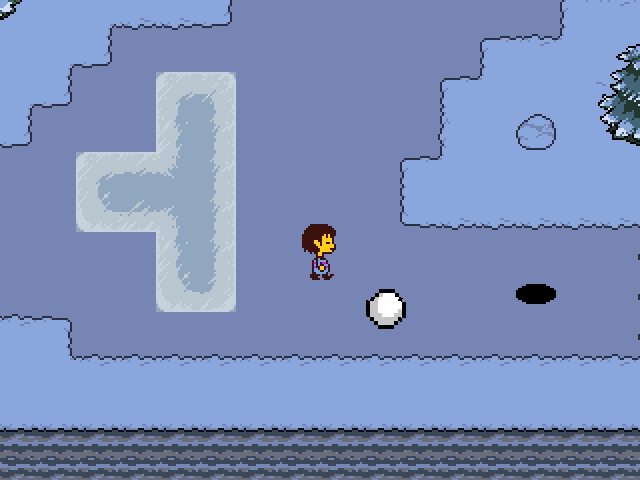 There are seven possible outcomes to the game. Which one you get is based on how you play the game.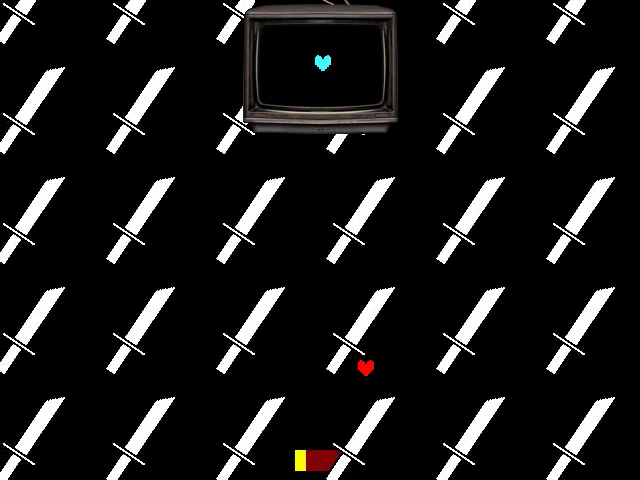 Finishing with a snowball that's dropped dramatically in size raises an
AQUA
flag, and gives 1G and the message:
"Ball" is "Small". You waited, still, for this opportunity... then dethroned "Ball" with sharp attack.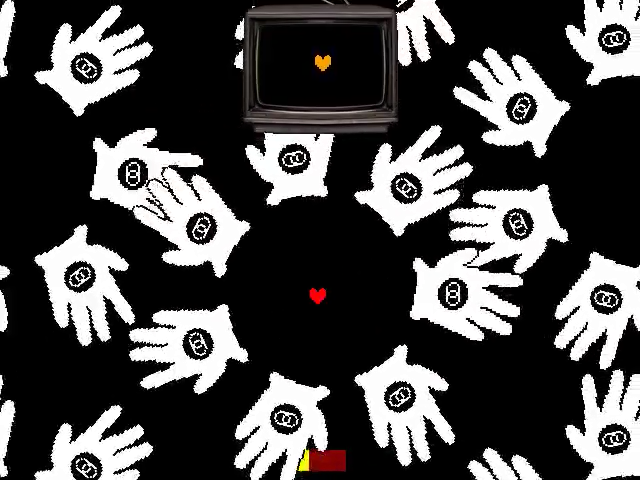 Playing very quickly and accurately raises an
ORANGE
flag, and gives 5G and the message:
You're the kind of people who rushes fists-first through all obstacles.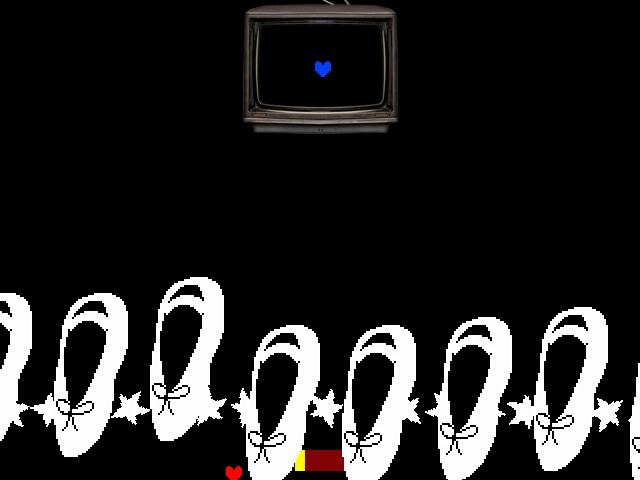 Staying close to the ball and guiding it closesly raises a
BLUE
flag, and gives 2G and the message:
Hopping and twirling, your original style pulled you through.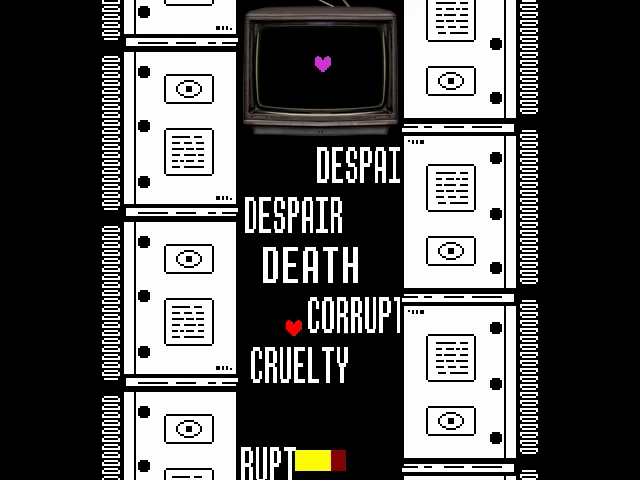 Bumbling around a lot and taking a long time to reach the hole raises a
PURPLE
flag, and gives 2G and the message:
Even when you felt trapped, you took notes and achieved the end of the "Ball".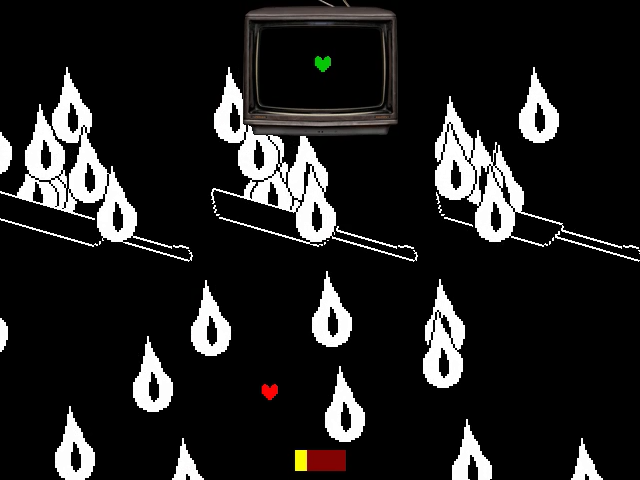 Finishing slowly and with a minimum of bumps raises a
GREEN
flag, and gives 1G and the message:
Your concern and care for "Ball" led to the delicious victory.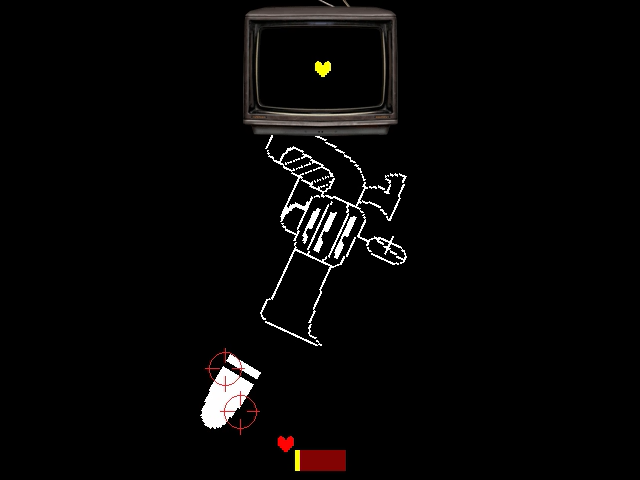 Playing accurately but not quickly raises a
YELLOW
flag, and gives 3G and the message:
Your surefire accuracy put an end to the mayhem of "Ball". Finishing the game after exterminating every monster in Snowdin raises a
RED
flag, and gives the message:
Try as you might, you continue to be yourself.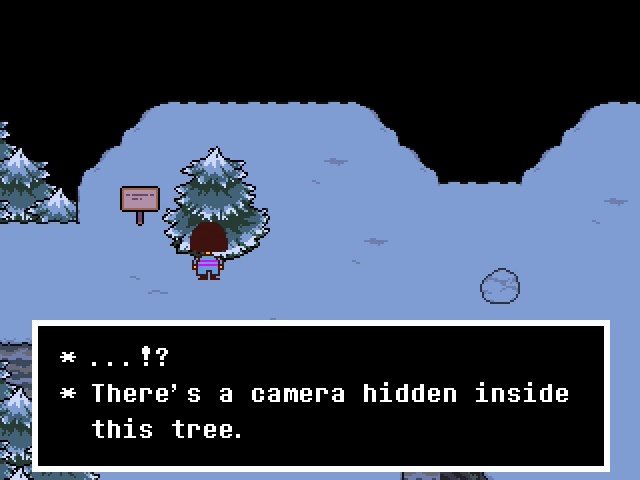 Found another camera.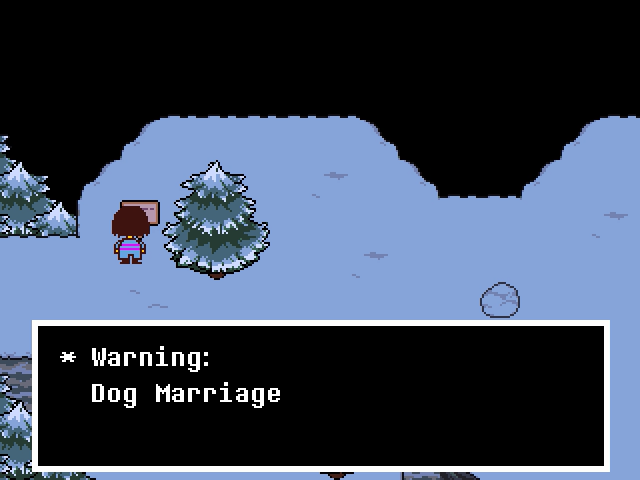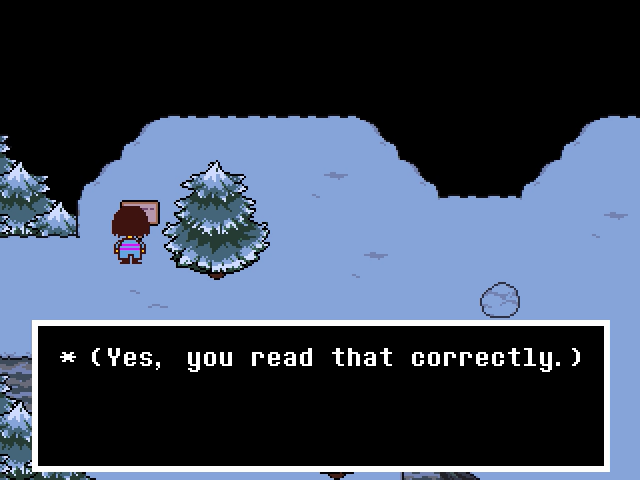 I continue south.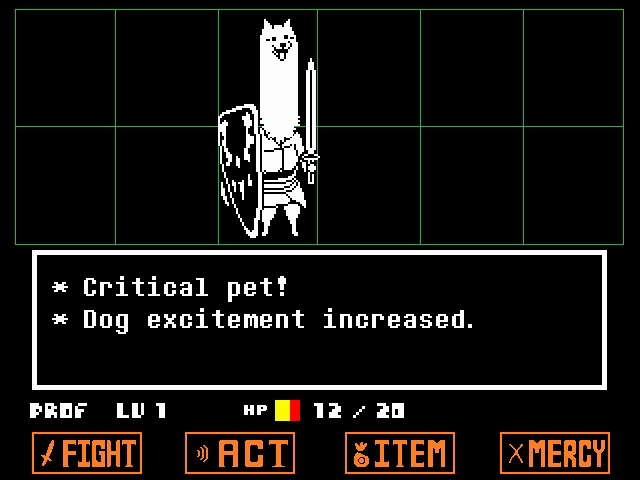 Lesser Dog can be Spared after a single pet, granting the white title "Searching for Affection".
Petting until it stops attacking changes that to the yellow title "Found A Loving Owner."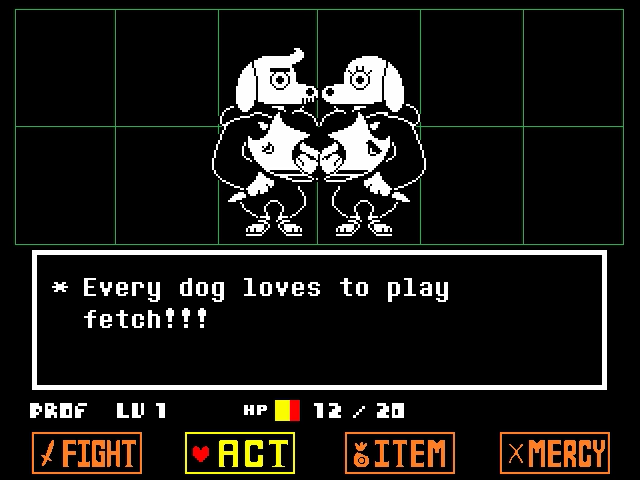 Dogi can be Spared with the stick as usual, granting the white title "Still Thinking About That Stick".
Going through the whole ordeal with changing your smell and petting them changes it to the yellow title "Finally No. 1 Nose Nuzzle Champions".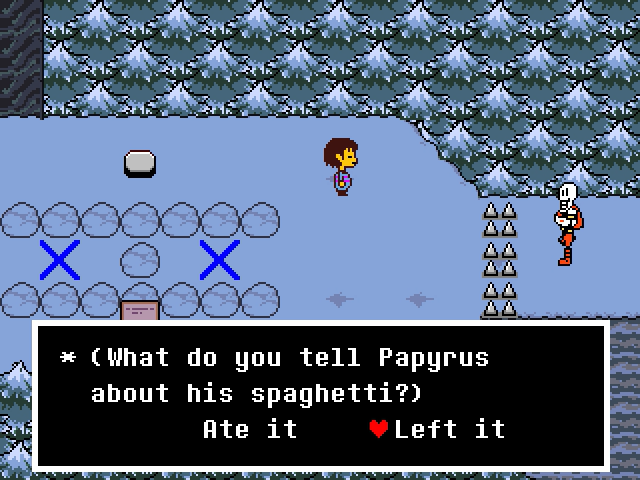 REALLY!?

WOWIE...

YOU RESISTED THE FLAVOR OF MY HOMECOOKED PASTA...

JUST SO YOU COULD SHARE IT WITH ME???

FRET NOT HUMAN! I, MASTER CHEF PAPYRUS...

WILL MAKE YOU ALL THE PASTA YOU COULD EVER WANT!

HEH HEH HEH HEH HEH HEH NYEH!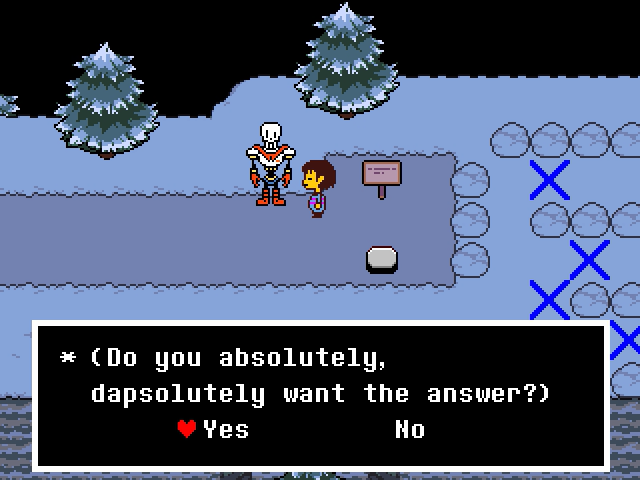 THE! SOLUTION! IS!

(PLEASE IMAGINE A DRUMROLL IN YOUR HEAD)

...THAT TREE OVER THERE HAS A SWITCH ON IT!

CHECK IT OUTIE!!!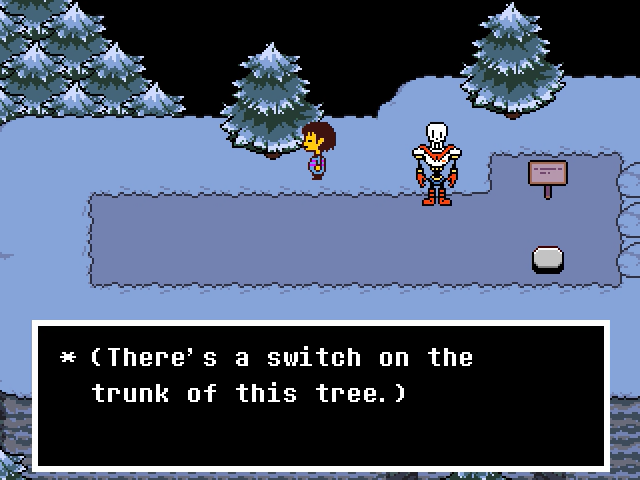 I flip the switch, then go press the puzzle's reset button.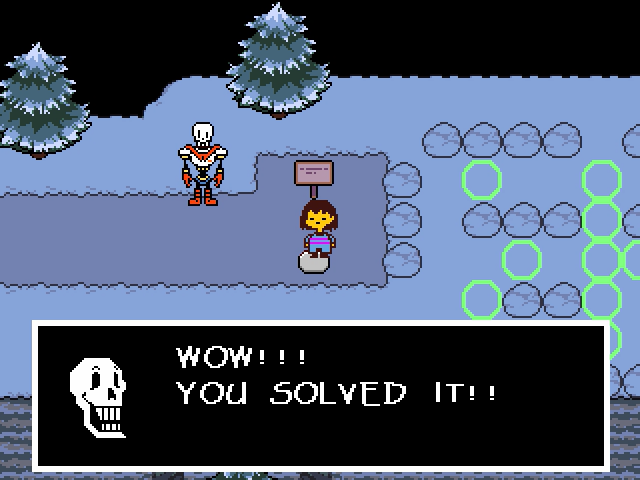 MY ADVICE HELPED! IT REALLY HELPED YOU!!

INCREDIBLE! I'M IMPRESSED!!

YOU MUST CARE ABOUT PUZZLES LIKE I DO!

WELL, I'M SURE YOU'LL LOVE THE NEXT PUZZLE THEN!

IT MIGHT EVEN BE TOO EASY FOR YOU!!

NYEH! HEH HEH! HEHEHEH!!!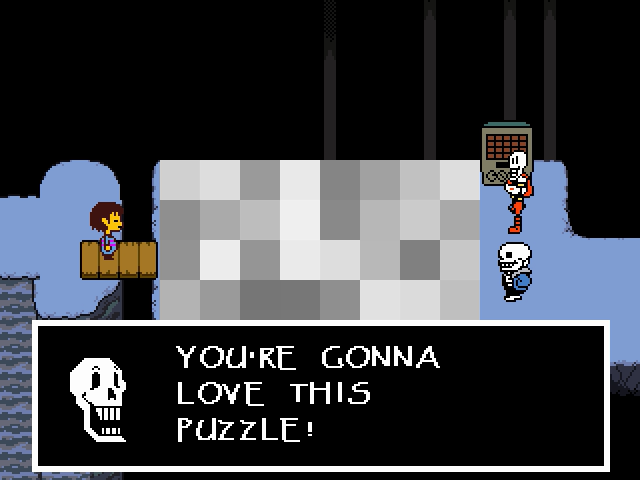 Next is this nonsense.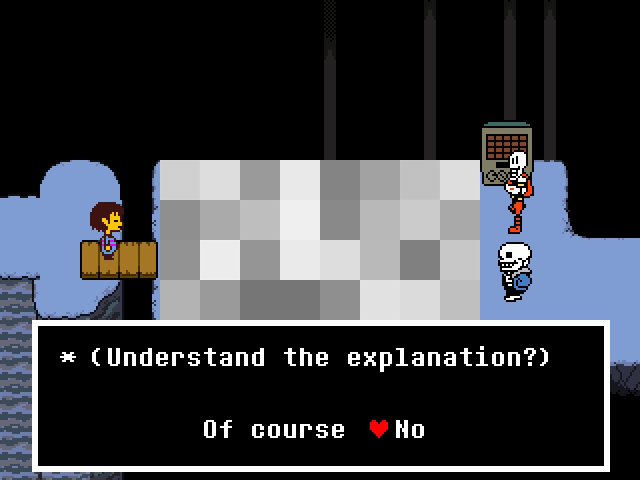 Papyrus repeats his whole explanation, more confusing than before.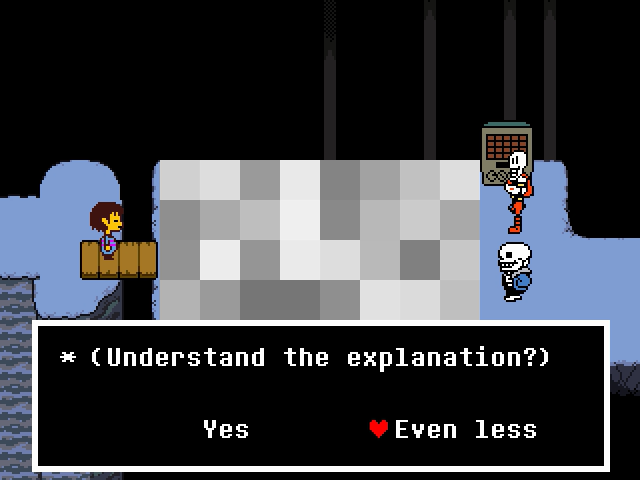 ..........

OK, YOU KNOW WHAT???

HOW ABOUT... YOU JUST...

DO THIS PUZZLE... ON YOUR OWN...

I'LL LEAVE THE INSTRUCTIONS...

JUST READ THEM.

THEN WHEN YOU UNDERSTAND IT...

YOU CAN THROW THE SWITCH.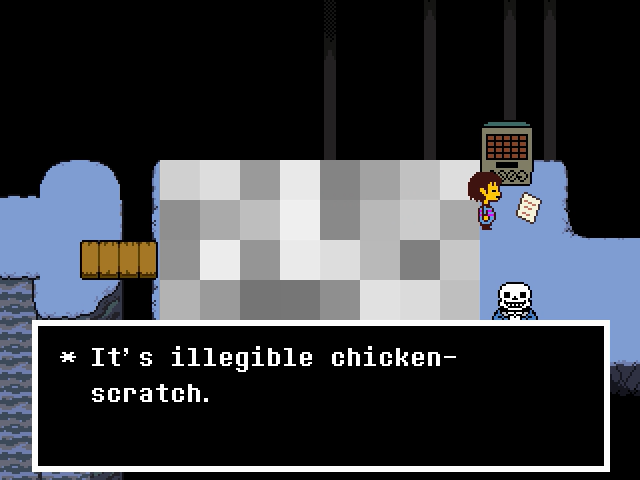 That's the other way to solve this puzzle.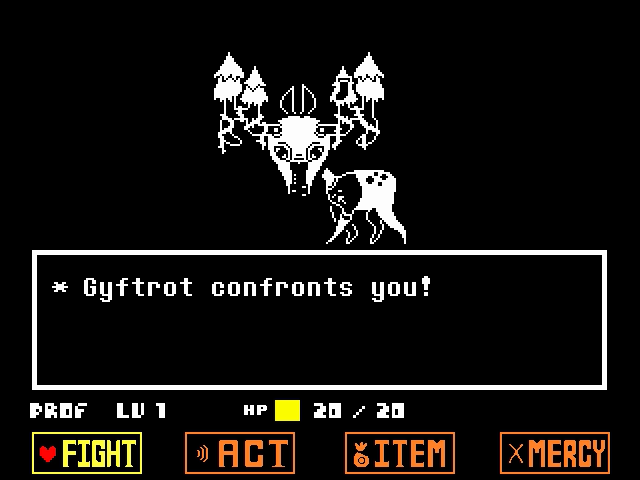 Gryftrot is Spared by removing all decorations. Doing this gives the full yellow title "Christmas Display". If you also give it a gift, it drops to the white title "Finding Peace and Quiet".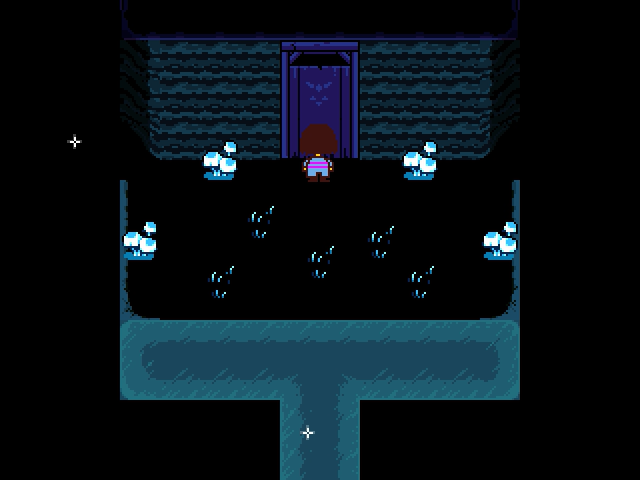 Remember this door? Remember the Pacifist Credits?
This door doesn't open until you finish them without getting hit by a single kickstarter backer. So, I can't open it.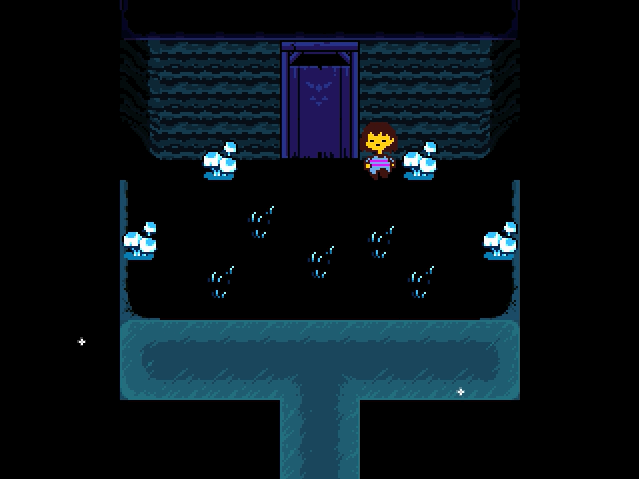 There's something else here, though..
I ram my face into a wall for a few minutes to get an extremely rare encounter to trigger.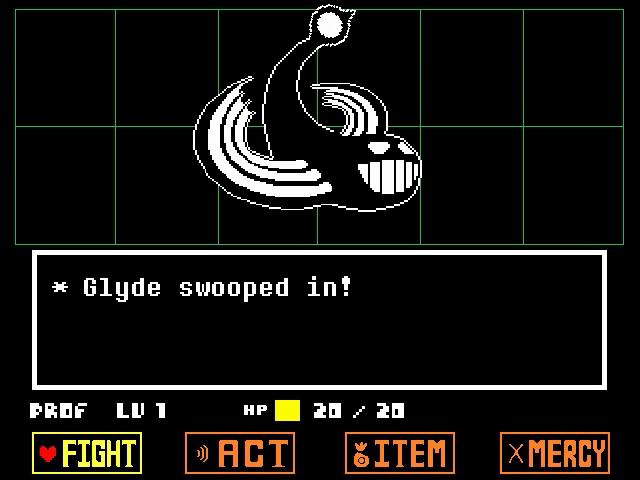 Meet the game's other secret monster.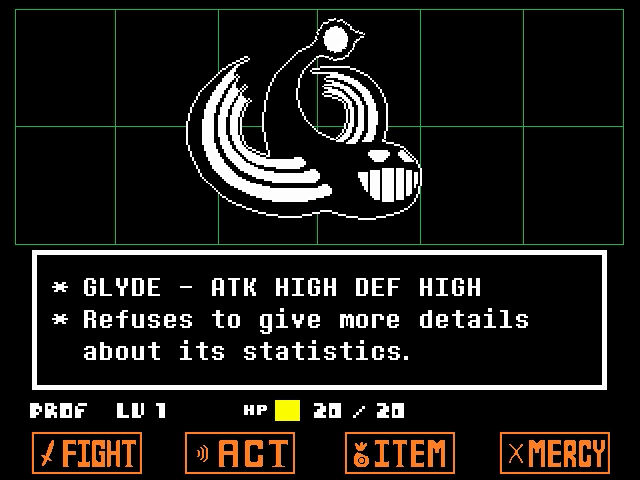 Act options are Applaud, Boo, and Nothing.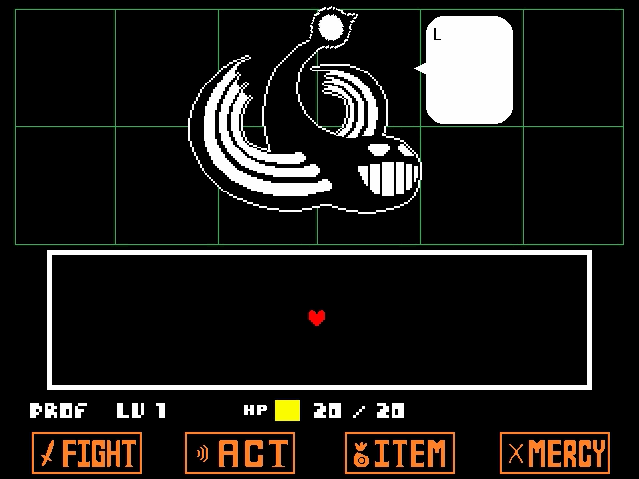 Glyde's attacks do massive damage, and the fact that I'm still wearing the Bandage isn't helping.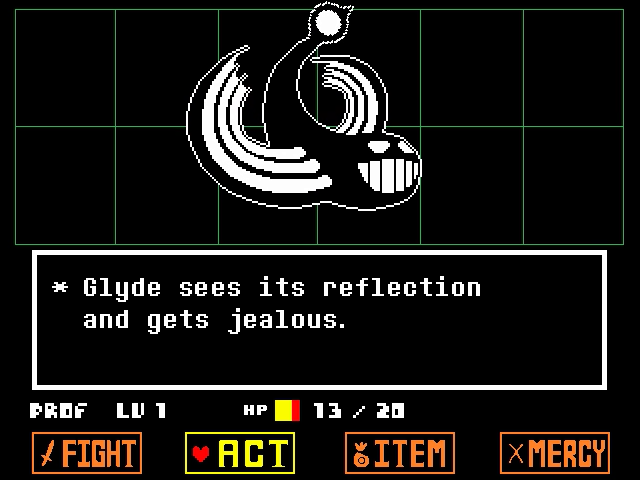 I
Applaud
.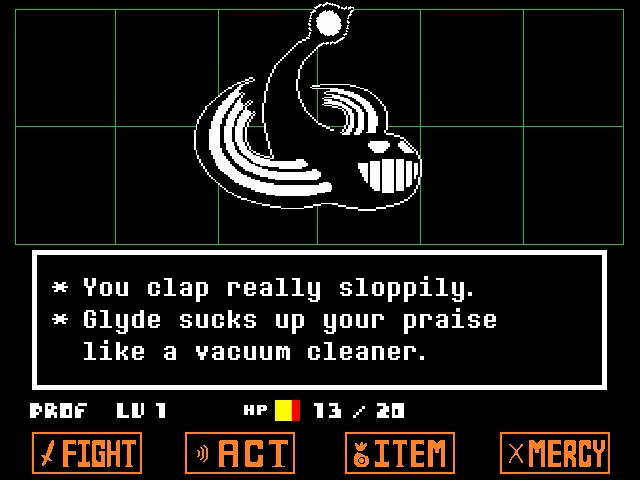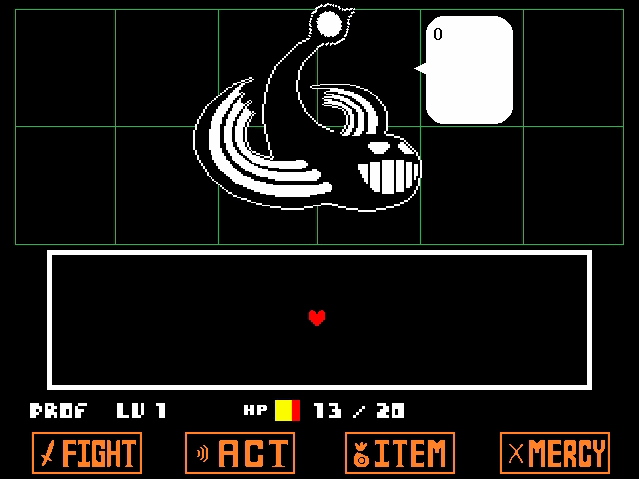 I
Applaud
again. Glyde seems to crave attention.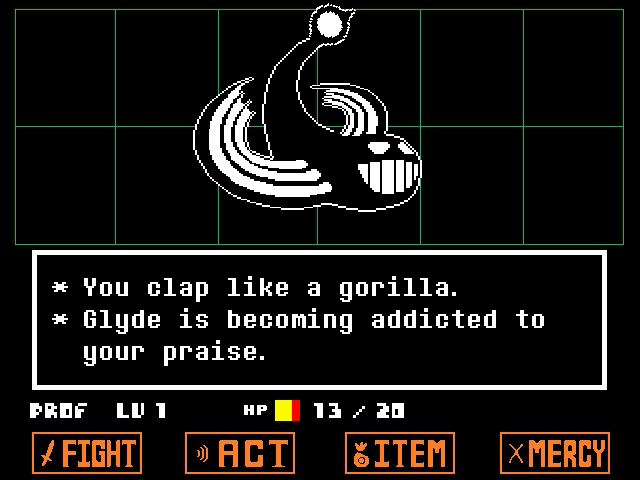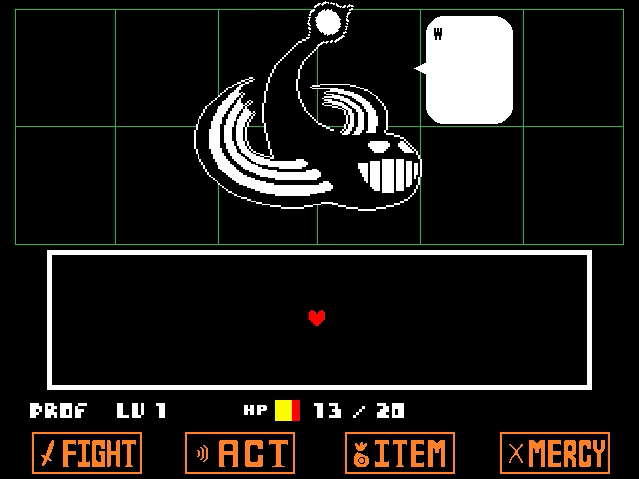 Glyde shoots various words at me. Rad! Spicey!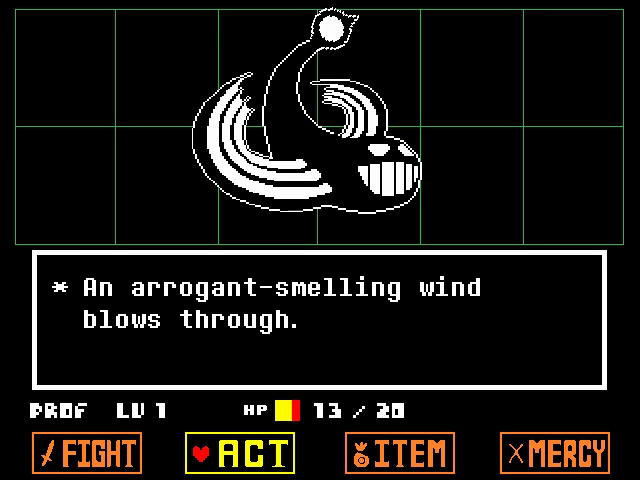 Now that it's addicted, I do
Nothing
.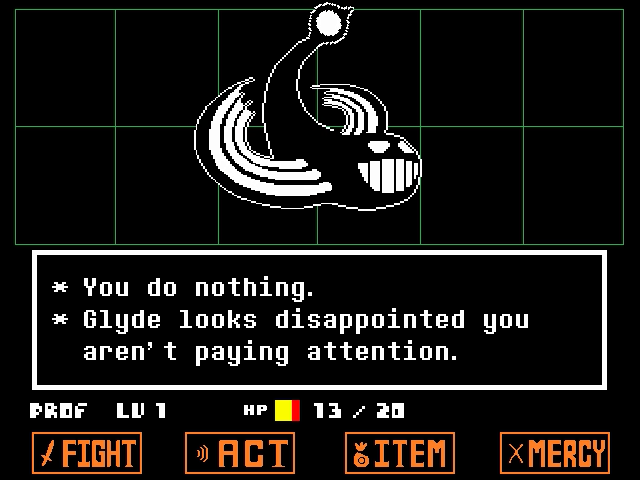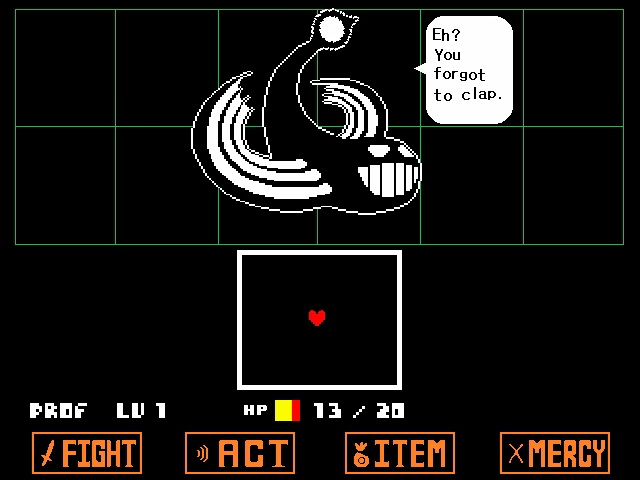 Glyde gets annoyed. I continue to do
Nothing
.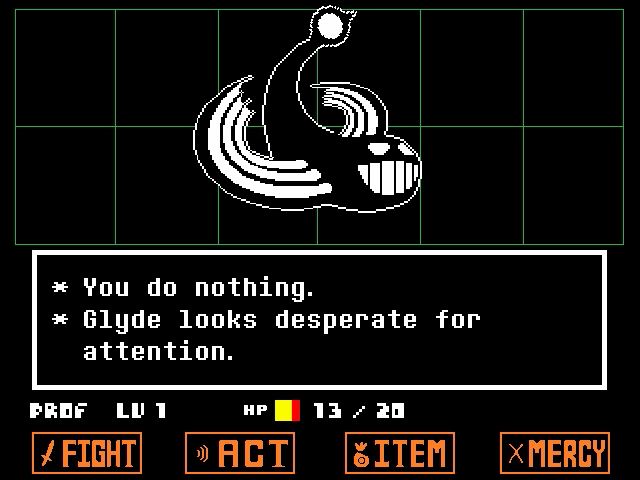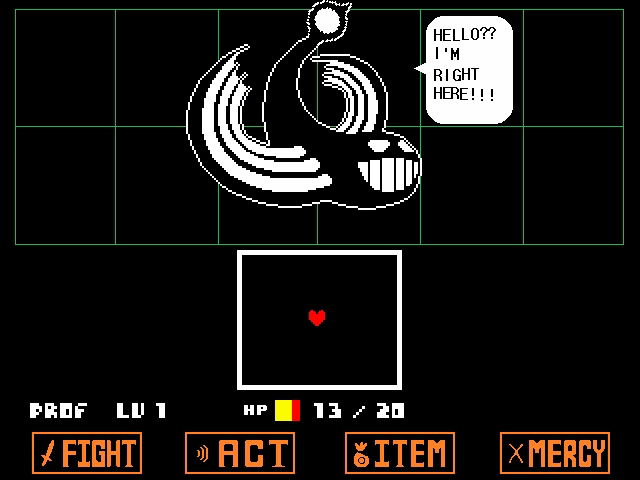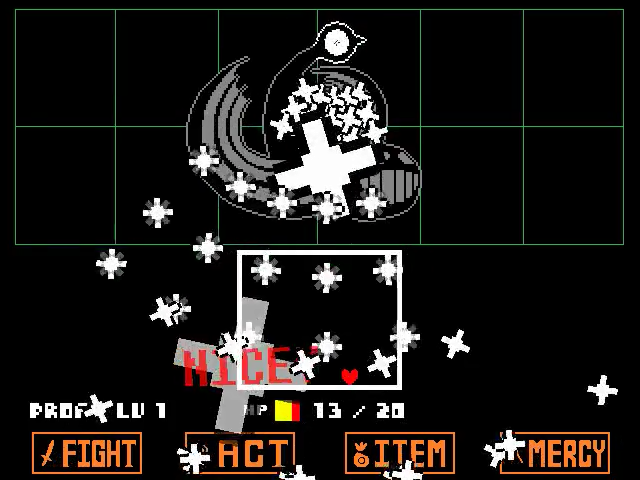 I
Boo.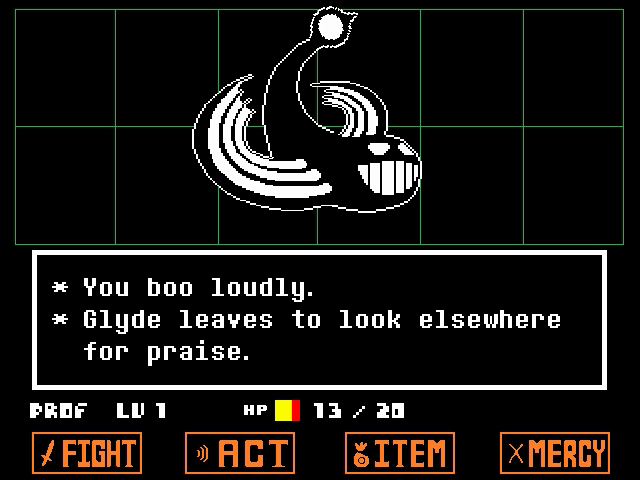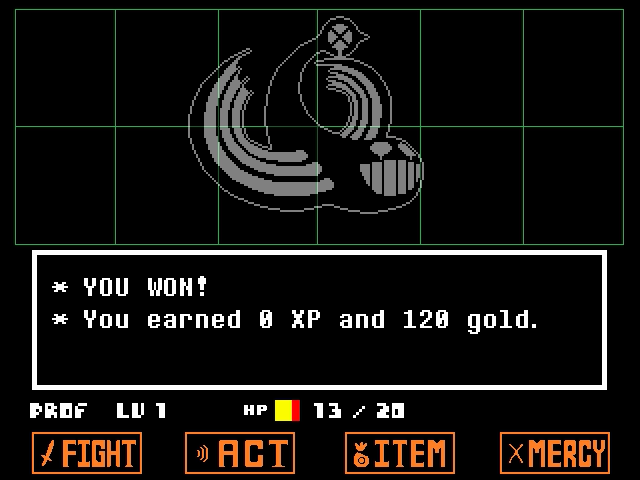 And that's about all there is to it! The full win strategy is to Applaud twice, then do anything other than Applaud until it gets fed up and leaves.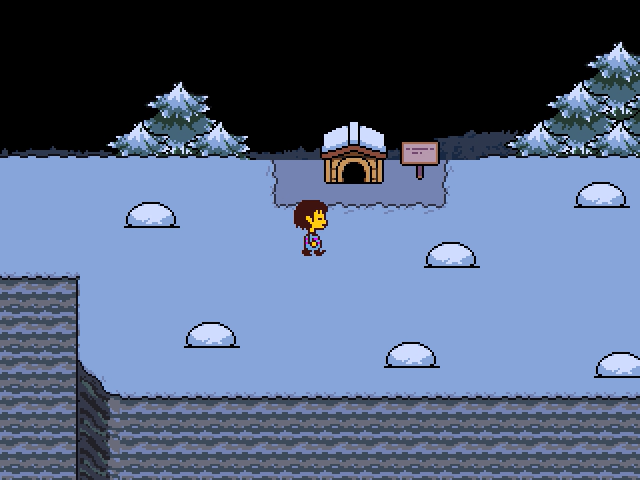 Hopefully someone will show off what was behind that door after I finish the LP.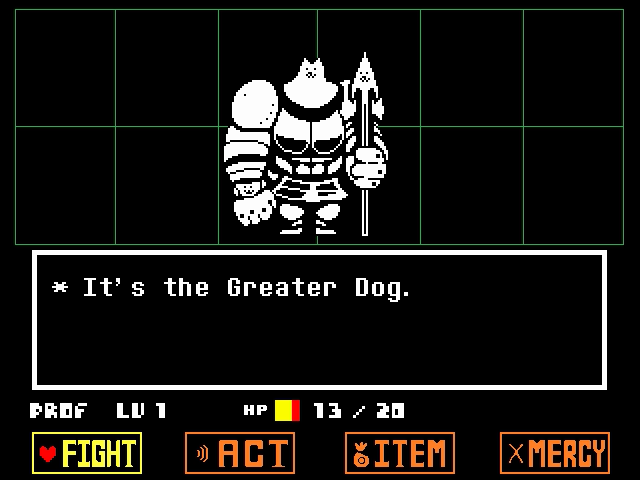 Greater Dog can be dealt with a number of ways, including the usual stick. Its white title is "Unaware of Life's Changes."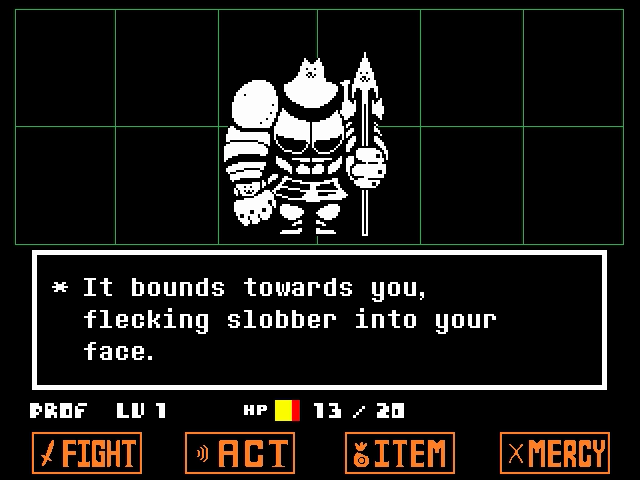 If you Beckon it, Pet it, Play with it, then Pet it two more times, you get the yellow title "Excited by Life's Changes" instead.
This attack shoots barks at you, but only if you move. If you stay still, it just sleeps in peace.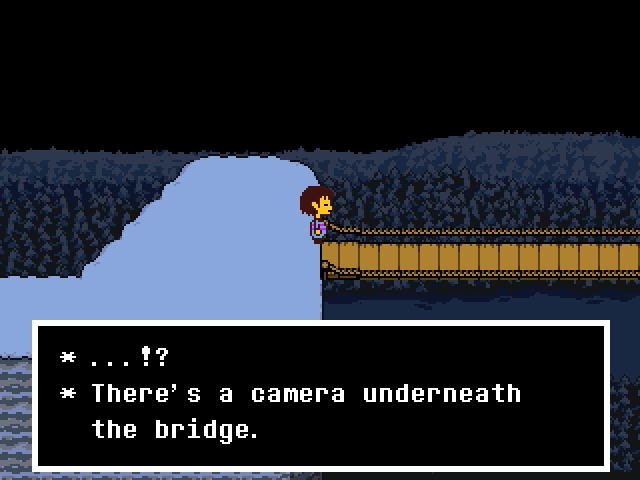 Another camera.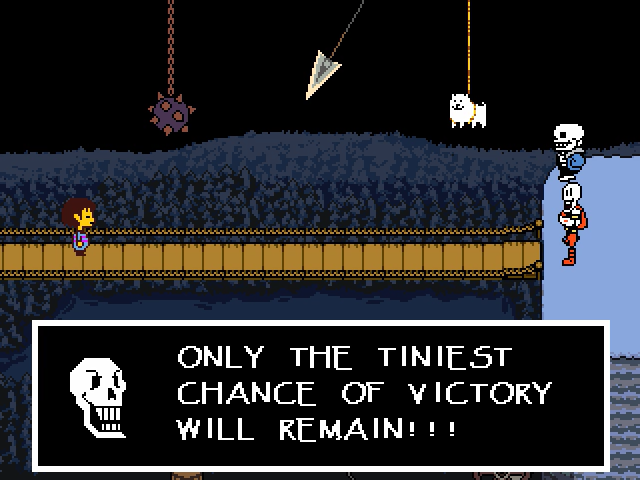 This happens.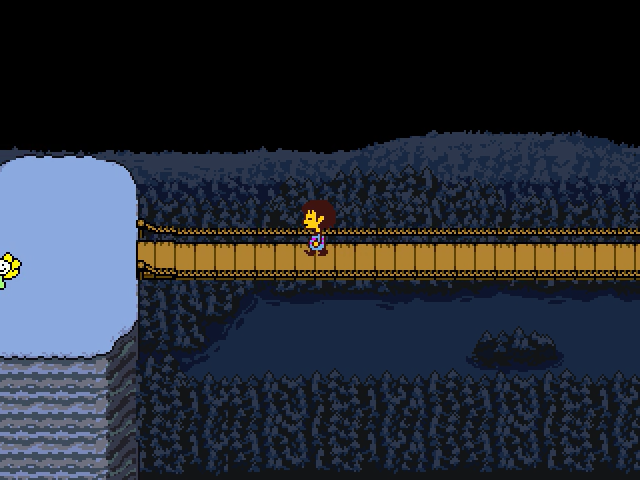 Flowey is back here again.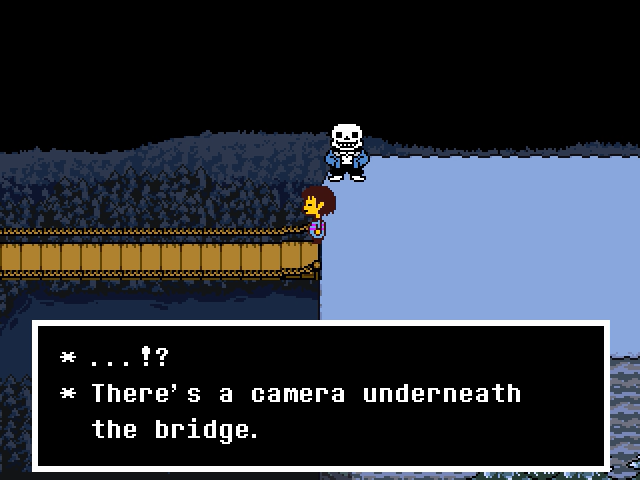 Another camera.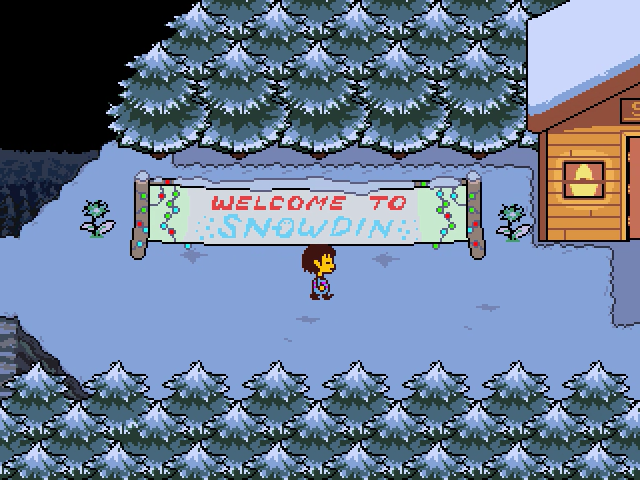 Next time: Papyrus.