Part 52: Dating Fight!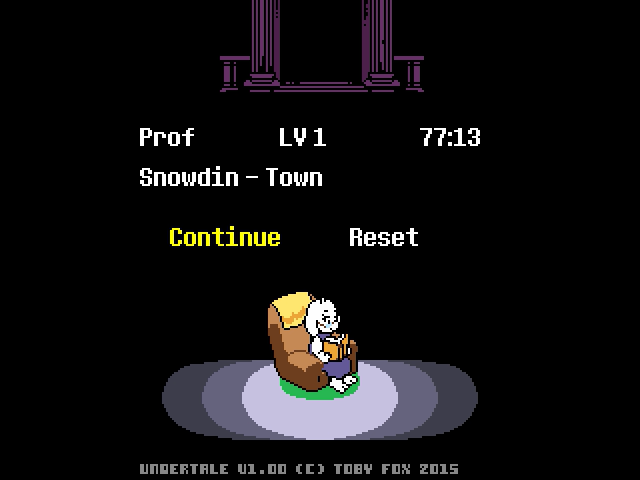 Good morning.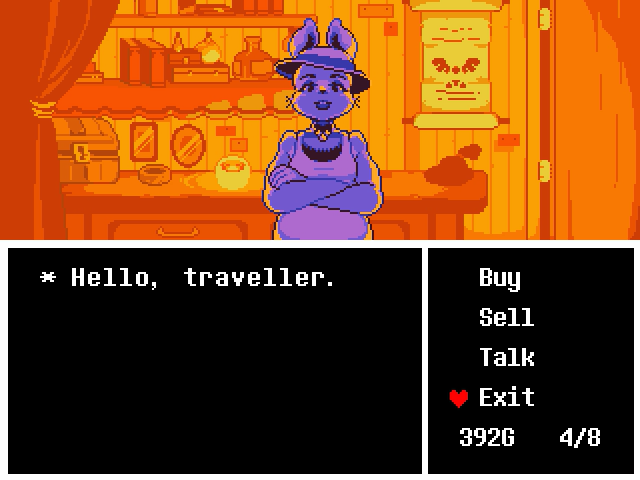 I don't buy anything. I think this bandage will be good enough for me.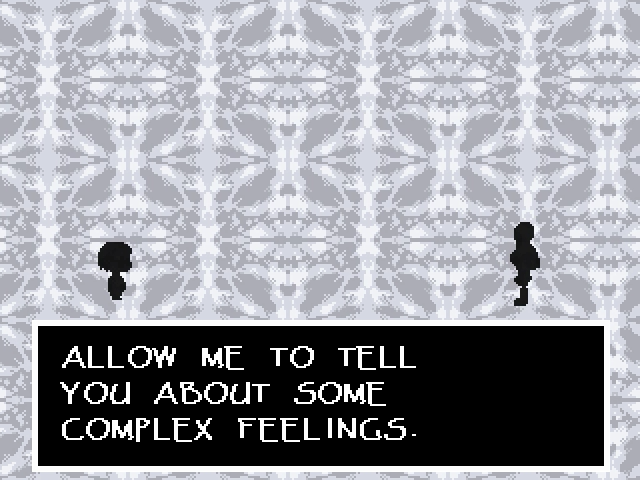 In fact, I don't really have anything new to say about Snowdin, so let's go.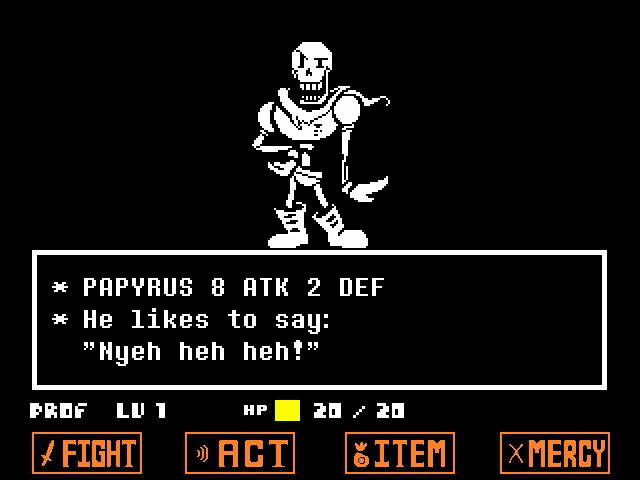 Boss time!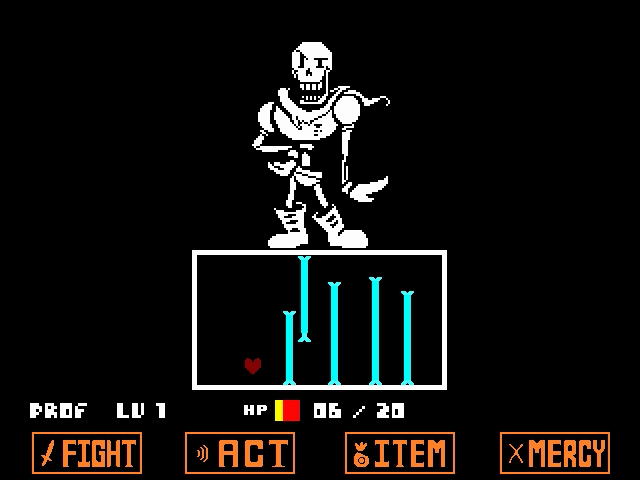 I ram my face into his attacks as much as possible.
Before long...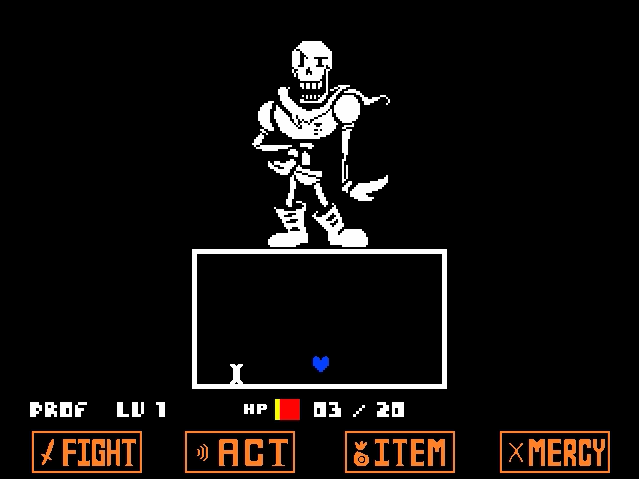 I WILL NOW SEND YOU TO THE CAPTURE ZONE!!

OR, AS SANS CALLS IT...

OUR GARAGE???

YOU'RE IN THE DOGHOUSE NOW!

NYEH HEH HEH HEH HEH HEH HEH!!!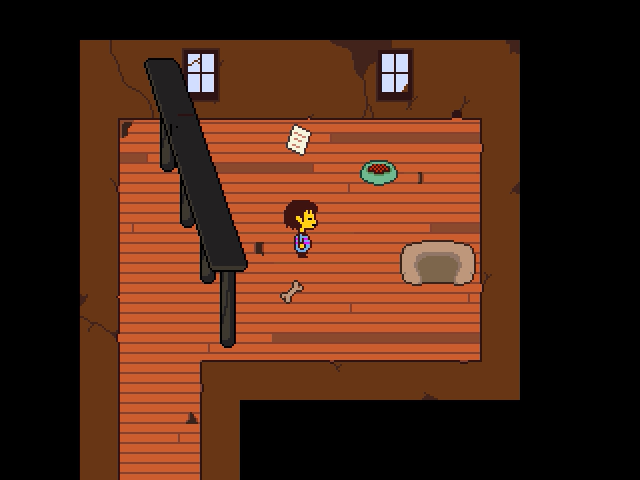 So, I've been captured.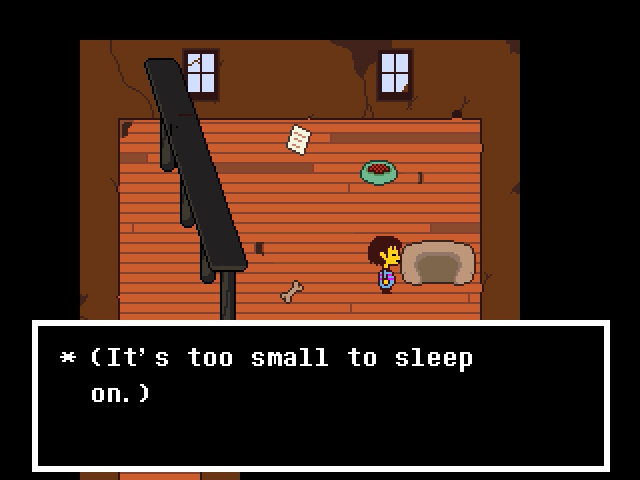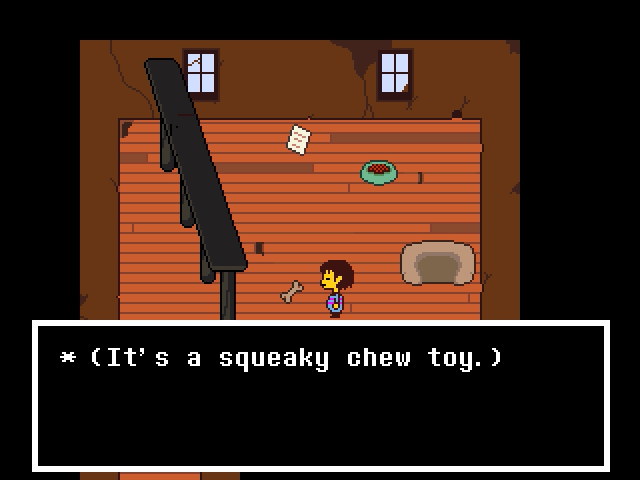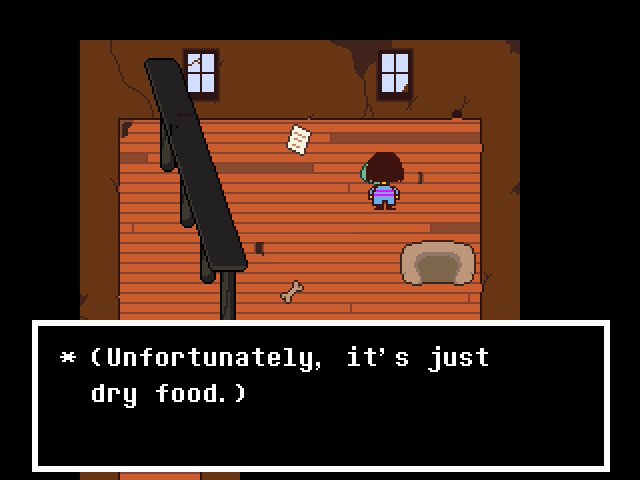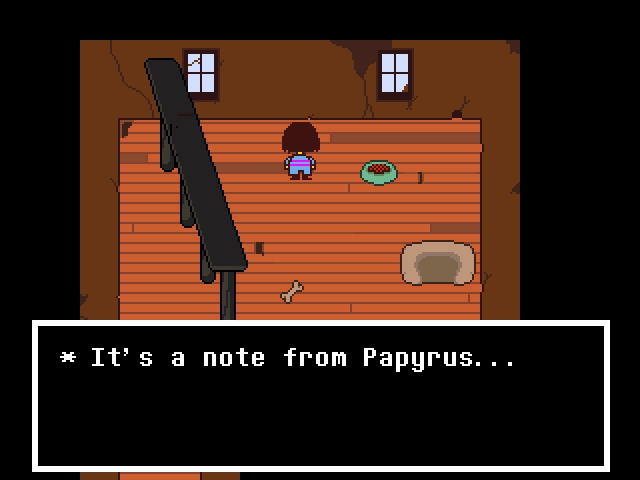 SORRY, I HAVE TO LOCK YOU IN THE GUEST ROOM UNTIL UNDYNE ARRIVES.
FEEL FREE TO MAKE YOURSELF AT HOME!!!
REFRESHMENTS AND ACCOMODATIONS HAVE BEEN PROVIDED.
- NYEHFULLY YOURS, PAPYRUS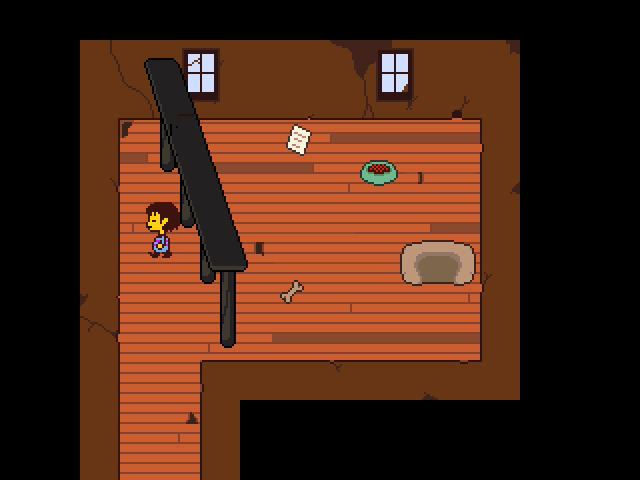 Papyrus made the bars too far apart to keep me in.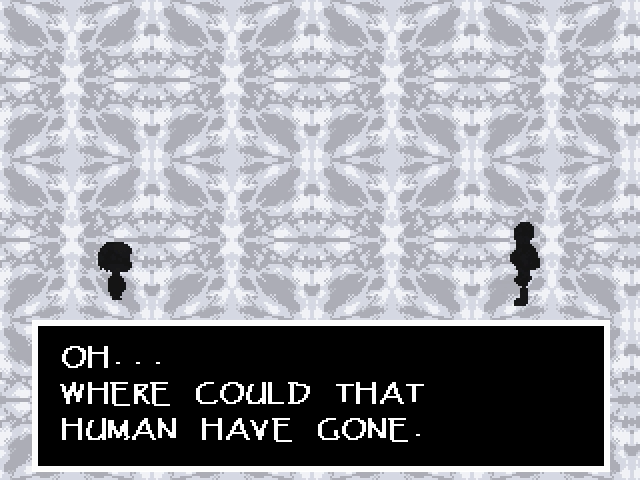 ...WAIT... IT'S RIGHT IN FRONT OF ME!!!

HELLO! I WAS WORRIED THAT YOU HAD GOTTEN LOST!

IT SURE IS A RELIEF TO KNOW THAT YOU'RE RIGHT HERE...

...WAIT A SECOND!!!

YOU'RE NOT SUPPOSED TO ESCAPE!!!

GET BACK THERE!!!

BUT THIS TIME, I'VE UPGRADED THE FACILITIES.

NOT ONLY WILL YOU BE TRAPPED...

BUT YOU WON'T EVEN WANT TO LEAVE!!!

NYEH HEH HEH HEH HEH HEH HEH!!!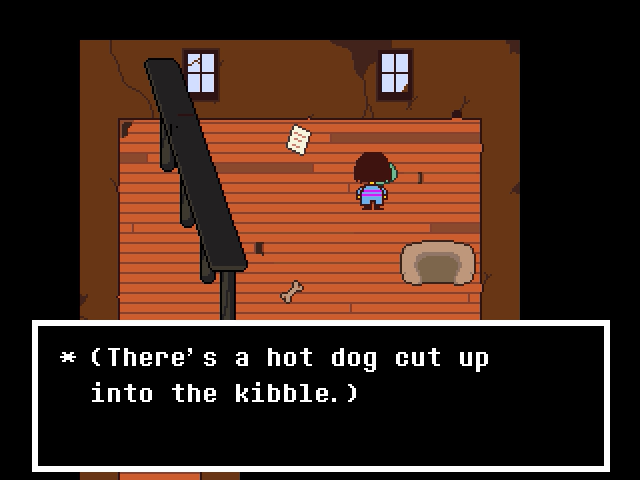 I escape again.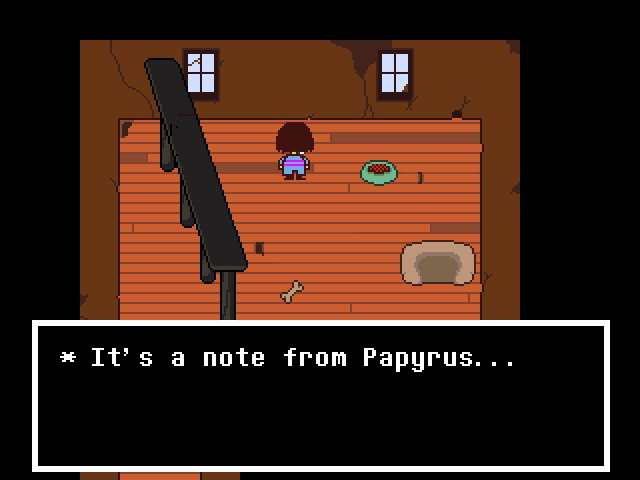 PLEASE ASK BEFORE YOU ESCAPE!!!
WHEN YOU WENT MISSING I GOT WORRIED SICK!!!
- SLIGHTLY BONETROUSLED, PAPYRUS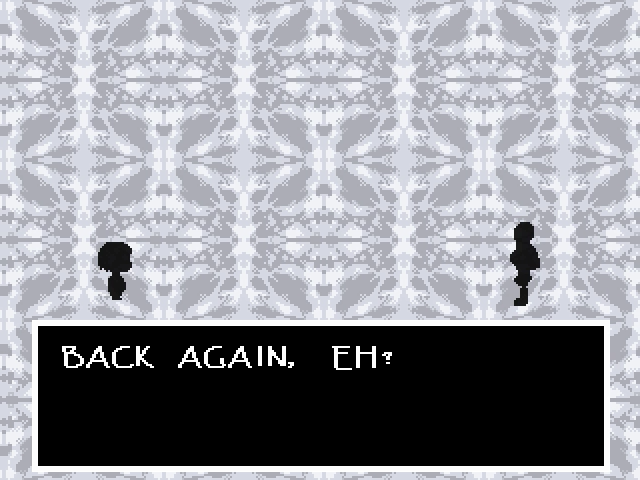 I SUPPOSE IT'S MY FAULT...

I TOLD YOU BEFORE THAT I WOULD MAKE YOU SPAGHETTI.

IT'S ONLY NATURAL THAT YOU WOULD WANT TO SEE ME...

IN THE DIRE HOPE THAT I WOULD MAKE YOU SOME.

WELL... I UNDERSTAND.

PAPYRUS IS HUNGRY, TOO!

HUNGRY FOR JUSTICE!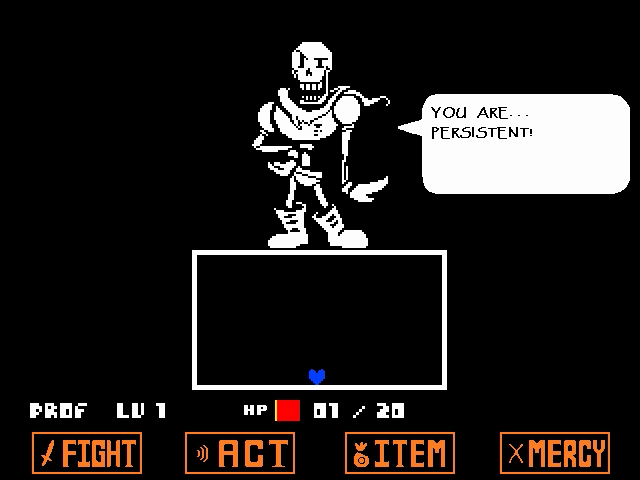 BUT! IT JUST WON'T WORK ON ME!

I AM THE PERSISTENTEST!

AND IF YOU THINK YOU ARE PERSISTENTESTER...

THAT IS WRONG! GRAMATICALLY WRONG!

BECAUSE THE CORRECT FORM WOULD BE...

NOT AS PERSISTENTEST AS PAPYRUS, THE PERSISTENTESTEST!

I HOPE YOU ENJOYED THIS LESSON.

NYEH HEH HEH HEH HEH HEH HEH!!!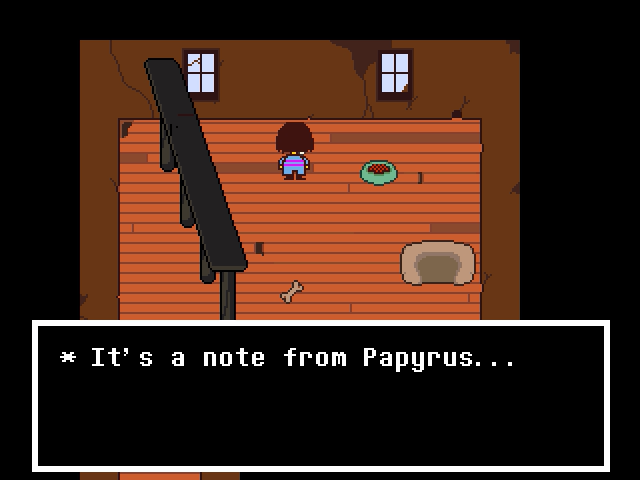 IF YOU'RE LOOKING FOR A PLACE TO STAY...
JUST ASK!!! YOU DON'T NEED TO FIGHT ME!!!
- YOUR HOST, PAPYRUS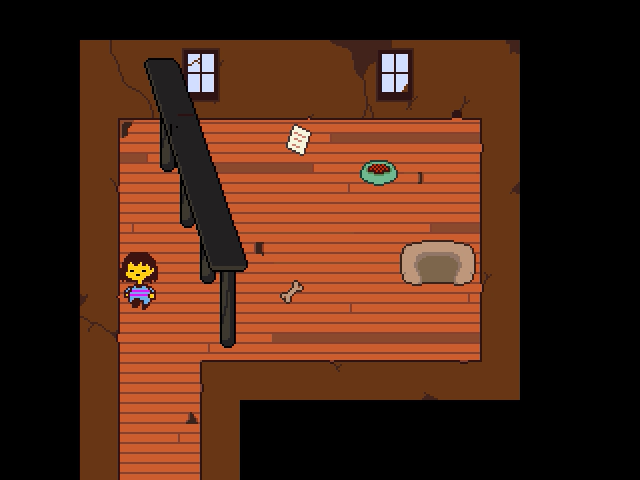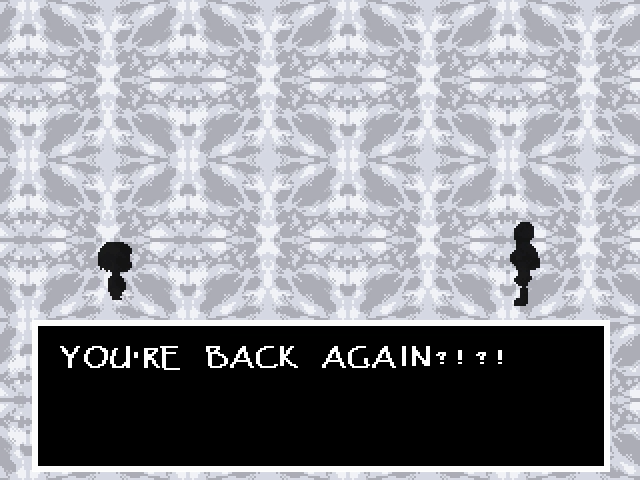 I FINALLY REALIZE THE TRUE REASON WHY.

YOU...

JUST MISS SEEING MY FACE SO MUCH...

I'M NOT SURE I CAN FIGHT SOMEONE WHO FEELS THIS WAY.

BUT MOSTLY... I'M GETTING REALLY TIRED OF CAPTURING YOU!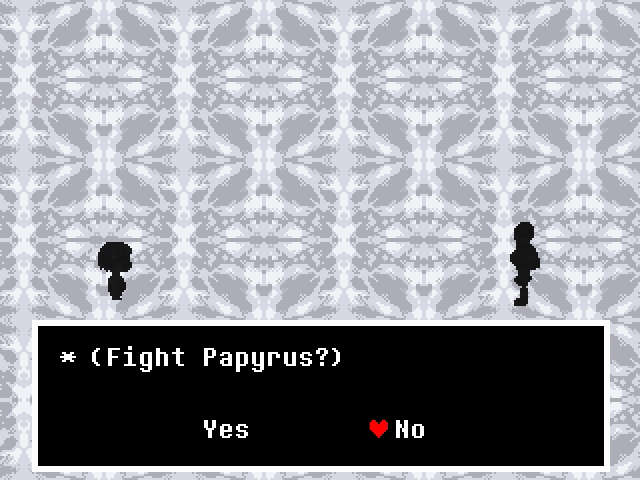 ...OKAY...

I GUESS I'LL ACCEPT MY FAILURE...

NYOO HOO HOO...

I CAN'T EVEN STOP SOMEONE AS WEAK AS YOU...

UNDYNE'S GOING TO BE DISAPPOINTED IN ME.

I'LL NEVER JOIN THE ROYAL GUARD... AND...

MY FRIEND QUANTITY WILL REMAIN STAGNANT!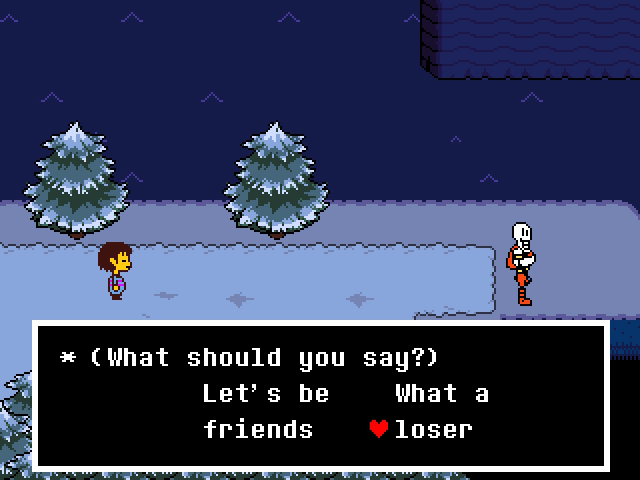 HUH? WHY WOULD YOU...

BERATE YOURSELF SO LOUDLY???

IS IT BECAUSE...

YOU DON'T THINK YOU'RE GOOD ENOUGH TO BE MY FRIEND?

NO!!! YOU'RE GREAT!!! I'LL BE YOUR FRIEND!

WOW!!!

I HAVE FRIENDS!!!

AND WHO KNEW THAT ALL I NEEDED TO MAKE THEM...

WAS TO GIVE PEOPLE AWFUL PUZZLES AND THEN FIGHT THEM??

YOU TAUGHT ME A LOT, HUMAN.

I HEREBY GRANT YOU PERMISSION TO PASS THROUGH!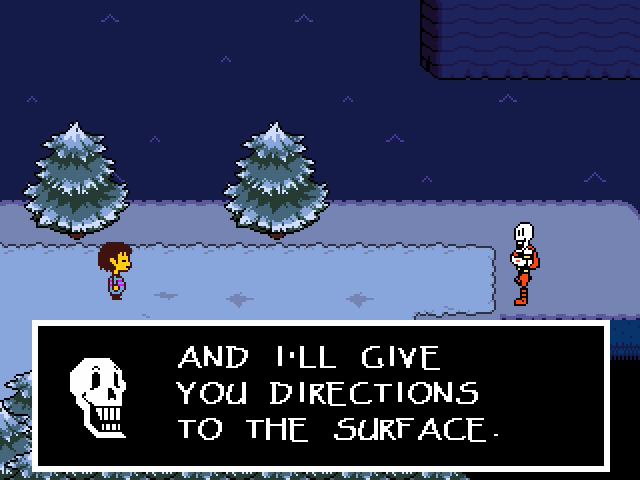 Et cetera.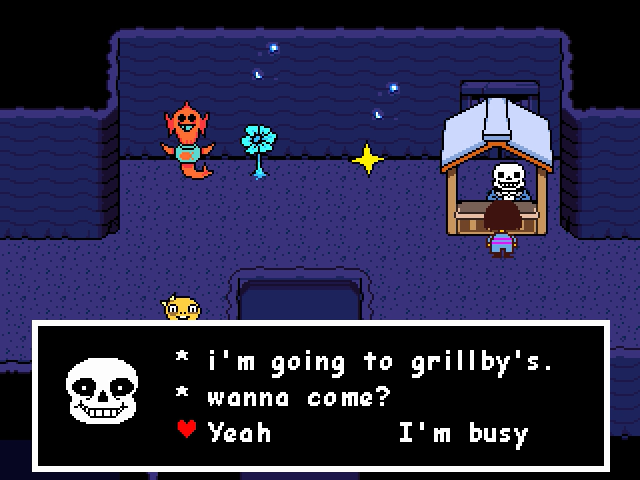 There's a bit of extra dialogue in this event.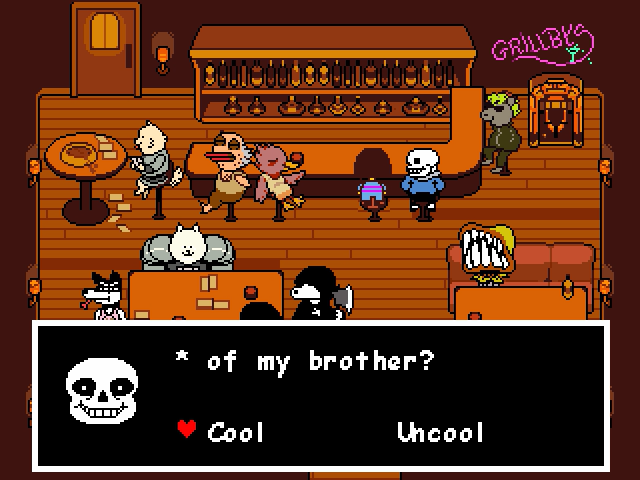 of course he's cool.

you'd be cool too if you wore that outfit every day.

he'd only take that thing off if he absolutely had to.

oh well. at least he washes it.

and by that i mean he wears it in the shower.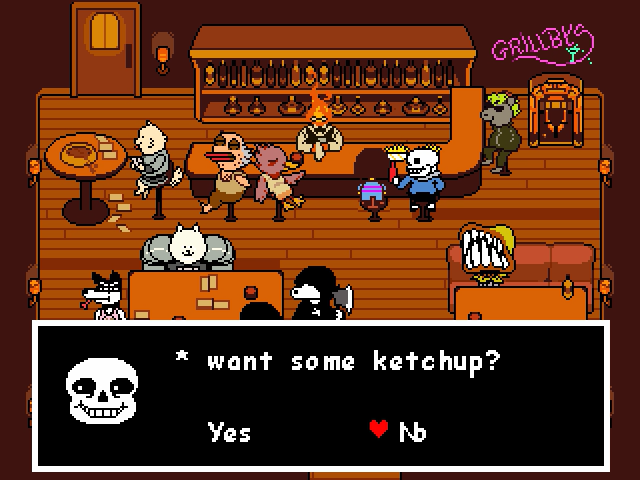 more for me.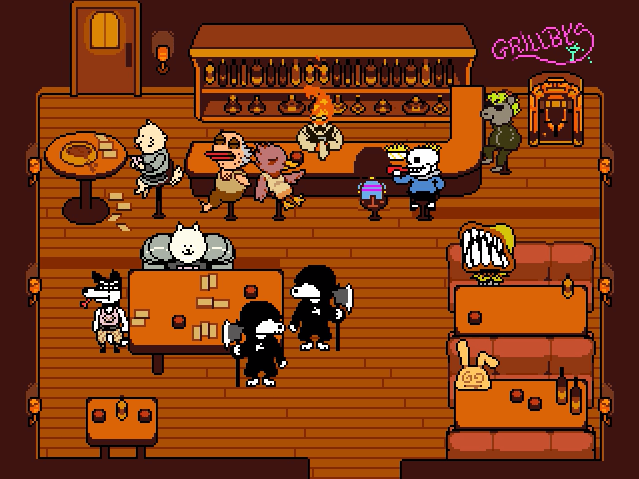 The rest is pretty static.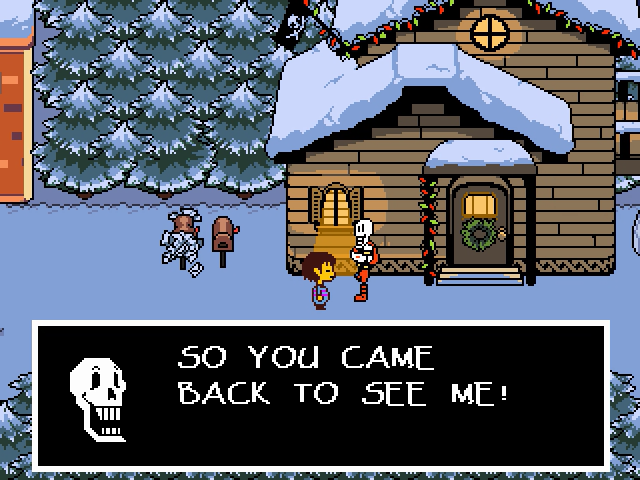 YOU MUST BE REALLY SERIOUS ABOUT THIS...

I'LL HAVE TO TAKE YOU SOMEPLACE REALLY SPECIAL...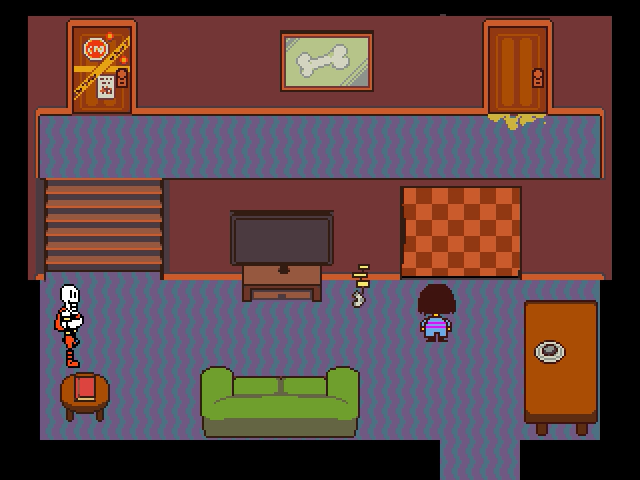 Time to mess with Papyrus a bit.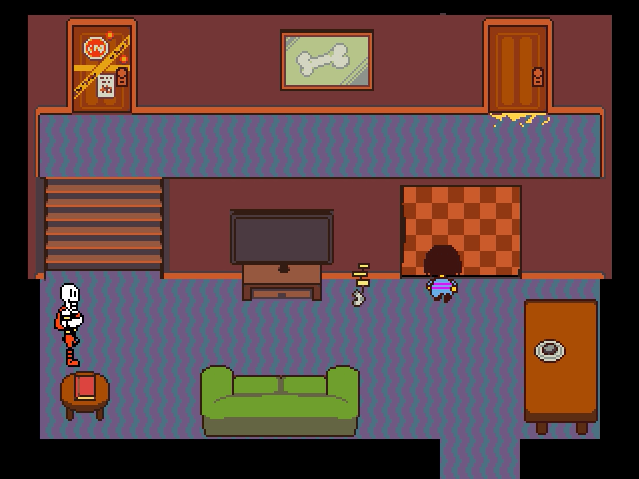 So, Papyrus moves back and forth to talk to you when you enter and exit the kitchen.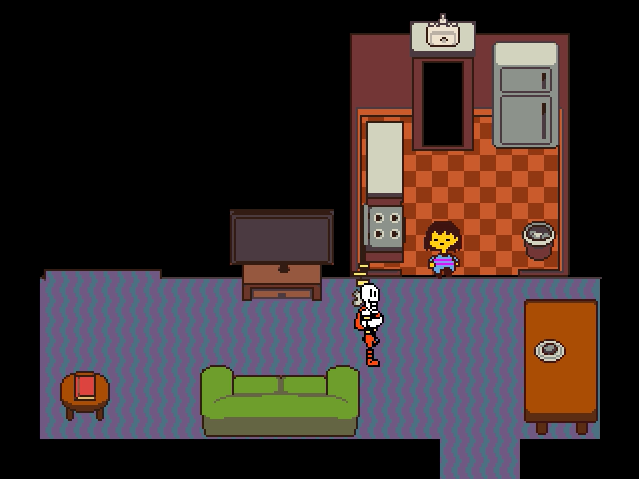 The longer I keep him pacing without stopping, the faster he goes. Eventually, it starts to play a dinging sound.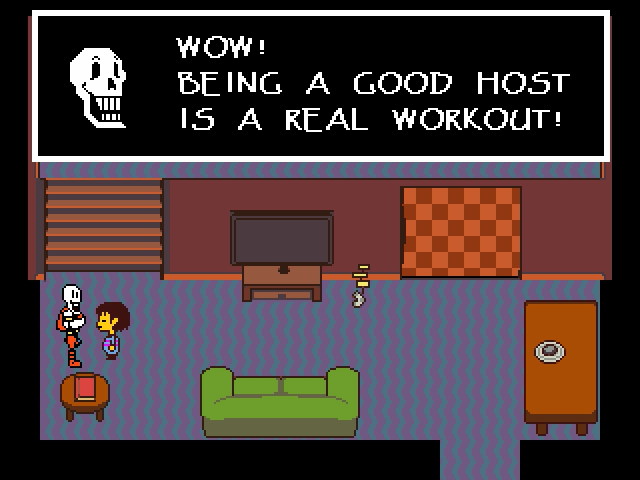 The longer I go, the harder it gets. I seriously spent a solid ten minutes walking back and forth with careful timing to pull off the final stage of this pointless secret.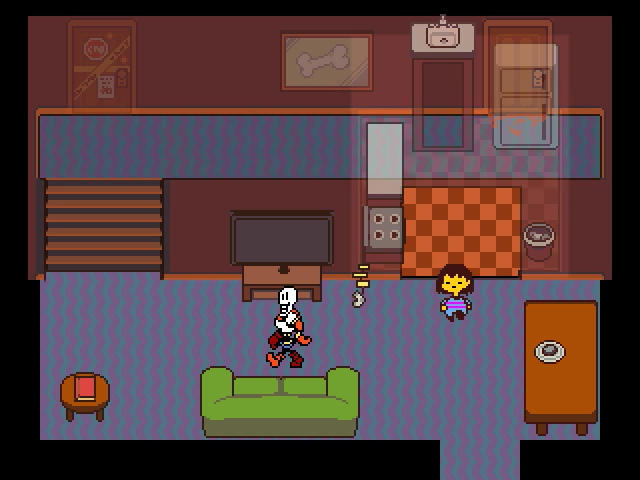 If you make Papyrus change directions without stopping 12 times in a row, a victory chim plays.

THAT MUST MEAN I'M BEING A GREAT HOST!!!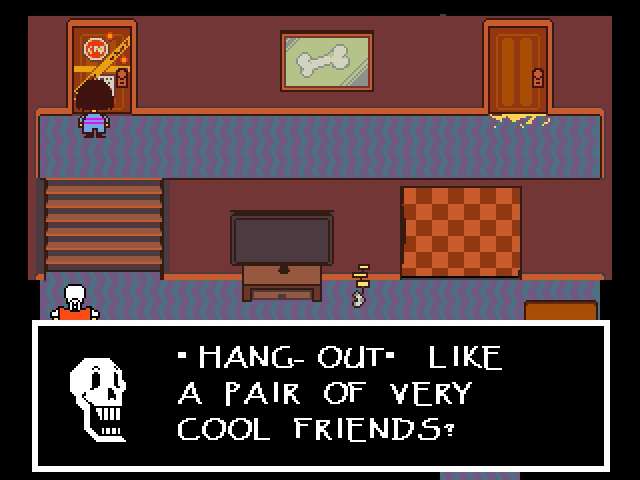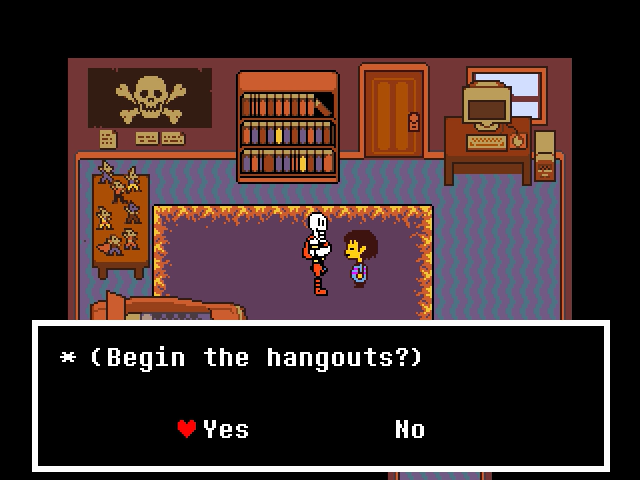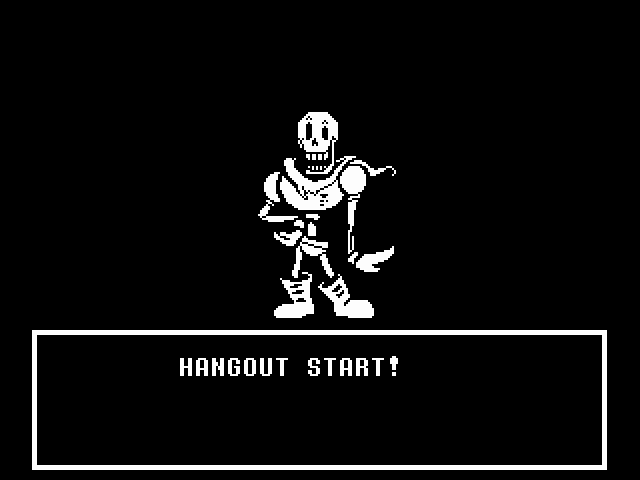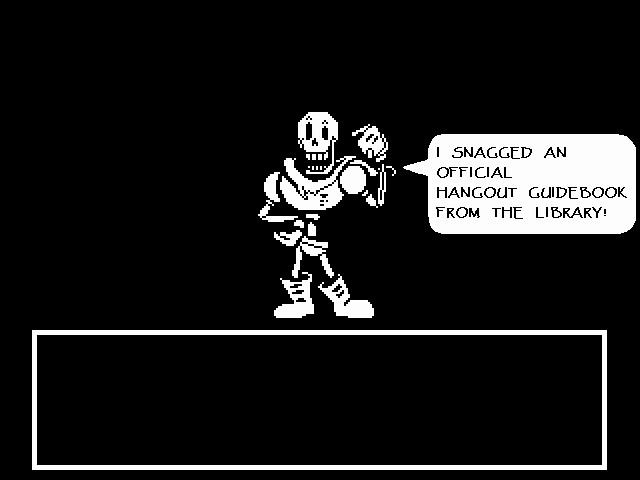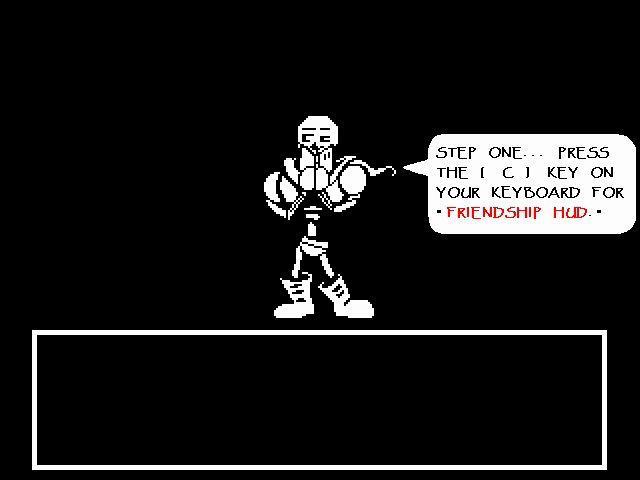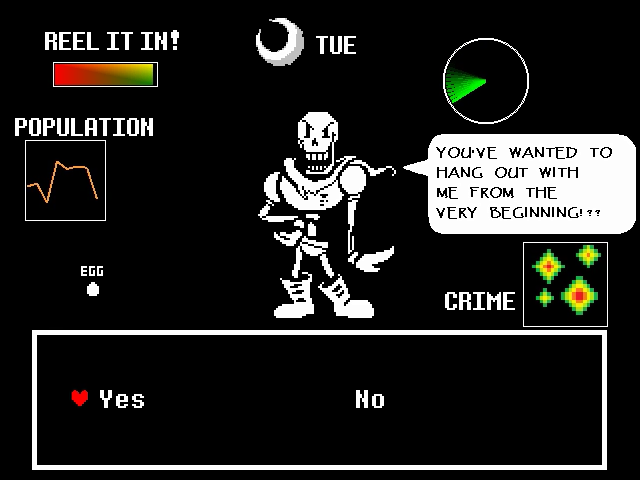 This sequence is a bit different. You can also get this version by Sparing Papyrus in battle without using the Flirt command.
Some other possible differences: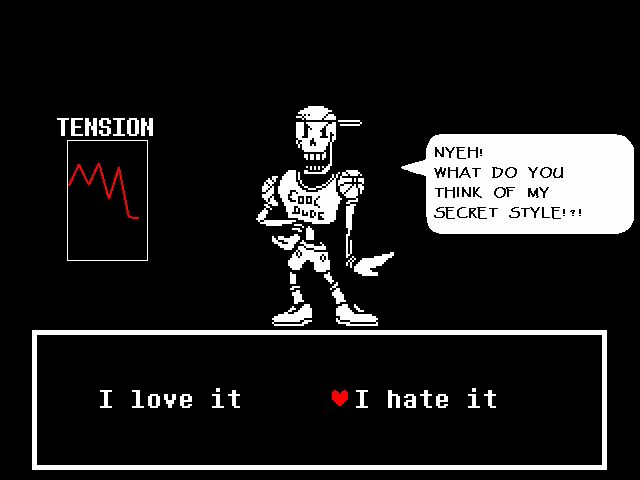 NO!!!

YOUR HONESTY...! IT SHOWS HOW MUCH YOU REALLY CARE!!!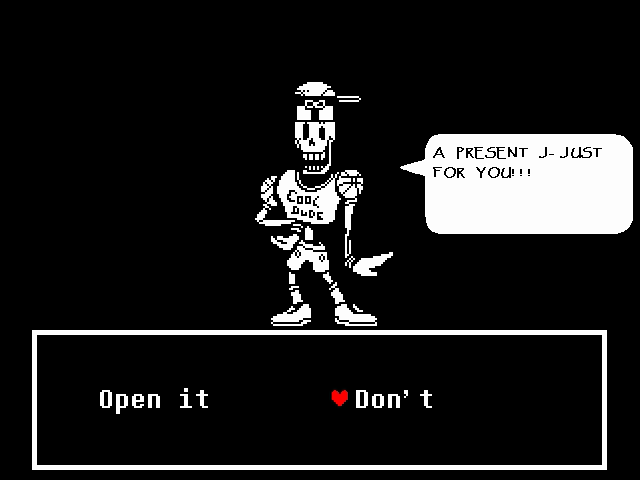 YOU CAN'T EVEN BRING YOURSELF TO HARM MY DELICATE WRAPPING??

N-NO... THAT TECHNIQUE!

IT'S TOO STRONG!

COUNTERATTACK! I'LL OPEN THE PRESENT MYSELF!!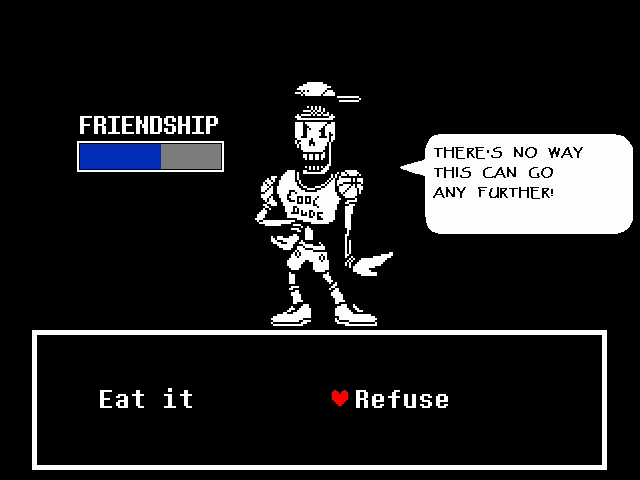 YOU MEAN...

YOU'RE LETTING ME HAVE IT INSTEAD?

BECAUSE YOU KNOW HOW MUCH I LOVE PASTA...

IMPOSSIBLE!! TAKING MY PRESENT AND TURNING IT AROUND ON ME!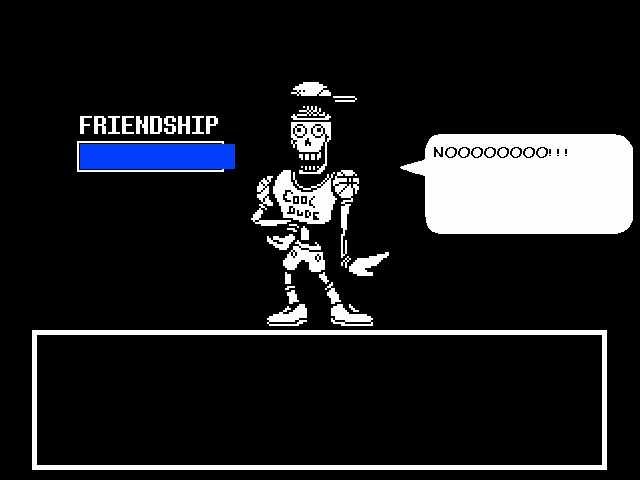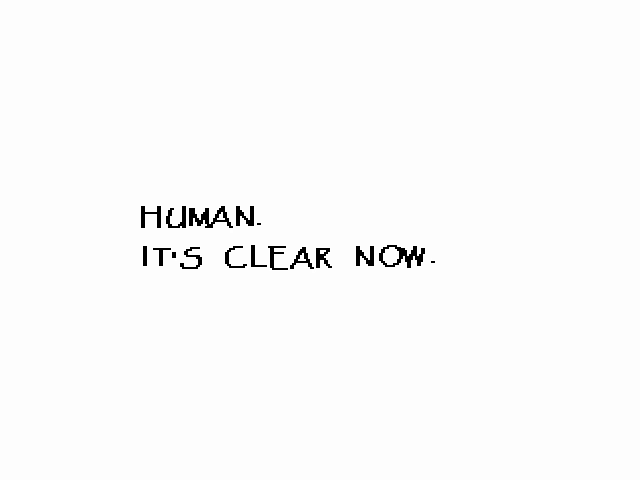 YOU'RE COMPLETELY OBSESSED WITH ME.
EVERYTHING YOU DO. EVERYTHING YOU SAY.
IT'S ALL BEEN FOR MY SAKE.
HUMAN. I WANT YOU TO BE HAPPY, TOO.
IT'S TIME FOR ME TO EXPRESS MY FEELINGS.
IT'S TIME THAT I TOLD YOU.
I, PAPYRUS...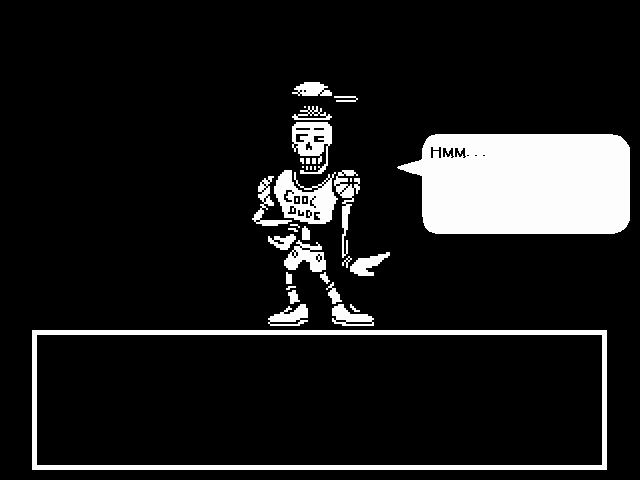 WELL, I'M FLATTERED YOU CARE SO MUCH.

BUT MAYBE COOL IT A LITTLE BIT...?

YOU ARE A VERY NICE PERSON.

I'M GLAD WE'RE FRIENDS.

BUT, I THINK YOU CAN REACH YOUR MAX POTENTIAL...

IF YOU LIVE MORE FOR YOUR OWN SAKE, RATHER THAN JUST FOR MINE.

HMM...

HEY, I KNOW THE SOLUTION!!!

YOU SHOULD HANG OUT WITH MY BOSS, UNDYNE!!!

I THINK IF YOU SPREAD YOUR FRIEND-ENERGY OUT MORE...

YOU'LL HAVE A MORE HEALTHY LIFESTYLE.

YEAH!! LET'S BE FRIENDS WITH UNDYNE!!!

NYEH HEH HEH HEH HEH!!!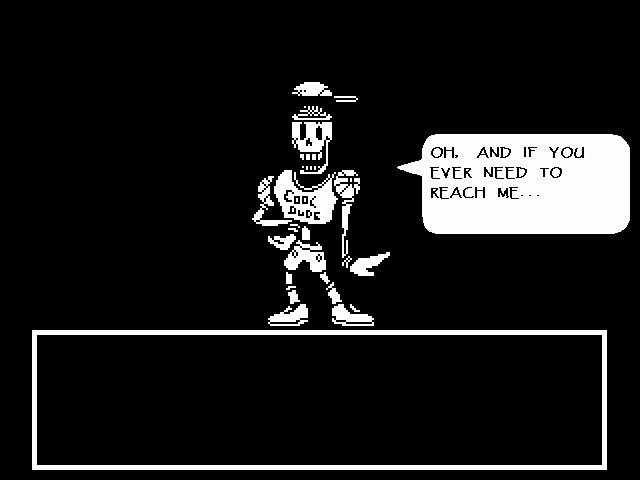 Platonic phone number acquired.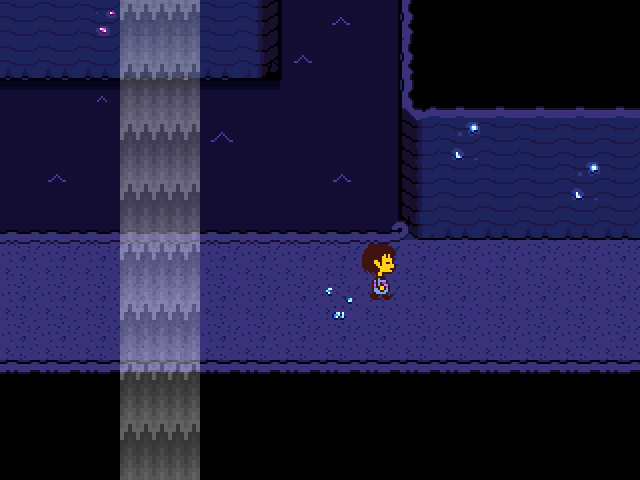 On to Waterfall.