Part 53: Spooktune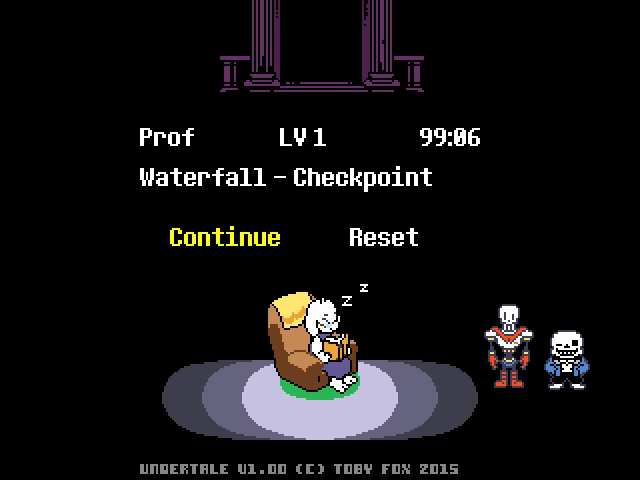 Good morning.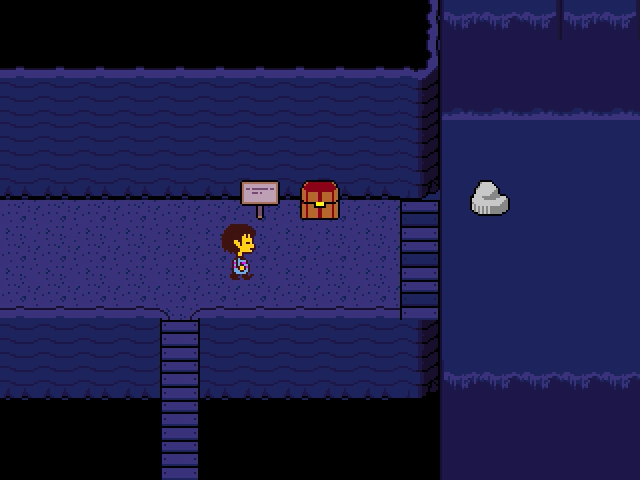 Most of early Waterfall is pretty much covered.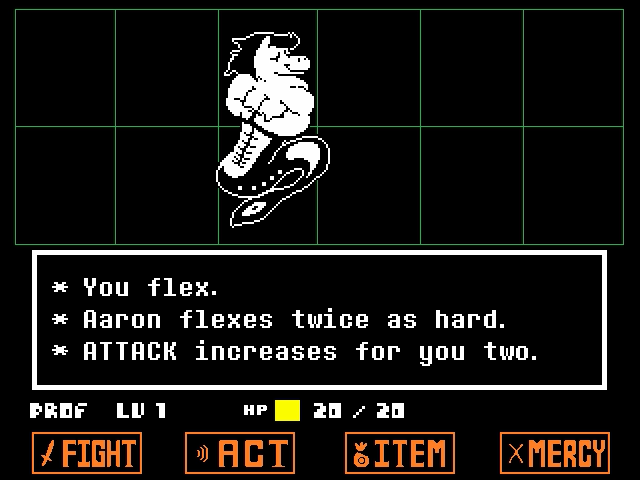 Aaron can be Spared simply by Flexing several times. This grants the white title "Still Flexing".
More on Aaron later.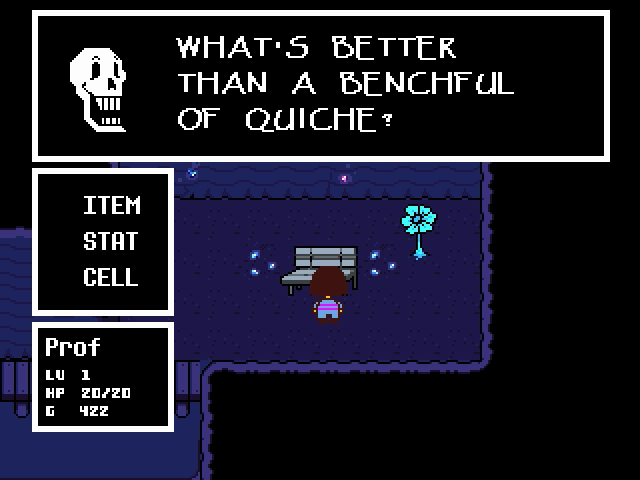 Quiche.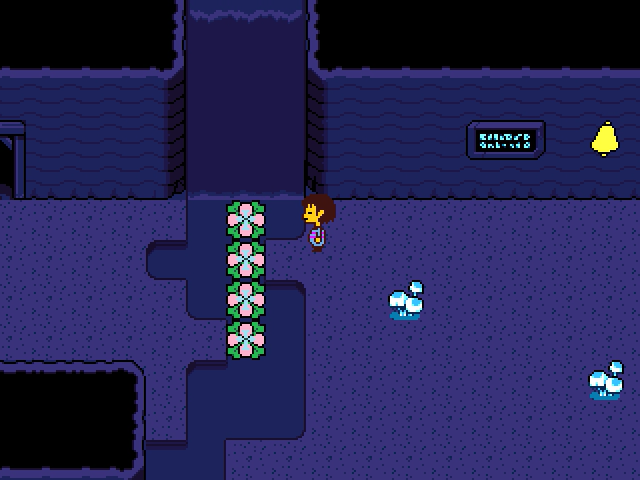 There's a second solution to this puzzle.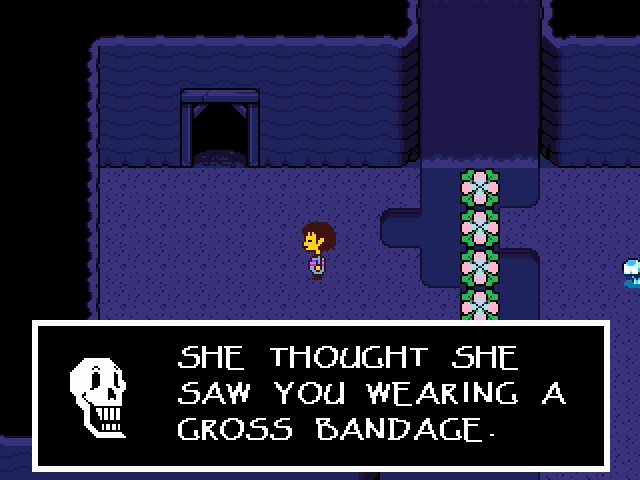 This time, I tell Papyrus that I am indeed wearing a gross bandage.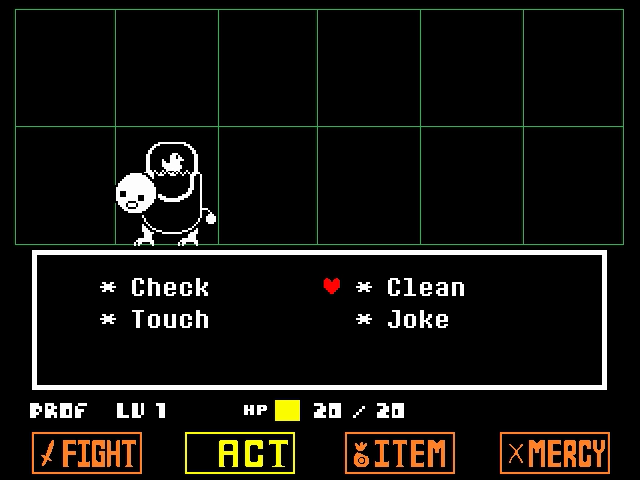 Woshua can be Spared by picking Clean, then touching a green bullet, yielding the yellow title "Legendary Janitor," as opposed to the white title "Normal Janitor".
More on Woshua later, too.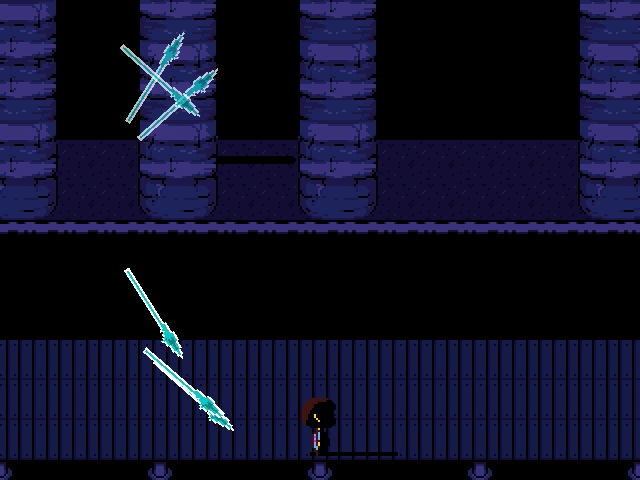 Spears.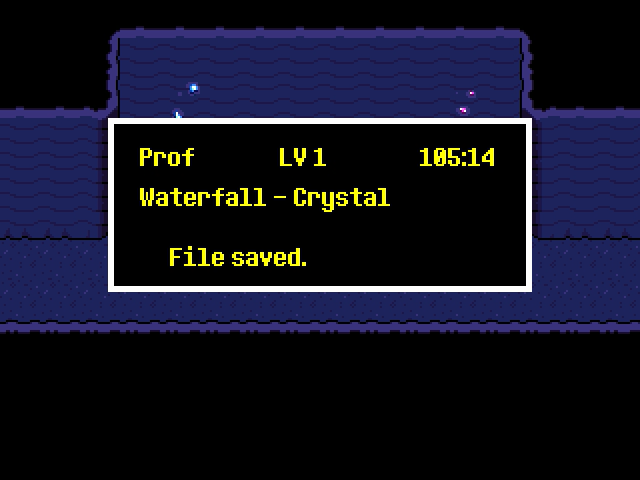 Determination.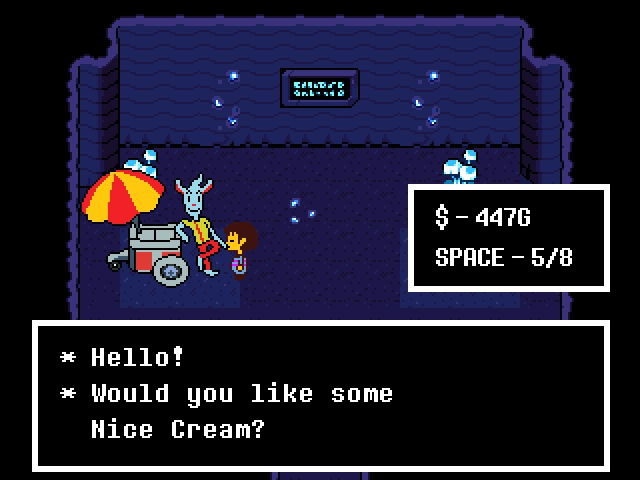 As you keep buying Nice Creams and accumulating cards, the description in the card box changes.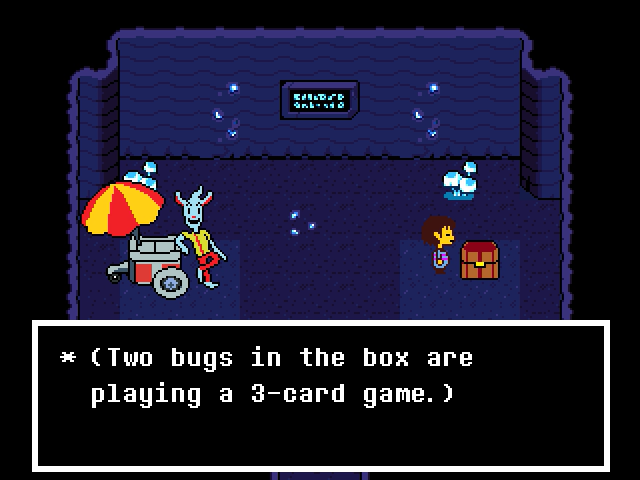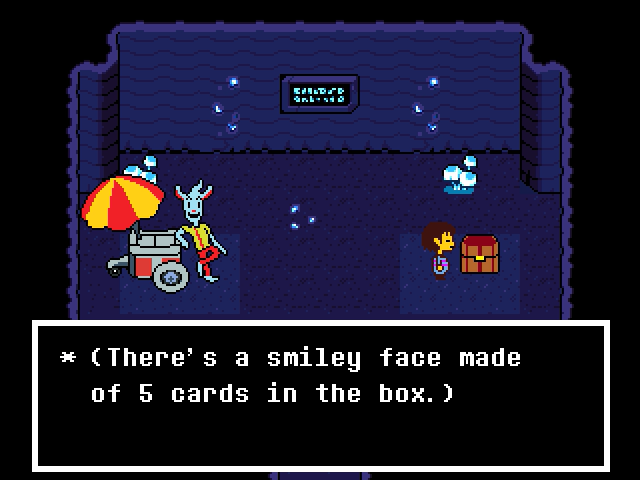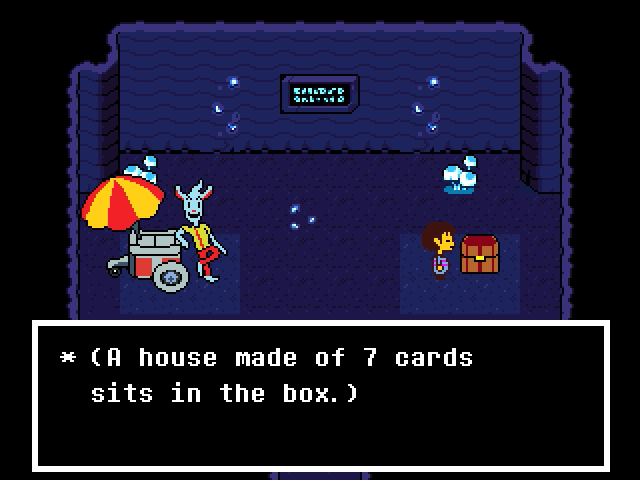 As far as I know, that's as high as it goes.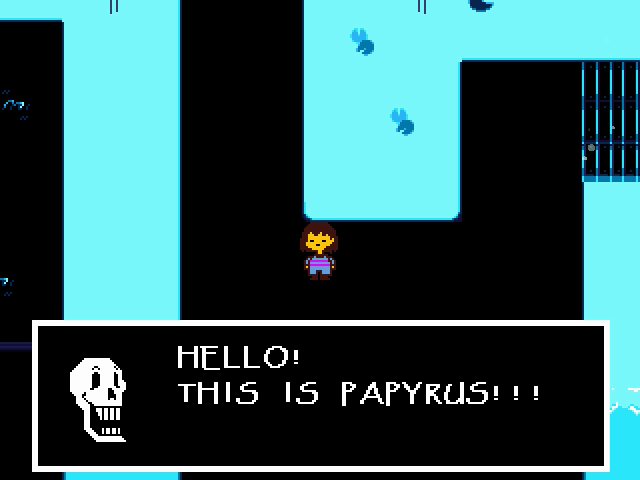 REMEMBER WHEN I ASKED YOU ABOUT CLOTHES?

WELL, THE FRIEND WHO WANTED TO KNOW...

HER OPINION OF YOU IS VERY...

MURDERY.

BUT I BET YOU KNEW THAT ALREADY!

AND BECAUSE YOU KNEW THAT...

I TOLD HER WHAT YOU TOLD ME YOU WERE WEARING!

A GROSS BANDAGE!

BECAUSE I KNEW, OF COURSE...

AFTER SUCH A SUSPICIOUS QUESTION...

YOU WOULD OBVIOUSLY CHANGE YOUR CLOTHES!

YOU'RE SUCH A SMART COOKIE!

THIS WAY YOU'RE SAFE AND I DIDN'T LIE!!!

NO BETRAYAL ANYWHERE!!!

BEING FRIENDS WITH EVERYONE IS EASY!!!
Onionsan.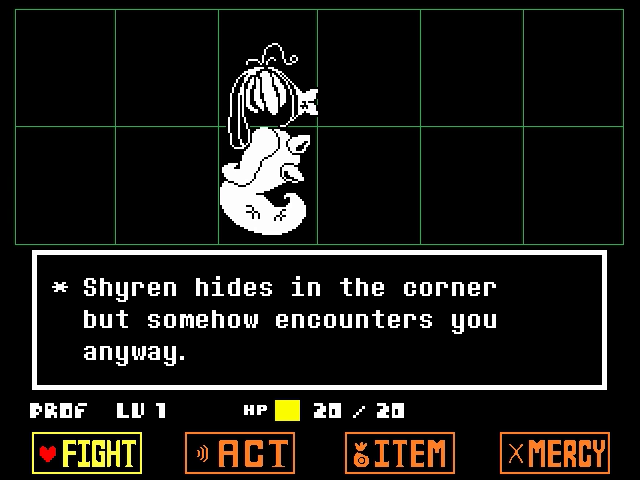 Shyren can be Spared in one turn by Humming. Her white title is "Taking Piano Lessons Again".
There's more to this scene, though.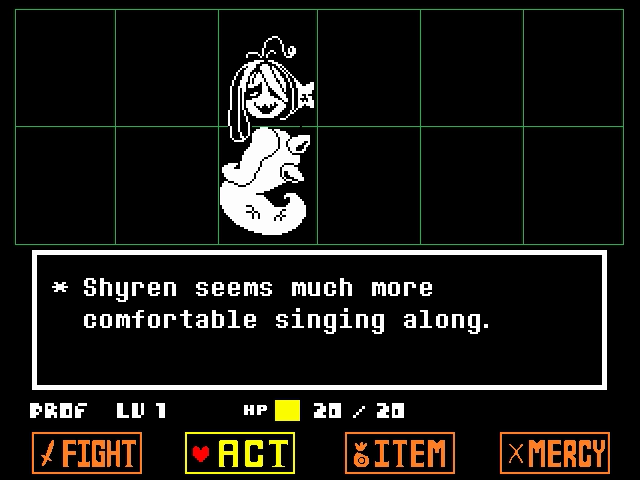 I
Hum
again.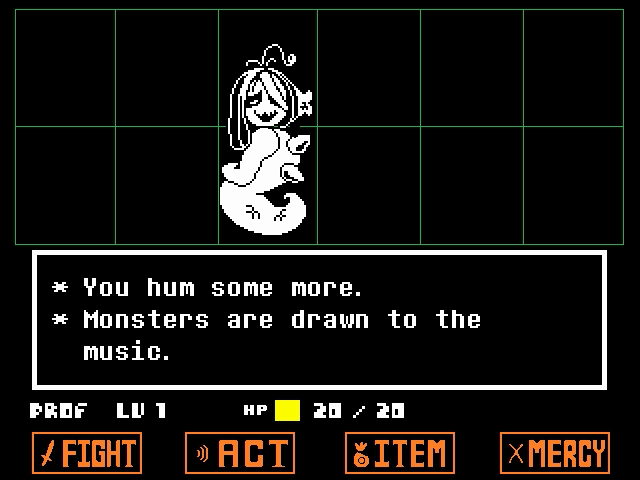 Suddenly, it's a concert...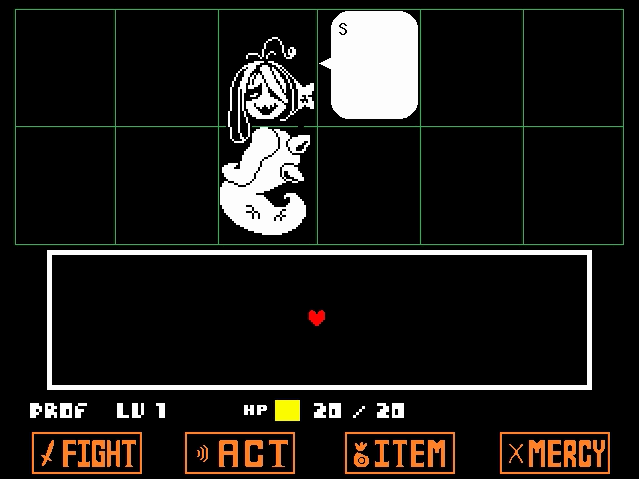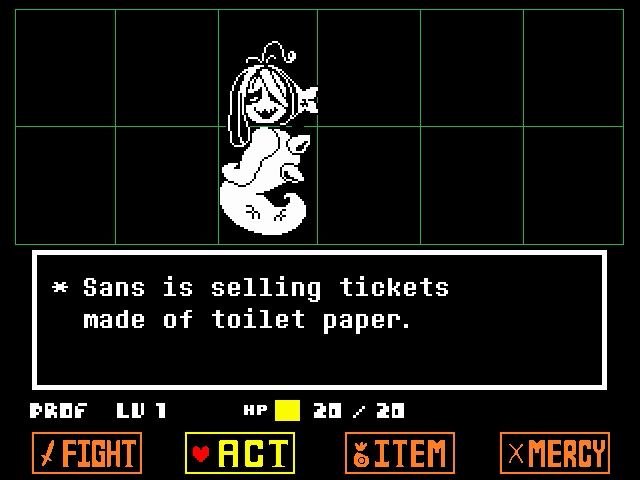 I
Hum
.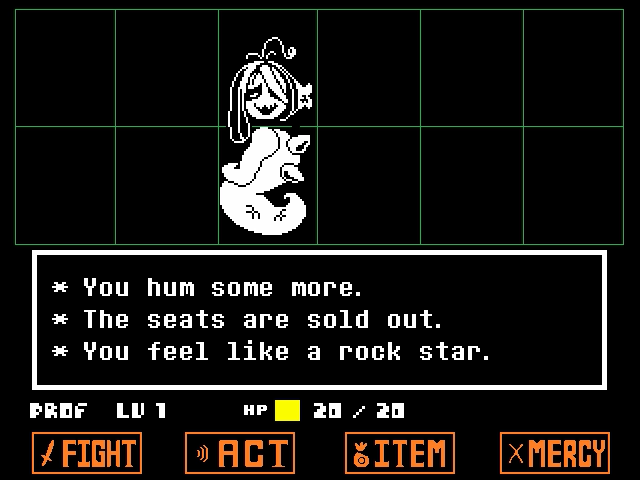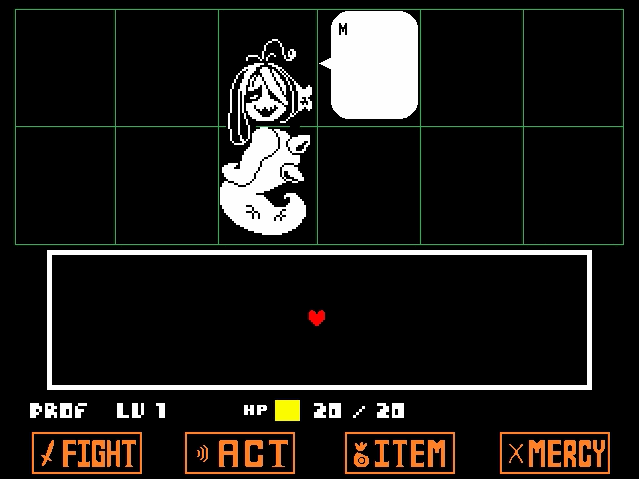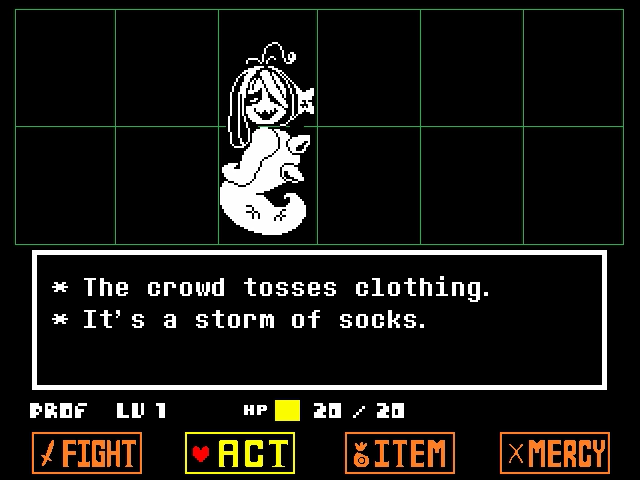 I
Hum
.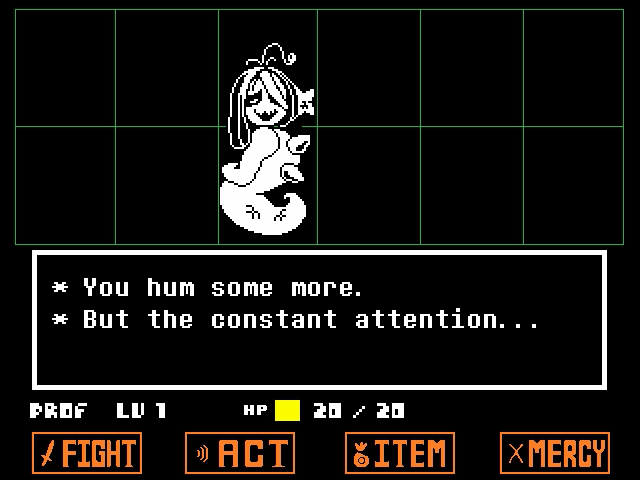 The tours... The groupies... It's all...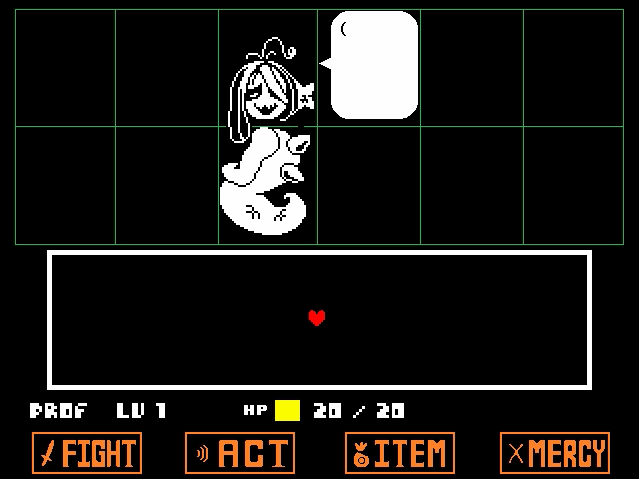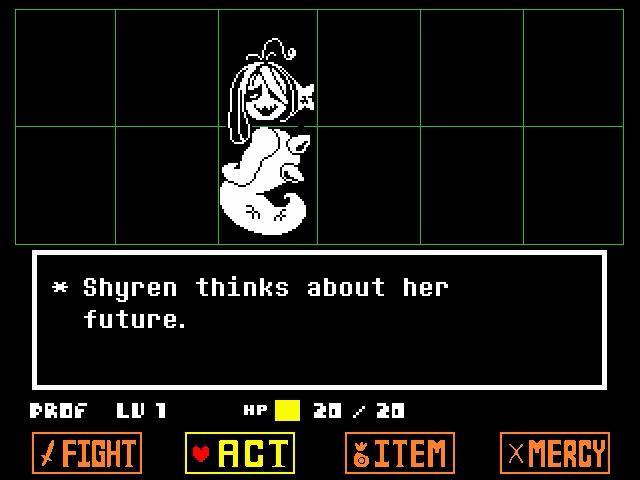 I
Hum
.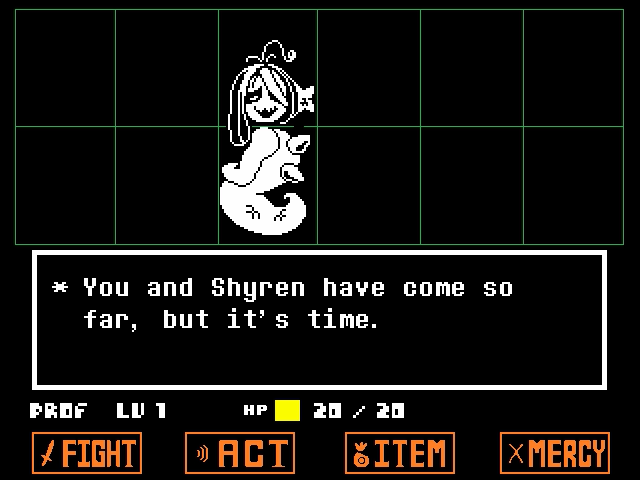 You both have your own journeys to embark on.
You hum a farewell song.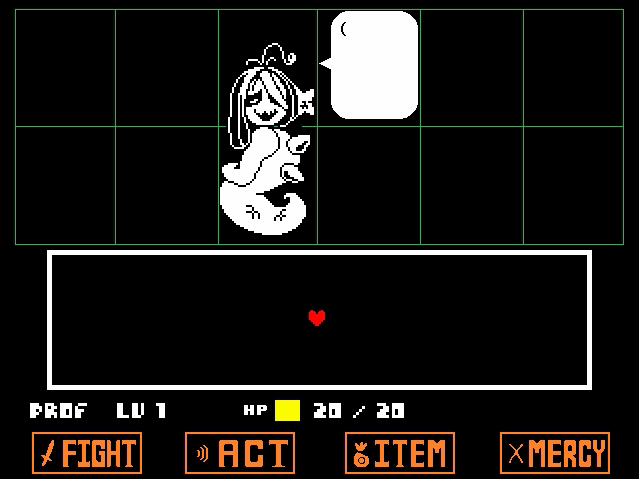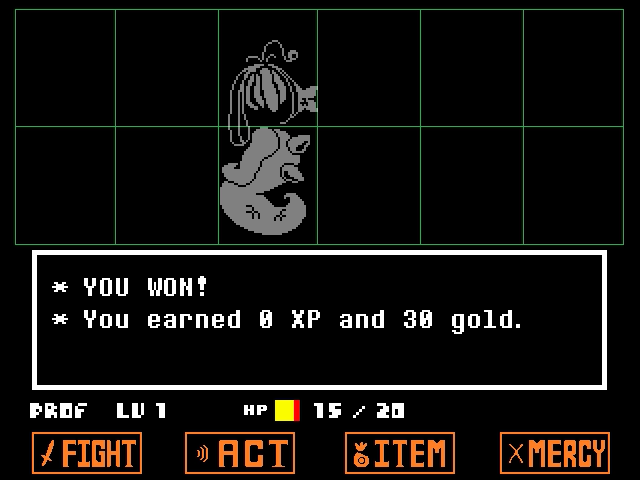 Title is now "Released Her First Hit Single,
When You Say Goodbye It's Like Magical Bullets Are Slowly Flying Out of Your Mouth And Hitting Me
".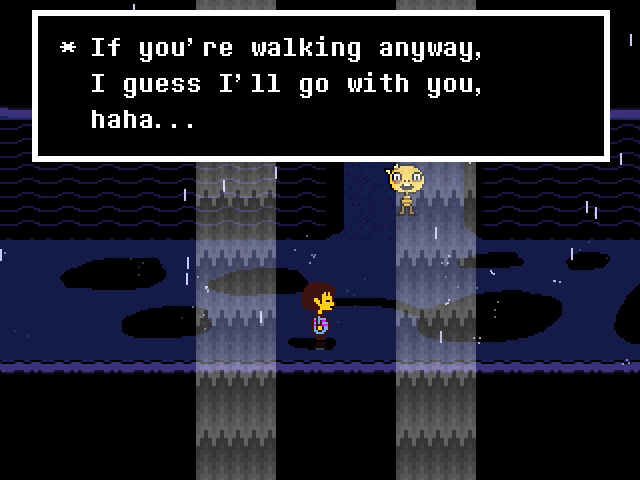 Oops, I forgot my umbrella.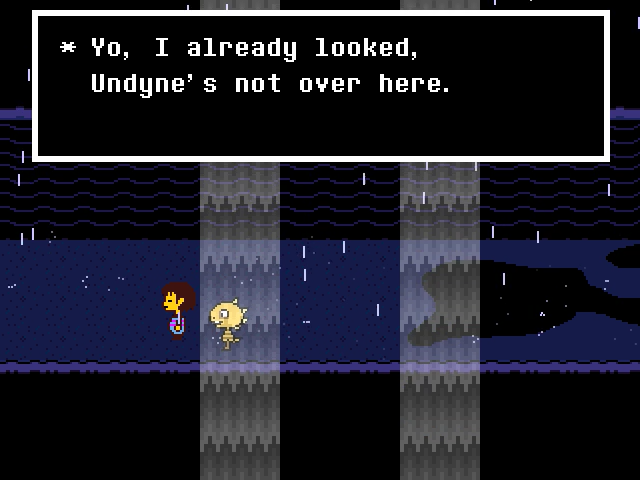 Monster Kid won't follow me out of this zone.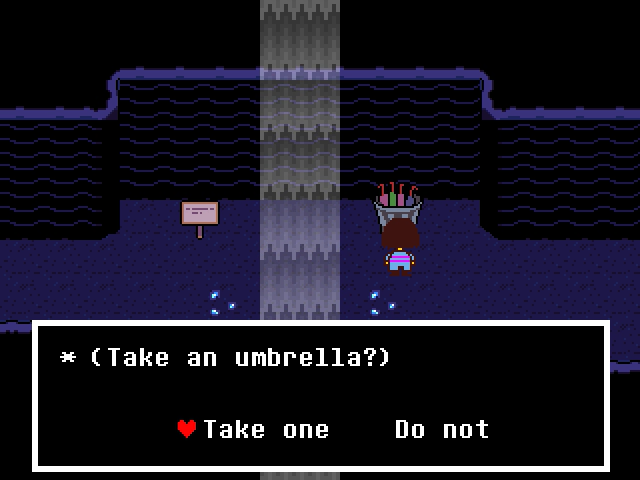 I take an umbrella... and head back.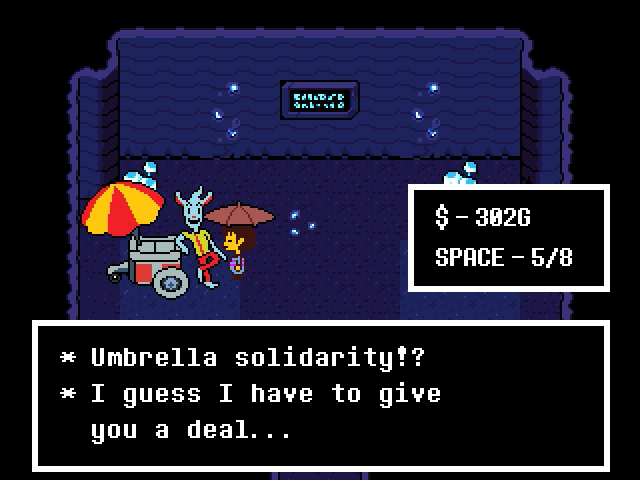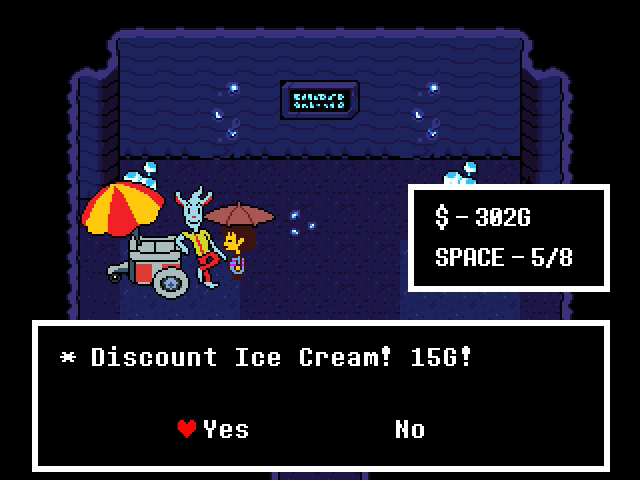 Bringing an umbrella to the Nice Cream stand nets a 10G discount.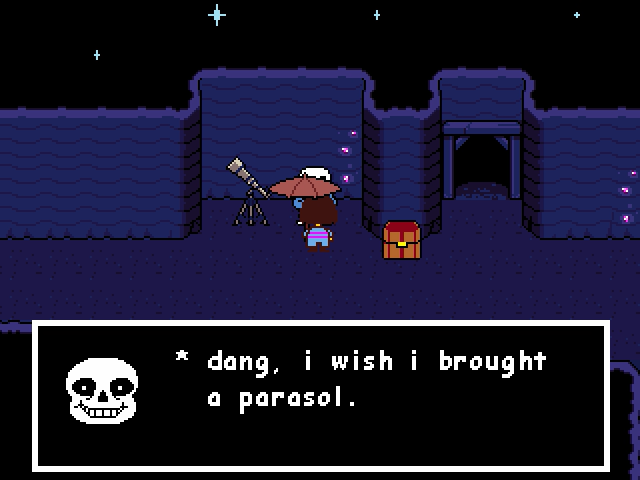 i'm getting a nasty burn from all this sun.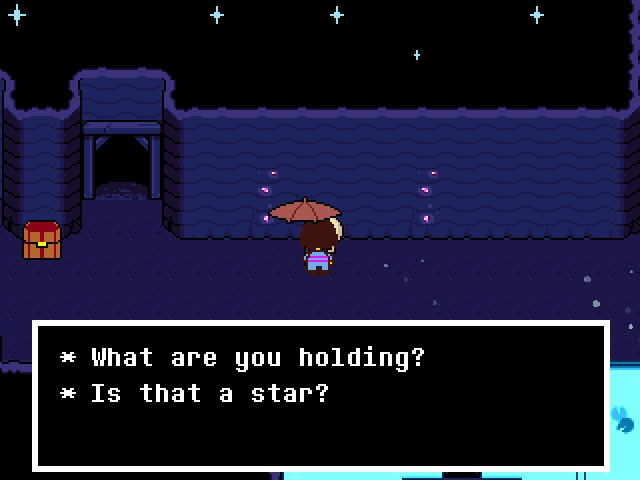 You can't go too far back with the umbrella.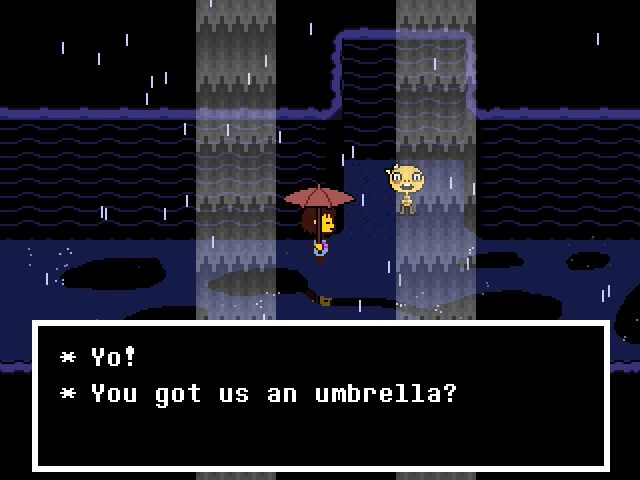 So, back to going forwards.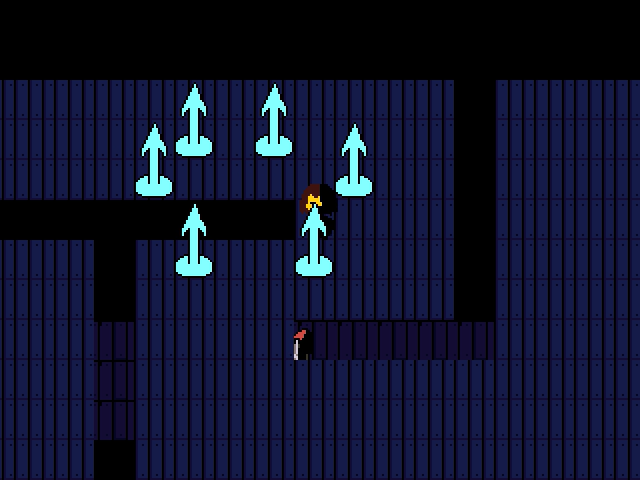 Spears.

Foreshadowing.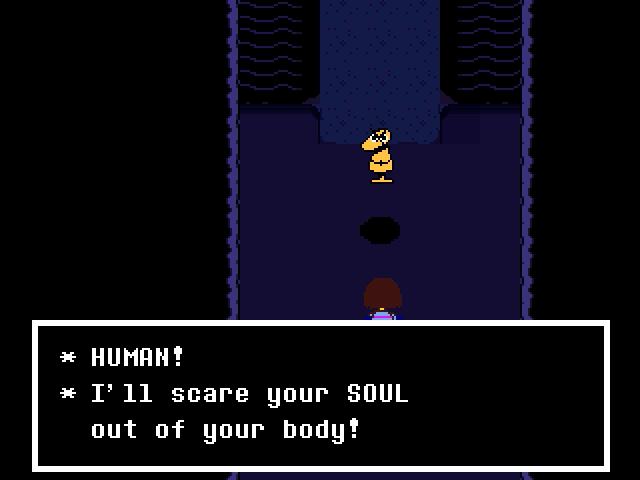 Dummy.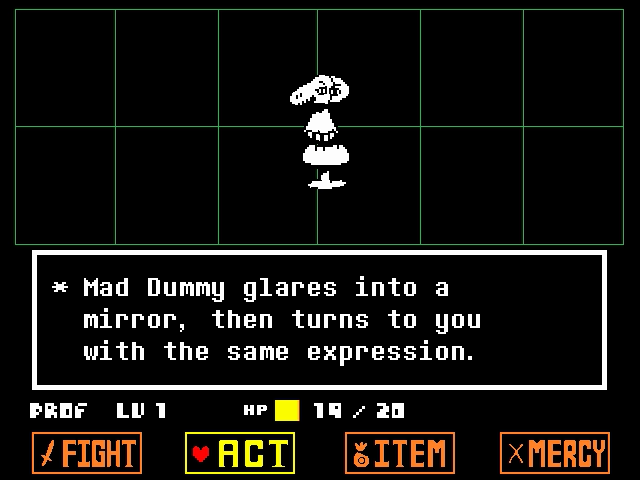 The actions required to change Mad Dummy's title is... actually not well known. It may have something to do with talking to it, during or after the fight. Or maybe it's whether or not you punch it before the fight.
White tilte is "Changed Name to Angry Dummy". Yellow title is "Calmed Down... Just a Bit".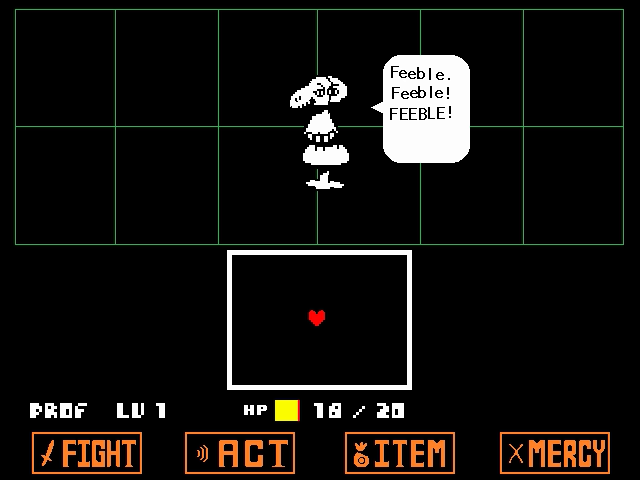 The first phase of the battle actually does go on indefinitely if you keep missing. The second phase, with the dummy bots, always lasts for four turns.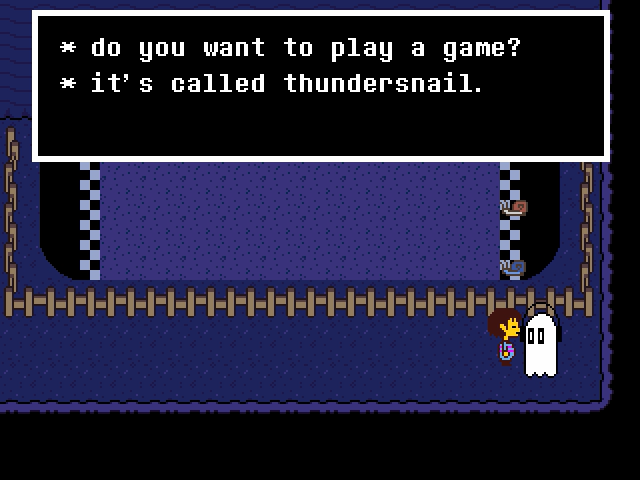 So, Thundersnail. I throw in my 10G.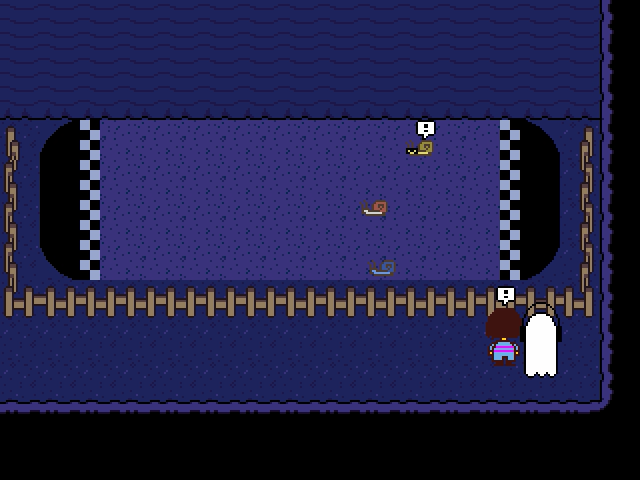 It actually is possible to win. Every time you encourage the snail, as long as you wait until the ! disappears before pressing it again, the snail's speed increases slightly.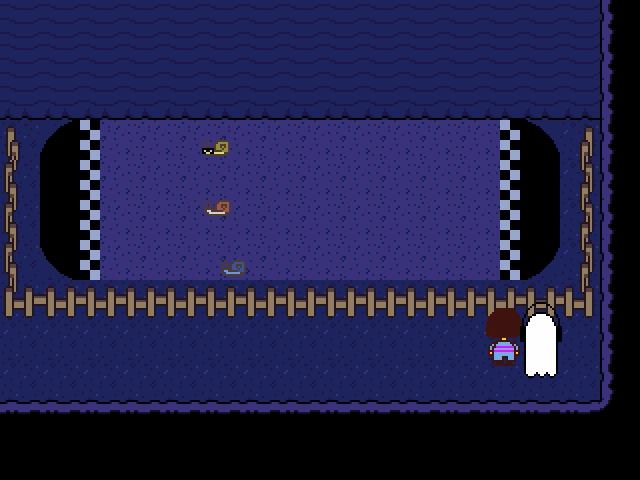 So the trick is to encourage several times right at the start, just far apart to not freak the snail out, then let it scoot the rest of the way on its own.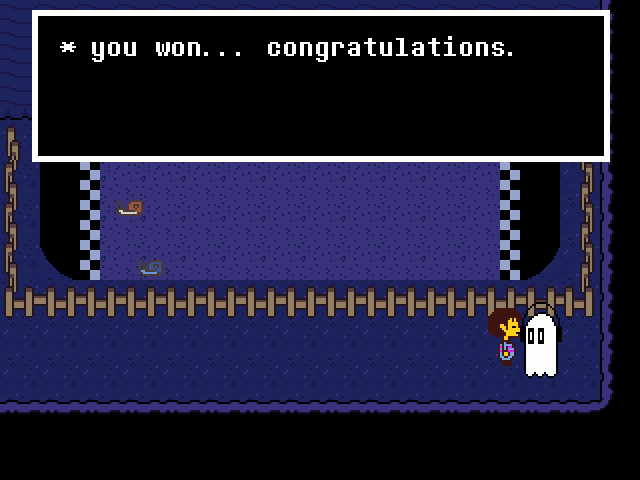 as a prize, you get 9G.

sorry... we have to make a profit somehow...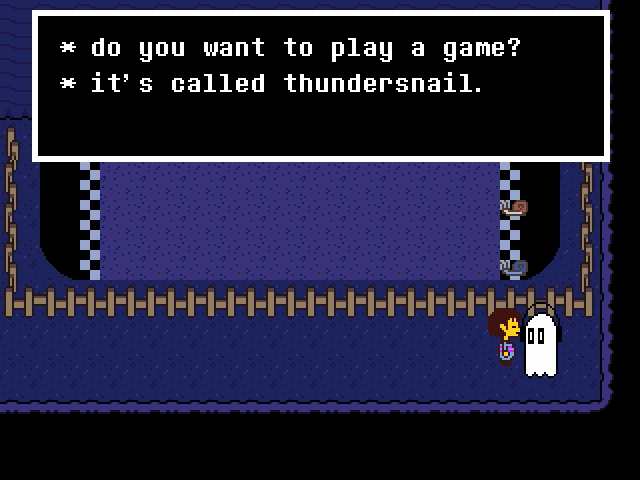 Let's do this again.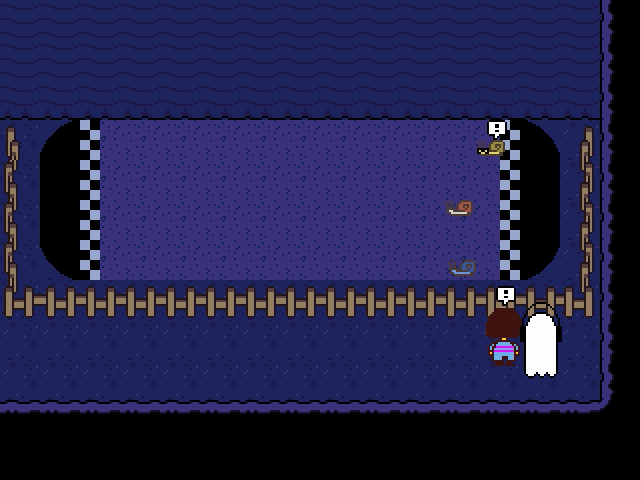 I encourage the snail exactly 7 times at the start.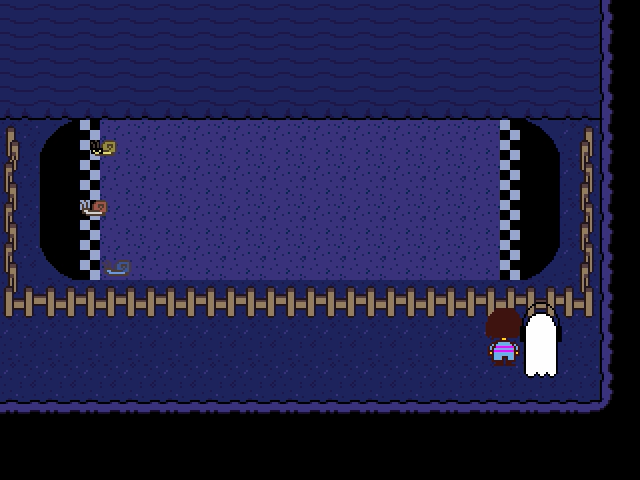 Enough to almost, but not quite, win the race.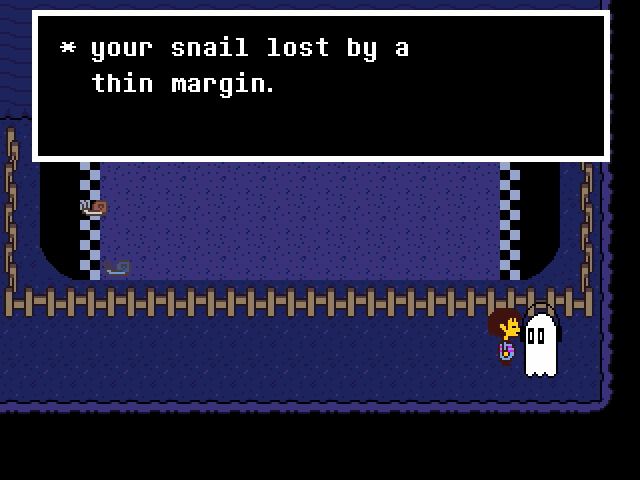 actually, the snail is under the false belif that it won...

oh no... the snail is looking over here...

here, i'll give you some money... act like you won...
(You got 30G.)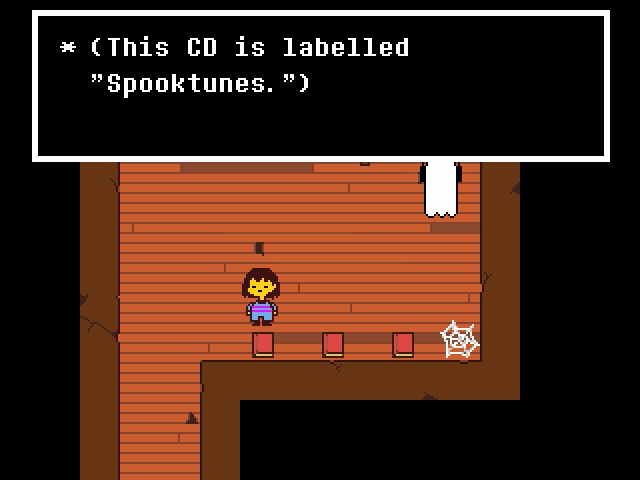 BGM: Spooktune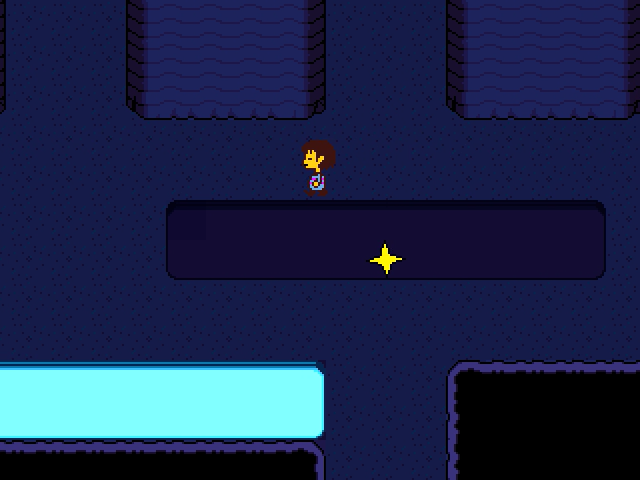 I leave the music playing, and go wandering around south of the house.
I get into an encounter.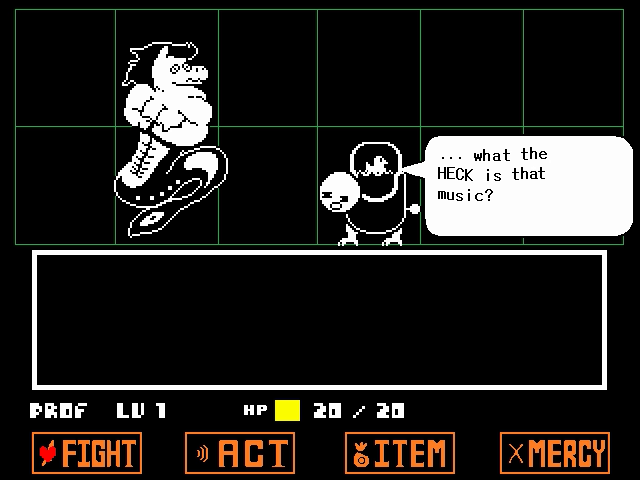 I-I DUNNO, DUDE BUT IT'S SPOOKIN ME OUT ; )

...this is worse than Shyren.

No way, Shyren is way less scary ; )

...if you're so scared, why do you keep winking?

THESE ARE WINKS OF FEAR ; )

Forget it. This beat is too...

...filthy.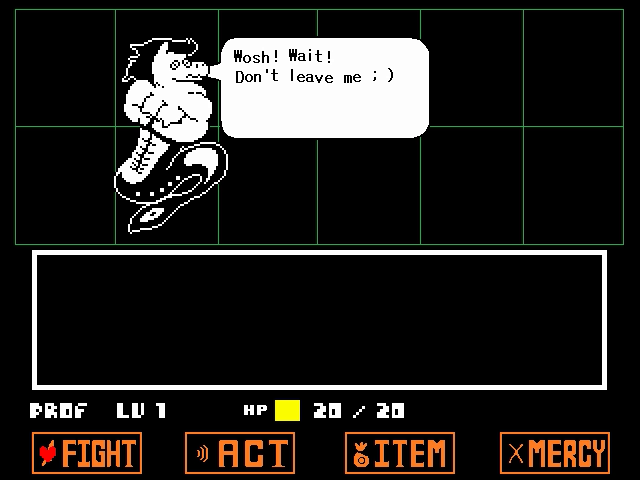 Is this creepy music my punishment for being creepy? ; )

Please... stop... I'll never creep again ; )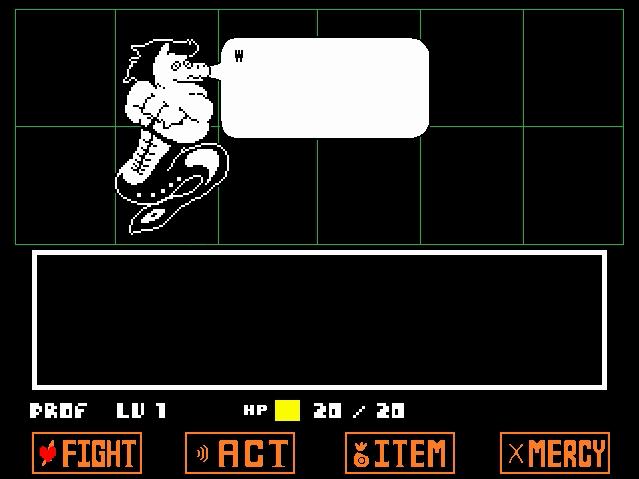 Yeah.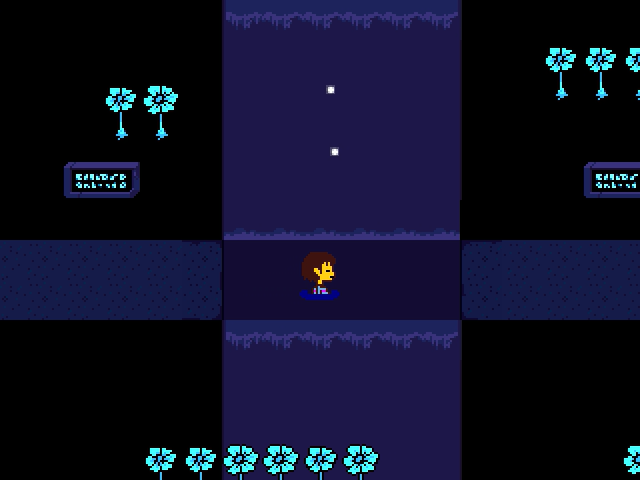 Onwards.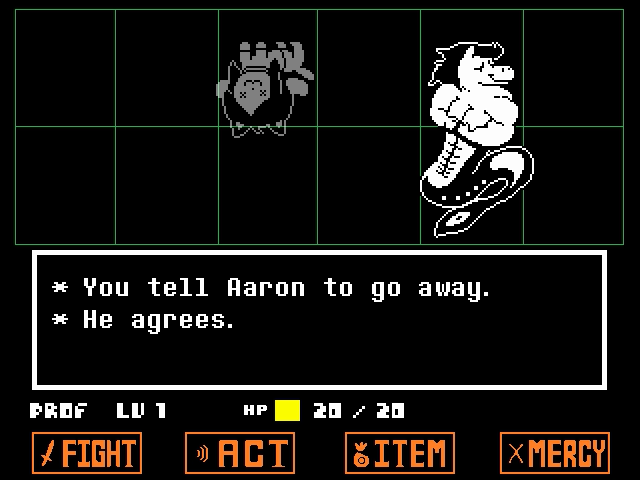 Following the spookening, Aaron can also be driven off using the Shoo command. Also, his title changed to "Paranormal Investigator".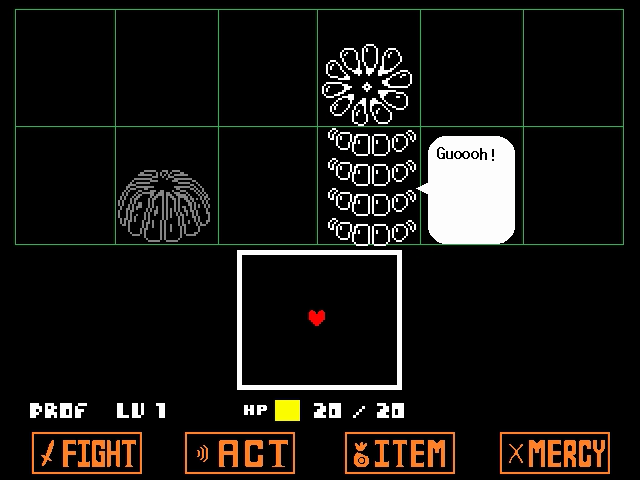 Moldbyg's white title is "Wistfully Adjusting to City Life". A simple Unhug Spares it and changes the title to "Idyllic Life on the Beach".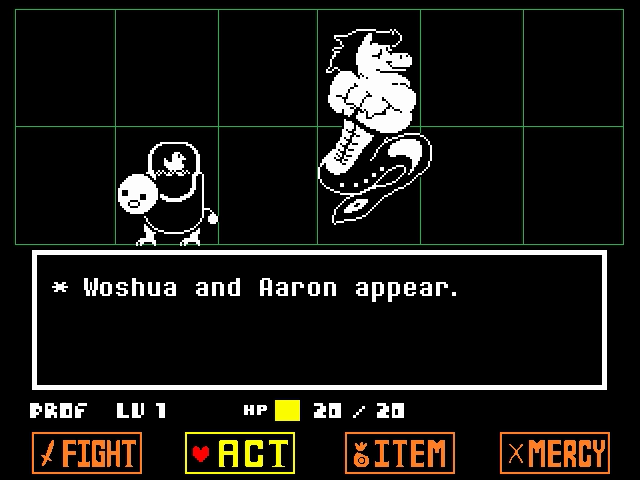 Telling a dirty joke to Woshua after being cleaned by it will also allow you to Spare Aaron.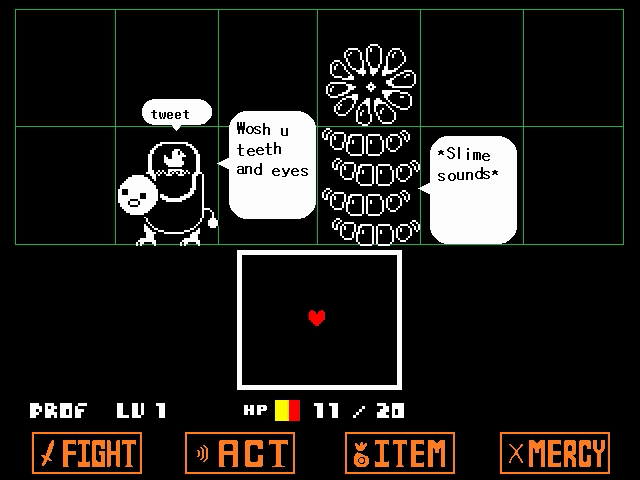 Woshua can be driven off by Touching it after Hugging Moldbyg.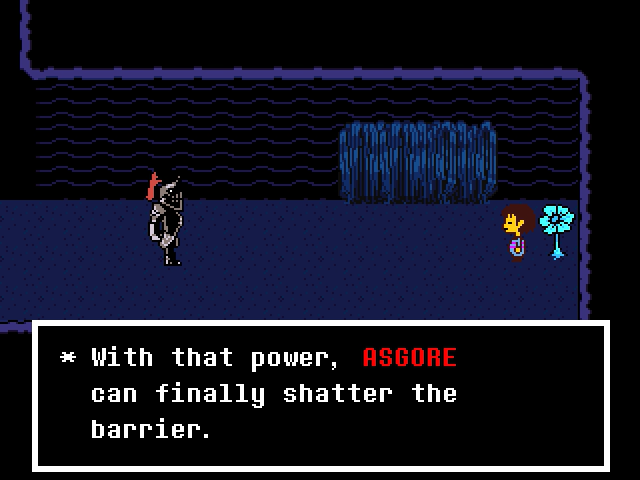 Undyne.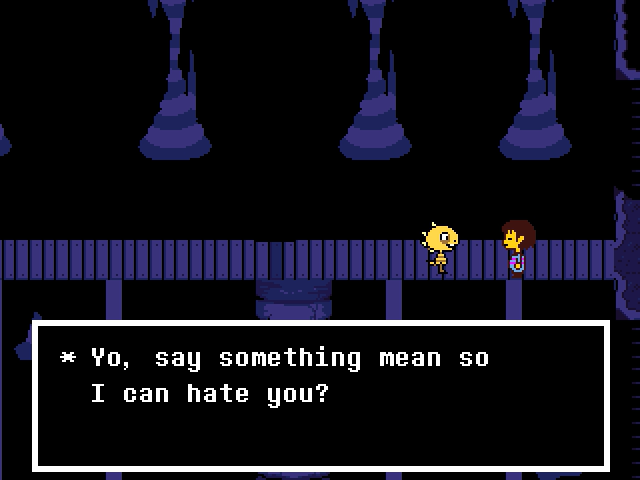 Monster Kid.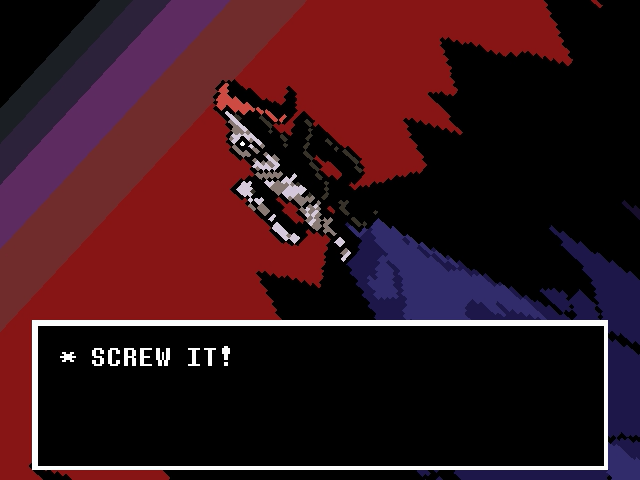 More Undyne.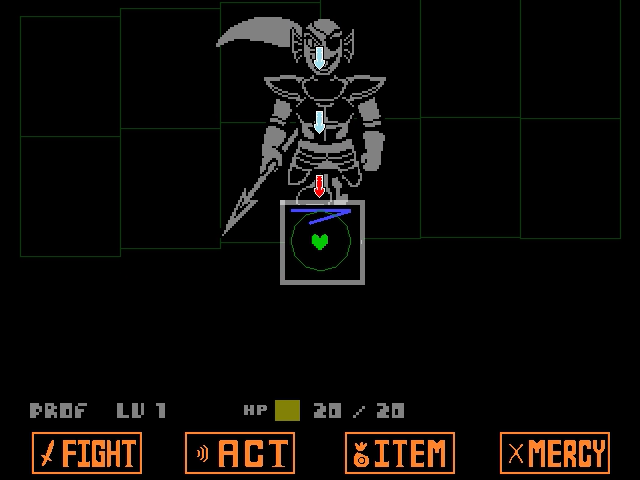 This fight starts out the same as normal, with the fleeding and the chasing.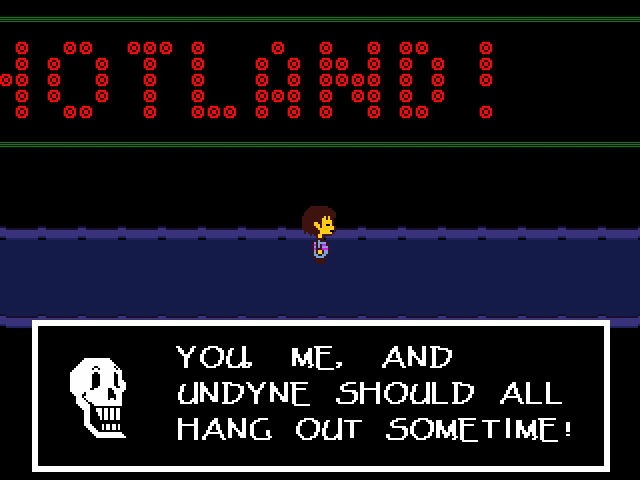 But then, after this call...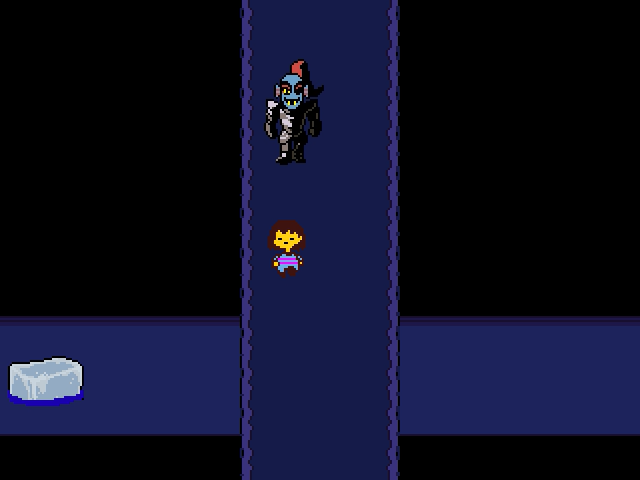 I turn around and run the other way.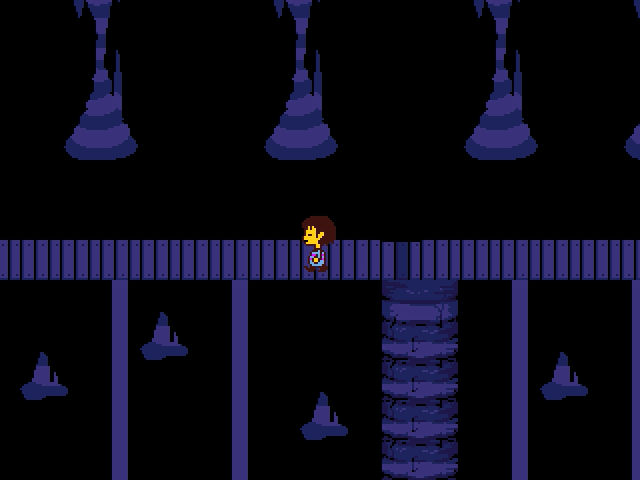 Eventually, she stops chasing me.
I go to her house.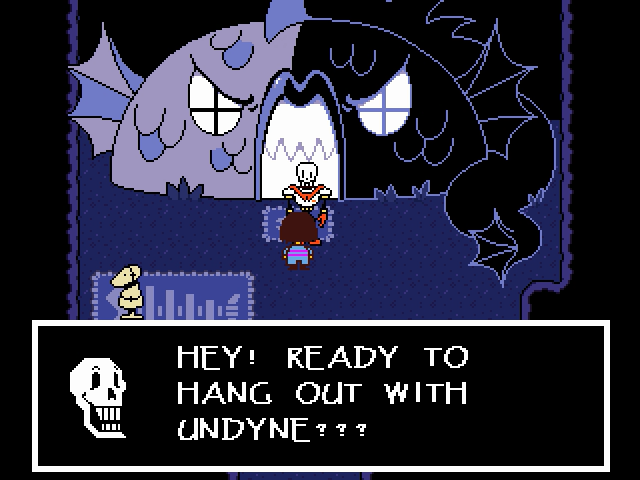 GREAT!!! BECAUSE SHE'S NOT EVEN HERE.

BEING READY EARLY! IT SHOWS HOW MUCH YOU CARE!!

EVEN IF SHE'S NOT HERE TO SEE THAT.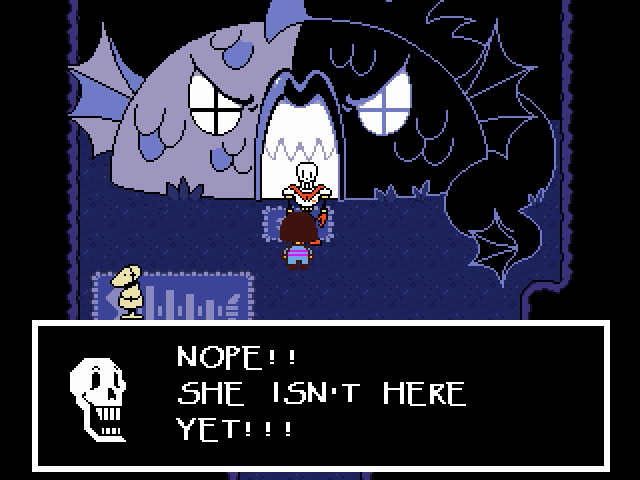 All right, all right.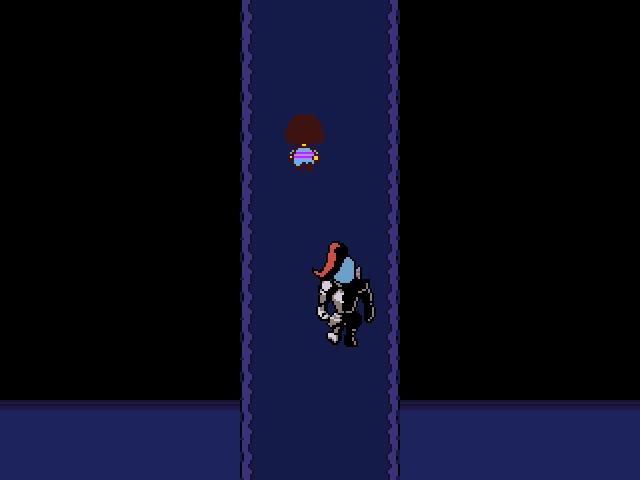 If you serpentine back and forth, it's possible to get through this screen withought Undyne catching you.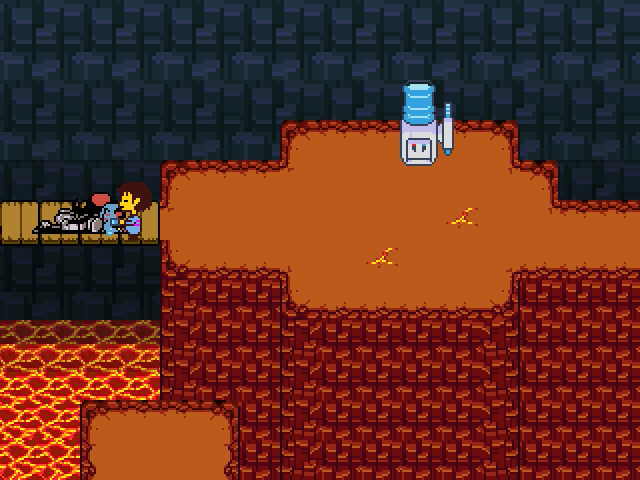 Fight ends as before.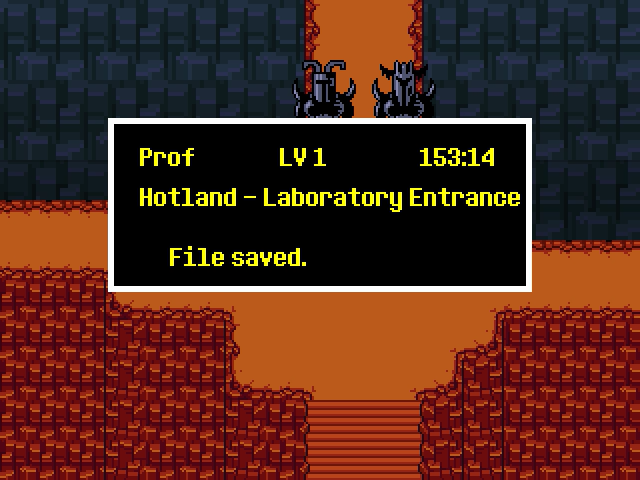 Next: Hotland.