Part 54: Ooo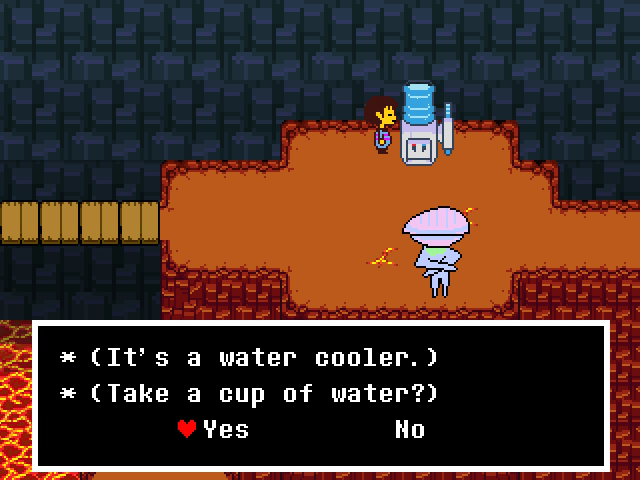 Back for a drink of water.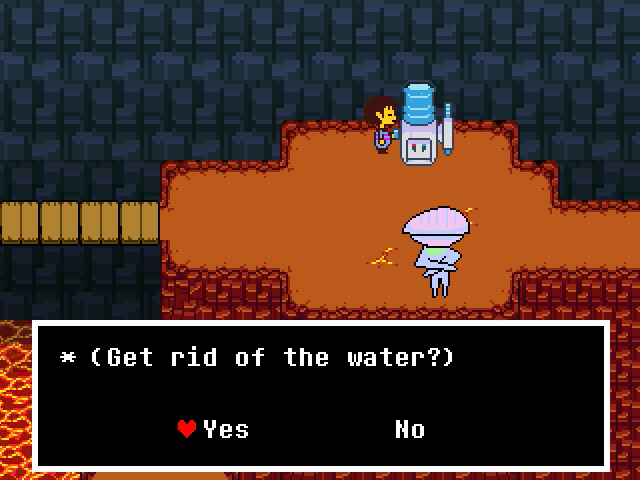 (You pour the water on the ground next to the water cooler.)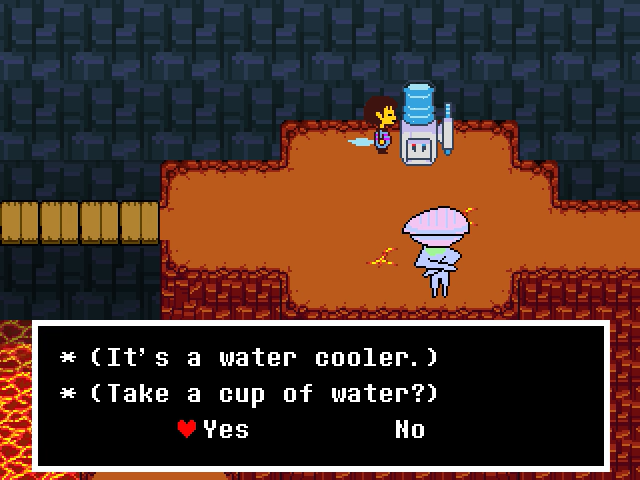 Remember kids, you shouldn't waste water.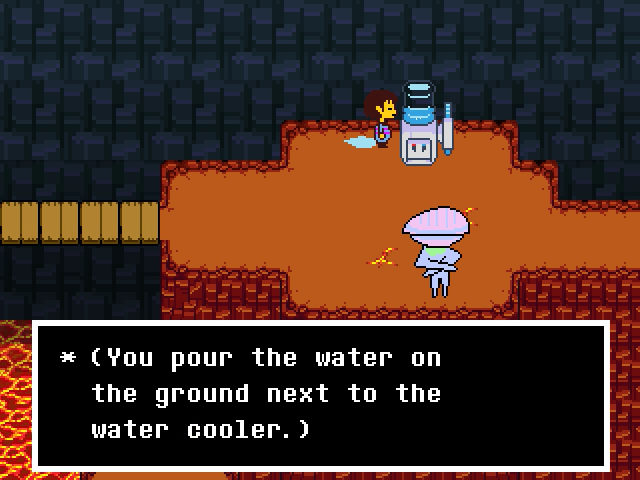 Unlike me, who is wasting an immense amount of water.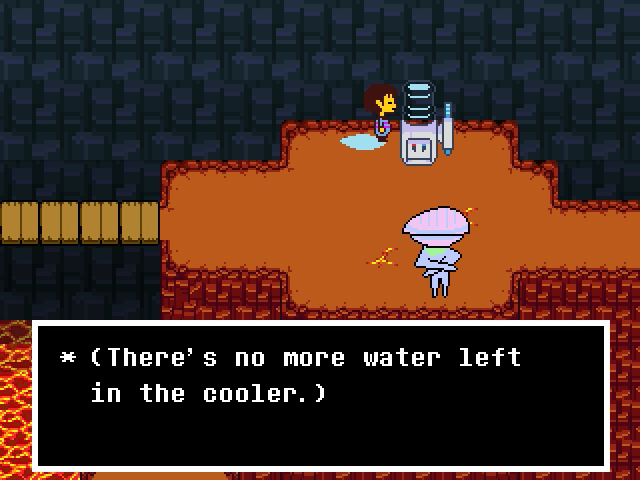 A large puddle is forming.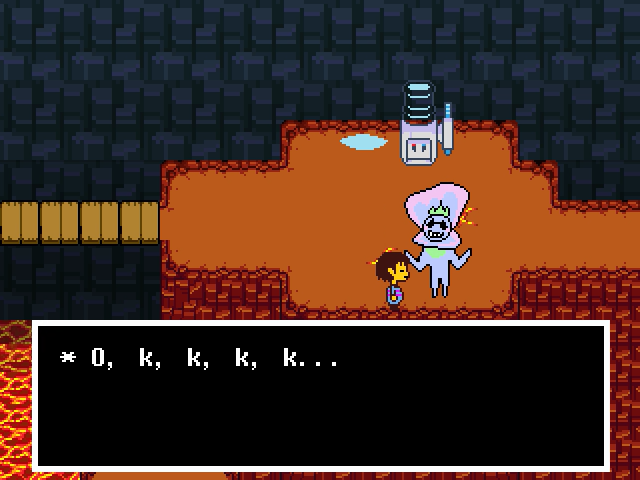 So now we have a private pool? Worse things have happened.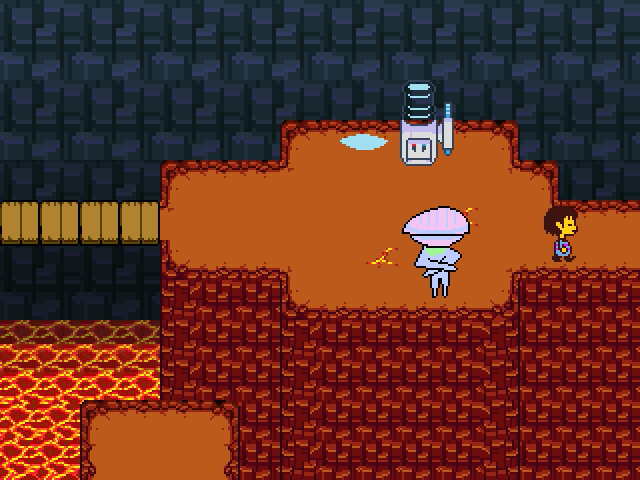 Maybe something good will come of this eventually.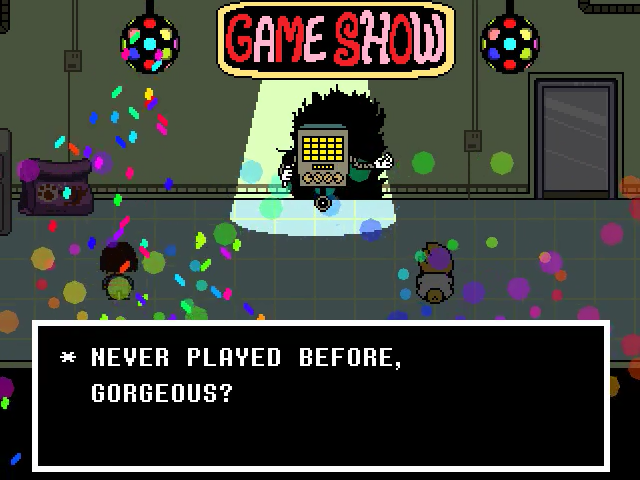 Mettaton.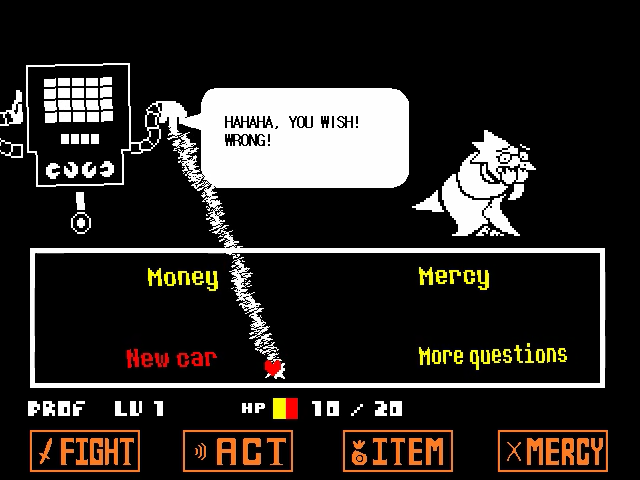 All the early Mettaton encounters are far less dangerous than they appear.
Mettaton's quiz laser does damage equal to half of your remaining health.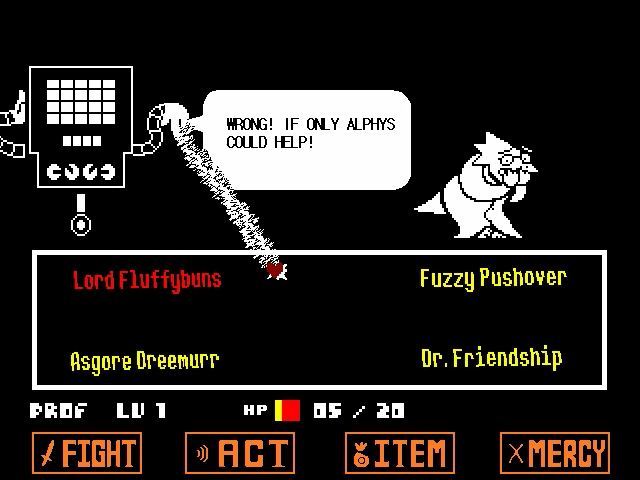 Fail repeatedly, and he starts to give hints about Alphys's aid.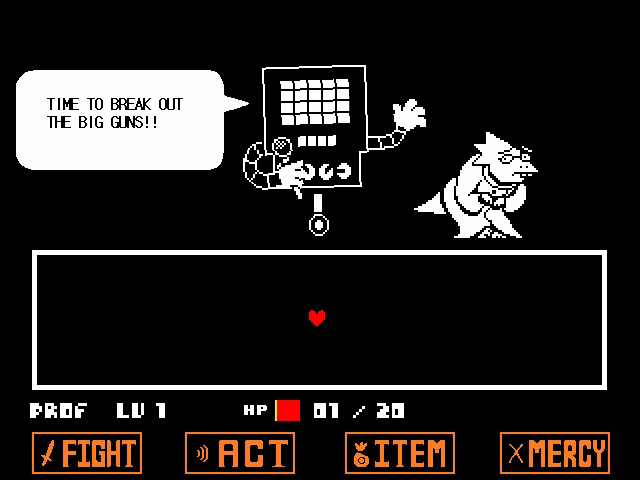 Drop to 1 HP, and he immediately skips to the final question.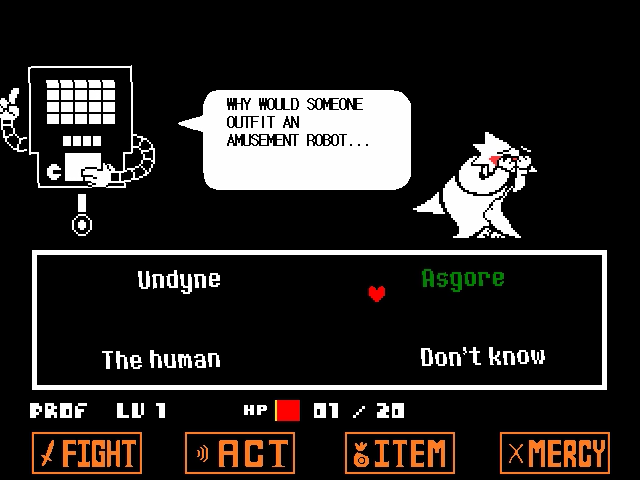 WITH BRUTAL COMBAT CAPABILITIES?


SIMPLE.


TO IMPRESS MR. ASGORE DREEMURR, OF COURSE!


OR AS ALPHYS CALLS HIM...


"MR. DREAMY."


THOSE STRONG ARMS...


THAT LUSTROUS BEARD...


LIKE ALL THOSE WHO CREATE WEAPONS.


SHE CRAVES THE TENDER EMBRACE OF A BURLY MAN.


CAN SHE TRULY BE BLAMED?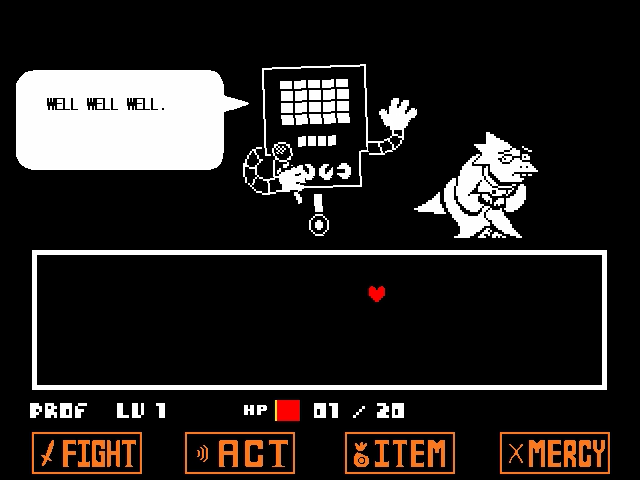 From there on, it's the same.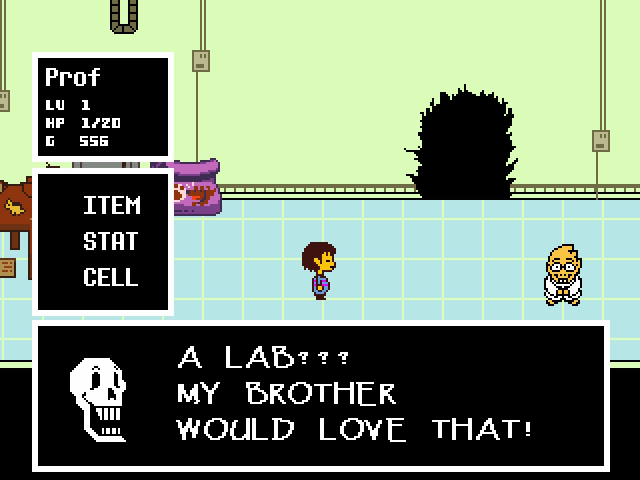 HE LOVES SCIENCE FICTION!!

ESPECIALLY WHEN IT'S REAL.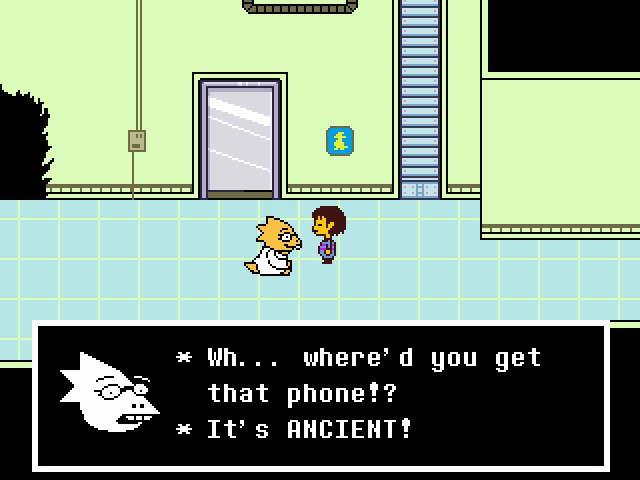 This time, I'm holding off on the Undyne event for as long as possible. Most of the phone calls from here to the end are different this way, since I only have Papyrus.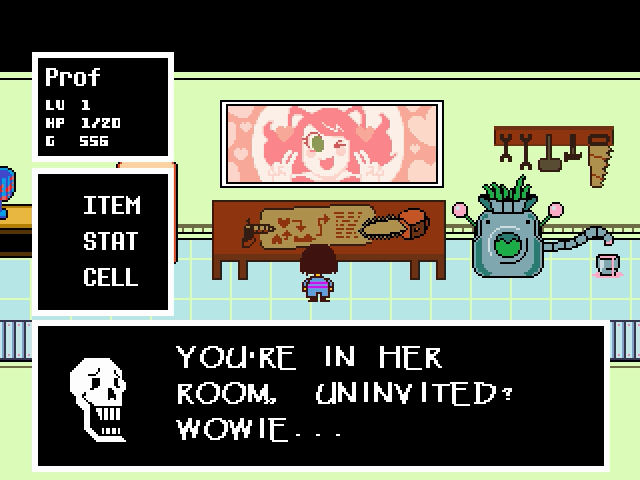 THAT'S EXTREMELY CREEPY.

MAYBE DON'T DO THAT.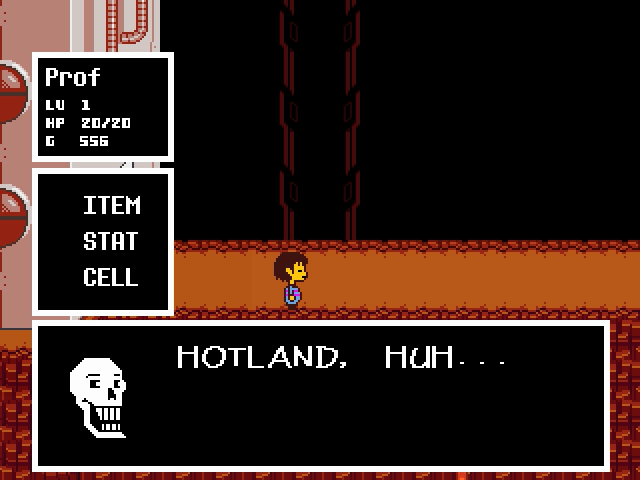 I KNOW IT LIKE THE BACK OF MY HAND...

WHICH, SINCE I'M ALWAYS WEARING GLOVES...

I DON'T KNOW ANYTHING ABOUT!!!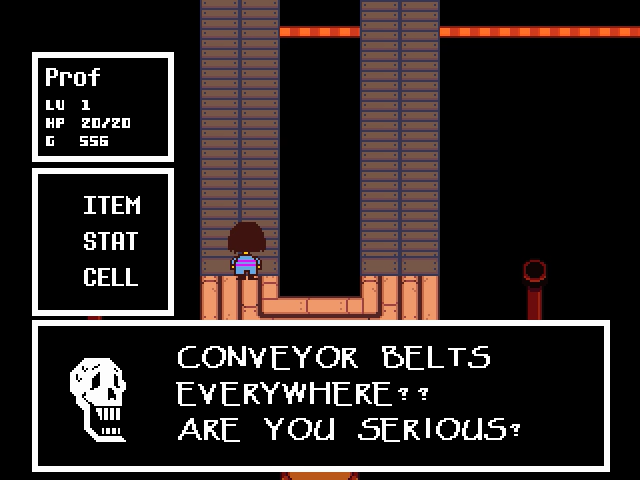 IMAGINE RIDING ONE TO GET TO WORK OR SCHOOL.

RIDICULOUS.

NOW ICE AND SPIKES, THERE'S CONVENIENCE!!!

GLAD I DON'T LIVE IN HOTLAND.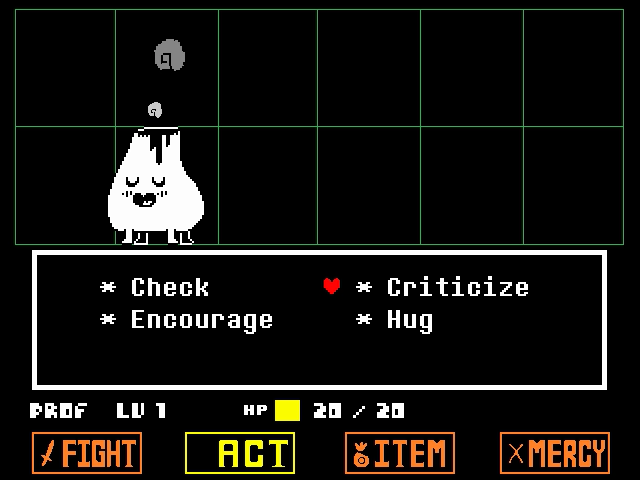 Vulkin's white title is "Strolling Happily". It can be Spared via Hug or Encourage, changing the title to "Encouraging Space Heater".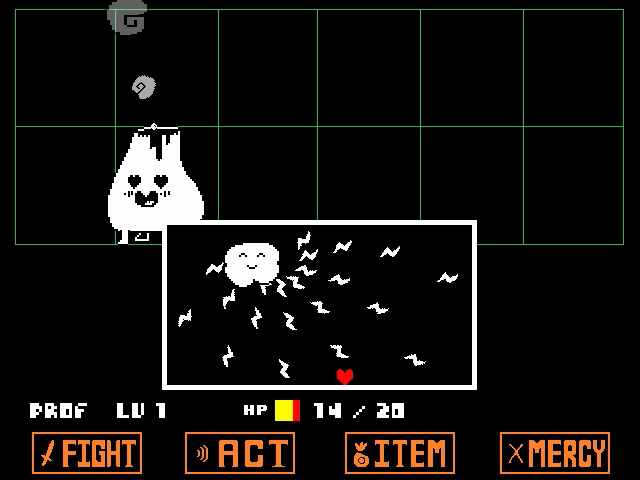 Interestingly, Vulkin describes this attack as "helpful speed-up", and isn't actually lying. If you get hit by it, your speed really does increase.
You still take damage, though.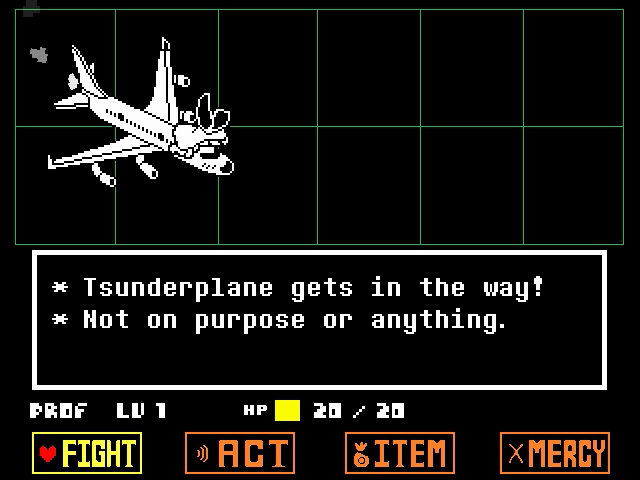 Tsunderplane's default title is "New Student At School". It is Spared by Approaching, then touching four green zones.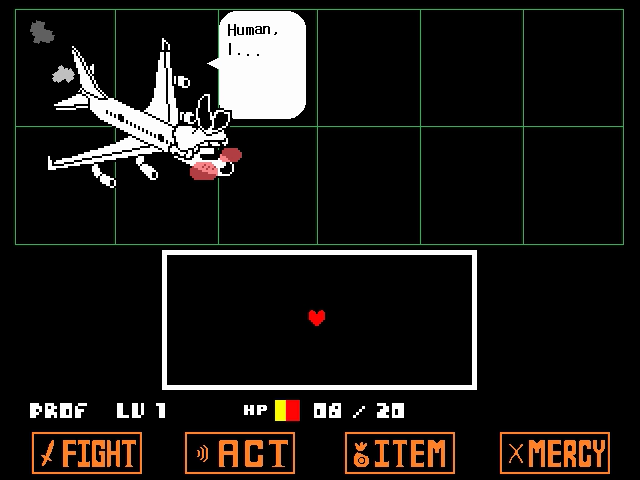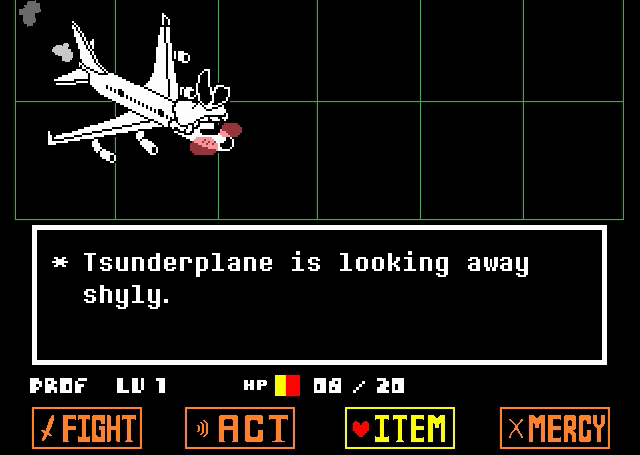 Sparing her properly gives the title "Finally Confesses (What!? I don't!!)". Optionally, you can keep Approaching and deepening the blush, and the text changes after a while as shown above.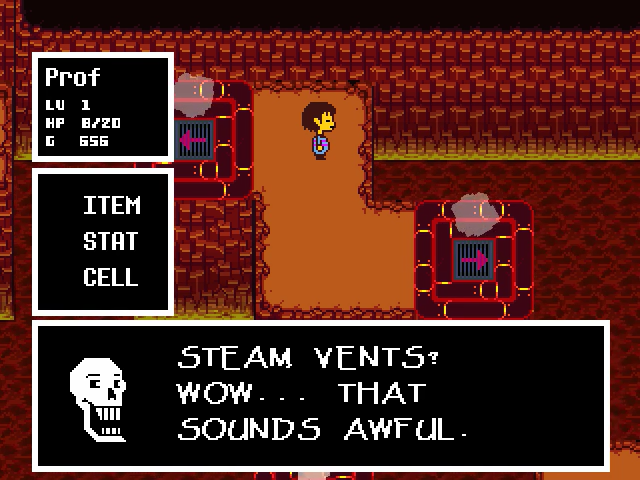 WHAT IF YOU'RE WEARING A DRESS?

GLAD I DON'T LIVE IN HOTLAND!!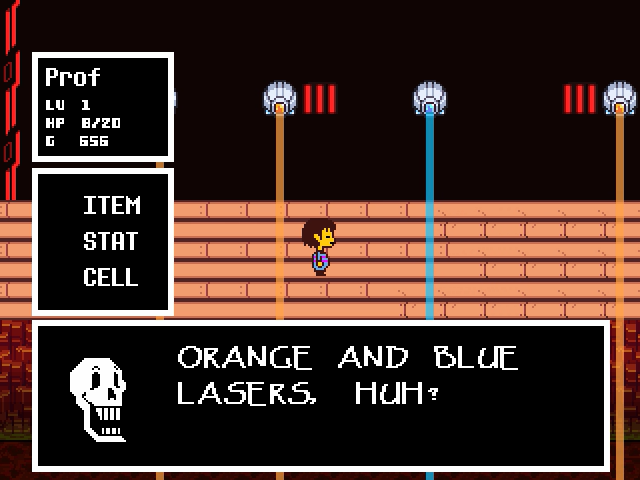 JUST KEEP IN MIND WHAT THE COLORS MEAN.

BLUE MEANS JUMP...

AND ORANGE MEANS YOU'LLL... SMELL LIKE ORANGES.

THAT'S WHAT I REMEMBER.

HAVE FUN!!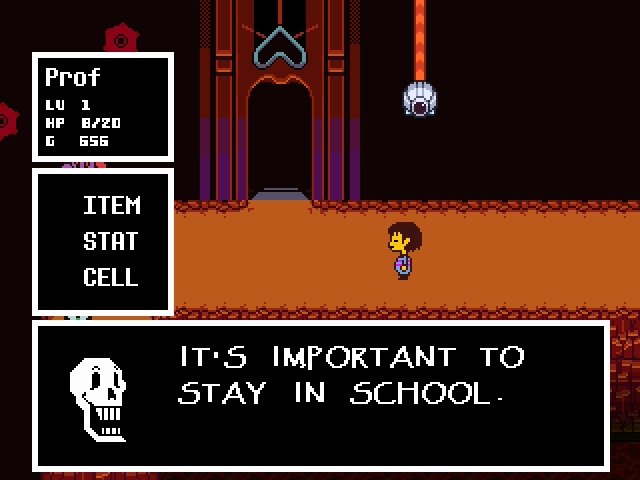 A REAL TEACHER...

WOULD NEVER ACCEPT DEADLY LASERS AS AN EXCUSE!!

GLAD! I DON'T LIVE IN HOTLAND!!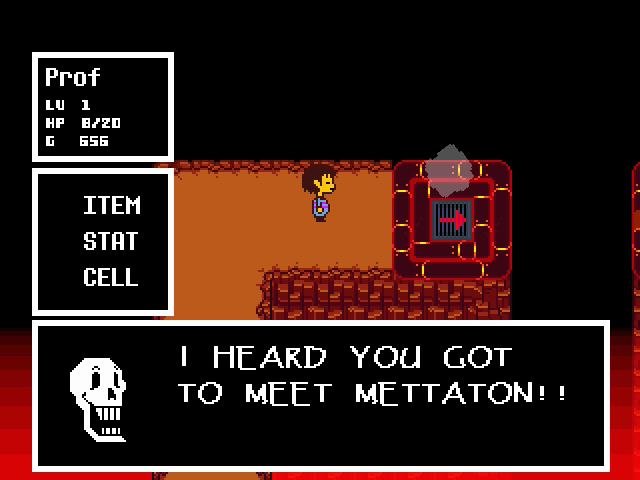 HE'S MY FAVORITE SEXY RECTANGLE!!

I WISH I LIVED IN HOTLAND!!!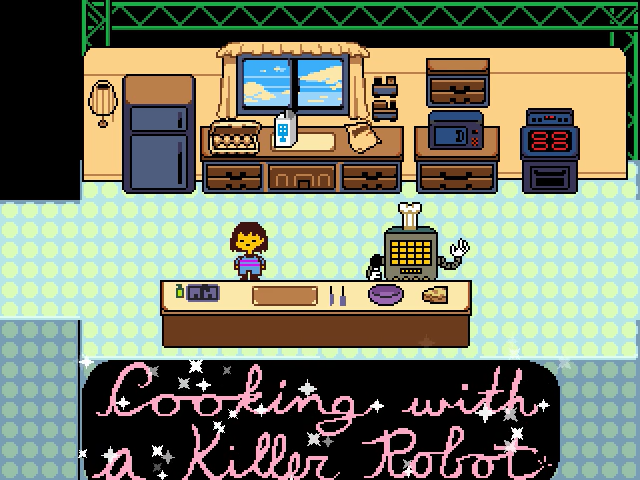 This scene happens.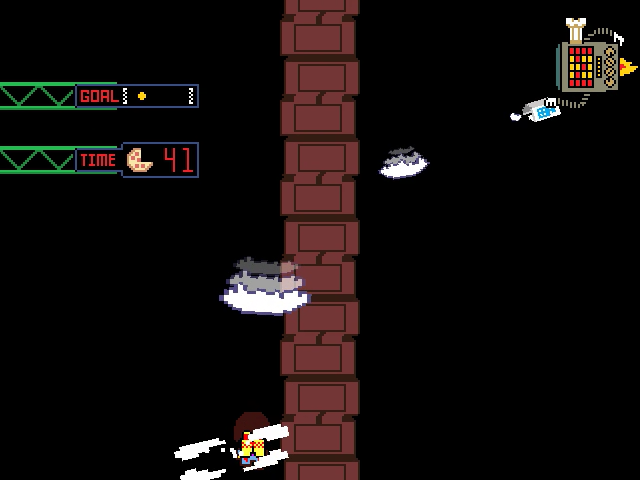 On the way up, I make sure to get hit as many times as possible.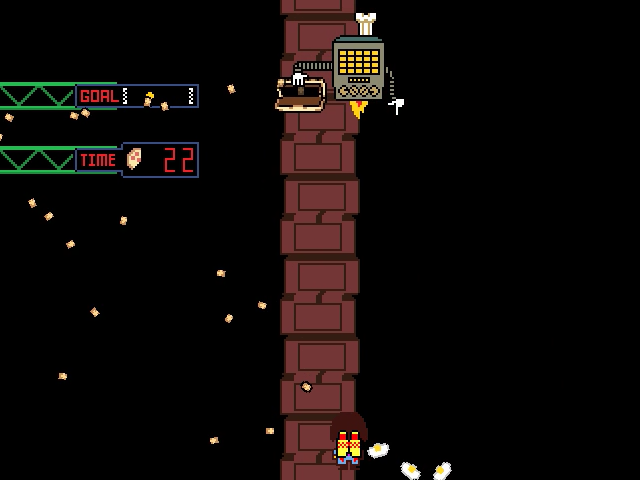 The more you get hit, the slower you move.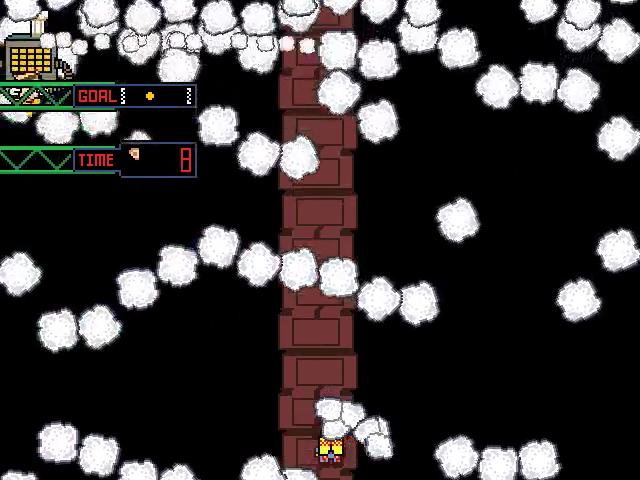 Eventually...

N-no...! I must not have added enough fuel!

D-darnit... I'm sorry...

Even when it's something like this, I...

I still...! I still...

OH NO, WOULD YOU LOOK AT THAT!

What?

I FORGOT! RIGHT ABOUT NOW IS WHEN WE HAVE OUR COMMERCIAL BREAK!

Wh... What are you...

UNFORTUNATELY, THAT MEANS NO ONE IS WATCHING THIS RIGHT NOW.


I'M NOT GOING TO DESTROY YOU WITHOUT A LIVE TELEVISION AUDIENCE!!


LOOKS LIKE YOU'VE FOILED ME ONCE AGAIN, THANKS TO THE BRILLIANT DR. ALPHYS!!!


UNTIL NEXT TIME, BEAUTIFUL!


TOODLES!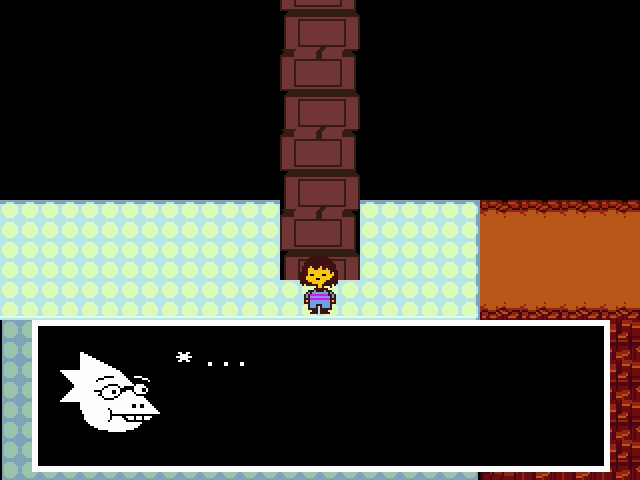 U-um... I guess we... did it?

W-well, uh, anyway, let's keep heading forward!!!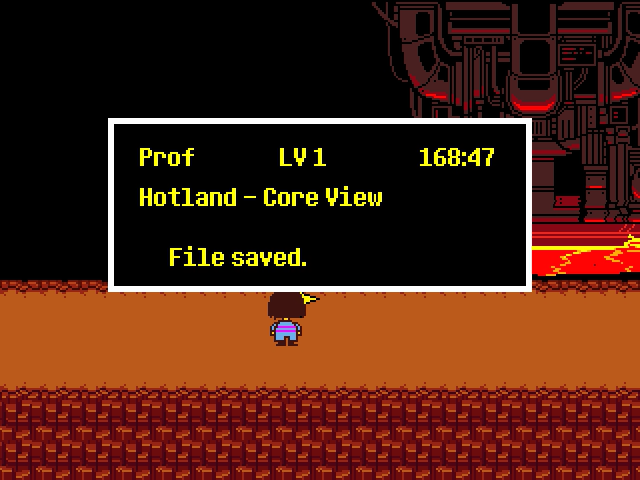 Yeah, let's do that.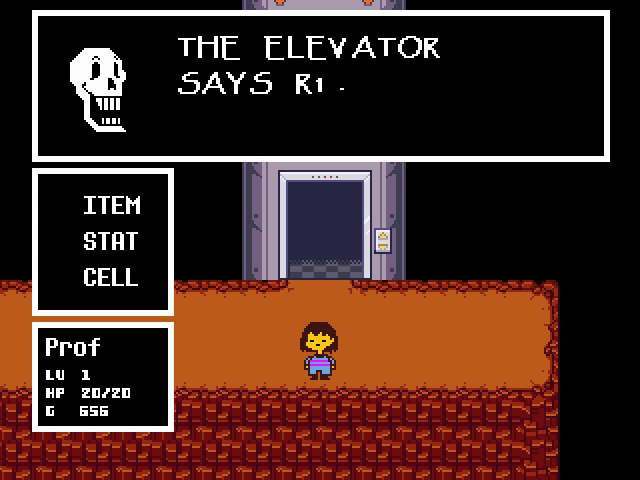 BUT WHAT DOES THE R STAND FOR? RAVIOLI?

RAVIOLI... THE DUMPLING-TYPE PASTA.

THE TREASURE CHEST OF THE CULINARY WORLD.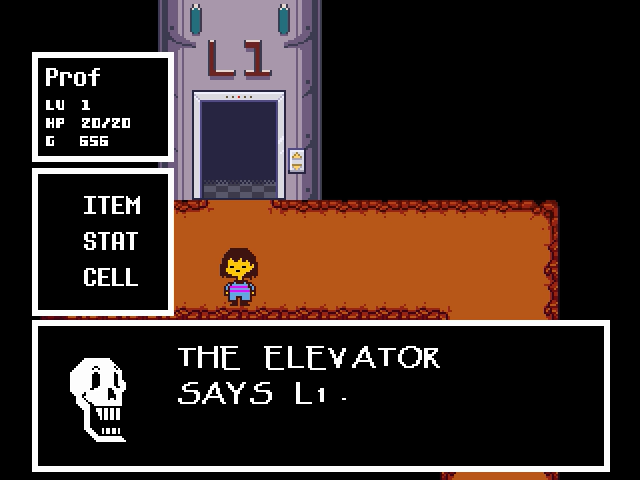 BUT WHAT DOES THE L STAND FOR? LINGUINE?

LINGUINE. THE FLAT PASTA.

IT CAN ALSO BE USED TO TIE UP PRESENTS.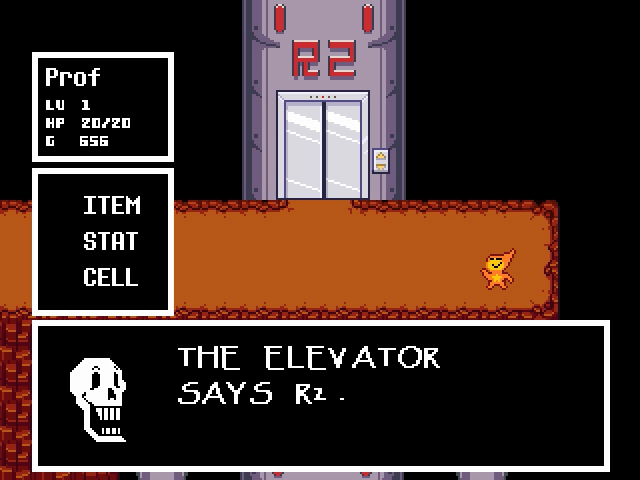 BUT WHAT DOES THE R STAND FOR? RIGATONI?

THE TUBE-SHAPED PASTA.

IN A PINCH, IT CAN BE USED AS A STRAW.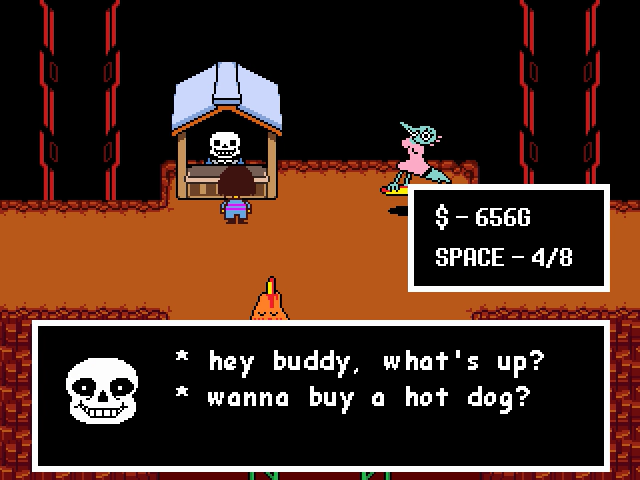 I buy a 'dog, then buy another one. This time with enough space in my inventory.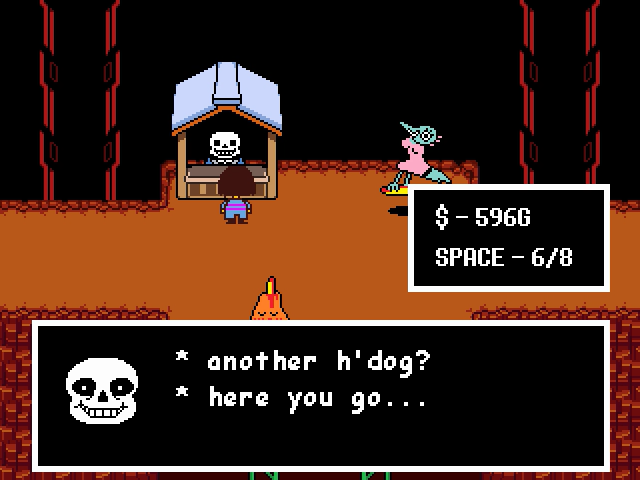 whoops, i'm actually out of hot dogs.

here, you can have a hot cat instead.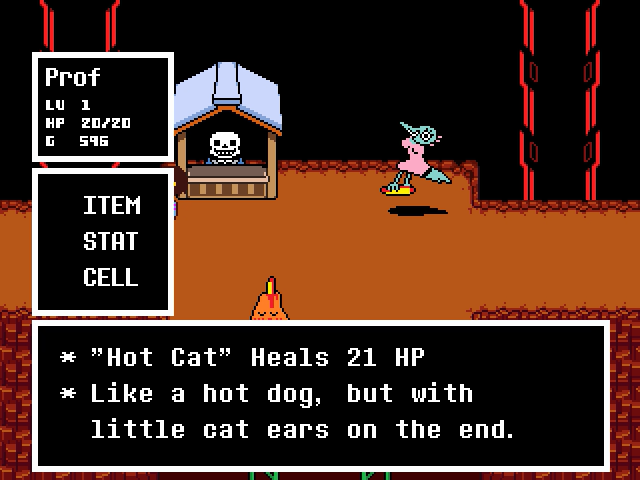 Neat.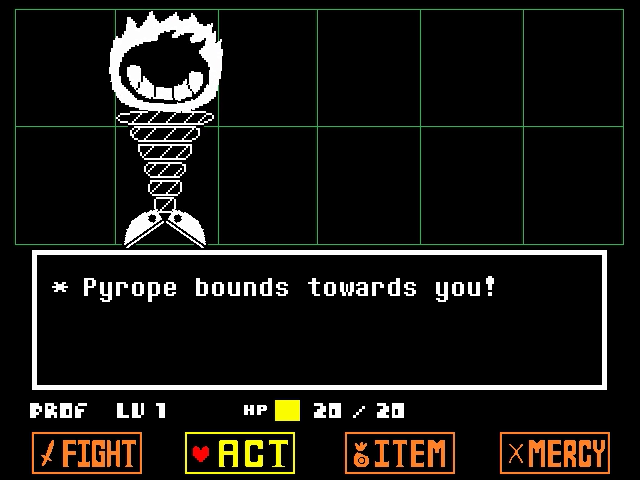 Pyrope's default title is "Continually In Trouble." Turning up the heat twice changes it to "Candle In The World's Largest Birthday Cake."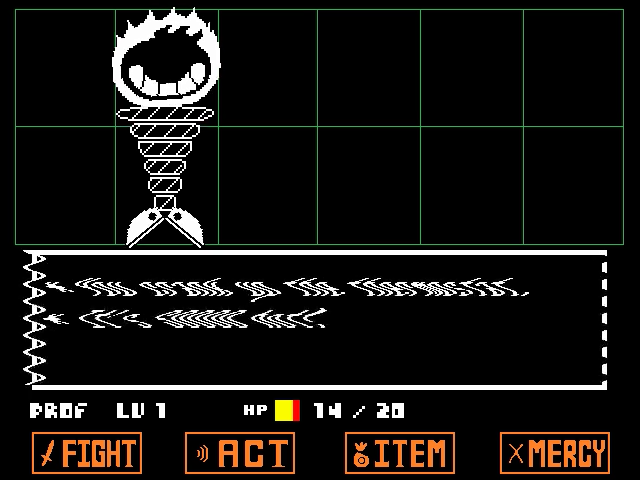 But who said you have to stop turning the heat up after two?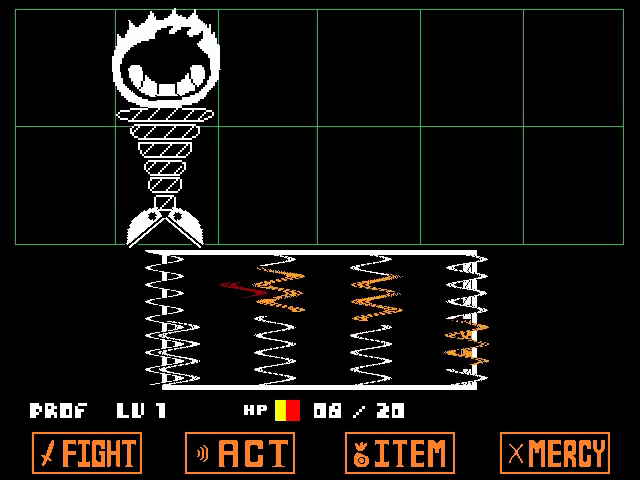 After like six heat ups, it gets REALLY hard to dodge.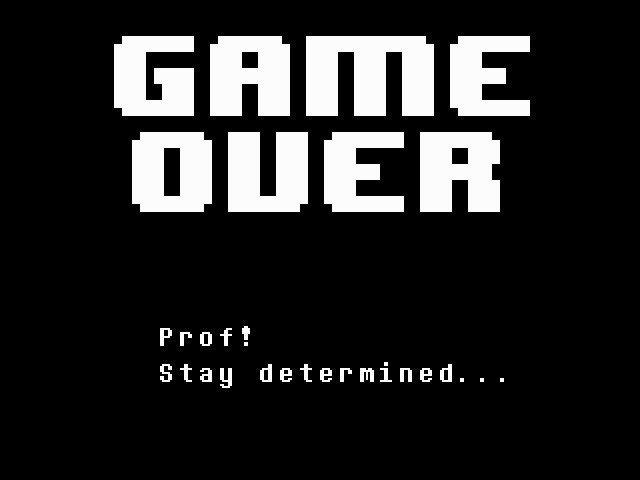 Possibly too hard.
Fun fact: For respawning purposes, the Hotland elevators count as save points.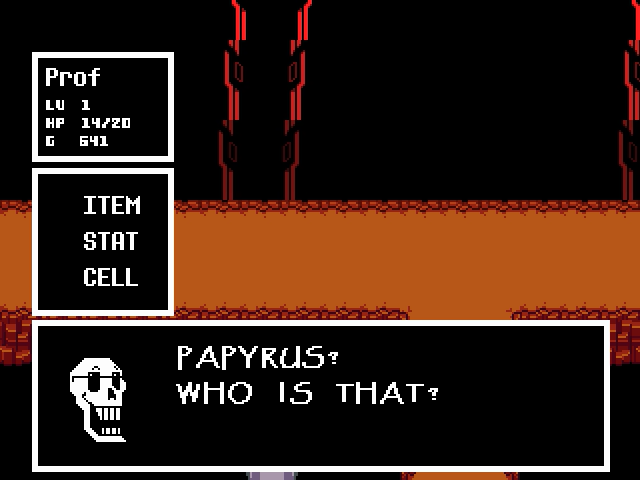 THIS IS... COOLSKELETON95.

SORRY. CAN'T TALK. I'M BUSY BEING POPULAR ON-LINE.

NYEH HEH HEH! ONLY KIDDING! YOU HAVE BEEN HAD!

IT WAS PAPYRUS PLAYING A SIMPLE GENTLEMAN'S RUSE!

WINK!

YOU CAN SEE ME WINKING, RIGHT.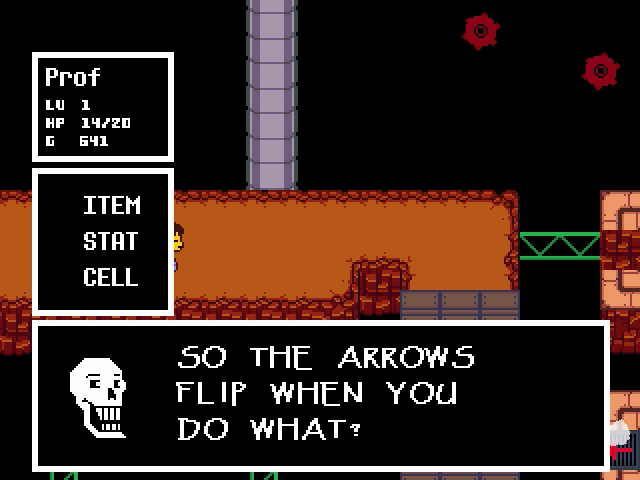 I CAN'T VISUALIZE THIS PUZZLE AT ALL.

CAN YOU DRAW A PICTURE?

THEN HOLD IT UP TO THE RECEIVER??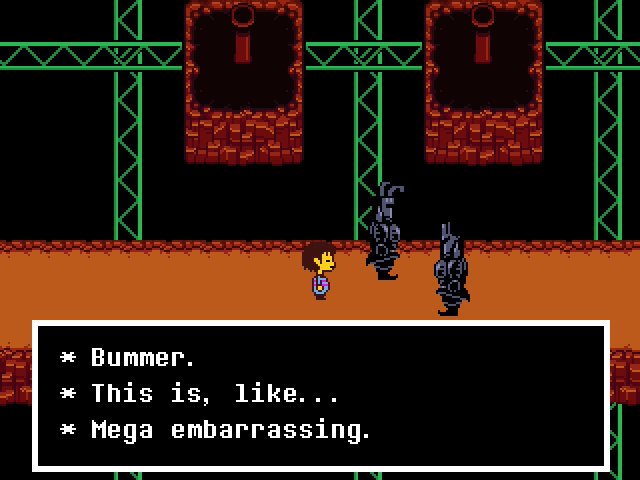 Royal Guards.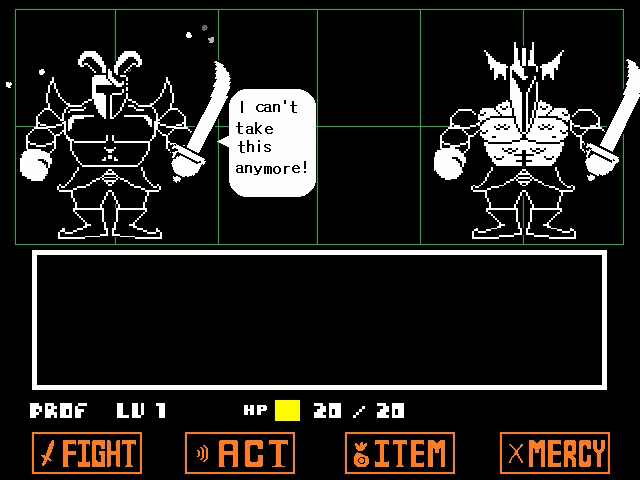 There's only one way to do this fight. Title is always yellow and always "Use Your Imagination."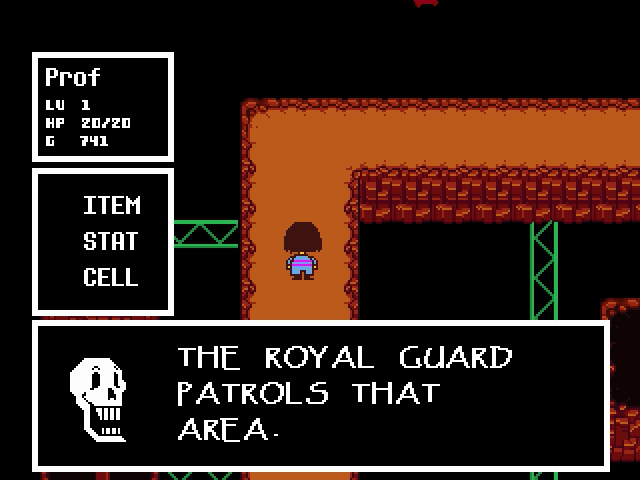 YES, LIKE SNOWDIN, HOTLAND HAS ROYAL GUARD MEMBERS.

WATERFALL DOESN'T NEED THEM BECAUSE IT'S GOT UNDYNE!!!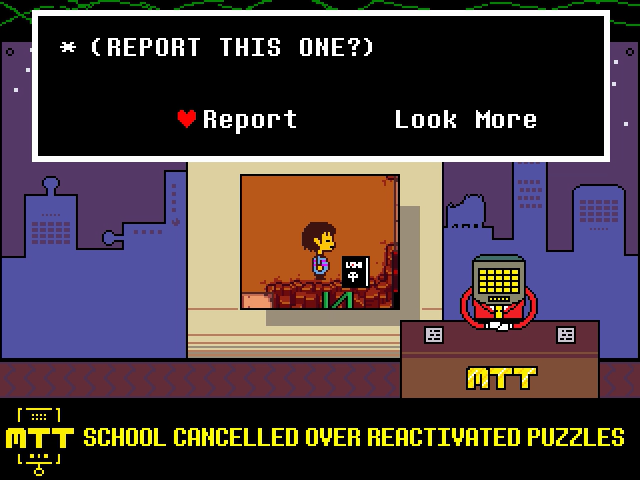 ATTENTION, VIEWERS! OUR CORRESPONDENT HAS FOUND... A VIDEO GAME!


THIS ACTION-PACKED GAME IS GUARANTEED TO BLOW YOU AWAY!


STRANGE ENEMIES! STRANGE ALLIES! ATTRACTIVE ROBOTS!


FEATURING UP TO SIX ARBITRARY DIALOGUE CHOICES AT ONCE!


CORRESPONDENT! LET'S LOOK INSIDE THE CASE!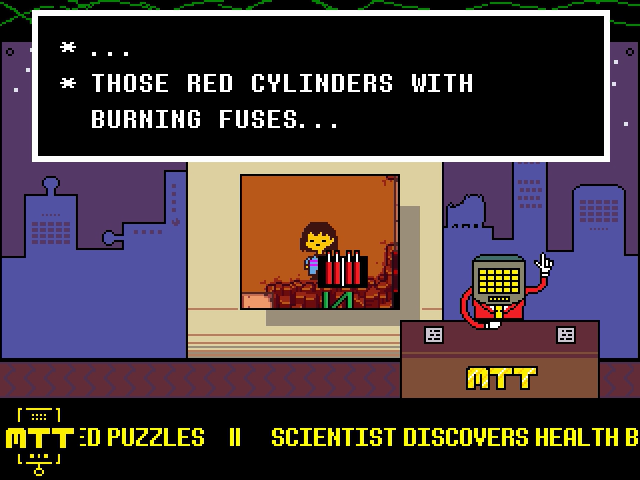 OH NO! THIS GAME LITERALLY IS DYNAMITE!


I GUESS THEY WERE RIGHT ALL ALONG!!!


VIDEO-GAMES DO CAUSE VIOLENCE!


OR AT LEAST THIS ONE'S ABOUT TO.


BUT DON'T GET TOO EXCITED!


YOU HAVEN'T EVEN SEEN THE REST OF THE ROOM YET!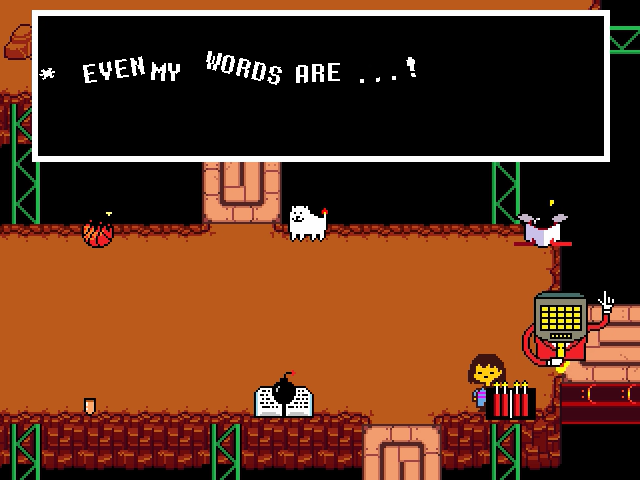 And so on.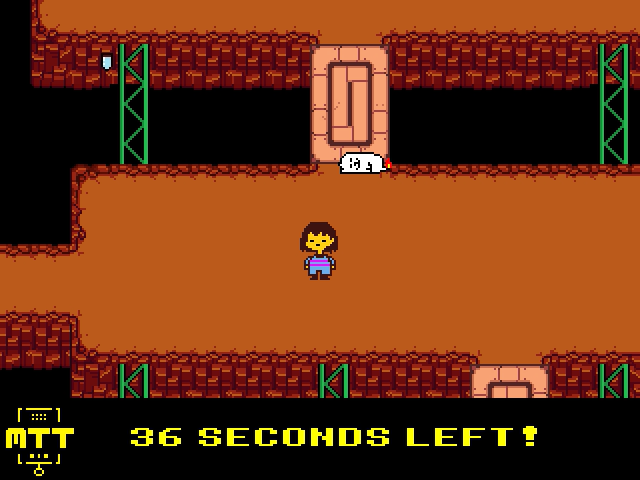 I just sort of stand here for 2 minutes.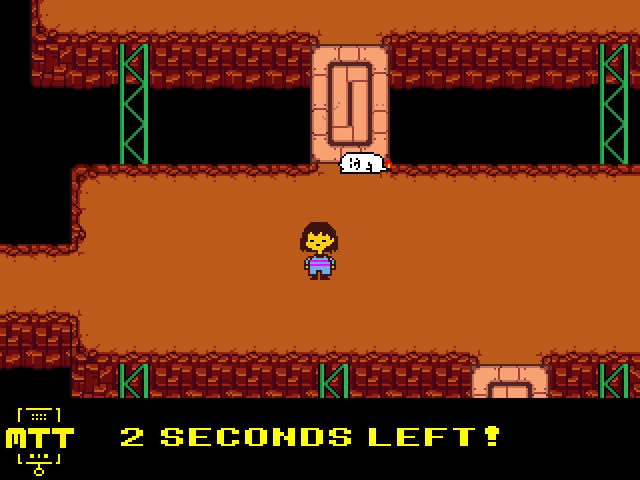 This timer is really slowing down.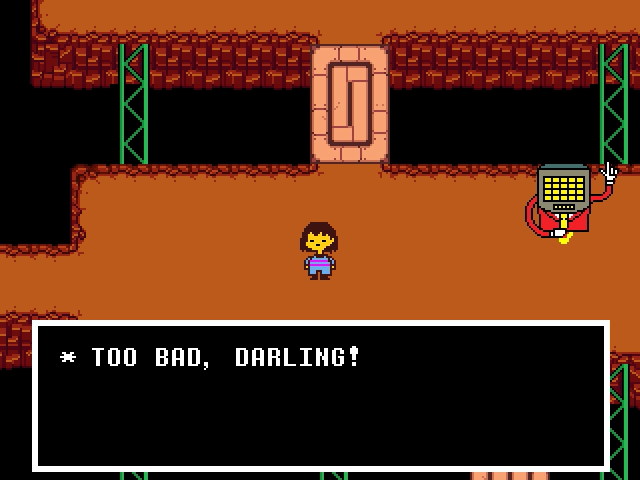 [fixed]YOU FAILED TO DEFUSE ALL OF THE BOMBS WITHIN THREE MINUTES!

NOW THE BIG BOMB IS GOING TO BLOW YOUT O SMITHEREENS!

READY, VIEWERS? HERE COMES THE MOMENT YOU'VE ALL BEEN WAITING FOR!

AHAHAHAH!

GOODBYE, DARLING!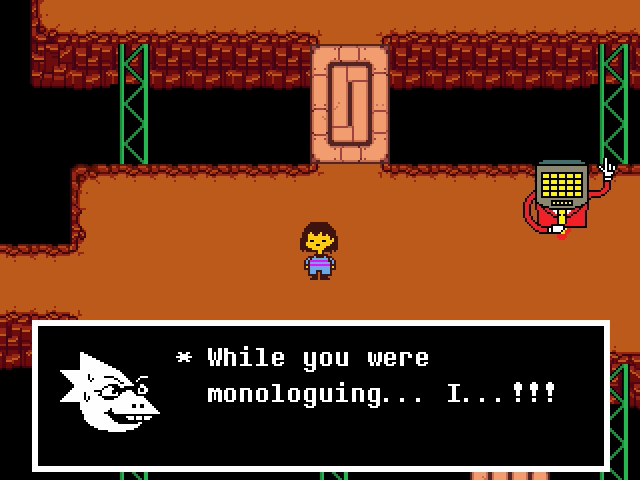 Alphys deactivates the bomb on her own as usual.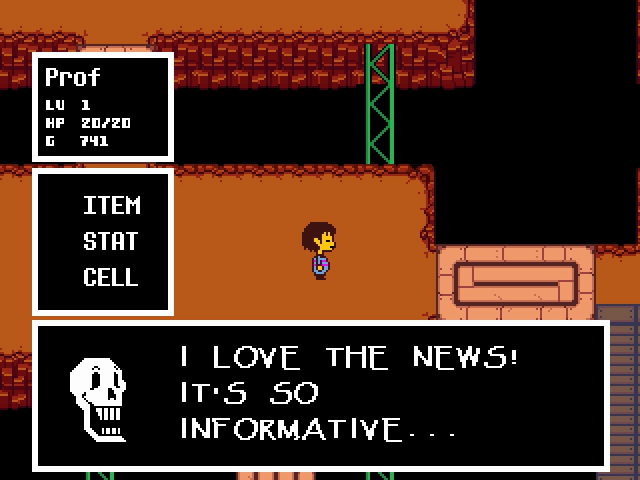 AND FULL OF CUT-THROAT, EXPLOSIVE ACTION!!!

KA-WOWIE!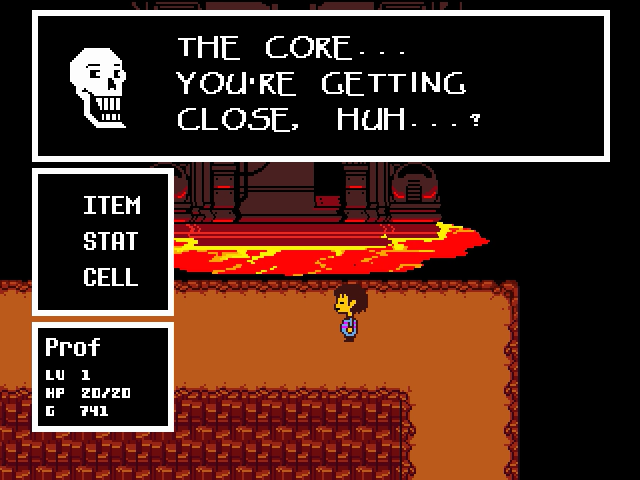 ...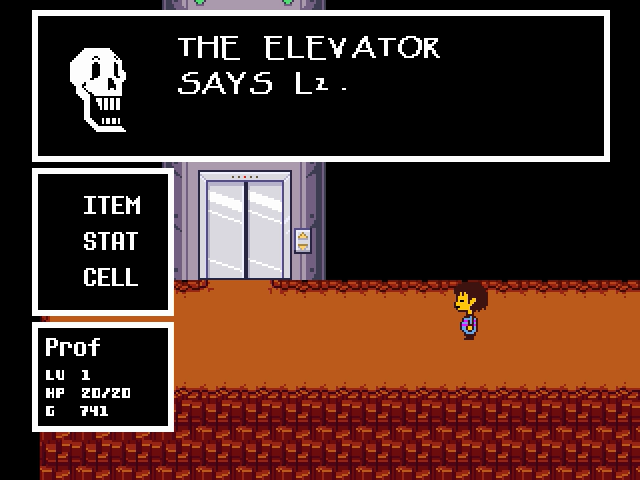 BUT WHAT DOES THE L STAND FOR? LASAGNA?

I HOPE NOT. I DON'T MAKE LASAGNA ANYMORE.

THAT GLUTTONOUS DOG ALWAYS EATS IT FIRST!

FIRST MY BONES, AND NOW THIS...

THEN IT RETREATS INTO A SHALLOW BLUE BOX,

COVERS ITSELF WITH A BLANKET, AND SLEEPS...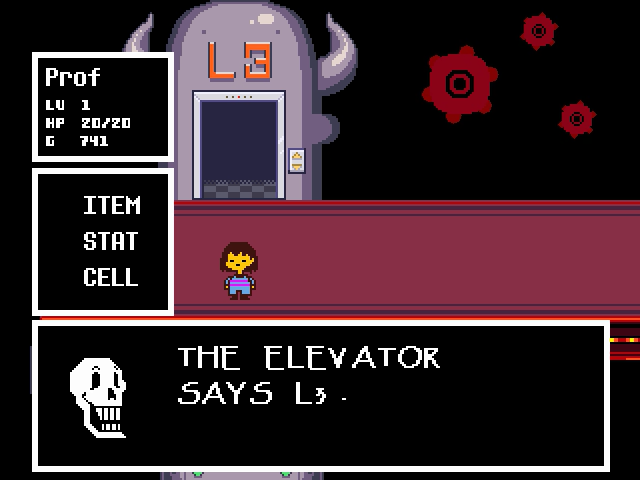 BUT WHAT DOES THE L STAND FOR? LUMACONI?

THAT'S THE SNAIL-SHAPED PASTA!

SANS BOUGHT SOME RECENTLY.

HE'LL PROBABLY FILL THEM WITH HOTDOGS AND SLIME.

HEY!! MAYBE HE'LL SHARE SOME WITH YOU!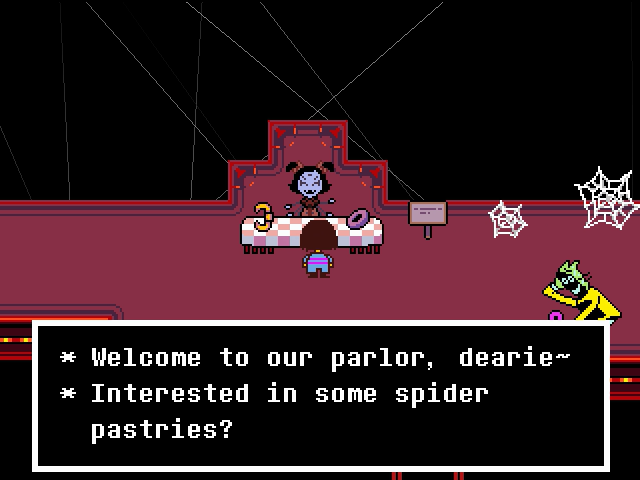 Muffet's fundraising.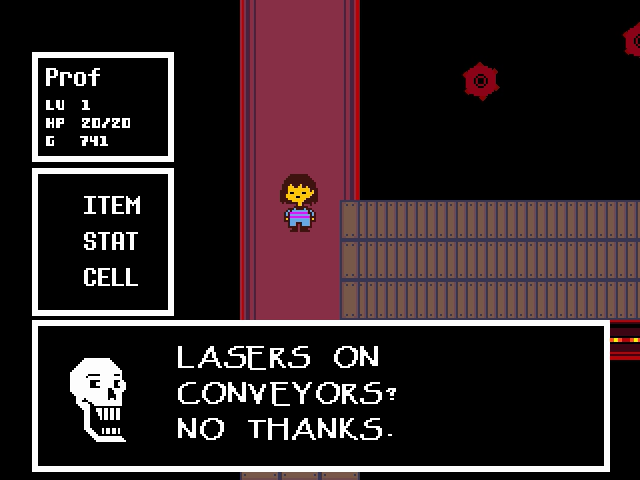 SOUNDS LIKE MY LEAST FAVORITE NIGHTMARE.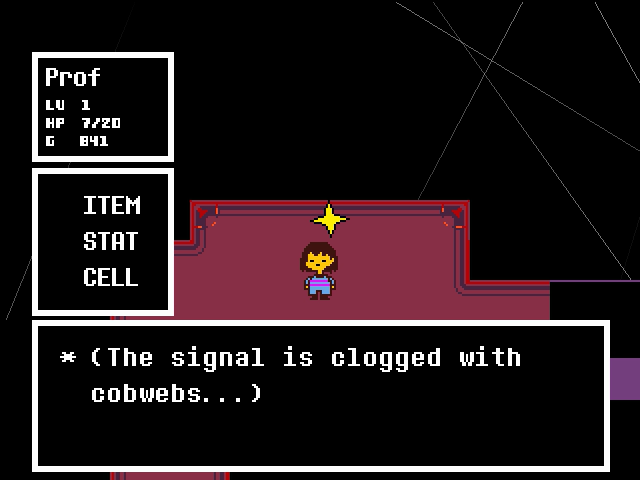 Spider time.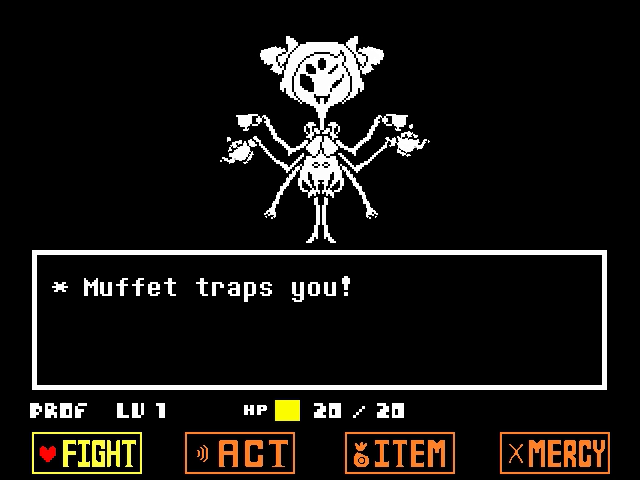 Muffet's title is always yellow - "Spider Success With a New Bakery."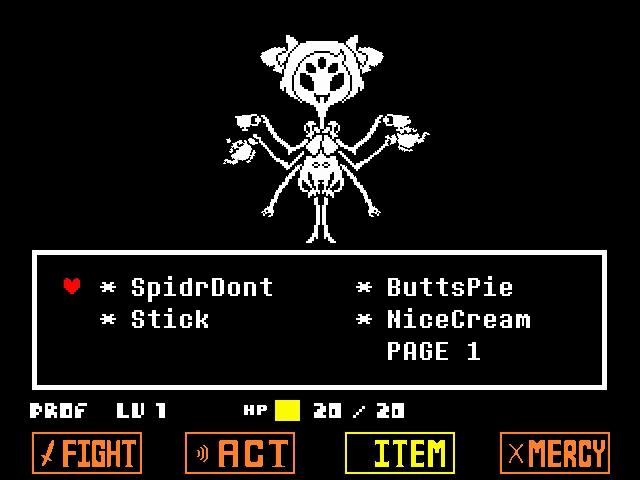 However, there's a much easier way to finish this battle.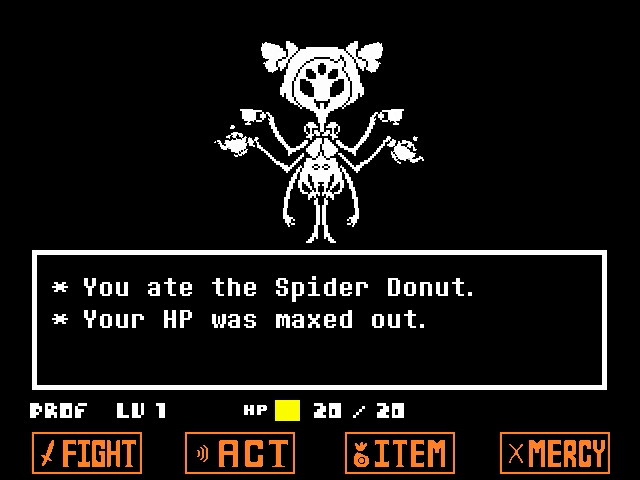 Huh? Where did you get that...?

Did you steal it?

Oh, my pet! It's time to show them what we do with thieves~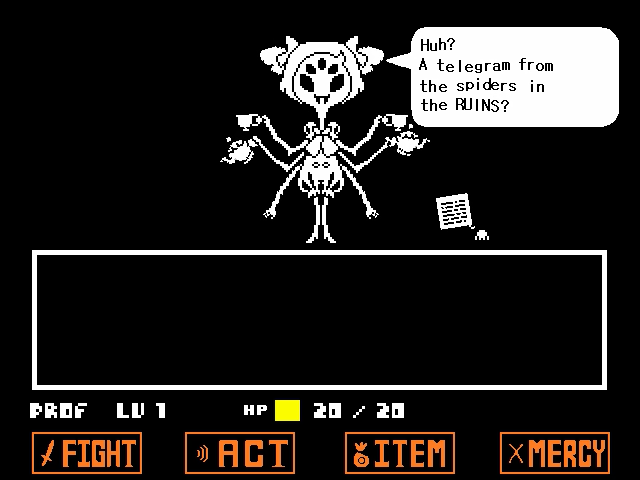 Then the telegram arrives early. Battle resolved in a single turn.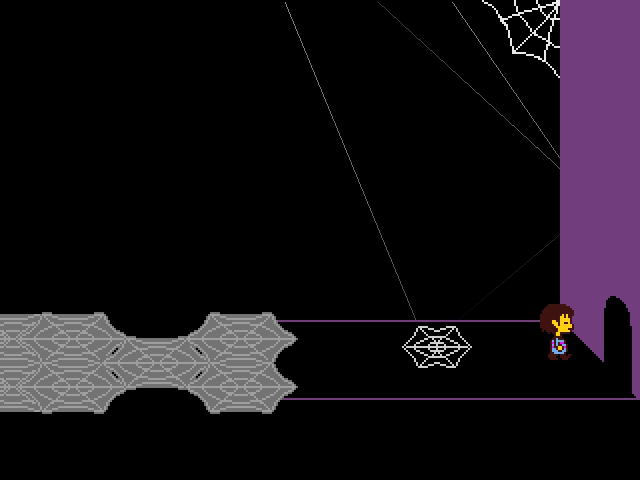 Next: The part of the game that's next.