Part 57: Last Goodbye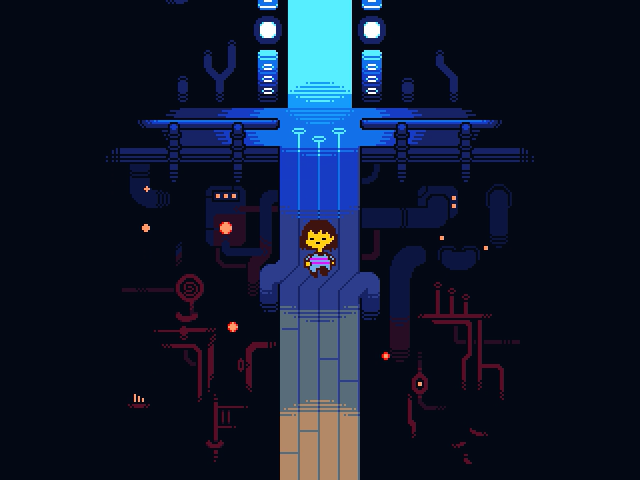 Hello again.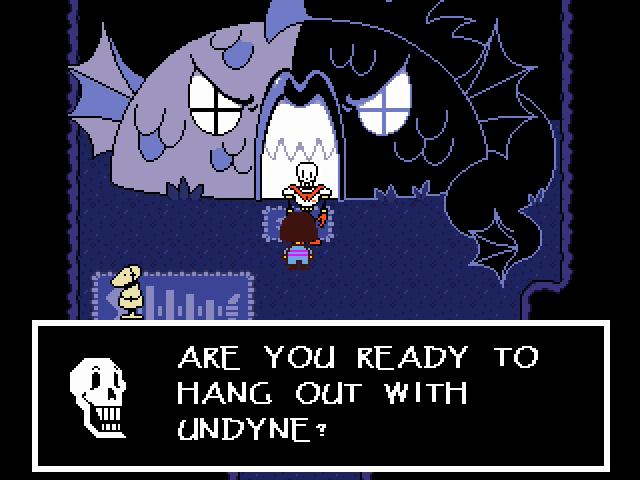 Time to hang out with Undyne.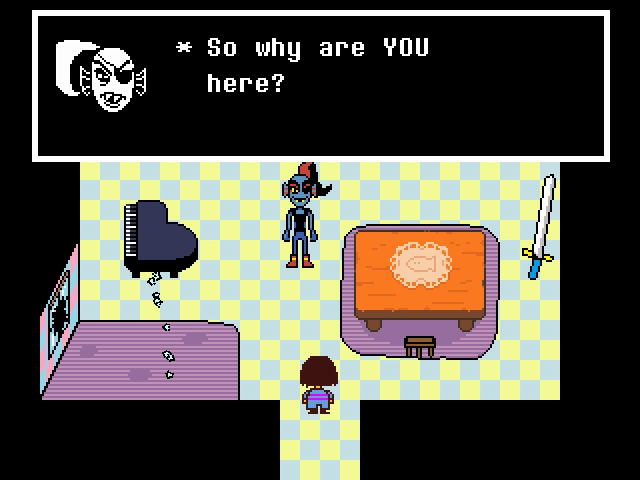 To rub your victory in my face?

To humiliate me even further?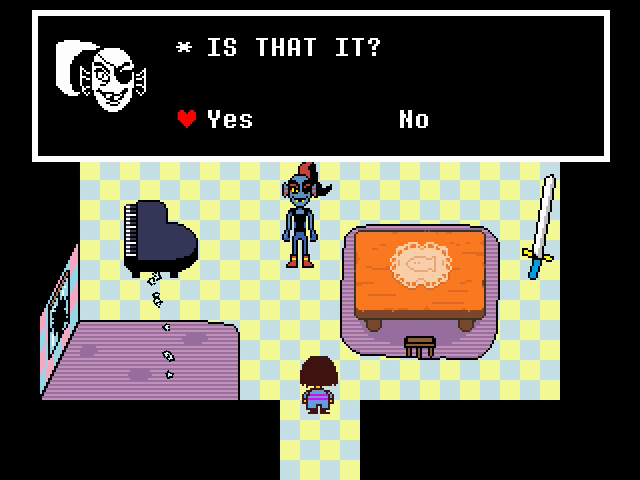 Oh-ho-ho-ho.

Well, I've got news for you, BRAT.

You're on MY battlefield now.

And you AREN'T gong to humiliate me.

I'll TELL you what's going to happen.

We're going to hang out.

We're going to have a good time.

We're going to become "friends".

You'll become so enamored with me...

YOU'LL be the one feeling humiliated for your actions!

Fuhuhuhuhuhuhu!!

It's the perfect revenge!!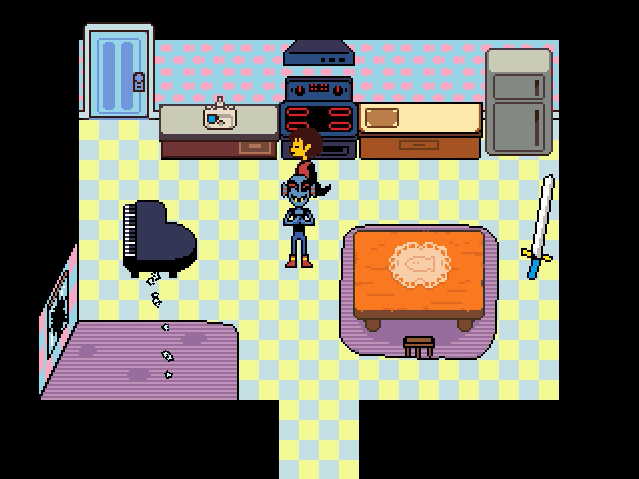 Papyrus's gifts are going towards a good cause.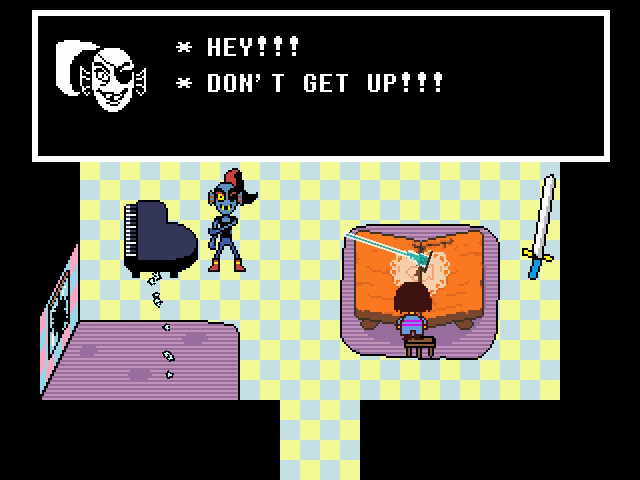 We've seen most of this.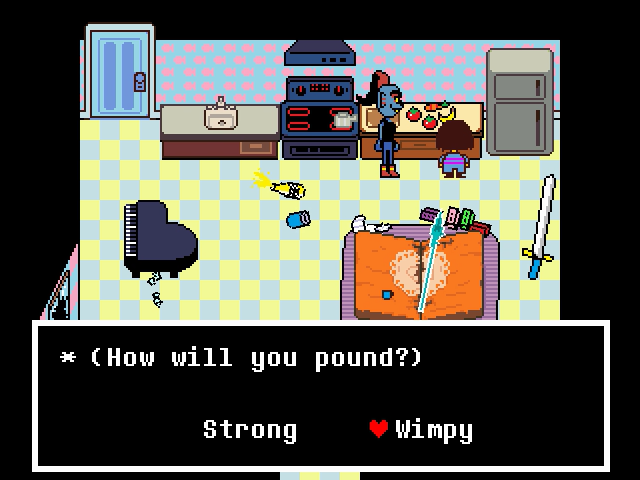 (You pet the vegetables in an affectionate manner.)

OH MY GOD!!! STOP PETTING THE ENEMY!!!

I'll show you how it's done!

NGAHHH!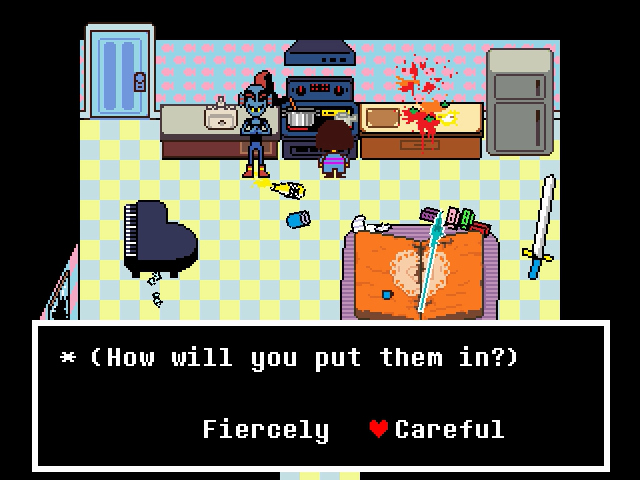 (You place the noodles in one at a time.)
(They clank against the empty bottom.)

Nice???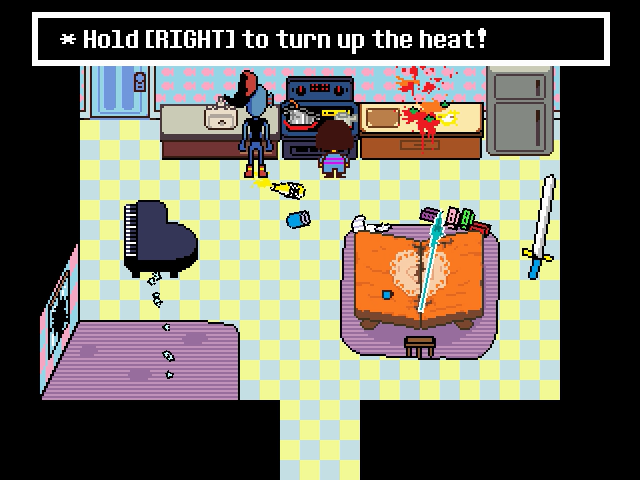 I try holding left.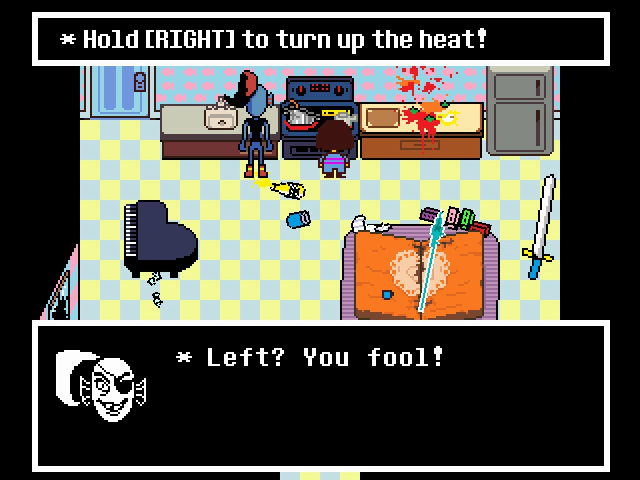 THIS BURNER ONLY GOES ONE WAY!!!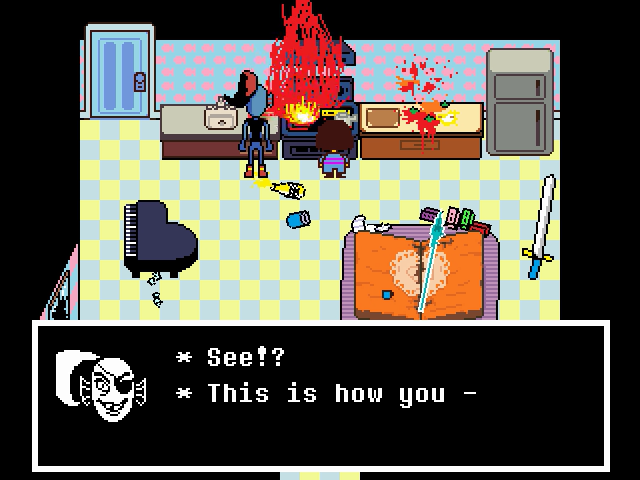 Undyne burns her house down.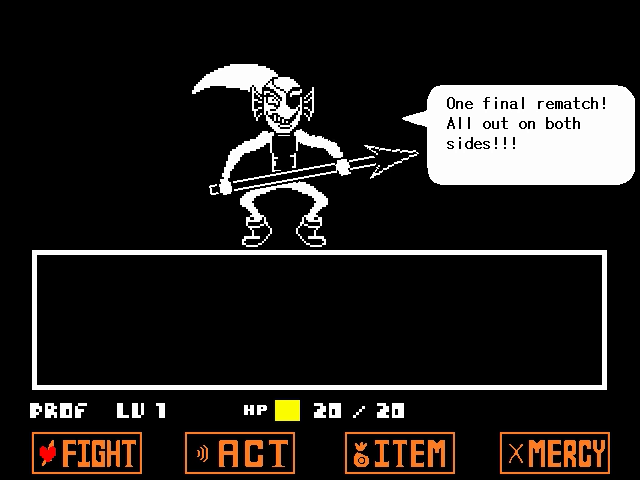 I Spare several times.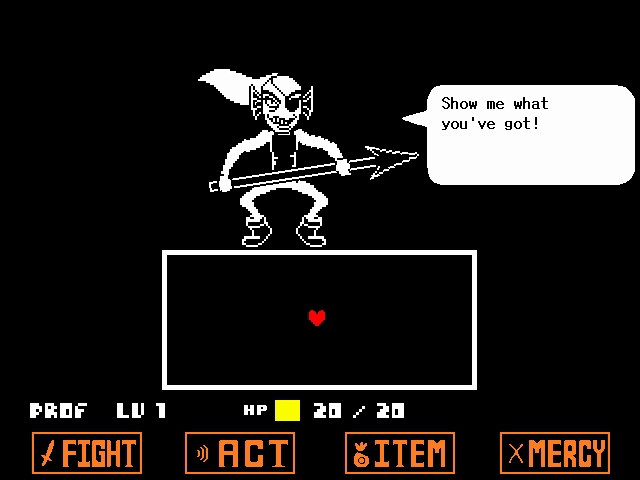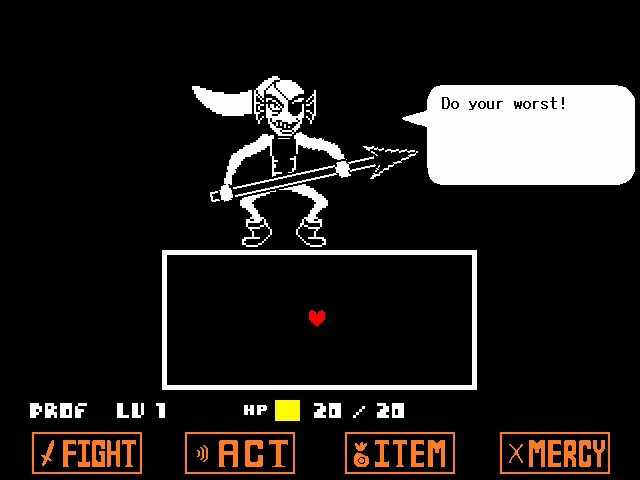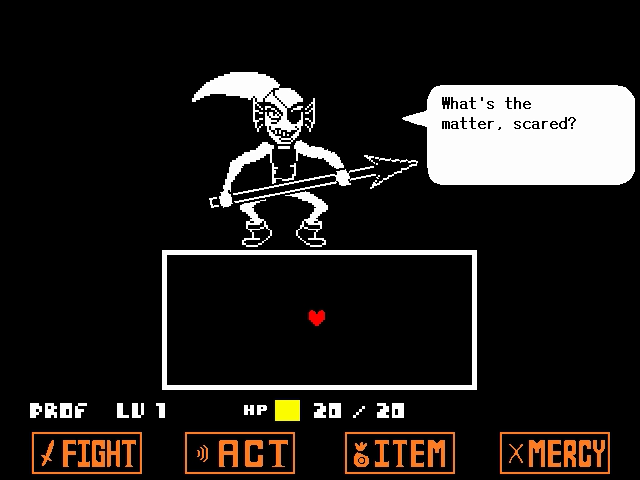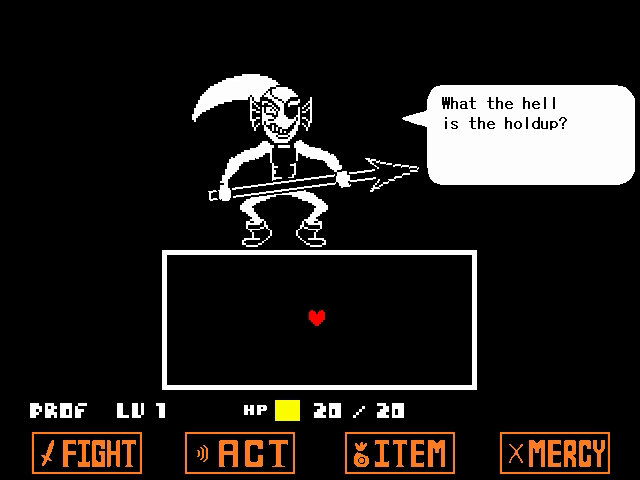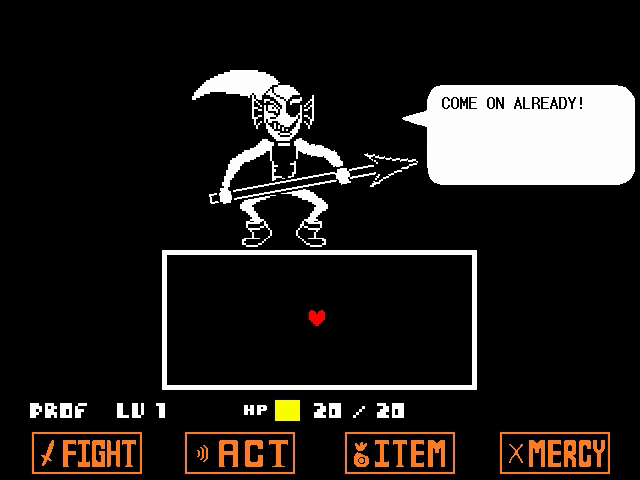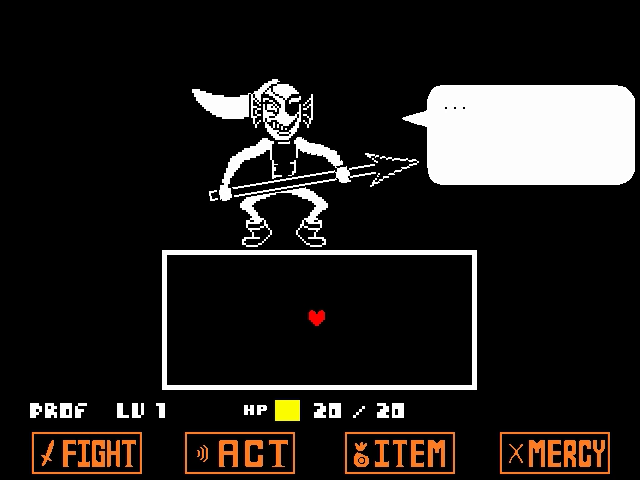 Fine. I FIGHT.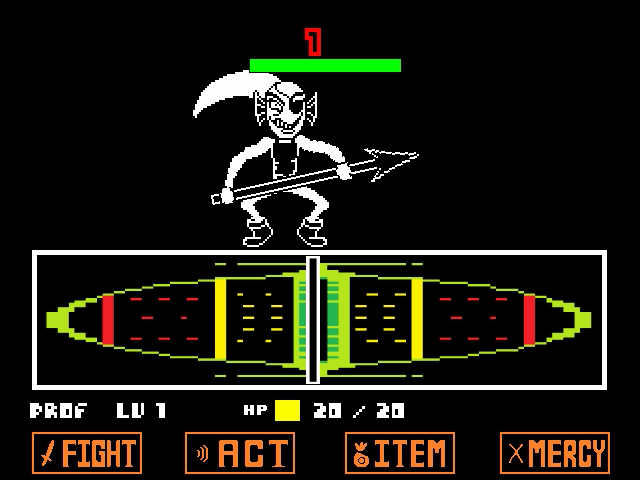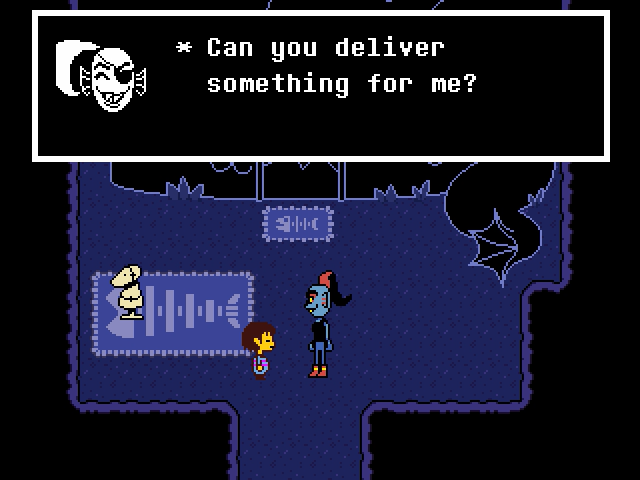 Undyne gives me the letter.
But first, some assorted odds and ends to take care of.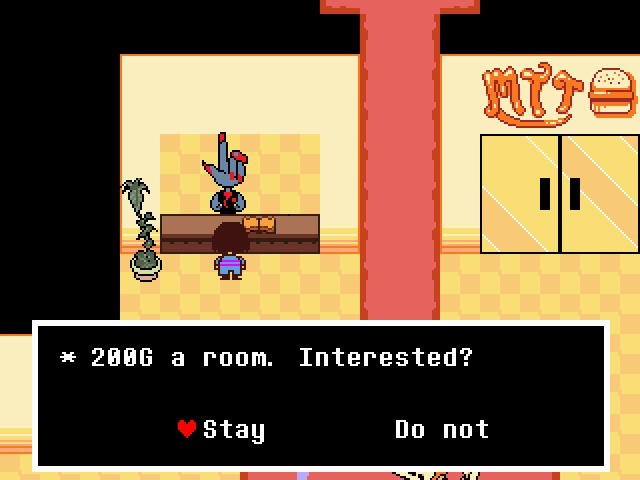 Fabulous! We'll escort you to your room!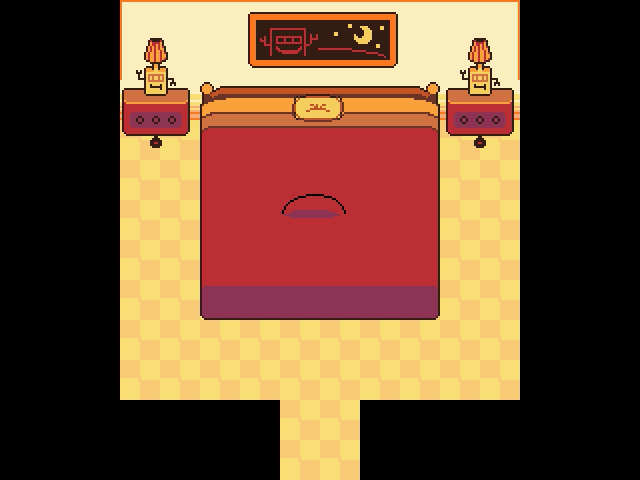 Huh.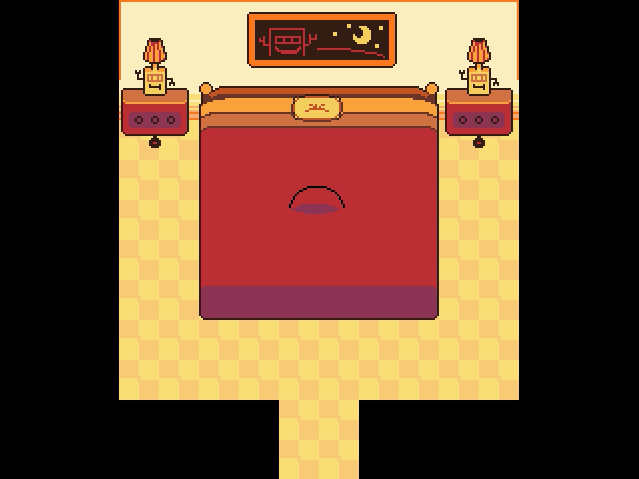 A
sick beat
plays while I explore the bed.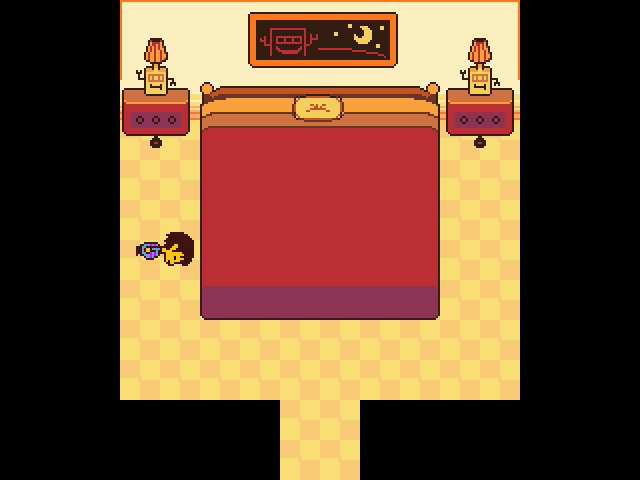 Eventually I find my way back out.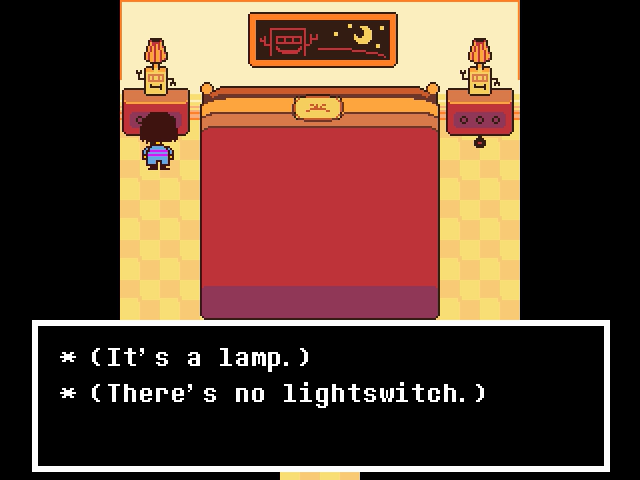 (It says that stars make their own light...)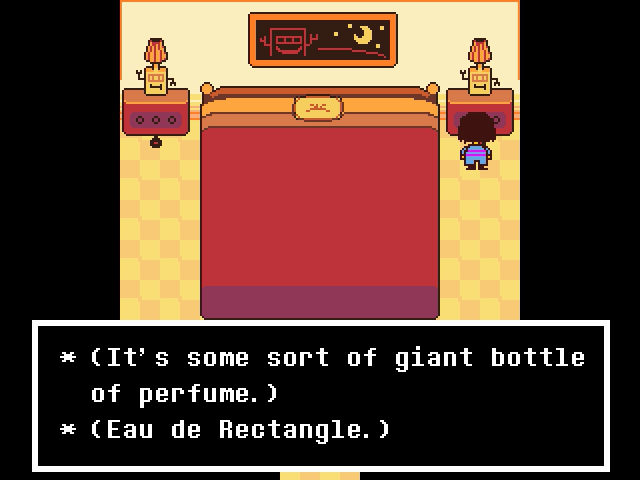 (The cap is so comically large, you can't open it.)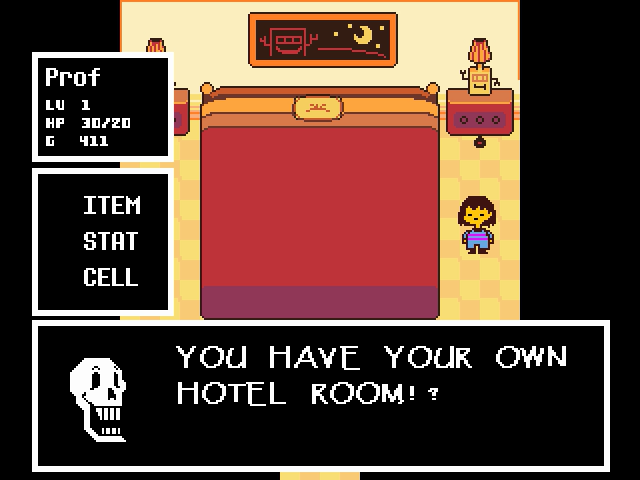 Heyyy!! Let's throw a room party!

We can order a pizza and stay up all night playing games!

PARTY "GAMES"? LIKE THE SIX-LEGGED RACE?

Nah, like "pillow fight the skeleton!"

H-HEY!!! NOW PILLOWS FROM THE COUCH!

Aww, okay.

HEY!!! NO ENTIRE COUCH!!

Too late!!!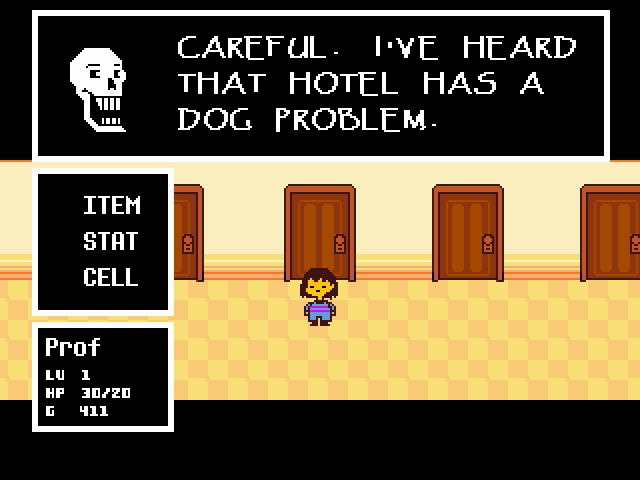 Oh? No pets allowed, huh?

I'M NOT TALKING ABOUT PETS.

What's the problem?

THE PROBLEM IS... DOG.

What's wrong with dogs!?

NOT ALL DOGS. JUST THAT ONE.

What's WRONG with it!?

EVERYTHING.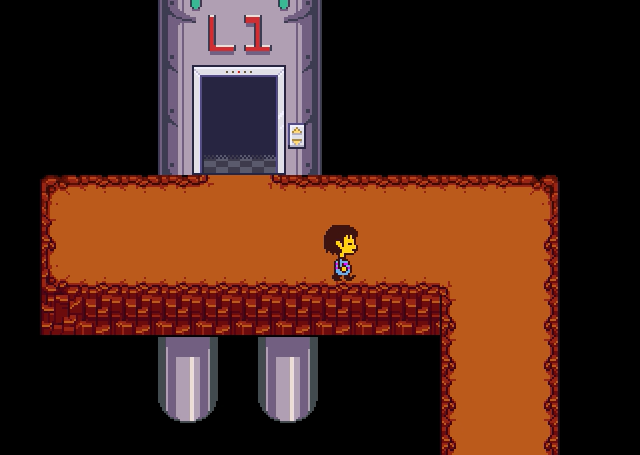 Now, time to deliver that letter--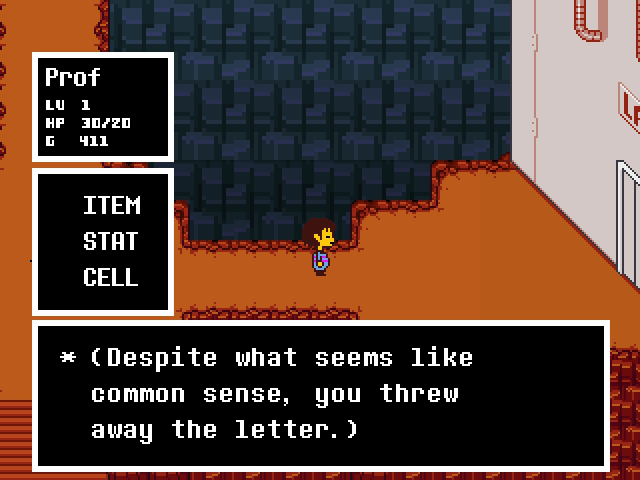 Oops.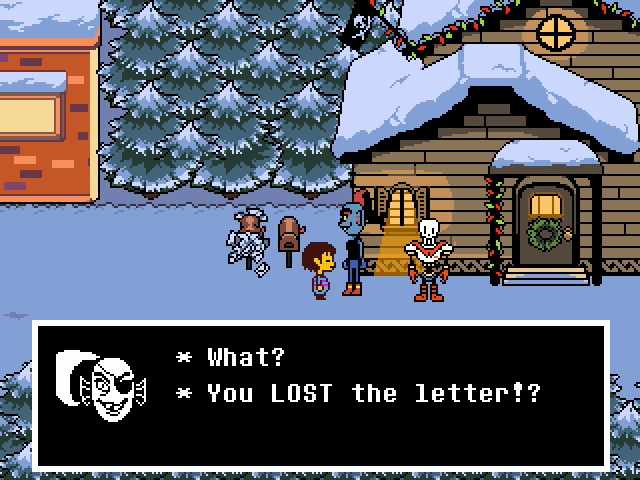 What the HECK!? How!? Why!?

Ughhh... This is unbelievable.

I should be really disappointed in you.

But, uh, to tell you the truth, I'm kind of relieved!

While you were gone, I actually wrote a WAY BETTER letter!

And this time, you WON'T lose it!!!

I guarantee it!!!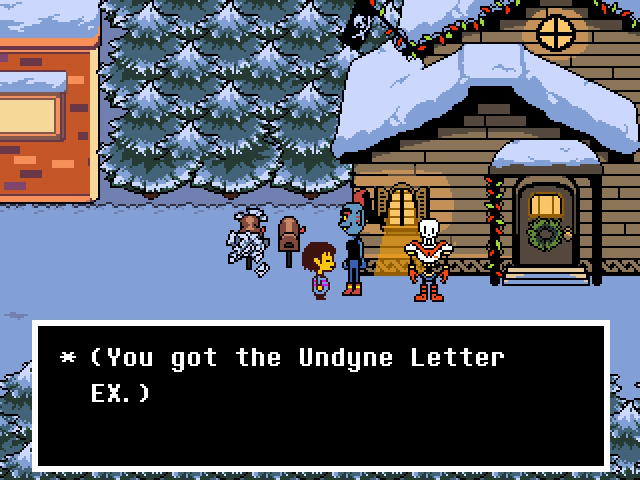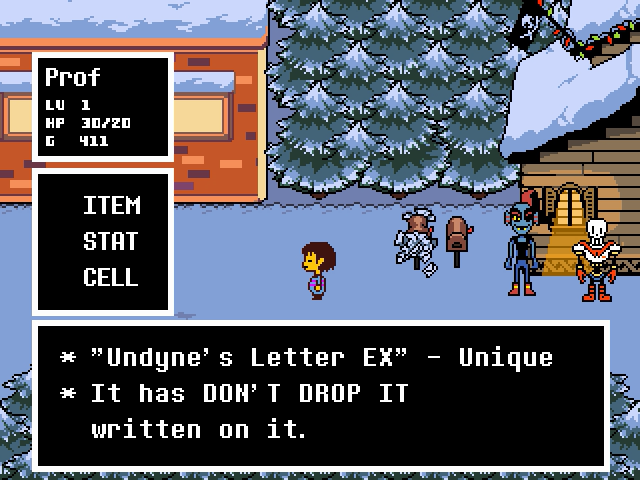 I try to drop it.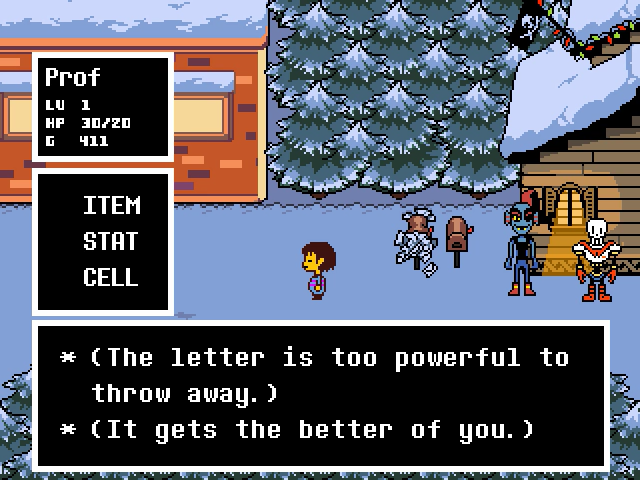 However, my efforts are in vain.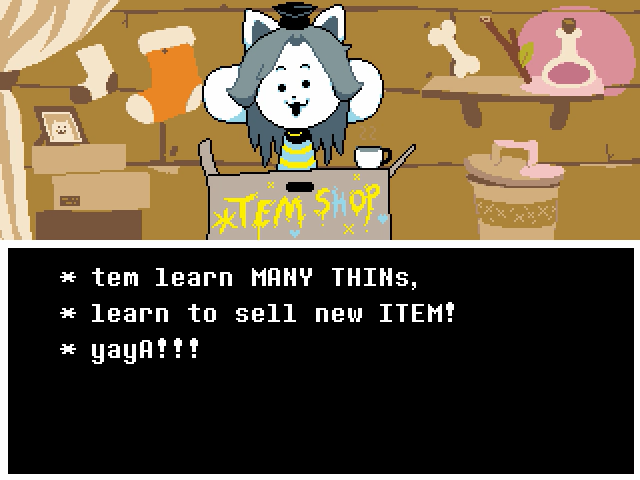 On the way over, I send the Temmies to college.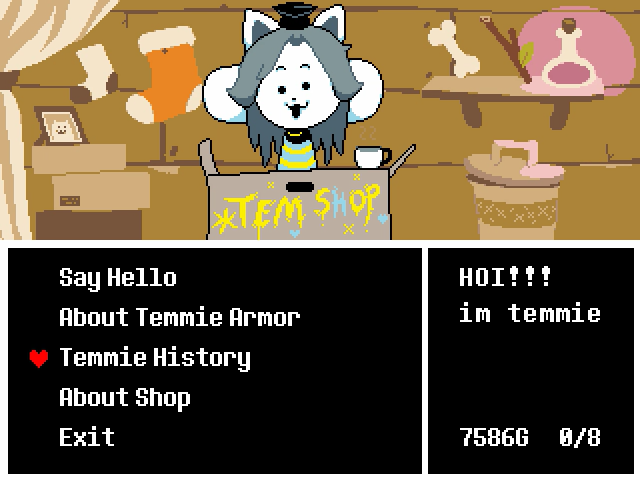 yaYA!!! tem got degree in TEM STUDIES! tem can tell you all about tem's DEEP HISTORY!!!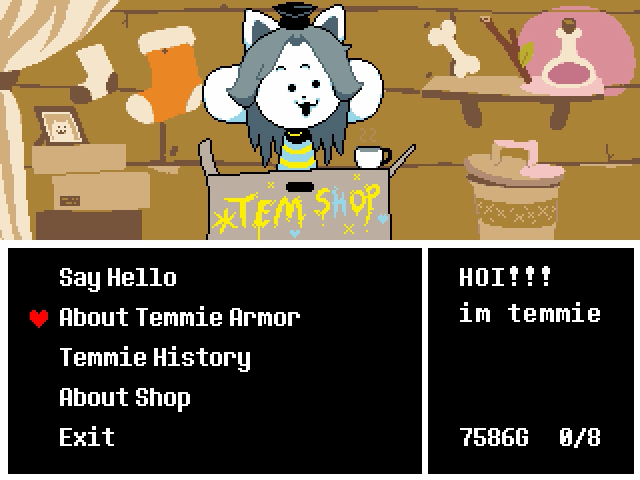 tem armor so GOOds! any battle becom! a EASY victories!!!

but, hnnn, tem think... if u use armors, battles woudn b a challenge anymores,

but tem... have a solushun!

tem wil offer...
a SKOLARSHIPS
!

if u lose a lot of battles, tem wil LOWER THE PRICE!

so if you get to TOUGH BATTLE and feel FRUSTRATE, can buy TEM armor as last resort!

but tem armor so goods, promise to only buy if you really needs it,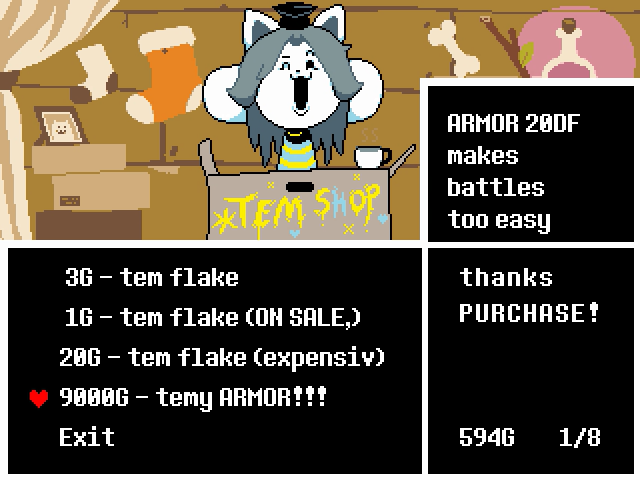 After a huge amount of hard work and backtracking and
definitely
no casual hacking of my save file to get more gold, I buy the Tem Armor.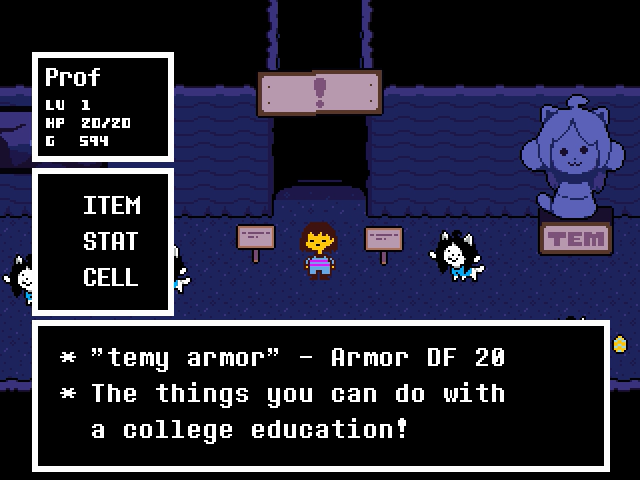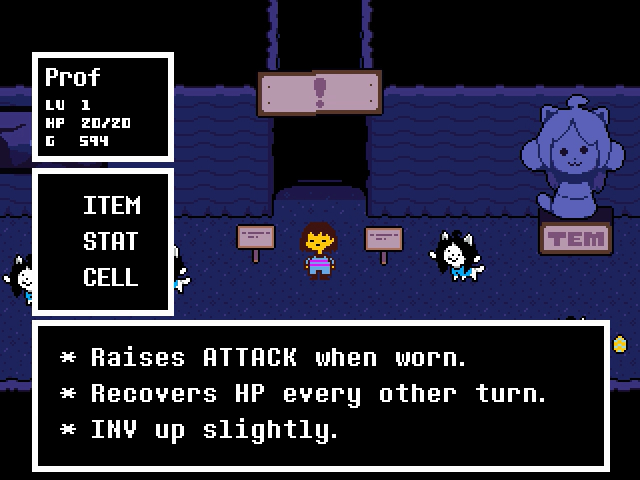 I don't actually need it, but hey.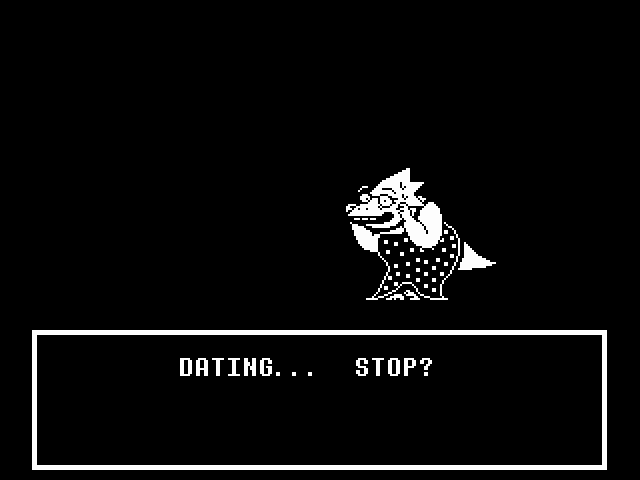 So instead, I advance.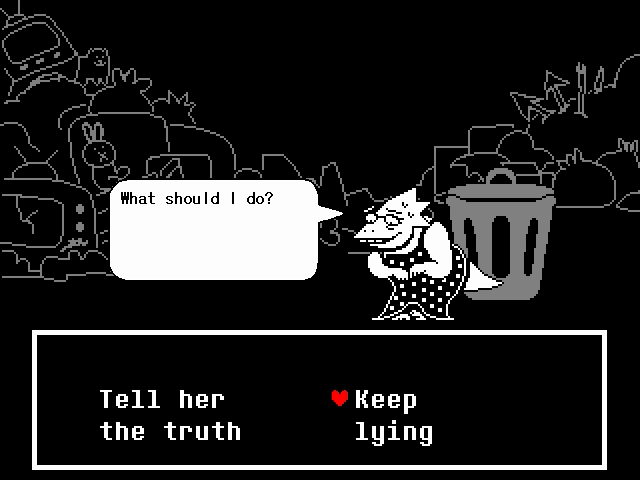 Yeah... yeah, you're right!

I've come this far, I c-can't tell her now!

Sh-she'd be really hut if she found out, right?

S-so it'll just be, uh, a little secret!

What people don't know can't hurt them!

Th-thank God I've got an honest friend like you!!

...

...

B... but what if she finds out on her own, somehow?

Or if I ever m-mess up...

Sh-shed find out the truth, and...

Pr-probably be even more hurt than if I told her myself.

N-Not to mention, l-lying so far... h... has...

Been really stressful, and scary.

...

I think I'm going to have to tell her the truth.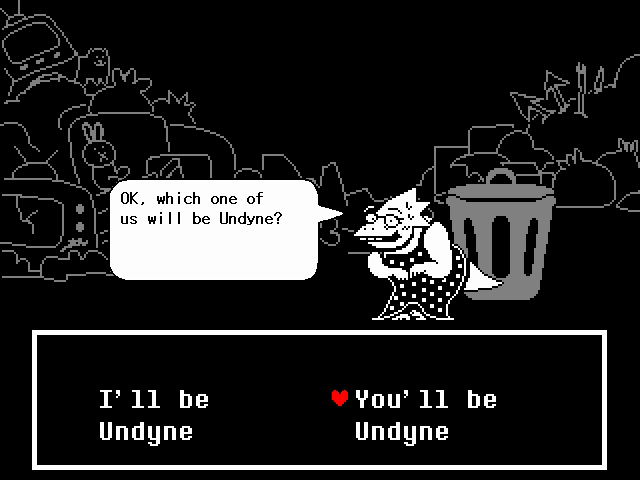 M-M-Me? Undyne???

Uh, uh, uh, uh, ok!

I'll say what I think she'd say, and you... ummm...

You show me what I'm supposed to do!

*ahem*

Ngahhhh!!! Hey, Alphys! You look cute today!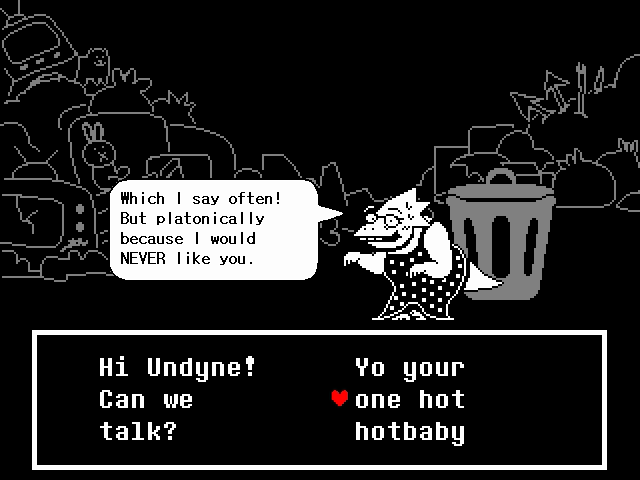 What!? A... alphys!?

What's gotten into you!?

H-hotbaby!? How dare you call me that!?

First off, I'm a baby KNIGHT!

Captain of the babies!!!

Treat my position with respect, or I will strike you down!

Uh, now pretend I'm suplexing a boulder for no reason.

Um! Anyway! What do you want to say, Alphys!?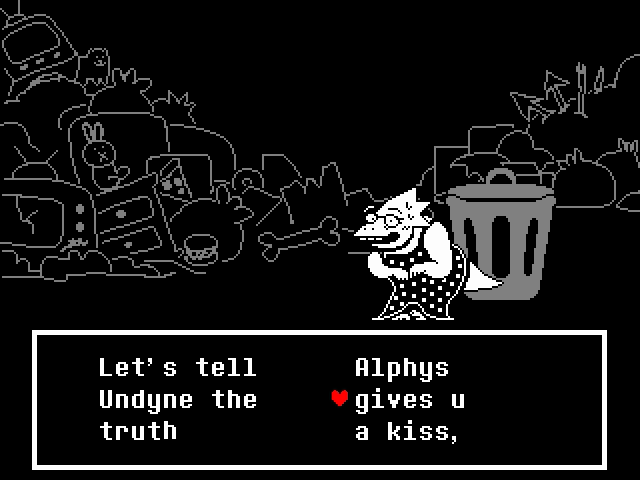 WH-WHAT!? I WOULD NEVER...

Alphys! What are you d-doing!

I s-say, pushing you away from me...

You sh-shouldn't k-kiss me...!!

...

B-But, y-you're so good at it...

B-B-Because of what you learned from th-those d-d-dating video games...

I... I c-c-can't help but k-k-kiss you back...

NGAHHHH!!! NGAHHHH!!!

I'M UNDYNE AND I'M PILING ON THE SMOOCHES!!!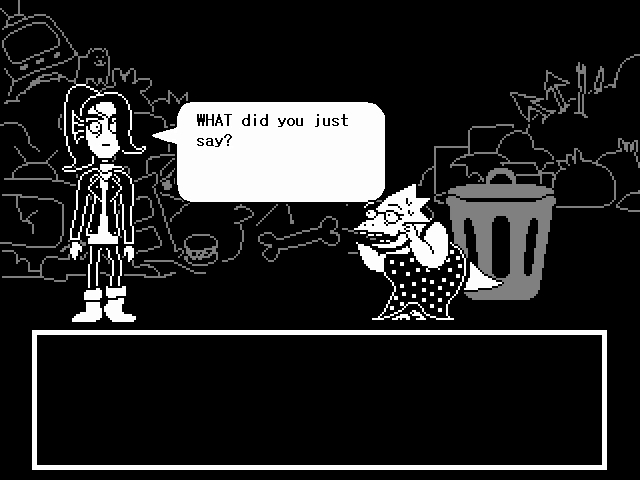 And so on.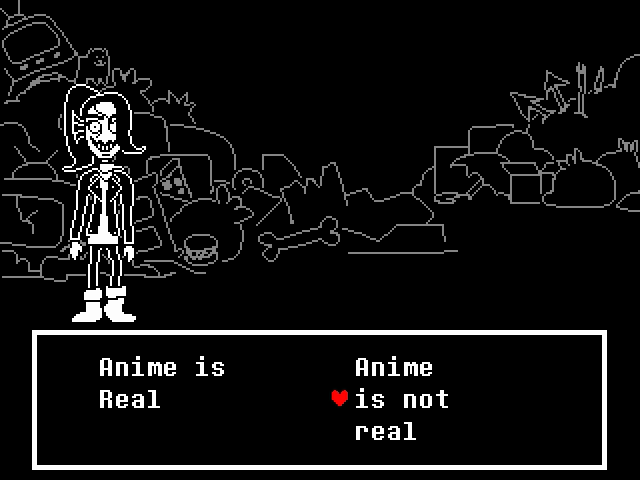 No... NO!!!

I CAN FEEL MY HEART BREAKING INTO PIECES!!!

...

...no, I can survive this...

I have to be strong.

For Alphys.

Thank you, human, for telling me the truth.

I'll try my best to live in this world...

See you later!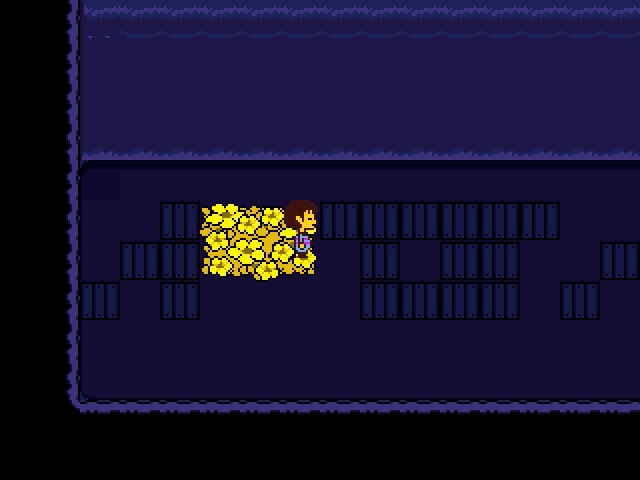 That's about it for goofing around.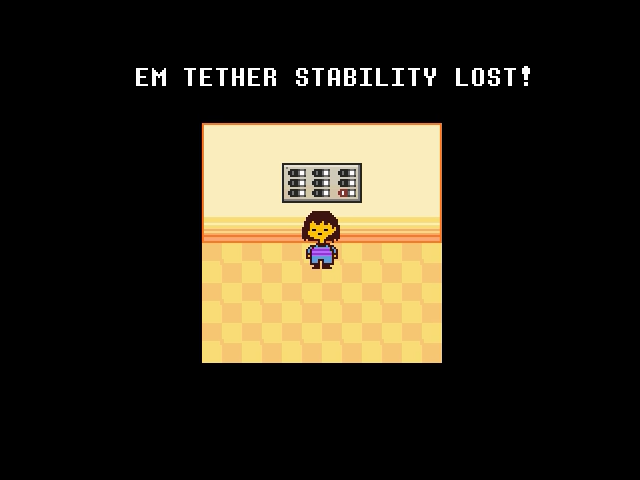 I begin endgame.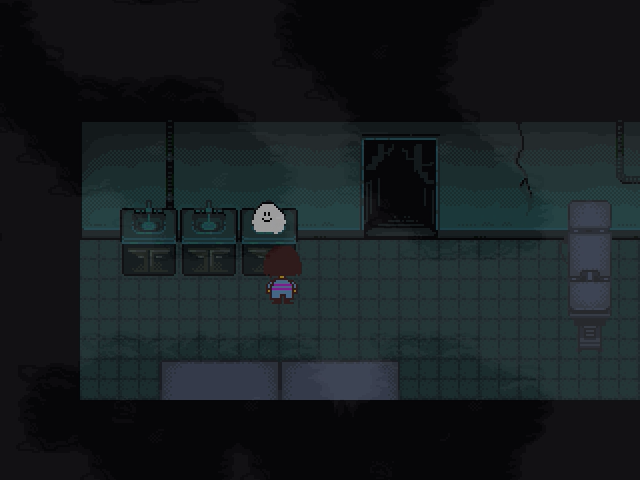 No matter what order you turn on the sinks, Memoryhead will appear in the last one.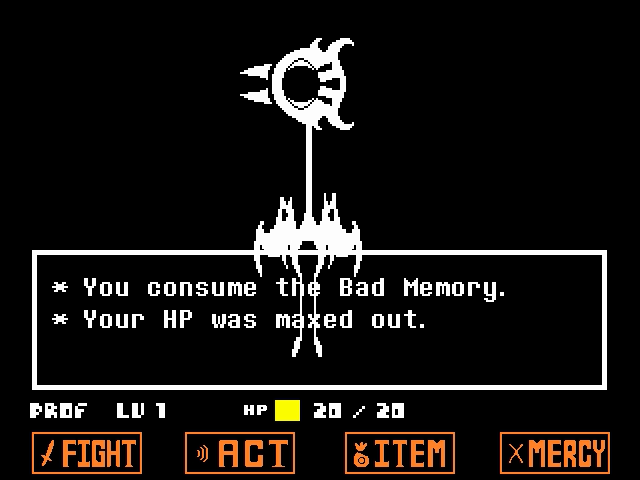 If you use a Bad Memory when at critical health, you recover instead of getting hurt.
Reaper Bird is a fusion of Astigmatism, Final Froggit, and Whimsalot, so to Spare it, you have to Pray, Mystify, and Pick On/Don't Pick On it.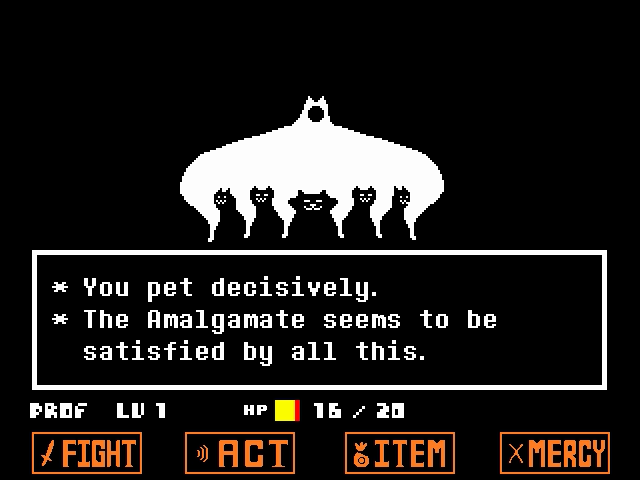 I stopped one pet short of getting the proper ending for Endogeny.
This one is the key to the Amalgamates for the credits. If you use Stick or Hush Puppy to pacify Endogeny, their ending title is "Thinking About Sticks". If you don't, it becomes the yellow "Living With Their Families".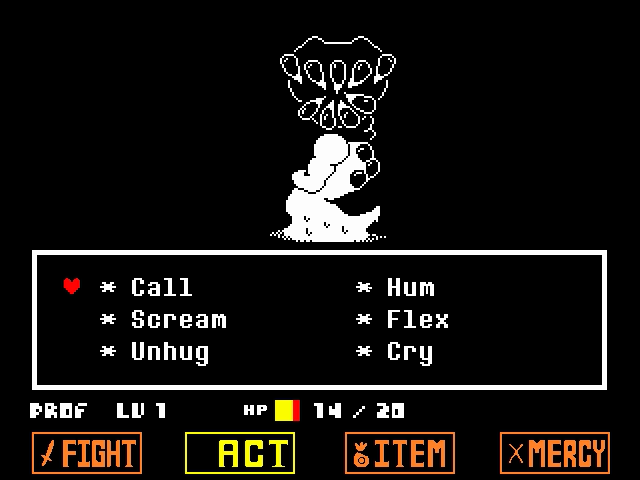 Lemon Bread is a fusion of Shyren('s sister), Aaron, and Moldbyg, so to Spare you have to Hum, Flex, and Unhug.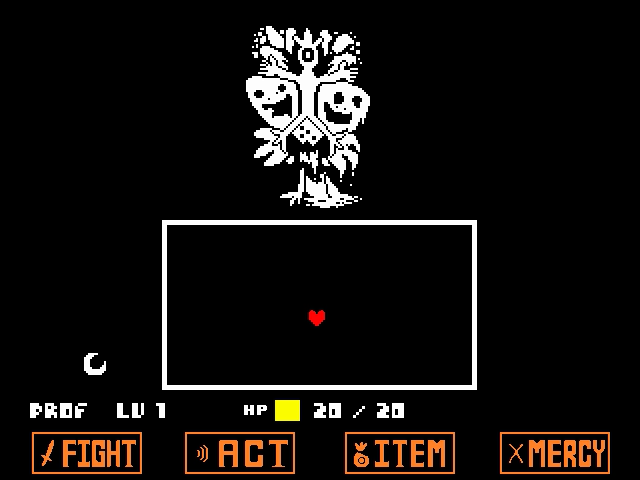 Snowy just needs to hear three jokes.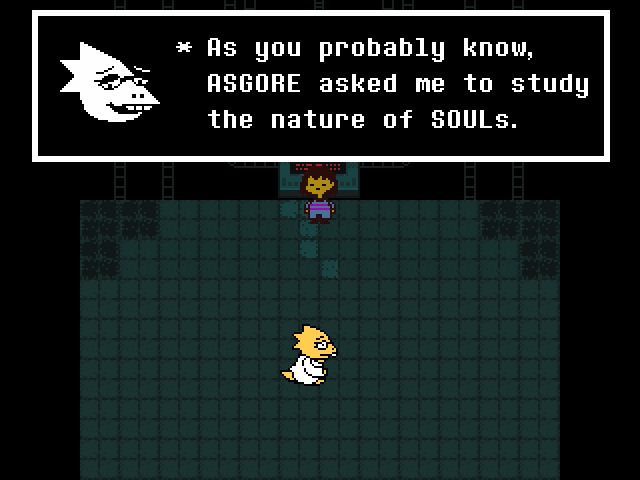 Alphys talks.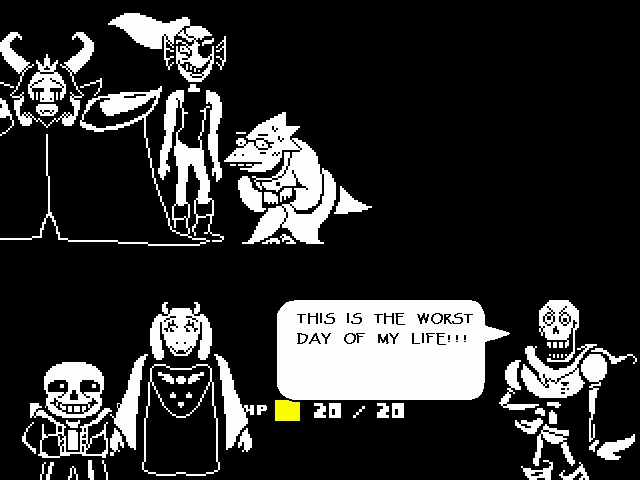 Everyone talks.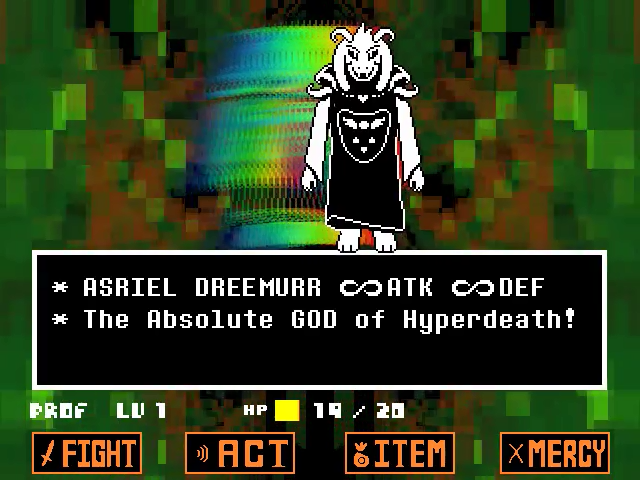 The true final battle begins.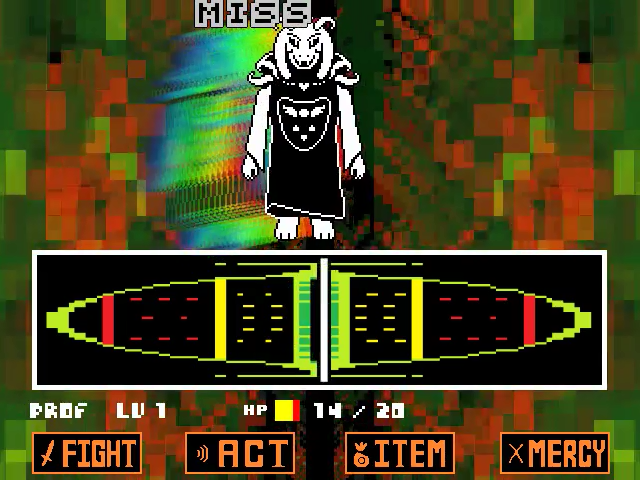 Hitting Asriel is impossible. This is true for both forms, and also the Lost Souls.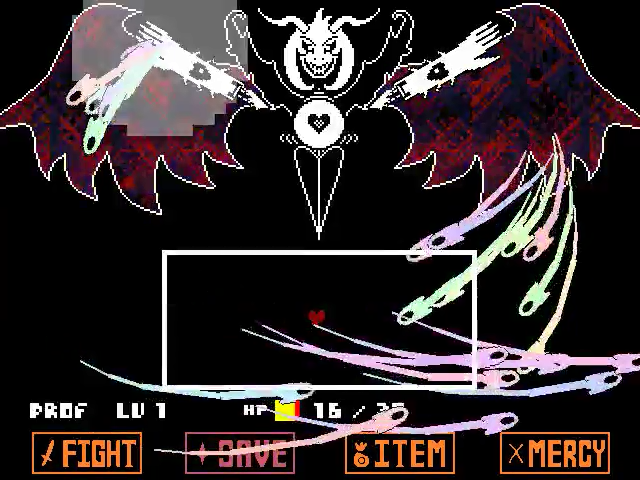 I waste time between SAVEs, and Asriel attacks.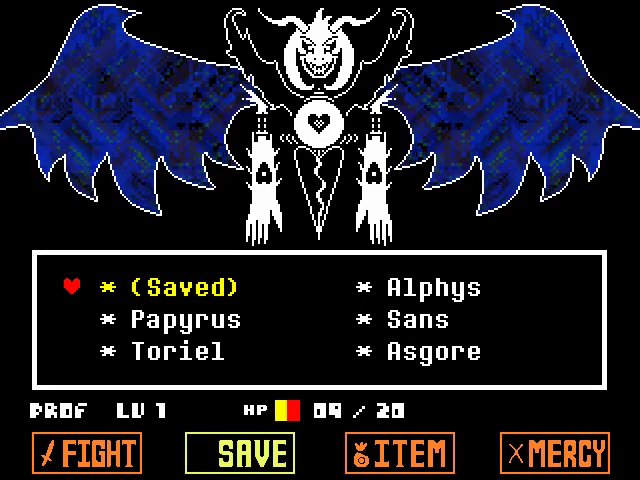 You called out to your friends with all your heart.
From somewhere, you felt their support...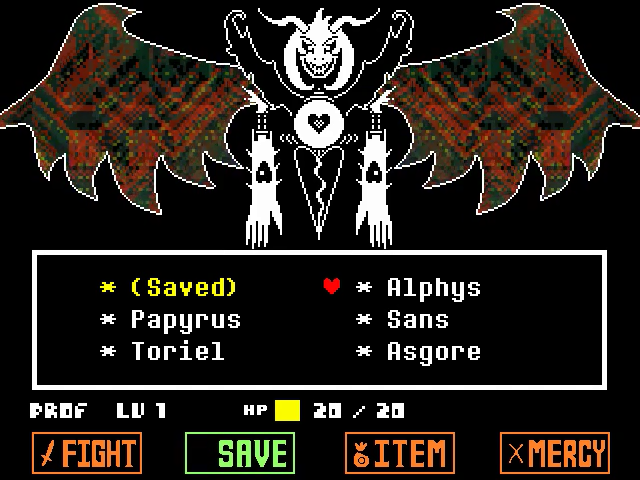 If you choose an already-SAVEd friend to SAVE, it restores your health.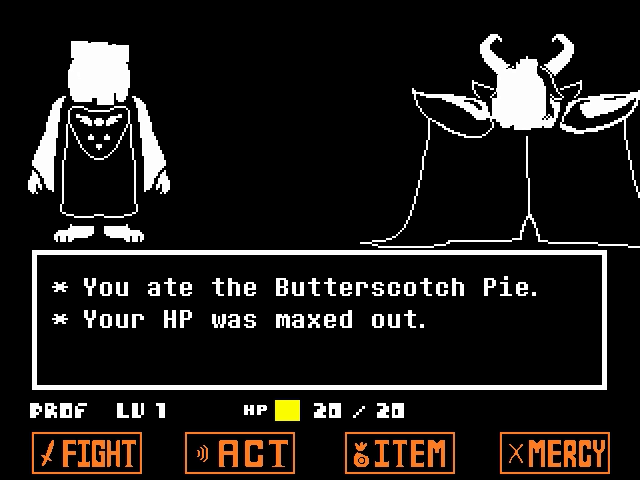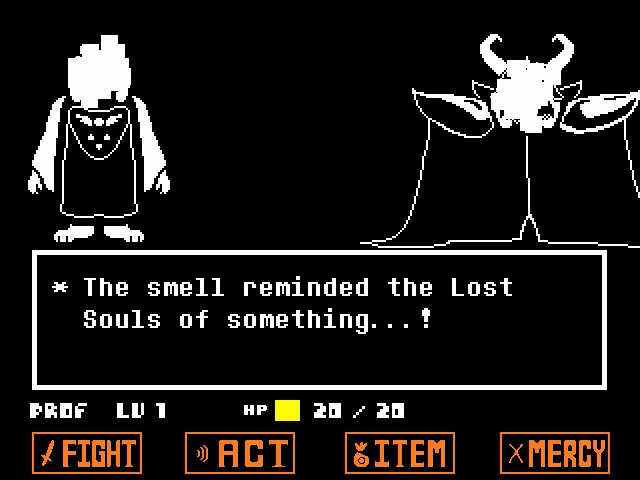 Toriel's soul recognizes the smell of the butterscotch-cinnamon pie she made for you.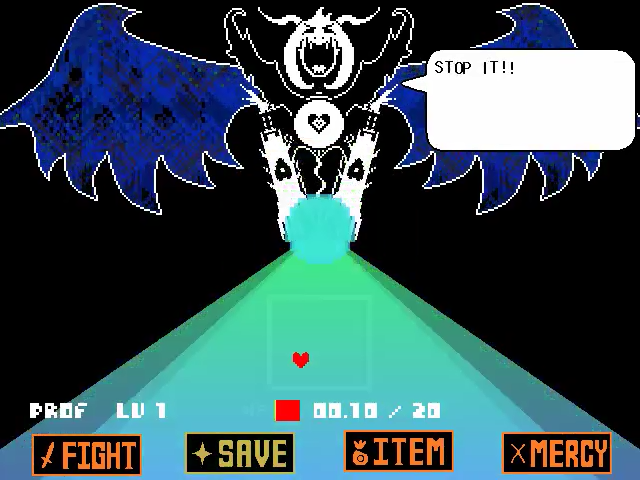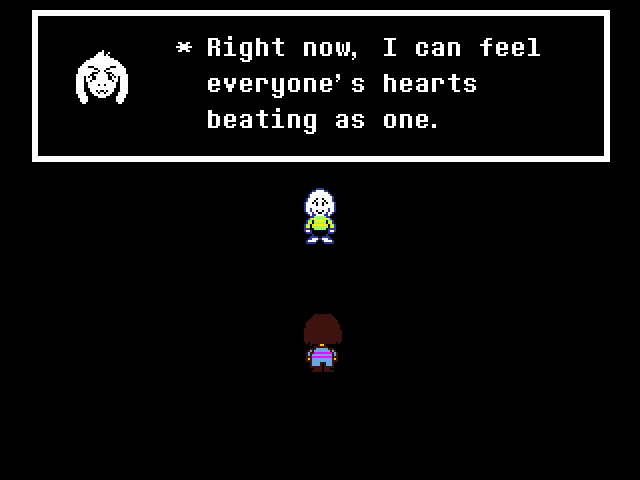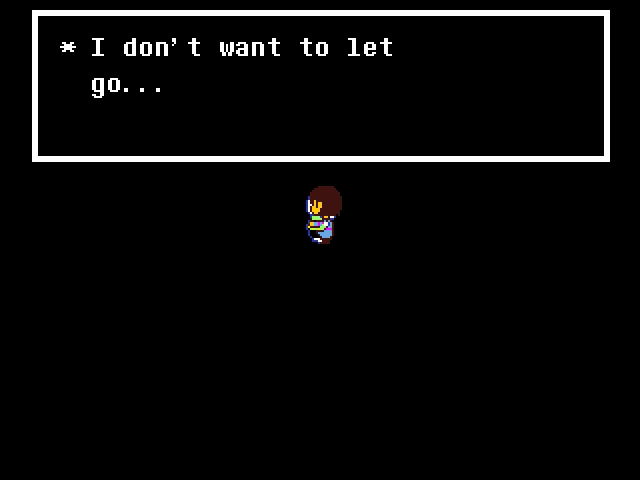 The battle ends.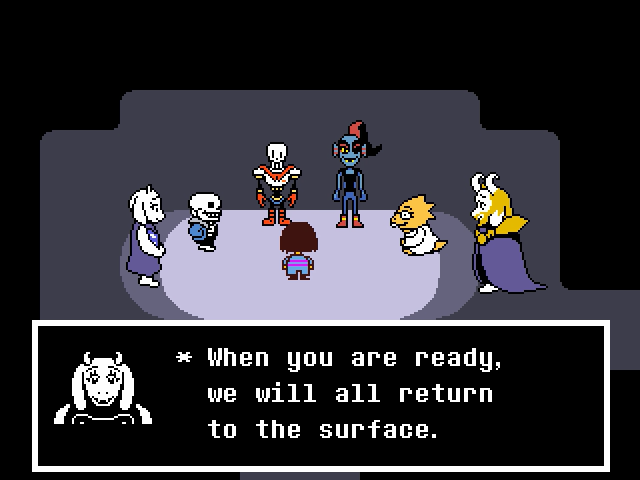 I go exploring a little.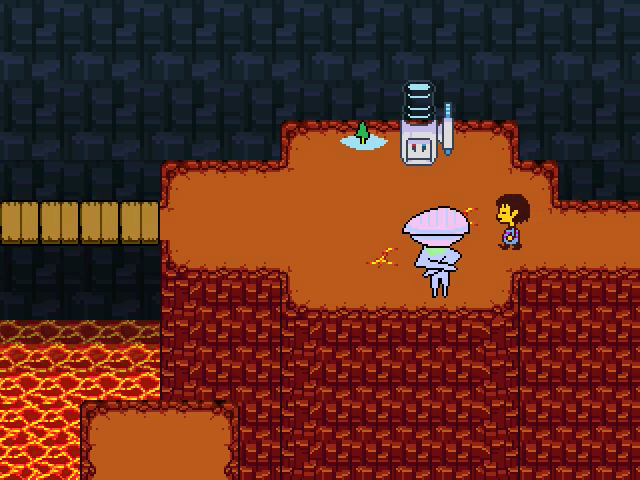 A tree is growing in my puddle.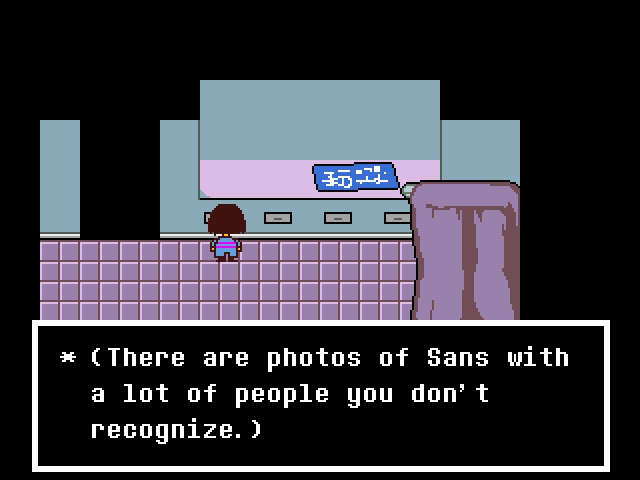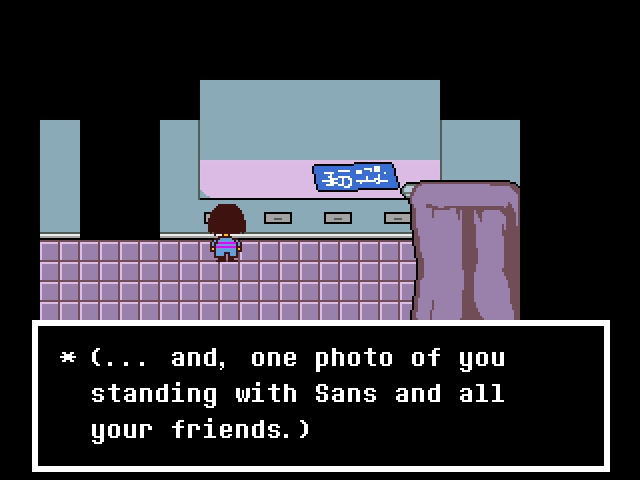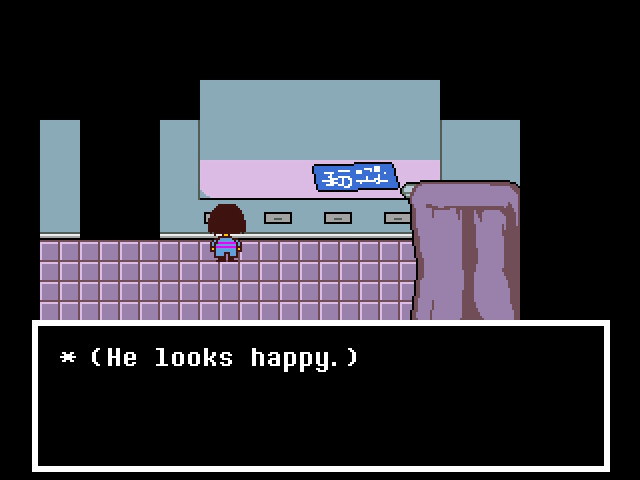 ...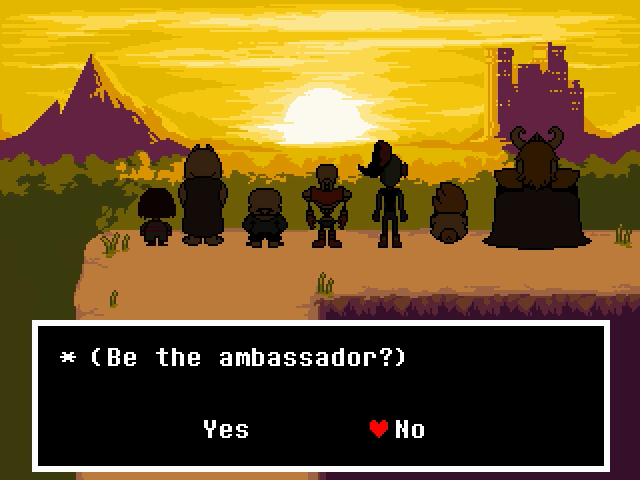 IT'S OK FRISK! I'VE GOT YOU COVERED!

IF YOU DON'T WANT TO BE THE AMBASSADOR...

I CAN DO IT FOR YOU!!!

I'LL GO MAKE A GOOD FIRST IMPRESSION!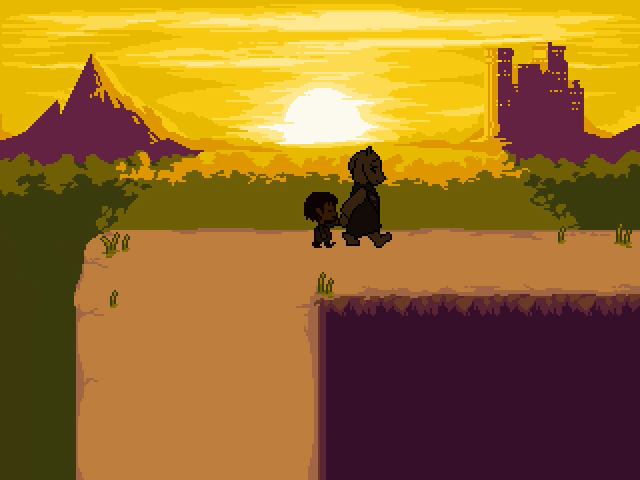 Roll credits.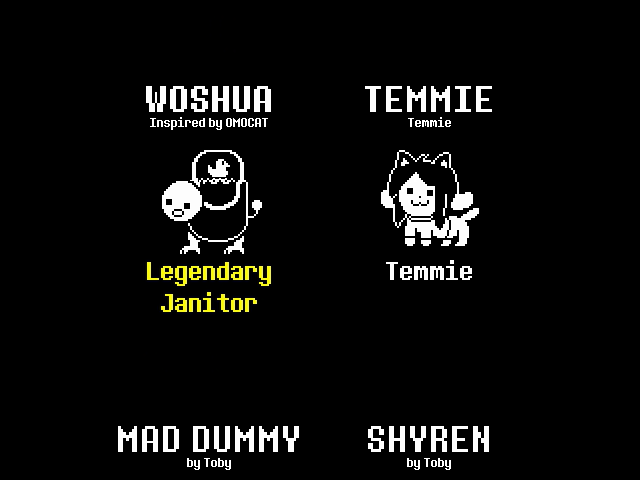 So close to a perfect ending! I forgot to talk to Tem in the wild.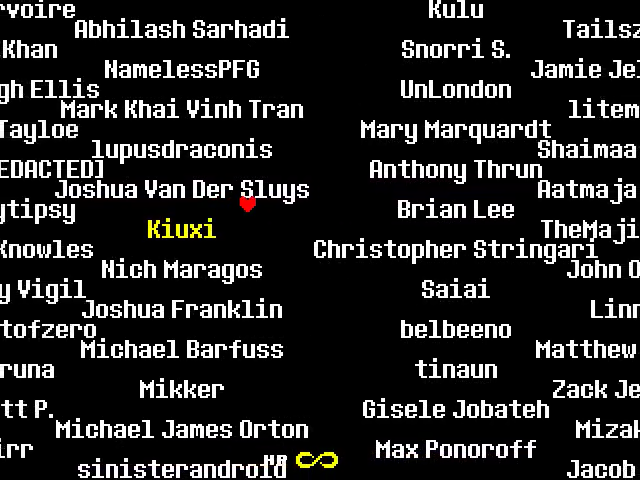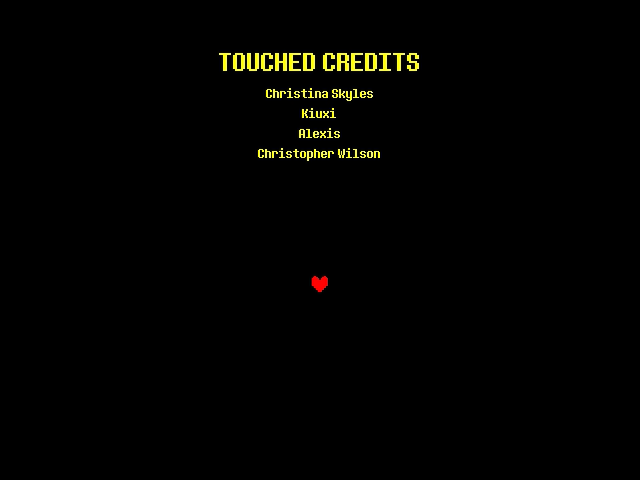 Not quite a perfect credits run, either.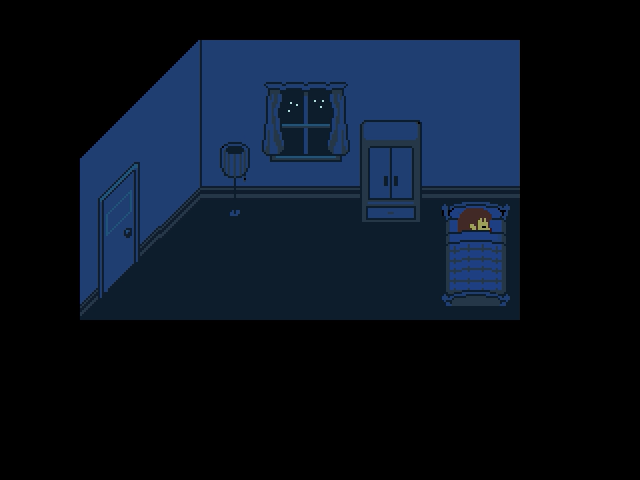 And that's the end.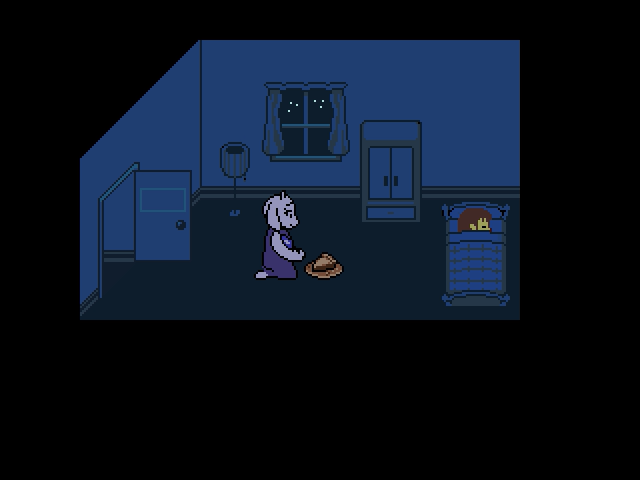 ...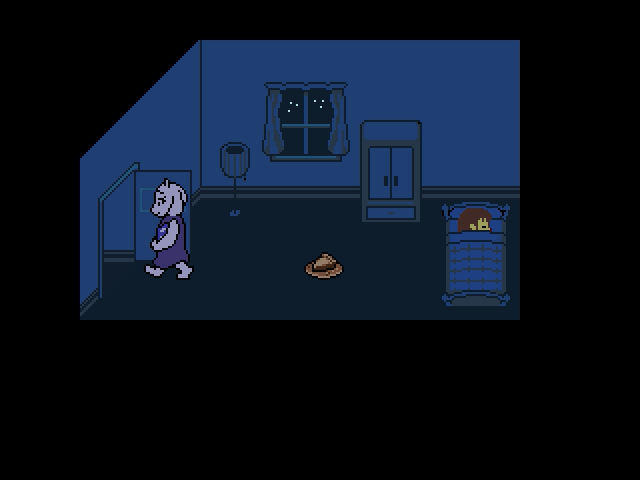 ...No. This isn't the end.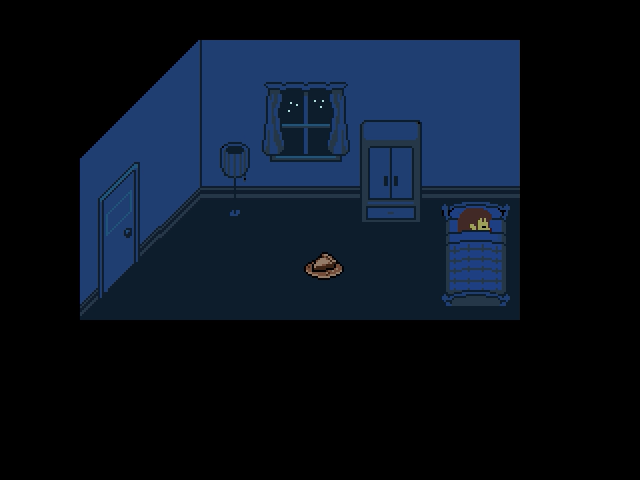 Did you already forget what you did?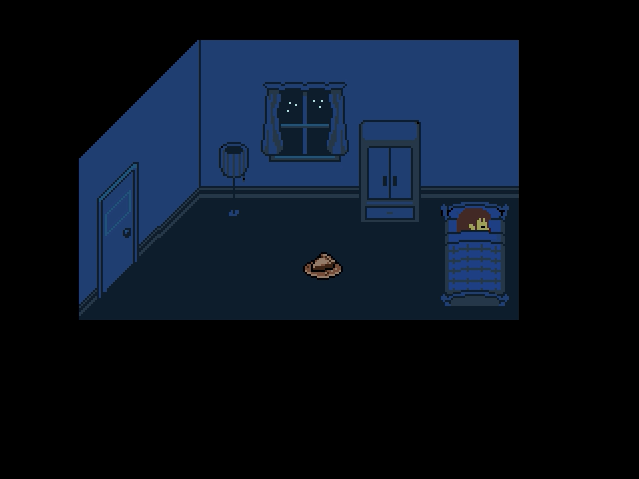 Or do you still think you're above consequences?