Part 3: Tutorials - Support Units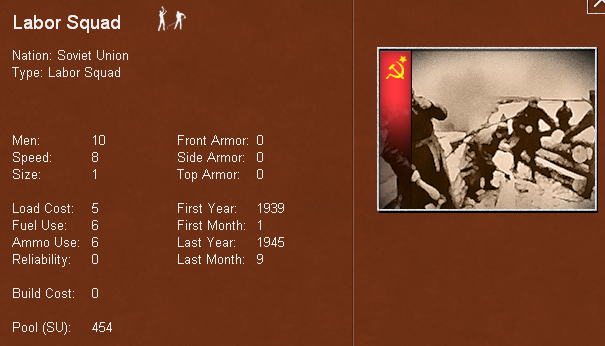 So support units. They mostly work behind the scenes but they're incredibly important to both the Soviet and German games. Soviet support units get attached to armies and to a lesser extent fronts. Armies or Fronts in range of a battle can make an initiative check, if they pass then they're allowed to commit support units to the fight. Soviets also have the option to attach up to 3 support units directly to corps size counters, support units attached directly to a combat unit are committed to every fight that unit participates in and are for all intents and purposes part of that counter. The downside is directly attached units are only committed when their parent unit is in a fight and are unable to help other units in the army/front. When a corps counter breaks down into divisions or brigades the support units are randomly assigned to the counters that it broke down into.
German support units work basically the same with one really big difference. Since the Germans do not have corps size counters they're allowed to attach 3 support units to
division
sized counters. This is huge and allows the German player to turn individual divisions into unstoppable death machines at the cost of weakening the rest of the army. This is extremely important in '41 for capturing Leningrad before the mud turns and in the rest of the war for creating hard points or blasting through Soviet defense-in-depth.
Now on to a breakdown of what the individual support units actually are/do. I'm only going to be talking about the Soviet support units. When Romania surrendered we gained the ability to make about a dozen different Romanian support units that are effectively the same as the Soviet ones but use Romanian equipment, I will never be making these so any Romanian ones you see in the game are from the ~100 support units Romania had when she surrendered.
Tanks

42 Separate Tank Battalion - 20 Light, 11 Medium, 5 Heavy tanks

42 Separate Tank Regiment - 16 Light, 23 Medium tanks

Basically the same formation, the Battalion just trades numbers for having heavy tanks. Both formations are useful for attaching directly to armored corps, either tank or mechanized, for boosting tank numbers. To that end I prefer the regiment but you can make the battalion sooner and the battalions are good for burning through the enormous pools of heavy tanks the Soviet Union tends to accumulate. I like to have 1-2 of these in every army that doesn't have on-map tanks so that everyone has armored support when they need it, I also like to directly attach these to mobile units to increase their staying power before they need to refit.


42 Heavy Tank Regiment - 21 Heavy Tanks, 1 Armored Car

42 Flame Tank Battalion - 21 Flamethrower Tanks

Specialized tank formations. The Heavy tank one is good for adding some serious punch to any unit and make great support units to attach to armies. The flame tanks I tend not to use but I imagine they'd be good anytime you could get German infantry in the open. It should also be noted that heavy tank formations are always guards status. 1 of these in every army is good and in 42-43 the Soviets can certainly afford it, heavy tanks are in abundance once on-map units stop using them.

Infantry

41 Motorcycle Regiment

42 Ski Battalion

Support unit infantry, these are both pretty lackluster to be honest. The Motorcycle regiment is really awful and doesn't do much but get committed a whole lot. It's got 900 men with a few machine guns, mortars and AT-rifles. No big guns, not enough men to make a difference and they get committed a whole lot as you can see with how often they show up in combat reports. Ski battalions are interesting, they've only got 800 men but they get a 2x and 3x bonus in snow and blizzard respectively so they are extremely effective if you're on a manpower budget. On the other hand if you're playing the Soviet Union why are you on a manpower budget? I tend to never make any of these and any motorcycle/ski units you see were either in the game at the start or came attached to a new army already and I haven't bothered disbanding it yet since disbanding costs 1 AP.

Artillery

42b Gun Regiment - 12 122mm Guns

41 Heavy Gun Regiment - 24 152mm Guns

42a Gun Regiment - 18 152mm Guns

42 Light Gun Regiment - 24 76mm Guns

The heavy gun regiment and the 42b Gun regiments are good and useful for getting some larger caliber guns committed but I don't think I've ever made the other 2 formations. The 42a version is just plain worse and the light gun regiment only has 76mm guns which show up attached to much better units, I'll pass. Having different size guns is important because certain guns are better at different things and engagement ranges so you want your army HQs to have a wide variety of gun types to call upon. I like 1 each of the gun sizes with the exception of the 76's which are already in abundance without having them at the army level.


42 Corps Artillery Regiment - 16 76mm guns, 12 122mm Howitzers

41 Artillery Regiment RVGK - 24 122mm guns, 12 152mm Gun-Howitzers

41 Army Artillery Regiment - 36 152mm Gun-Howitzers

Corps artillery are nice but have less guns in the exact same types as the average infantry division, so why bother. RVGK and Army artillery are among my favorite support units though and you've probably seen dozens of RVGK units get promoted to guards status. Both formations give incredibly good bang for your buck (every support unit costs 1 AP, no matter the size of the formation or number of guns) and bring a wide range of guns (RVGK) or a lot of really good guns (army.) Early in the war I make a lot of RVGK artillery since AP is at a premium and then go around later and fill in the armies with other gun types. I tend to make 2-3 RVGKs and 1 Army Artillery per army. This gives me a huge number of guns in sizes that aren't available at the divisional level in great numbers.


42a Howitzer Regiment - 24 152mm Howitzers

42b Howitzer Regiment - 20 152mm Howitzers

42 BM Howitzer Regiment - 12 203mm Howitzers

All useful formations, the 152mm is a good gun and these formations let you beef up the numbers. The BM formation is as far as I know the only way to get guns that large committed early in the war. One of each size again for variety.


41 Mortar Battalion - 36 120mm Mortars

41 Heavy Mortar Battalion - 6 280mm Siege Mortars

42b Mortar Regiment - 36 120mm Mortars

42a Mortar Regiment - 16 82mm Mortars, 16 120mm Mortars

42c Mortar Regiment - 20 120mm Mortars

43 Mountain Mortar Regiment - 20 107mm Mortars

Mortars! These are all great formations and serve basically the same purpose with the exception of the 280's which are fucking enormous guns meant for blasting forts apart. ~3 of these per army with a focus on the 120's. The 280's are overkill for most armies but if you've got the AP why not?


42 Light Rocket Regiment - 24 Rocket Launchers, 12.7mm AA-MGs, 6 37mm AA-Guns

42 Light Rocket Battalion - 8 Rocket Launchers, 2 12.7mm AA-Mgs, 2 37mm AA-Guns

42 Heavy Rocket Battalion - 96 Rocket Launchers

Rocket Launchers are a beautiful thing. The light versions are nice mixed formations with extra AA guns but AA can be found elsewhere. All rocket formations of every size are always guards. 1 heavy formation and 1-2 light formations per army, eventually. Rockets aren't terribly effective early on and they're difficult to keep running if you've got hundreds of them.


42 MG-Artillery Battalion - 32 7.62mm Machine guns, 28 14.5mm AT-rifle, 8 82mm Mortars, 8 45mm AT-Gun, 8 76mm Gun, 8 50mm Mortars

Your one stop shop for small caliber support weapons. A useful formation if you're trying to save AP but I prefer to get larger numbers of specific guns. The only place I could see myself really using these is directly attaching them to corps but corps can only have 3 support units and I'd rather get specifics instead of this very small all-purpose unit. That said I've got a handful of them scattered throughout the Red Army, Army HQ's like to come with these things pre-built when you make a new HQ.

Anti-Tank

41b AT Artillery Regiment - 8 45mm AT-Gun, 8 85mm AA-Gun

42a AT Artillery Regiment - 20 14.5mm AT-Rifle, 20 76mm AT-Gun

42b AT Artillery Regiment - 20 14.5mm AT-Rifle, 20 45mm AT-Gun

42 Heavy AT Regiment - 50 14.5mm AT-Rifle, 15 107mm Gun

Anti-Tank weapons are extremely important. Most formations have these organically but it's nice to have extras to commit when you run into a big tank formation. Both of the 42 Regiments are good and I like to use both in my rifle corps and armies. 1 AT regiment per corps and 1 per army with another Heavy AT regiment at the army level. I tend to prefer the 45mm guns over the 76 because the 45s cost less than half as much to make and I tend to have a lot more of them.


TD Artillery Battalion - 27 14.5mm AT-Rifle, 9 82mm Mortars, 12 76mm AT-Gun, 9 Submachine Gun Squads

Another jack of all trades formation. I really don't like these things and very rarely make them. I much prefer specialized support units in nearly all cases and don't bother building these undersized formations.


42a AT-Rifle Battalion - 72 14.5mm AT-Rifle

42b AT-rifle Battalion - 108 14.5mm AT-Rifle

Neat formations but they don't have enough guns to be worthwhile. The average rifle division already has over 200 14.5mm rifles and a rifle corps can have over 700. If you want AT-rifles in a fight use infantry, not these support units.


TD Battery - 4 Self-Propelled Light Tank Destroyers

A neat formation that I have attached to a few of my cavalry armies. Unfortunately the Soviet Union doesn't make any self-propelled anti-tank weapons at the moment and won't begin construction on a new type (the SU-76) until December. Once the SU-76 rolls out these will be great formations, right now they're using the ZiS-30 which is just a gun mounted on tracks and barely qualifies as self-propelled or a weapon.

Anti-Air

41 PVO AA Regiment - 20 76mm AA-Guns, 4 37mm AA-Guns

41 AA Battalion - 12 76mm AA-Guns, 3 12.7mm AA-MGs

42 AA Regiment - 8 12.7mm AA-Guns, 12 7.62mm Quad AA-Guns, 12 37mm AA-Guns

41 PVO AA Battalion - 10 76mm AA-Guns, 2 37mm AA-guns

The AA formations are for armies and the PVO formations are for airbases and cities, although you can put whatever you want wherever. I like 2 AA per army and another 2 at the front level. Against a human player playing the Germans you will also have to stick AA in the cities you don't want bombed to smithereens, the port on the Leningrad isthmus for instance. Attaching units directly to cities is incredibly expensive though so is best avoided whenever possible

Engineers

42 Flamethrower Company - 12 Flamethrower Squads

41b Sapper Battalion - 27 Sapper Squads

41b Sapper Regiment - 81 Sapper Squads

The only thing on this list that you should build is Sapper Regiments and you should build a lot of them. There's no reason to build the battalion sized formation because all sapper squads take is manpower and a tiny bit of armaments so who gives a shit. 2-3 regiments per army, 2 regiments per rifle corps, 1 regiment for every tank/mechanized corps. I've got a lot of these things. Sappers are great, they've got high explosives, grenades, flamethrowers and submachine guns. They're very often among the first units committed to battle and they're great at getting butchered, killing Germans and destroying fortifications. Sappers also count as engineering squads so they help dig fortifications when you stop moving. Flamethrower Companies are uh, company sized formations. They've also got flamethrowers but don't carry high explosives so are clearly inferior to sappers in every way.


41 Construction Battalion - 50 Labor Squads

41 RR Construction Battalion - 200 Labor Squads

41 Engineer-Sapper Brigade - 135 Sapper Squads, 10 Labor Squads

The construction battalion is useless, it's functionally the exact same as the RR construction battalion but costs the same for 25% as many squads. RR Construction battalions are incredible, they're great at digging fortifications when you're immobile and when you're moving they automatically detach from the HQ and become on map units that repair rail lines. 2-3 per army in '41 to dig fortifications and some more on the Front level when you go on the offensive to fix rail lines.

I'm not sure what Engineer-Sappers are for. They don't fix rail lines, they don't get committed to battle like Sappers so maybe you need to directly attach them to a corps for them to work. I don't know, I built 3 of them this game and they got committed to exactly 0 fights after 3 months so I disbanded them.