Part 3: Mission 3: Gulf Fishing
Episode 3: Southshore
or
Gulf Fishing

: I'm sorry, run that one by me again.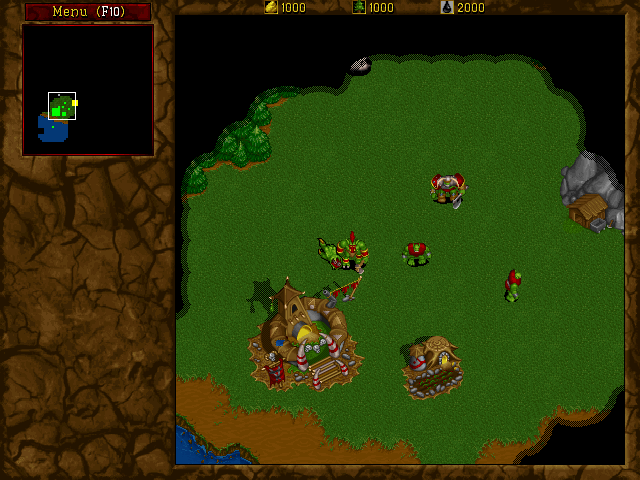 : Oil, mon. Ya dun have none?

: The more you mangle the orcish language, the more I struggle in vain to figure out what you're trying to say.

: Chieftain-

: Does you want walkies? Hm? Little troll want walkies?

: 'Ey, mon!

:
Chieftain-

: Maybe some nom-noms? Hey, Bloodgut, what do you feed trolls?

: I'm no a pet!

: Chieftain, Mag'fon is referencing the crude material buried beneath the sea. It helps to make machinery run more efficiently.


: ...

: No! It make da boats float!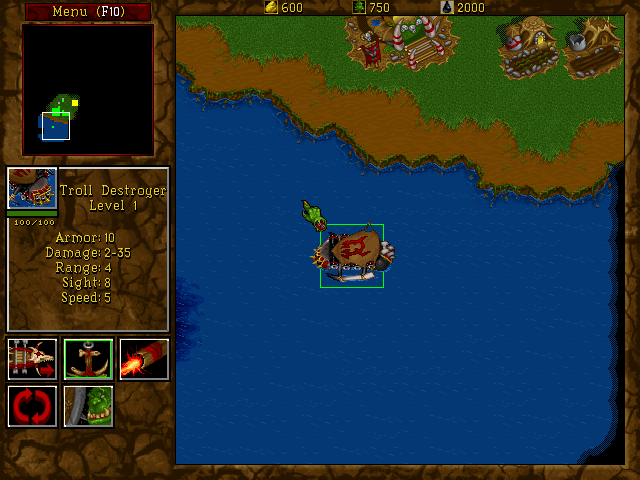 Here is the first real introduction to the naval aspect of Warcraft II (although the second human mission technically has it first). Like all the first four missions of each campaign, this is a tutorial. Your goal is to procure oil from the patches out in the sea by building four oil platforms. This is pretty silly, since you generally will never need that much oil coming in.

: Well, that's essentially what I-

: 'E's kinda stupid for a smart guy, eh?

: You have no idea.

: 'Ey, Bloodbelly! Lemme show ya how dis ting work 'ere!

: Wait, you're getting
in
that thing?

: Yah, mon! Whatchu tink I was gonna do wit it? Now watch dis!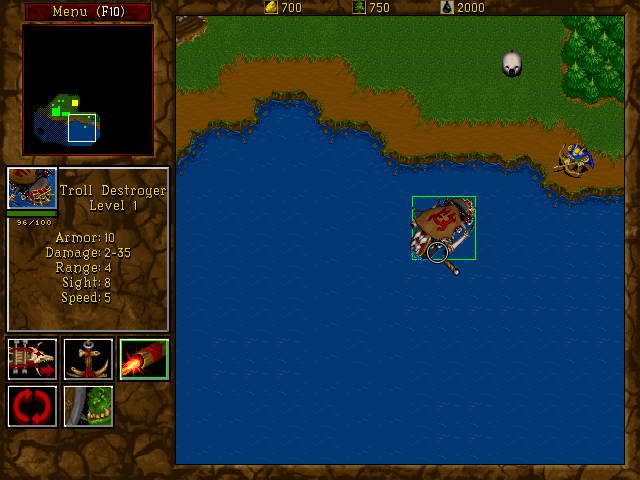 : HE'S GOING TO SINK!

: Chieftain, it's just a ship. There's no reason to panic.

: PANIC? WHO'S PANICKING? NOT ME.

: Eye on da prize, Chief!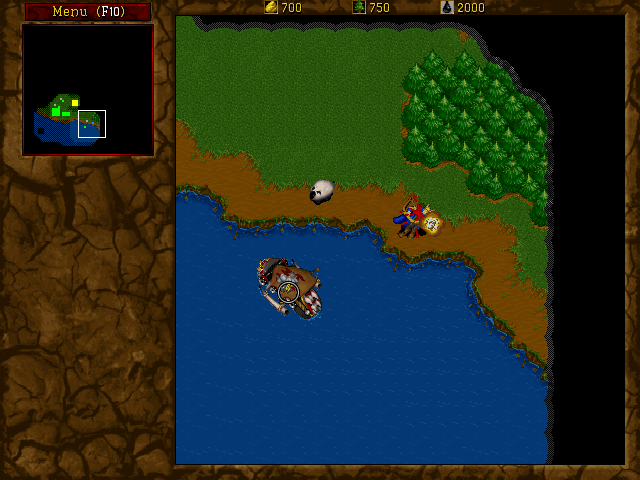 The mission starts off with a few humans surrounding your small island. You have minimal ground forces, so the logical step is to take them out with your new little toy. You get to pull maneuvers like this a surprising number of times, thanks to the AI bunching units at the coasts (causing much trouble when it comes to landings, but that's another story).

: HEY THAT'S GREAT, IT BLEW UP, CAN YOU COME DOWN NOW?

: Relaaaaax... I got dis. You jus' worry 'bout that dere base, yah? Bloodbelly be tellin' ya what we need fer me ships.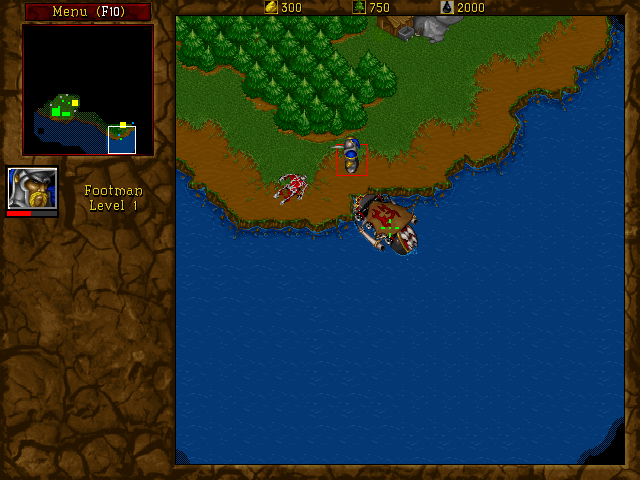 Que manic destructive montage.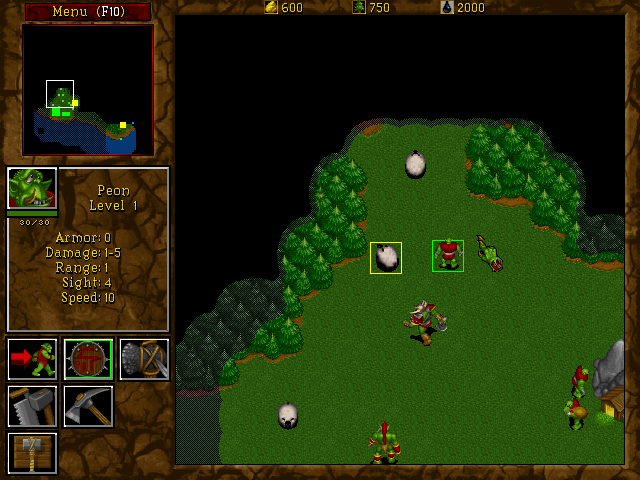 : Ahem, well... we'll need to clear some land here. Unfortunately we'll need a lot of lumber for our naval constructions.

: Clear the land, gotcha. Grunt!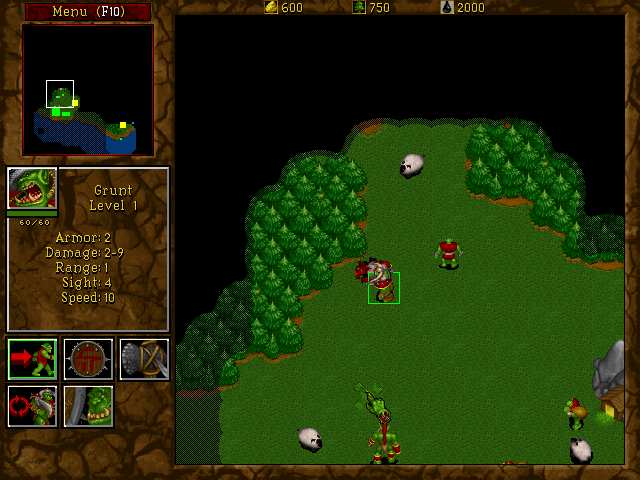 The first appearance of critters! It may seem cruel, but critters seem to exist just to get underfoot (

Or to explode violently

). That said, it's best to cut them low and go along your merry way. Don't worry, we'll see more of them later!

: That's not what I meant, Chieftain! I... nevermind. A wise move.

: Damn straight.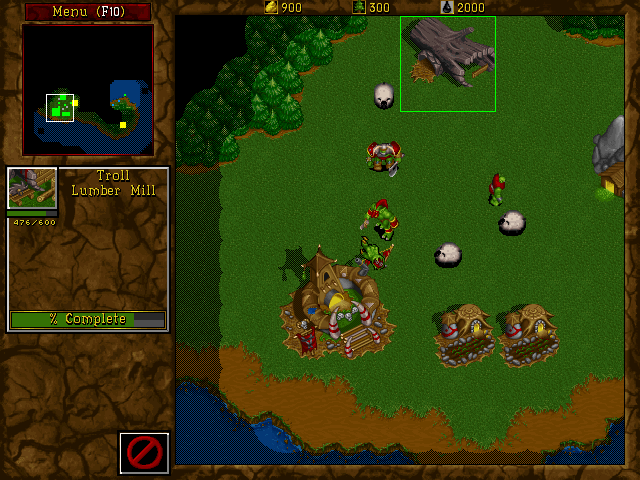 : Based on the writings that the trolls gave us, I've begun to set up a lumber mill. These will be more efficiently handled then the mills back at Azeroth, and mark a huge leap in orcish technology.

: It's a log.

: It's not a log, I mean...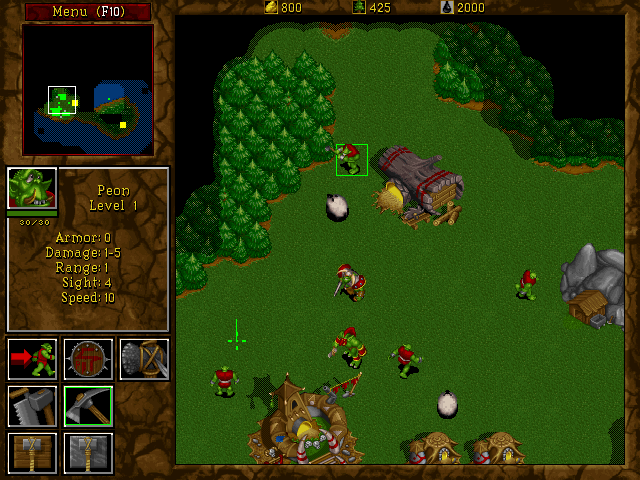 : Ugh. What the hell is wrong with these trolls?
Lumber mills are one of my favorite buildings, which I know sounds very strange. Once you realize how useful they are as lumber return waypoints, though, it makes it so much more easy to deforest an entire area. They also provide the lion's share of upgrades for trolls, which are pretty amazing all around.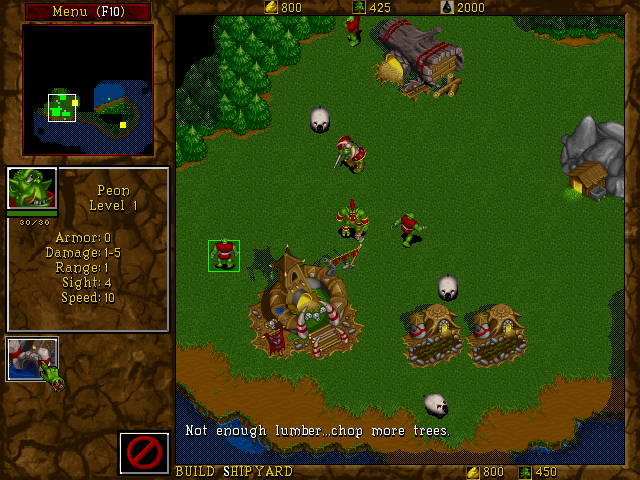 : Speaking of which, we're looking into a way to reconstruct those troll ships, like Mag'fon was riding.

: Why would we even want to do that?

: If the humans are going to put up a fight, it would be best to assault from ever angle possible. If Vilefeast were here, he would entirely agree.

: If Vilefeast were here, he'd be chewing on the lumber mill thinking it was a special dessert made for him.
Once you have a lumber mill constructed, you can create a shipyard. This follows all the same rules that you would expect (makes boats, must be placed on a shoreline) while also being used as a node for resource delivery. The resource, in this case, is oil. Oil is the most bizarre resource to me, as it has such isolated uses. Oil is needed to build and upgrade boats and other naval buildings. However it is also necessary to upgrade your town hall, which ensures that you will spend some time out on the sea.

: ...Also, Doomhammer would be interested in gathering the oil that Mag'fon spoke of.

: Because I'm
so
interested in doing something for Doomhammer.

: The oil will allow for seaborne death wagons.

: ...We will require all the oil.

: It's beginning to get too easy to manipulate you.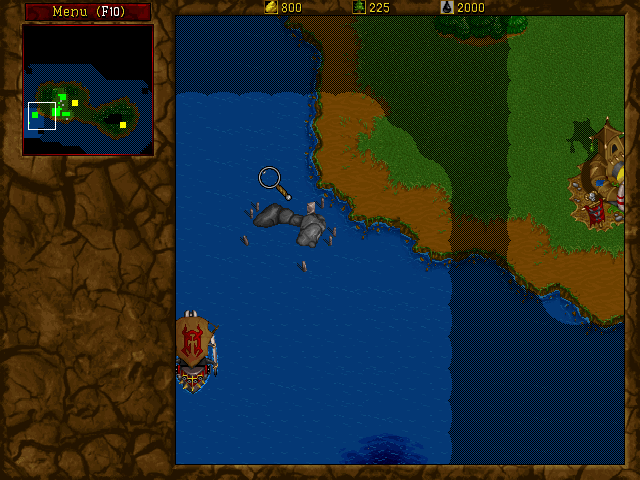 : My men have begun constructing our shipyard. Meanwhile, I'd like to turn your attention to some more plans that the Amani people have been giving us.

: The what people?

: The trolls, Chieftain.

: Now he gets it. Why is it that everyone who works for me refuses to use normal words?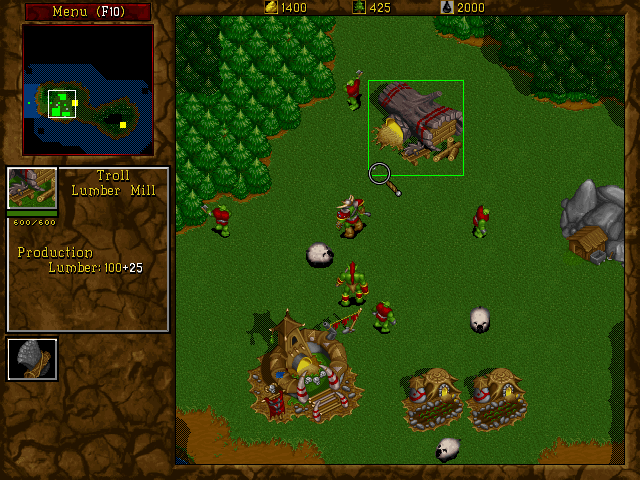 : It seems to be looking at ways to improve the aerodynamics of the throwing axes.

: Let me see those...

: ...

: Uhh, well...

:
These trolls are geniuses!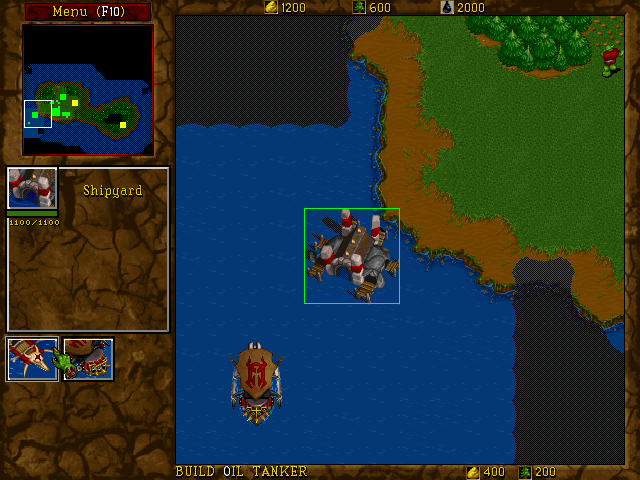 : In other troll news, our shipyard is complete. I would recommend that we start building some ships to gather the oil.

: I don't have to get in it, right?

: ...no, Chieftain.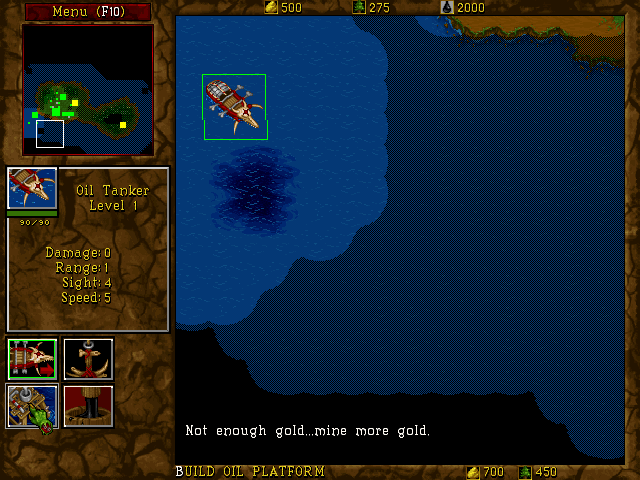 Oil. That lovely third resource that never came back, with good reason. Gathering it is somewhat akin to vespine gas in Starcraft. You must first build an oil platform atop a patch of oil via an oil tanker. Then it acts as a goldmine would, allowing multiple tankers to pull forth from it. However, only one tanker can be at the platform at a time.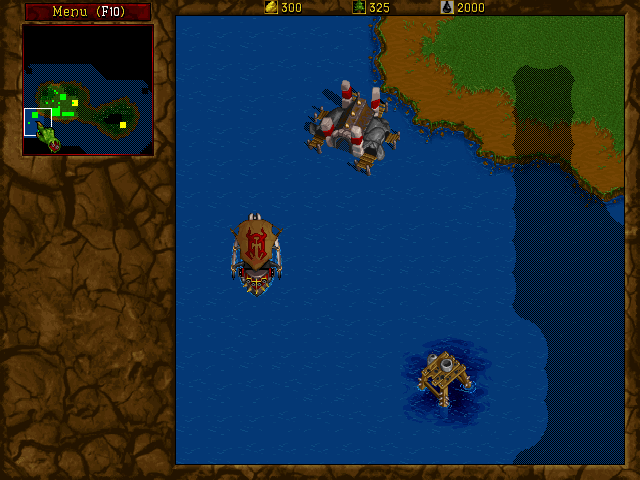 : 'Ey! Das lookin' pretty good! ...fer orcs, y'know?

: HEY GREAT DON'T LEAN OVER THE SIDE TO YELL TO US I CAN HEAR YOU JUST FINE BE CAREFUL.

: Yo, Chief, ya scared o' water, mon?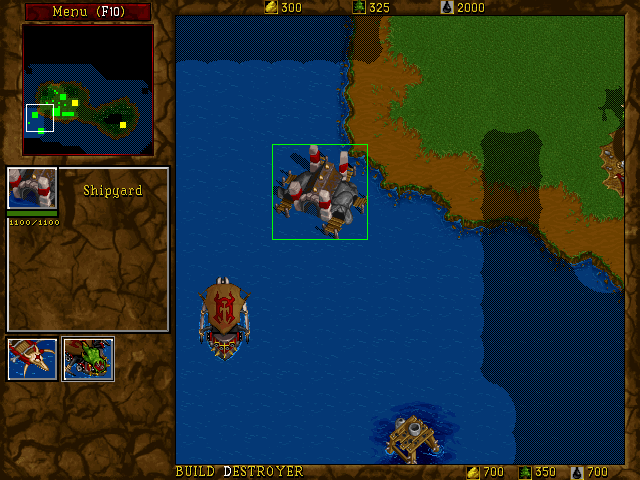 : I know a way ta fix dat.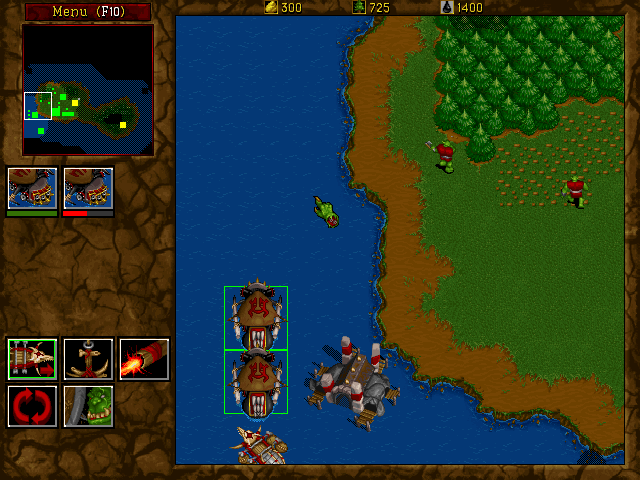 : Check out da new ship, Chief! Or should I say... Cap'n?

: NO YOU SHOULDN'T SAY THAT I DON'T THINK THAT IS A GOOD IDEA.

: Chieftain, if we're to engage the humans in naval warefare, it would be best if you were to get some experience aboard our destroyers.

: NO BLOODGUT I WILL HAVE VILEFEAST CUT YOUR HANDS OFF OH GOD STOP PUSHING.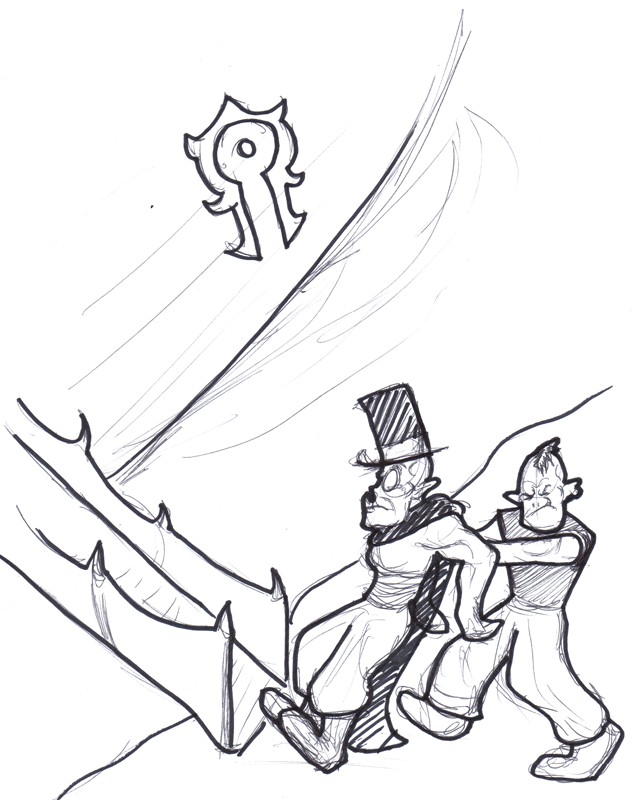 : This will be good for you, Chieftain! ...and it might give me a little bit of time to relax.

: WHEN I GET OFF THIS BOAT I WILL BEAT THAT OTHER TOOTH OUT OF YOUR HEAD.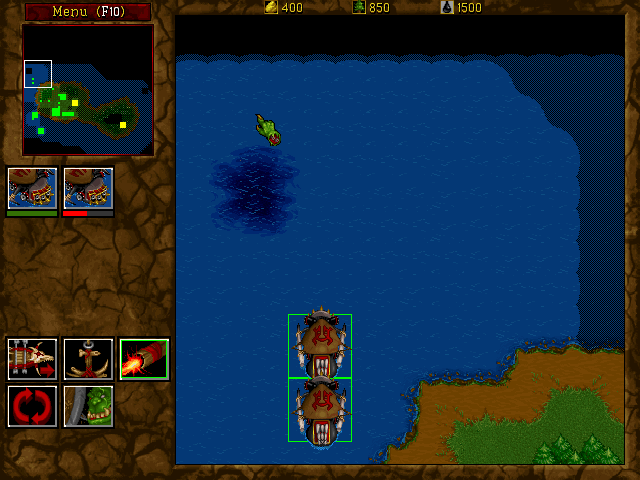 : Alright, we jus' be doin' some reconnaissance.

: ALL FEAR ASIDE, but how the hell can you say "reconnaissance", but not "doing?"

: Humor be one way ta handle ya stress, mon. We jus' be lookin' fer some oil patches. Dat way we can get our tankers out ta get ta drillin'.

: WHY DID YOU NEED ME FOR THIS.

: Uhh... dat's why.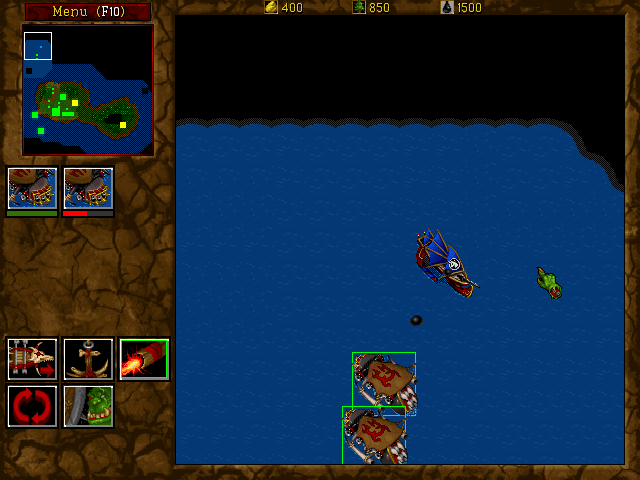 : NO NO NO WHEN DID HUMANS GET BOATS WITH CANNONS?

: Fire, mon! It's just like a... like a...

: ...

: Chief?

: ...Like a death wagon.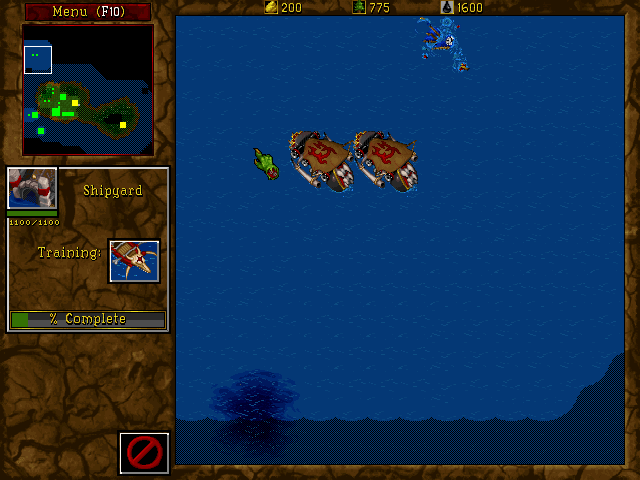 : Woah, mon! Where ya get da skills ta move a destroyer like dat?

: It's not a destroyer, Mag'fon.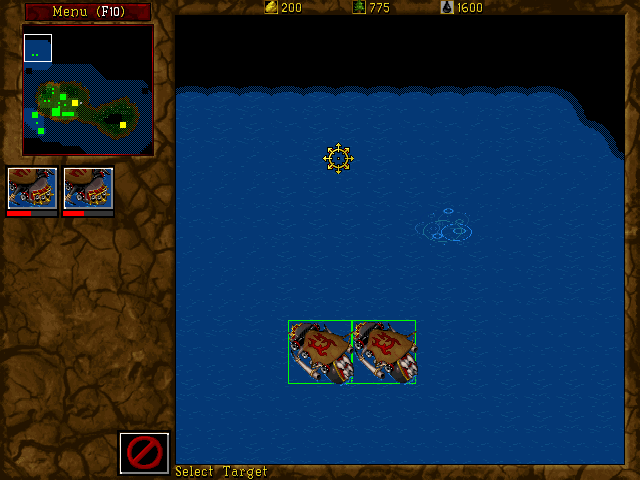 : It's a death boat.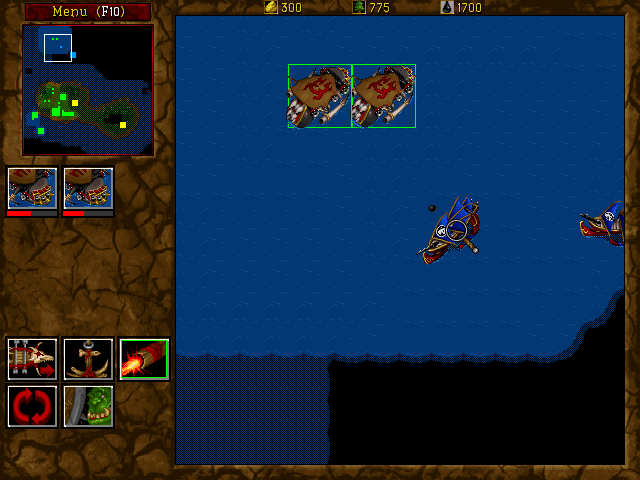 : Incomin'!

: Let them come.

: Ah! Me boat, mon!

: Get aboard, troll. And on my watch, it's a death boat.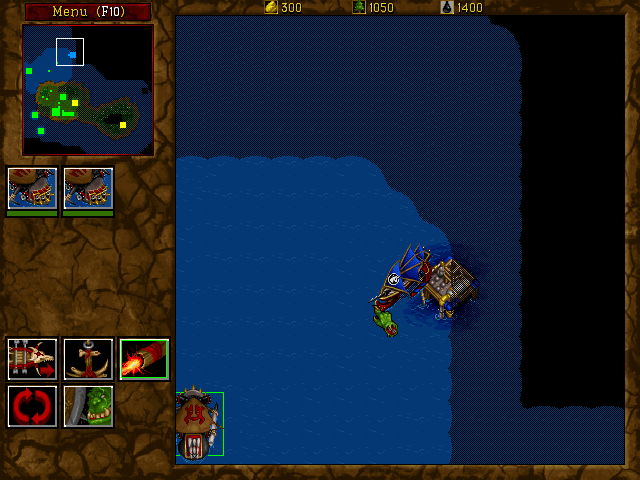 : There! A human platform. I think we have a target to hit.

: I get that ya conquer'd ya fear, mon, but don'tcha tink ya bein' a little reckless?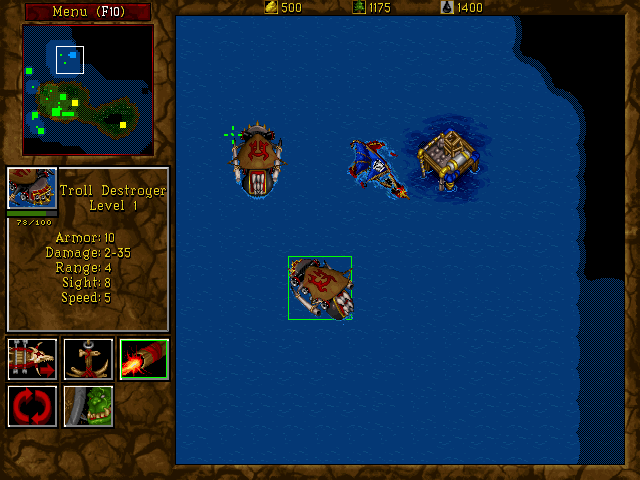 : If you can't speak properly, then you are not allowed to judge the plans of true genius.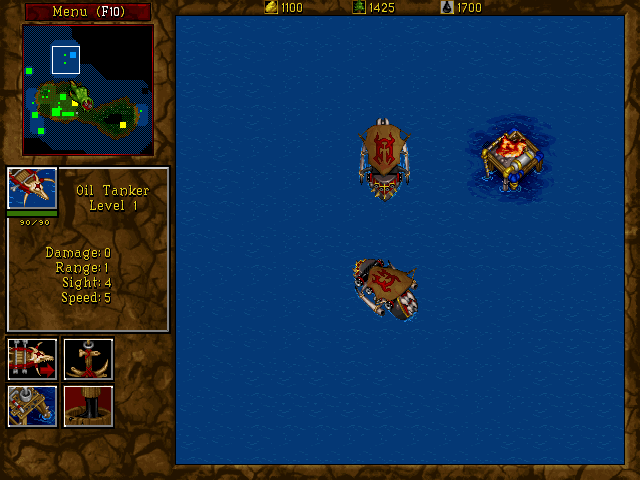 : Also: Oil is flammable. Good to know.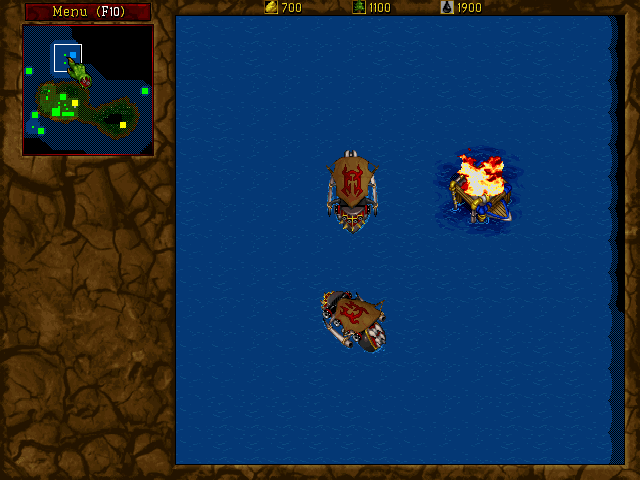 :
Very
flammable.
So if you haven't figured it out by now, the fire denotes how wounded a building is. Small fire puts it somewhere between 2/3rds and 1/3rd health. A large fire is 1/3rd to, well, dead. Also, it looks gorgeous.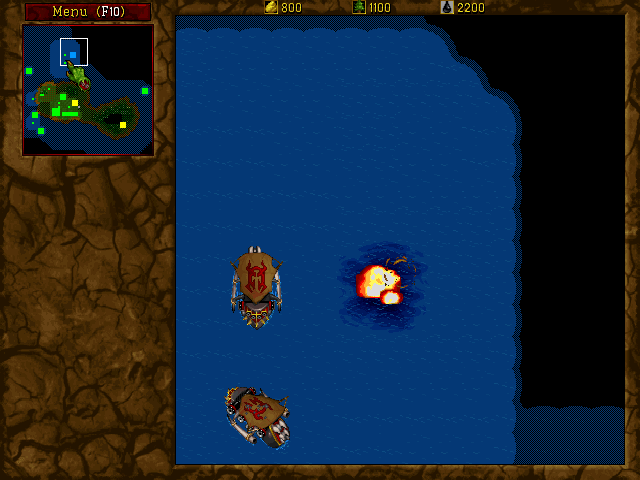 : I wish the death wagons could have been this successful.

: Alright, mon. Ya had your fun. Back to base to see how Bloodbelly's doin', ya?

: And this is why the elves kicked your asses, huh?

: 'Ey, mon! Low blow!

: You press the attack!
Charge!

: Wat?

: Er... Ye press da attick! ...mon.

: Me loathin' fer ye only builds.

: Now you're speaking my language.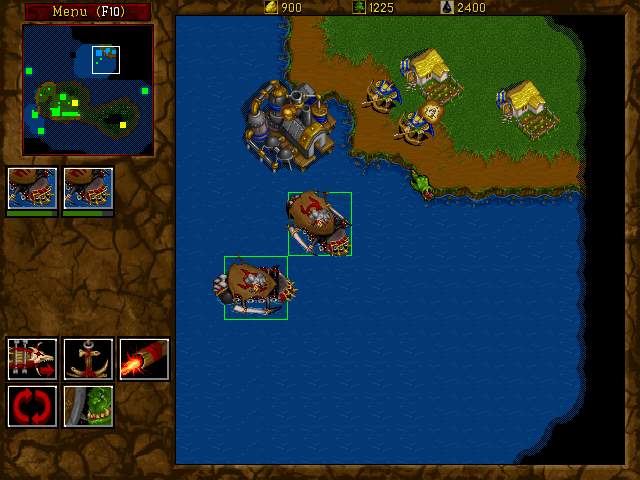 : Dis is crazy!

:
Orcish pride!
Stomp those elves, Maggy!
There's the first "base" you get to demolish. Yeah, you can't really take it down with troops other than your destroyers, but it's satisfying to level human settlements wherever they crop up.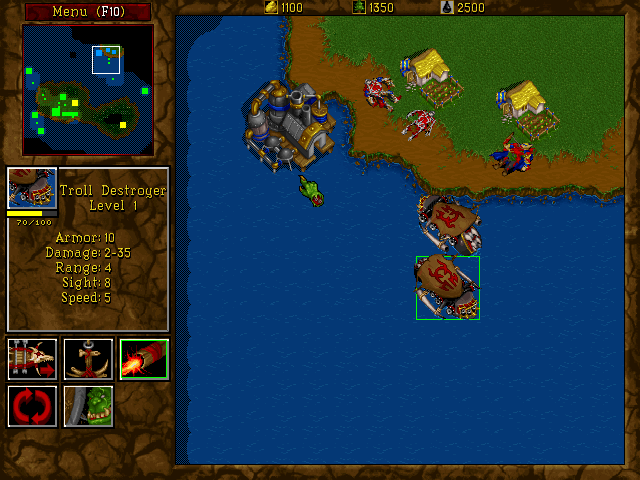 : Well... dat was pretty fun, ja?
Meanwhile, back at Bloodgut HQ...

: Ah... this is the life. Not worrying over some damned "general" who can't keep his head out of the noose for more than a few minutes.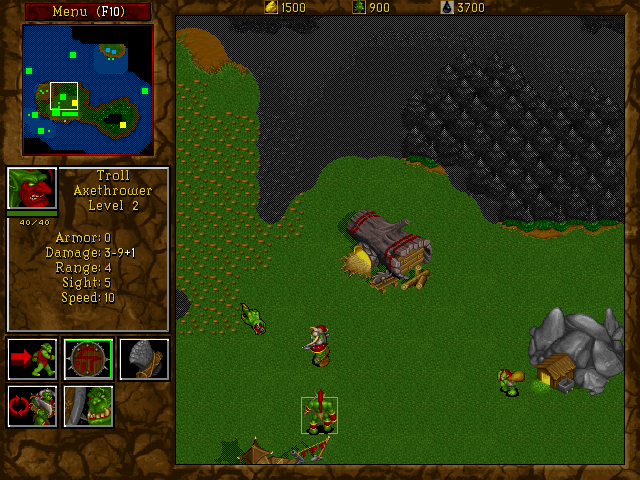 : And it looks like the axes are ready for the troops. These should be... helpful.
And now to show off the "level system," which shows our axethrower at level 2 now. This is because he has one upgrade (his axes for +1 damage). One upgrade equals one level. Not too difficult of a concept. As I said before, this is really for figuring out relative enemy strength, but is also kind of cool to check out yourself.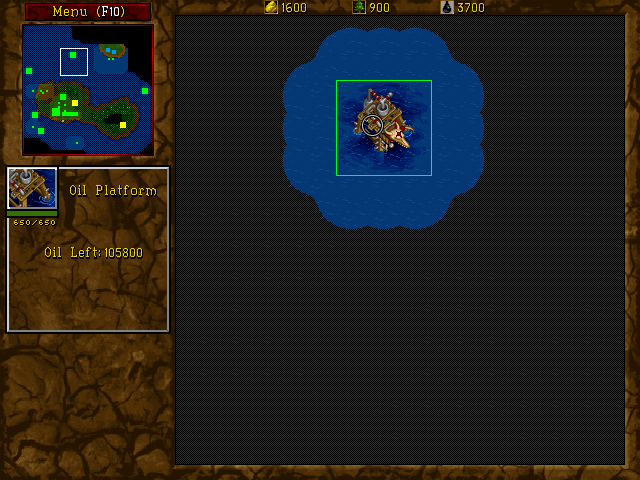 : ...and that's the last platform. We should have a shipment ready for Doomhammer within the week. I might be the next Chieftain at this rate...

: Blooooooodgut! We're hoooooome!

: 'Dis mon... is craaazy!

: No, no. "Dis mon" is craaaazy!

: ...oh, good. They're friends.

: Hey, Bloodgut, get out my Tome of Chieftainisms. Add "Death Boat." After that, prepare my bath, and get out the extra soft sponges. I feel dirty.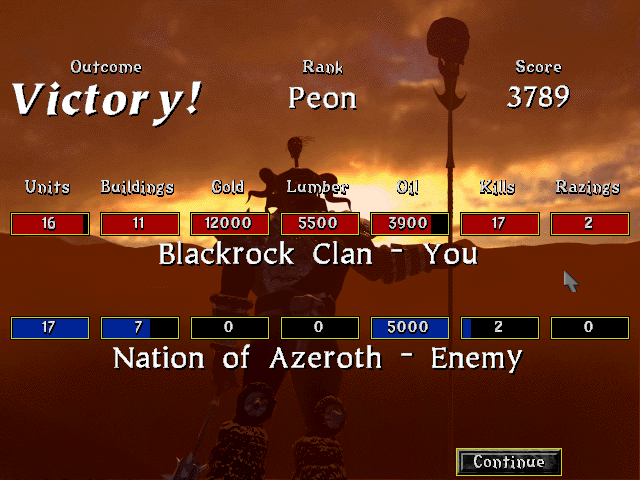 :
Victory!

: ...Victory.