Part 6: Mission #6: 2 May 2654, Gimle system
Mission #6: 2 May 2654, Gimle system
Previously on Wing Commander: Promotions, medals, you name it. More importantly we dispatched Bhurak Starkiller, a Kilrathi ace pilot. Tiger's Claw crossed over into Kilrathi controlled space and is now in Gimle system.

I thought I might post this map, so you can see exactly how we are progressing: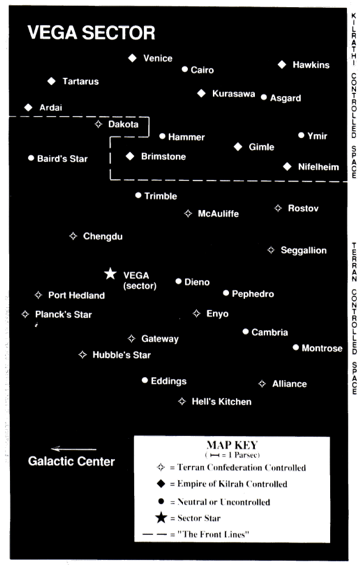 And now, time for some friendly conversation.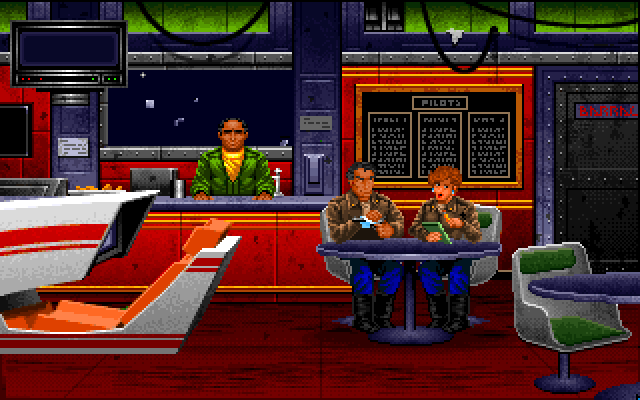 Oh look, it's Iceman and Angel. I forgot to mention this last time, but yes, he is polishing his gun. Also, to add to completely useless facts, Angel appears to be left-handed.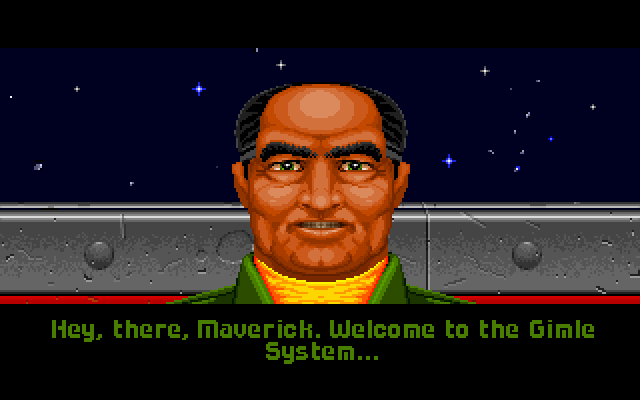 ...vacation spot of the Empire of Kilrah! Gimle's habitable world is one huge forest... Kilrathi nobles and officers come here to hunt with their bare claws. I hear they bring human POWs here and turn them loose in the woods, just so those hairy brutes can get their kicks by huntin'em down! Man, I'll be glad when we kick those fleabags outta the sector!
That... sounds scary! But I'm sure our two friends over at the table have some useful information regarding the mission that is about to happen...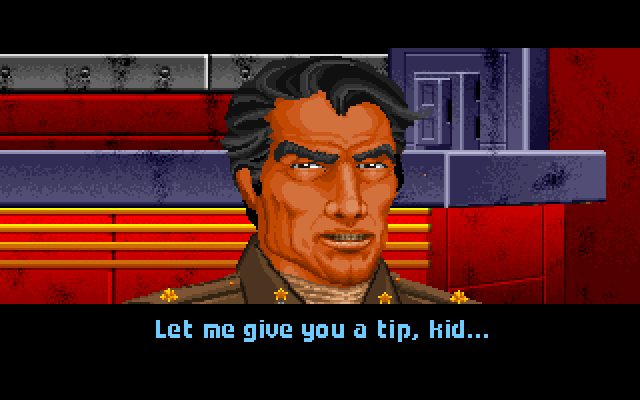 Never rush a Jalthi head on. A Jalthi carries six front-mounted laser cannons... First shot takes out your shields... next'll blow through the cockpit into the reactor.
You know, this isn't even correct. For some reason, neither in game nor in the various manuals, do they seem to be able to tell you exactly what kind of guns a Jalthi has! Here, Iceman says it has 6 lasers; on the other hand the manual says 3 lasers and 3 neutron guns. However, in the video, you'll see clearly that it has 4 lasers and 2 neutron guns. Not sure what happened here, probably this changed a few times during development or something like that and they forgot to go back and update everything.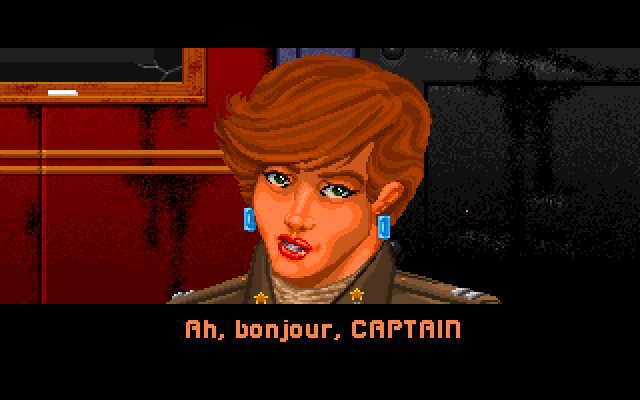 It's true, people like to SHOUT your rank back at you!

I have been reviewing our data on the Kilrathi starfighters. Our information indicates that in all cases their side armor is weaker than that to the front or rear.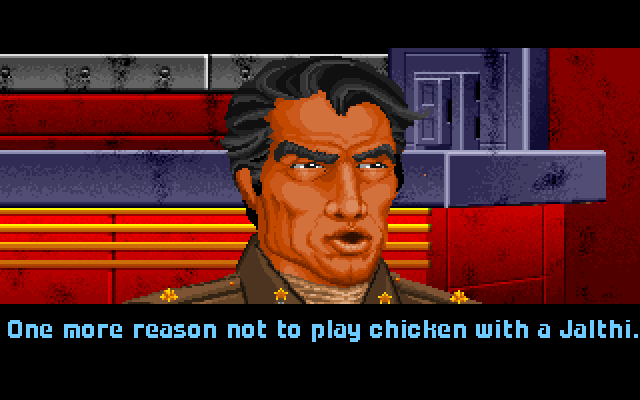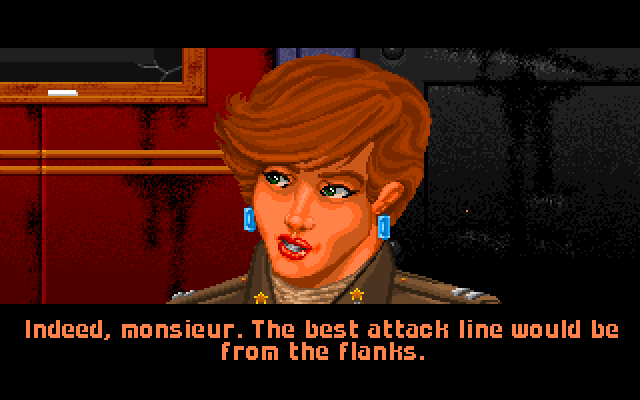 Mission Time!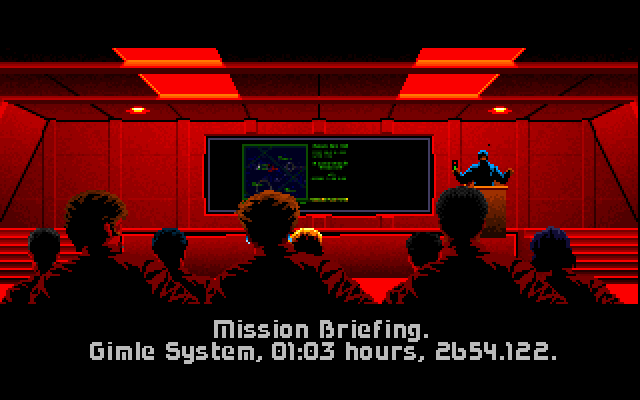 All right, boys and girls, listen up. We've just jumped into the Gimle System, and we've got some work to do. Gimle has been occupied by the Kilrathi for some time.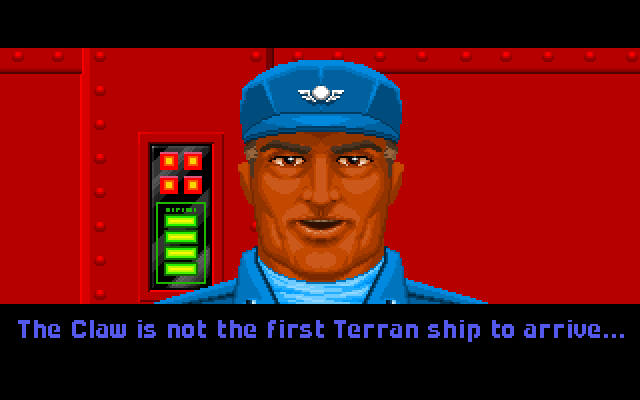 ...we've got a handful of battleships already in system. Most of these ships are currently under attack by Kilrathi, so we'll be dispatching fighters to help in their defense.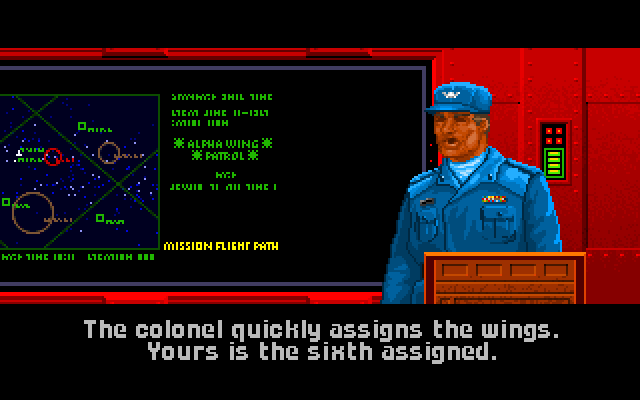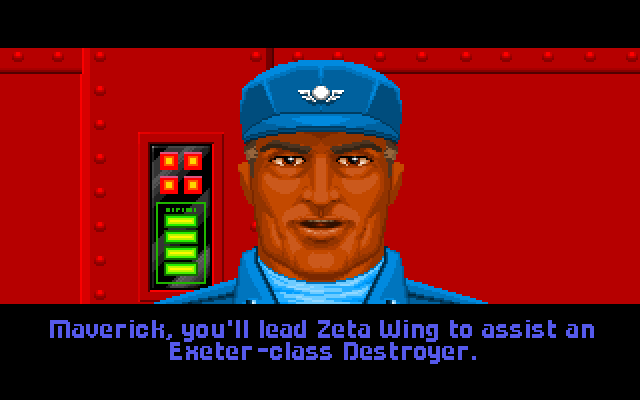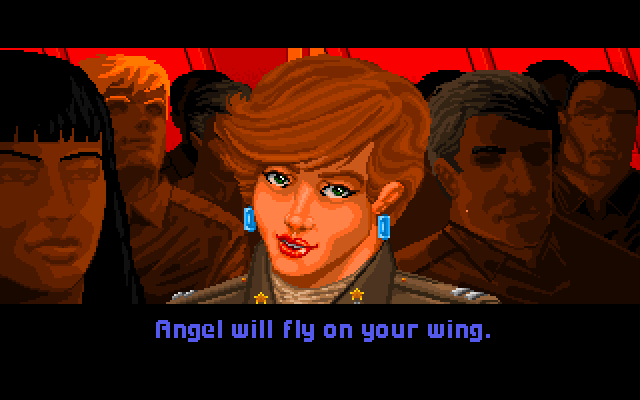 Here's the scenario...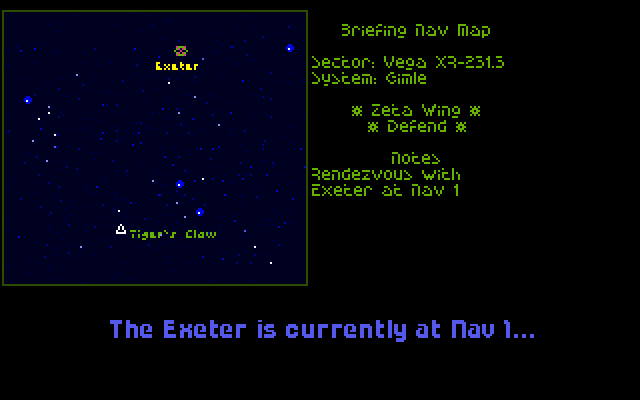 ...her skipper reports at least three Kilrathi fighters in the area. You'll head straight for the Exeter, and help in her defense. When the Kilrathi have routed, come on back home. Any questions? Okay, then. Let's go burn those hairballs!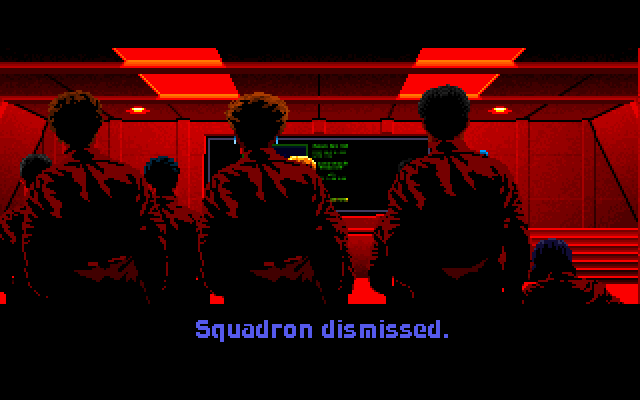 As was mentioned last time, we are flying a Raptor heavy fighter with Angel this time around. Angel is quite a good shot, and chances are that she might get in a kill or two every once in a while, unlike other wingmen we've been flying with so far.
Here is what we are flying:
Raptor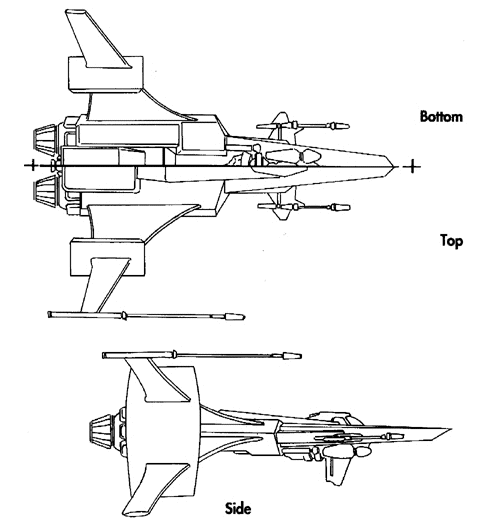 Class: Heavy Fighter
Length: 36 Meters
Mass: 20 tonnes
Max Velocity: 400 kps
Cruise Velocity: 250 kps
Acceleration: Good
Maximum Yaw: 6 dps
Maximum Pitch: 5 dps
Maximum Roll: 6 dps
Weapons: Neutron Guns (2x), Mass Driver Cannon (2x), Heat Seeking Missiles (2x) Image Recognition Missiles (2x) Friend-or-Foe Missile, Porcupine Mine
Shields: Fore: 7 cm equivalent; Aft: 7 cm equivalent.
Armour: Front: 8 cm; Right: 6 cm; Left: 6 cm; Rear: 8 cm.

Say hello to our little tank! This thing is similar to Scimitar as far as speed goes, but look at those weapons! With full guns, each hit does a ton of damage (although it does consume a ton of power too, still this time the power consumption is actually worth it). Neutron guns are even more powerful than mass drivers, but only have about half the range of lasers. Something to keep in mind. Mine can possibly be useful is somebody is chasing you from the back.
This the Exeter class destroyer that we are supposed to come to the aid of:
Exeter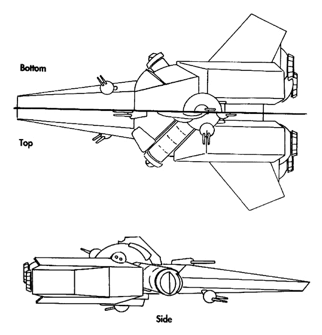 Class: Destroyer
Length: 360 Meters
Mass: 8000 tonnes
Max Velocity: 150 kps
Cruise Velocity: 100 kps
Acceleration: Poor
Maximum Yaw: 2 dps
Maximum Pitch: 2 dps
Maximum Roll: 2 dps
Weapons: Classified
Shields: Fore: 25 cm equivalent; Aft: 25 cm equivalent.
Armour: Front: 22 cm; Right: 20 cm; Left: 20 cm; Rear: 20 cm.

This is the equivalent of Kilarthi Ralari destroyer, but it's actually a little bit better protected armour-wise. It's still not much and doesn't make a whole lot of difference in reality when it is being pounded by several 6-gun Jalthis.
Jalthi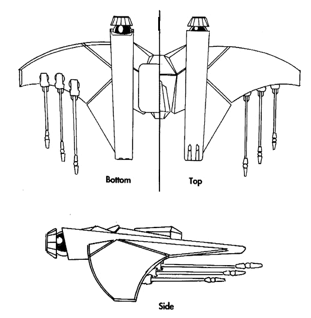 Class: Heavy fighter
Length: 32 Meters
Mass: 22 tonnes
Max Velocity: 280 kps
Cruise Velocity: 200 kps
Acceleration: Average
Maximum Yaw: 5 dps
Maximum Pitch: 5 dps
Maximum Roll: 5 dps
Weapons: Neutron Guns (2x), Laser Cannon (4x), Friend-or-Foe Missiles (2x), Heat Seeking Missiles (3x)
Shields: Fore: 16 cm equivalent; Aft: 16 cm equivalent.
Armour: Front: 20 cm; Right: 17 cm; Left: 17 cm; Rear: 10 cm.

It's a little slow and has very weak rear end (this seems to contradict with what Angel told us earlier), but otherwise this is quite scary. With all those guns you really don't want to face them from the front (in this particular mission, we didn't have to as they were focusing on the Exeter, but just you wait...).
And, another medal, our first Gold star. You need to save the destroyer plus destroy at least either all Salthis or all Jalthis to get it--the requirement is pretty low except for the destroyer bit. It's possible to win the Gimle series even if you don't save the destroyer, but I think that would be quite hard to achieve as you would need to get all other available points. With Angel at your wing, this is unlikely to happen as she WILL get in at least one kill at some point.
We are running out of space on our uniform: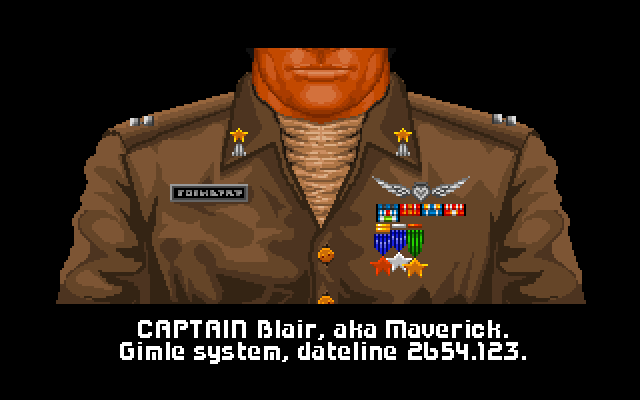 And slowly inching towards the top: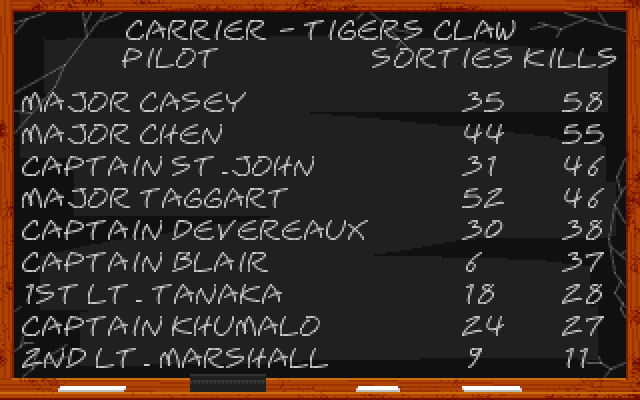 Bonus
Unlike the original DOS version, when WC1 was released in Japan on SNES/Super Famicom it featured a full-colour manual. Also featured were a completely redone drawings of all pilots that were present in black and white in the English manual. So here they are, Super Happy ~Wing Commander~ Anime characters: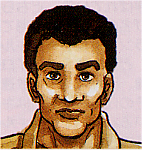 Next time on Wing Commander
A short ride in a fast machine!