Part 8: Iron Keys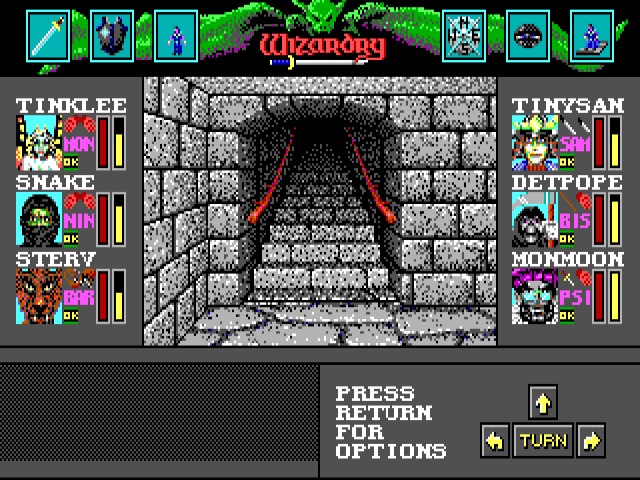 Let's go up. There may be good stuff there.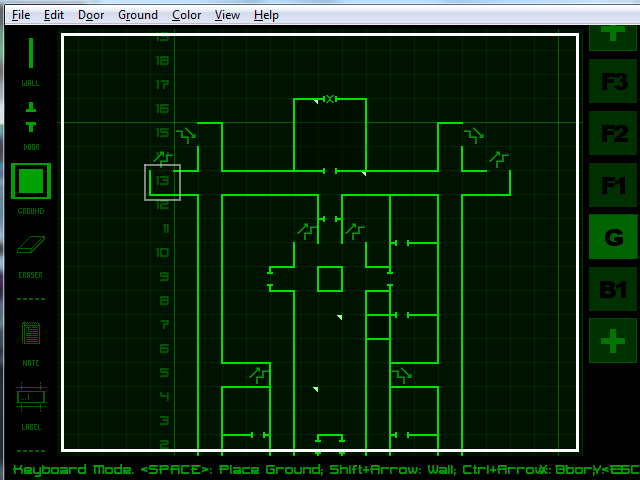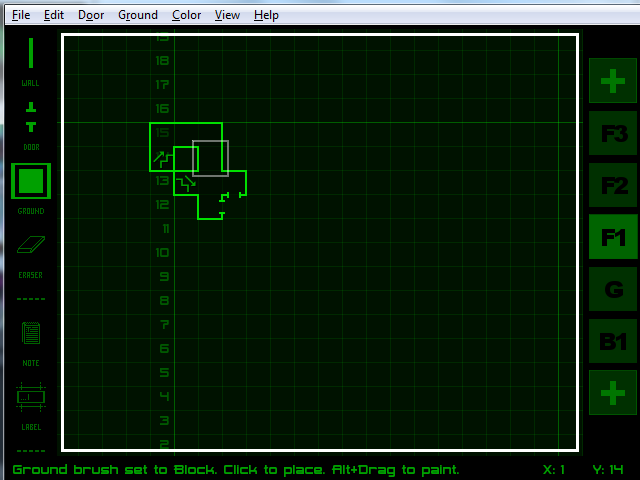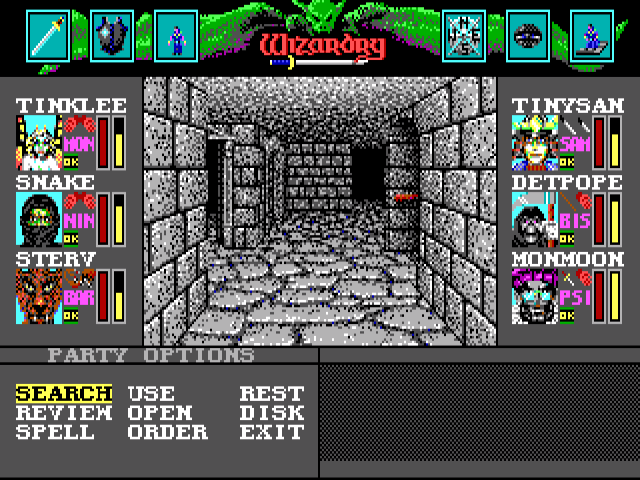 Well this is interesting. It is more than just a simple tower.
There are some open doorways and passages.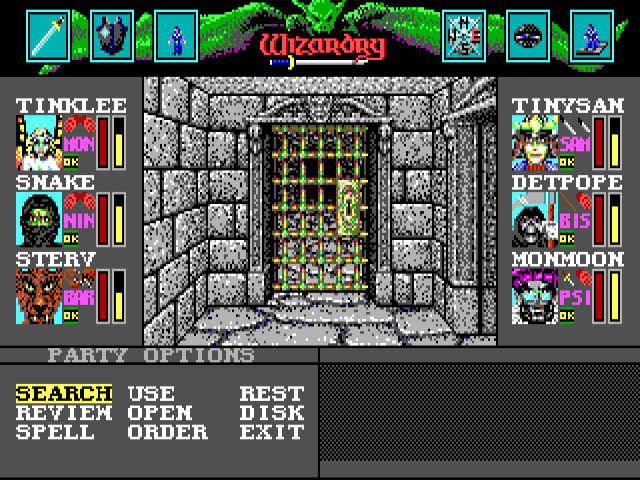 Also, closed doors. That is annoying.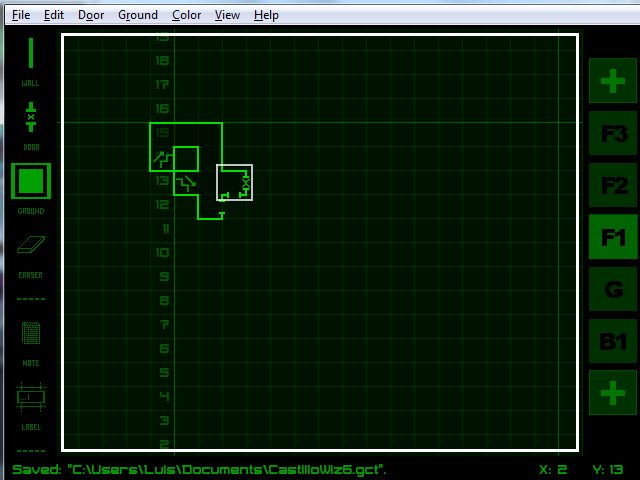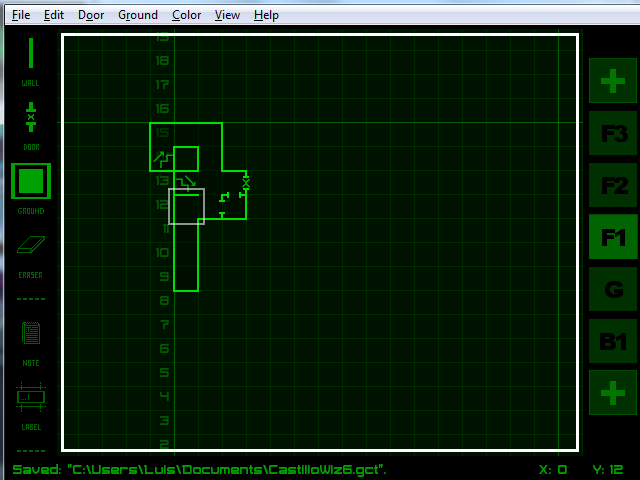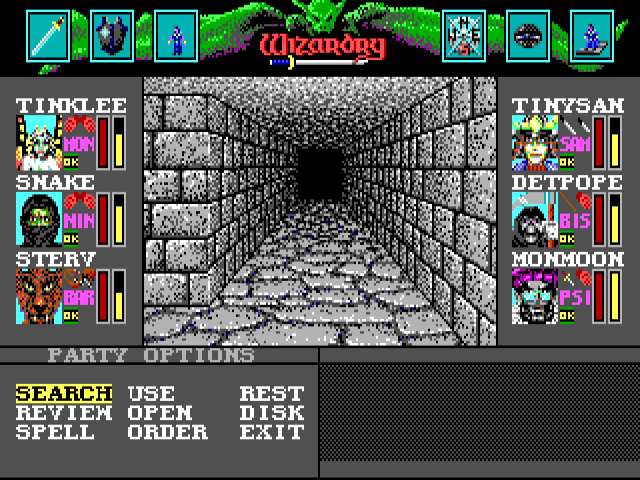 But at least it is different!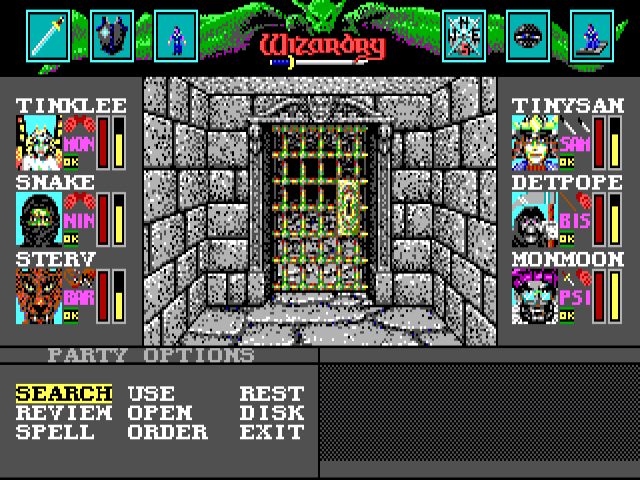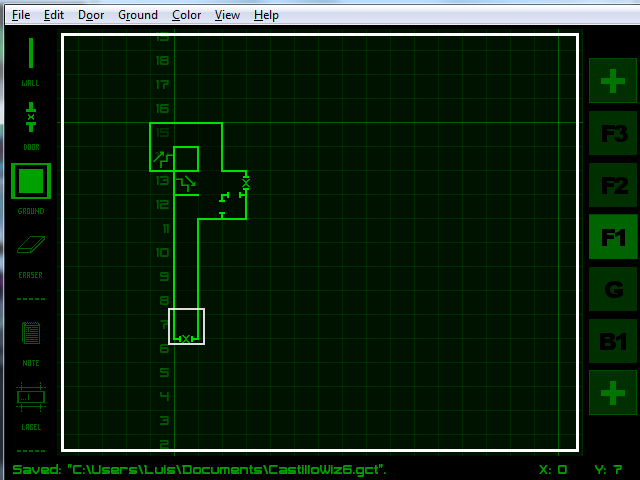 More damn closed doors. Right no there is no way to open them. Hopefully that changes in the near future.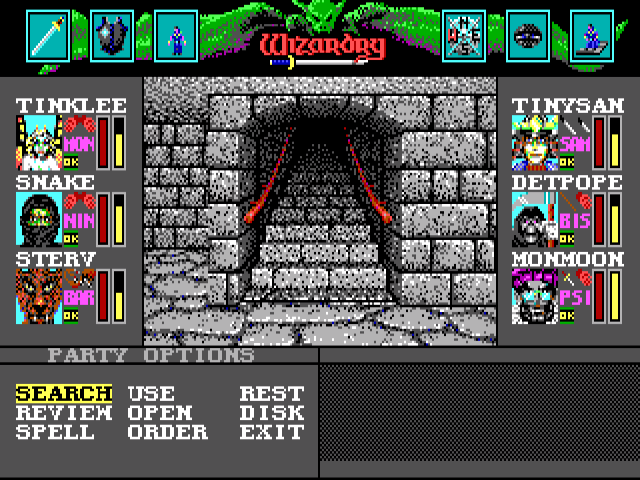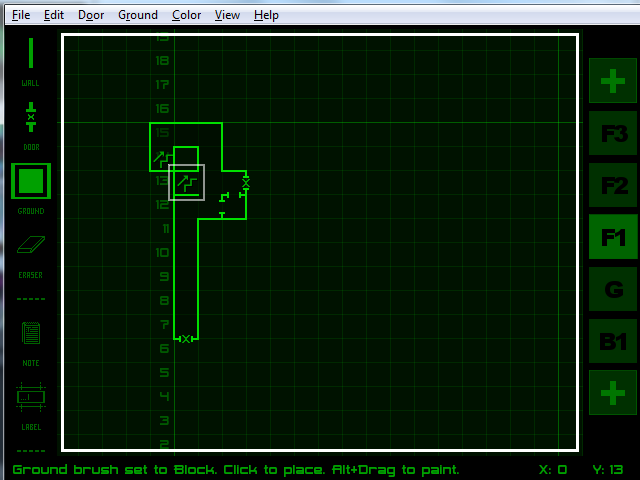 Nothing to do, so let's just go up.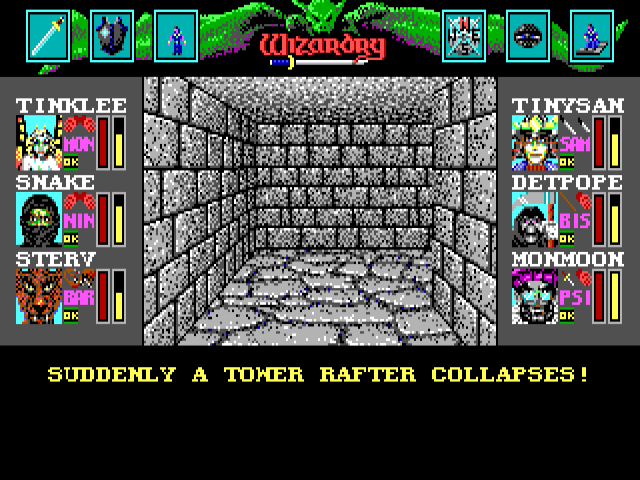 : "AAAAAAAAAAAAAAAGH"

; "Who would have expected an old, abandoned castle to be in such a state of disrepair?"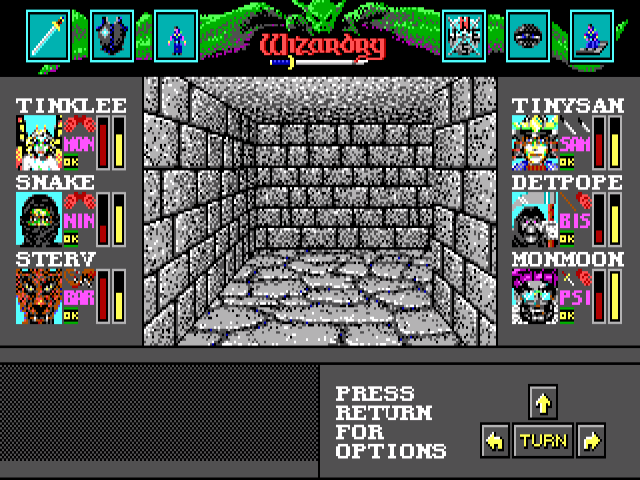 Damnit. If they had been hurt from a previous encounter that would be problematic.
Well, maybe problematic, the party DOES have an item that can revive them up to seven times so that's a thing.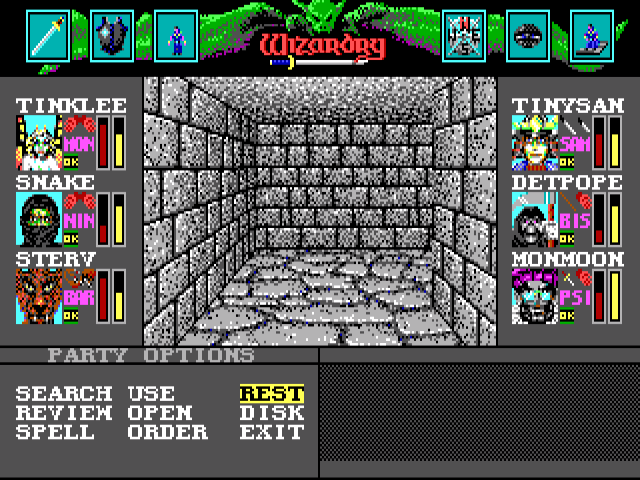 : "LET'S CAMP HERE. WE'VE ALREADY SUFFERED A SUPPORT FALLING ON US, SO IT IS PROBABLY SAFER HERE THAN ELSEWHERE. YOU NEVER KNOW WHEN SOMETHING NEW IS GOING TO FALL ON YOUR HEAD."

: "Yes because staying under a place where the support has collapsed is the safest course of action."

: "QUESTIONING MY COMMANDS IS NOT THE SAFEST COURSE OF ACTION, YOU KNOW."

: "
He's just cranky because he is hurt, surely.
"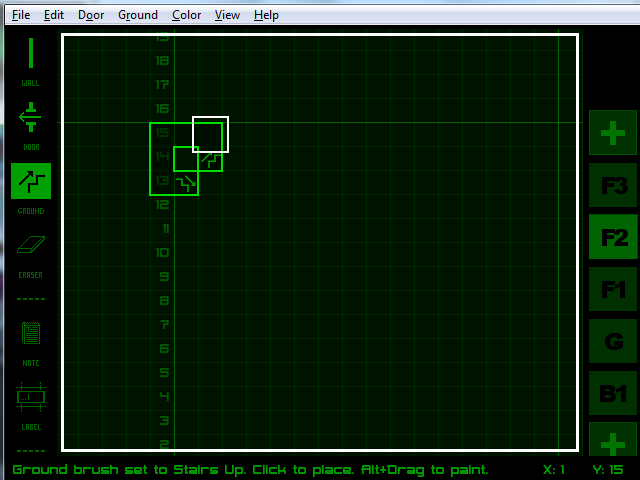 Goin' up.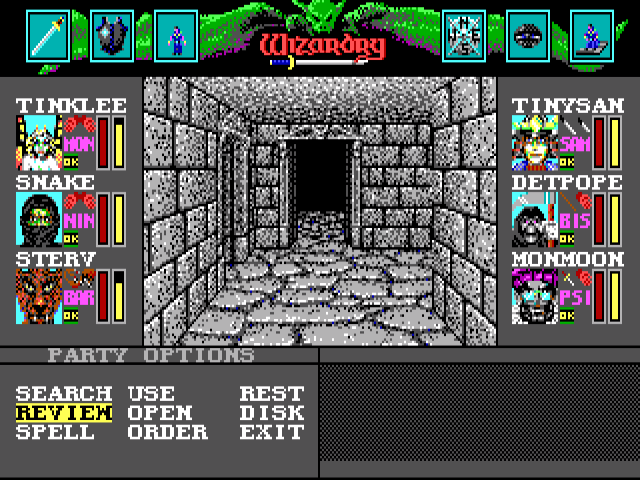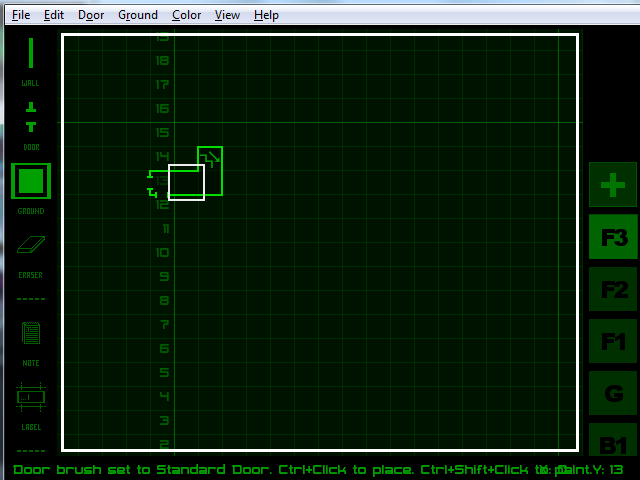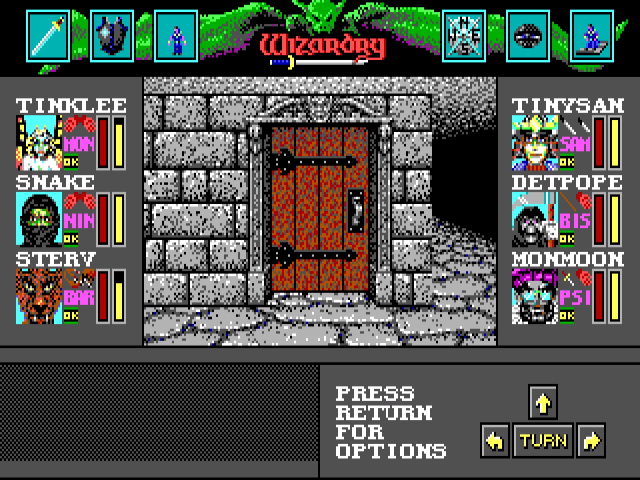 Hm, I wonder if this is closed.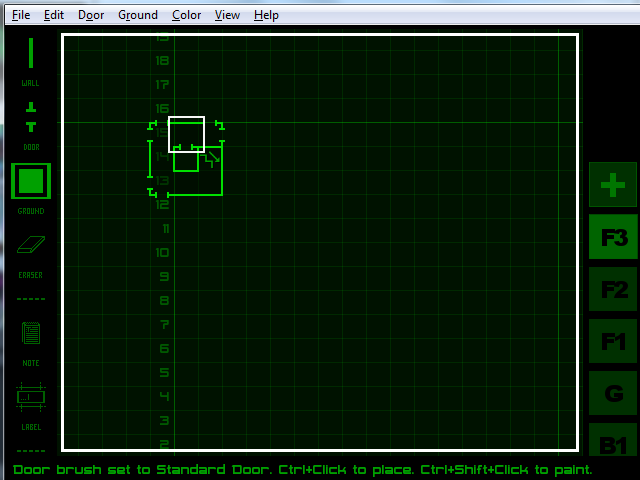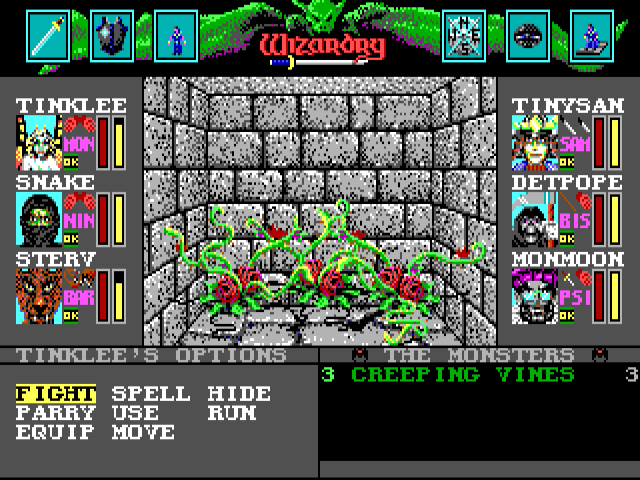 Nope, wide open. That is a good thing.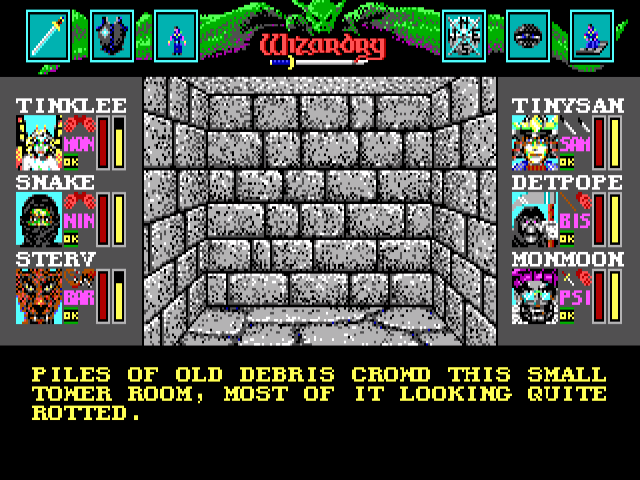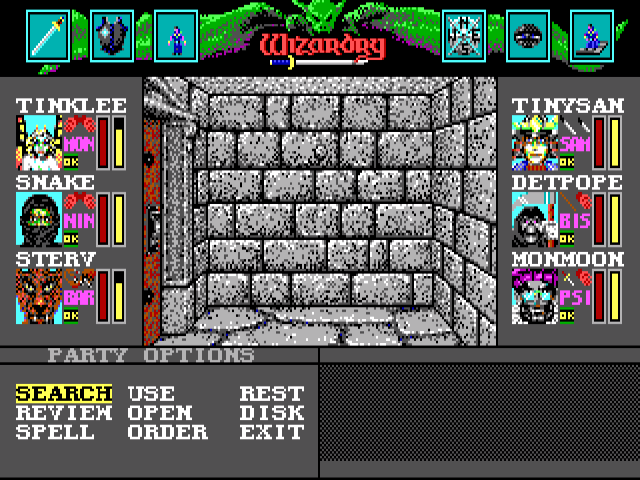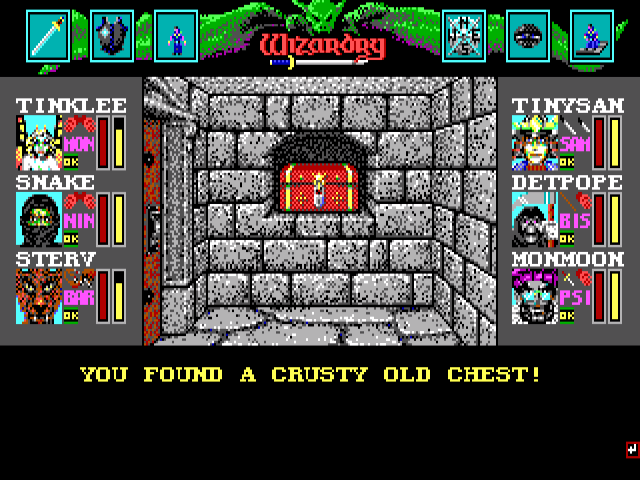 And hooray! Treasure!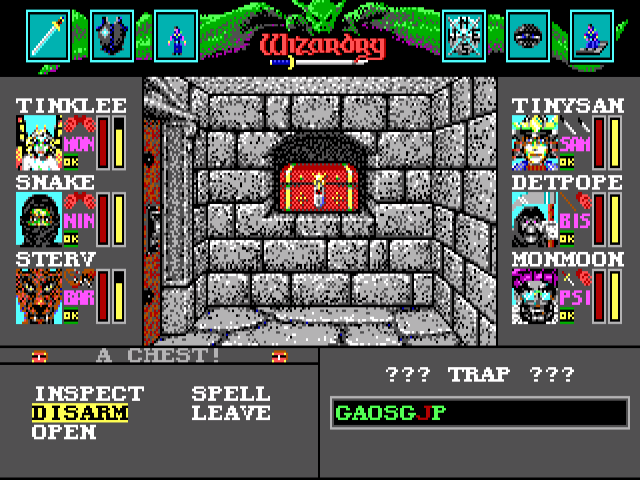 The way disarming traps works is that by checking it, you get a bunch of letters that might be in the name of whatever trap is there. Of course, that is affected on how GOOD your dudes are in detecting traps, and they can be quite wrong, it seems! They are also not in order. Red and Green. Red is possibly wrong letters, green is "pretty sure it is in there", because fuck colorblind people, that's why.
Actually not sure if those particular colors would be problematic for colorblind people, but I am going to assume that they are.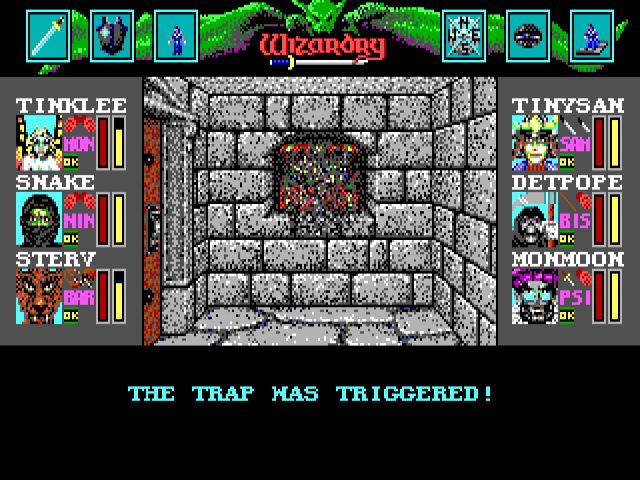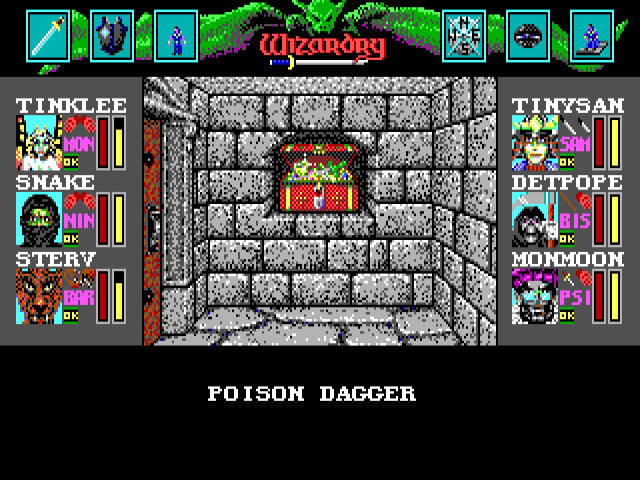 WELP. The letters seem to have been there!
POISON DAGGER
PO S AGG
while the J was nowhere to be seen. Too bad they did not properly disarm it.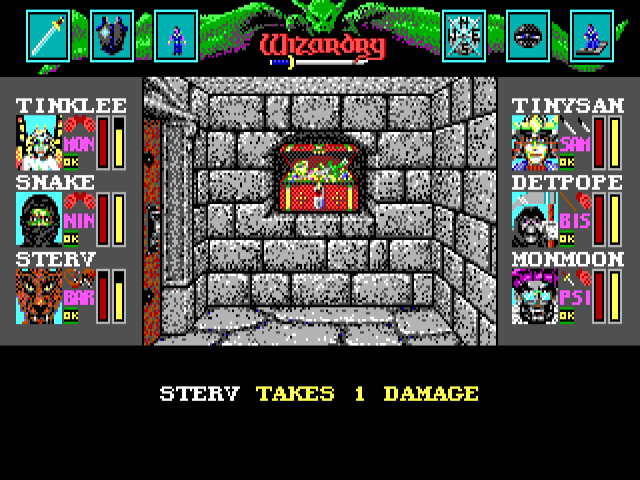 And VERY LUCKY that STERV did not get poisoned. Only 1 damage. Eh. Could be worse.
Also, whatever trap is there it gets randomized with each reload. Fun.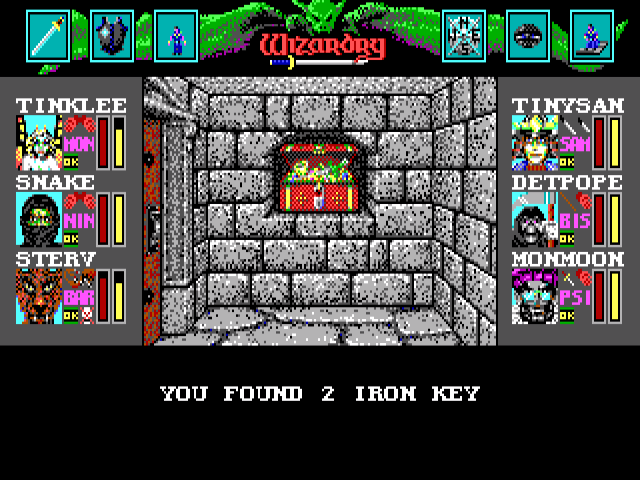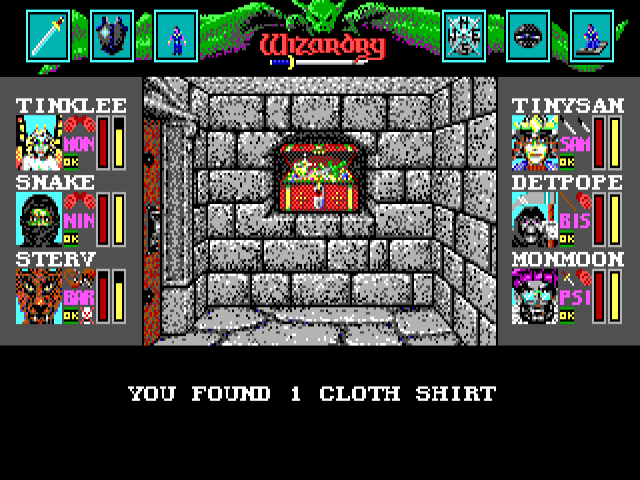 The amount of keys also. HAD ONE roll with 3 keys, but it had killed MONMOON. Not good since wasting a charge of the amulet THAT way would be silly.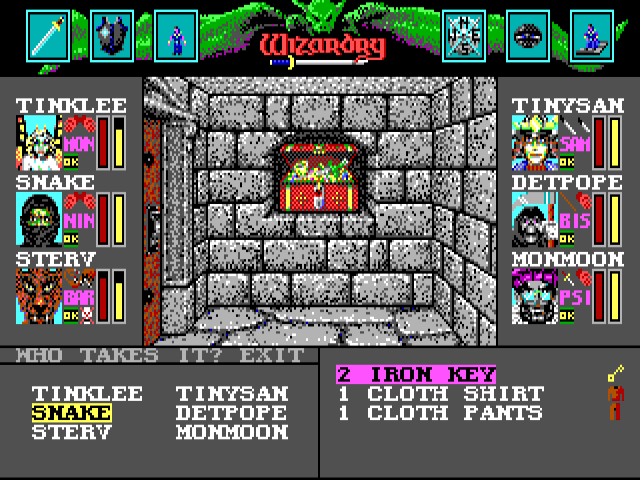 SNAKE gets the key holding duties. Because why not? He already has the key of the Ramm so eh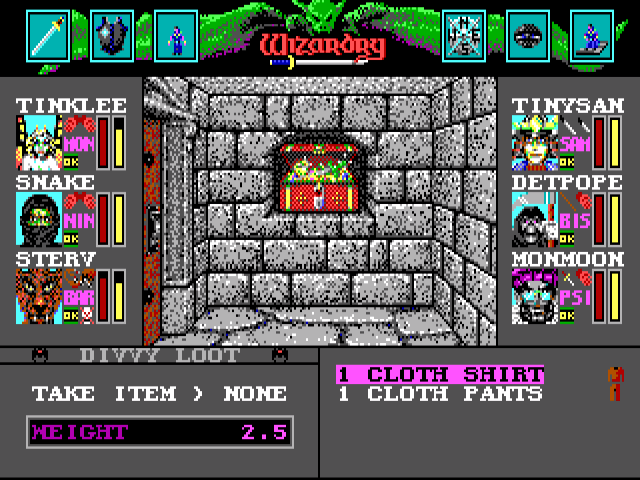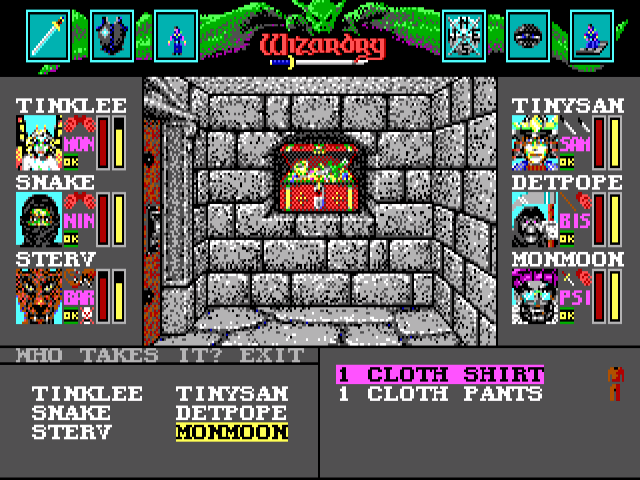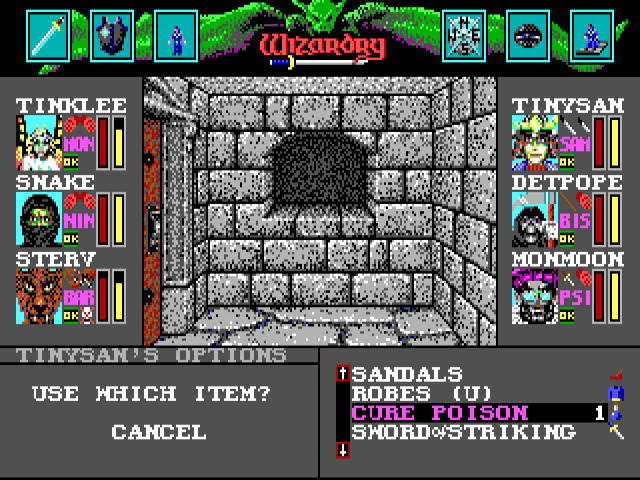 MONMOON can't use this shit. But he'll hold it for a while.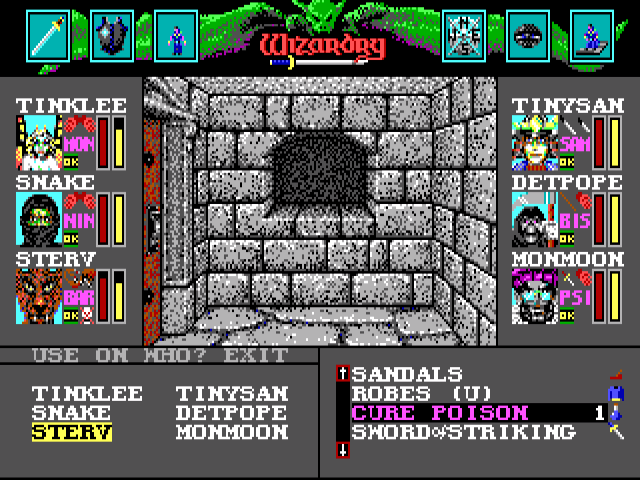 Let's waste the poison cure on STERV. Sure. Why not.

: "AGH, it tastes like day old hairball!"

: "I am not even going to ask HOW you know what that tastes like. I don't want to know."

: "Learned that when"

: "SHUT UP. NO ONE WANTS TO KNOW."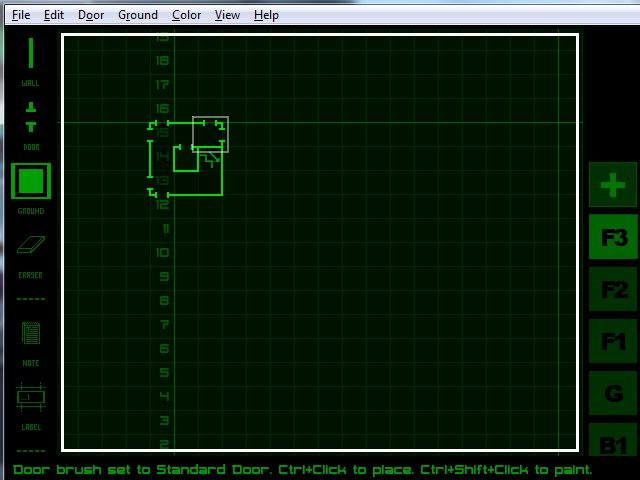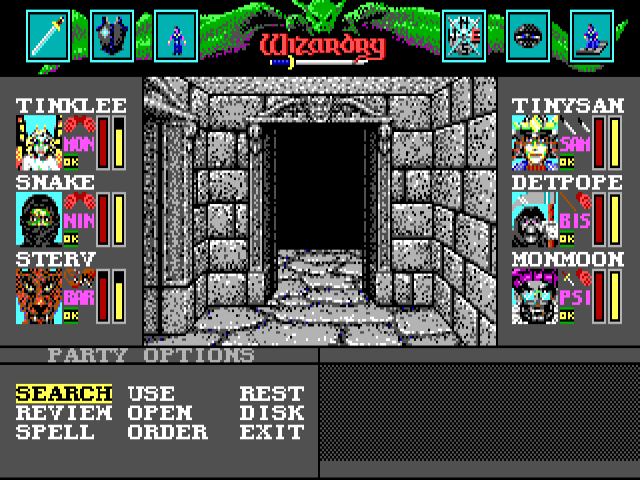 Let's check the outer ring. There may be something interesting there.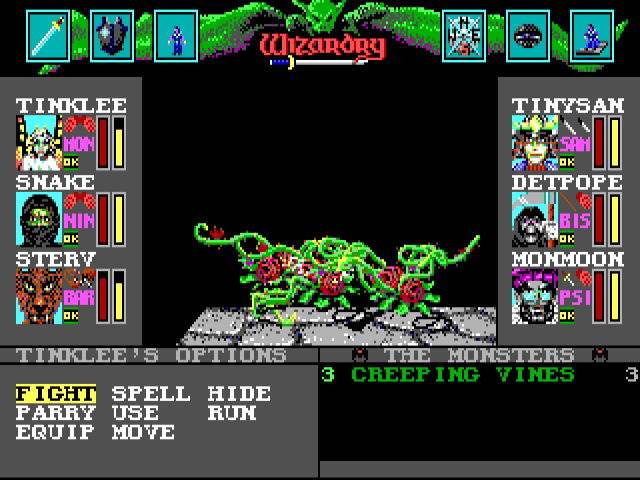 Gutter vines!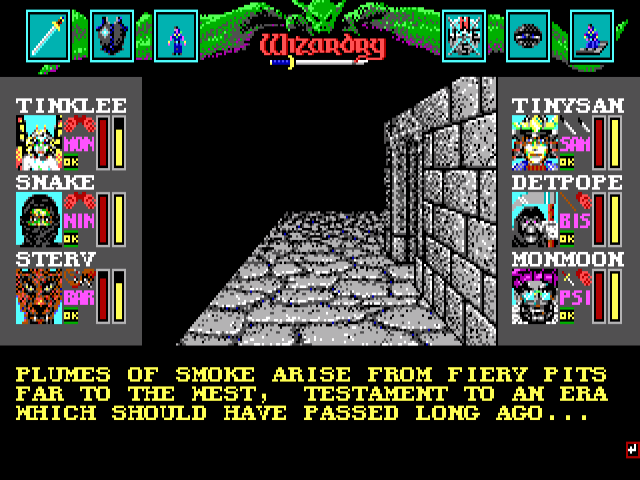 Hm. That does sound ominous doesn't it?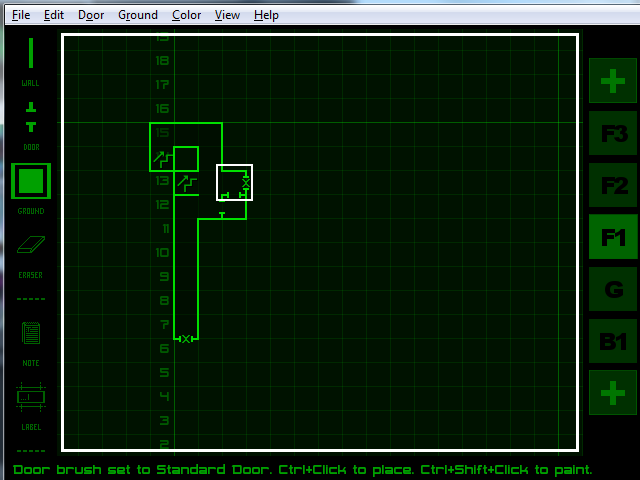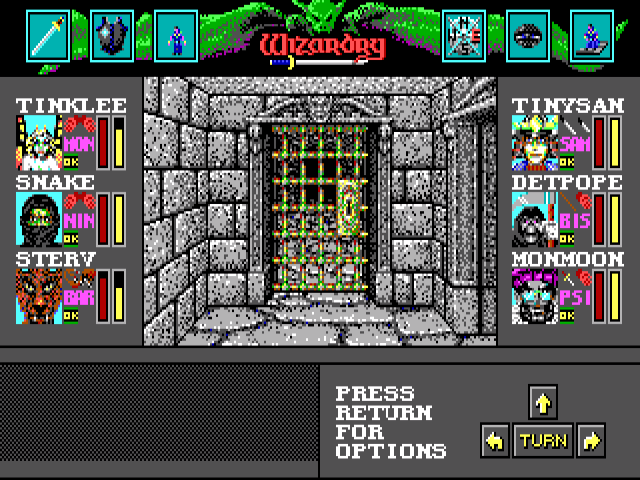 Yeah, can't do shit here. Let's just go down.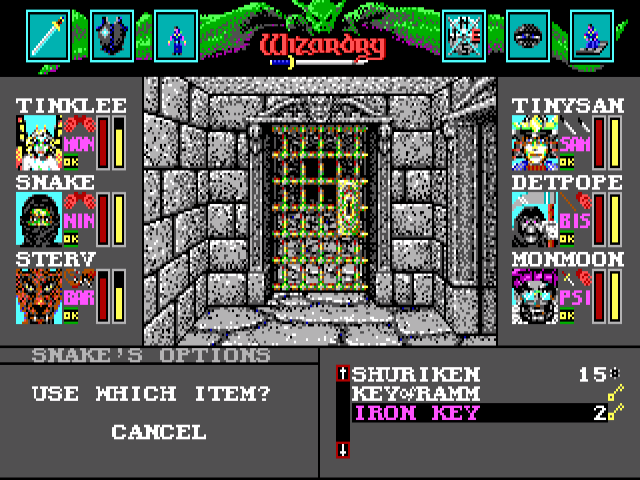 This doesn't work. But THERE WAS a door that we could use it on.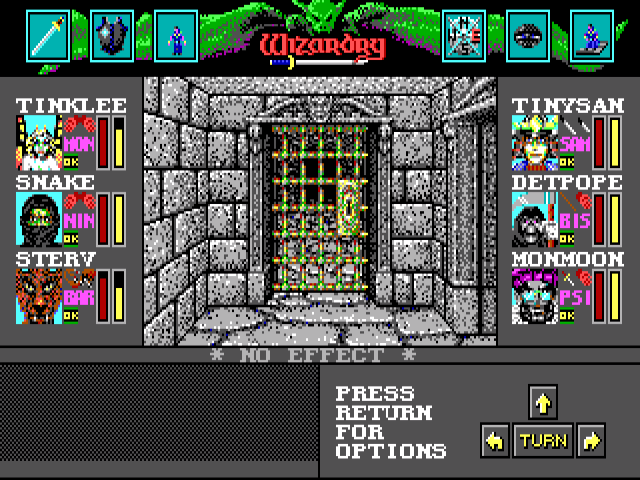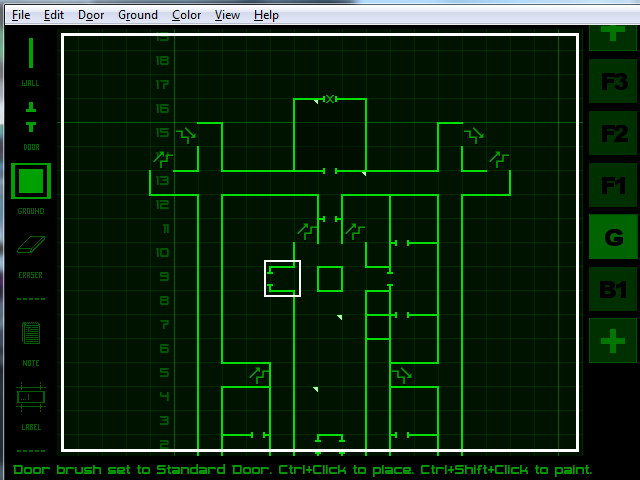 This one. Let's go back to the ground floor.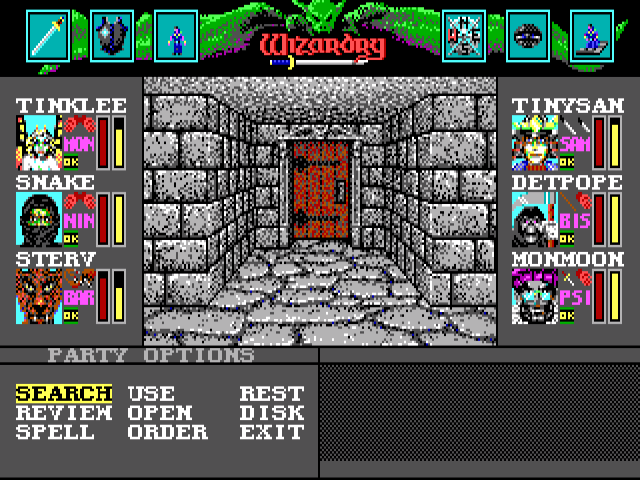 It is jammed. TINKLEE could not knock it down. Which I found weird.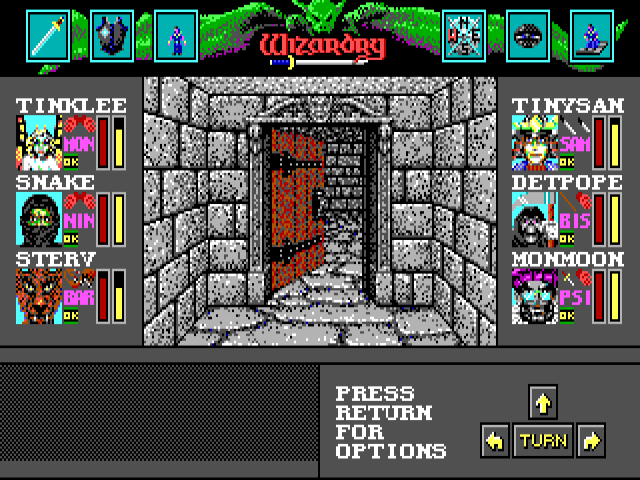 Iron Keys are consumable, so using this one makes it not work anymore I am gonna assume that the key just stays stuck in the keyhole.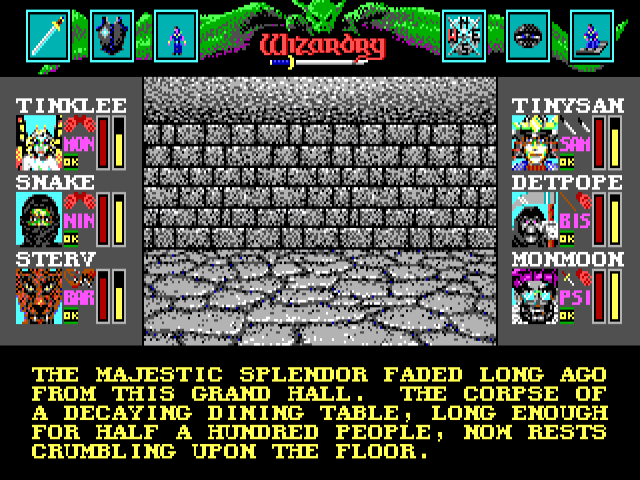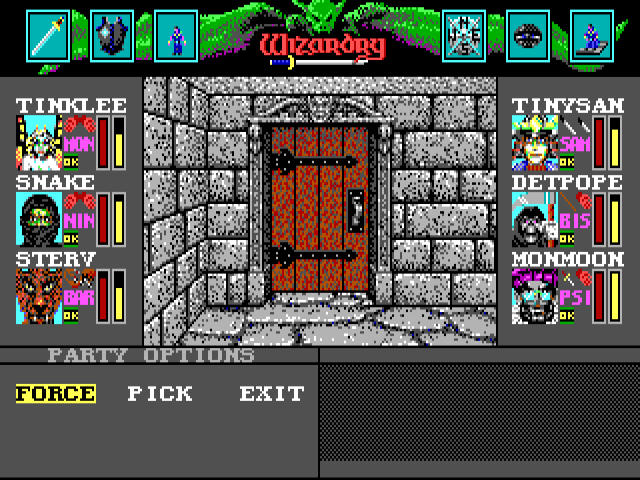 And here is something. I did not realize that the Stamina war was SO important. It affects EVERYTHING you can do. The door got stuck because TINKLEE could not muster enough strength to surpass its resistance.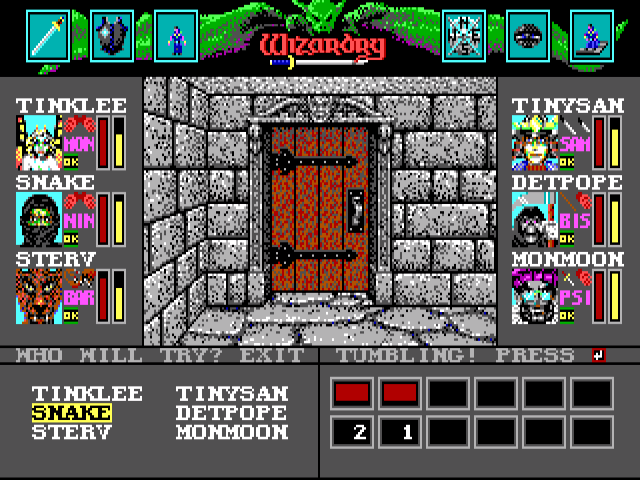 SNAKE and STERV cannot pick locks juuust yet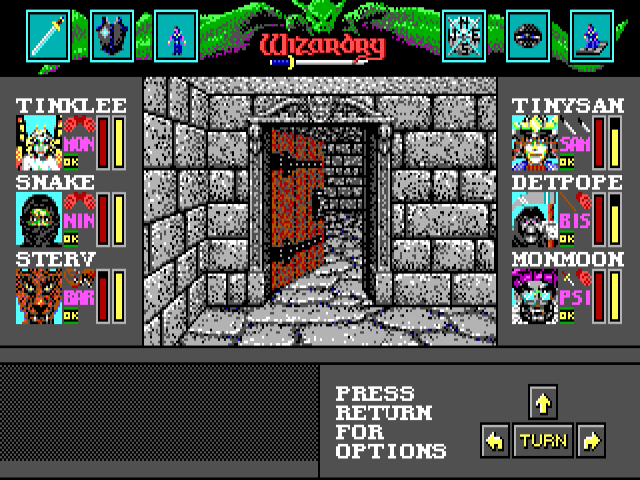 But after drinking from the fountain, TINKLEE can easily just open it.

: "I told you, it's all just a question of putting your back into it."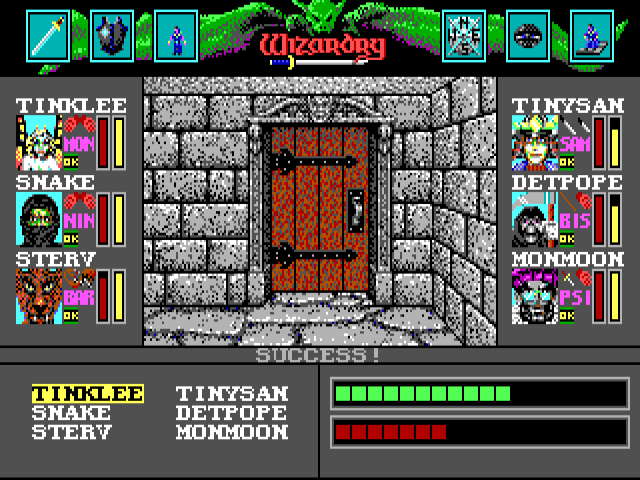 Yeah. Like this. With less stamina? It doesn't work. At all.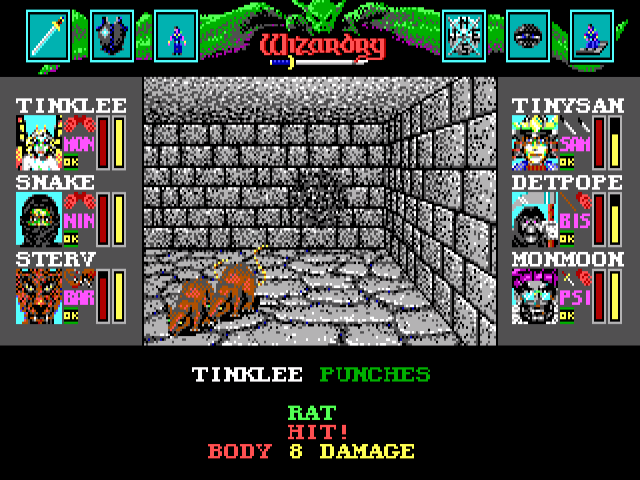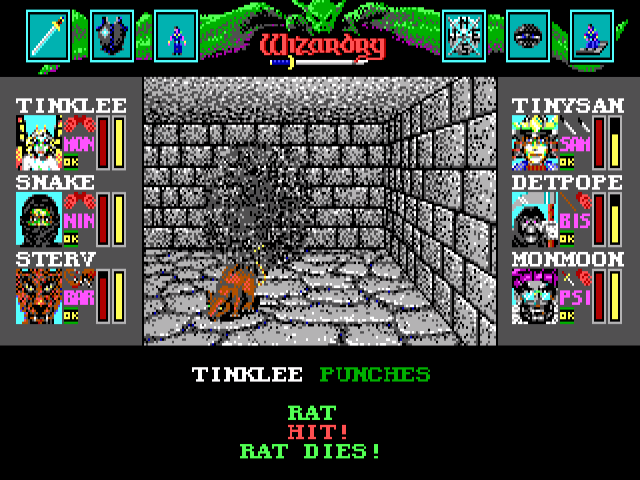 Hell yeah. Fairy monk hits well.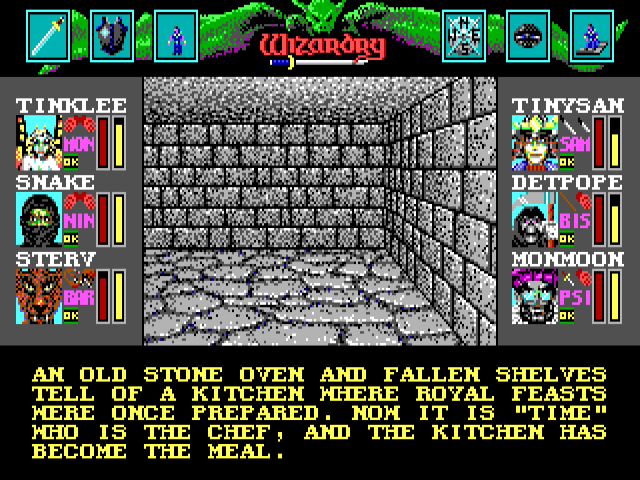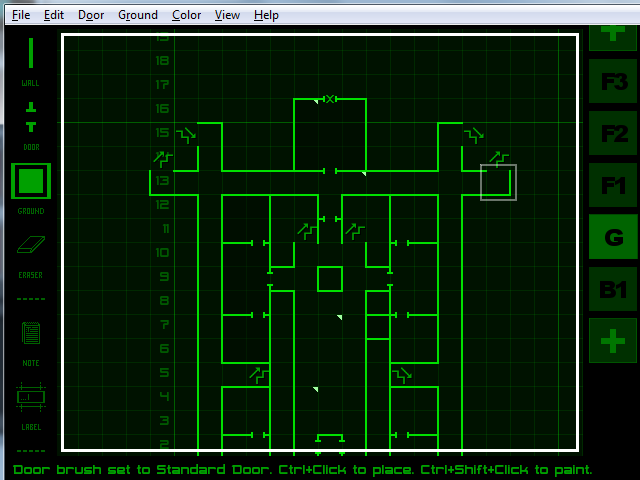 Well, that was a thing.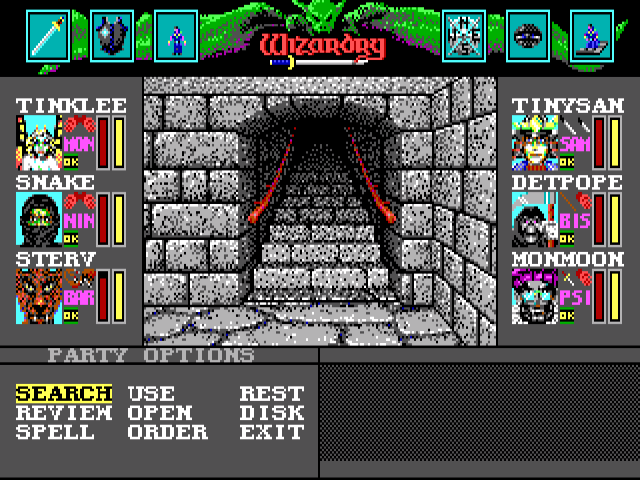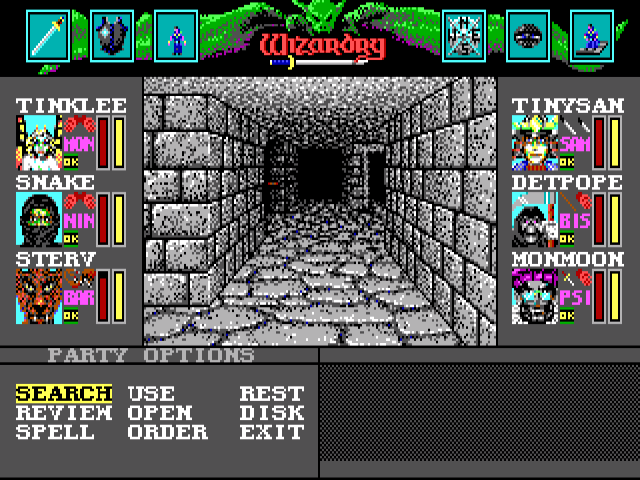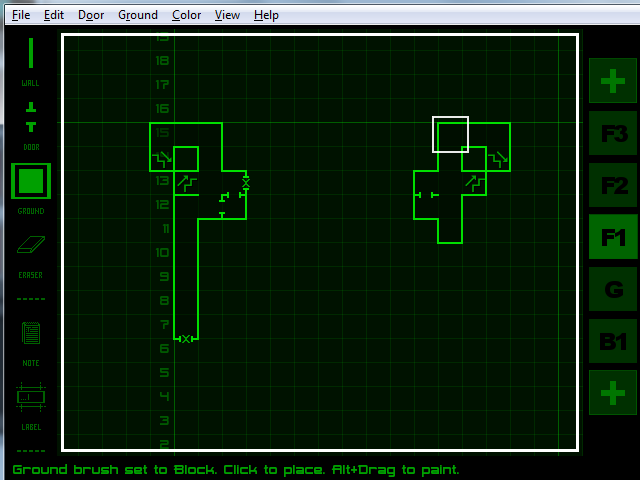 Goin' up.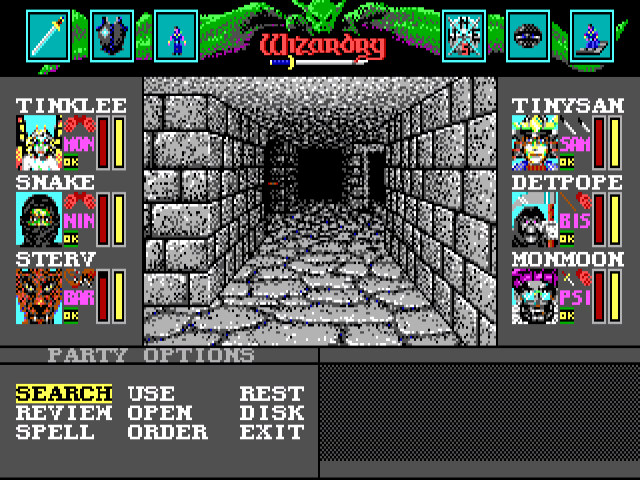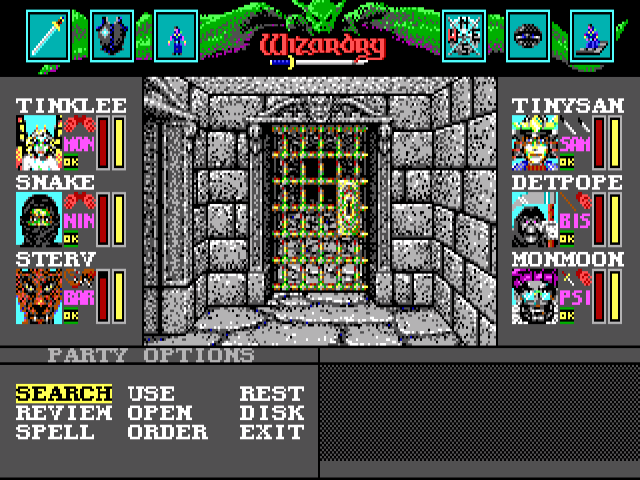 Looks pretty much just like a mirror version of the northwestern tower.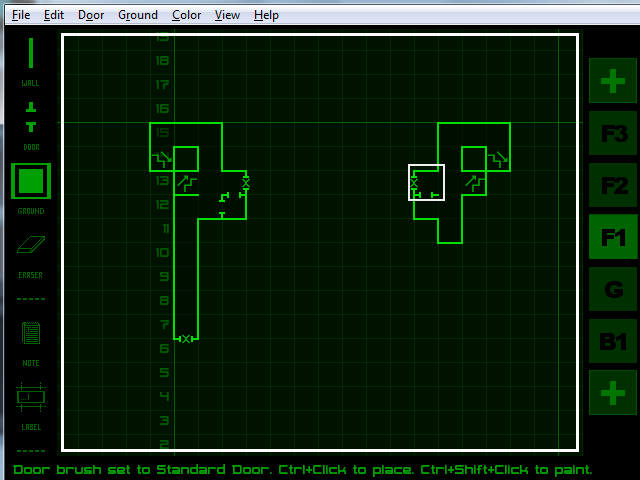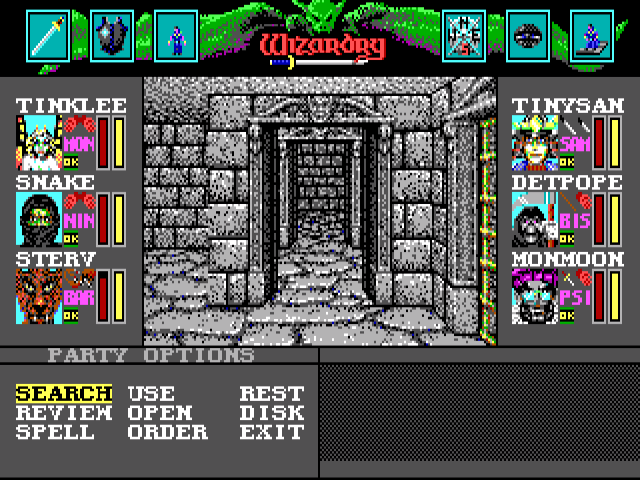 Except it has something else!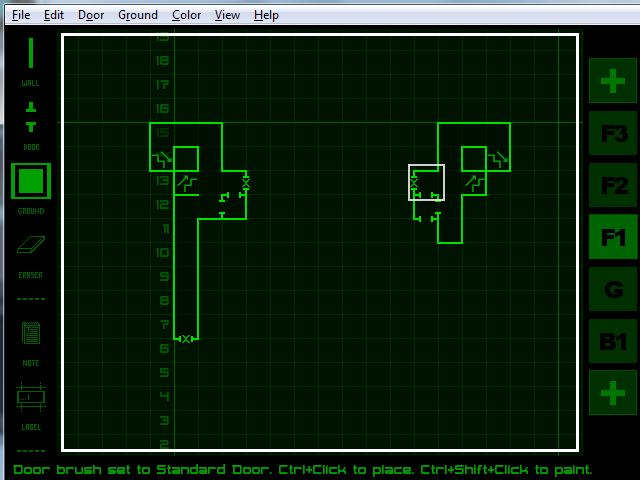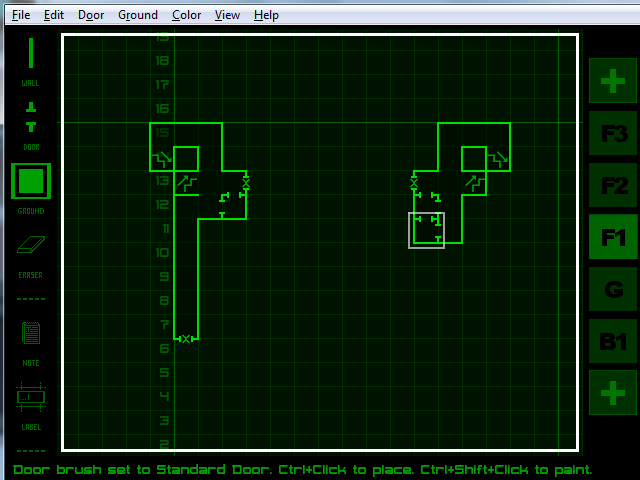 Weird room!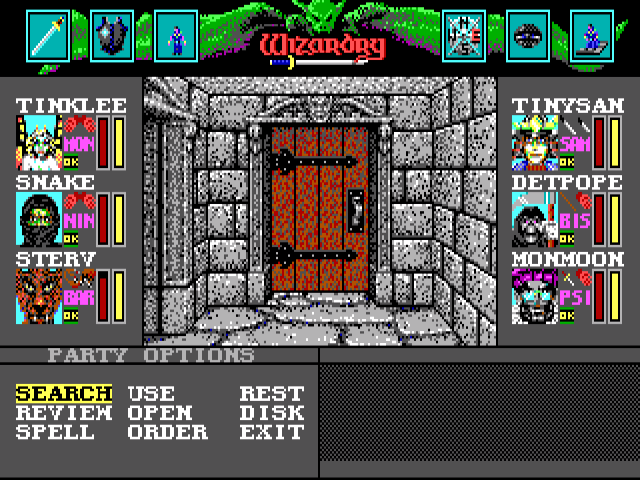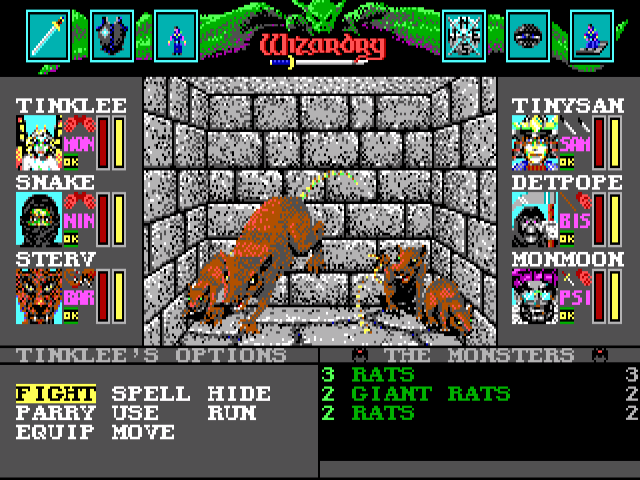 : "Rats!"

: "Lots of them!"

: "And big ones! But size doesn't matter!"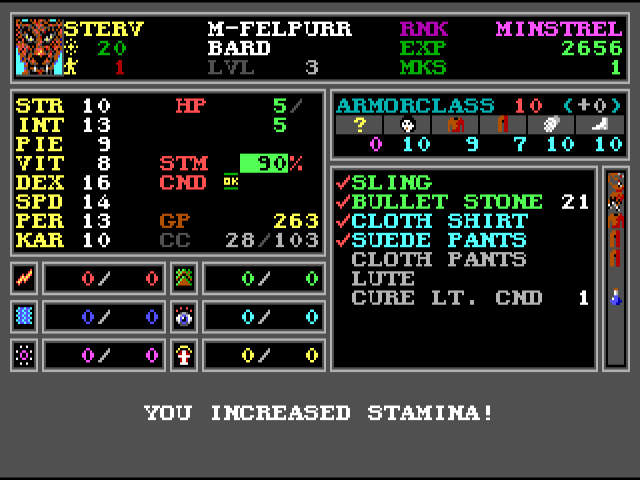 STERV gets a level up right there.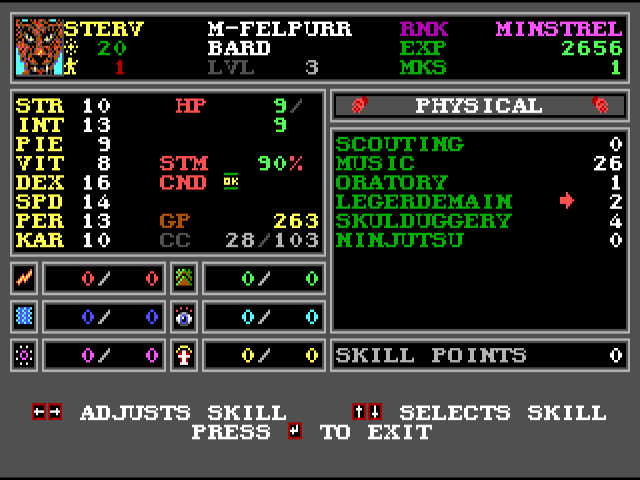 He's the worst thief. His skulduggery is also low. TOo bad we did not get a good bunch of skill points. Could've probably just reloaded and hope for a better skill point roll, but that'll do. Eh.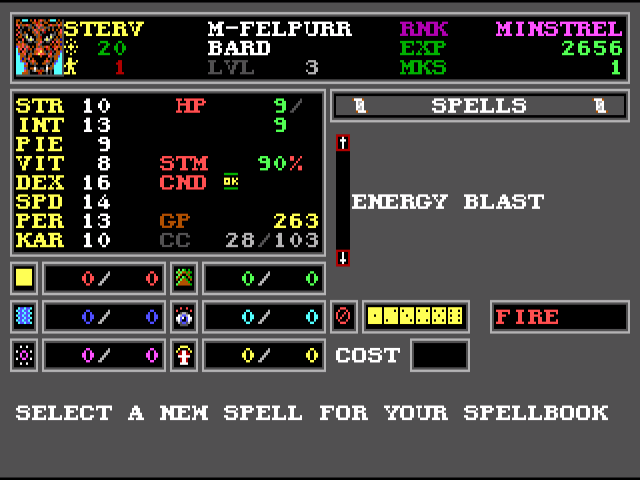 He also gets a nice new spell.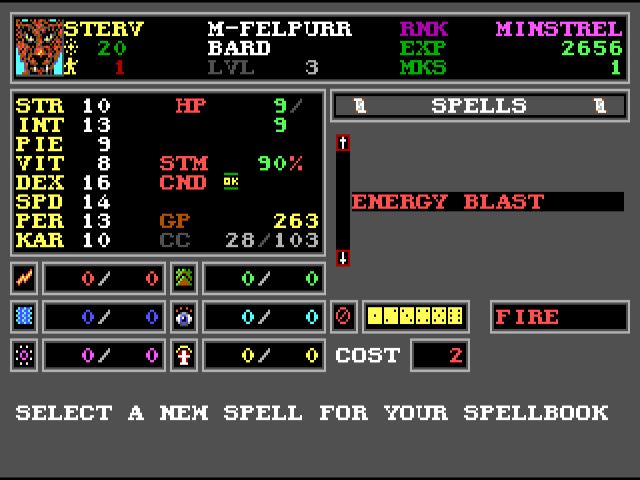 Sure. That'll work for the moment.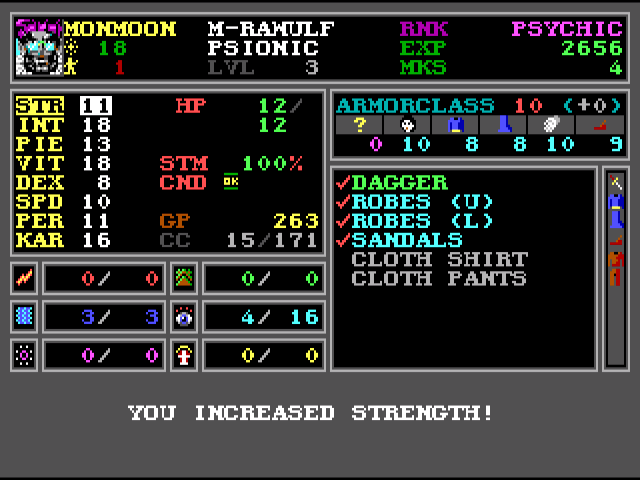 MONMOON also became marginally more useful!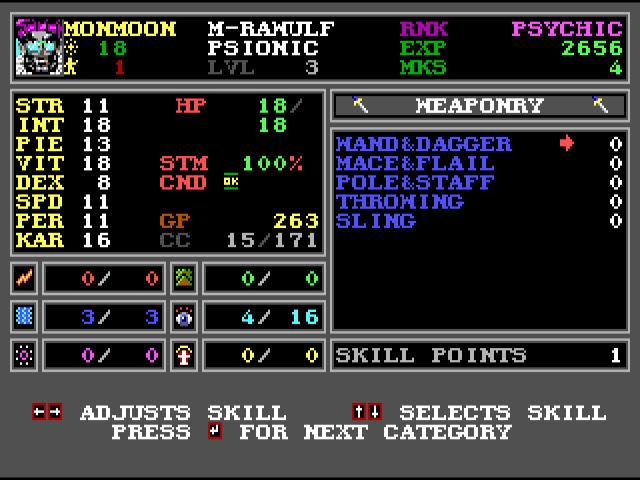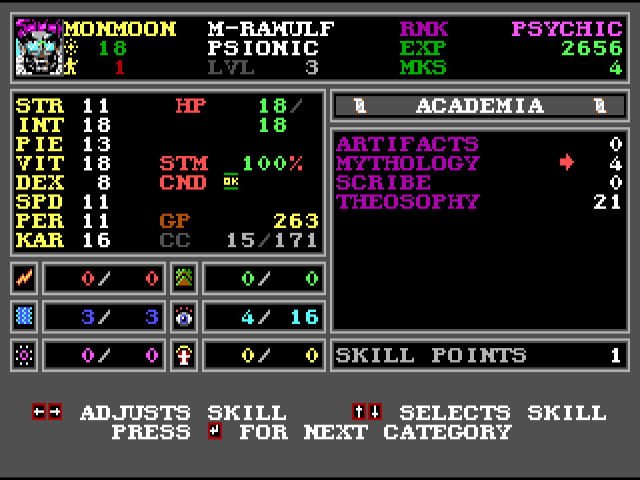 And this will let him recognize enemies slightly better.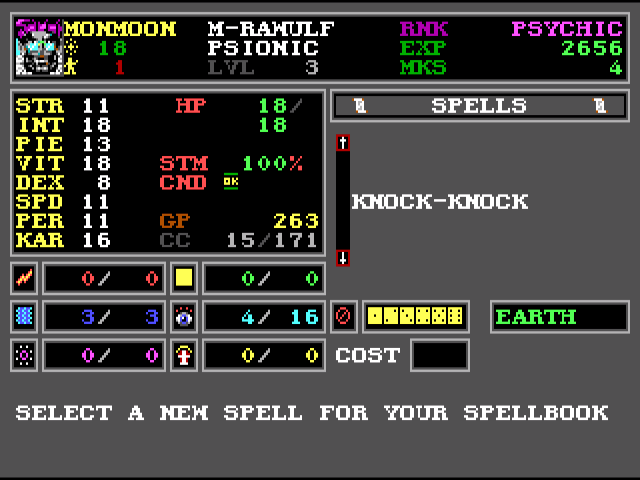 And another useful spell! This one opens doors. Unlocks. Yes.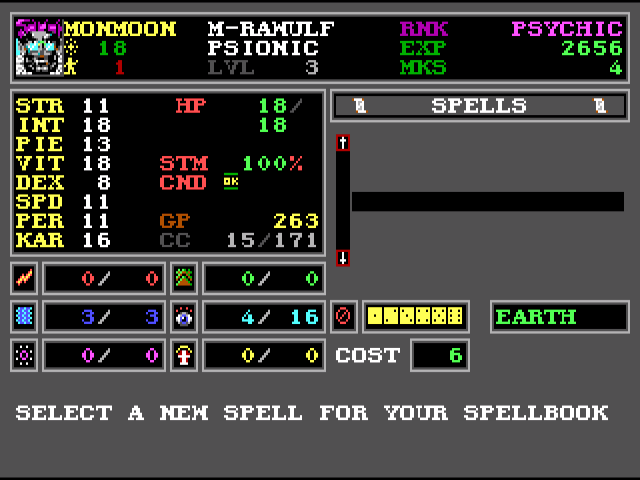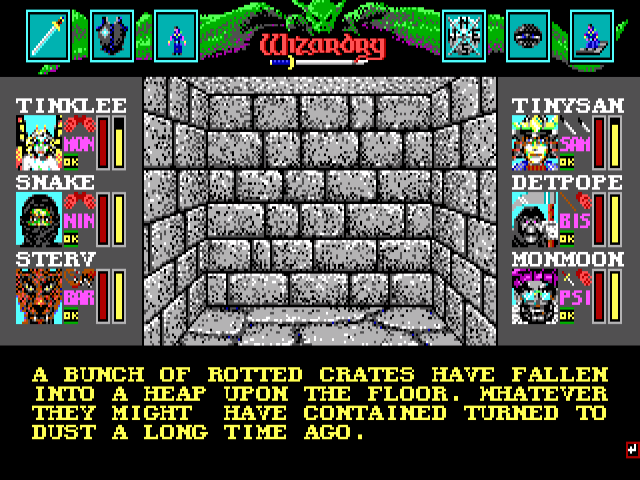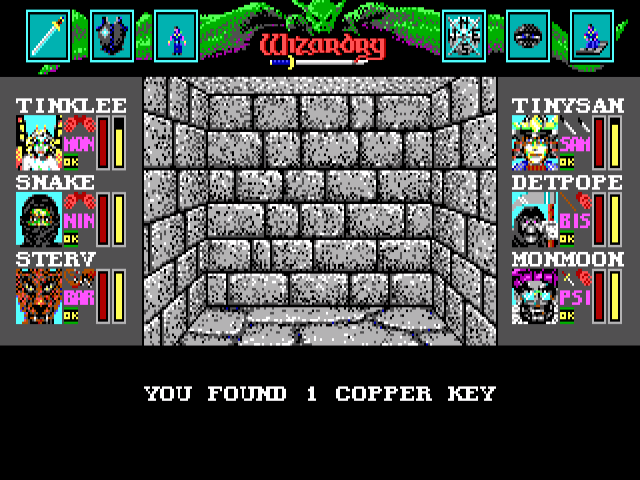 Huh, a new key type. Will this work in those greenish metal doors? Couldn't hurt to check!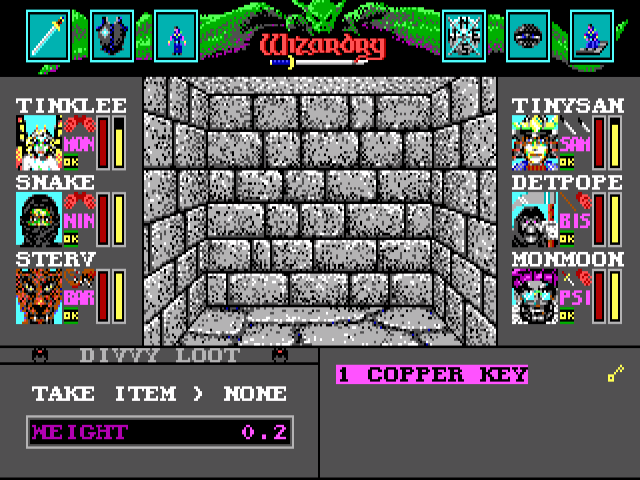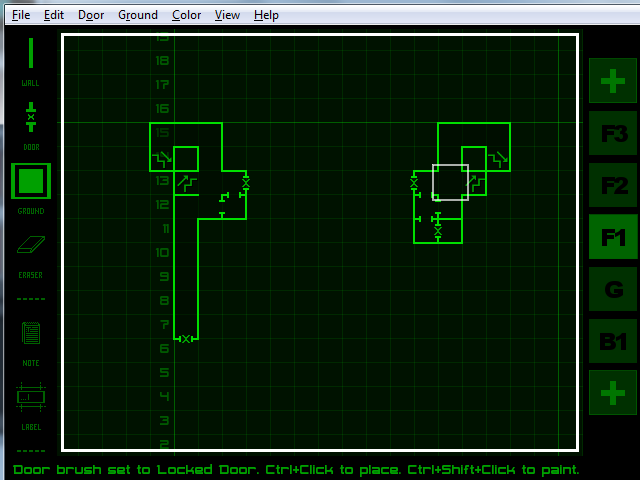 We'll check that next time.