Part 18: Update/Video 18
Update/Video 18
So at the end of these XCOM threads I like to post all the unused and extra things I have in my TFTD folder in one giant text dump. You guys like text dumps, right?
First, the applications. You can download all the applications as word .docs. I've split them into three roughly equal sized portions for your convenience.
Applications received through GMail
Applications received through Private Messaging
Applications received from Arrrthritis
I'd like to thank Arrrthritis for being the only person, as far as I know, to submit more than one application. I don't believe I left any personal info in those documents like real names or emails, but if I did, be sure to tell me and maybe I'll edit it out and reupload the docs. I mean it's not like you're going to get any more spam than what I already signed you all up for anyway so it's not a big deal.
Here are the images people attached to the applications as I mentioned in the final video.
Felime with the clever Zanderbuck: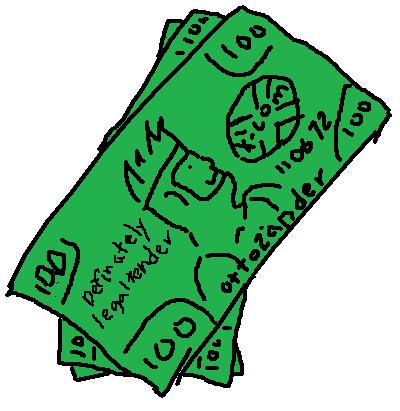 Noshtane sending me worthless, nearly on par Benjamins: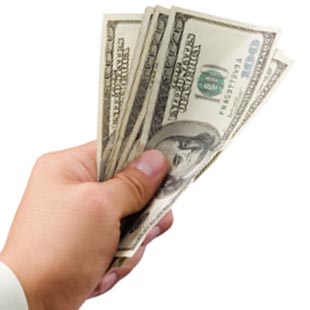 SenorSpangiel knows the deal by sending this three times, even if he didn't resize the image properly. Our money is just as rectangular as yours.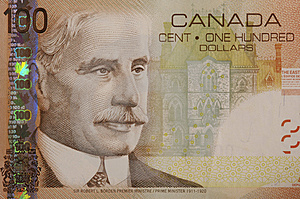 Mord A Edil though comes through as the clear winner: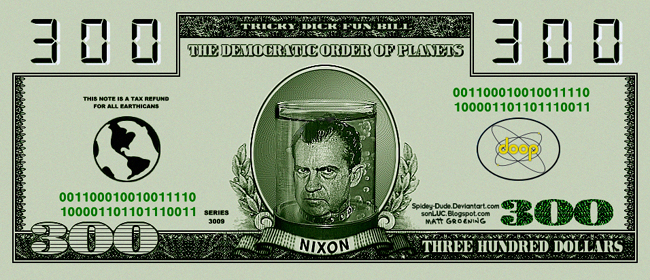 Gatac is a cheap bastard: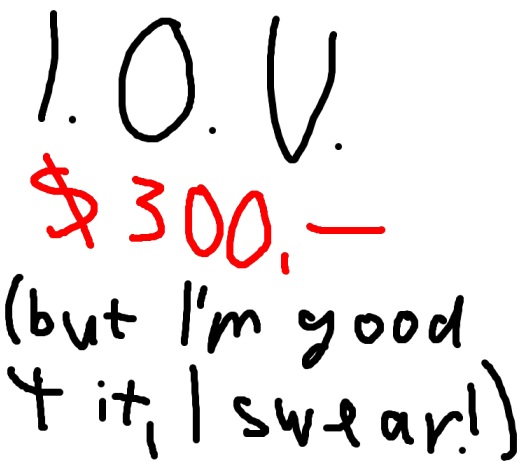 Beeswax doesn't know what the fuck.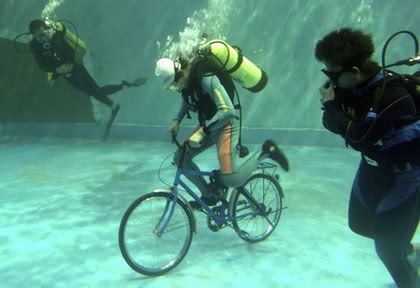 All of you deserve special credit for not shitting up this thread with "fuck the sea, and everything in it" or other C'thulhu related crap. You found your own crap to shit this thread up with.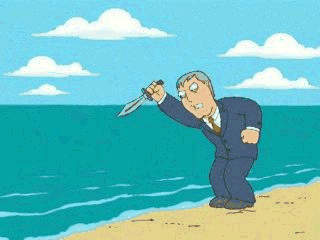 In Apocalypse I killed 98 of you. I tried a little harder in UFO Defense and casually slaughtered 130 goons. This time I went all out and in a much shorter thread I savagely ended 152 people. Here are your names, ranked from best application to worst.
Studly
ThunderPollen
Felime
Skully Bullets
Abugadu
The Casualty
Harry Headcrab Jenkinson
Gatac
Hankor
Nicholas E Buntline III
Waylon Gesundheit
a man of ill repute
hafl
Tiny Turtle
Clayton "striker" Pinkle
Number 36 v2
Tikiglass
Geno Soup Soprelli
Thaddius the Large
Hans Remote
MaskedHuzzah
Chewbot
docfrance
Terror Van
MJ12
Nicholai Xavier Cangelosi (NX Cang)
Elman Dahuevos
Lairek
Kliff Kowalski
Lloyd "grandpathong" Braddock
Bobbin Threadbare
Kermit "Sirocco" Hannon
Lilac-one
LordBaxter
bobvonunheil (oops you were ranked higher than this but I missed you)
Ignorance
Zyla
Hyrda, Duke of Cola
AMURICANN HERO
Golden N. Zucchini
Strange Matter
Anitcheese
RZApublican
CGChewinsburg
CannonFodder
Nemo2342
Sejs Cube
Joan Makille
Zaa Boogie
C Wren
Hbar
Heavy Neutrino
Professor Bling
Urcinius
Mehuyael
TGLT
Teledahn
Canuck
SenorSpangiel
Toki
Techokami
Phil Nye
Sad King Billy
Buzz Armstrong
Finkelstein
HitTheTargets
S.U.P. Meatbag
YOTC
Dareon
X_oran
Chester "Intern" Fenwick
Joespeh Lucky Joe Carlyle
notPsion
Daeren
PVtScott
Beeswax
Dirtanium
Unsupervised Horse
Caecilius Magnus Eruditus
Steelion
Black Balloon
Jack Anderson
Noshtane
Amnistar
JesusB
Dr_Amazing
Johnny Thrace
Ramc
Speleothing
Manfred Kruger
Toxic Frog
Angela Christine AC
Alexander 'Blight' Tankowski
Virtuality
Iamyourking
Ilanin
redreader
Humboldt Squid
PotatoManJack
Nimby
Arrest That Ass!
Demented Bill
Renegret
Luquos
FrickenMoron
Xavier Genisi
Finnish Flasher
Koboje
Shiver
GenericOVerusedName
Mord A Edill
Karate Bastard
Ellen de Bunchastu
Xcountryguy
Just Call Me Bob
Bluemage
Febreze
Tor
Magnus Nephilm
crucialityfactor
StringofLetters
Shark Mafia
kDanthe
PantslessScot
Doc William Hat
Pumpkinreaper
Cormack
Zoinker
Engineman First Class Chance II
Corporal Monty Cain
Dr. Doctor
Y-Hat
Dulkor
Jeremiah "Mythos" Allen
Rhumbus
Sarge Nytell
Char T. Iron
Magni
Randomosity
RaffyTaffy
Vlad Antlerkov
Drewjitsu
Dr. Danny Glover
Louis
Jon Irenicus
Nada
Wikus van der Merwe
Carl Sagan
Cowcaster
Arrrthritis
Michael Sperger
Andy Waltfeld
Rhumbus deserves some awesome credit for compiling this data table:
Rhumbus posted:
Thank you all for coming.

Tonight, we honor those who gave thier lives in a conflict that should not have happened. Let us have a moment of silence for the fallen.



pre:

Total XCOM Soldiers: 152, 140 dead

Dominic Hokage		aquatoids
Magnus			aquatoids
Shoehead		aquatoids
Vaos			aquatoids
Randombattle		aquatoids
Eddy-Baby		aquatoids
Draconic		aquatoids
Number 36		aquatoids
Arrrthritis		aquatoids
Skilbs			aquatoids
The Casualty		aquatoids
Skully Bullets		Skully Bullets
Abugadu			aquatoids
Nick Buntline III	Deep One
Waylon Gesundheit	gillmen
a man of ill repute	Deep One, corpse saved by Tikiglass
hafl			gillmen
Tiny Turtle		Deep One
Striker Pinkle		gillmen
Tikiglass		LOBSTERMEN
Studly			gillmen
ThunderPollen		gillmen
Felime			gillmen
Headcrab		Deep One
Gatac			Deep One
Hankor			Deep One
Geno 'Soup' Soprelli	LOBSTERMEN
DocFrance		supergillmen
Thaddius The Large	:commissar:
Hans Remote		supergillmen
MaskedHuzzah		supergillmen
Chewbot			LOBSTERMEN
Terror Van		LOBSTERMEN
MJ12			supergillmen
NX Cang			LOBSTERMEN
Elman Dahuevos		LOBSTERMEN
Lairek			LOBSTERMEN
Kliff Kowalski		LOBSTERMEN
grandpathong		LOBSTERMEN
Lord Baxter		LOBSTERMEN
bobvununheil		stunned and raped (gillmen)
Ignorance		stunned and raped (gillmen)
Zyla			Deep One
Hydra, Duke of Cola	stunned and raped (gillmen)
AMURICANN HERO		DIED LIKE A HERO (gillmen)
Golden N Zucchini	stunned and raped (gillmen)
Strange Matter		stunned and raped (gillmen)
Anticheese		stunned and raped (gillmen)
RZApublican		stunned and raped (gillmen)
CGChewinsburg		stunned and raped (gillmen)
CannonFodder		stunned and raped (gillmen)
Bobbin Threadbare	stunned and raped (gillmen)
Sirocco			stunned and raped (gillmen)
Lilac-One		stunned and raped (gillmen)
Heavy Neutrino		Deep One
Professor Bling		gillmen
Urcinius		Deep One
Nemo2342		Deep One
Sejs Cube		Deep One
Joan Makille		Deep One
Zaa Boogie		Deep One
Hbar			Deep One
notpsion		TRAITOR (SURVIVED!)
Mehuyael		LOBSTERMEN
Teledahn		LOBSTERMEN
X_ oran			Bio-drone
Dareon			Bio-drone
HitTheTargets		Bio-drone
Finklestein		Bio-drone
YOTC			LOBSTERMEN
S.U.P. Meatbag		Bio-drone
TGLT			LOBSTERMEN
Buzz Armstrong		LOBSTERMEN
Canuck			LOBSTERMEN
SenorSpangiel		LOBSTERMEN
Toki			LOBSTERMEN
Techokami		LOBSTERMEN
Phil Nye		LOBSTERMEN
C Wren			LOBSTERMEN
'Intern' Fenwick	LOBSTERMEN
Lucky Joe Carlyle	LOBSTERMEN
Nada			LOBSTERMEN Rape Squad
Jon Irenicus		LOBSTERMEN Rape Squad
Louis			LOBSTERMEN Rape Squad
Carl Sagan		LOBSTERMEN Rape Squad
Wikus van der Merwe	LOBSTERMEN Rape Squad
Andy Waltfeld		LOBSTERMEN Rape Squad
Cowcaster		LOBSTERMEN Rape Squad
Dr. Danny Glover	LOBSTERMEN Rape Squad
Arrrthritis		LOBSTERMEN Rape Squad
Michael Sperger		LOBSTERMEN Rape Squad
Pvt Scott		LOBSTERMEN
Beeswax			LOBSTERMEN
Dirtanium		LOBSTERMEN
Unsupervised Horse	LOBSTERMEN
Caecilius Eruditus	LOBSTERMEN
Steelion		LOBSTERMEN
Black Balloon		LOBSTERMEN
Jack Anderson		LOBSTERMEN
Noshtane		LOBSTERMEN
Amnistar		LOBSTERMEN
JesusB			LOBSTERMEN
Sad King Billy		LOBSTERMEN
Dr Amazing		LOBSTERMEN
Johnny Thrace		LOBSTERMEN
Ramc			Tasoth
Speleothing		Tasoth
Manfred Kruger		The Tentacrats
Toxic Frog		Tasoth
Angela Christine	The Tentacrats
Alex Tankowski		The Tentacrats
Virtuality		LOBSTERMEN
Iamyourking		Tasoth
Ilanin			LOBSTERMEN
redreader		LOBSTERMEN
Humboldt Squid		LOBSTERMEN
PotatoManJack		Bio-drone
Nimby			LOBSTERMEN
Tom Tucker		Tasoth
Arrest That Ass!	LOBSTERMEN
Renegret		LOBSTERMEN
Luquos			LOBSTERMEN
FrickenMoron		LOBSTERMEN
Finnish Flasher		LOBSTERMEN
Koboje			LOBSTERMEN
GenericOverusedName	LOBSTERMEN
Karate Bastard		LOBSTERMEN
Demented Bill		Tasoth
Xavier Genisi		Tasoth
Shiver			Tasoth
Mord A Edill		Tasoth
Ellen de Bunchastu	LOBSTERMEN
xcountryguy		LOBSTERMEN
Magnus Nephilm		LOBSTERMEN
Just Call Me Bob	LOBSTERMEN
crucialityfactor	aquatoids
StringofLetters		SURVIVED!
Bluemage		LOBSTERMEN
Febreze			aquatoids
Tor			SURVIVED!
Shark Mafia 		bled to death (Shark Mafia)
kDanthe			Xarquid (2)
PantslessScot		LOBSTERMEN
Doc William Hat		Xarquid (1)
Pumpkinreaper		Xarquid
Cormack			SURVIVED!
Zoinker			LOBSTERMEN
Engineman 1st Class	Engineman 1st Class
Corp. Monty Cain	Corp. Monty Cain
Dr. Doctor		Xarquid
Y-Hat			LOBSTERMEN
Dulkor			SURVIVED!
Jeremiah Allen		SURVIVED!
Rhumbus 		LOBSTERMEN
Sarge Nytell		Xarquid
Char T. Iron		Xarquid
Magni			LOBSTERMEN (drowned in T'leth)
Randomosity		aquatoids
RaffyTaffy		LOBSTERMEN (drowned in T'leth)
Vlad Antlerkov		Xarquid (useless)
Drewjitsu		aquatoids
Coolwhoami		

 L4D2 


Bobby Mxlplx Benton	

 L4D2 


Tobias Grant		

 L4D2 


Django Plantiumbeard IV	

 L4D2 


Lancelot		

 L4D2 


LGargly			

 L4D2 



Otto Zander		SURVIVED!


Civilian Total: 11 dead
Bob		gillmen
Joe		captured by gillmen
Larry		hafl
Carl		Deep One
Jose		gillmen
Ron		gillmen
Eric		gillmen
Dr. Flor	survived?
Mary		bled to death (Lucky Joe Carlyle)
Claire		bled to death ('Intern' Fenwick)
Pvt. Awesome	bled to death ('Intern' Fenwick)


Tank Total: 14, 13 wrecked

Killed By Totals:
Aquatoids:	16
Calcinites:	Who the what now?
Gillmen:	24 + 5 civilians
Deep Ones:	13 + 1 civilians
Xarquids:	7
Lobstermen:	57
Bio-Drones:	6
Triscenes:	Stop making up names
Tasoth:		9
Tentaculats:	3
Hallucinoids:	0
Friendly Fire:	5


May those above us guide these misguided souls to their rightful ends. And may the High One save us all from ourselves.

Amen

I now give you a chance to cool down your mouse wheel by giving you what I know you want to read:

YEAH HAIKUS!!!!!!!!!!
I'M SO GOOD AT IT,
THAT ONE TIME, I DID THIS THING,
IT WAS SO AWESOME!
Aliens stalk me
Old games can still be scary
Unable to sleep
I really don't know
I'm not bad at early game
But my saves don't work
I send men to death
because I don't want my men
to live with horror.
Chryssalids attack
Night terror mission in Guam
Um, yeah, sorry Guam.
Sectoids fear my team
Mutons are not a problem
I make snakemen cry
Swarmed by chrysalids
My stress is reaching its peak
I cry tears of blood
How can I perform?
My squad will die instantly.
So, um, not at all.
My strength at X-COM
is lacking, sort of like a
match against a duck
wisdom from wu-tang
lyrics forever retold
bitches get stitches
I never got past
the third mission. They got too
hard for me. I suck.
I beat veteran
And played through iron man games
I love laser guns
I send human waves
Of rookies with armed H.E.
It works well sometimes
Zap zap zap I hear
One more corpse, one less payroll
Better crouch next time
Like well polished team.
My soldiers fight enemies.
Blaster bomb dooms all.
I really kicked ass
Until the cryssalids came
Fuck, im a zombie
Meet Mind Control
One Hundred Fifty Two Turns
Yet Two Survivors
This was Beginner
why do I suck so badly?
Time for a restart
It was all fine 'til...
Chrysallids! They are legion!
Death on Beginner.
Waves of good soldiers
They drain aliens' ammo
I win in the end
Once upon a time
There were hordes of lobstermen
Now there aren't; go me
Greetings, Alien
Welcome to our Planet Earth
Please go away now
Fourteen heroes gone,
forever in memory...
Till the next mission
A terror mission:
Sectopods are everywhere!
God, I love lasers.
Cautious, perhaps too.
Yet always I move forward.
Lose impatiently.
Secret arms dealer
Wire-guided bombs are the best
Scouts always explode
Four Recruits are kept
Only Aliens will die
Four Will Fly to mars
Impact in the wastes
Behold, cables convey light.
A series of tubes.
Desolate places
Devoid of wit, of merit.
Rank sores on the land.
Some wretches dwell here.
Fellows, spare them your pity;
They abide by choice.
Watchers high above,
Scratching in the walls at night,
Bipedal lobsters.

yeah.......haikus???????
No experience,
How hard can slaying monsters be?
My ally is "Load"
Exit the ship
I hope the tank lives
Why is my Captain a zombie
finished it no prob
but that was fifteen years ago
cannot remember.
~*a snapshot reserved
fells a mighty chrysalid
later it wakes*~
Whitecaps on the ocean
Lobstermen screaming from tazers
Guava crys to sleep
I ice Chryssalids
Like they were Sectoids with pistols
I don't take no shit.
Apocalypse in real time
Is quite detrimental to one's skills
What were "time units" again?
unbeatable was i
until difficulty bug
destroyed precious ego
I AM ALMOST DONE
MOST OF THE SNAKEMEN ARE DEAD
ONLY TWO MORE TO GO
Apocalypse comes
hoverbike swarms take flight
wow, they died quickly
I am sure I'll win,
since I beat tee eff tee dee,
against your aliens
I bring the sonic cannons to bear
The aliens scream and scatter everywhere
I seek them out within their very lair
Incinerating them all down to the very last hair
Bolts of agony
Torrential sheets of regret.
The concluding storm.
Will I rise, or be drawn down?
Woah, tanka out of nowhere.
This
remains as best post in the thread.
Elman, in regards to me playing L4D2 instead of updating posted:


It's a terrible expansion which barely changes the original game because they didn't feel like taking more than one year to make a proper sequel. Yet they put a full price tag on it instead of calling it a crappy expansion pack.

And it's what you should be playing. Not L4D2

I didn't remember it was Elman who posted this until I looked for it just now! We all loved Elman, right? Sure we did! Just ask Felime!
Felime posted:
[03/04/2010 11:13:08 AM] Felime says: I actually thought he was vaguely understandable
[03/04/2010 11:13:18 AM] Felime says: this area has a large hispanic population
[03/04/2010 11:13:31 AM] Felime says: in order to get food, you have to understand engrish

Well if it's good enough for him, it's good enough to be...
Bonus video 18
Viddler
Polsy
YouTube Part 1
Part 2
Part 3
Part 4
Music: The soundtrack to
The Book of Eli
X-COM Soldiers attending: Coolwhoami, Mxlplx, Tobias Grant, Django Plantiumbeard, Lancelot, LGargly
Results:
Another fantastic XCOM LP from GuavaMoment