Part 91: Episode LXXXVIII: King Bartholomew Fatima
Episode LXXXVIII: King Bartholomew Fatima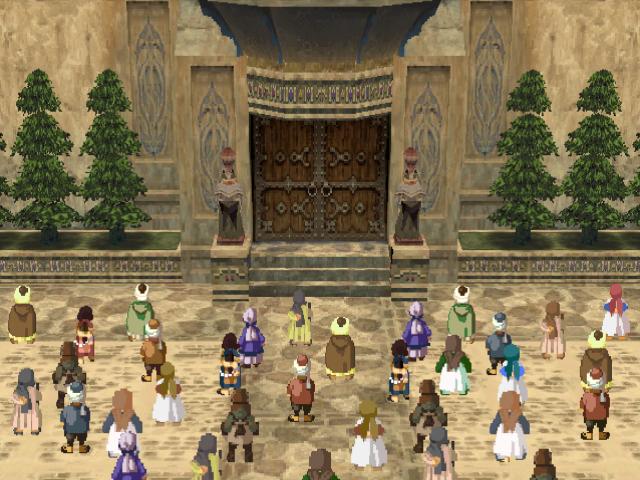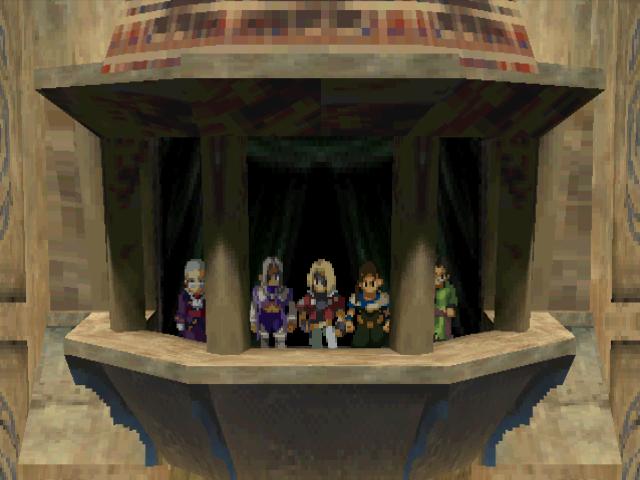 We now skip straight back to Bledavik where Maison has single handedly buttled the capital into submission off-screen. He's just that good.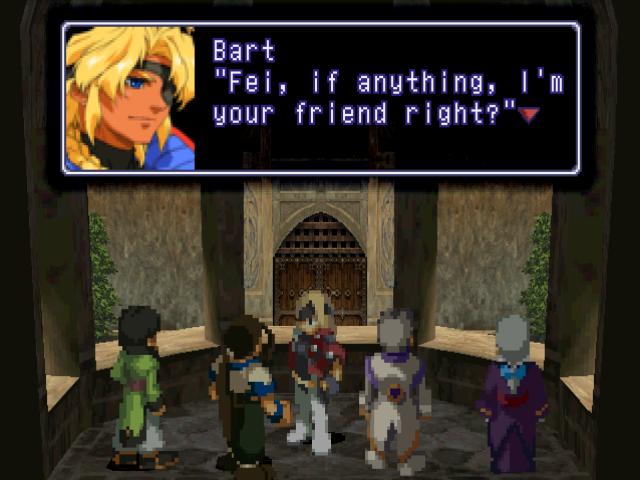 "As long as you don't blow me up again."

"Sig... you won't change no matter what I do, will you?"

"As long as it isn't too incredibly stupid, young master."

"What is the matter, young master...?"

"Nah... I guess I have to do what I was asked."
Bart walks out to the balcony's edge to address the crowd...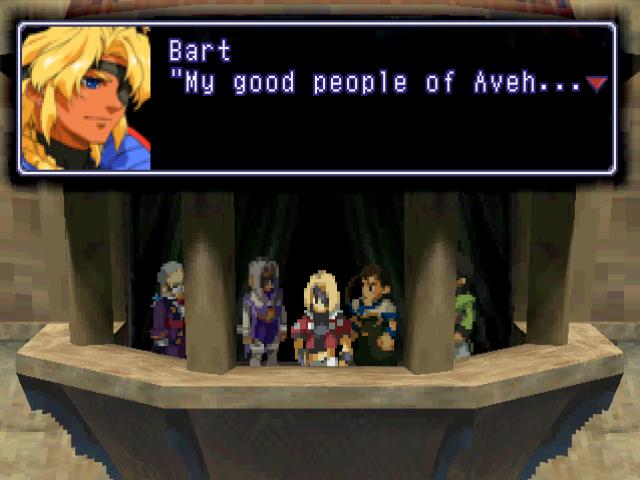 "This is Bartholomew Fatima the 19th king of Aveh, son of Edbart Fatima IV the 18th king of Aveh. First, one must apologize for the trouble caused by one's unavoidably lengthy absence from the palace. One especially wants to give one's condolences to those who lost family in the war with Kislev. One will immediately call a truce with Kislev and begin reparations to victims of both countries. All citizens drafted as soldiers will also be allowed to return home. Let us work together towards the rebuilding of Aveh!"

"I take it you all never gave him public speaking lessons while grooming him to take back the throne...? One would think that, anyway..."


"Regrettably not."


"Bit of an oversight there..."


"Well, at least he hasn't said anything too stupid yet...'
The crowd cheers...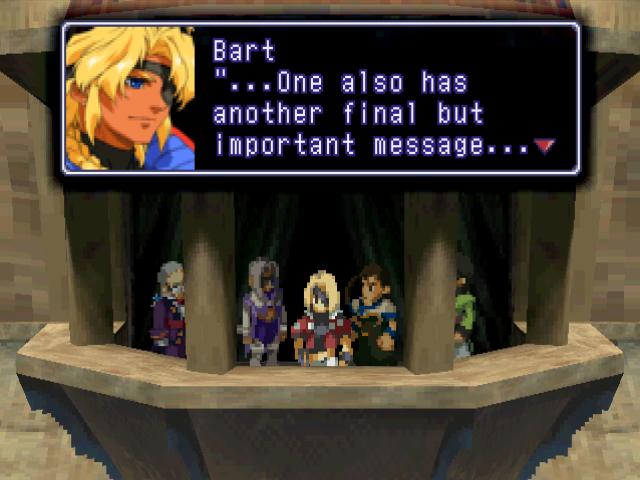 "A declaration from the will of Edbart IV who wished only for peace for his kingdom, Aveh. Bartholomew Fatima, the 19th King of Aveh, do hereby declare...from this day forward I shall abandon the monarchy and create the Republic of Aveh!"


"!"
The crowd goes wild for some reason. Do a bunch of peasants from a nation that has been locked in war for 500 years even know what a democracy is...?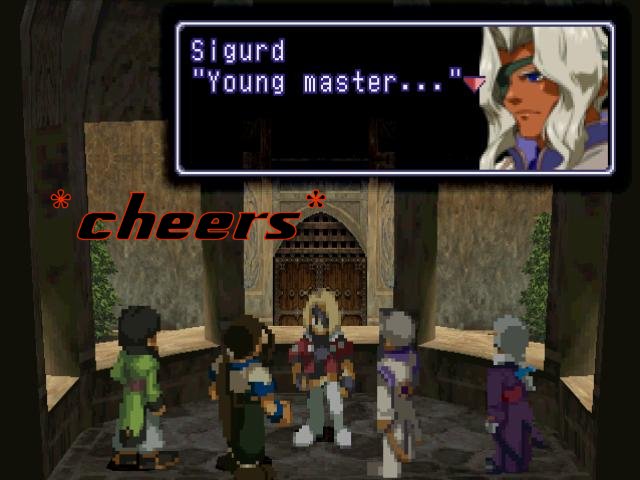 "What in Aveh are you doing...?"

"Okay. You both look pretty pissed. And that's understandable. But hear me out. This was in my father's will."


"His will?"


"Yup. It said not to touch the sweet Omnigear unless something really bad went down. And to dissolve the kingdom when I took throne."


"So...your dad got to be king for life and then his child has to immediately step down?"


"..."


"...Huh. That is kind of a dick move. But..."

"This is my father's wish. I am sorry. You both have worked so hard for many long years to restore me to the throne. Now I'm no longer in line to be king, nor anything else for that matter, the two of you are free to go."

"What are you saying...?"

"Unbelievable."

"Master Sigurd?"

"Can't you hear the crowd outside? They have chosen you as their king. You're going to be very busy."

"Sig..."

"Won't you need some capable assistance?"

"I just ended the monarchy after its illustrious...twenty minutes of being back in power. No takie-backsies!"


"You are still going to need to lead the transition into a new government. And draft a ceasefire with Kislev. And..."


"Ugh... This sounds a lot like effort..."

"Well... here goes nothing."
Later that evening...
Music: Bonds of Sea and Fire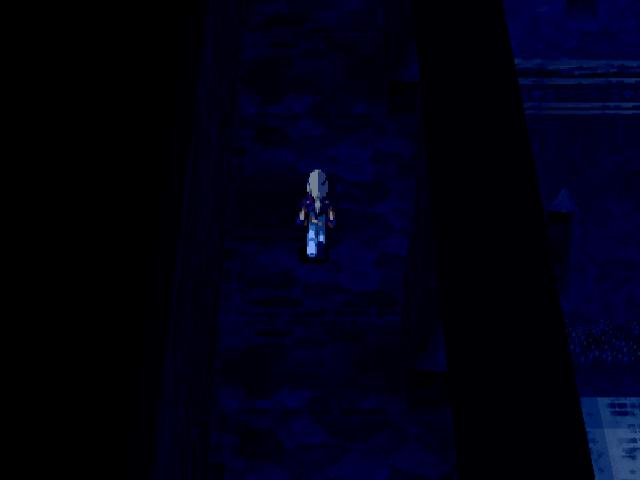 We join Bart wandering around Fatima Castle late at night. Just because he's ended the royal line doesn't mean he's giving up the sweet new castle. That's silly talk.
Bart enters Vanderkaum's old room, which Maison has apparently taken over...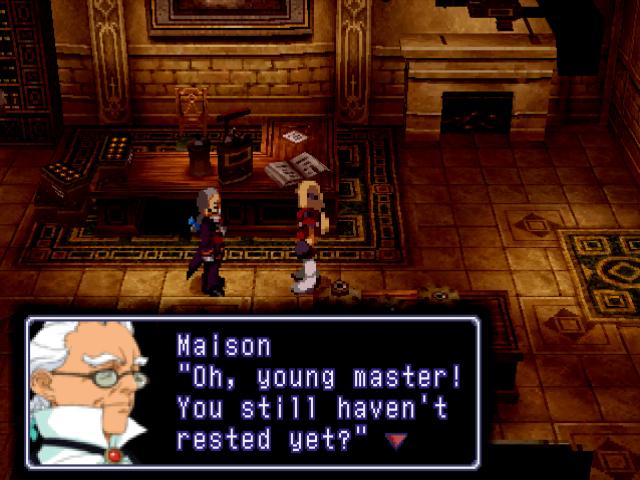 "Old Maison, there is one thing I want to ask you."

"What is it?"

"Where was Sigurd born?"

"Young master, that..."

"He has blue eyes... It's the Fatima Jasper."

"Many people have blue eyes, young master. Not just the Fatima bloodline. Why Miss Elhaym and Master Billy just to name a f—"


"Look, I know Sigurd's my brother. Let's just cut to the chase."


"Very good, sir."

"...Well... It was long ago. When his Majesty and I were still young... Long before his Majesty knew my young master's mother. His Majesty was in love with a certain girl from a small religious sect east of Aveh. This sect was quite different from Nisan and the 'Ethos' but she was very beautiful."

"There's a religion besides Nisan and the Ethos? Since when? Who?"


"I am afraid I do not have the details, young master."


"There aren't actually any details, are there?"


"Very perceptive, sir. Now, as I was saying..."

"Then one day... she just disappeared. Later there were rumors of her having a child."

"She disappeared? Did father abandon her?"

"As far as I know, it was the opposite. His Majesty was abandoned."

"Sig is from Aveh's eastern desert..."

"So that's why he has dark skin and silver hair... I guess... Right?"


"Sure. Let us go with that explanation."

"Indeed. When he was 10, he was assigned to his Majesty King Edbart, as a squire."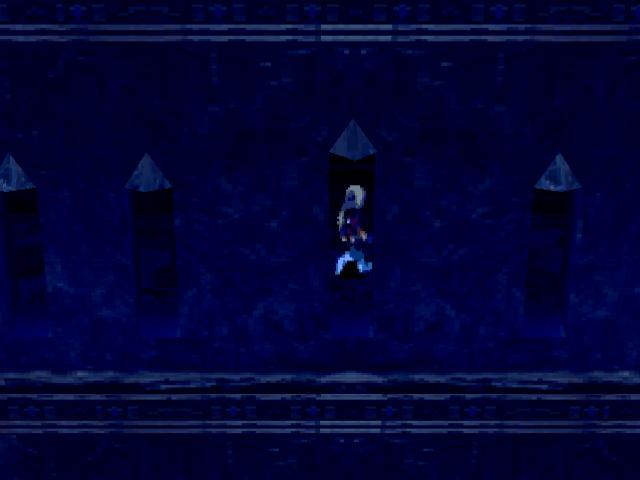 Bart gets bored with Maison's backstory explanation, so he goes on to go get Sigurd's take on the story. Luckily nobody relevant to exposition is getting any rest tonight.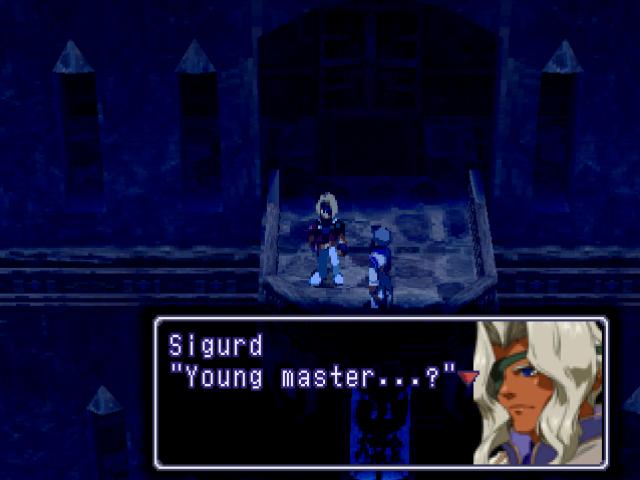 "Yeah, I can't sleep."

"Yes, so much has happened at once."

"Tell me about it. I finally killed Shakhan, got a sweet new giant robot, uncovered an ancient explosion maker UFO thingie, and was king for like an hour. Crazy day."

"Hey Sig... what was your mother like?"

"That is an awkward segue into a new topic..."


"I think we can all agree that talking good ain't my strong suit."

"... She died when I was but a child, why?"

"Do you have any memories of her? What kind of person was she?"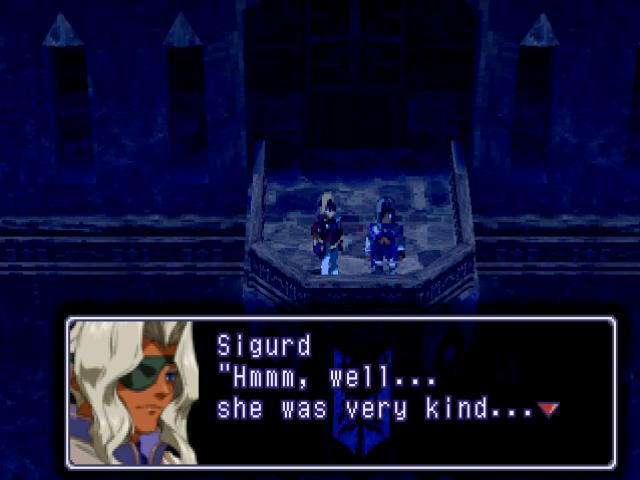 "But when I was born it seems the doctor told her she did not have long to live. She lived in constant fear of that. As a result, even if she met someone she liked, her fear of death was her drawback. She worried that she could not be with me to the very end..."

"I see. How long until she...ya know..."


"A little over a decade. She got hit by a drunken Gear driver. In retrospective...that doctor that gave her the diagnosis was probably a quack."

"What about your father?"

"He isn't supposed to know that I was born. However, even for not knowing he still treated me like a son."

"Why didn't you tell him you were his son?"

"If my mother hid that fact, there had to be a reason."

"There is more to my father's will than what I declared today. I must share my inheritance with my brother. He also said... 'You must split you and your brother's share with the people.' "

"!"

"That had always bugged me up until now. I didn't know what he meant."

"I thought he just meant my 'bro' or something. I was half ready to split my loot with Fei. Oh well. Glad that's settled."

"That's all I wanted to say... Good night!"
The next morning...
Music: Leftover Dreams of the Strong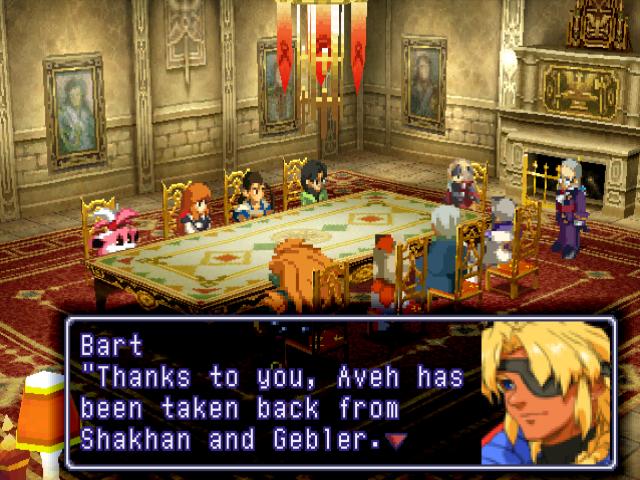 "So a big 'fuck yeah!' to everyone for that."

"Thank you. Now, in order to free other lands from Gebler and Solaris...we must destroy the other two gates and bring down Solaris. We've learned from Shakhan's notes that the gates form the points of a triangle. One point was the Great Mausoleum."

"Or at least a cave a few miles away from it. Same difference."

" Two others remain, but we only know where one is."

"Yes, under the 'Ethos' headquarters. However..."

"It wasn't there when we followed Stone under the 'Ethos' headquarters. If it really is there... it must be buried deep beneath the earth..."

"Not that it should be a problem to get to now that everyone there is dead..."

"How are we gonna destroy it then?"

"By combining everyone's Gear power."

"What are we gonna do with everyone's Gear, dig a giant hole in the ground?"

"What's wrong with that?"

*shakes head* "...It would take years."

"Oh god...who invited those two to the meeting?"


"Just be glad you don't have to sit next to the Chu-chu..."


"Hundred thanks for swapping seats with me. You're the best!"


"You owe me one."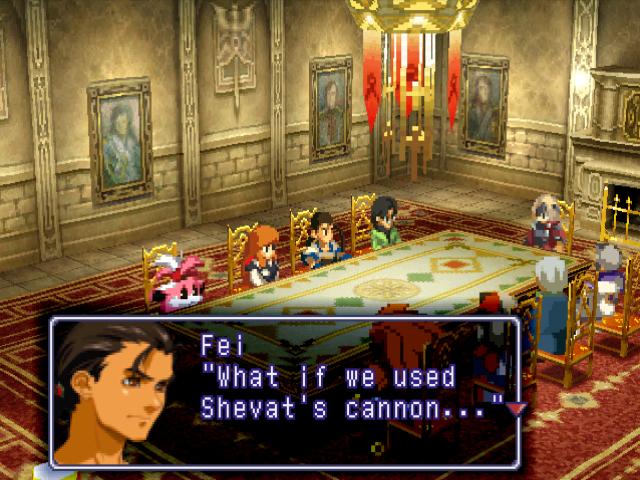 "If that worked, we would have tried it already."

"...Oh..."

"Have you tried it already?"


"Shevat's main cannon's power disperses the farther it falls to the ground. It's basically a singular anti-personnel shot by the time it reaches ocean level. All we would do would be to give the Ethos HQ a leaky roof."


"Dang."

"So it must be something more powerful than Shevat's cannon."

"And we don't have a Gebler battleship."

"Alright, so what if I go enter a fight tour—"


"That isn't going to work this time, Fei."


"Dang."

"Is there any weapon that powerful on earth?"

"Gebler battleships and Shevat's cannon are the most powerful weapons ever produced by man..."

"Umm...what about Fo—"

"...But... I seem to remember seeing something..."

"Fort Ja—"

"What?"

"A weapon with firepower like those two..."

"FT. JASP—!"

"Yeah! I got it! Ft. Jasper! Her gun can take out a mountain! What about that?"

*sigh*

*shakes head*

"Citan, what?"

"However powerful the Jasper may be, how are we going to aim it at the 'Ethos' H.Q.? To damage something that deep underground we would have to attack it from directly above. But the Jasper gun is..."

"Yes, of course..."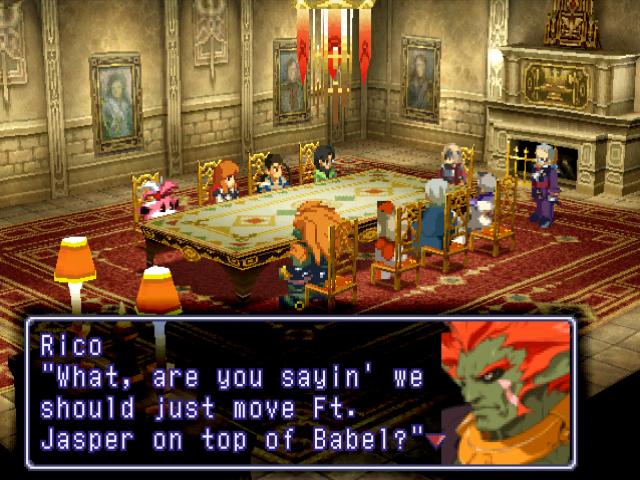 "Now that you mention it, Babel does overlook their headquarters. If we shoot it from there it might just possibly be able to reach that far underground."

"But how could we move Ft. Jasper?"

"It's impossible. Something that heavy..."

"...Isn't it already flying? Can't we just pilot it to Ba—"

"!"

"Didn't the control room in Babel control a cannon or something? I think it moved the giant mirror outside."

"Things just never move like that for in a dungeon without a reason. It has to mean...something!"

"Maria, do you know of anything like that?"

"I've never heard anything about it but..."

"But it might be there. Let's go check."

"Alright..."
Citan gets alerted. Or an exclamation mark shoots out of his head so he can get attention again.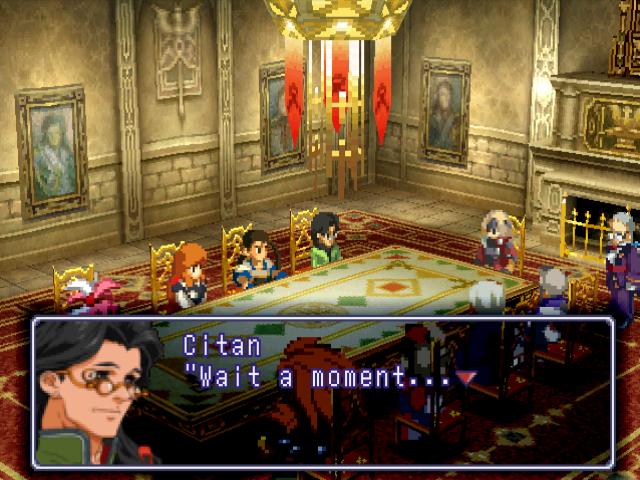 "A giant mirror and a giant cannon both from the same ruins? There might just be something in this..."

"Like what?"

"Ah... I have solved the puzzle..."

"Puzzle, what puzzle?"

"The Babel and Jasper ruins are from the same civilization. One far more advanced than our own... Do not the two structures seem similar to you? I believe they were both built with Gears and a powerful foe in mind."

"Yeah, I noticed that. But what's it all mean?"

"And that's not a 'puzzle'. That's just like a trivia factoid. Lore at best."

"It means, the people who built the giant mirror at Babel Tower...knew about the giant gun at Jasper!"

"And...? What are you getting at?"

"We can probably assume the mirror was built to reflect something... That something being a beam. A beam shot from the Jasper gun!"

"Reflect? You mean that mirror can reflect a beam attack?"

"Yes."

"That's the stupidest thing I've heard all week and I just had my arch-rival die because he didn't have an extension cord installed on his Gear."


"Yeah, doc. I'm calling bullshit on this one too."

"Long ago, Babel and Jasper must have been at war."

"Not exactly. The Babel mirror and Jasper gun were combined to make one weapon."

"Whaddya mean?"

"But those things are so far apart, how could they be one weapon?"

"And by 'far apart' I mean 'on the opposite side of the planet on a different hemisphere'."

"Well, the gates may be far apart, but aren't they still one device?"

"Yes, I see what you mean but..."

"A connected series of power plants and a laser cannon are somewhat different."

"What did they use that weapon for?"

"That, I do not know."

"Of course..."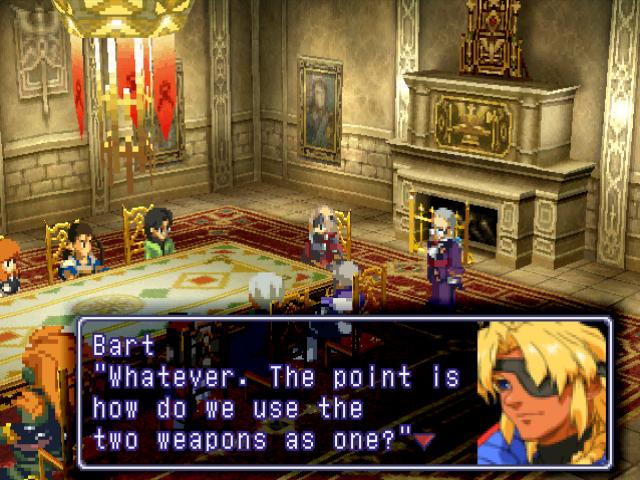 "Aim the Jasper gun at the mirror and fire. The mirror will reflect the beam on the gate."

"Do you think it will work?"

"Theoretically. It will require a few minor adjustments..."

"Adjusting the mirror is going to be rather difficult and tedious."

"If the two weapons are one, then it should not be too difficult. I hope..."

"It sounds dangerous. I think it was meant to reflect shots back at the enemy. If you're wrong it'll come back and hit you."

"While I think doc's plan is pretty damn stupid...that's even stupider..."

"Yes. That is why it is most difficult for the gun crew. The mirror must be hit precisely. We will need to divide into two teams. One will fire the gun... While the other will adjust the angle of the mirror to ensure the beam hits the 'Ethos' headquarters. Since this was my idea, I will take the dangerous part of adjusting the mirror."

"Alright Hyuga, we'll let you take care of that... It seems like your type of job."

"I'll go too. Doc might need help."

"It might be lonely with just Citan and Fei. So I had better go too."

"Did she just insult you or me just then...?"


"I am uncertain."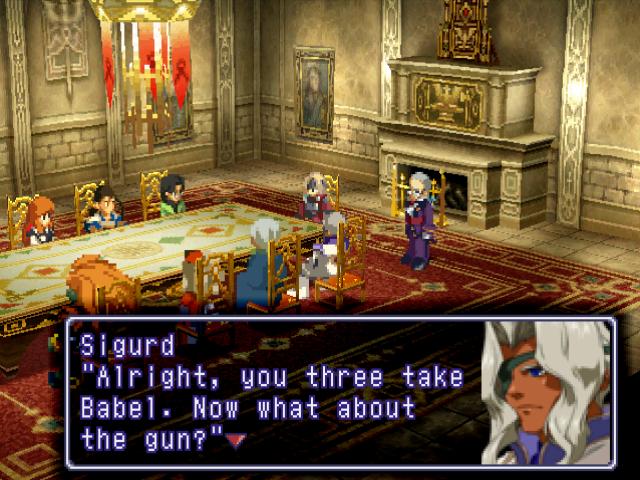 "I'll do it. Looks like my kind of job. Don't worry, I won't miss. I haven't been using a gun for nothing."

"Well, I probably better go to the Jasper."

"I'm pretty good at shooting stuff too."


"Oh god! I wanna swap over to Team Gun!"


"Ditto."


"Calm down. I will be firing the cannon."


"But it's my..."


"Bart. Billy shoots! BILLY SHOOTS!"


"Tch. Fine!"

"Me chu! Chuthulhu wants to go chu!"

"What?! Oh god! I want to be on Team Mirror!"


"Chu late, big boy."


"Ugh. What about Maria or Green Guy?"


"I should probably contact Shevat so they don't get upset about people firing cannons in their airspace."


"...I was supposed to help Maison do inventory at the Yggdrasil's bar."


"Help much appreciated, sir."


"Ugh. Fine."

"Then it's settled. You go with Citan to aim the mirror at the 'Ethos' headquarters. We'll aim the Jasper gun at the mirror. Let's get back to the Yggdrasil and get going!"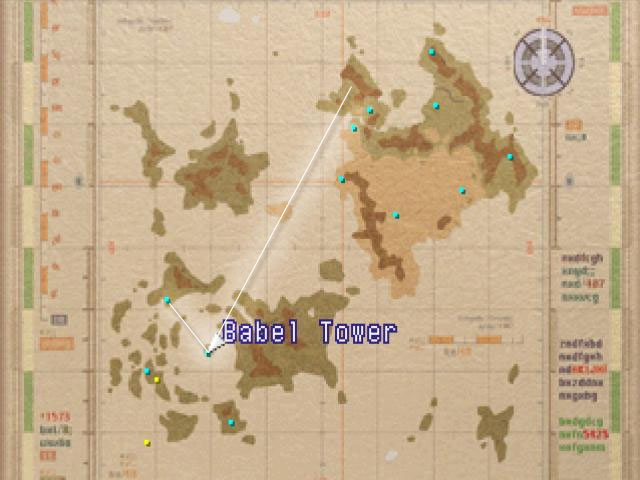 So to review, Citan's plan is to fire a laser cannon upward half way across the planet at a mirror angled down toward the Vatican in order to blow up a power plant. No attempting to find the hidden entrance to the facility. No. We're going to have a planet sized Zelda-esque sliding mirror puzzle. That's Citan Uzuki's retarded ass plan. Sure...sure, why not...?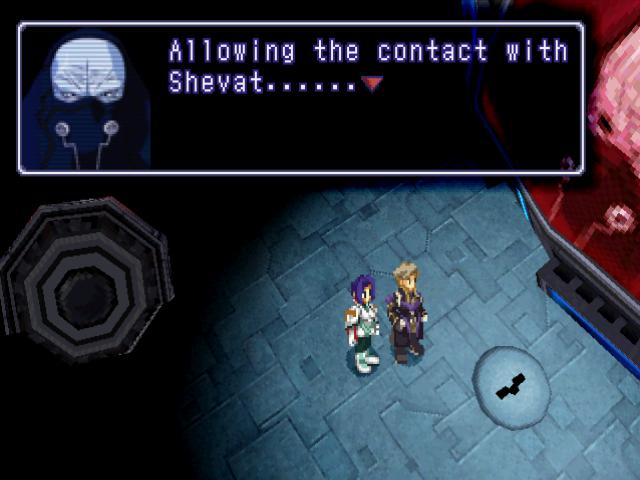 "Not only Shevat. The Ignas defeat, the Thames retreat. And yes, even Elru, you......"

"Useless... as always......"

"A failure to begin with..."

"'Trash'..."

"W-what did you just say?"

"Hmph... It's the truth."

"And just what is that attitude? ......You should show some loyalty."

"H, how dare you ridicule me by calling me 'trash'? Damn you! Guh... guhaah."

"Calm down, Commander! It's not good for you. You still haven't recovered from the last battle!"

"It does not matter."

"The Lambs are probably on their way to destroying the gate. But, not this time..."

"I'd like to see your 'intrinsic' powers."

"If you aren't the 'trash' we think you are......"
The Gazel Ministry hologram signs off as they go snicker to themselves about how they made Ramsus have an aneurism...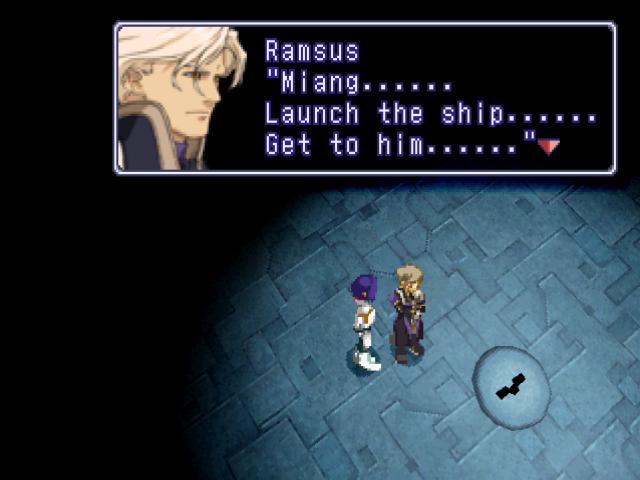 "This time... I'll go myself... and I'll bring him down..."

"Commander, you can't go out there like that!"

"Commander, request permission to handle the situation?"

"You all?"
The Teen Girl Squad Elements holograms show up behind Miang and Ramsus...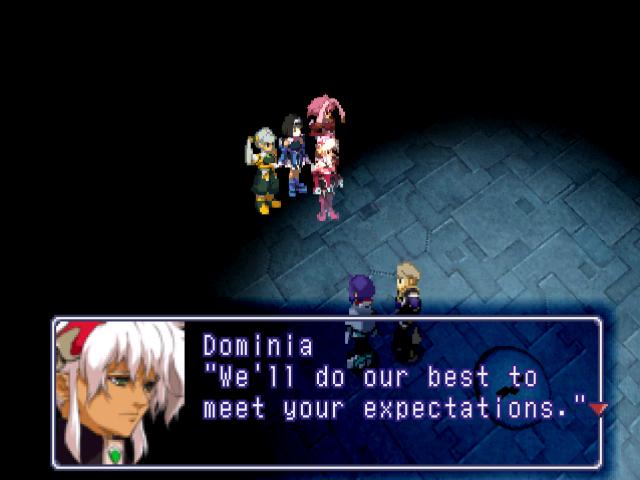 "Commander please, you must get medical attention......"

"To make our ideals a reality."

"Bunny pun!"


"I hate you all..."

"Well then, we are off."

"Miang?"


"Yes, commander?"


"I'm going to get humiliated again, aren't I?"


"...You should get some rest, commander."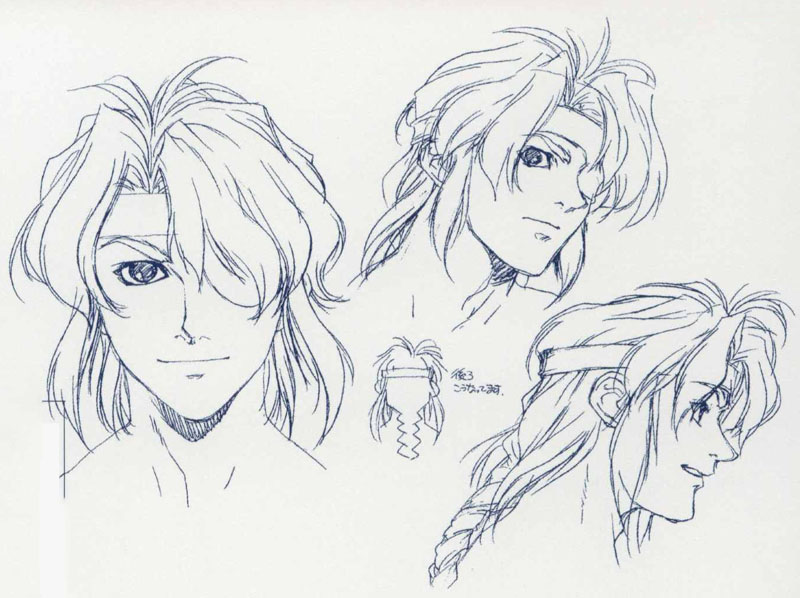 Bart Concept Art Start