Part 182: The Blue Bird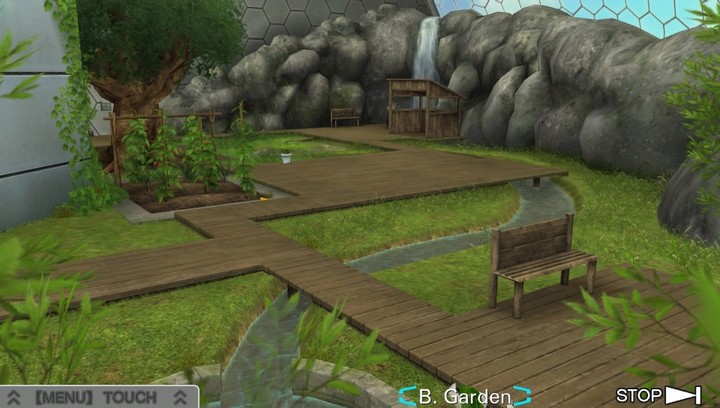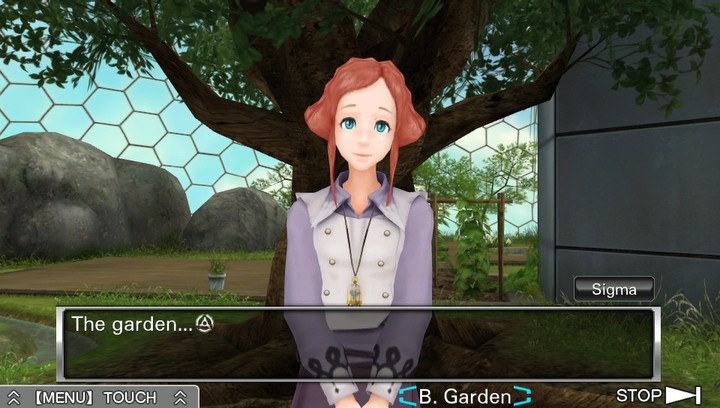 Listen in:
[
English
/
Japanese
]

You know this place?

Yes. Well, sort of.
I came here once when I was looking for Alice...

Oh. I see...

So, uh... What brings you here?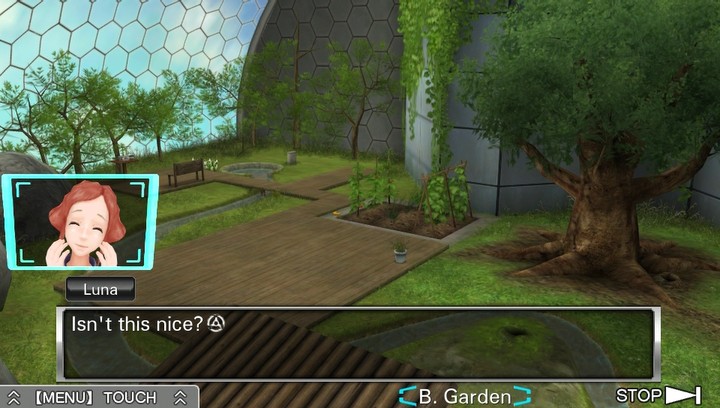 This is the only place in the whole facility with anything green.
I feel kind of silly saying it, but... It makes me think of the great outdoors.

I think it's the perfect place for a serious conversation.
Being surrounded by nature makes me feel...happy.

...
...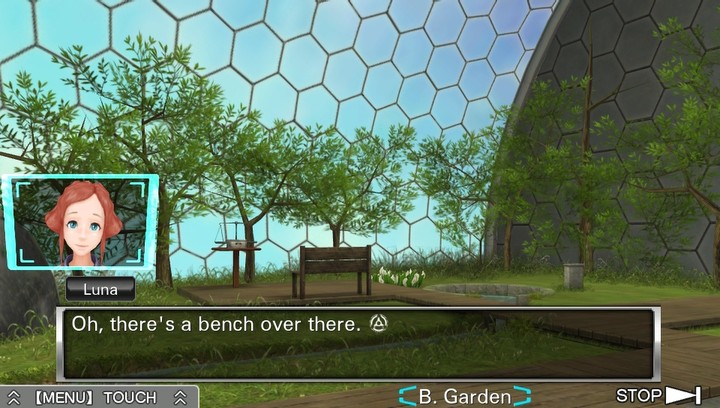 Would you like to sit down with me?
She sat down softly and gently, and I lowered myself down next to her.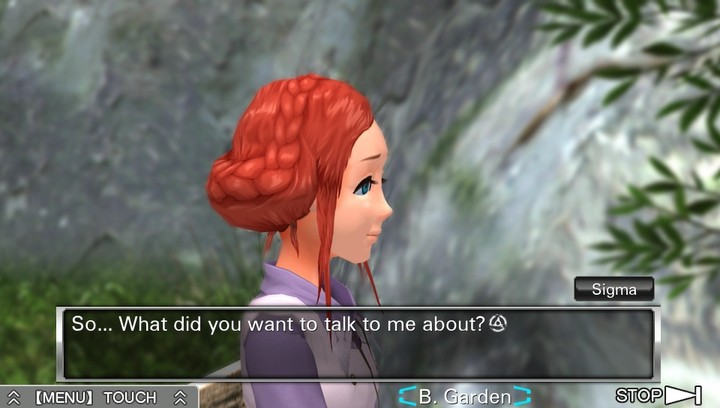 Instead of answering, Luna lifted the tiny birdcage pendant she wore into the palm of her hand.
She was silent for a moment, and then began to talk.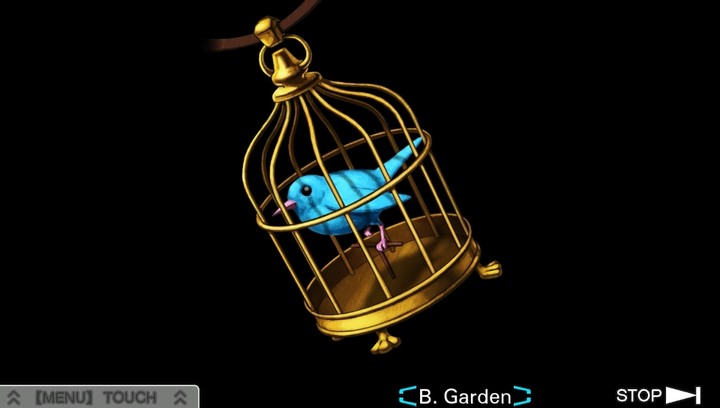 Can I tell you something?
This is actually a music box.

Really?

Yes.
She twisted the key on the bottom, and it made an almost imperceptable winding noise.
When she released it, soft, clear notes drifted out.
VLR Game Rip:
[
Blue Bird Lamentation (Music Box)
]

It's a nice song...
Why'd you bring that up, though?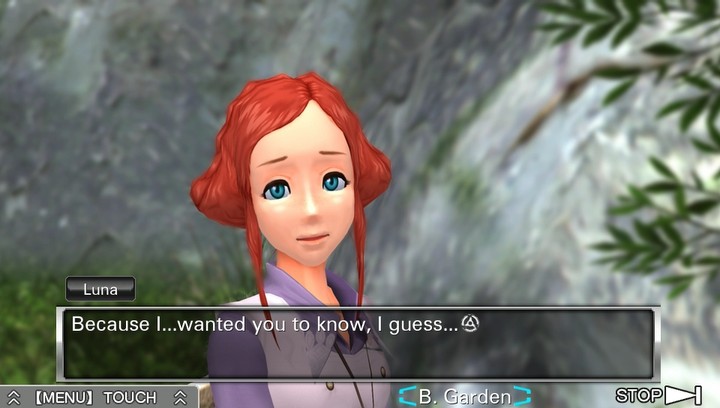 I wanted you to know more about me...

...?

Maybe it's because I'm so shy, but I don't really have any friends. Or even any acquaintances, really...
So I've sort of always been alone.
It was really hard.
I felt so lonely a lot of the time... And it...it hurt. It felt like I was just kind of going to...collapse from the inside out.

...
...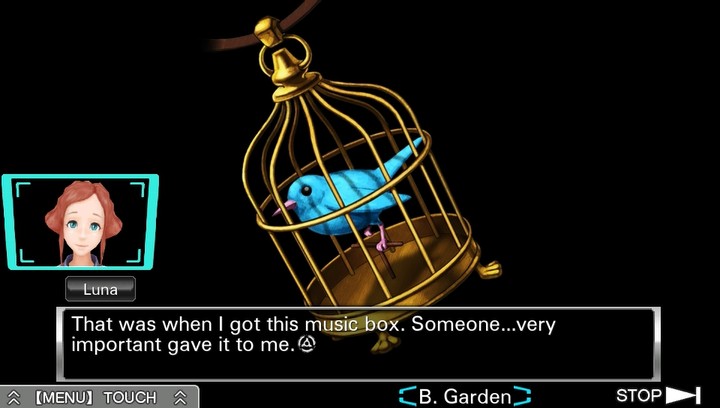 They didn't say anything, but I felt like there was an unspoken message behind it.

"Luna, happiness is closer than you think."

...
...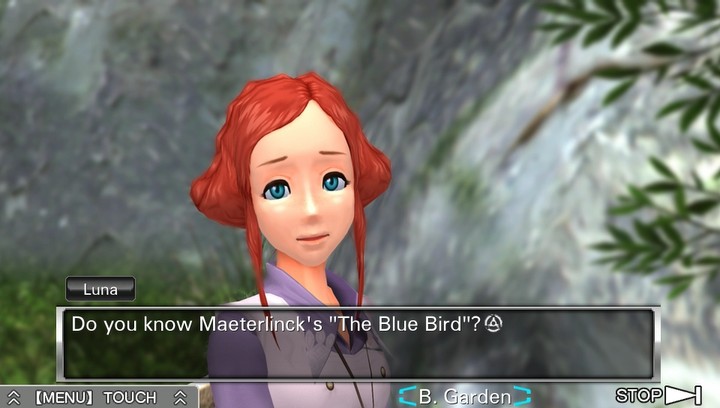 Y-Yeah... Well, I know the jist of it.
I think it starts on Christmas Eve. This brother and sister named Tyltyl and Mytyl get asked to find a blue bird by this old woman, and they travel to the dream world...
Or...something...
Anyway, supposedly if you can catch this bird, then you can make a wish come true.
So they visit all these different places, but they can't find it.
Eventually they give up and go home, but when they wake up...
The bird is in a birdcage in their hut.

That's right.
It's a well-known story.
And it teaches a simple lesson...

Yeah, like you said... Happiness is closer than you think.

Right. It got me thinking.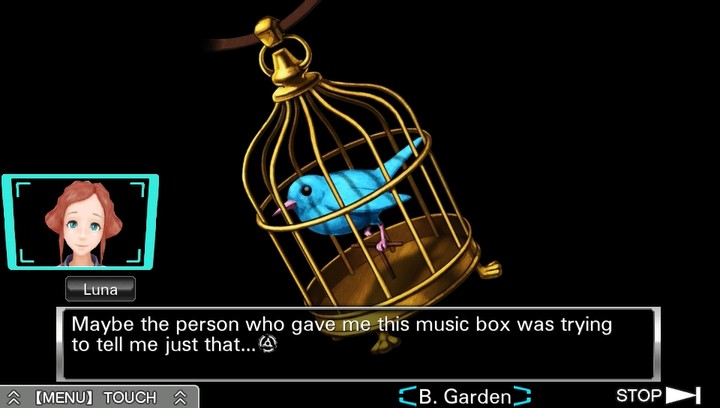 I don't know if that's true. Maybe all of this is just in my head, but...
I really felt like that was what they'd meant.

It was so...kind.
I kept it with me all the time, like a kind of good-luck charm.

But...

...
...

One day I realized something.
There was another meaning to the blue bird...

...?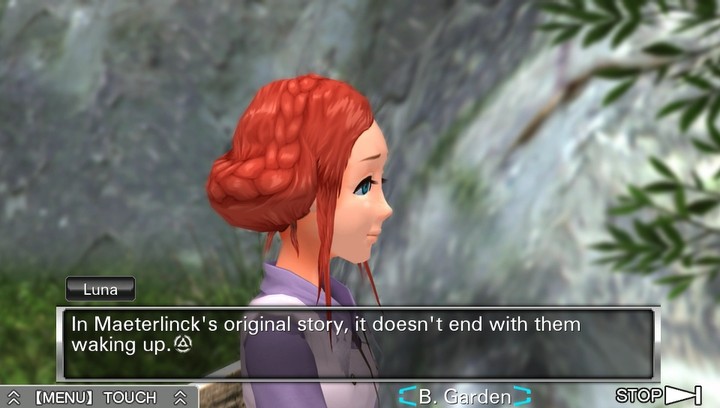 There's more?

Yes...
When Tyltyl and Mytyl try to feed the bird, it leaves the cage and flies away.
And
then
the story ends.

Whoa...
What about the moral, then?

It changes.
Now the message is that just when you think you've found happiness, you'll lose it again.

...
...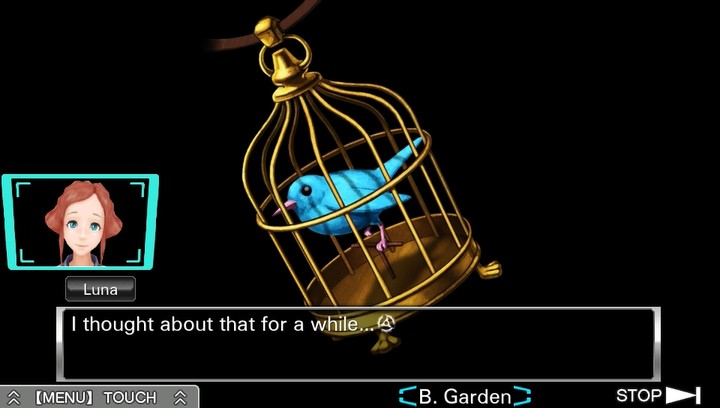 But in the end, it didn't change how I felt.
I don't know what they intended it to mean when they gave it to me...

But I decided how I was going to look at it...
It means that happiness is something you should always be looking for.
And it's only when you're pursuing happiness that you're truly happy.
[Music fades out]

...
...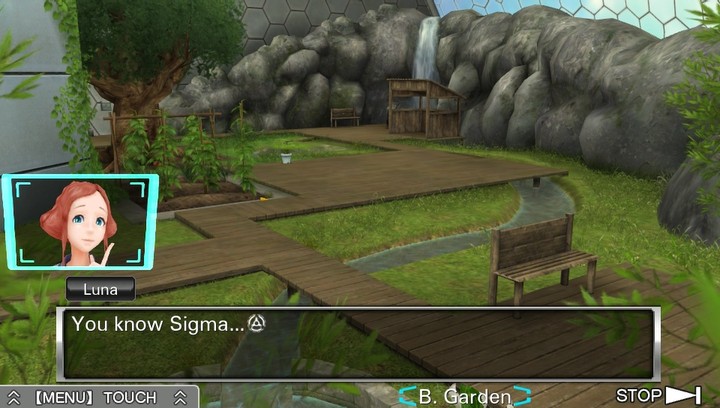 I think you might be Tyltyl.

What...?

You know, the boy who the old lady asked to find the blue bird on Christmas Eve.

Wh-What are you trying to say...?

...

...
VLR OST:
[
Eeriness
]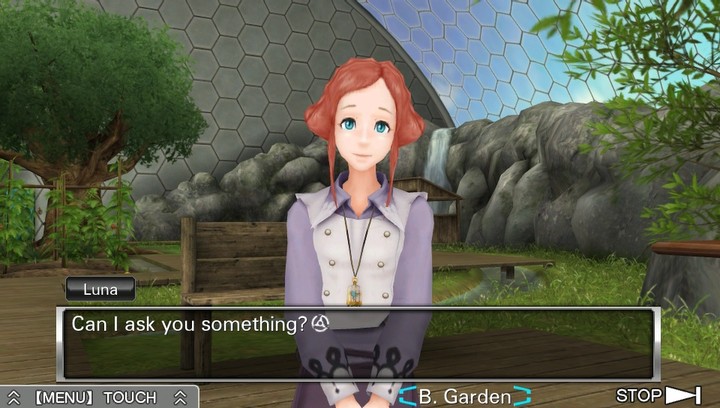 U-Um...? Sure...

Where did you find Alice?

What does that have to do with anything?

Just answer me.
Where did you find Alice?

...
...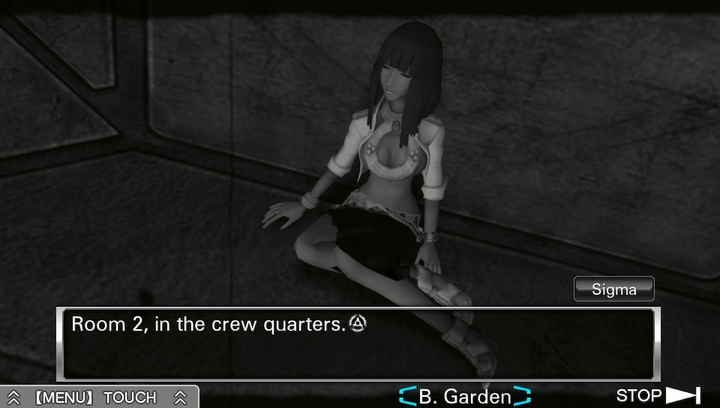 Where were you before that?

I was in the lounge.
That was after we'd split up to go look for Alice.
The first place I went was the lounge...

So you went from the lounge to the crew quarters, where you found Alice.
And then you rushed her to the infirmary, right?

Y-Yeah...

Okay, tell me this, then...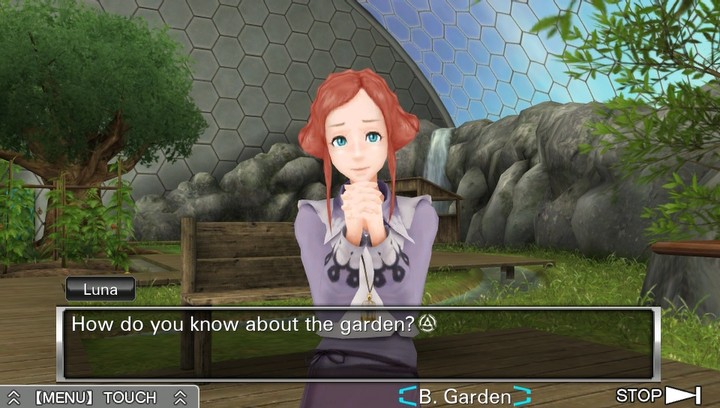 Just now you said you'd come here when you were looking for Alice.
Didn't you?

...
...

That doesn't make any sense.
There wouldn't have been any time for you to visit the garden while you were looking for Alice.
So tell me, Sigma...
How do you know about this place?

Well... Um...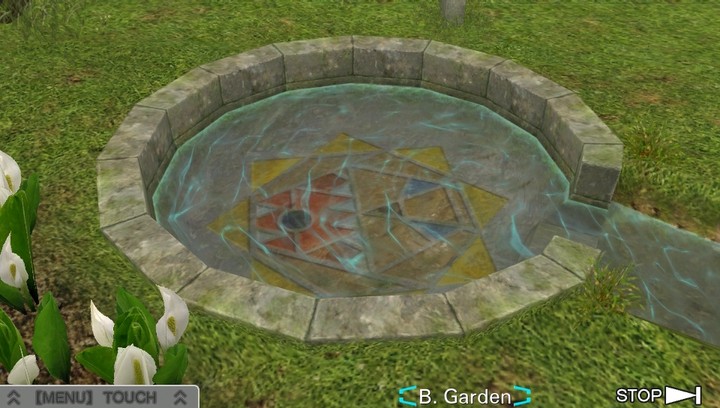 I didn't know what to say.
I couldn't even explain it to myself.
Why had I told her I knew about the garden?
Why had I told her I'd been there before?
...
...

Sigma...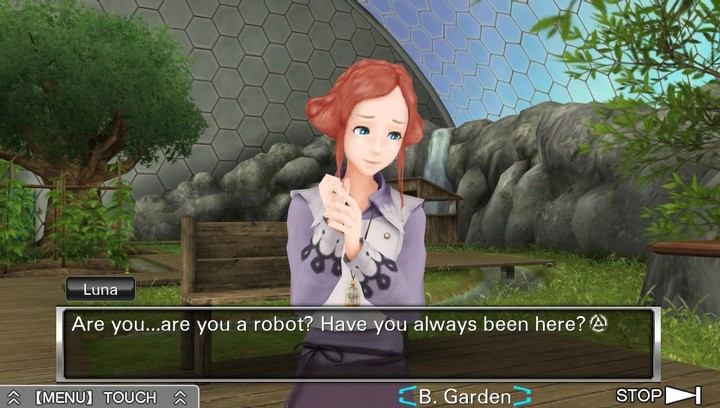 Uh...what?

See... It would make so much sense if you were.
That would explain why you knew about the garden and...
And it would explain that cut on your left hand...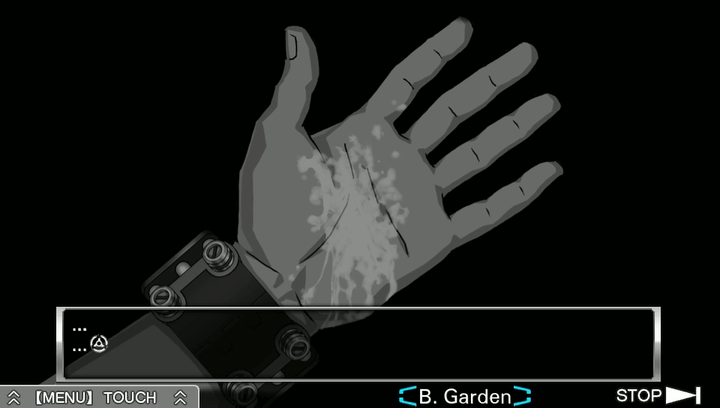 Damn... So you
did
see it, huh?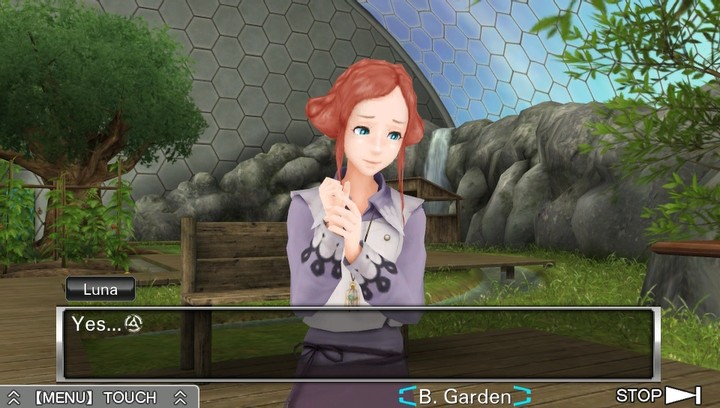 I've been told that robots these days have what's called Artificial Biological Tissue, or ABT, on top of a metal skeleton.
It makes them look almost exactly like a human.
And ABT uses this white liquid instead of blood...

...
...
For some reason when Luna had called me a robot, it hadn't really fazed me.
Maybe because it was just so...out there.
It didn't sound like a real possibility—it sounded more like a theory you'd get from someone in a nuthouse.
Still...
My hand was still oozing white liquid...
...
...
Was I really a robot...?
No! That was impossible!
I needed to stop doing that.
Questioning myself so much was giving me heart palpitations.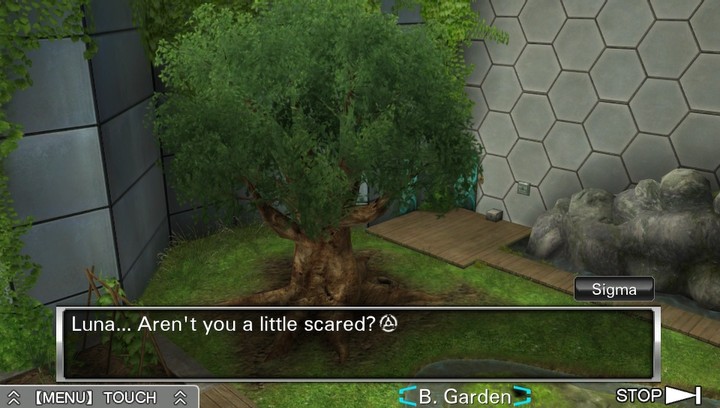 Scared...? Why would I be scared?

Well, let's say I am a robot. That means there's a pretty good chance Zero's pulling my strings.
That would make me your enemy.

Oh... I guess so.
Well, even if you were, I wouldn't be scared.

Why not?

Hmm...
Maybe
because
you're a robot.

...Huh?

Have you ever heard of the Three Laws of Robotics?
They were a set of rules created by the science fiction author Issac Asimov that he used in several of his stories...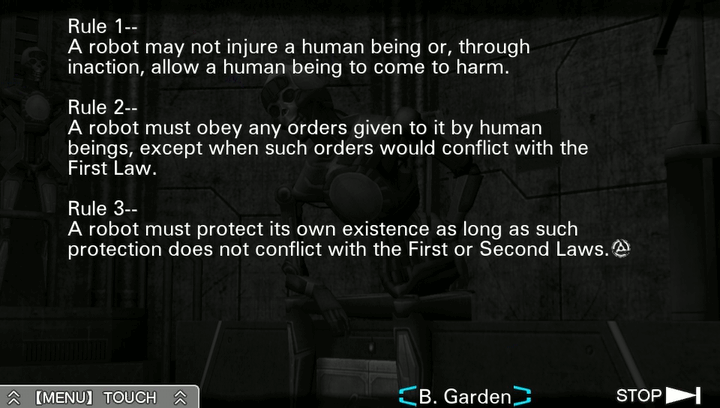 Oh, yeah, I've heard those before.
That's just an ideal, though.
You could work toward that, but I don't think you could ever actually achieve it.
I mean, depending on how you program them, robots could do pretty much whatever they wanted to...

Yes, you're right.
But...I believe in them. In you.
However you're programmed...
I don't think you'd break any of the three laws.

...
...

A robot without the Three Laws is just a bunch of metal and plastic.
That's not you.

You have a heart...
You're a good person. It's in your eyes.

...
...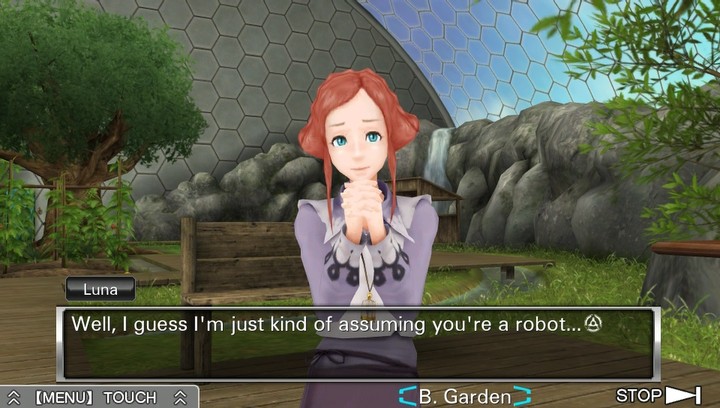 There's still a chance you're not.
We should run some tests.

...Tests?

Yes.

Um...how?

Well, the ADAM should be able to tell us...

Oh yeah! That thing in the infirmary!
[Music fades out]
I heard the crunch of dried leaves behind us—
But when I turned, there was nothing.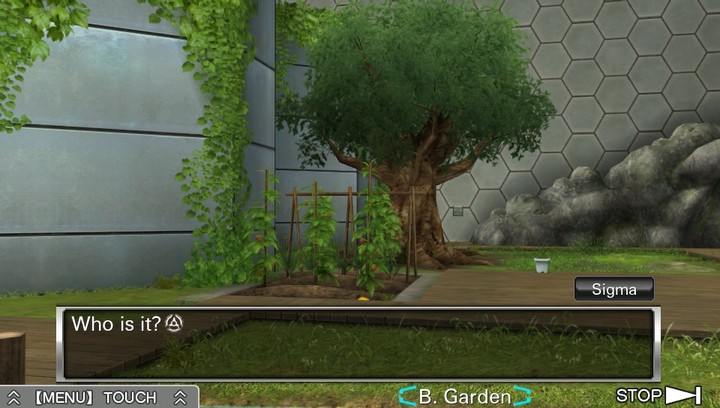 Is...is someone there?

...
...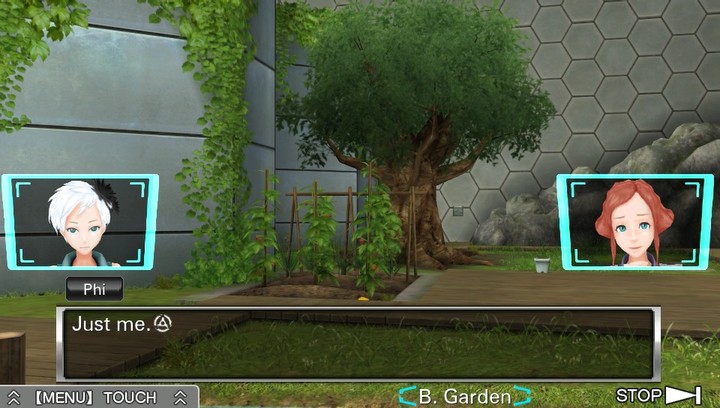 Phi!?

Sorry, but can you guys come over here?
I need you to see something.

...

...
Luna and I looked at one another, shrugged, and stepped into the bushes.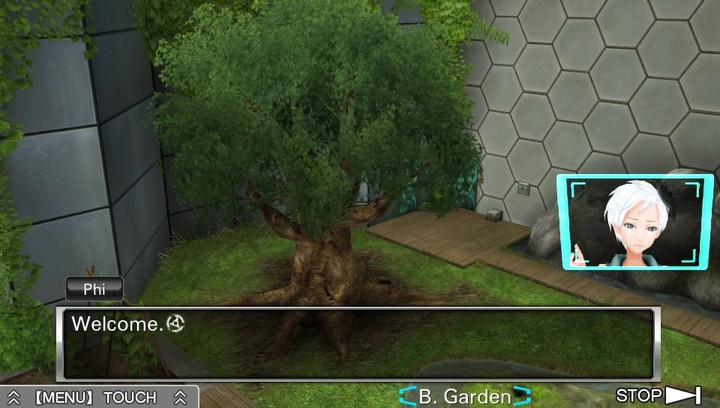 What... How long have you been here?!

I just got here a little while ago.

Did you...hear what we were saying?

No.
Were you talking about something you didn't want me to know about?

...

...

Whatever. Just have a look at this.
I followed the line of her finger...