Introduction
Begging for an E/N pun: Let's Play 007: Everything or Nothing!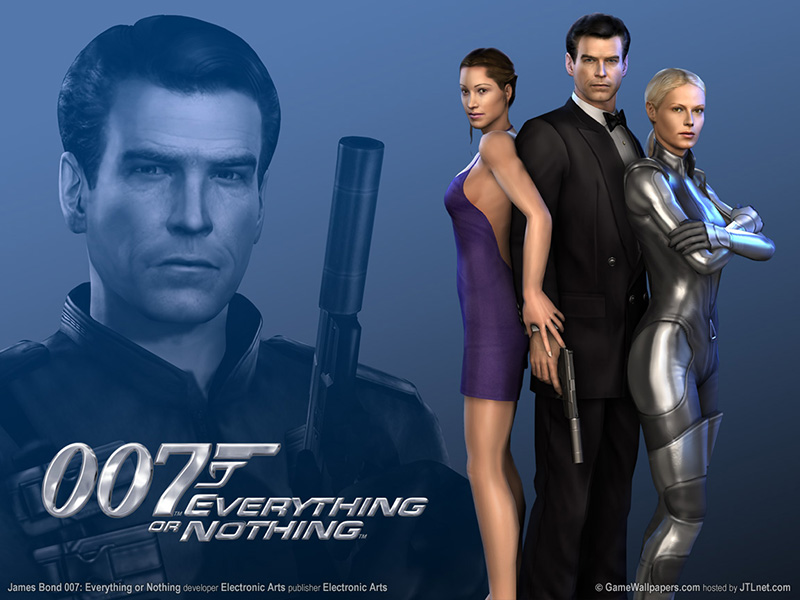 •
What's with this game?
The year was 2004.
Call of Duty
had yet to reach critical mass; Epic Games were still picking out the right shades of brown and grey for
Gears of War
; and James Bond fans were still licking the wounds of
Die Another Day
from little over a year previous. EA, in an odd stroke of genius, decided to forgo the idea of making the next interactive Bond adventure another first-person shooter, instead opting to develop
Everything or Nothing
as a third-person action game, featuring more varied hand-to-hand combat, driving sequences powered by the
Need for Speed
engine, various open levels that would reward alternate methods of dispatching (or avoiding) enemies, and cover-based shooting that was ahead of its time. It's the best James Bond game that has been made to date, and as Pierce Brosnan's final performance as James Bond, serves as a much better sendoff than
Die Another Day
.
•
What's with this LP?
I'll be playing each mission in the game on the standard difficulty, "Agent", with the exception of the first level, which the game automatically sets to the easiest difficulty, "Operative", to make it basically impossible to lose. In each level, I'll endeavour to play relatively stealthily; there's plenty of shooting throughout the course of the game, and I want to show the alternate ways of progressing, should they come up. I'll also aim to earn as many of the "Bond Moments" as I can, however I don't expect to get all of them, as my memory tells me some of them are ridiculously annoying.
•
What about platinum ranks for the levels?
Hah. Good one.
Yes, though detailed runs of the levels to get the platinum ranks aren't really part of the focus of this LP. I'll be making those outside of this LP, and there'll be a link to a playlist with those videos in the video list.
•
Spoilers?
Keep it in the tags until the LP covers it. Though, if you recall that it's a James Bond story, you'll likely see everything coming anyway.
•
Multiplayer?
Maybe as bonus videos, if I find the guy I play with.
Of course!
Videos
Single Player
| | |
| --- | --- |
| Part 1: Stronger Than A Fighter Jet | YouTube |
| Part 1.5: The Game Grid Sucks | YouTube |
| Part 2: Faster Than A Speeding Locomotive | YouTube |
| Part 3: Stealthier Than A Solid Snake | YouTube |
| Part 4: Nothing Escapes Stealth Sections | YouTube |
| Part 5: Going Nowhere Fast | YouTube |
| Part 6: Falling With Style | YouTube |
| Part 7: Naaaaaawwwwwlins | YouTube |
| Part 8: The Kiss Kiss Of Death | YouTube |
| Part 9: This Should Be A Blast | YouTube |
| Part 10: Being Stealthy To Save Time | YouTube |
| Part 11: The Death Trap Tango | YouTube |
| Part 12: Going Deep And Going Hard | YouTube |
| Part 13: Still Stronger | YouTube |
| Part 14: The Scenic Route | YouTube |
| Part 15: The Boring Scoring | YouTube |
| Part 16: A Great Use of Government Funding | YouTube |
| Part 17: MI6 Makes Bad Games | YouTube |
Multiplayer
| | |
| --- | --- |
| Part 18: Only Bond Can Freeze Time | YouTube |
| Part 19: Differences In Play Style | YouTube |
| Part 20: The Worst Person To Play With | YouTube |
| Part 21: Blind Leading The Blind | YouTube |
| Part 22: The Level So Nice We Did It Twice | YouTube |
| Part 23: Great Stealth Tactics | YouTube |
| Part 24: Infinite Headshots | YouTube |
| Part 25: Thanks James | YouTube |
Platinum
Platinum Detailed Runs Playlist