Part 51: Cargo room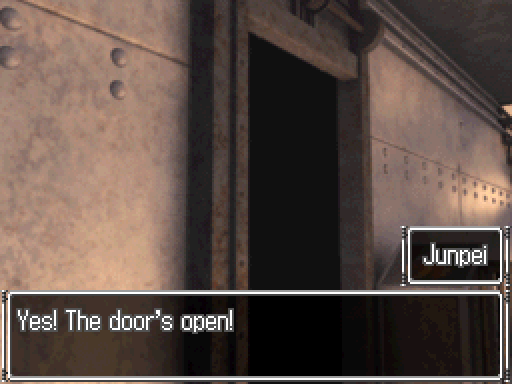 Given the circumstances, Junpei's happiness was certainly understandable.
Ace seemed to share his excitement.

All right, Junpei. Why don't you go get June now? Santa and I will keep an eye on this door.
Santa snorted.

Why do we need to do that?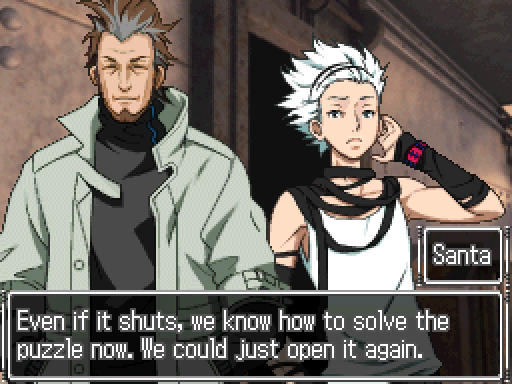 Well... I suppose that's true... Shall all 3 of us go and collect June, then?

Nah, I'm cool. I'll let Junpei handle it.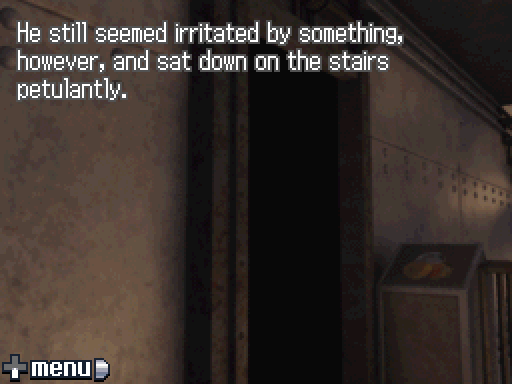 So you are only interested in being contrary...?
Ace sighed, with the air of a long-suffering parent.

All right, I'll go get June. I'll be right back.
He gave a quick nod to Ace and Santa, and dashed off down the stairs.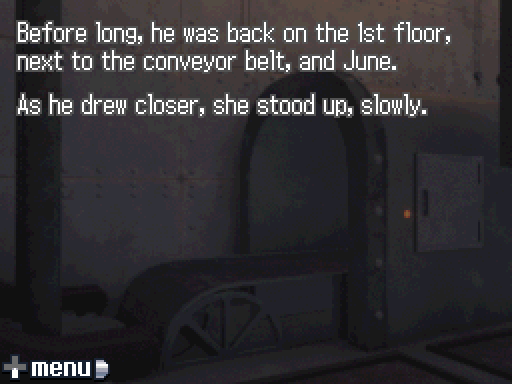 Are you okay...?
He did his best to sound calm and nonchalant, but there was no hiding the genuine concern in his voice.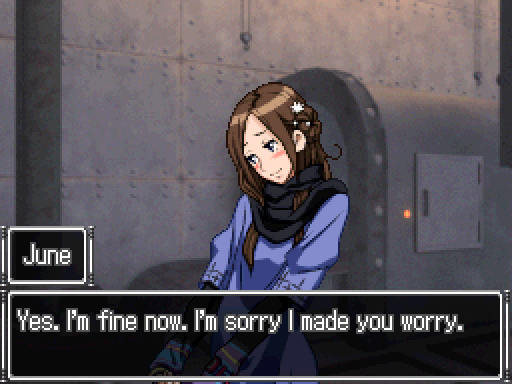 June blushed. He wasn't sure if she was embarrassed, or still feverish.
Just to make sure, he reached out and put his hand against her forehead.

...Good. You're feeling a lot better.
She was feeling far less warm than she had earlier, but still wasn't down to what seemed normal to him.

Are you sure you're all right?
He had to be sure.
June gave him a look.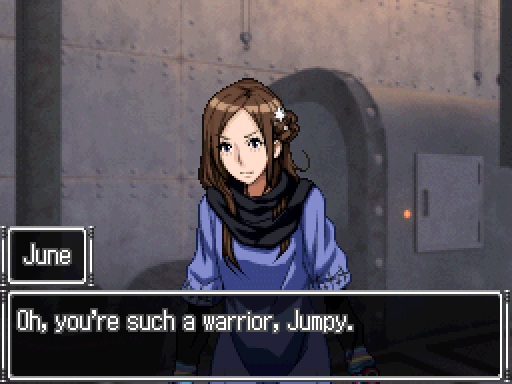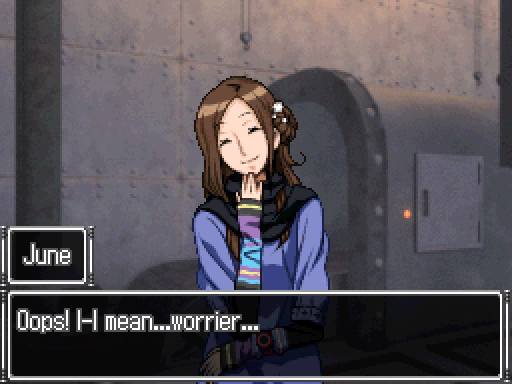 June giggled.

...
He wasn't sure if she'd just made a joke or not, but... Seeing her smile again made Junpei feel at ease. If she was well enough to smile and laugh, then she really was feeling much better.
He gave her a friendly poke on the forehead.

Let's go.

Go where...?

Oh, right. I didn't tell you...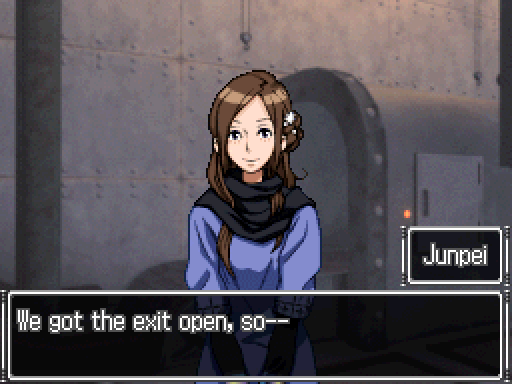 Great! Let's go!
June clasped her hands and nodded urgently.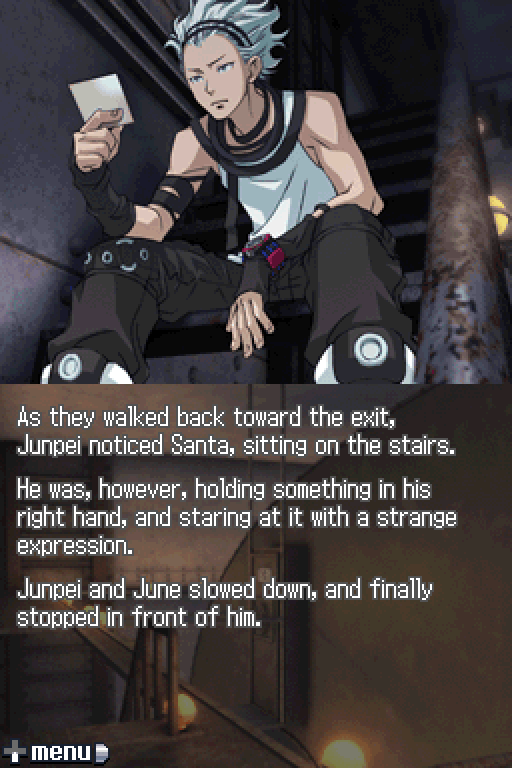 What are you looking at?
Santa answered without looking up, his voice quiet.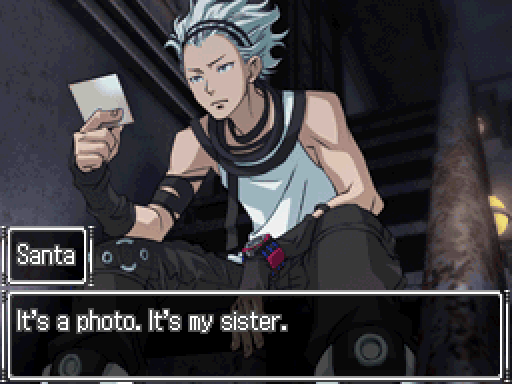 Sister? Santa, you've got a sister?
Santa simply nodded.

Yeah... Kid was as cute as a button...
June cocked her head, confused.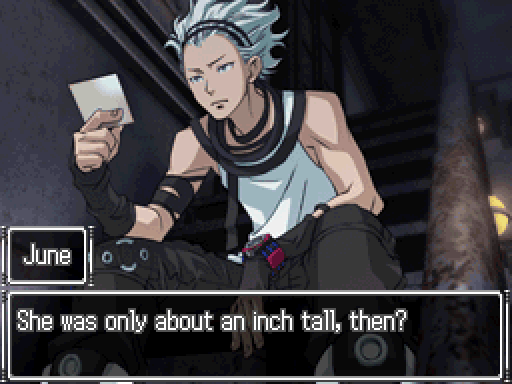 Santa glared at her.

A-Ah... Sorry... I-I guess an inch
is
a little large for a button... Probably more like...a half-inch?

...

...
Santa didn't smile, or laugh.
He simply turned back to his picture, and spoke.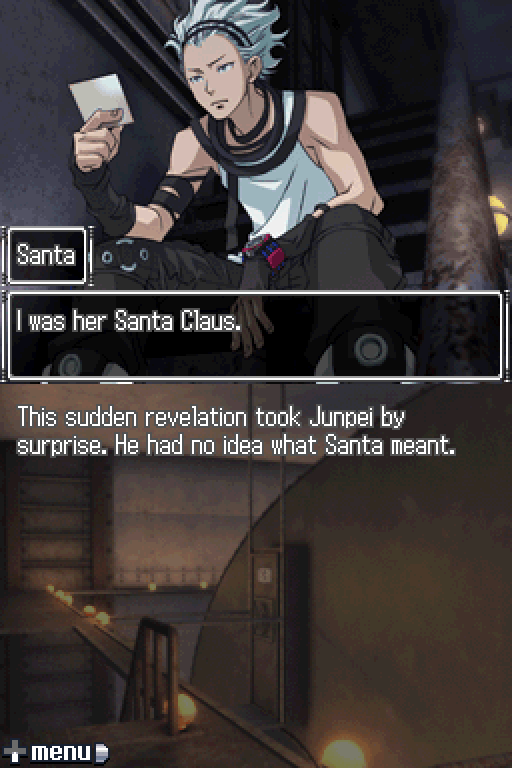 He glanced at June, who shook her head. She didn't know either.

Have you ever heard the story of the 2 Santa Clauses? It goes that a long time ago, there were 2 Santas...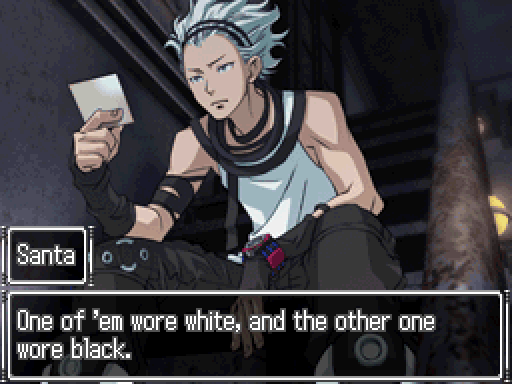 The white Santa gave presents to good kids. And the black Santa played tricks on bad kids. They went on like that for a while, but eventually the black Santa's tricks started to get worse and worse. Pretty soon, the white Santa couldn't stand it anymore...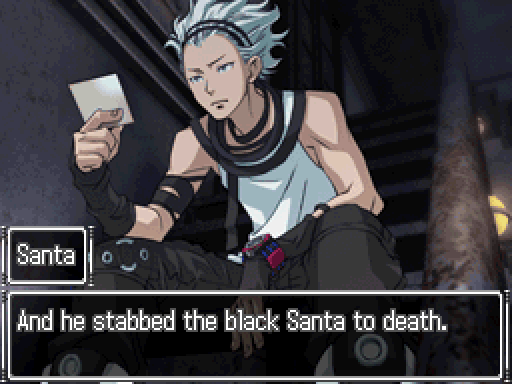 When he stabbed the other Santa, the white Santa got blood all over his clothes.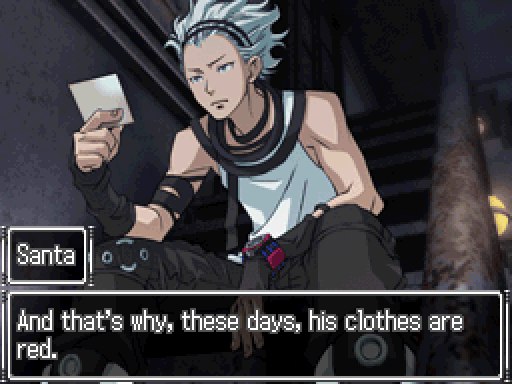 ...Sometimes, fiction is infinitely cooler than fact.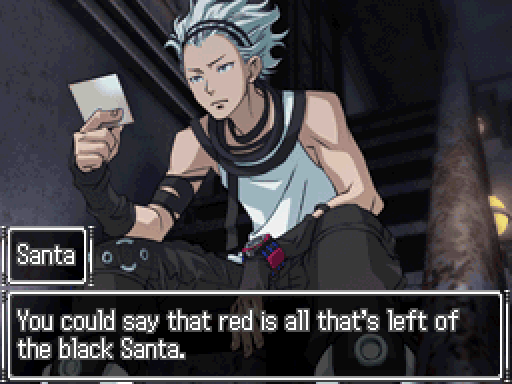 Junpei was silent. He could think of nothing to say.
June was staring at Santa, sadness plain on her face.
He continued.

I wonder...which Santa I am.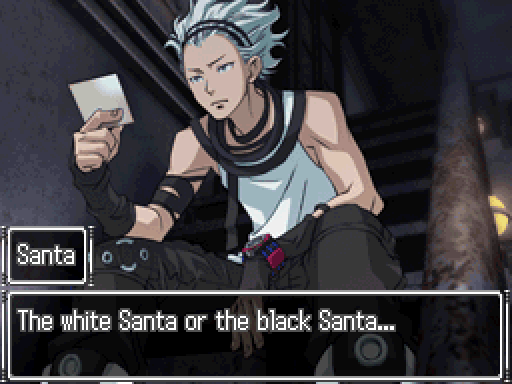 ...

...

...

...

All right. Let's go.
Santa stood up suddenly, his downcast demeanor gone.
He shoved the picture back in his pocket, and headed back up the stairs, taking them 2 at a time.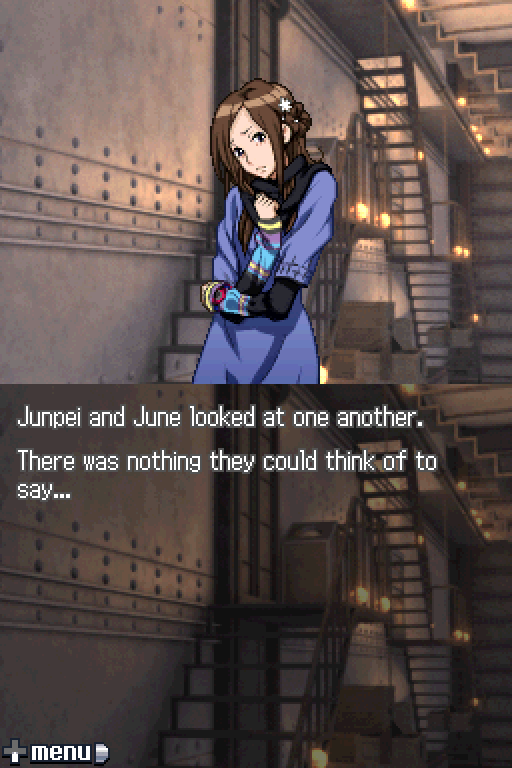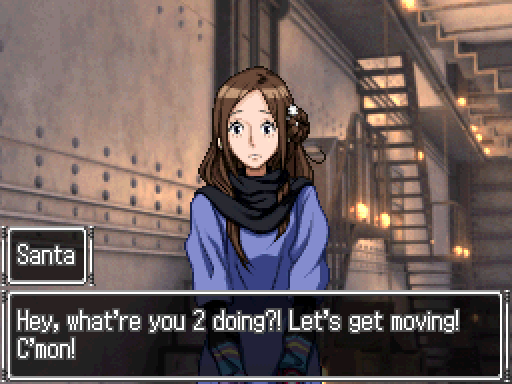 Santa's voice echoed across the room from above them.
They nodded, and followed him quickly up the stairs.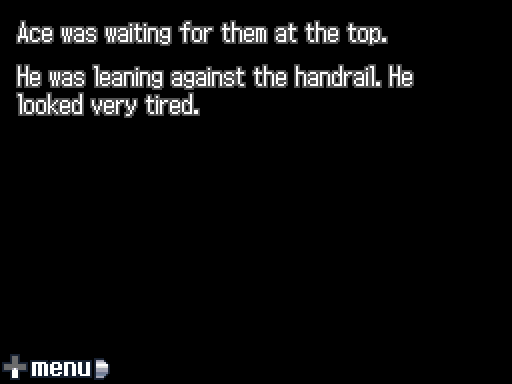 The door had shut, but it wasn't cause for concern.
Junpei quickly solved the disc puzzle a second time, and the door opened once again.
In single-file, they walked through...
After walking for nearly 15 feet, they found themselves in front of a metal door. It opened easily enough, and they passed through it as well.
A new room stretched out before them...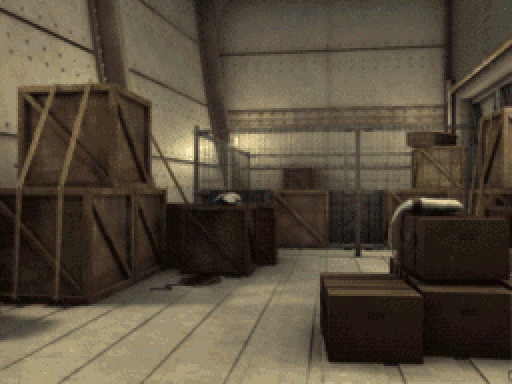 Is this a...warehouse?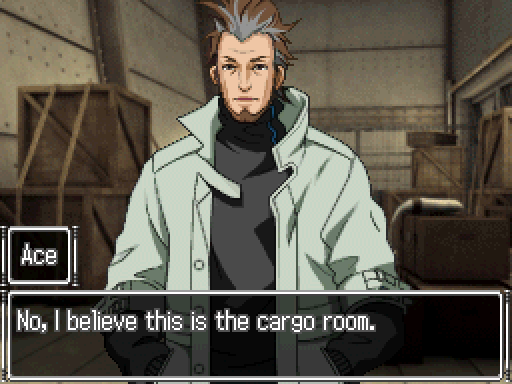 This must be where they store all of this vessel's freight.

There are wooden crates everywhere... I wonder how old they are...
Junpei, Ace, and June had stopped unconsciously, pausing to take in their new surroundings.
Santa's voice broke through their momentary trance.

Well, we probably oughta start with finding the exit, right?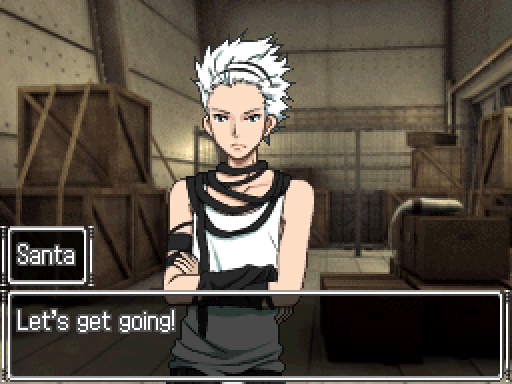 [Music: Senary Game]
It seems rather fitting that this should be our final room, really. It's big without being too big, it has a couple of real puzzles, and out of the items in here... well, you'll see.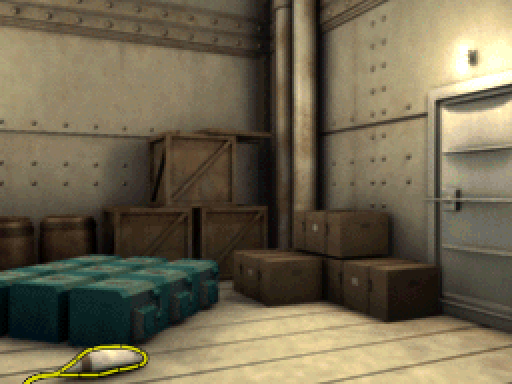 In fact, you'll see right now. There's a bunch of these bags lying around and they each contain...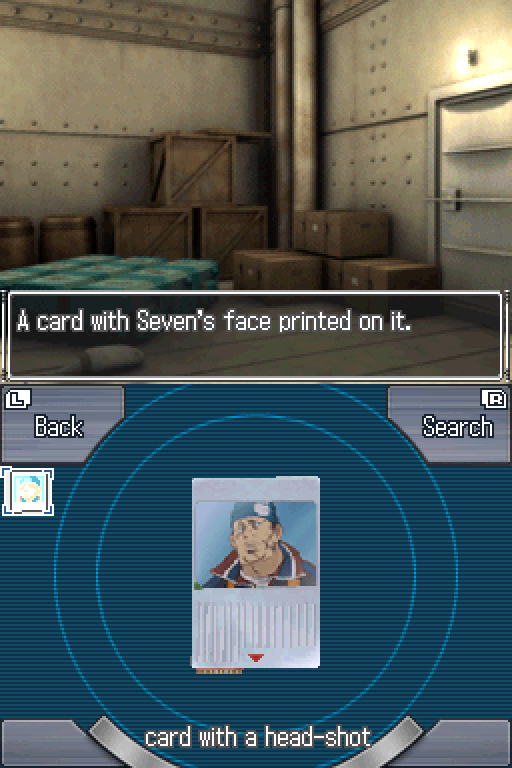 Cards.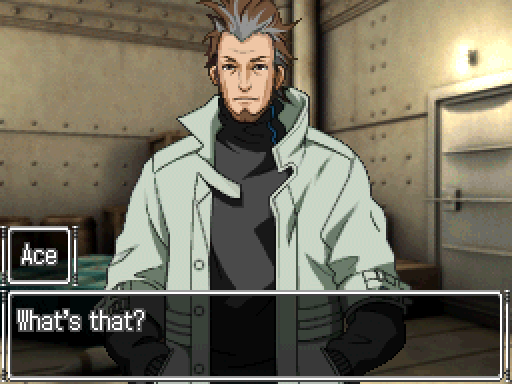 It's a card. It has a head-shot on it...

A head-shot...?

Yeah. I'm...not really sure what purpose this could possibly serve.
There're more cards than bags, though, so a few are hidden in different places. The next one we'll get, for example, you could look around the room for... but you wouldn't find it.

We'll worry about that later though. For now, let's just look at that large blue boxy thing.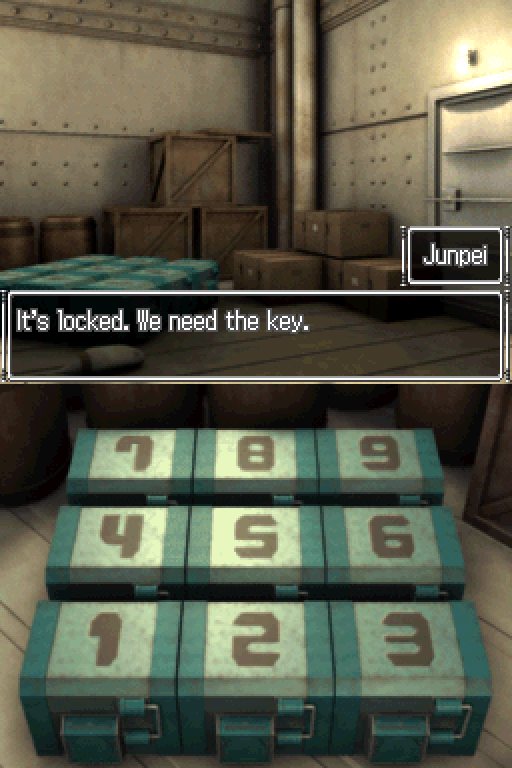 All the boxes have numbers on them. Do they-oh...?
Ace bent down and picked up something that had been sitting next to the box.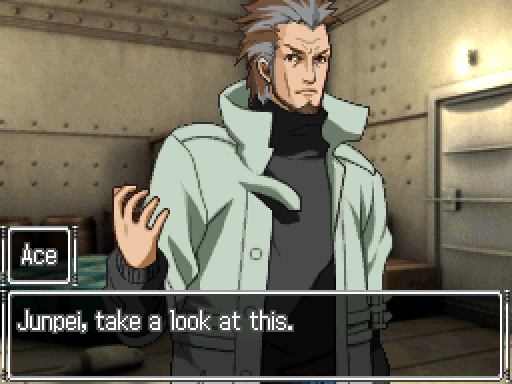 Cards...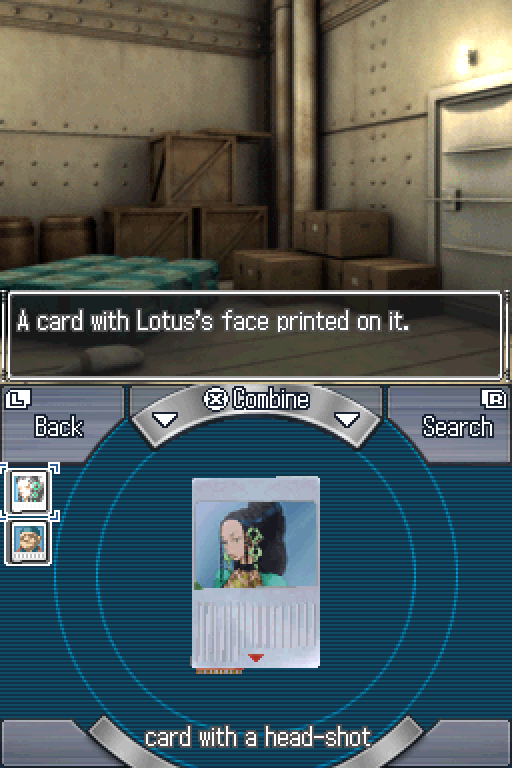 Not much else over here at the moment. So, time to start looking elsewhere.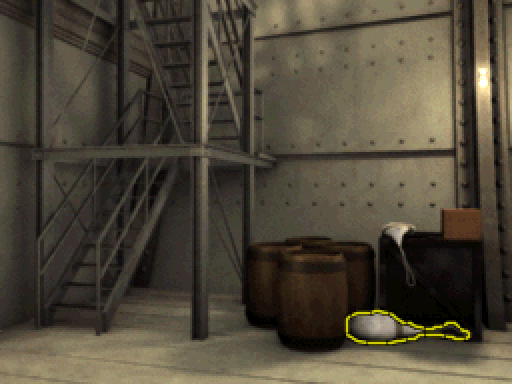 This'll do nicely. There's 2 bags here, even, so we might as well grab stuff from both before checking them out.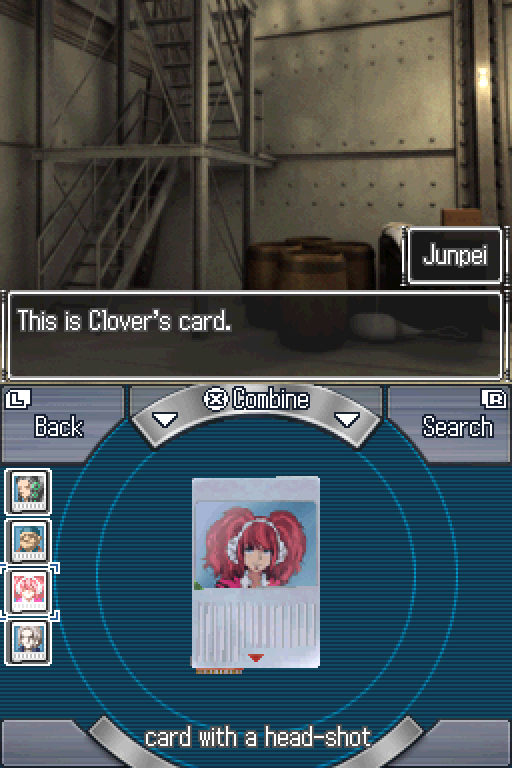 You know, looking at this photo... She's kinda cute, isn't she?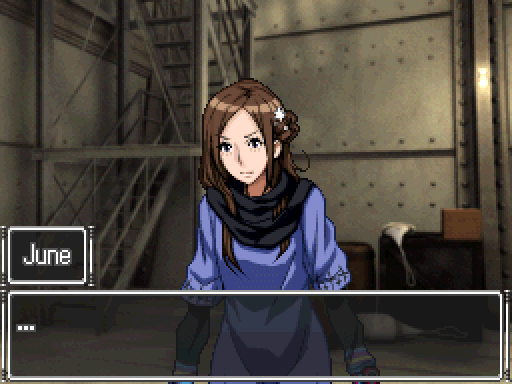 Huh? What's up?

Oh, nothing. Nothing at all.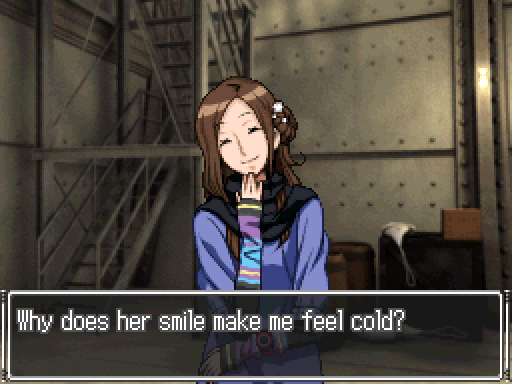 If this one was Clover's, then the other one is...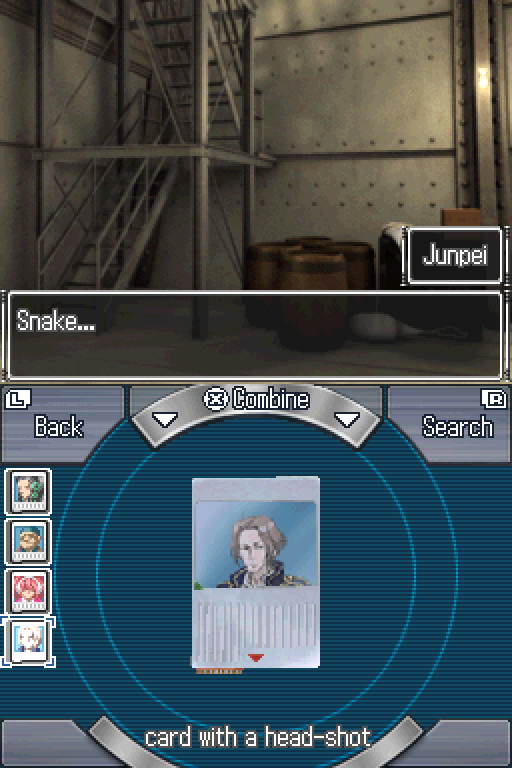 Is that Snake's card?

Yeah, you wanna see it?

No, that's fine.
...Huh, y'know they seemed a bit different to the ones we got before. Maybe it wouldn't be a bad idea to check them again.

If this is supposed to be a trading card, it's not a very good one.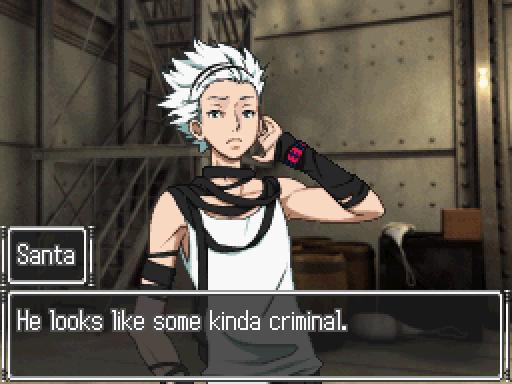 It looks like one of those photos you see on the bulletin board at a police station.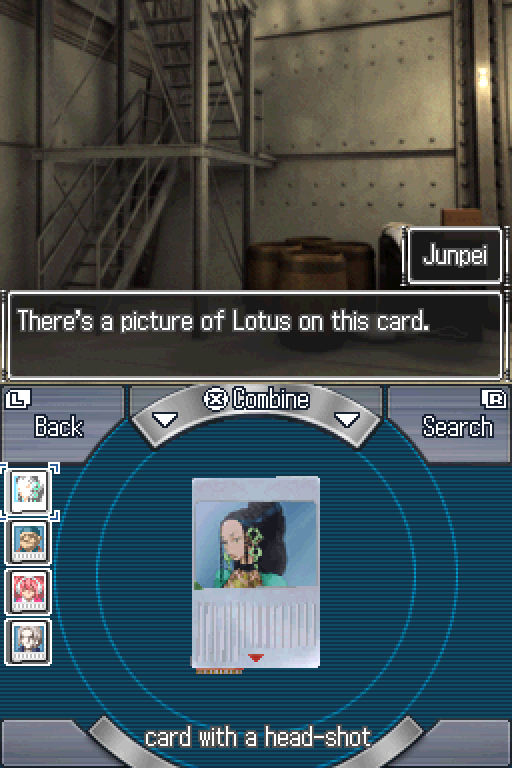 Man, her hair is ridiculous. It's like...clay, or something.

Says the pot to the kettle...
Yeah, now that we've got 4 cards the stuff we get for examining them is a bit different.

Speaking of, you probably noticed something else on this screen.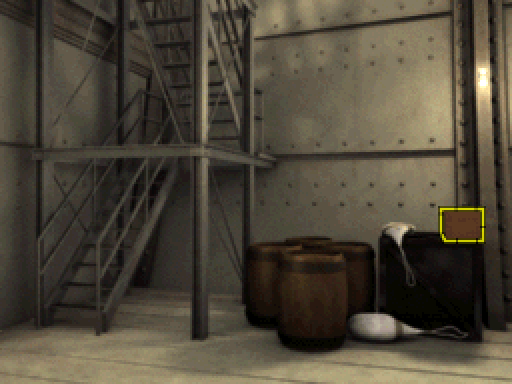 This box over here, even. Inside it, there's another card of course: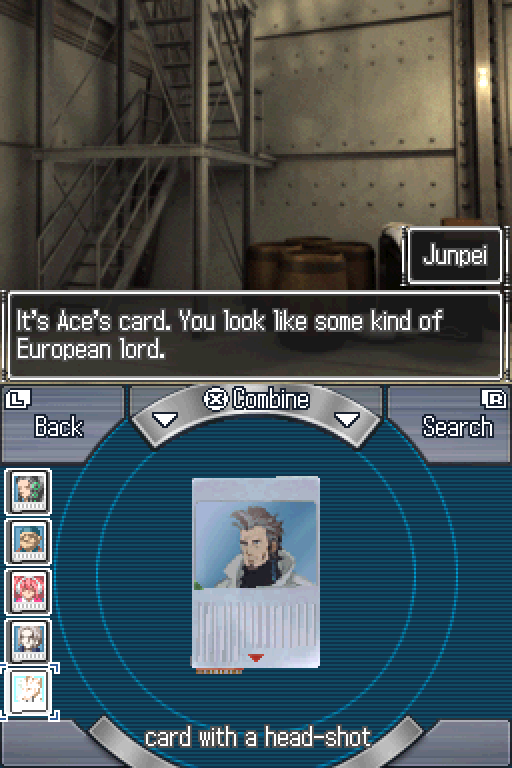 Oh, my head-shot...

You wanna see it? It's actually a pretty good picture.

No, I don't need to see it. In fact, we really ought to get back to our search.
That makes all 3 cards from this screen. There's only one thing left here and it's kind of minor.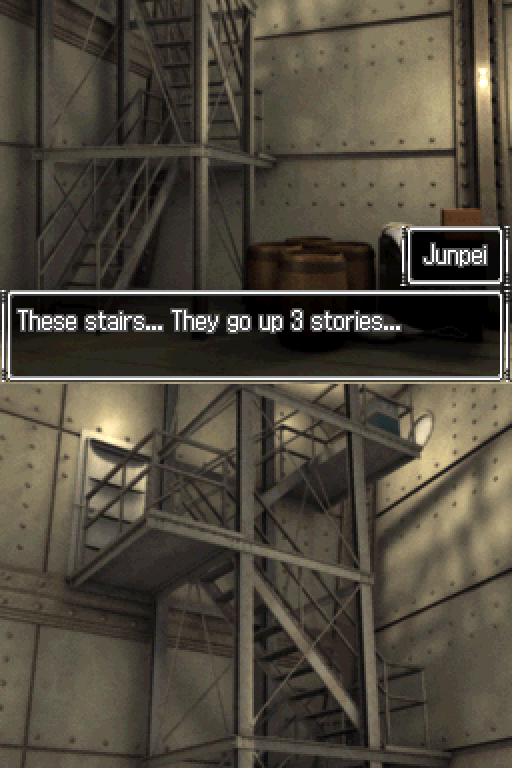 What are you waiting for Junpei? Whatever. I'm going.
...Yeah, that's quite big. I'd hate to fall on those stairs.

But, hey, I see a door there!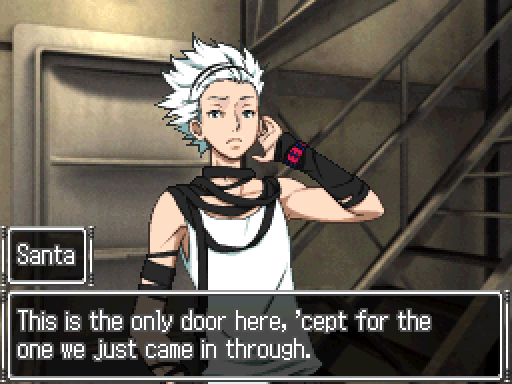 Then this is the exit.

No shit, Sherlock. Course it's locked...

Is it an electronic lock?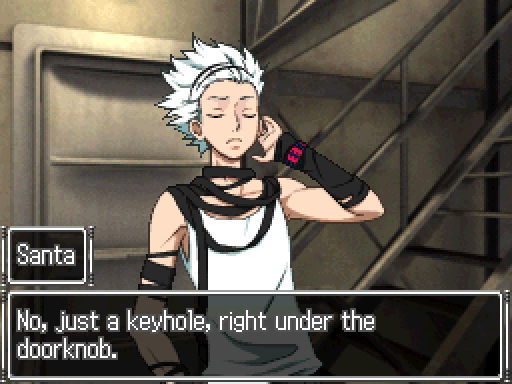 So to open this door, we've gotta find the key that fits that keyhole.

Yeah.
Well, this door is only about halfway up the stairs. Makes you wonder what's at the top, huh? Well, worth a look before we head on back down.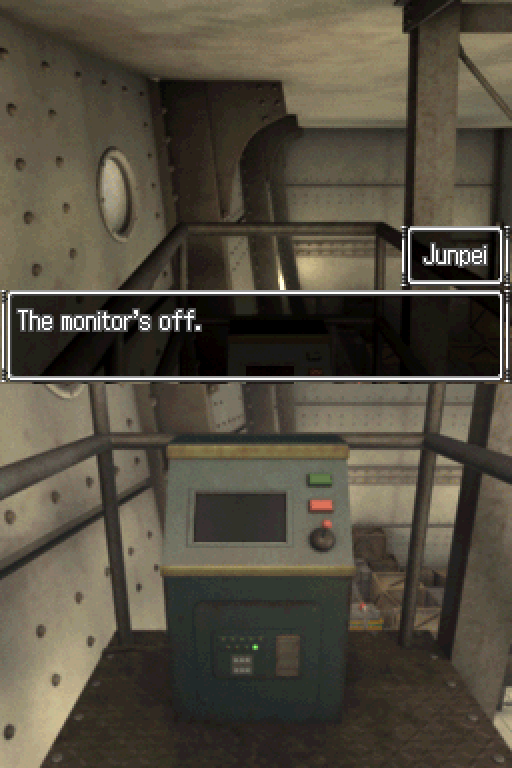 I've got a green switch here, and a red one, and some kind of lever. None of them seem to do anything, though.

Maybe the power's off?

Yeah, maybe. There's a single green light on the bottom, though.

That means...
That sounds like something worth giving a quick look at before we leave to get the remaining cards.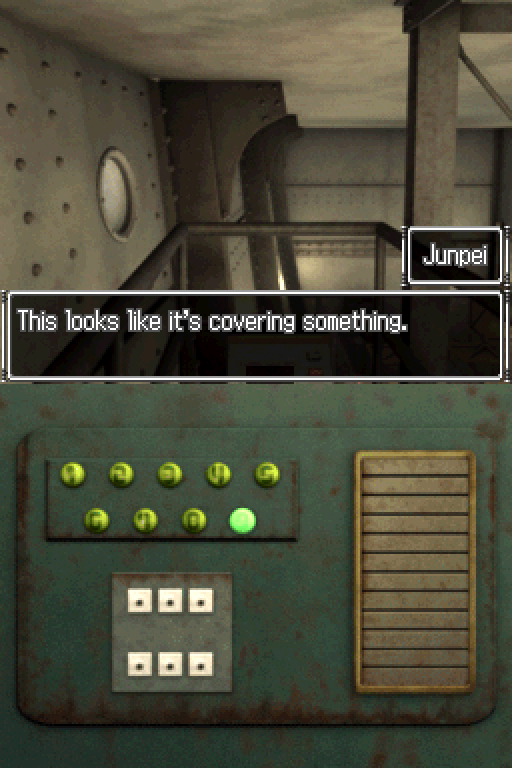 It looks like some kind of little shutter. Maybe it'll open if we do...something.

What's gonna come out of it if it does open?

Yeah, like I'd know that...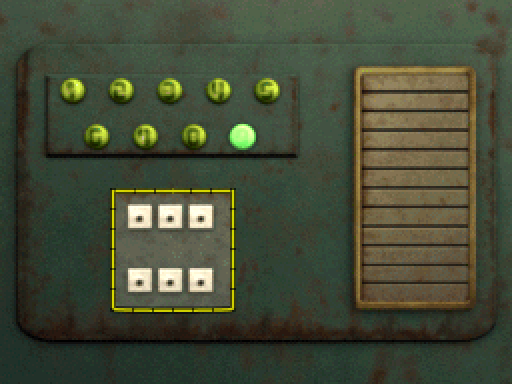 These slots are the only other thing here worth our attention, so I suppose we'd be remiss to ignore them.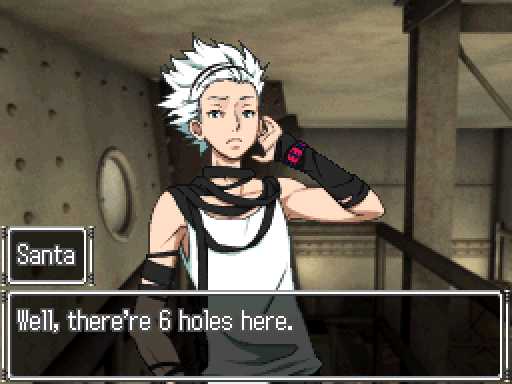 They look like jacks for a headphone cable.

Jacks, huh...

Then maybe if we put something in them.

Yeah, something might happen.
Nothing at all left over here for us, so time to head back down. And from there we'll just return to the first screen that I completely skipped over until now.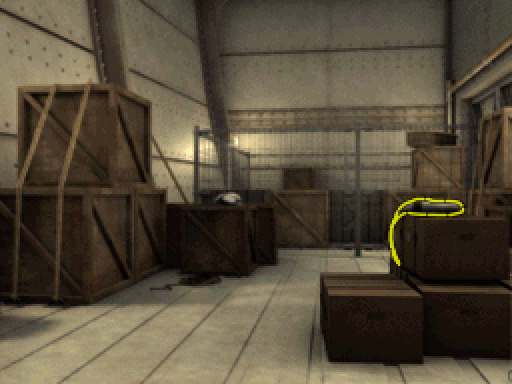 That's because other than this bag, there's nothing here at all to care or worry about.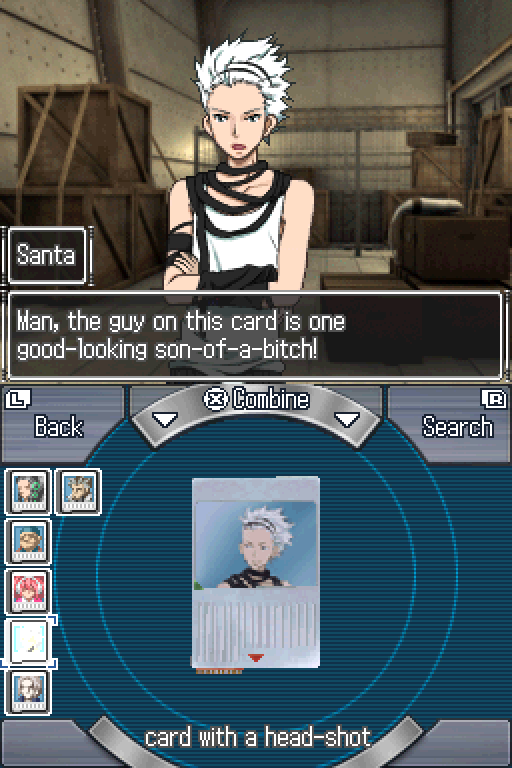 Way more class than that other chump...

Hey! What's that supposed to mean?!

Huh? What's your problem? Didn't say I meant you, did I?

Shit...
You probably noticed that there was another bag at the back. That's not really part of this screen but it's there and we're here so we could give it a look at I guess.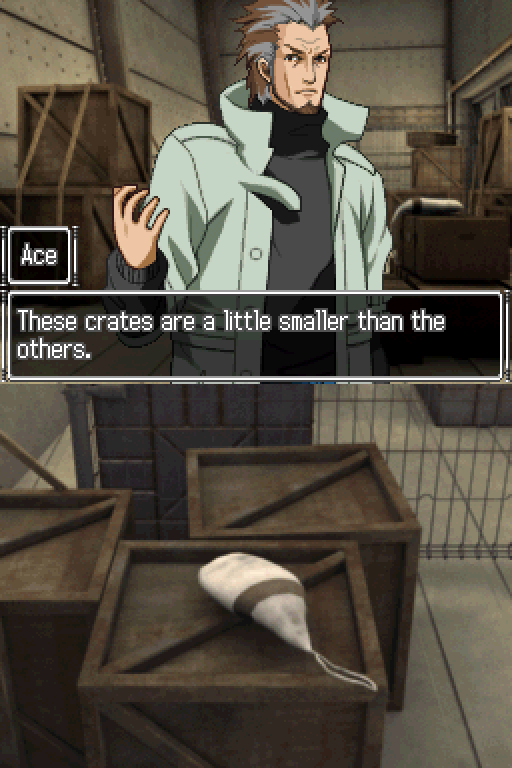 They look like they're the children of the other crates.

Junpei, that sounds like some sort of fairy tale.

Really?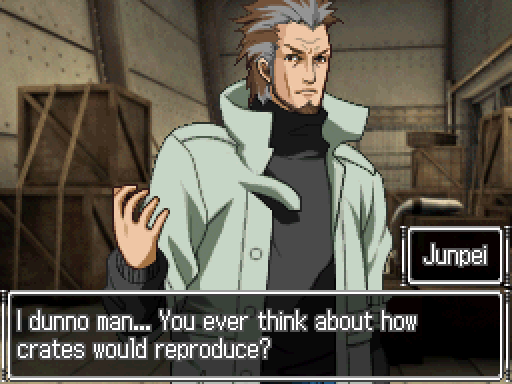 Doesn't sound like a fairy tale to me...
Can't say I'd ever thought about something like that before.

And I don't want to start now, so let's just grab our card.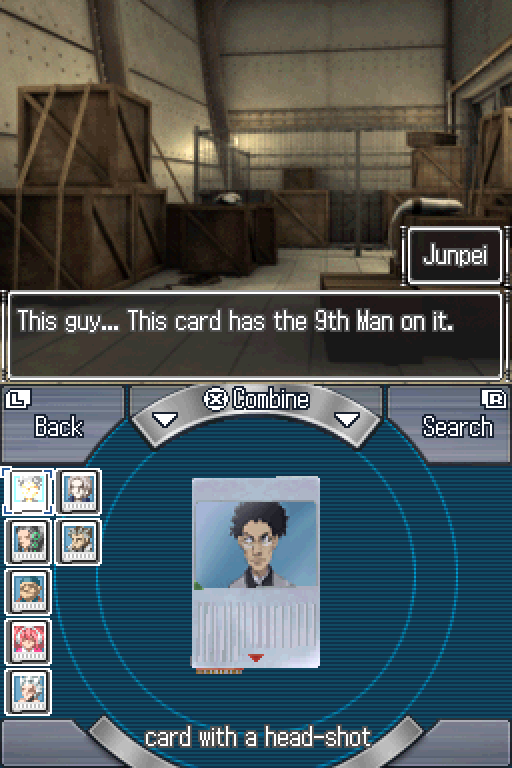 This guy... This card has the 9th Man on it.

(He is the first victim of this Nonary Game. Actually, come to think of it, he was acting pretty weird.)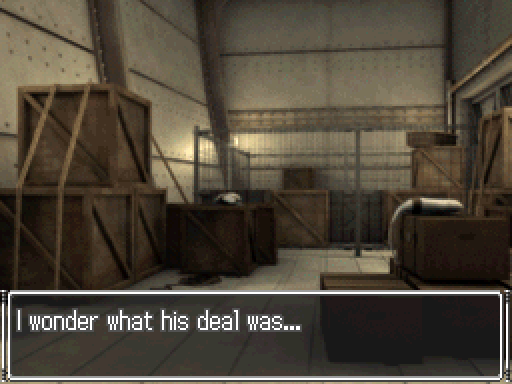 Don't worry, Junpei. I'm sure you're not the only one. There's bound to be at least 6 others who are equally curious.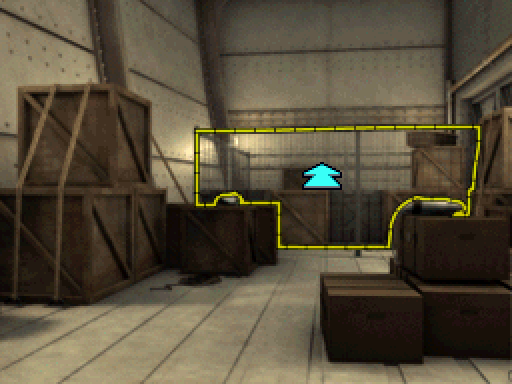 And now for something that's kind of hard to notice at first. On top of the crates at the back here, that's something that looks a bit too small to be just another crate. I'm terribly curious as to what it could possibly be, so let's go check it out.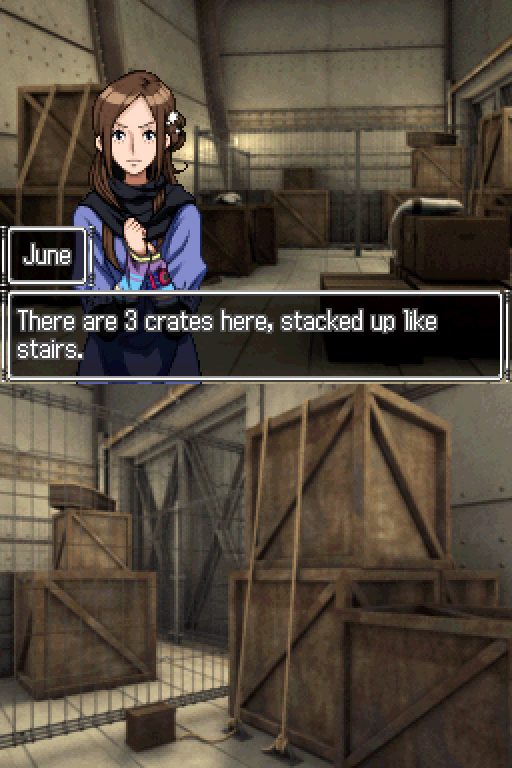 If we climb up there, I think we can get over the fence. Junpei, think you could go take a look at that?

Sorry, but no thanks.

Why...?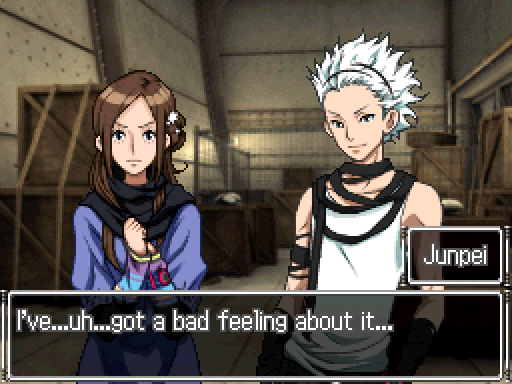 Pussy... Okay. Fine. I'll go.

Please be careful, Santa.

Yeah... But, just in case...

(Wait... What's he going to do with that screw...? I don't see what throwing a screw at a fence is--)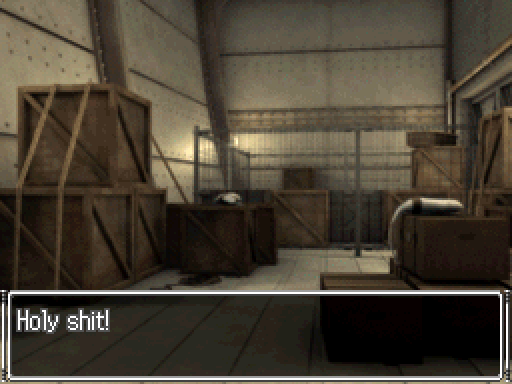 [Sound Bite: Lucky]

!

!

!

This... Oh man...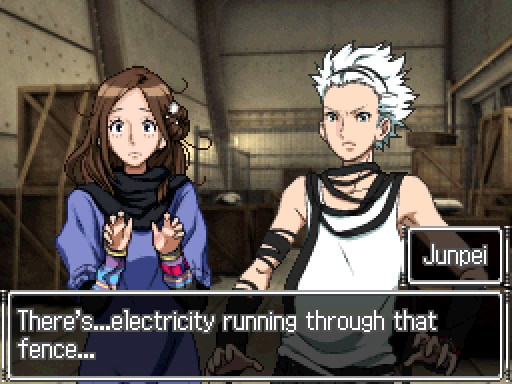 ...Looks like it...

Then we can't get to the other side...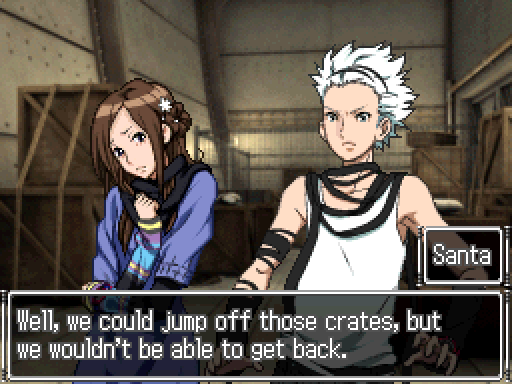 Hmm...
Damn, that's... certainly a good thing we didn't just try and climb over the fence. I wonder if we can manage to get over by jumping anyway. So long as we don't touch the fence itself, it should be fine right?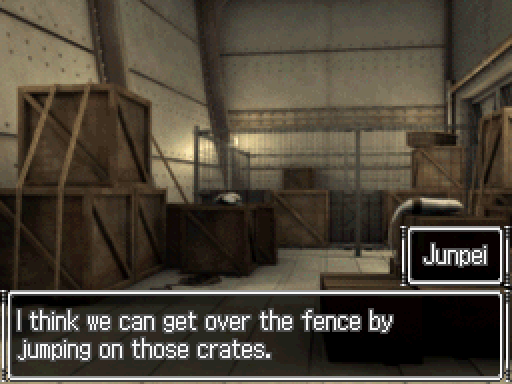 Wh-What are you saying, Jumpy?! There's a huge electrical current flowing through that fence! If you do that, you won't be able to get back!

Well, if I can move some of those crates over there...

Are you even sure you can move them?!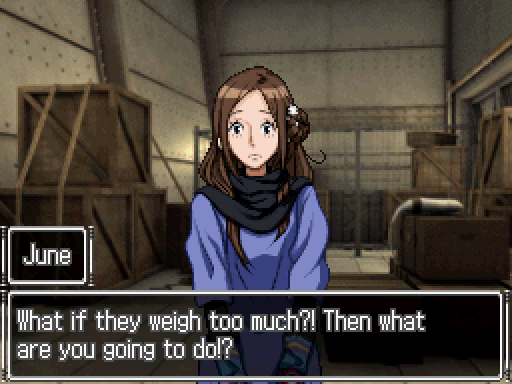 Oh...yeah. Hmm. Hadn't thought of that...
...Well, so much for that idea then.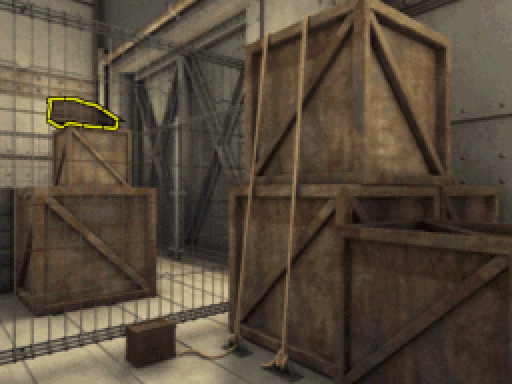 Jeez, I almost forgot why we even came over here! We might not be able to reach it, but we can still see this thing.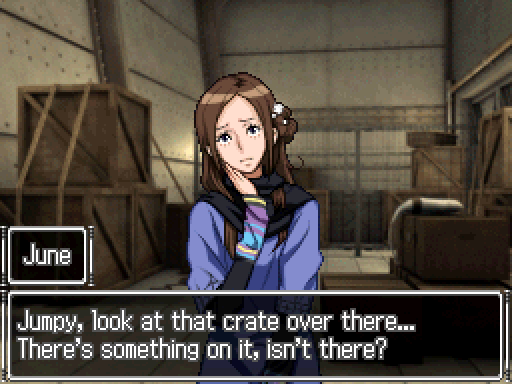 Yeah... Looks like...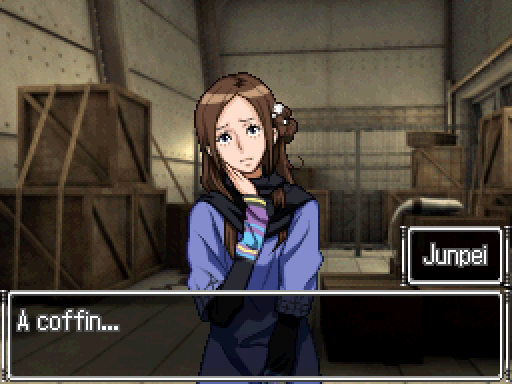 A c-coffin?!

Yeah, seems kinda weird to find a coffin here, right?

As if it's telling us search here...
Speaking of searching in places, let's head back to that screen with the giant blue locked box again.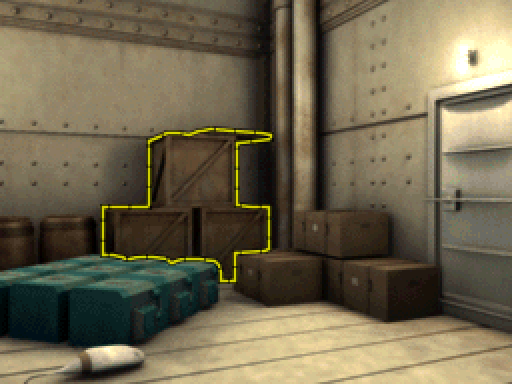 We don't have every card yet, but we haven't looked inside this conspicuously open crate yet. In fact, that's the only place we haven't looked at this point.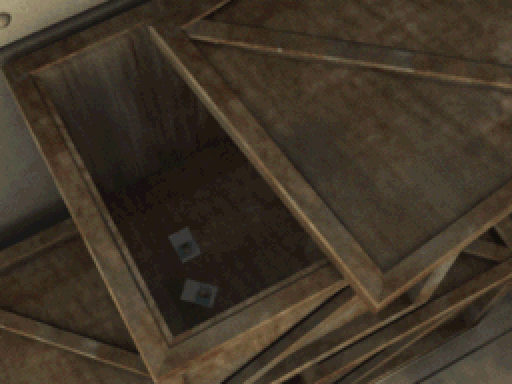 And it just conveniently happens to be empty save for the two cards we're still missing.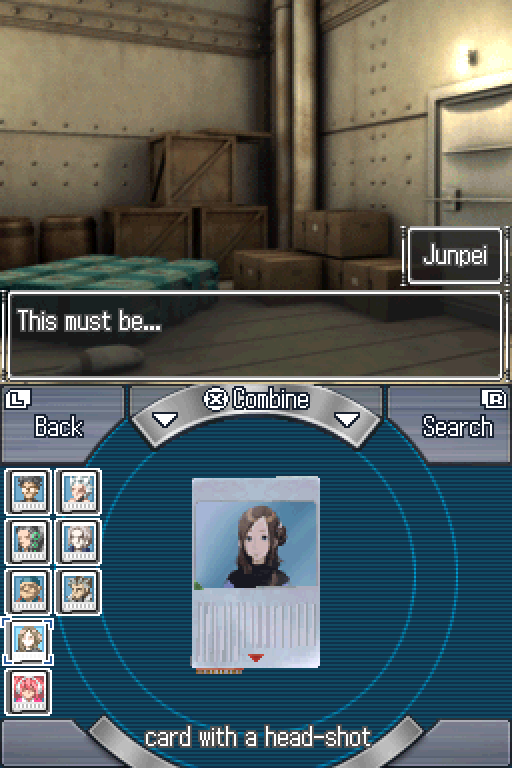 Oh no! Don't look at it!

I'm not cute at all and I'm not photogenic, and I don't look sexy either. Next to Clover, my skin looks gross... and I'm not sexy like Lotus...

...

I know guys go for women who look like Lotus...

But! But, but!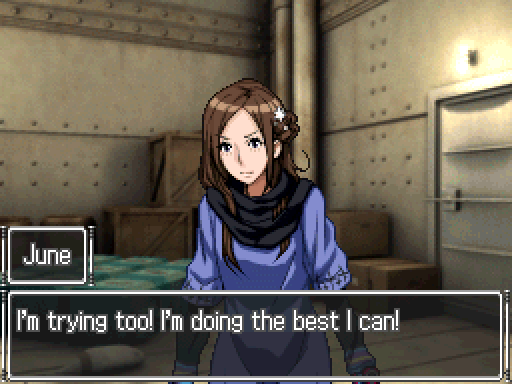 So please, don't call me a board, or a trash can, or a cutting board--

W-Wait a minute... I haven't said anything like that... Have I?

...
And, of course, this leaves the last one. When you see what we get from this, you'll know why I left it for last.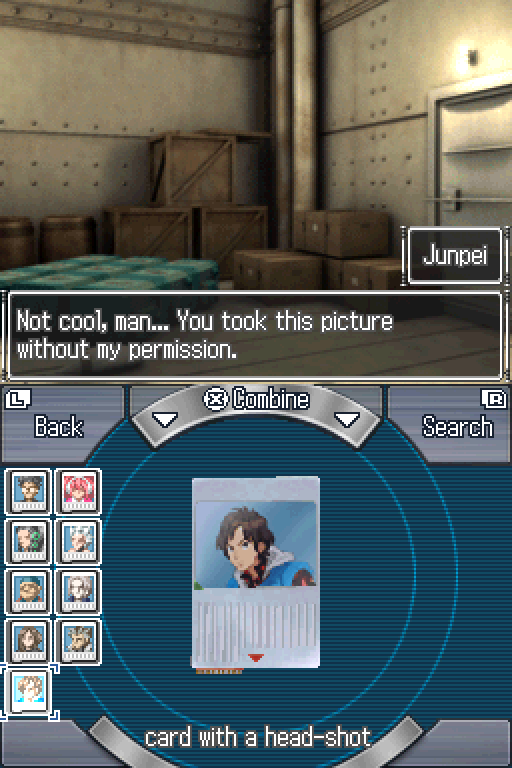 It looks pretty cool, though. You look really handsome in this picture...

Hey, knock it off, lovebirds.

Wh-Wh-What?!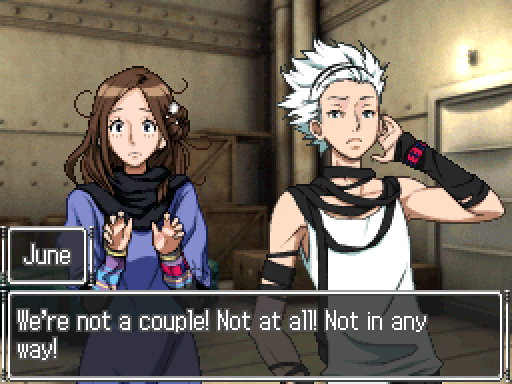 ...
...Uh, not this bit. After this, we can examine it 9 more times.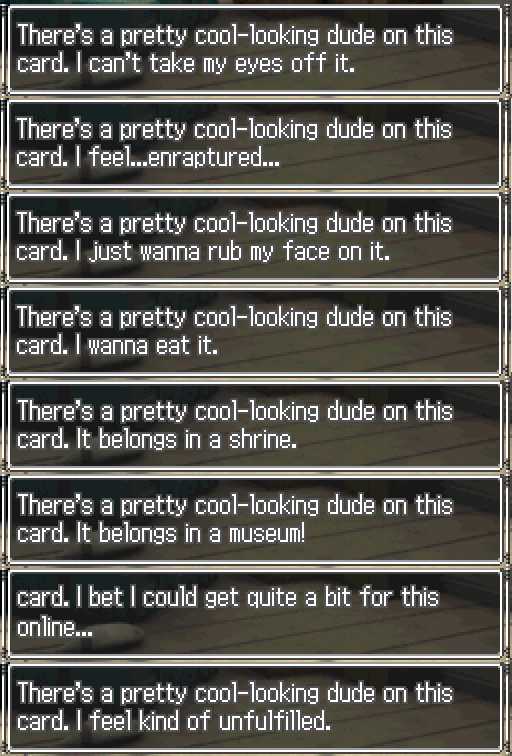 That's "only" the next 8, sure, but the next one is the one that loops whenever you check after.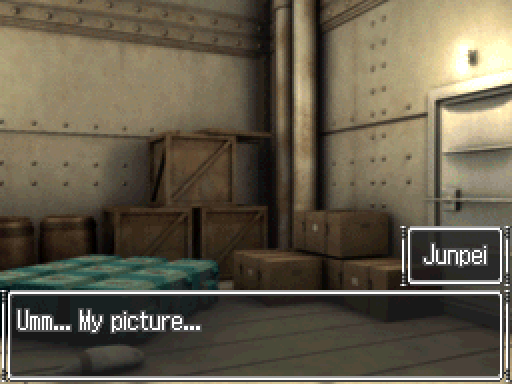 It's remarkably subdued considering what comes before it, uh?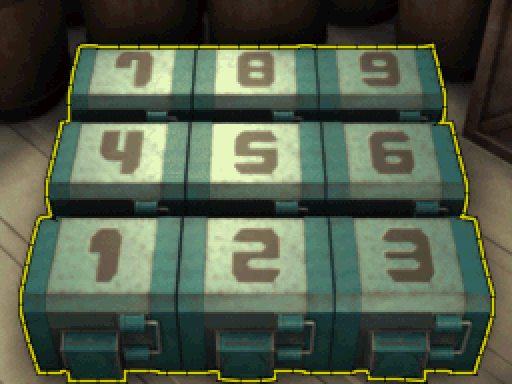 Ah well, we've got all 9 cards now. We might as well put them to use.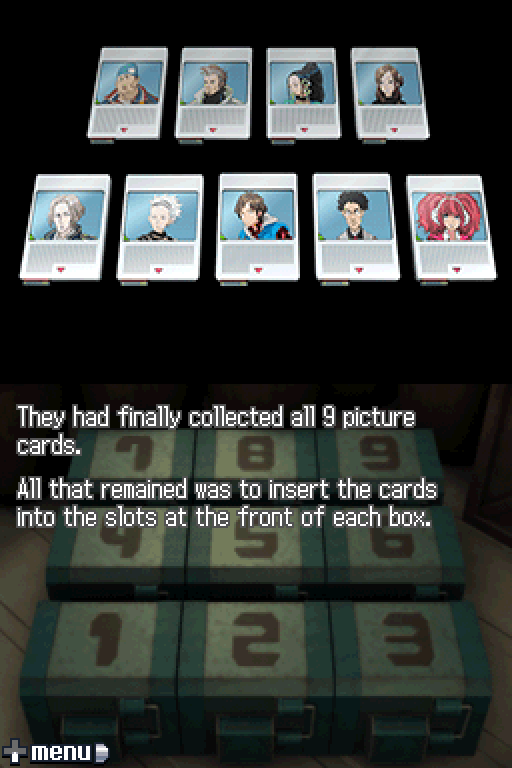 Junpei stared at the cards in his hands.
Ace peered over his shoulder at them.

You know which card goes in which box, yes?
Junpei gave him a look.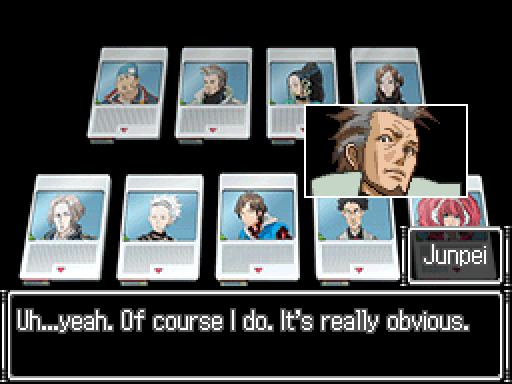 You just match our numbers to the numbers on the boxes. So for instance, the card with the [picture of Ace] on it goes into [box 1]...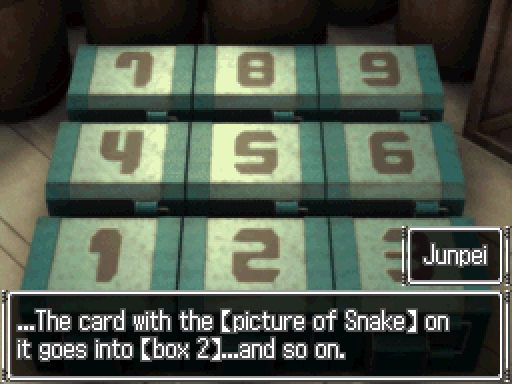 A-Ah, I see...
Junpei thought he might have imagined it, but he could have sworn Ace stiffened.

I'll leave the rest to you.
He quickly turned, and walked away.
Strange, Junpei thought...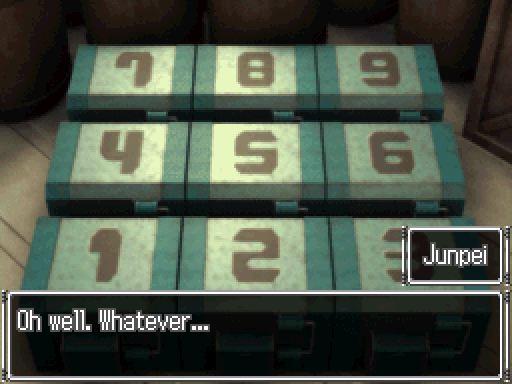 Doing his best to clear his mind for the task at hand, he turned back toward the boxes.
It was time to solve the puzzle of the 9 boxes!
9 cards with pictures...and 9 boxes. Junpei stared at them for a moment, and then began.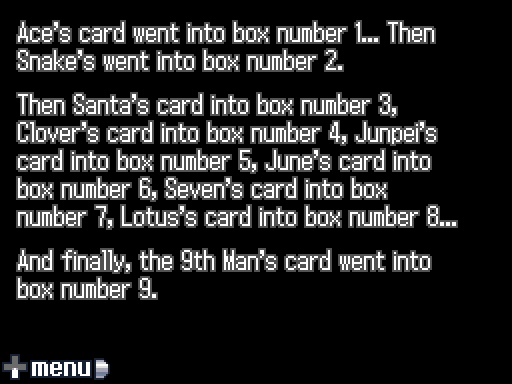 As soon as he'd inserted all of the cards--
[Music: Silence]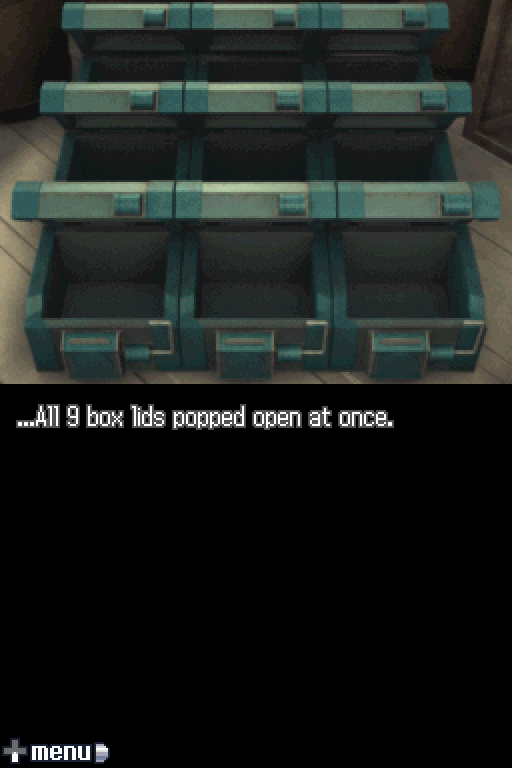 He peered inside.
In each box was a single [pin].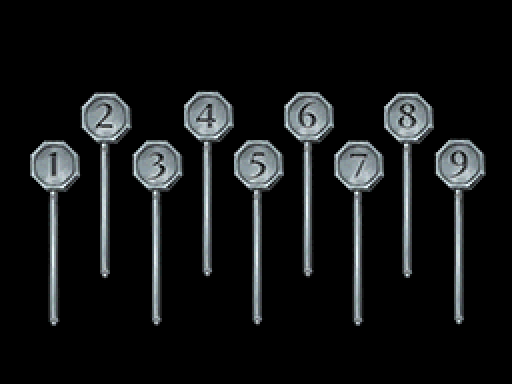 They looked a little like sewing pins, but much thicker.
Junpei collected them all quickly, and shoved them into his pocket.
That... was incredibly roundabout, and basically pointless. I mean, it was a puzzle so easy that even Junpei could get it right. In cutscene, no less.
[Music: Senary Game]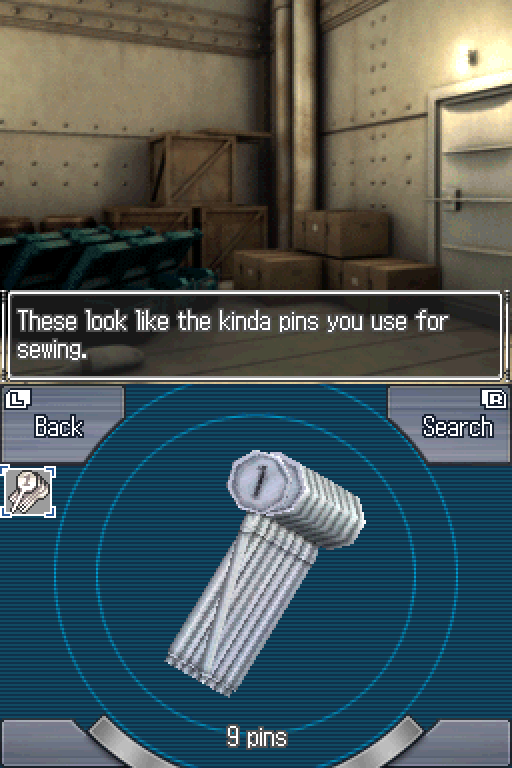 (There are 9 of them, in total, and they have numbers on them that run from (1) to (9).)
Oh well, whatever. I'm sure you remember exactly where these things are going to go.

If not, let me give you a hint: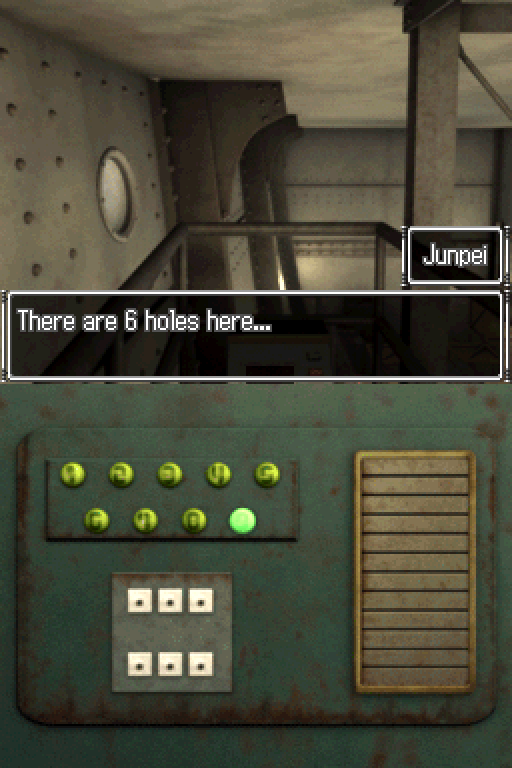 And it looks like the pins I just found would be a perfect fit for them.

The ones you found in the 9 boxes, right? Well, why don't you try it?

(All right, let's see what happens. I think (2), (4), and (6) should go here on the top part... And (3), (5), and (7) on the bottom part.)

Well... Some of them lit up...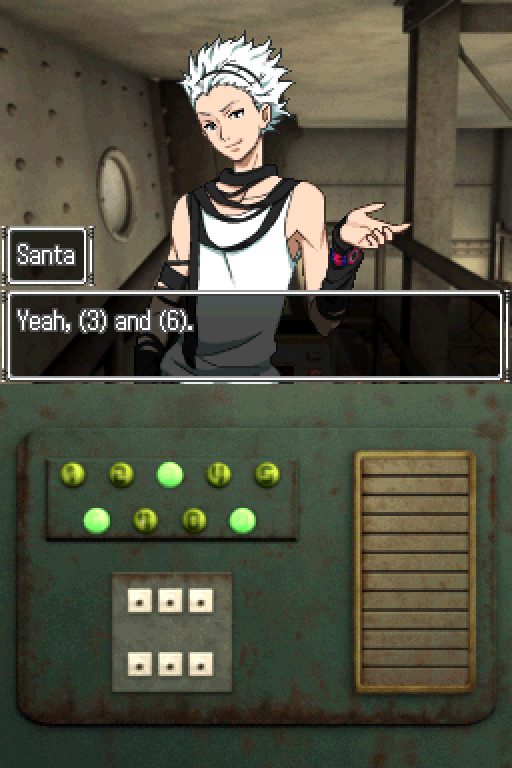 I wonder if there's some kinda rule that determines which lights go on...

Well, I put the (2), (4), and (6) pins on the top part, and the (3), (5), and (7) pins on the bottom...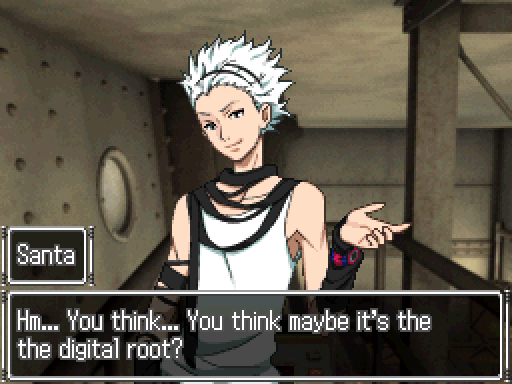 The digital root...?

2 + 4 + 6 = 12. The digital root of 12 is (3)... Therefore, light (3) turns on. 3 + 5 + 7 = 15. The digital root of 15 is (6)... Therefore, light (6) turns on. Makes sense, right?

I see...

The lights that match the digital root of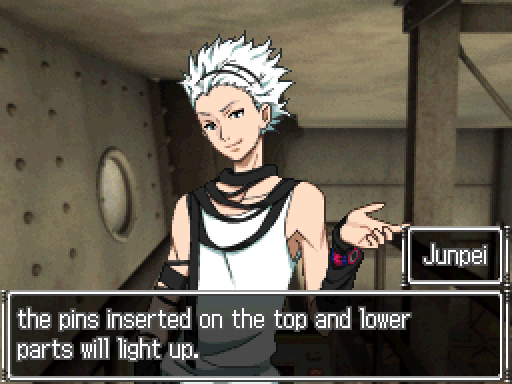 So that's how it works...

Well, there's one other thing I'd like to check.

(Well, if he wants to try, he's certainly welcome to. So... He'd put the (1), (2), and (3) pins on the top, and the (6), (7), and (8) pins on the bottom.)

(...Oh...)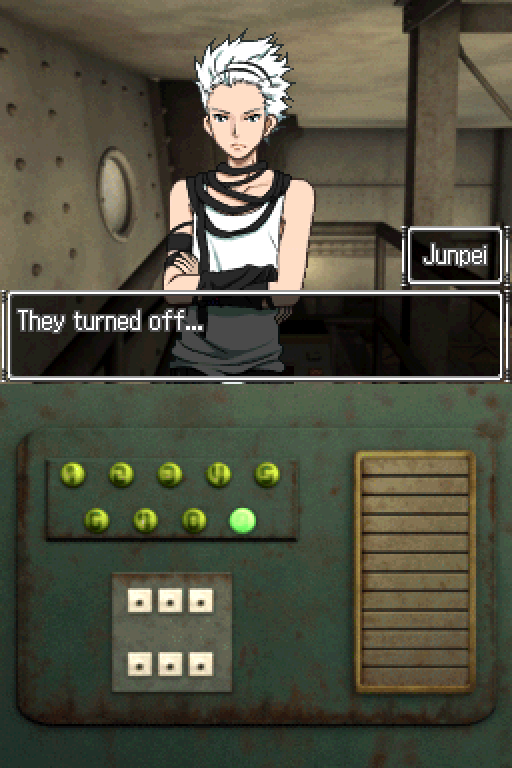 6 + 7 + 8 = 21. The digital root of 21 is (3)... Therefore light (3) turns off. 1 + 2 + 3 = 6. The digital root of 6 is (6)... Therefore, light (6) turns off.

Ooooh... I get it now.

If the digital root for the pins you insert is the same as the number on the lights that are lit...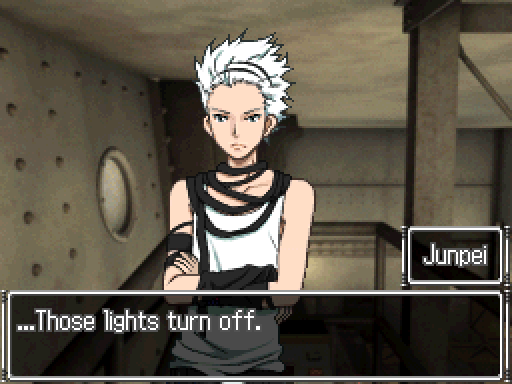 Yeah, looks like that's the trick. All right, now we know how it works. You wanna give it a try?

Wait... You mean you know what we're supposed to do with these lights?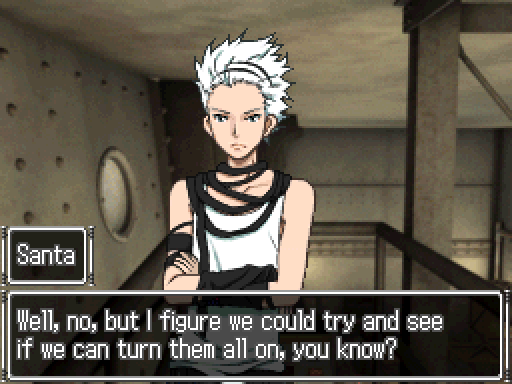 I figure something's gotta happen if we can manage that...

Turn on the lights, huh...
We get nothing from not doing so, so we might as well do this obvious minor puzzle right away.





It's not that difficult either, thankfully.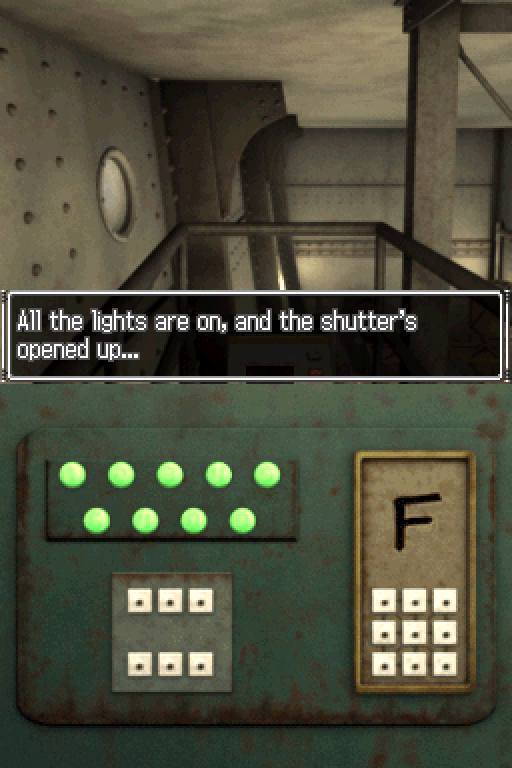 Hey, does that mean...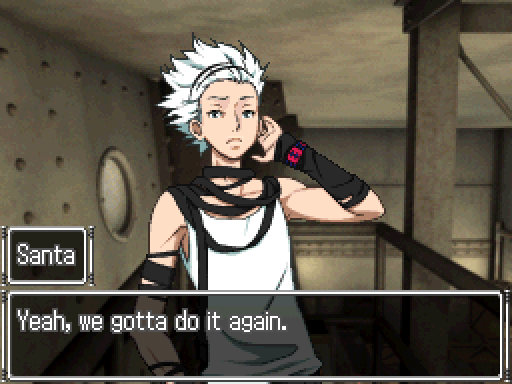 Man, and I thought I was doin' so well.

Okay, so we've got 9 holes...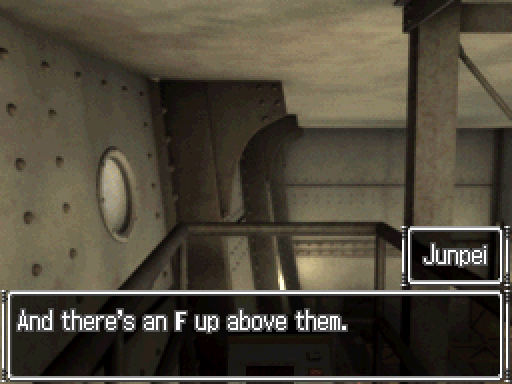 I don't know what the F means, but I do know one thing...

What's that?

This time, there're 9 holes. So we need to insert 9 pins.

Man, that's boring.

Well, why don't you just try it, all right?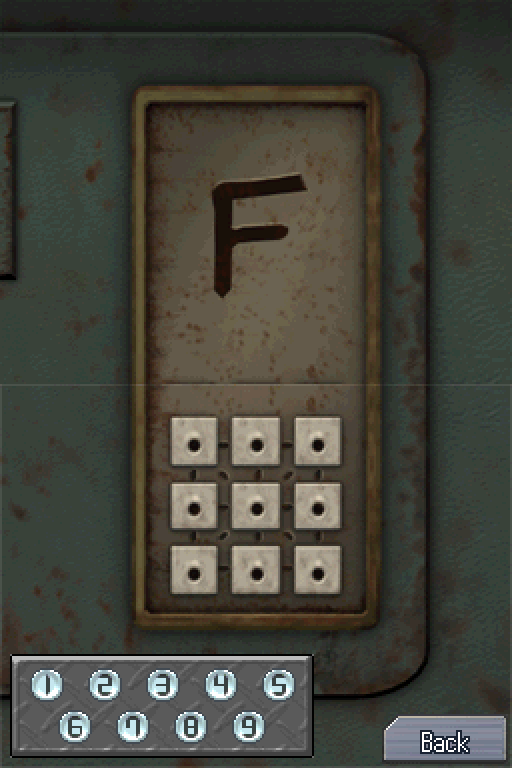 I... kinda recognise this thing, maybe, but I dunno for sure. Let's go look for a real hint since we must be missing something!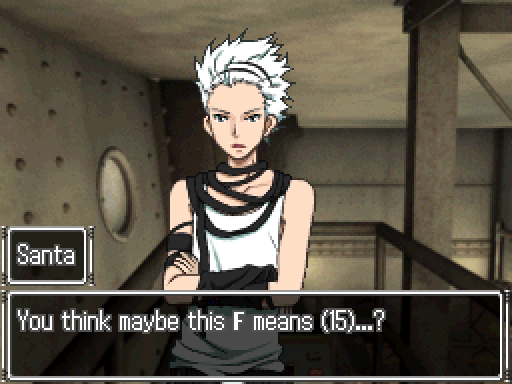 (15)...?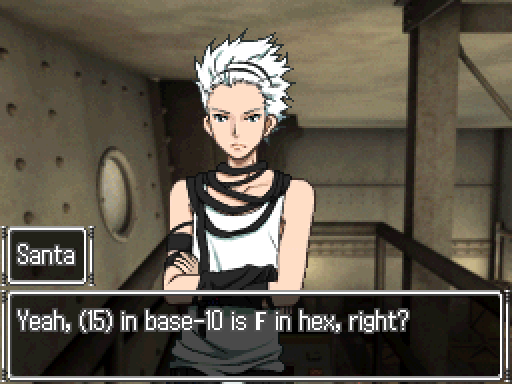 You're right! Yeah, that's gotta be it!

All right, let's give it one more shot!
Of course, this next bit is really easy to miss since when we decide to get it wrong again we get nothing. We get nothing the third time either, and the same for the fourth.

The fifth?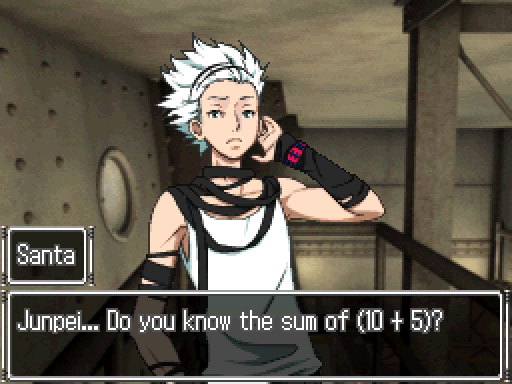 Yeah, it's (15). Do you really think I'm that much of an idiot?

All right, so what are the sums of (1 + 9), (2 + 8), (3 + 7), and (4 + 6)?

They're all (10).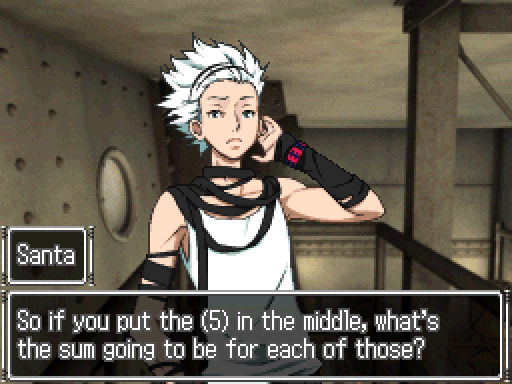 Well, if they're (10) right now...

Yeah, I think you've got it. I'll just let you figure the rest out.

...It's a magic square. You didn't really think we wouldn't have one at some point, did you? In any game where you go around solving puzzles, there must always be at least 1 magic square somewhere. It's like a law or something.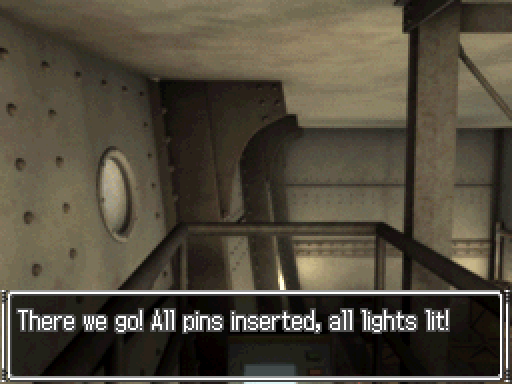 We did it. The power's on now.

It looks like there's electricity going to the monitor on top now. All right, let's see if we can activate the device on the top.
Now, let me make this clear: I do actually like this room.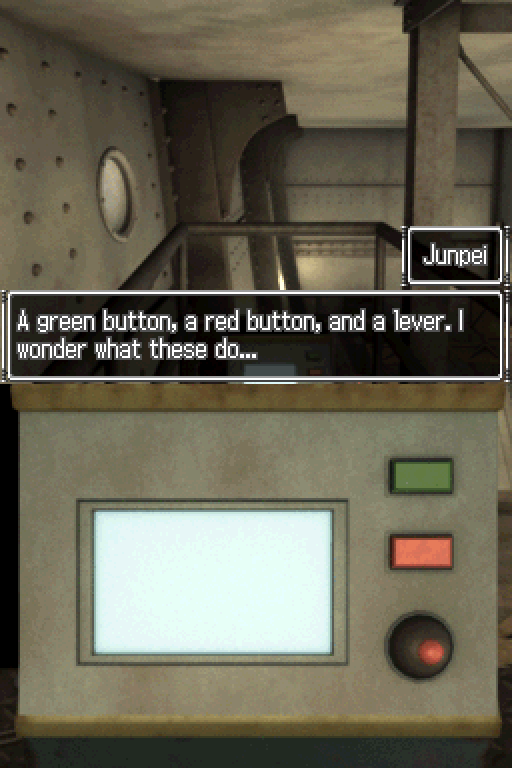 You could cut out about half of it, though, and absolutely nothing would be lost.

I think this might help...

(What...what the hell is this? Where did he find this?)

What is that? Where'd you find it?

I found it when you were messing around with the pin holes.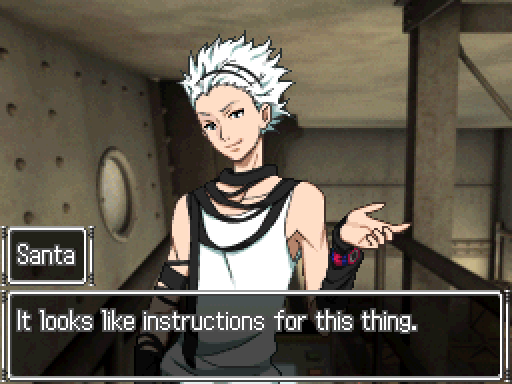 According to what it says here this thing's a remote control for...
that
.

That
?

Yeah,
that
.

(What's he pointing--oh...)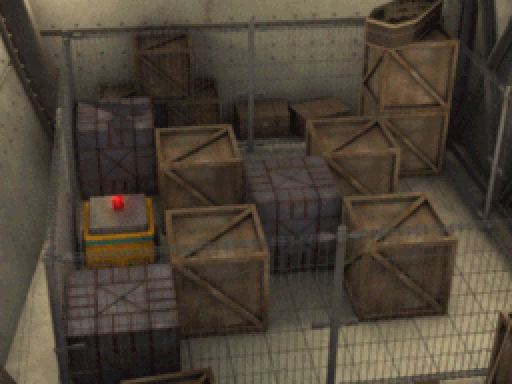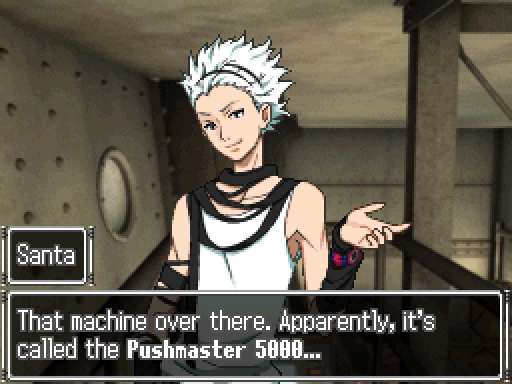 ...Are you serious...?

Whatever... So what are we supposed to do with the Pushmaster 5000?

You see the coffin over on top of the crates?

Yeah...

Don't you wanna know what the deal is with it?

I do.

You wanna check it out?

Yeah.

All right, how do you think we're gonna get there.

Well, there were some crates on the right side of the fence that someone piled up like stairs...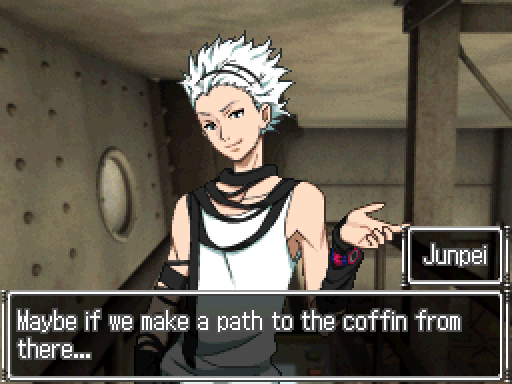 How would we do that?

Line up...the crates...I guess?

Yeah, that sounds about right.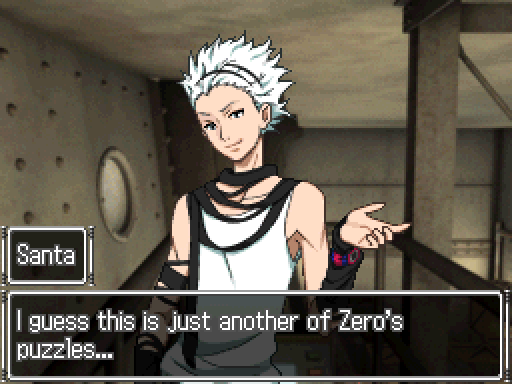 Yeah...

Anyway, let's give it a shot.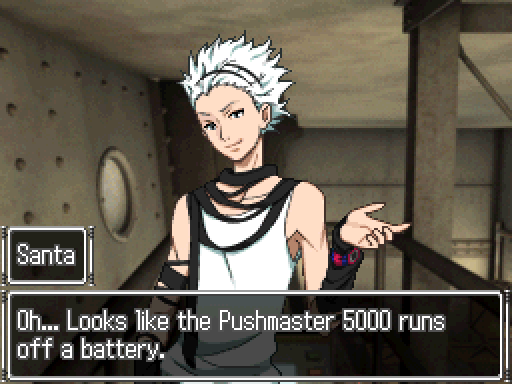 So to keep it from using up its energy too fast it's been programmed so that it'll only start moving once its path has been completely programmed in.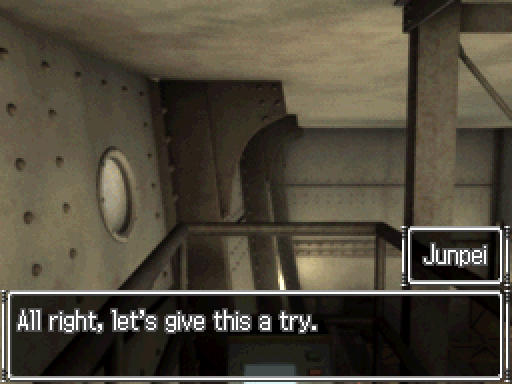 Sure thing. Just keep in mind that there is a limit on the battery, all right?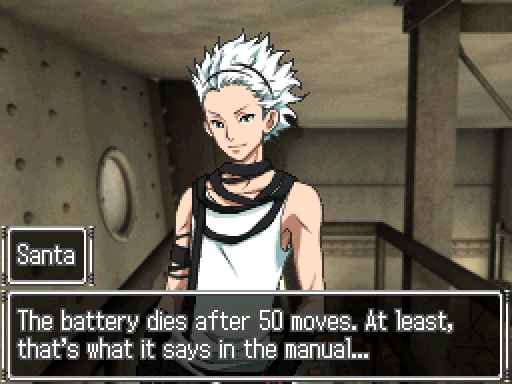 50 moves, huh...

Also, keep in mind that the Pushmaster 5000 can't move the heavy metal crates, okay?

Got it.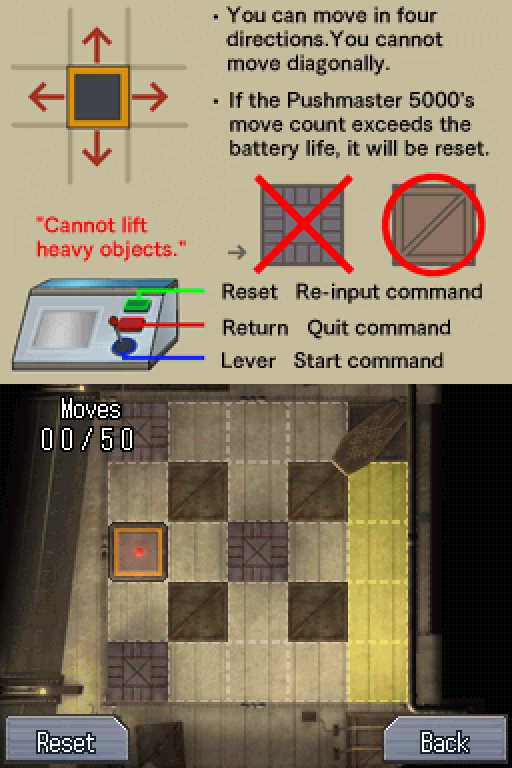 Jeez, this looks rather complicated. Lets just skip out for now!

Which, of course, gives us nothing. Oh well, let's try again I guess.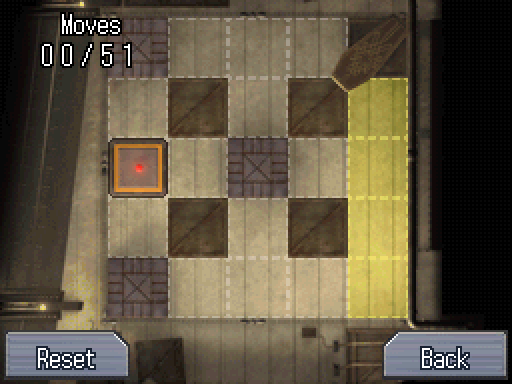 Something's different here. I can't put my finger on what though...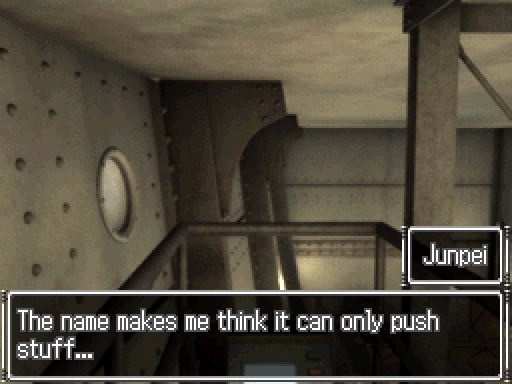 Maybe it can only push 1 box at a time because it just doesn't have enough power for more...?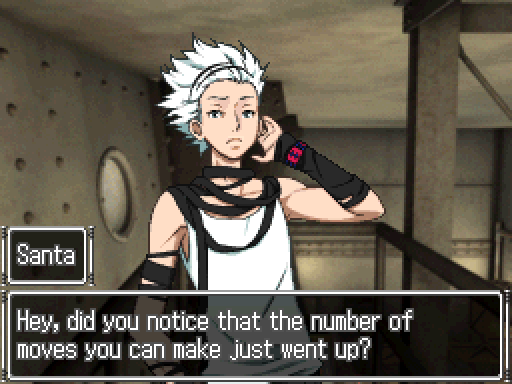 Really?!

(Maybe it says something about this in the manual...)
"When beginning operation, it will take some time before the Pushmaster 5000 is fully charged."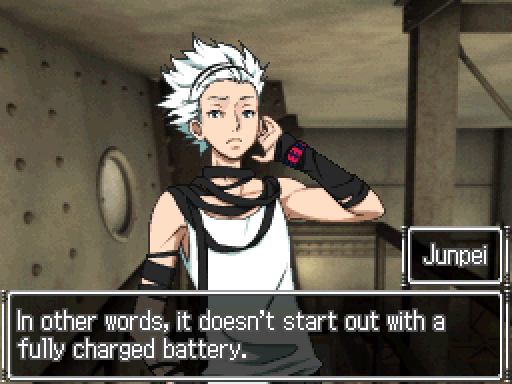 You got 51 moves last time, so you should get 52 this time.
And, in fact, we do. It keeps going up every time we back out for more dialogue. How generous.

H-Huh? What are you...?

You've got enough power to get around the whole field at least 3 times. If it gives you that many moves, then you're probably going to have to use quite a few of them, you know?

...?
Now, we have 53 moves when we try again. Gonna keep building some more, just in case.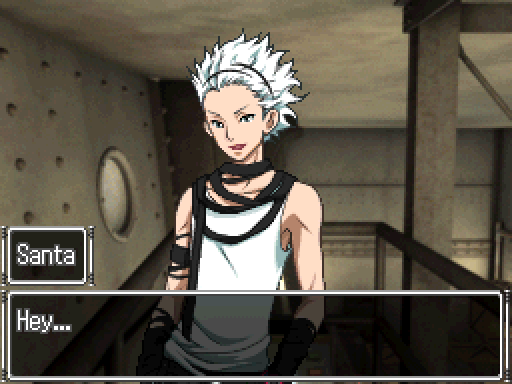 If you go around the field once, you end up moving the crates into a sort of cross shape, right?

"Sort of" being the operative part of that sentence...

Yeah, true... I was just thinking... Moving those crates into a cross might help us get them where we need to get them.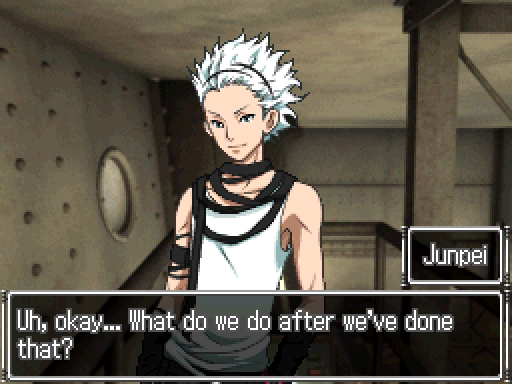 I'm not sure what we should do after making a cross with 'em...
54...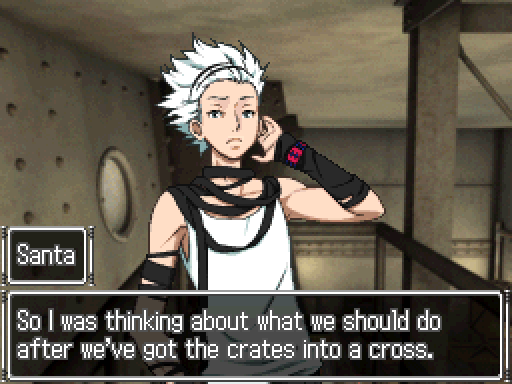 You come up with something?

Yeah, you know the 4 squares on the right that we're trying to get the crates into? I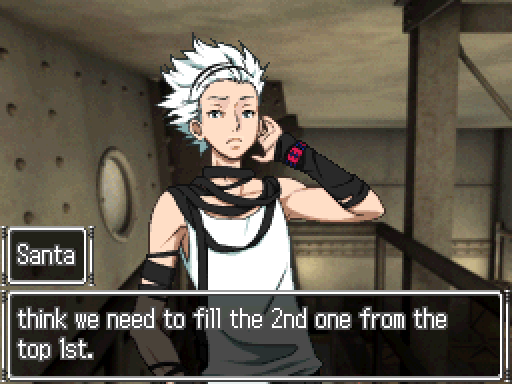 ...And then?

Hey, cut me some slack! I'm still tryin' to figure that part out, okay?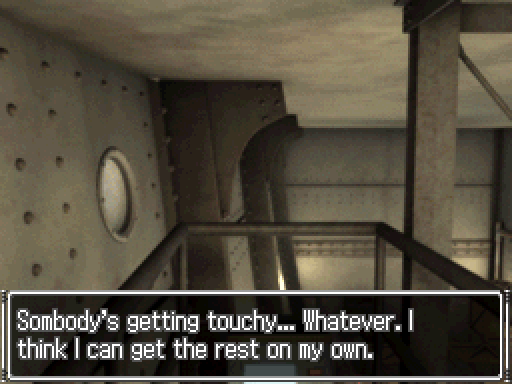 55.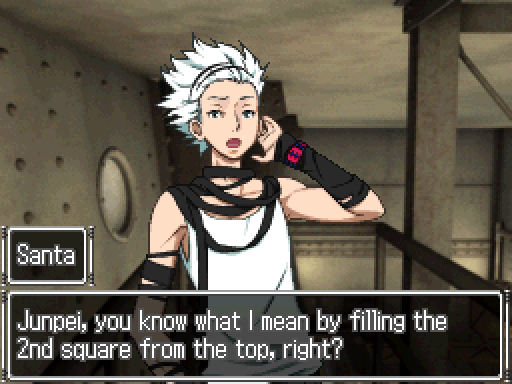 Just put a crate on the yellow square next to the 2nd, and move it a bit. That's the only way you can get one into the 2nd square, you know?

Y-Yeah...
56.

...But now we get no dialogue when we back out. Same with 57, 58 or 59. Once we hit 60 moves, that changes again.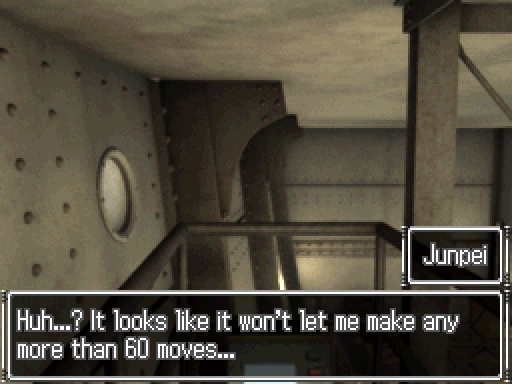 I thought it was giving me 1 more move every trial.

Well, it was just charging up the battery, so the battery's probably fully charged now. It looks like the battery's limit is 60 moves. You'll just have to make do, I guess.
Okay, so now we actually solve this puzzle at last.





Of course, this just highlights what I was saying before about how half the room is basically redundant. We have to go around collecting cards to open a case to collect pins to be able to solve a puzzle to be able to solve another puzzle to be able to solve a third puzzle to finally get where we wanted to go.

And there's nothing else of value here either.

I'm not necessarily complaining, mind, but some of that is awfully superfluous.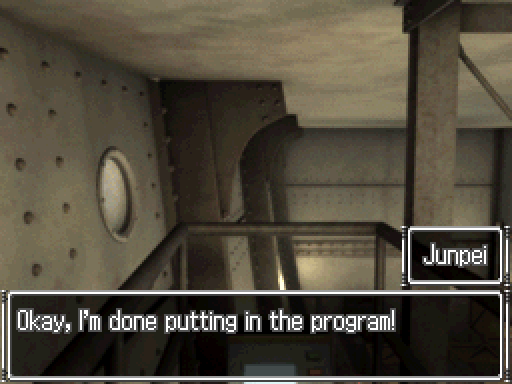 What do I do next?

Just be quiet and watch. See? It's moving already.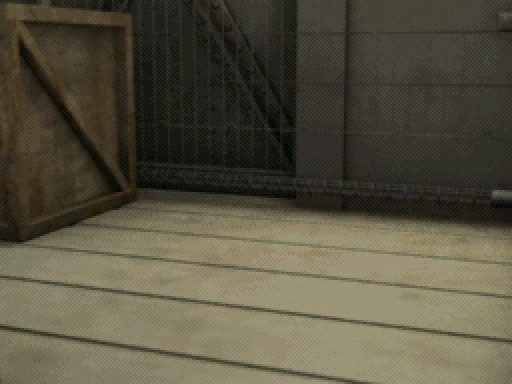 (Awesome! The Pushmaster 5000 did just what I told it to, and lined up all the crates.)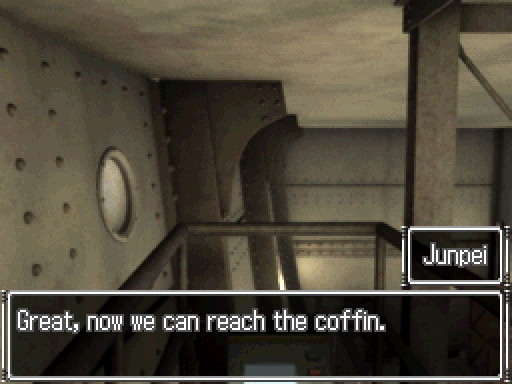 We just need to climb those crates over by the fence.
There's nothing else at all left to do, so we might as well go and do just that.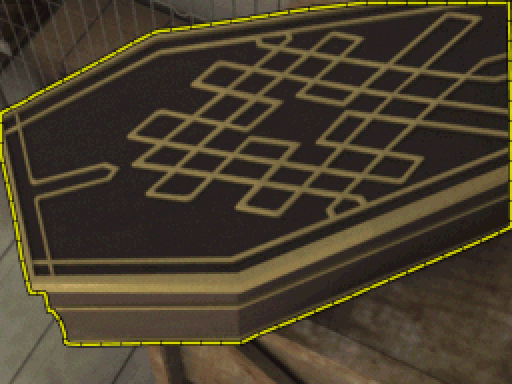 It took a ridiculous amount of hoop jumping to get here, but... we finally made it. Now to find out what it's hiding.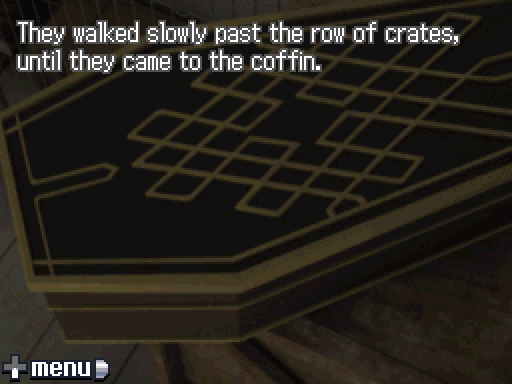 They stopped and nodded to one another, and Junpei put his hand on the lid of the coffin...
[Music: Silence]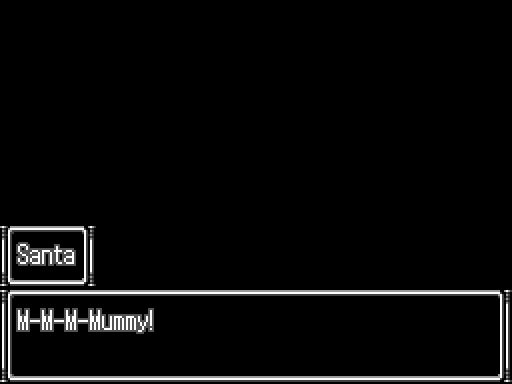 ...

...

...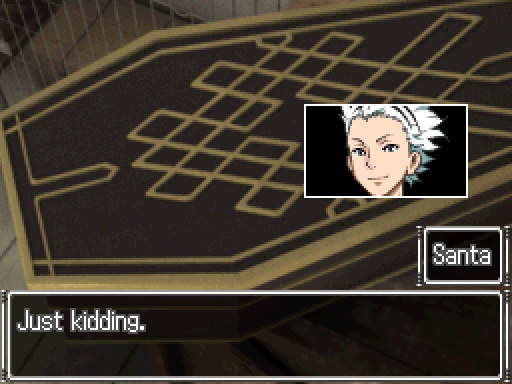 [Music: Senary Game]
He smirked heartily at his own joke.
Junpei grumbled and shook his head.

Whatever. Just open it.
Junpei resisted the urge to remind Santa that he would have had it open a long time ago if Santa hadn't interrupted, and quickly threw off the lid of the coffin.
[Music: Silence]
They peered inside.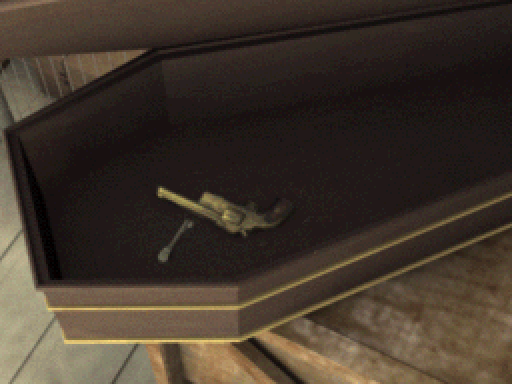 ...Um, is that...
Contrary to what they'd expected, the inside of the coffin was quite large. It was mostly empty, but not completely so.
Laying on the bottom was a rusty key.
And next to the key...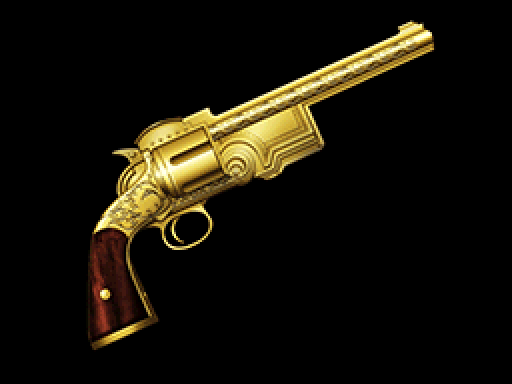 It's a g-gun...

Yeah... A revolver.

It looks pretty old...

I wonder if this is a...replica...?
Junpei reached down slowly and cautiously picked up the revolver.
[Music: Who is Zero?]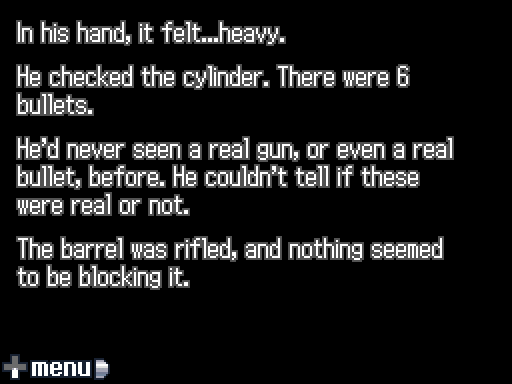 As Ace had said, the gun was a very old one.
However, it appeared to have been well maintained. If it was a real gun, Junpei thought it would most likely function perfectly.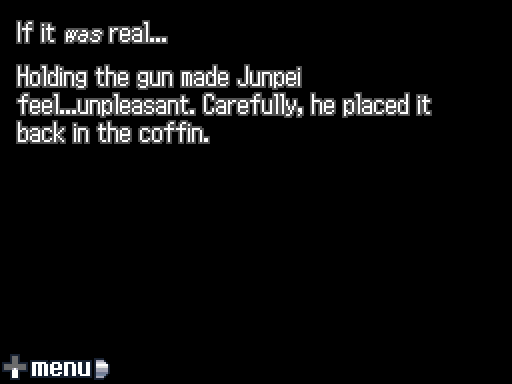 You're not gonna take it?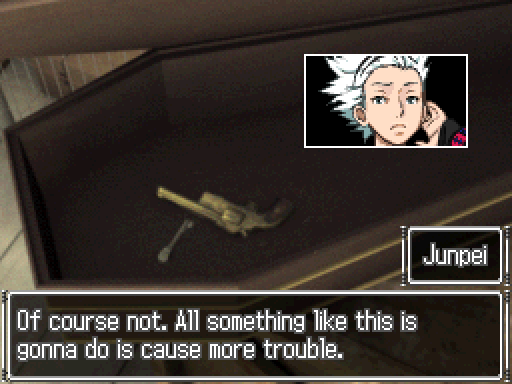 It's a powerful weapon that gives one person a huge advantage... Something like that would be way too dangerous to have around. We're in enough danger already.

Yeah, I suppose you're right.

Maybe... Maybe Zero put this gun here, hoping that something like that might happen...

In that case, we should most certainly leave it here. I, for one, have no desire to let Zero control me.
The others nodded. They had no desire to be under Zero's control either.

Okay, we've got that figured out, but you aren't gonna leave that key in there, are you?

Yeah, yeah. Course I'm not...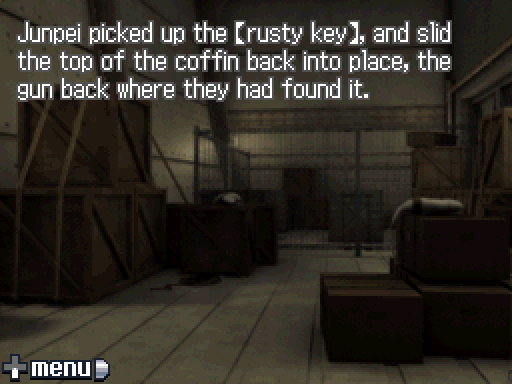 [Music: Senary Game]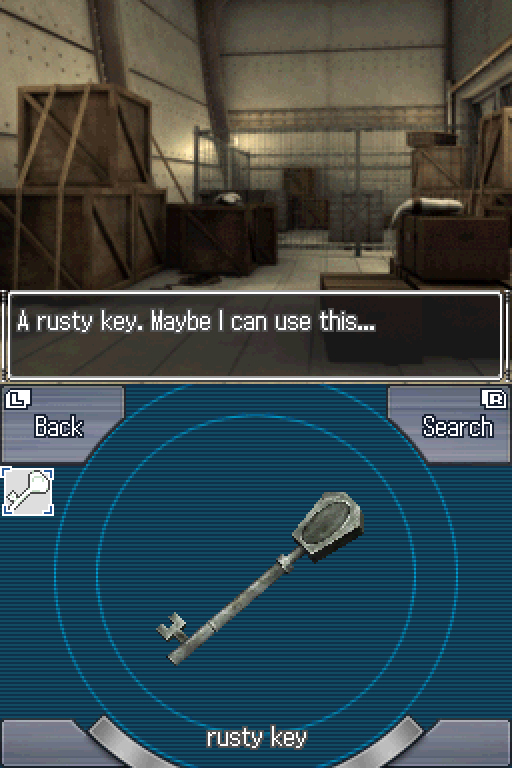 I'll give you 3 guesses for where we need to use this. And I'll be super generous and say that the first two don't count unless you want them to.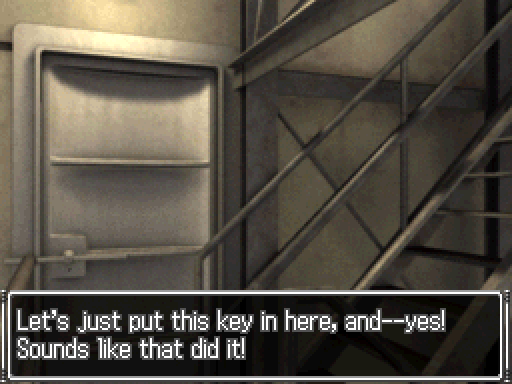 Yay! Looks like it's open, Jumpy!

I see. This key should open this door...

Hey, what're you waiting for?! Let's go!