Part 43: A Scotsman In Egypt - Chapter 42
Prince Aodh frowned as he heard the crunch of a foot against sand, and looked up from the desk inside his Command Tent as he heard murmurings from outside. The tent flap was opened and a guard stepped inside, holding his pike at the ready as a hooded man entered the tent and the guard looked at his Prince with an inquiring eye. Aodh nodded slightly, and the guard stepped back, letting the tent flap fall and leaving Aodh alone in the Command Tent with the stranger.
"My Prince," said the hooded man, bowing his head and sliding his hood back. His face was familiar but his name escaped Aodh, but Nevin's training was having the desired effect as Aodh's mind raced behind his blank face to match the face to whatever tickled the familiar sensation at the back of his head.
"We have met before, ye are a friend to Scotland," Aodh said moments later, identifying the man as a member of Scotland's extensive spy network,"Ye are nae who I expected, and ye have nae appeared in the manner to which I am accustomed... explain."
"I beg ye forgiveness, Lord," nodded the man,"My Master and ye Servant has been called away for... family concerns.... and has sent me in his stead to report on the Sicilians to the East."
Aodh frowned at this news, since his recent "lesson" at Nevin's hands he'd been concerned about whether his concept of serving Scotland meshed with the Spy's. But there was little that could be done about it at this current time, and the Sicilians to the East required his immediate attention, Nevin would have to wait. He motioned for the Spy to sit, and then spent the next several minutes reviewing notes sent to him from his network around the Empire, keeping him up to date with what was happening and who was doing what to whom and why. Finally, he pushed aside his papers and stared directly at the Spy, and inclined his head to motion he could speak.
"The Sicilians are led by Captain Bieda Basile," spoke the Spy immediately, as if he had not just spent five minutes sitting perfectly still and ignored,"A competent but unimaginative soldier who has gained his position of authority more by default than anything else. He commands 500 men, and has been serving his final orders blindly despite the Sicilian Nobles who ordered them being long since dead and the cities they commanded conquered by ye."
"To blockade the port of Tripoli," nodded Aodh,"And he commands men equal to my own in numbers... what is their quality?"
"Poor," noted the Spy,"They have not been reinforced, their weaponry and armor are old surplus pieces, their soldiers are a mix of veterans past their prime and untested boys... they are nae challenge at all, my Prince."
"And yet they ARE blockading Tripoli's port," grunted Aodh,"If they are still in place blockading the port, then we will reach them within a day's ride from here. With their deaths, the men of Sicily will be gone from the deserts of my Father. Ye may go now."
The Spy stood and prepared to walk away, then hesitated. Aodh frowned, and looked up to hear what he had to say.
"They are Sicilian, my Prince," said the Spy,"And they follow the orders they were given.... but they no longer fly the flag of Sicily."
Aodh narrowed his eyes, and then allowed a cruel smile to deliberately break his usual blank expression,"Then let them die nae for a country or a cause, but as honorless bandits put down like rabid animals."
---
King Domnall Canmore sat in his darkened cabin as the Scottish Fleet sailed through the night along the shores of the Scottish Desert. He was reviewing notes from the Egyptian North, where news from Yerevan - his first conquest - indicated that the Governor there was becoming too aggressive in his dealings with Rebels, pushing the Northern Border too far towards the lands of the Polish and the Russians. Domnall frowned, the Governor was a ruthless man, which was necessary for the Northern Border, but he would need to be reined in.
A knock at the door to his cabin interrupted his thoughts, and he snapped for whoever it was to enter. The door opened and a dark, hooded shape entered the cabin, instantly raising Domnall's guard despite the lack of outcry from his guards. A talented assassin could dispatch guards and then lower his target's guard by knocking on the door, and Domnall reached over and placed his hand over a dagger.
"Ye are wise to be cautious, my King," said the hooded man,"But ye have nae to fear from me."
"And who is "me", pray tell?" asked Domnall, his hand still on the dagger.
"My name is Nevin of Shetland," said the Spy, pulling back his hood,"And I have come with news that will change the Empire forever."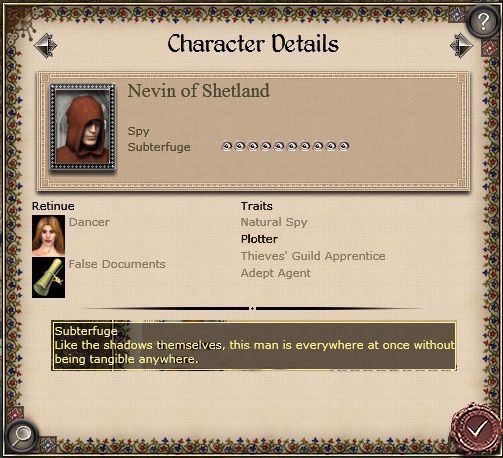 ---
The endless sands of the desert broke here, at the shore near the port of Tripoli. The odd geography of the desert meant the port was situated a great distance from the city itself, and the palm trees that jutted out of the sand created a strange dotting of green that broke up the endless tan of the desert and the endless blue of the ocean.
God might see the world as such; Aodh thought as he rode his horse forward, seen from above, the world a series of colors that only God himself could translate. Sometimes Aodh turned his mind to the almost blasphemous notion of imagining the way God's mind worked. The idea that he could see both into the deepest heart of EVERY man, woman and child in the World AND also view it from afar, past, present and future... it was beyond the ken of any human. The machinations of Fearghus Campbell paled in comparison, and his own petty attempts with Nevin to continue Fearghus and Edmund's work was laughable. On a day like this, Aodh's mind often turned to God, because it was on days like this that he was forced to address the paradox of doing God's work AND destroying God's creation.
Today he killed.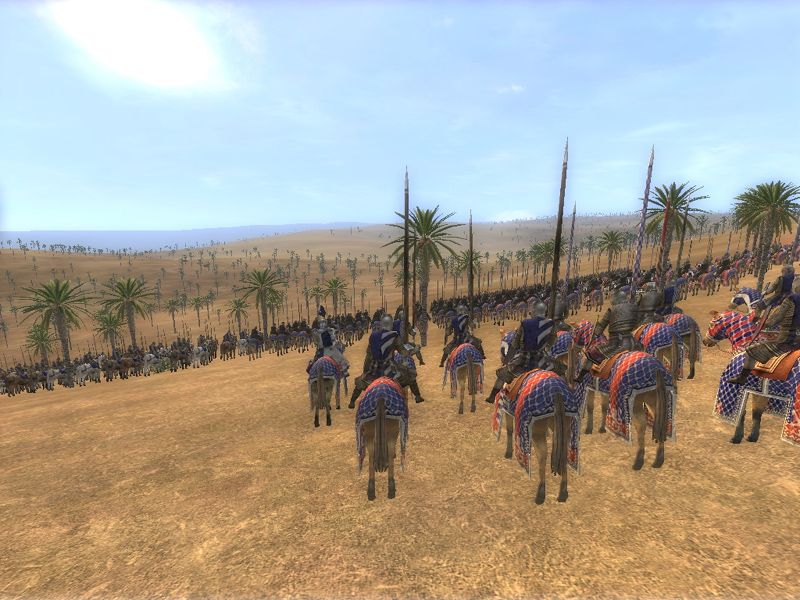 "Today we finish our bloody business in these deserts, men!" cried Aodh, grabbing the attention of every soldier on the field. He had taken almost 2000 men with him when he'd first set out from Cairo to destroy the Moors and bring war to the Sicilians, and at each city he had conquered he had left some behind to garrison and Govern, until he had been reduced to 500. But they were the best of those he had brought with him, even the pampered Nobles of Cairo's Court had been battle-hardened alongside him, leaving him in no doubt that today's battle would be bloody, but only for the Sicilians,"The men we fight today are honorless dogs who have abandoned the flag of their Nation. They have abandoned their King, who though he is a drunken, slothful imbecile is still their King, and thus they have turned their backs on God. Cut them down like dogs, and show them what it means to be a true man, a true soldier, a true SCOTSMAN!"
Across the sands, the Sicilians stood under no banner and no flag. They had small numbers of cavalry on old and sick horses, and many of their crossbows were old and worn and not guaranteed to wind back after firing their first volley. But they stood in service of the only command they had left to them since the fall of so many of their compatriots in Tunis and Tripoli, their job was to hold the Port of Tripoli.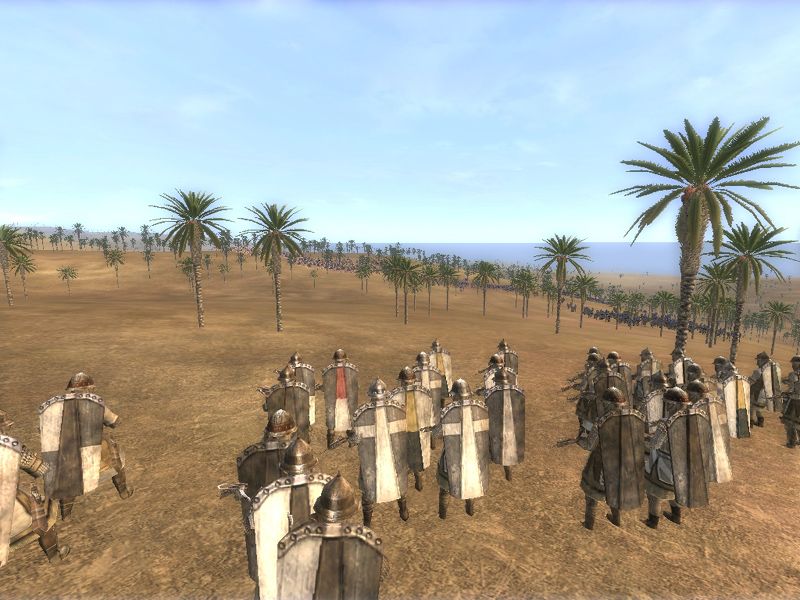 Bieda Basile gave the call and his Crossbowmen fired their first shot at the approaching line of Scottish Cavalry, most of their bolts falling short or bouncing harmlessly off of the sturdy armor of the Scots. Bieda ordered them to reload and fire, but they moved out of synch and with eyes constantly rising at the quickly approaching Scotsmen.... and then before they knew it the Cavalry was on them, crushing through the first line and causing the men behind them to turn and run in horror.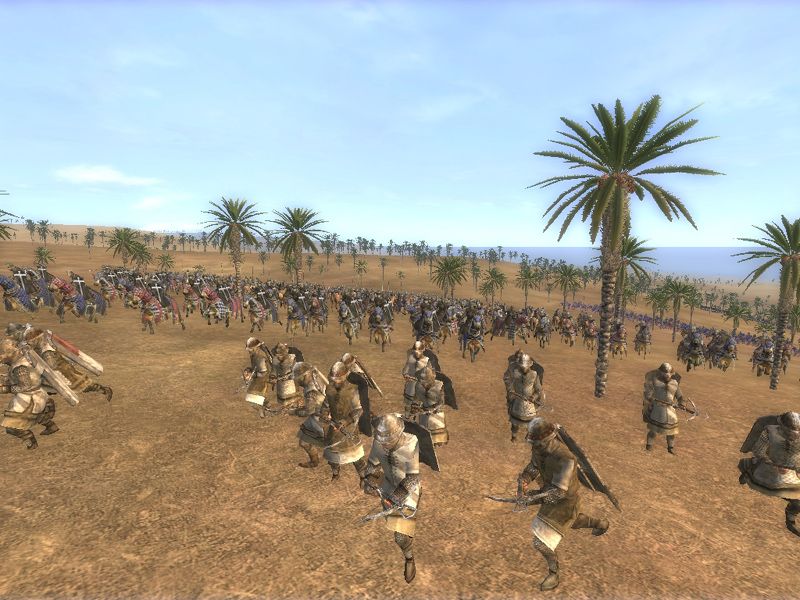 "COUNTER CHARGE!" roared Bieda in desperation, but he knew it was a futile gesture. As the Sicilian cavalry rammed against the Scottish line, their enemies barely even budged before rallying and tearing through their new opponents.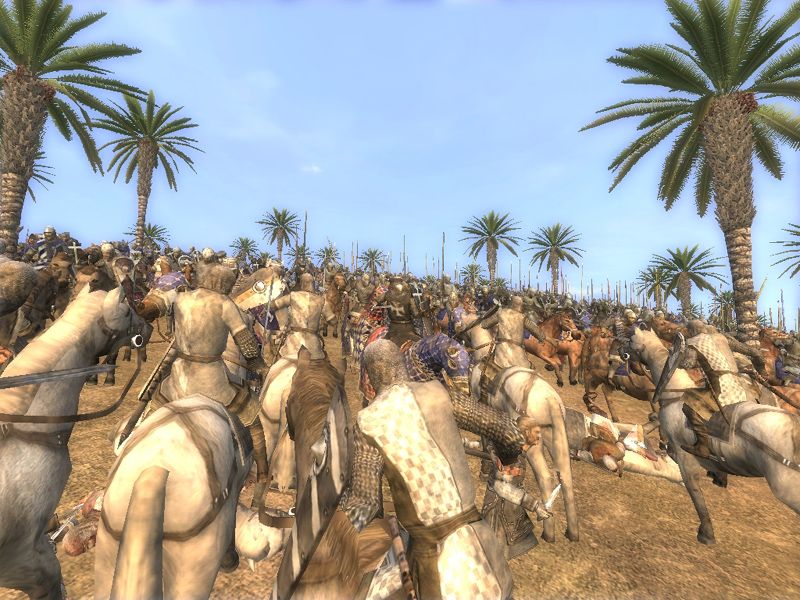 "RETREAT!" roared Bieda, cursing the duty that had been drilled into him that, coupled with his own pride, had seen him hold his men together here at the Port. Now as he watched the Scottish juggernaut roll over his men he saw the futility, and performed his last duty for his men as their Commander and ordered them to run. While the Scottish were held up in the slaughter of the cavalry, he would try and get as many of his men into the desert as he could, and from there they would be free to disappear. Let them make their way back to their homes, or join up with outlaw bands or even disappear into the city of the Scotsmen, but at least they would live.
So Bieda ran alongside his men, feeling his skin burning with shame as he heard the screams of pain and despair of those left behind to die at the Scottish hands. He ran with his men away from the battle and the ocean and towards the freedom of the desert, and he ran....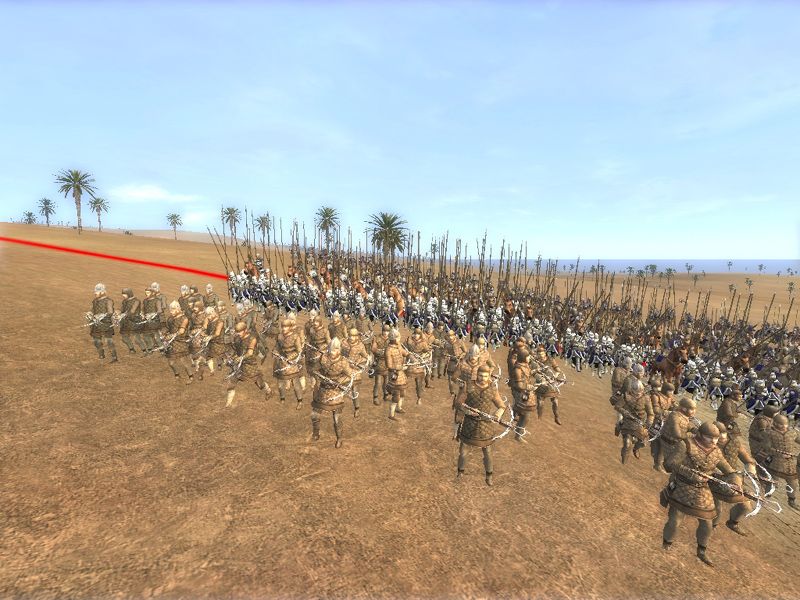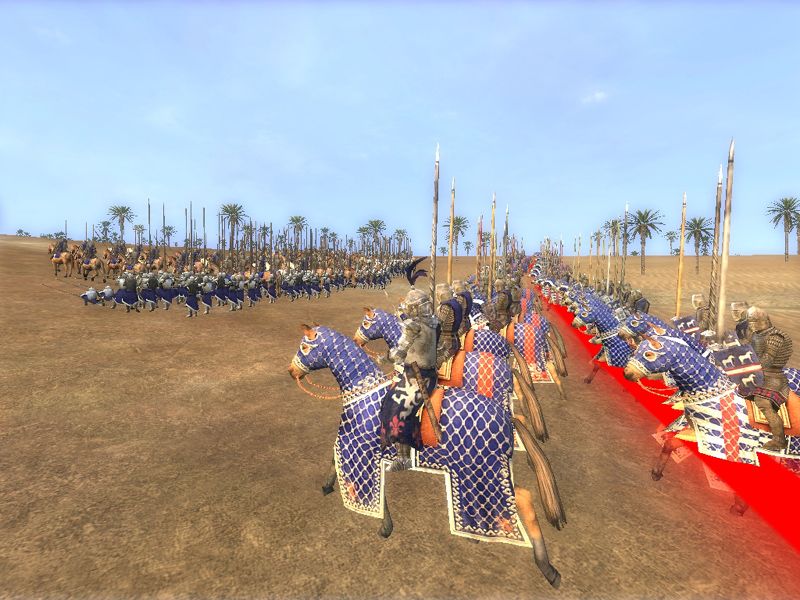 "No...." Bieda whispered in horror as he stared at the banner flying high above the armored General commanding the 500 extra Scotsmen blocking the escape of he and his men.
"KILL THEM!" roared King Domnall Canmore,"LEAVE NO SICILIAN ALIVE!"
Domnall's men crashed into the Sicilians, who could not run for fear of Aodh's men. Together, the armies of the two Canmores slaughtered and massacred the Sicilians, a proud race of fighters who could not fight Scotsmen with their pride or their heritage, and whose blood fed the sands like those of so many before them. Bieda fought with the ferocity of the damned, knowing that all he could do now was die a true man and fight to the end.... an end that came upon him quickly.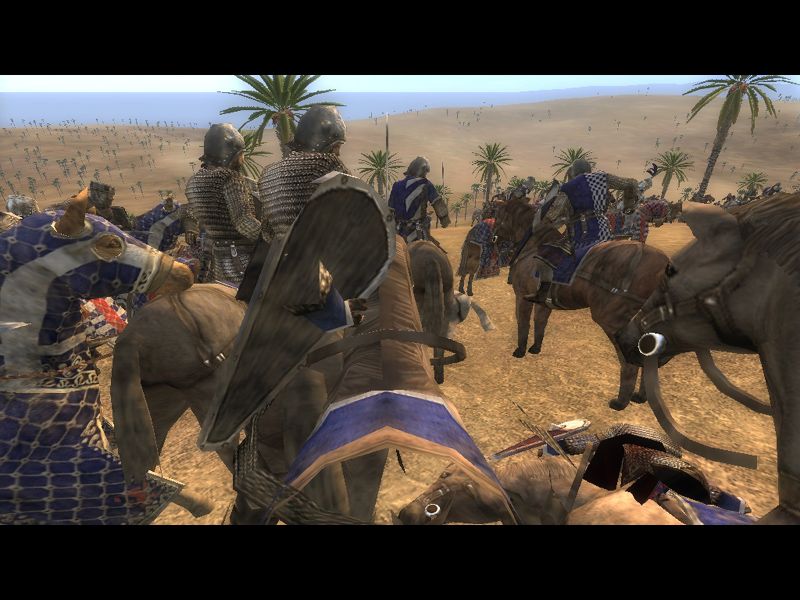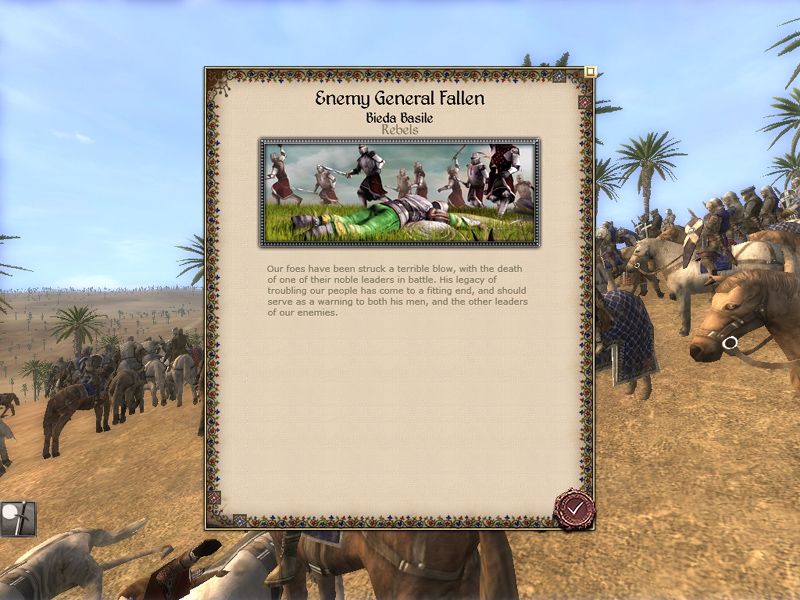 In the thick of the battle, some Sicilians found themselves falling through the gaps of the double-sided Scottish killing machine. They ran mindlessly from the death behind them, all thoughts of fighting or resisting burnt from their broken minds. But the Scottish did not distinguish between those who stood against them and those who had lost the will to fight. Aodh led his cavalry relentlessly after the runners, and cut them down to die in the sand far from their brethren. In the end, of the 551 men who had blockaded Tripoli's port, only seven survived the battle. Of those, only one ever emerged into civilization again, driven mad by exposure to the sun and babbling to the end of the days of the "Valley of the Kings" he had found and the endless riches contained within. He was treated kindly and died in relative comfort, his ramblings dismissed.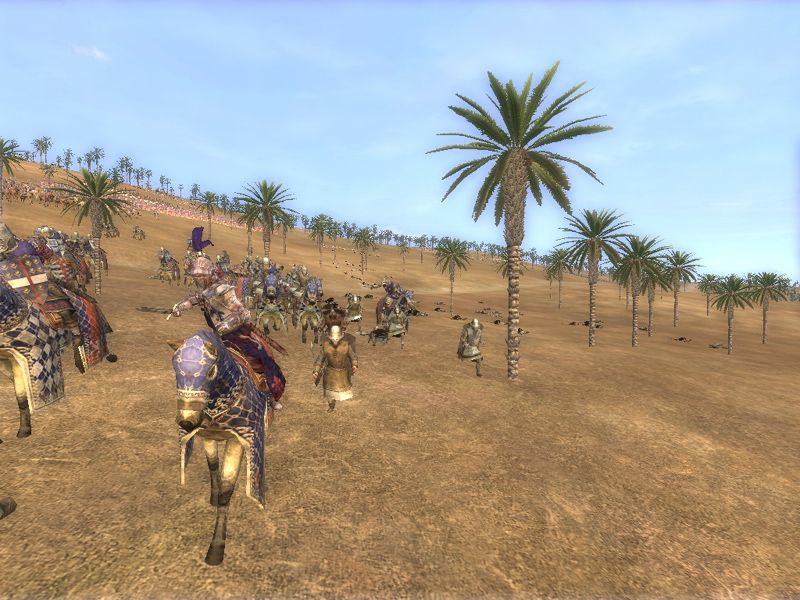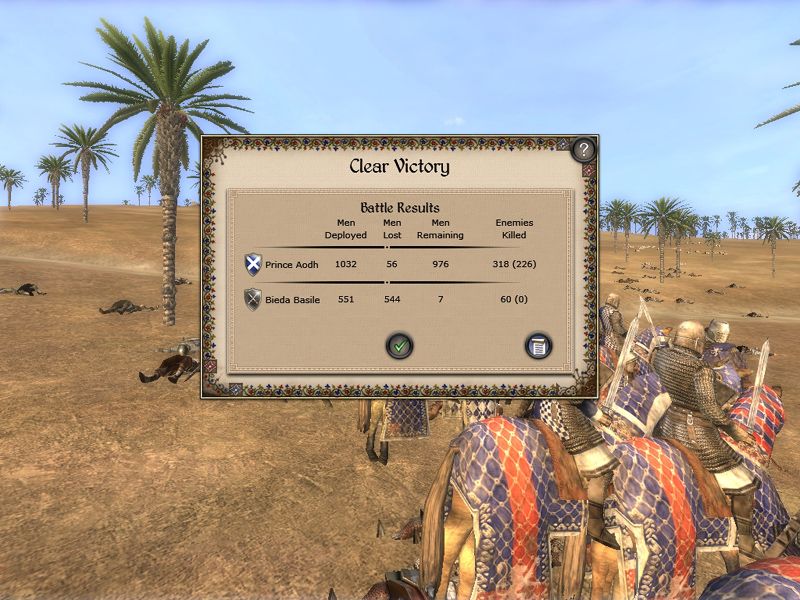 With the battle over, Aodh rode with his laughing men to greet the "reinforcements" who had ensured the bloodbath that had destroyed those who had tried to run. His men were in good cheer at the prospect of seeing their King, but Aodh knew that now was the moment of truth. He had instigated war against two different nations while his Brother mourned the death of his twin, set up Governorships and promoted men to General whom the King had never met. What would be his reaction?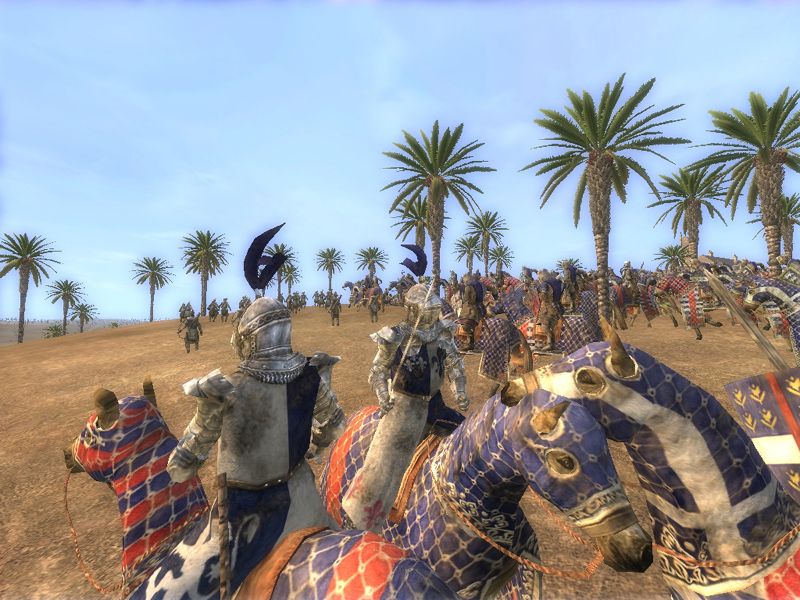 "Aodh," grunted Domnall as Aodh rode up alongside him, all around him men riding about in delight and cheering as they were reunited with friends and family.
"Domnall," nodded Aodh, inclining his head respectfully.
"Off your horse, Aodh Canmore," Domnall suddenly proclaimed loudly, and all around him men quieted and turned to stare at their King. Aodh gritted his teeth behind his helm, and then did as he was ordered and hopped down from his horse.
"AODH CANMORE! REMOVE YOUR HELM!" roared Domnall, and Aodh complied, feeling the sea breeze cutting through the desert heat and cooling his sweating face from the exertions of battle. The Scotsmen had formed a circle now around the Prince and the King, and they watched silently as Domnall stepped down from his own horse and removed his own helm, glaring at his Brother with a face filled with righteous fury,"AODH CANMORE, YE WILL KNEEL NOW BEFORE YOUR KING!"
Aodh kneeled, keeping his face blank as he struggled to hide his despair at his Brother's reaction.
"AODH CANMORE!" Domnall roared,"YE HAVE TAKEN GOOD NOBLE MEN OF SCOTLAND FROM CAIRO'S COURT AND PUT THEM TO WAR, PUTTING AT RISK THE LIVES OF THE NOBLE BLOODLINES OF THE SCOTTISH EMPIRE! AODH CANMORE! YE HAVE SAILED AN ARMY WITHOUT ROYAL ASSENT AND WAGED WAR ON - AND WIPED OUT - THE NOBLE MOORS! YE HAVE GONE TO WAR WITH SICILY AT A TIME WHEN YE KING WAS IN MOURNING, TAKING ADVANTAGE OF MY SORROW TO ACCOMPLISH THE GOALS THAT
YE
DEEMED IMPORTANT. YE HAVE INSULTED THE SPANISH, STRAINED OUR RELATIONSHIPS WITH HUNGARY AND EXTENDED BY TENS OF THOUSANDS THE NUMBERS OF PEOPLE THAT THE SCOTTISH EMPIRE MUST CARE FOR AND GOVERN..... AODH CANMORE, YE
WILL STAND!
"
Aodh rose to his feet, and Domnall grabbed him by the shoulders, staring fiercely into his face.
"AODH CANMORE!" he cried, and then a gigantic grin broke out over his face,"YE ARE MY BROTHER AND A CANMORE TRUE!"
Aodh's blank mask broke in astonishment as his brother embraced him, while all about them the watching Scotsmen raised their swords and cheered in delight.
"Aodh ye wily bastard," laughed Domnall, pulling back from his Brother but still gripping his shoulders,"Ye've wiped out the Moors, ye've thrown the Sicilians out of the desert and claimed the lands our Father and Uncle once dreamed of ruling! Ye make me so proud, brother, ye've grown to claim the best assets of Edmund and Edward... ye're a smart bastard that can fight!"
Aodh grinned despite himself, shouting to be heard over the laughing, cheering Scots that had gone back to greeting and embracing their own kin and friends,"I thought ye might be angry that I took us into a war that was not necessary, as I once did with the Turks."
"And ye did it anyway," smiled Domnall,"But this time ye did it after first weighing up the options and coming to a well thought out conclusion. And do ye ken what it is ye have accomplished, Aodh? I dinnae think ye do, word has nae reached ye yet... do ye ken why these men did nae fight under a Sicilian banner?"
Aodh frowned, this was indeed intelligence that had not reached him.... but
had
reached his Brother. Suddenly Nevin's failure to appear in his tent was speaking volumes, the Spy had taken news to Domnall instead of him.... why?
But all such thoughts fled from his mind moments later, when Domnall told him the news that had so shocked Adam Canmore and Dougall Macdonchie; the news that had seen Nevin of Shetland commandeer a fishing boat and ride to the Scottish Fleet to inform the King before anyone else could.
He told him the tale of King Nene The Lewd.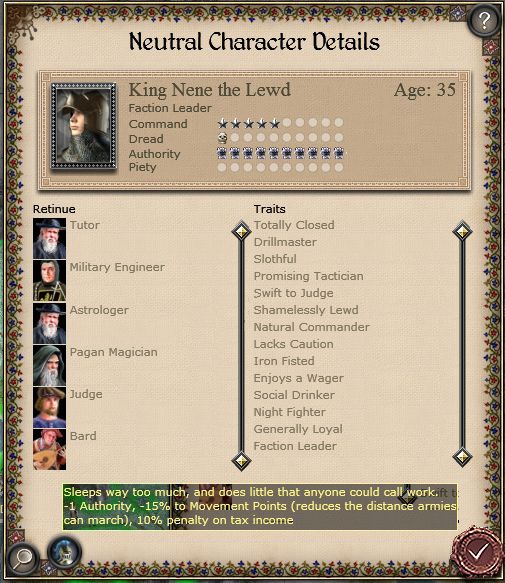 The Sicilian King had been a promising Noble in his youth, well regarded for the hard training he put his troops through and the iron fist with which he commanded them. He gave the men under his command the best reputation for efficiency and effectiveness in the Sicilian Army of his youth. Gifted with a natural ability for Command and showing promise in terms of tactics and strategy, he had quickly risen through the ranks of the army. When the King had died without a male heir, he had chosen Nene to succeed him and for once in the wide and disparate squabbling of Sicilian politics, consensus had been found - everyone agreed that Nene would be a wonderful King.
That was when the orgies started.
Having accomplished his goals and raising to a higher station than he had dreamed, Nene had ceased to have any desire to accomplish anything. Why bother when he had more power and wealth than he could ever realistically use? So he had changed from General Nene the Mighty to King Nene the Lewd, indulging himself in every depravity and perversion he cared to imagine. He became slothful, sleeping away entire days, sometimes forcing the business of Court to be attended in his bedchambers so he need not remove himself from his sheets. He grew corpulent and increasingly erratic in his behavior, as his sleeping habits started to interfere with the workings of his mind, reaching the point where he could not distinguish between dreams and the real world.
So it was that when he dreamed of a plot to oust him from his throne by the King of Venice in order to expand that Nation's own lands into Sicily, Nene could not be dissuaded from declaring war on his neighbor. with the single-minded determination that had made him a feared General in his youth, Nene had raised an army and ridden against the Venetians.... landing on Venetian soil at roughly the same time that Spain and Scotland began waging war on his now poorly defended desert and island holdings. When this news was imparted to Nene, he insisted it was misinformation being spread by the Venetians, named the messengers traitors, had his pet Judge try them in a farce of a public trial and then executed. But while his determination had returned, his old iron fisted drilling had faded, and the Sicilian Siege Camps became a joke, with guard patrols that turned into dice games; trenches and latrines left half finished; siege equipment left to rot in stormy weather; and King Nene himself neglecting the planning of the battle in favor of listening to performances by his pet bard and organizing impromptu orgies, bringing in a mixture of camp followers, whores and captured Venetian peasants to fill up numbers. What battle plans he did make were influenced more by his astrologer than the situation on the ground, and each day more and more men abandoned the army.
Finally, one afternoon after a particularly long celebration of a dream Nene had interpreted as heralding imminent victory, the Venetians had ridden out of their sieged Capital and crashed down over the shambles of a siege camp. Soldiers had died struggling into their armor, and the Venetian Generals had been shocked when they'd torn their way into Nene's tent only to discover the man was still in bed, sleeping soundly next to a spilled skin of wine on top of the whore he'd bedded the night before and fallen asleep on.
They hauled him from his bed, but even then he was in such a stupor that he seemed unaware of what was happened or who held him captive. The Venetians had dragged him to a nearby tree and strung him up to die by hanging. They watched in disbelief as his corpulent body kicked weakly while the tree branch first bent and then snapped, dropping Nene to the ground where his bones broke beneath a soft, squelching noise. The Venetians had broken down then into tears of laughter, and after establishing that Nene was in fact dead, they'd rifled through his tent until they found his crown and robes, then "liberated" a large hog from a nearby farm and dressed it in Nene's attire. They had then run the confused and terrified creature through the streets of the city hailing it as "The Great King of Sicily."
"Nene was dead," Domnall continued, seated now in Aodh's Command Tent which they'd retired too as throughout the camp the Scottish prepared for a massive celebration, many of those who had ridden with Aodh informed by Domnall's men of the news that the King was now imparting to his Brother,"And with him almost all the Sicilian Nobility. Those left in these lands are dead thanks to ye efforts, Aodh, and when news reached Papero in Toulouse that he was now defacto King of a Nation that extended only to a city under siege by Scotsmen, his mind broke. He and his soldiers imbibed a drug that gave him strength born of madness, and they threw themselves with wild abandon at Adam and Dougall, only to be cut down and slaughtered until none were left. Do ye ken what that means, Aodh? I think ye do."
"Aye," nodded Aodh, shaking his head in wonder,"It means that there is nae a Sicily anymore... the men who thwarted Father and Uncle Edward's plans to extend the Empire to the West are dead."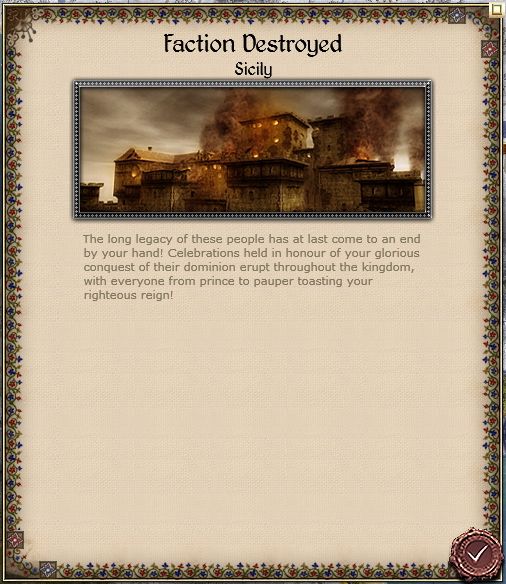 Domnall smiled, and leaned forward on his stool,"And do ye ken what
THAT
means, Aodh?"
"It means that the Scottish Empire now stretches across half the world... more even," Aodh noted,"There is more Scotland than world now, Domnall... the world IS Scotland."
"More than that, Brother," sighed Domnall theatrically, then broke into a smile,"It means I now face a greater challenge than any faced by Father or Uncle Edward, or even our Grandfather. Aodh, with Sicily destroyed.... for the first time in more than a century, Scotland is nae at war. Our enemies are dead, the nations that stood before us buried or burnt into the history books.... I now face the great challenge of peace, of governing and ruling an Empire spanning over half the world with no wars to bring money into the coffers, with no great enemy to distract the population from the boring issues of the day - sewerage, civil order, laws and trade.... I must become a politician, Aodh."
Despite himself, Aodh laughed out loud at the look of dismay on his Brother's face, and instantly regretted it when Domnall smiled cruelly.
"Oh I would nae laugh just yet, Aodh," smiled the King of Scotland,"Because if I must focus on politics, then ye.... well, I have a rather "special" mission in store for ye."
---
One week after Aodh and Domnall had been reunited on the battlefield, Aodh Canmore stood inside Milan watching the fireworks and marveling at how much peace had changed things all ready. The gunpowder used to smash down the walls of Scotland's enemies was now being used to entertain children in the street as celebrations rolled through the Empire.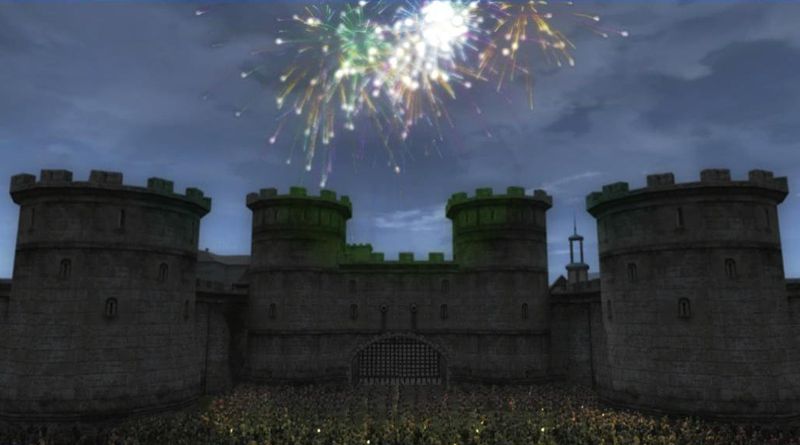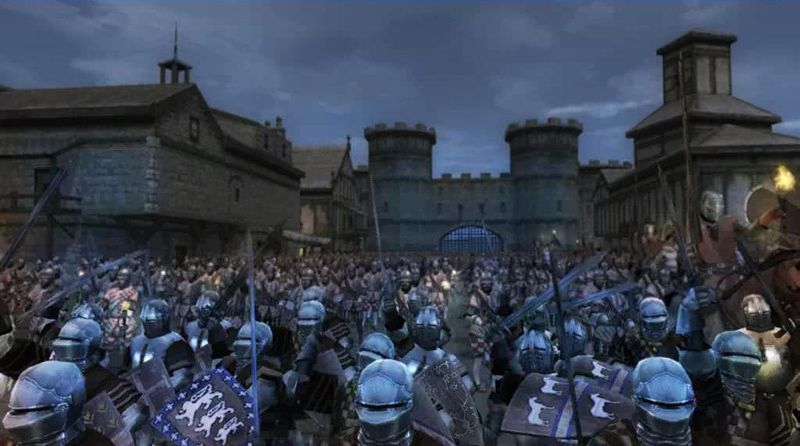 In Milan in particular there was cause of celebration, as the second-born daughter of the King was married. Her husband was a good man, solid and dependable if a little older than expected for the husband of such a young woman. Rory was 44, a full four years older than the Princess' own Father, but if anything many expected he had been chosen to show Deredere the maturity and wisdom of age and experience.
Aodh, however, knew better.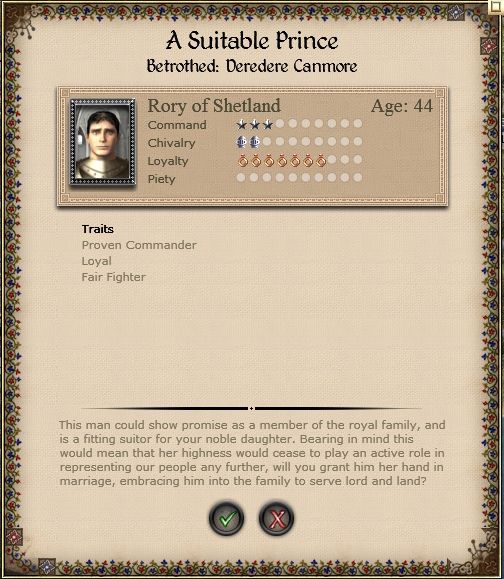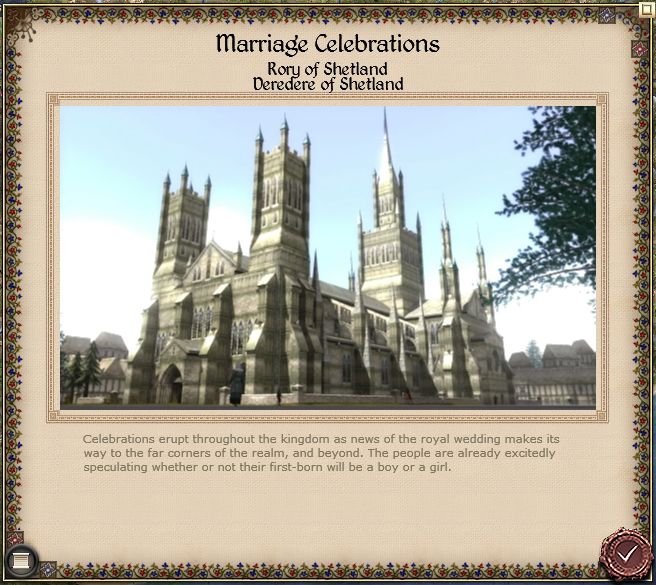 "Ye once told me ye had nae Father and ye Mother died when ye were young," Aodh said to the man standing behind him.
"Aye, and I did nae lie," Nevin of Shetland replied,"I had nae Father, because the man refused to recognize me or my Mother. She was a whore, he a minor Noble, and both of us represented nae but embarrassment to him. He denied us, sent her away without a thing, not even token moneys to have her gone from his life. She died of a pox when I was young, and the only thing I remember from her is the hate and bile she spilled to me of the man who was my Father."
"I will admit confusion then," Aodh muttered, turning to face the Spy who he had only been reunited this very day, the day of Deredere's wedding,"I ken that ye took the news of Nene's death and Sicily's destruction to my Brother in order to put in a good word for ye Half-Brother, but if what ye tell me is true, I dinnae understand why.... why would ye marry him into the Royal Family?"
"My Half-Brother was already courting Deredere, my Prince," Aodh said,"And for bringing him news of Sicily's destruction, I only asked ye Brother to consider Rory's proposal, nae to accept it. As for why.... I have already told ye, my Mother fed me bile for my Father and his family as sure as she fed me breastmilk as a bairn. It is a hatred I have never surrendered, and it has festered and bubbled inside me like a poison for decades.... while I struggled to survive on the streets of Shetland, I would catch glimpses of Rory living a life that should have been mine. Now I have drained that poison from my system, and am free to serve Scotland as I should, without emotional bias. It was a weakness, my Prince, and I beg ye forgiveness for indulging it."
Aodh stared at the Spy with surprise, Nevin had just expressed more emotion than at any time since first introducing himself to the Scottish Prince, and now he bowed on bended knee before him and waited his Prince's Judgment.... and finally Aodh gave it.
"I must continue my duties as Spymaster to the Empire even in this time of peace.... especially in this time of peace," he said at last,"But I must also serve the special mission my Brother has entrusted to me, and thus I require ye service still. I can think of no better man to serve the Scottish Empire than ye, Nevin.... but I will nae brook ye ever putting ye own needs above those of Scotland's ever again."
Nevin lowered his head in acknowledgement, then rose to his feet and fell in beside Aodh as they walked along the corridor, flashes of light from the fireworks painting the walls strange colors.
"Will ye tell me the nature of ye secret mission, my Prince?" asked Nevin.
"Will
ye
tell me why ye feel marrying ye half-brother into the Royal Family is "punishment" for his inherited wrongs?" retorted Aodh with a smile.
"That is hardly fair," chuckled Nevin,"The answer to that question is painfully obvious, and would be treason to speak of."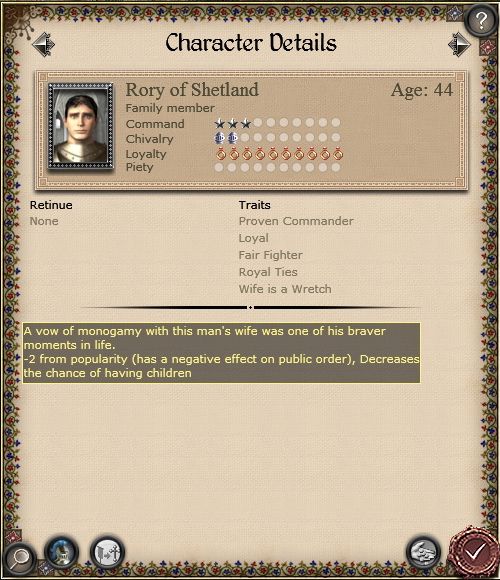 Aodh laughed, feeling for the first time since the death of his Father that things were right with the world. He walked down the corridors of the Palace in Milan with his close companion and friend by his side, and let his mind play with the ramifications of the mission his Brother had given him, as well as the delightful challenges that a Scottish Empire at peace presented. Truly their family and the Empire as a whole were blessed by God, and Aodh Canmore was delighted to find that he was truly, wonderfully happy.
---
A savage storm raged across the seas, more powerful than any in living memory. Seaside villages were almost flattened by the power, ships unfortunate enough to be on the waters were torn to pieces or thrown so far of course as to be all but lost. Winds howled along the beaches and shores, rain thundered down, the skies shook with thunder and were rent asunder by lightning.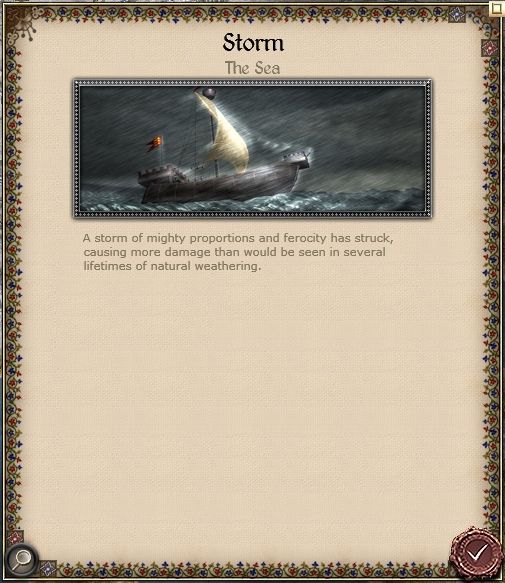 In Valencia, the brutal storm was the perfect match for the temperament of King Mallobo, the merciless King of Spain whose rage had not been dimmed by age.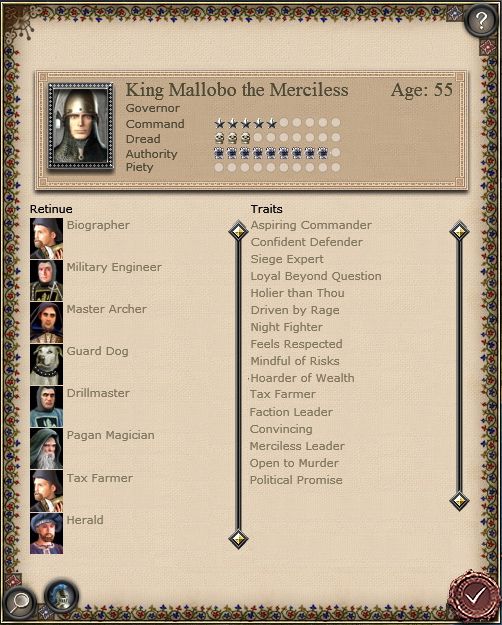 He stormed across the floors of his war room lecturing his advisors and military commanders, each point seemingly punctuated by blasts of lightning or thunder. The heavens themselves were shaking at his rage, and each man in the room feared that he would soon turn his rage from a general fury to one focused on one of them.
Like the messenger currently lying dead on the floor.
The man had brought news to the King at great risk to his own life, moving through the storm to carry him tiding from the Pope. For his troubles the King had smashed him to the ground and beaten him to death before the shocked eyes of his advisors, and none of the servants dared to approach the body to remove it while the King paced about it venting his rage.
"THE POPE CALLS THE SCOTTISH BLESSED!?!?!" he roared,"WHAT NATION HAS SERVED THE CHURCH MORE THAN SPAIN? WHAT PEOPLES ARE MORE DEVOUT THAN THE SPANISH!?! WE HAVE NEVER GONE TO WAR UNPROVOKED WITH ANOTHER CATHOLIC NATION! WE HAVE TAKEN INSULT AND INJURY AT TIMES TO AVOID THE WRATH OF THE POPE! AND SCOTLAND?
SCOTLAND?
THEY SMASH THEIR WAY THROUGH THE LANDS OF HEATHEN AND CATHOLIC ALIKE! THEY WAR WITH THE EX-COMMUNICATED AND THE DEVOUT! THEY DESTROY NATIONS LIKE THEY WERE NOTHING AND THE. POPE. CALLS. THEM. BLESSED!?!?!?!"
With a sudden inarticulate roar, King Mallobo twisted and grabbed one of the heavy wooden chairs on the floor beside him and hauled it bodily up despite its weight and his advanced years. He hauled it up over his head and then flung it with all his might through one of the windows, smashing through it and allowing the wind and rain into the room.
"YOU!" roared Mallobo, twisting and pointing at one of his Military Advisors who felt his testicles trying desperately to crawl up into his belly,"HOW DO YOU DEFEAT THE SCOTTISH!?!?!"
"Ma.... ma.... majesty?" gasped the man, sweat pouring freely over his body,"You control the battlefield.... you outnumber and outrange the...."
"DON'T FEED ME THE BASICS OF WARFARE!" screamed Mallobo, charging forward and grabbing the man by the back of the neck and marching him angrily to one of the tables where maps were held down by weights and markers showing the current state of the world. Over half the map was marked in Scottish blue, and a depressingly small amount of space was marked as being in Spanish control.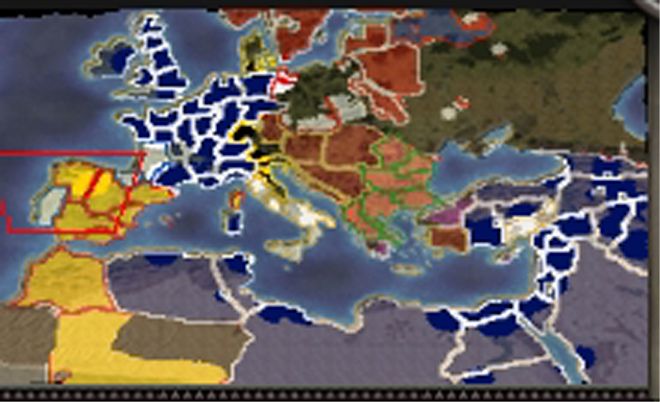 "YOU CANNOT CONTROL THE BATTLEFIELD BECAUSE
THEY
HOLD ALL THE LAND!" he snarled, shoving the now weeping adviser's face into the map,"YOU CANNOT CONTROL THE NUMBERS BECAUSE THE SCOTTISH ALWAYS RIDE IN LARGE NUMBERS TO ENSURE SUPERIORITY! YOU CANNOT OUTRANGE THEM BECAUSE THEIR ENGINEERS MEET OR SURPASS THE QUALITY OF EVERYONE ELSE IN THE WORLD! SO. HOW. DO. YOU. DEFEAT. THEM?"
"I.... I.... I don't KNOW!" squealed the adviser in horror,"I DON'T KNOW!"
"No you don't," hissed Mallobo quietly, and tossed the man to the floor,"None of you know anything, you're all useless, and so is all of THIS!"
He motioned to the map and markers placed on them, eyes narrowing with fury.
"THIS!" he snarled, sweeping away the markers showing soldiers.
"THIS!" he roared, sweeping away the markers showing artillery placements.
"THIS!" he roared, sweeping away the small markers that indicated spies and assassins.
"AND THI...." he screamed, raising his arm to sweep away the last markers on the board. He checked himself, his voice trailing off as he crouched down and stared with wide eyes at the markers that indicated the Spanish Fleet, a Navy unmatched in the entire world. And then King Mallobo the Merciless did something that unsettled his advisers even more.
He started to laugh.