Part 47: Continued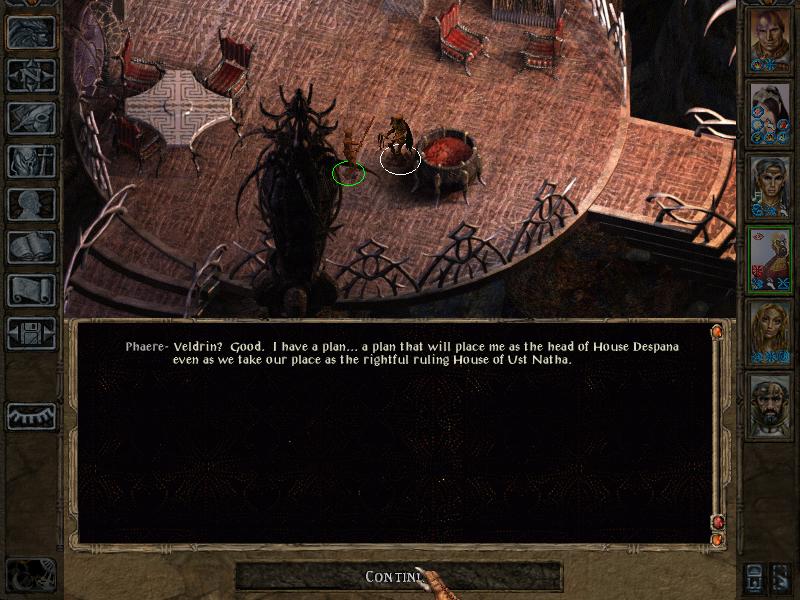 My plan includes you, Veldrin... without your timely arrival here none of this would have been possible. Do as I say and your rewards will be unimaginable. Refuse and... well, why would you refuse? You have everything to gain, Veldrin. Everything. In order for this plan to be successful, however, you must betray the Matron Mother. Are you willing to do this? Think carefully on your answer.

I doubt I have much choice, so I have to agree.

Hmph. I desire no half-hearted agreement. I must have assurance you will not betray me for your own benefit. I suggest you convince me of your loyalty.

Ah... when I said I had no choice, I meant I had no choice but to serve you, Phaere. The Matron Mother means nothing to me.

Hah! You are a flatterer, Veldrin. But your statement has the ring of truth. I will allow you to aid me in my plan... and I shall forget your hesitation. You heard matron speak of the ritual? Matron will summon a demon of terrible power, Veldrin... one to aid the drow in our attack upon the surface elves. The blood is a component in this ritual, used to draw the demon's attention and bring him before us. But, most gloriously, House Despana has acquired the eggs of a silver dragon... the one guarding the route to the surface that we drow descended from so long ago. Holding these eggs hostage keeps the silver dragon from interfering. Even better, Matron plans to use them as an offering to the demon to enlist its aid. Indeed, what demon could refuse? House Despana will have opened the way for the war and summoned its most powerful warrior. We shall become pre-eminent. But there is no rule that states Ardulace must still be Matron Mother of such a powerful House. Go to the treasury, Veldrin... steal the dragon's eggs and replace them with the convincing fakes that I have had made. You will then bring the real eggs to me. Matron will offer the fake eggs to the demon and be killed. Then I shall offer him the real eggs. The ritual will be completed and I shall be Matron Mother. Here... here is the key to the treasury room and the fake eggs. Take them. Return with the real eggs before the ritual is ready to begin. I give you one warning... the guards will try and stop you in the treasury, if they see you. Kill them only if you must. Use stealth, Veldrin... now go.
JUST outside the Temple (great plan guy) Solaufein caught us and suggested another trick - that we take HIS fake eggs (how many ARE there anyway? Holy crap) and give them to Phaere, for the same result that Ardulace would face should we do as Phaere asked.
So, we headed into the treasury (and killed the guards)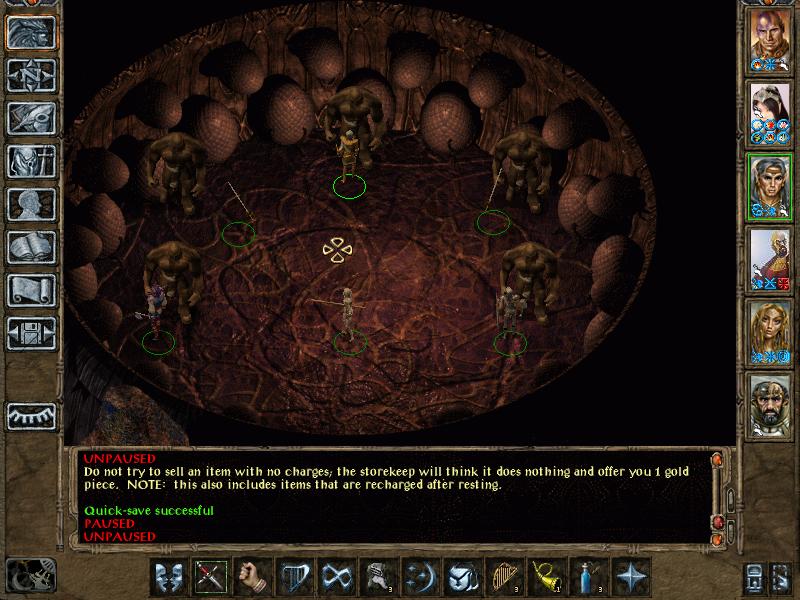 Then replaced the
real dragon eggs
with
Phaere's fake eggs
, then went back to Phaere and gave HER
Solaufein's fake eggs
. That's just so god DAMNED confusing...
After that, this little fellow popped up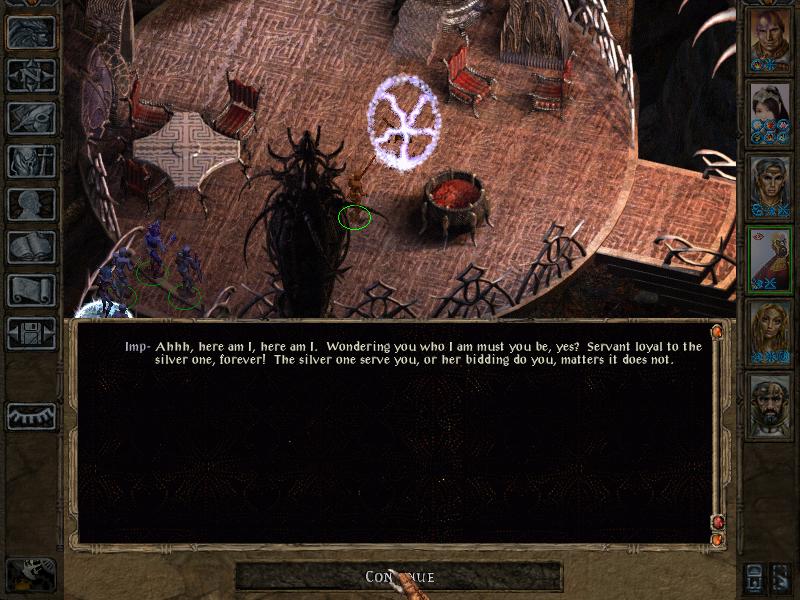 and warned us not to betray Adalon, and reminded us that we still had to play along so that we could leave the city, since the gates were magically sealed until Ardulace died (or unsealed them).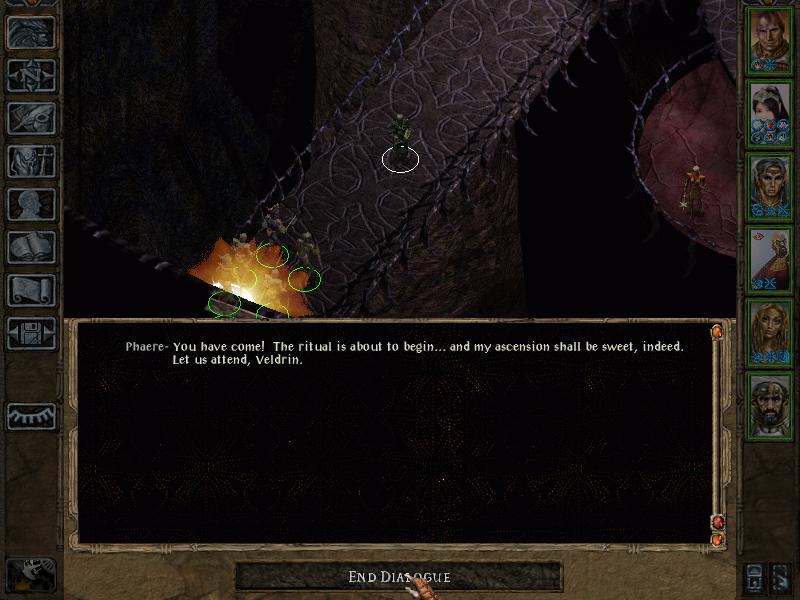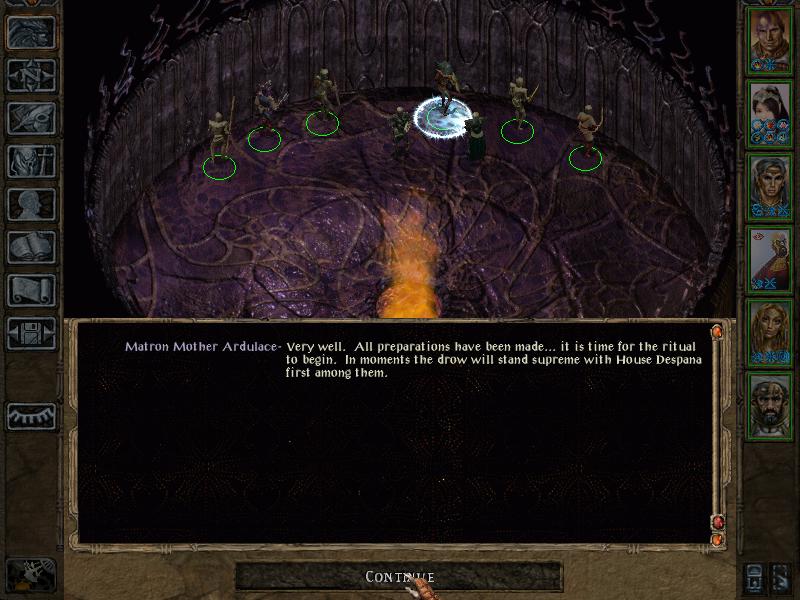 Ensure nothing disturbs my casting. When the demon appears, do not interfere. Mistakes from any of you will earn you a quick death and eternal torment. Now... I shall begin.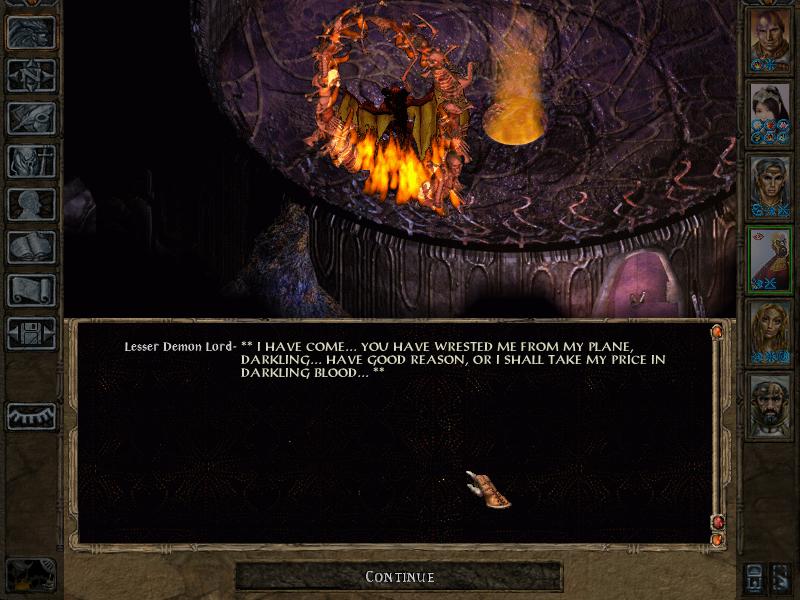 I have good reason, lord of the nether pits! I beseech you to aid the drow cause in the war against our hated surface cousins, to carve their pale flesh!

** AND WHAT MANNER OF TITHE WOULD YOU OFFER ME FOR SUCH A DEED, DARKLING? WHAT MANNER OF PAYMENT WARRANTS MY AID? **

I offer you *these*, lord of fiends... eggs of a silver dragon, a self-righteous creature of light. Yours to do with as you please, in return for your aid.

** FOOLISH DARKLING. DO YOU THINK I WOULD BE TAKEN IN BY SUCH A SIMPLISTIC DECEPTION? I? **

Wh-what do you mean, o dark lord? These... these are --

** THEY ARE FALSE, DARKLING. I WOULD TAKE SUCH A TITHE, WERE IT REAL, BUT NOW YOU HAVE OFFENDED ME. PERISH, LITTLE DARKLING WOMAN. **

NO! NO!! LOLTH PROTECT YOUR FAITHF --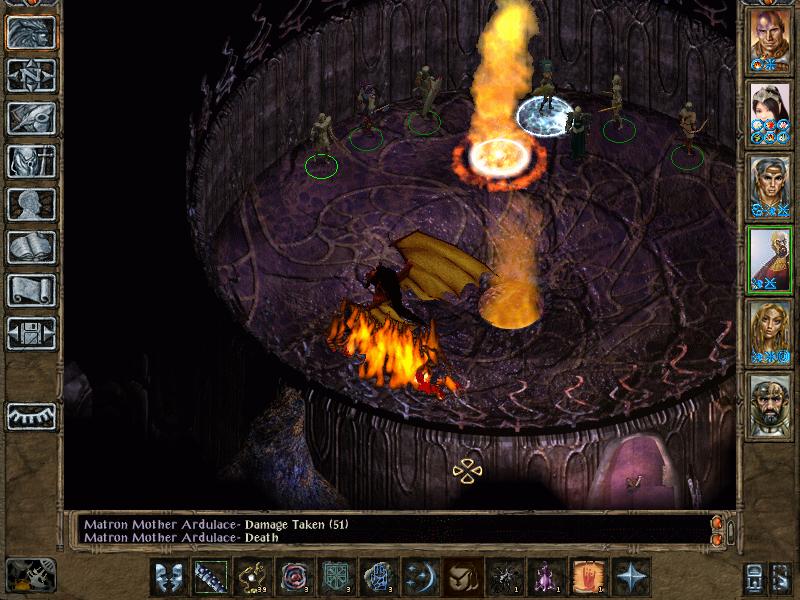 ** HOW DARE YOU CALL ME FORTH!! HOW DARE YOU TEMPT ME WITH EGGS OF HATED SILVER, BUT THEN DECEIVE ME!! I AM TEMPTED TO RAZE THIS CITY TO ASHES!! **

Hold, demon! I am the daughter of the one who has summoned you... and I have the eggs that you seek. I offer them to you as the tithe!

** HAHAHAHA! A GREAT JOKE HAS BEEN PLAYED ON YOU, DAUGHTER-DARKLING. THE EGGS YOU HOLD ARE ALSO FALSE. **

What?! No, it's... Veldrin? VELDRIN?! WHAT HAVE YOU DONE TO ME?!!

** THE BHAAL-CHILD HAS MURDERED YOU, DAUGHTER-DARKLING. MOST AMUSING, IT IS. HAHAHAHA! COME, NOW, AND BE MURDERED. **

NO!! I WILL DESTROY YOU, VELDRIN!! I WILL FIND YOU AND EAT YOUR BEATING HEART!! I WILL ---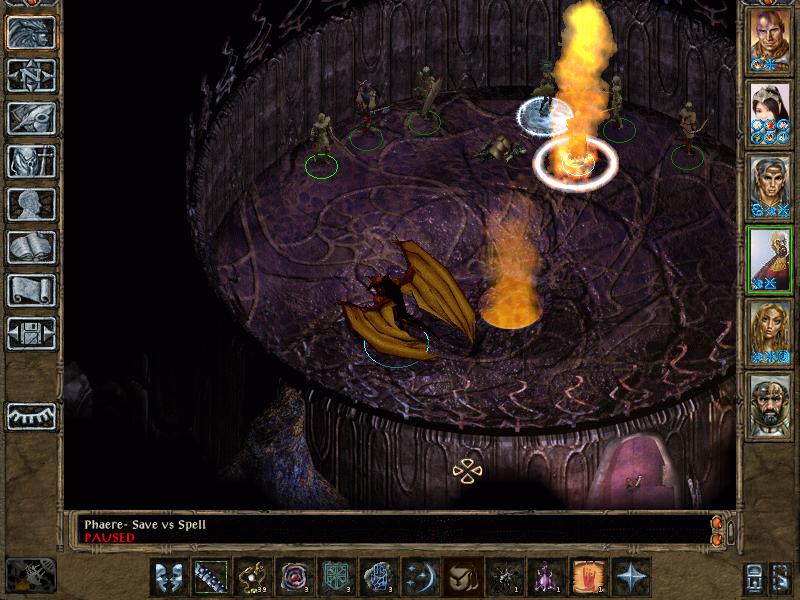 ** NOW... IT SEEMS THERE ARE NO *ACTUAL* DRAGON EGGS TO BE HAD. A PITY. UNLESS THERE IS A BETTER OFFER, I SHALL DEPART. **

Return to whence you came, demon... your summoners are dead.

** SO BE IT. MORTALS ARE EVER FOOLS. **
Yeah, there are better ways to do it, but the demon just seems so happy this way.
From Ardulace's corpse we took a
Ring of Spell Turning
and a suit of
Gorgon Plate
.

Sooooo... Anyone care to guess what happens now?

We manually alter the outcome of the next Ust Natha census?

...I was going to go with "let's kill them all" but that's so much more poetic.

On three?

...Let's just shoot them.
However, we did see fit to make use of the magical rope.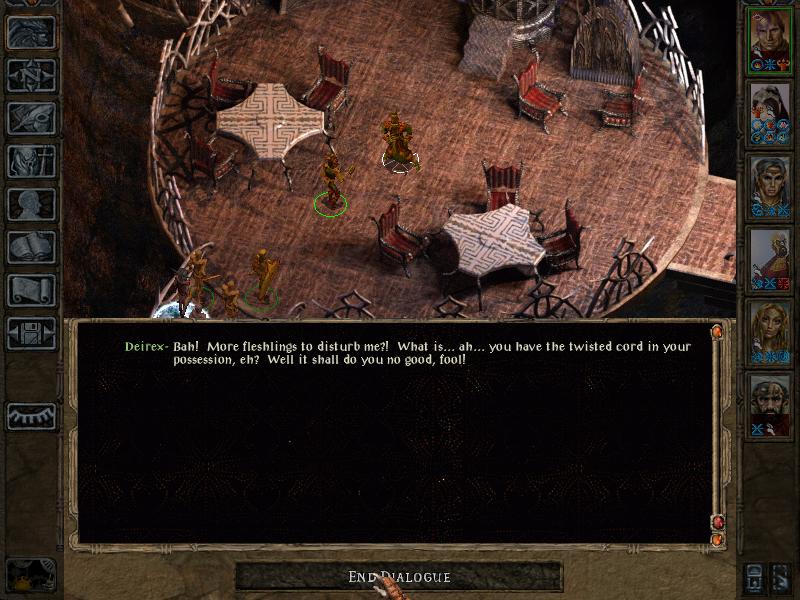 Yyyyeah he kind of got smacked with the Mace of Disruption before he finished his spell, so the game sat around for a while and then continued like I didn't kill him. I love when it does that.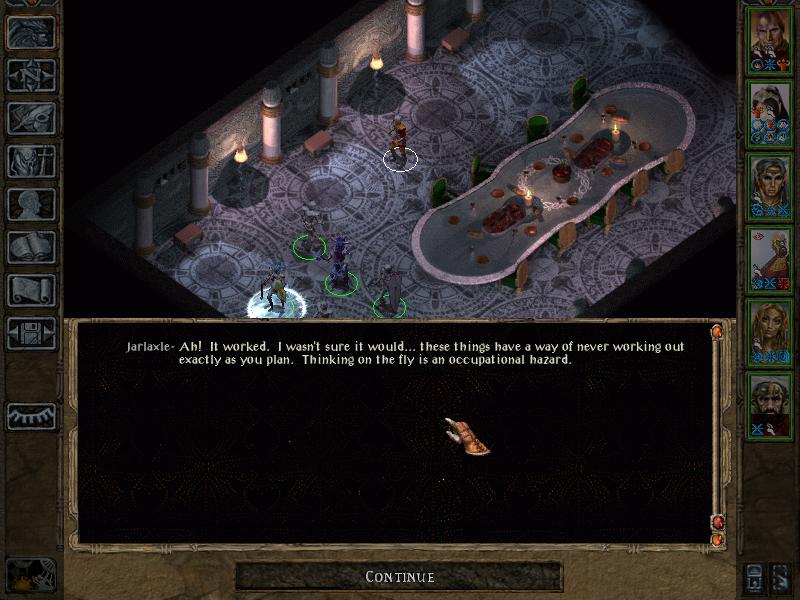 Then you... you must be that mercenary that the merchant told us about. You are Jarlaxle, aren't you?

The one and the same. Charmed, I'm sure, pretty lady.

Jarlaxle? Then Visaj lied! The rope didn't work!

Lied? Now that is rather harsh language. Visaj... Visaj, are you about?

I am here, commander, at your service.

Yes, I see that. Allow me to introduce my lieutenant, Visaj. Visaj, I am sure you are already familiar with Veldrin, yes? Tell me... did you lie to him?

I did not, commander.

I didn't think so. Visaj said the rope would protect you from Deirex's imprisonment spell, and it did. You are here, not in some miniscule hellish sub-plane. This is a pocket plane, headquarters of the Bregan D'aerthe, my mercenary band. I hoped the rope would bring you here, and I see that it has. Welcome, Veldrin.

Why go through all the subterfuge just to bring me here?

I wanted to see if you would actually attempt to face the lich. Call it a test of your courage, if you will. With most of my men imprisoned by the lich, I've hardly anyone left to do what I require done... and I can't go asking just anybody, now, can I?

And just what do you require done?

Well, you were about to deal with the lich, anyway, before he cast you into the planes. I simply need you to acquire something that he has in his possession.

The wardstone for the House of Jae'llat?

No, no. Even I know when to give up on a plan. My men come first. The lich has numerous gems that contain the souls of my men, and I want them back. Whether you kill the lich or not is up to you. Killing him would allow you to loot the tower, I suppose, but however you get those gems is of no concern to me. Once you gather up the gems, I will use the rope to pull you back into the headquarters, here. Easy enough, yes? You are ready to go, then?

Wait a minute... what do I get out of all this?

Oh, right. We're at the 'gesticulating helplessly' part, aren't we? Visaj, I thought I told you to remind me when we arrived at this point.

My apologies, commander. An oversight on my part.

You're forgiven. As for you, dear friends, I think you will *want* to do this. You wouldn't want your true identity revealed, would you... Asim?

What, you mean the true identity that most of the city found out about five minutes ago?

What?

Oh, don't worry, I'll still do it, since we DID kind of kill the lich right before we inexplicably got pulled here anyway. I was planning on cleansing the city and looting it as well.

I... see. Well, thank you.
After that, we found ourselves back outside in Ust Natha and went back into Deirex's tower, and grabbed
his tooth
, the
Jae'llat Wardstone
, the
Armor of the Viper
, and
Deirex's Gems
. As I put the last gem into my pack, Jarlaxle's magic pulled me back to his pocket plane.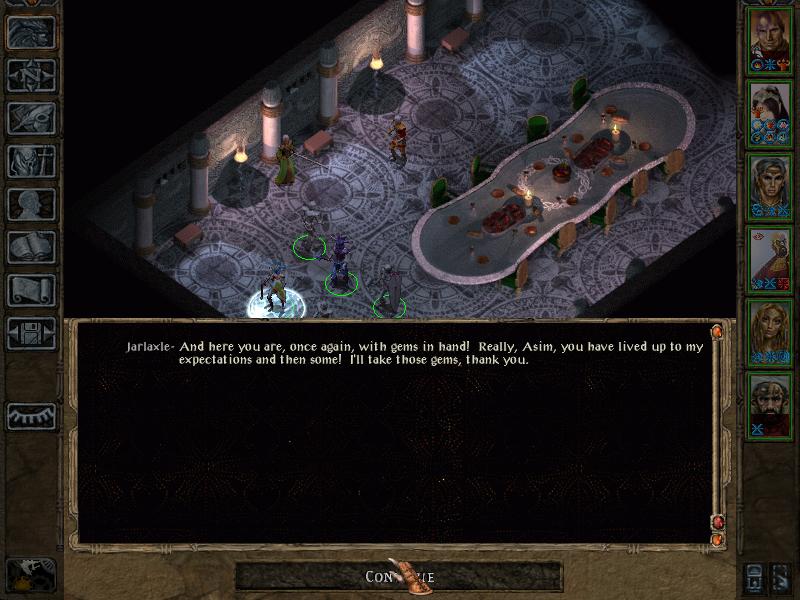 Ahhh, precious, aren't they? To think the Jae'llat have squirreled away such beauty for a millennium. What do you figure they'll get on the market, Visaj?

A considerable amount, commander. There are more than a few nobles who would pay dearly for the opportunity to vex the Jae'llat, regardless of their worth.

True enough. I wish I could be there to see the Matron Mother's face when she finds out we got our payment, anyway.

Eh? What is this? Did yon blackbird not say, earlier, that the souls of his comrades were trapped in those baubles?

Would I risk my men against the lich? I just wanted the payment I was due, as well as collecting the price of the Matron Mother's insult to the Bregan D'aerthe. I have not only collected the soul gems of the Matron who founded the Jae'llat, but you killed their ally Deirex, a member of their own House. I think matters between the Bregan D'aerthe and House Jae'llat are pretty much even, now, wouldn't you agree, Asim?

I'll kill you for trying to manipulate me!

Such a temper, Asim. It doesn't suit you. Here I am allowing you to keep your little secret - err, perhaps not, but I would have, and you're blustering on with threats. Not good at all. You do remember that my men are not imprisoned... we are able to protect ourselves from the likes of you. Do you truly wish to pursue this foolishness?

No... perhaps not.

A very intelligent move. I knew there had to be a reason you were still alive. I would like my rope back, now, so I shall relieve you of it. A bit of gold, my friend, for your trouble. As for what you choose to make of your encounter with me, that is up to you. You may choose to be bitter, or you can take advantage of your situation. Deirex is dead. Loot his tower before the mages of Sorcere close it up with magic. You can use the Jae'llat wardstone to enter and loot their House, as well. If you do, I will ensure that the Jae'llat cannot alert the rest of the city. And if you kill the Matron and ruin her House forever... it would serve her right.

I'll take that into consideration.

Time for you to return to Ust Natha, then. You've been quite a sport, Asim. Perhaps we shall meet again.
Actually, if you DO manage to attack Jarlaxle, then you end up with Artemis Entreri coming to call with his life-stealing dagger, which you can take for yourself if you manage to kill him. I seem to recall that threatening to kill him doesn't work, you need to actually launch an attack in the split-second window of opportunity that you have to work with.
A lot of unnoteworthy death and looting occurred, but nothing was really very useful. Haer'Dalis did all the killing.
And so, we returned to Adalon's lair. And attacked her.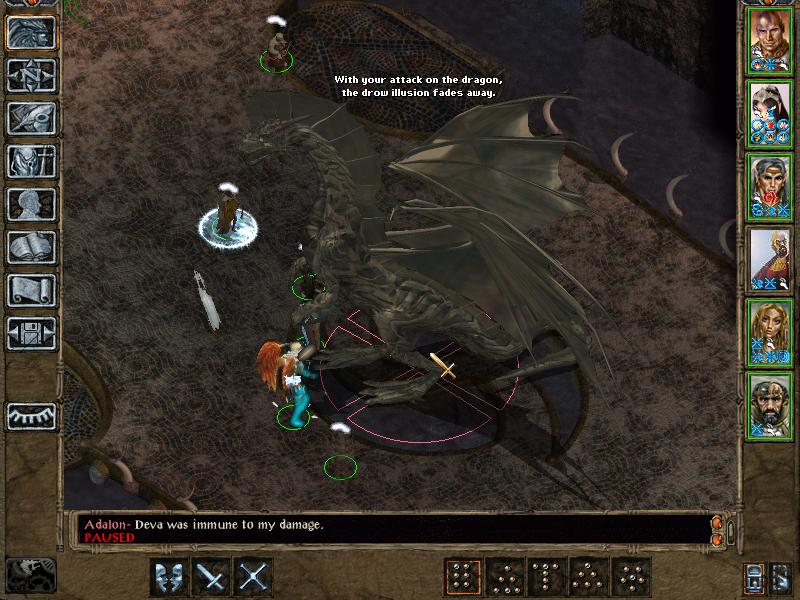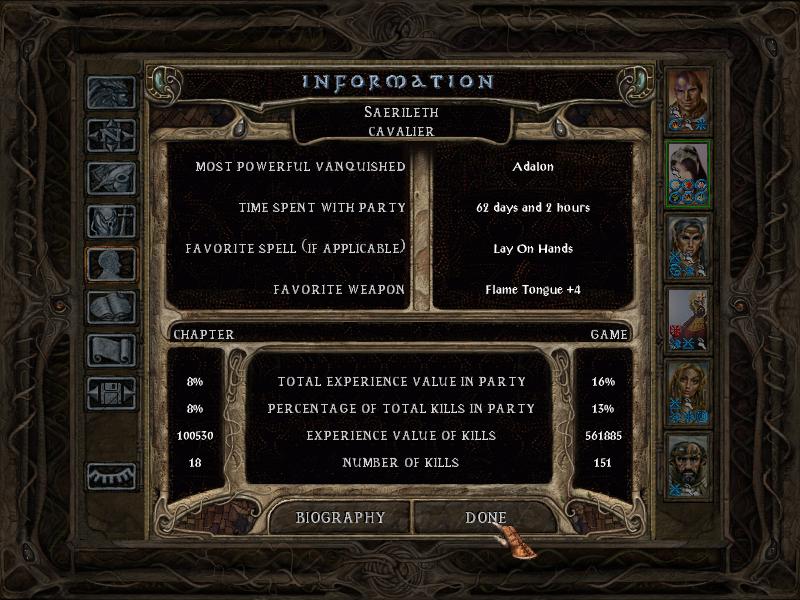 Bwahahahaha.
Seriously, she had nothing to say about this, despite landing the killing blow, even. Also, it was in THIS fight that I noticed I was playing on Insane difficulty when I went to turn it to a non-gibbing level because I was sick of Minsc of all people getting gibbed.
And we made off with
Adalon's Blood
and a
note
that would have lowered the wards on the door if I hadn't tricked the drow guarding them into opening them up forever ago.