Banjo-Kazooie
Bear and Bird save the day, it's the Banjo-Kazooie let's play!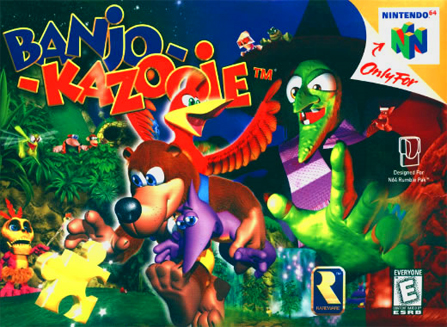 That's right, the bear and bird duo. If you've never heard of this game, it was an extremely successful adventure game on the N64, so much so that most people would agree it surpasses even Mario 64. It spawned three sequels (one to be released later this year) and one spin-off racing game.
The story is simple, an evil witch has kidnapped Banjo's sister in order to sap her prettiness and make herself beautiful, and it's our job, as bear-and-bird team, to put a stop to this. I've been a long time fan of this series, and it's going to be a lot of fun for me to make this, since even though I have played this game through and through, I haven't actually picked up a controller and played it in years. Hopefully this won't affect the progress of the LP (don't worry about it.)
Banjo-Kazooie: Grunty's Revenge (Author: Fish of Doom)
Let's Play Banjo-Kazooie: Grunty's Revenge or Banjo-Kazooie 1970's Edition or How I learned to love the robotic witch and her green monkey pal.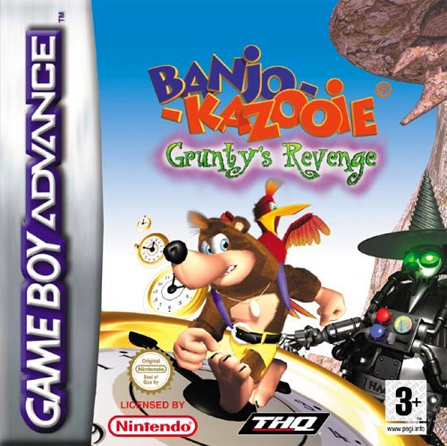 Grunty's Revenge is technically the real sequel to Banjo Kazooie, taking place in between it and Banjo Tooie. It was originally a game for the Game
Boy Advance, meaning it is only 32 bits, but it seriously makes full use of each of those bits. This is honestly one of the most complex GBA games
ever made.
Banjo-Tooie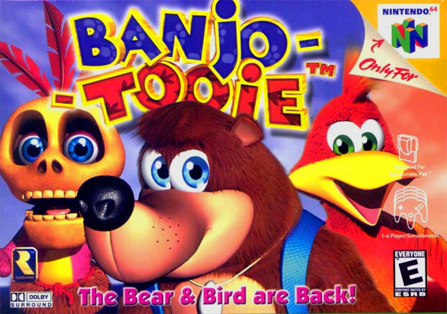 The bear and bird duo are back again! This game follows in the footsteps of Banjo-Kazooie and maintains all the things which made it so successful, but it
builds on them a hundredfold. Like, pretty much every aspect of Banjo-Kazooie has been improved upon.
It takes place two years after the events of the first game, and some new witches have arrived to cause a bunch of trouble. Bringing back Gruntilda from the
dead, they use a super large cannon called B.O.B. to zap all the living things on the island in order to revive Gruntilda.
Fanart/music/video
Bonus video, by
Lyrax
:
Some little things aka. I stared at a honeycomb for half an hour...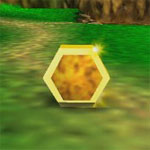 (Viddler)
My Christmas present to the thread,
Wallpapers and stuff. It's the thought that counts!
And Tome's Christmas present to me, a must see.

More KC Green
A normal Banjo
and then
a crazy mixed up alternate universe situation?
Fanart from Fish Of Doom!
I'm too awake for this to be a nightmare!
A transformation montage!
Fanart from Kitkat Skye!
Got 99 problems but a witch ain't one.
Fanart from Liku!
Black Mumbo Magic! (awesome)
Fanart from CrackSpider!
A really nice sketch!
Kazooie in both
coloured
and
uncoloured.
Fanart from Not Zilon!
One of the best pictures of these two I've ever seen!

Fan
art from Rooreelooo!
Something strange.
DAMN YOU KAZOOIE STOP PECKING MY HEAD WHEN I'M IDLE
If this ever stops being funny I'll eat my hat
Fanart from Good Listener
A simple doodle of a Christmas situation.
Fanart from DaWhiteMage
I dunno if it's great or not, but it's certainly notorious

Banjo and Kazooie in Spore Creature Creator, by JavaJesus!
It's pretty creepy!
Jigsaw Planet Jigsaw Puzzles!
From RagingBoner
Dunno where this is supposed to be... my bad.
Mad Monster Mansion
From Mind_Taker
Merry Christmas!
From RyuujinBlueZ
In honour of me or something! My old avatar.
From BrainWeasel
He just had to.
"Fanart" from Generic CAW!

Grunty's Lair!

Rusty Bucket Bay!

Clanker's Cavern as well!

Bubblegloop Swamp!

Witchyworld!

Banjo-Tooie MEGAMIX!

Hailfire Peaks!

Jinjo Village!

Isle 'O' Hags!

Mayahem Temple!

Glitter Gulch Mine!

Witchyworld again!

Atlantis!

Weldar!

Hailfire Peaks Fire Side!

Fan remix of Spiller's Harbor!