Introduction
Let's Play Brain Lord!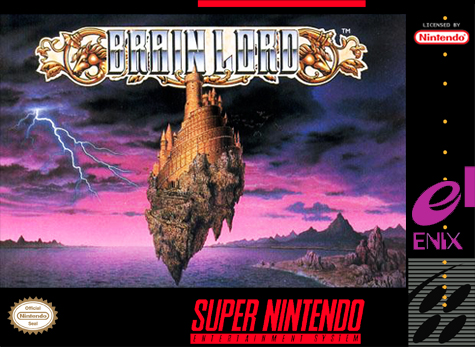 What is this game?
Glad you asked! Brain Lord is an action RPG for the SNES with quite a few mechanics you may find familiar if you've played a Zelda game before. There's much more, however! There are stats! Fairies that are actually helpful! Interchangeable equipment! Jumping! Zelda games rarely have jumping, and when they do, you
need an item to jump
! What a load, right?!
You said "Zelda-like" and now I'm interested.
Great! That's not a question, though.
How are you gonna handle this?
I want this to be a nice, relaxing ride down memory lane for myself, but I would also like it to be a learning experience for my commentary buddy Casnorf. The first few videos will be spent explaining quite a bit of what's happening on screen, but as fewer and fewer mechanics need explaining, we can and will be goofing off. As you may have guessed, I played this game a whole bunch as a stupid young child, and Casnorf had never even heard of it until I started talking about doing an LP.
Will there be room for guest commentators later?
You betcha! I have a handful of fellow goons I plan on bringing in for extra commentary. There will be a bonus video or two where I spend some time doing a whole lot of nothing, and in these videos, guests will surely be invaluable.
Hey, I saw some name-entry boxes. Can I help?
Nope! Well, maybe. It turns out that you generally get two of each of the little guys you end up naming. I have plans for the first set, but you folks can come up with wacky names for the secondary ones.
----
Alright, alright, enough questions. It's go time! Forgive the sound issues in the first video, they're fixed from the second video onward.
Videos
Episode 1-1: Intro
Episode 1-2: Other Games Chat
Episode 1-3: Market Inflation (and post dungeon town exploration)
Episode 1-Bonus: Smash & Grab
Episode 2-1: Maybe it's Cyberpunk
Episode 2-2: Nihilism
Episode 2-3: Try Jumping
Episode 3-1: Toronto!
Episode 3-2: Skeleton Meat
Episode 3-3: X Marks the Spot
Episode 3-Bonus: Murder
Episode 4-1: Thunder
Episode 4-2: Don't Dong Shame
Episode 5-1: Never Eat Soggy Waffles
Episode 5-2: Scientific Magic
Episode 5-3: And A Pretentious "Fin"
Contest Stream Recording
Fan Art!
rumrusher posted: