Introduction
Let's Play Cave Story!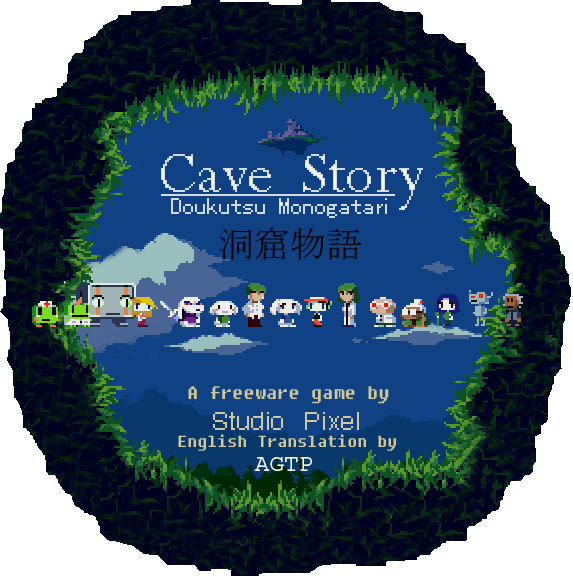 Introduction:
Cave Story, otherwise known as Doukutsu Monogatari, was released by Studio Pixel in 2004. Studio Pixel is one man with a vision. And his vision is our dream come true. Cave Story is a compelling platformer with lush environments, entertaining combat, and an amazing story. It can be enjoyed by both casual and hardcore gamers.
Where can I get Cave Story?
You could get it from
Here
. You will need the patch from
Here
to make it English.
Where can I get the wonderful music from this game?
Look no further than
Here
.
Yay! I love Cave Story!
You are not alone. Many thousands of people have enjoyed this game. It's that good.
I have never heard of this game.
That's okay. It's a good game. You should give it a watch, maybe play it.
How much of the game are you going to play?
There are a lot of hidden items you can get if you're really good, but I'm going to stick with the basics. All endings, with the best weapon and the strange weapon, and all the extra items I can get. We'll need em.
But I wanted to do a Let's Play of this first!
You're more than welcome to. This is Cave Story, for crying out loud. I'm surprised there haven't been seven Let's Plays of it already. There've been a couple of abandoned ones, I believe. If someone else wants to do Let's Play Cave Story as well, go ahead. Just start your own thread. I don't mind. This is one of those games that Deserves to be played over and over. Maybe you'll pick different weapons, or make different choices?
Is it true you can dance, Deceased Crab?
A little bit of East Coast Swing, a little bit of Waltz.

As always, my Let's Plays come in Video form. It killed the radio star. Take that, Radio Star!

Table of Content
Balrog Story, Huzzah!