Part 12: Interlude: Fowler 4F (Paul.Power)
Veloxyll posted:
or for passengers

Which is ironic, because it was originally designed as a freight train (hence the "F" in its designation: P for Passenger, F for Freight, MT for Mixed Traffic. The 4 refers to the power class - the higher, the more powerful. This was a labelling system designed by the Midland Railway and inherited by the LMS and BR, who imposed it retroactively on other companies' locos)
Speaking of which, yay, first Brit train!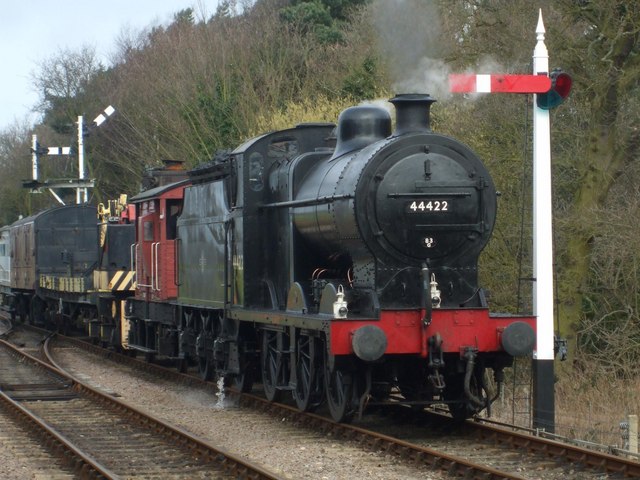 Sources: Wikipedia, geograph, Ashley Dace
Fowler 4F
Company: Midland Railway and later London, Midland and Scottish Railway (LMS) and British Railways (BR)
Designer: Henry Fowler
Wheel Arrangement: 0-6-0
First prototypes: 1911
First production models: 1917 (yeah, WWI kind of got in the way)
Total built: 772
Total preserved: 4
The Fowler 4F was one of the better engines to come out of the Midland Railway's "small engine" policy - the theory that it would be more economical to build underpowered, cheap-to-maintain locomotives and double-head trains if necessary, in contrast to say Nigel Gresley's "big engine" policy over on what was then the Great Northern Railway (the Midland would be grouped into the LMS in 1923, as would the GNR into the LNER (London and North-Eastern Railway) - with Fowler and Gresley becoming the first Chief Mechanical Engineers (CME, "bloke wot designs the engines") of the LMS and LNER respectively. Ultimately, Gresley's big engine policy won out - Fowler tried his best with designs like the Royal Scot, but Midland's doctrine (carried over to the LMS) kept him limited in what he could achieve. It was only when William Stanier took over as CME of the LMS that they mounted a serious fightback.
Saying that, the Fowlers did useful if unspectacular work as light freight locomotives, upgrading the Midland's previous batches of 0-6-0 goods engines, and they continued to fill a role even as Stanier's Black Fives and 2-8-0s brought more power to the LMS's lines (indeed, Stanier still managed to build 45 more of them during his time as CME). All 772 of the 4Fs made it to nationalisation, with withdrawals beginning in 1954 and finishing in 1966.
Another fun fact about Fowler: he designed the "Jinty" 3F 0-6-0T of original Transport Tycoon fame, which is sort of the 4F's "counterpart" tank engine. Although that might be spoilers, depending on which locos Jaguars! uses.