Part 16: Interlude: Gresley A3 (Paul.Power)
Jaguars! posted:
P.S. Paul, I love your little summaries, they're very pleasant to read.
Thanks! I've had the idea in the back of my mind of doing an OpenTTD LP with the UK Rail Set mod installed, and doing little pieces for locos as and when they were invented - but I'm not sure I'm really good enough at OpenTTD to justify it. This way I get to live vicariously through someone else's LP

. I crib a lot of my information from Peter Herring's
Handbook of Classic British Steam Locomotives
, if you're curious.
Anyway, speaking of which, new Brit loco means new summary: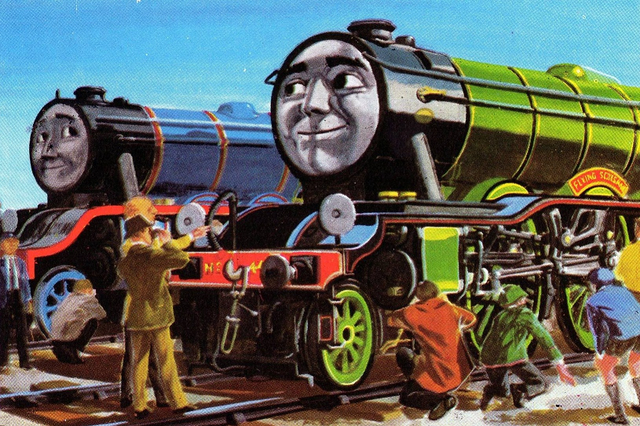 Sources: Wikipedia, Rich@rd, The Rev. W. Awdry, Gunvor and Peter Edwards
Gresley A1/A3 Class
Company: Great Northern Railway (GNR), and London and North Eastern Railway (LNER) and British Railways (BR)
Designer: Nigel Gresley
Wheel Arrangement: 4-6-2
First prototypes: 1922
First production models: 1923
Total built: 79
Total preserved: 1 (+ 1 fictional)
I mentioned Nigel Gresley's "big engine" policy in contrast to the Midland Railway's "small engine" policy when writing up the Fowler 4F, and the A1/A3 class are a pretty clear example of that in action. The dual name comes from later examples being built with different valve gear and higher pressure boilers, gaining them the name A3: these changes came about because people (correctly) criticised the original A1s for consuming too much coal. Gresley disagreed at first, but was persuaded after a trial swap with a Great Western "Castle" Class showed just how much more coal-efficient the Castle was while performing to the same standards as the A1.
The only (real

) preserved member of the class is arguably the most famous steam locomotive in the world: Flying Scotsman, the first production model from the class and the first steam locomotive to achieve an authenticated 100mph (unauthenticated records having been set by New York Central and Hudson River Railroad's
No. 999
and the Great Western's
City of Truro
). It has gone on many tours and changed hands several times throughout its long and chequered preservation-era career, but is currently owned by the National Railway Museum in York. Funnily enough, it actually returned to steam after a long overhaul only a few days ago, with tests beginning on the East Lancs Railway
last Friday
. The plan is to have it return to mainline action soon.
And of course, there's a famous fictional example of an A3: Gordon, from the Reverend W. Awdry's
Railway Series
(or, yes, fine, Thomas the Tank Engine). Gordon got to meet up with the last of his brothers during the events of
Enterprising Engines
. And now I feel even more nerdy...