Part 18: Stanier 5XP 'Jubilee' (Paul.Power)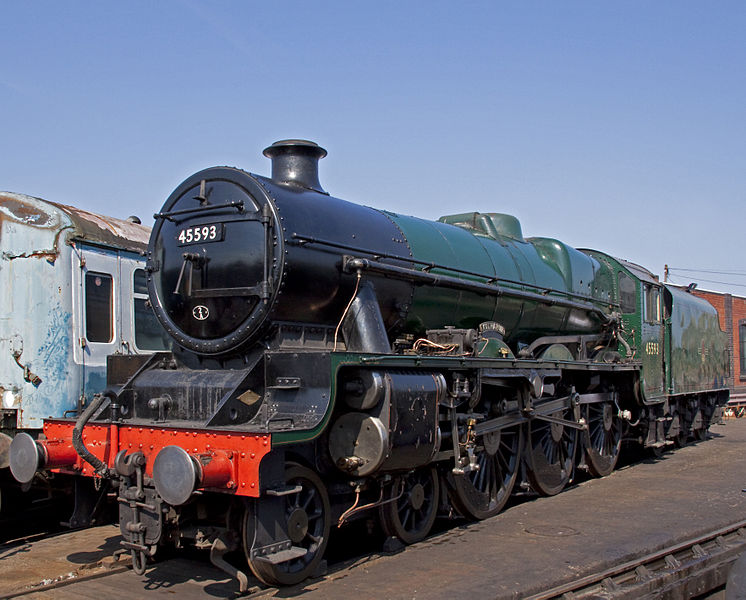 Sources: Wikipedia, Tony Hisgett
Stanier Jubilee 5XP/6P
Company: London, Midland and Scottish Railway (LMS), and later British Railways (BR)
Designer: William Stanier
Wheel Arrangement: 4-6-0
First produced: 1934
Total built: 191
Total preserved: 4
Until 1932, the LMS had been struggling to compete with their rival for services to Northern England and Scotland, Nigel Gresley's LNER. Henry Fowler had tried his best with locomotives such as the Royal Scot, but he was ultimately frustrated by the aforementioned "small engine policy". In 1932 though, everything changed: the LMS appointed William Stanier as their new Chief Mechanical Engineer, headhunting him from his role as Swindon Works Manager on the Great Western Railway. Stanier's job was nothing less than the complete restocking of the LMS's mainline fleet (the Fowler 4Fs and Jinties had the branch lines covered, at least), and the results can only be called a spectacular success. Not only did Stanier give the LMS a fleet to rival the LNER, he realised that, while speed and power were all very well, the coming decades would be just as much about reliability, adaptability, cost-effectiveness and ease of maintenance.
The Jubilee class's role was secondary express passenger work on fast inter-city trips. Their initial designation was 5XP (power class 5 express passenger), after the Patriot class that they were based on, but this was eventually changed to 6P. As the Patriot was a proven design, and as there was a big need for the new engines, they were ordered without any prototyping. This turned out to be an error: generally sound Great Western design principles clashing with already-existing LMS concepts and the Jubilee's unusual (well, unless your name was Nigel Gresley) 3-cylinder layout led to teething troubles with the new engines, and over a hundred were built before they were fixed. After this was sorted, though, the Jubilees came in to their own. The name, incidentally, comes from the fact that the Jubilees were the class chosen to celebrate King George V's silver jubilee, with the engines named after places in the British Empire, war heroes and famous ships.
The Jubilees are in some ways the underdogs of the Stanier locomotives. They weren't quite the box-office material of the Princess Royals and Princess Coronations, but nor did they have the sheer numbers (over 800 each) or railway enthusiast love of their close cousins, Stanier's "Black Five" mixed traffic engines* and his 8F heavy freight locomotives, although they did make it as far as 1967 before the last members of the class were withdrawn. But, like the Fowler Jinty, the Jubilee has another claim to fame as one of the locos featured in Transport Tycoon: and unlike the Jinty, it even made it to Transport Tycoon Deluxe as one of the three starting engines. So that faint bell ringing in the back of your head? It was probably that.
* I know these are in Locomotion and I really hope Jaguars! added them to his scenario.