Part 1: Character Roster (Spoilers-a-Plenty)

Chrono Cross features a fuck ton of characters that can join the party. We'll be keeping track of new recruits here. This will be updated accordingly.

OBVIOUS SPOILERS! VIEW AT YOUR OWN RISK!


PLAYABLE CHARACTERS:


SERGE THE SILENT PROTAGONIST
Serge is a lazy jerk who spent most days sleeping past noon, spending his afternoons mutilating small animals, and dreams of stabbing young women at night. While going on a campaign of animal slaughter to appease his bloodthirsty girlfriend, he was accidentally whisked into an alternate dimension. In said dimension it turns out he drowned as a child. Kind of an inconvenience when stuck in a bizarro universe...
Terrible speech pattern:
Despite claiming to be silent, he holds conversations the player just cannot hear. Kind of a jerk that way...

POSHUL THE WONDER DOG
Poshul is an affront to all that is good and pure in the world. It joined the party after being fed a bone of a minor mid-boss and has since turned the gayness of Serge's team up by several magnitudes. Despite being a dog, it has the unique ability to speak...poorly...in the most annoying mush mouthed idiotic way one could possibly make an animal talk. And that's counting the Marmaduke movie.
Terrible speech pattern:
An autistic Scooby Doo mixed with a racist 1940s Japanese stereotype.

LEENA THE SWEET COUNTRY GIRL
Leena is the Another World version of Serge's harpy of a girlfriend. She is the only teenager in Arni Village seeing as Serge bought the farm when they were very young in her dimension. As such her alternate world persona has mellowed the fuck out since she's not on a power trip with a whipped boyfriend. She believe Serge might just be a clumsy doofus and hit his head somewhere so as to screw up his memories to make him think he's her dead childhood friend. It would explain the silly do-rag he's sporting at least.
Terrible speech pattern:
She one of the few characters that speaks perfectly normal. Good for her.
LUCKY DAN THE CURSED VOODOO DOLL
Lucky D. (aka Mojo) is a pagan idol worshiped by a negligent father in a basement in Another Arni Village. Apparently hailing from the "Far East" as the Ebay scammer claimed...despite the fact nothing resembling a distinct voodoo practicing eastern culture exists in the Chrono series. It suddenly sprung to life upon meeting Serge and company and decided to join the party because...meh...why the hell not? Its former owner was left to wallow in self pity about wasting his life praying to a scarecrow.
Terrible speech pattern:
Adds an extra "o" to woords and haphazardly ads "om" to the end of sentences-oms.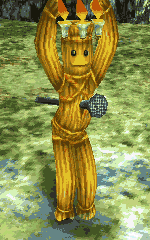 KID THE MYSTERIOUS TRAVELER
Kid is a wandering Australian thief living in a world that does not have an Australia or even an Australian-esque locale (marsupials are however abundant in most regions.) She initially appeared in a dream of Serge's where he infiltrated an ancient fortress with her and then violently stabbed her to death before waking up. They later met proper when Serge was being mugged by Dragoons in Another World. Serge proceeded to blow her off temporarily but she eventually muscled her way into the group after commending Serge on nailing Leena at the local No-Tell Motel. She seems to be in El Nido for some vague reasons central to the plot seeing as she's on the front cover of the game and all...
Terrible speech pattern:
She's got yer run o' the mill Aussie accent, mate.

ZIGGY THE ROCKIN' BARD SUPERSTAR
Nikki
Ziggy is a flamboyantly bisexual glam rocker from Termina. His lady friend Miki employed Serge and company to search for him after he was last seen snorting three lines of coke off a Guardia hooker's tits and wandering into the forbidden Shadow Forest. The party found him there attempting to sing to functionally autistic phallic monsters and being attacked by bird-man hybrids. After Team Serge rescued him, Ziggy informed Serge that his sister may be staying at Viper Manor and forced his way into the party. He neglected to inform his new allies that he learned this in a drug fueled haze from a talking crimson owl before it exploded into a brilliant rainbow.
Terrible speech pattern:
None in particular. But, he has a tendency to sing...very poorly...

GRECO THE PSYCHIC EX-WRESTLER
Greco is a luchador wrestler priest and latent psychic caretaker of Termina's graveyard. He spent his days tending to those who had tapped out of this mortal coil and raising his dead tag-partner Ghetz' daughter Romana (Greco-Romana...get it...? Har har.) Sensing Serge is an anamoly between life and death in Another World, he once more returned to the ring in order to help our silent hero find some answers.
Terrible speech pattern:
Occasionally splices some latino flavor into his dialogue. Si, amigo?

GLENN THE NOBLE KNIGHT
Glenn (no relation to the amphibian swordsman of the same name) is an Acacia Dragoon private in the service of General Viper. Glenn is the younger brother of the infamous Dragoon Deva badass Dario and has been following in his footsteps in knight asskicking and such. He initially met Serge during a visit to his brother's grave along with his childhood friend Riddel. There, Serge price gouged him for a bouquet of flowers as Serge is just a class act like that. Later, he joined the party since Serge was the only dude in town with a boat for rent. Eh...there's been worse reasons to join an adventure.
Terrible speech pattern:
He speaks polite and proper, but lacks any sort of grating accent. Good for him.

MACHA THE GUTSY MOTHER OF TWO
Macha is an overweight middle aged island big mama. She is the mother of insufferable Speedo wearing twat, Korcha. Her jackass son would not lend his boat out to the party so she grounded him and gave them passage on it instead. She joins the party after deciding Serge probably needs more help than her embarrassing fuck-up of a son. Also she gave Serge a boat. I guess that was something...
Terrible speech pattern:
A wee bit of Jamaican, don'tCHA know? <insert dated Miss Cleo reference here>

LUCCIA THE SCIENTIFIC GENIUS
Luccia is a somewhat unbalanced scientist conducting experiments of questionable ethics in the basement of Viper Manor. Initially, she imprisoned the party in a trap designed to ensnare wandering soldiers in order to produce more test subjects and unleashed a mutated creature on them to battle to the death. After Serge and company defeated said experiment, she allowed them to leave with promise of aiding him later because err...well, just because. Upon the Acacia Dragoons' departure from the manor, Luccia found her funding cut and one too many abominations of science escaped from her lab. She decided to join Serge's party in hopes of gaining more research for her twisted science.
Terrible speech pattern:
Vaguely East-European Mad Scientist

NEOFIO THE "FLOWER CHILD"
NeoFio is a fully gestated plant/human hybrid created by Luccia and brought to life via a rare flower that fermented in the former home of the hydras. Upon the vegetable Frankenstein's monster gaining sentience, it decided Serge (the first thing it saw) was its master. It follows him unquestionably, ready to force its many tentacle like vines in every orifice of her foes.
Terrible speech pattern:
Elmer Fudd with a side of plant puns.

SKELLY THE SKELETON CLOWN
Skelly was once a man who went to clown school. Once upon a time he apparently came across a person or persons who
REALLY
fucking did not like clowns. We are talking ridiculous, seething hatred for clowns and clown kind. As a result, they murdered Skelly, dismembered him, bathed his parts in acid and dressed them up like a clown, then scattered them into pieces across the El Nido Archipelago. On top of that, poor Skelly's soul managed to be bound to his broken skeletal form. Serge initially came upon his shrieking skull in the Fossil Valley and agreed to seek out his wayward pieces to put him back together. He was eventually reformed into a grim revenant mockery of his former self and joined Serge's party as thanks.
Terrible speech pattern:
Curly from the Three Stooges. N'yuck yuk yuk!

PIP THE GUINEA PIG EXPERIMENT
Pip is an experiment Biological Organic Weapon developed by Luccia. The volatile little devourer of worlds was initially discovered by Serge locked away collecting dust in a cage in the corner of Luccia's lab and asked to be released so it could see the world. Thinking little of anyone's safety, Serge agreed. It was later found stowed-away on Fargo's S.S. Invincible during the middle of a ghost pirate attack. Coincidence? Or just the natural response to a beacon of pure evil? In any case, it decided following Serge would be the best way to broaden its horizons and/or enslave humanity and forced its way into the party.
Terrible speech pattern:
Elmer Fudd coupled with a cutesy Care Bear.

DOC THE VILLAGE PHYSICIAN
Doc is...now wait for it...a doctor! Or at least the closest thing the shanty town fishing village of Guldove has to a doctor. He is criticized locally for his overabundance of prescriptions to the local medicinal "herbal remedies" for patients' treatment. But, he swears by it himself and it's not like any of the villagers have a PhD. Doc met Serge and company after Kid was hit with a lethal dose of Hydra poison after an encounter with Lynx. Having nothing on hand but a basic first-aid kit, some bandages, and a block of marijuana in his supply room, Doc found himself helpless in saving Kid. But, things eventually worked themselves out. He eventually opted to abandon the poverty stricken town of Guldove without a physician in exchange for joining Serge's ragtag band.
Terrible speech pattern:
Burned out surfer dude, bra.


LYNX THE FELINE DEMI-HUMAN
Our hero Serge
after he got turned into a goddamn furry thanks to PLOT!
Terrible speech pattern:
Assorted angry roars and irritated meows. Also silence.

SPRIGG THE LOVABLE OLD LADY
Sprigg is a 224 year old Mystic woman that was stuck in the Temporal Vortex as long as she can remember. She spent most days scavenging for abstract berries in her Vincent Van Gogh dimension and ranting about her nihilistic views to any wandering souls that would listen. She joined Lynx after he broke into her house and spent the night sleeping on her window sill because...meh...it seemed like as good a way as any to escape the Crayola Limbo. Turns out she was right...
Terrible speech pattern:
Dick Van Dyke-esque Cockney.

HARLE THE ENIGMATIC JESTER
Harle is Lynx's French clown sidekick. She initially spent the first act randomly teleporting into scenes to relentlessly flirt with Serge and call Kid a filthy flea-bitten whore. After the Serge/Lynx body swap, she remained loyal to Mousier Lynx despite the new soul inhabiting his body. She tried to convince Lynx to just play the part of the stylishly dressed furry. However, seeing that wasn't going to fly, she decided to continue traveling with her feline companion anyway. Evidently, French female clowns aren't exactly high on the employment desirability in El Nido...
Terrible speech pattern:
So French she shitz les baguettes.

RADIUS THE ARNI VILLAGE CHIEF
Radius is er...well the Arni Village Chief. In his youth he was one of the Acacia Dragoon Devas, but has since retired to the remote village of Arni to live in peace. He now spends his days giving combat tutorials (which strangely all end with him punching people full force in the dick.) He confronted Lynx and his demi-human entourage once the locals started donning their Klan hoods and starting a ruckus. After a short fight, he found that Lynx was not the evil murdering jackass he'd known in the past and decided to join the group in hopes of finding what happened to his old pal General Viper. Also, to punch other whippersnappers in the crotch with reckless abandon.
Terrible speech pattern:
None other than old timer mannerisms.

ZAPPA THE OBSTINATE BLACKSMITH
Zappa is a blacksmith from Termina and father of the Acacia Dragoon Deva Karsh. After the Acacia Dragoons (along with his son) vanished and the firearm wielding Porre Empire invaded El Nido, Zappa's business tanked. Lynx met up with the blacksmith just as he was closing down his furnace permanently and setting off on travels in search of the mythical "rainbow" material to enhance his craft. Seeing as Lynx and his entourage were pretty damn well equipped, he decided to join the party in hopes they'd run across what he sought.
Terrible speech pattern:
Scottish. Haggis.

VAN THE PENNYWISE ARTIST
Van is the son of Termina artist Gogh (hurr...get it?) Gogh is rather unsuccessful in his craft and thus the family lives in poverty. This money lacking lifestyle has left Van an angsty, sarcastic douchebag that spends his day wishing his departed mother was still around and writing poetry about how much of a fuck-up his father turned out to be. Team Lynx happens to stumble into the Van Gogh household on the same day they are being evicted for being deadbeat tenants. Van manages to dupe the slightly moronic landlord by claiming he is joining Lynx in search of the Frozen Flame. Soon there after, he indeed joins Lynx in search of the Frozen Flame after his father tricks the child into going off on an adventure to
get the parasitic ingrate financial burden the hell out of the house
broaden his horizons.
Terrible speech pattern:
ANGST! But, none really beyond excessive whining. Good for him.

FUNGUY THE MUSHROOM MAN
Funguy was once a mild-mannered hobo living in a cave in Shadow Forest. Then one day Lynx rolled in and hooked him up with a special rare 'shroom that caused him to trip balls so fucking hard he turned into a goddamn mushroom. He joined Lynx in hopes of finding a way to stop being a goddamn mushroom... Yeah that is...basically it...
Terrible speech pattern:
A tendency to use mushroom based puns. But, otherwise normal.

NORRIS THE 'BLACK WIND' LEADER
Norris is the commanding officer of the Porre occupation of the El Nido Archipelago and leader of the elite Black Wind squadron. We never find out what the hell a Black Wind squadron actually is or does...but trust me...
elite!
He initially began as a spy for Porre in search of the Frozen Flame and continued his search for the relic following the disappearance of the Acacia Dragoons. News of the Frozen Flame apparently originally reached Porre via correspondence with Lynx. So, when he resurfaced in the region Norris decided to tag alone in search of the truth about the legendary treasure. And meh...he was just assigned to guard the basement of a mansion ruins before that...
Terrible speech pattern:
Extremely polite and proper. But, no distinguishable accent other than that. Good for him.

STARKY THE STRAY 'GRAY'
Starky is a goddamn space alien. The pint-sized space invader had his ship crash land while no doubt plotting an invasion strategy for his people to subjugate the planet. After his ship broke apart in the atmosphere, he had been setting out collecting the Star Fragments to piece the thing back together so he could get off the planet before he got wiped from existence due to all the local time-space fuckery. Upon meeting Lynx and company, he was convinced to join with the prospect that his flying saucer might be intact in the alternate world.
Terrible speech pattern:
Speaking in the third persoon. Also, raandomly drawing oout his "a" and "o" soounds.

DRAGGY THE CUTE DRAGON BABY
Draggy is a newborn dragon puppy. It was initially found in egg form in a dodo nest in Fossil Valley. Utilizing an incubator located in the basement of Fort Dragonia, Lynx managed to hatch the little guy. Confused as to what had become of its parents and siblings, it asked for Lynx's help in tracking them down. There is a 99.3% chance there is a correlation between finding it in a valley full of bones and its wayward family...
Terrible speech pattern:
Slipping into baby speak. Plus the drrragon tends to strrretch out its "r"s.

JANICE THE BUNNY-GIRL TRAINER
Janice is a demi-human monster trainer and champion of Zelbess' Grand Slam monster dueling tournament. That is, until Lynx rolled along and steamrolled her and her stable of beasts without breaking a sweat. Impressed with his collection of horrific creatures and their superior ability to tear out rival creatures' throats for low-brow entertainment, she joined the party in hopes of finding new monsters to battle with in their travels
Terrible speech pattern:
Overly excited and yelling "Woo-hoo!" a lot. But otherwise normal.

IRENES THE LATE ZELBESS'S SISTER
Irenes is a mermaid from Marbule. She's trying desperately to revive Marbule from its current infestation of pan-dimensional creatures loitering about (terrible for property value you see.) She had been attempting to utilize the former Sage of Marbule to use a magic song that would bring the monsters into this world with little success, as her brother-in-law Fargo is a huge asshole and refuses her access to the old geezer. Eventually, things work themselves out with the vaguest of assistance by Lynx so she joins the party as a way of saying thanks.
Terrible speech pattern:
Vägüely Scändinävian...mäybe? Likes tö inclüde ümläuts äböve every öther vöwel.

SNEFF THE AGED ILLUSIONIST
Sneff is a master of illusion aboard the S.S. Zelbess. He originally incurred a huge gambling debt to the point of basically being an indentured servant thanks to being too stupid to realize the games were rigged and he was being horribly ripped off. He spent most of his days performing magic shows in the cruise liner's bar doing tricks involving fat men sitting on floating skinny young women and turning hecklers into cats. After Lynx destroyed the cheating device, Sneff managed to clean house and pay off his debts. He decided to join the party for no real reason shortly there after.
Terrible speech pattern:
Pronounces "f" and "th" wiff a prolonged, saliva filled "ff" sound thanks to poor dental hygiene.

ZOAH THE ACACIA DEVA
ZOAH IS ONE OF THE FOUR ELITE ACACIA DEVAS. WELL I SAY "FOUR" BUT THERE ARE REALLY ONLY THREE SINCE ONE OF THEM DIED AND THEY NEVER BOTHERED REPLACING HIM. ANYWAY, ZOAH, LIKE HIS COMRADES KARSH AND MARCY, INITIALLY APPEARED AS AN ENEMY OF SERGE ON A NUMBER OF OCCASIONS. HOWEVER, FOLLOWING THE EVENTS OF FORT DRAGONIA AND PORRE'S INVASION, HE JOINED FORCES WITH LYNX IN ORDER TO SAVE GENERAL VIPER'S DAUGHTER RIDDEL FROM VIPER MANOR. DID I MENTION HE WEARS A PLATE METAL HELMET AT ALL TIMES AND YELLS CONSTANTLY? BECAUSE HE WEARS A PLATE METAL HELMET AT ALL TIMES AND YELLS CONSTANTLY.
Terrible speech pattern:
ZOAH YELLS AT ALL TIMES! THIS IS DENOTED BY ALL HIS DIALOGUE BEING IN ALL CAPS AT ALL TIMES. EVEN WHEN SLEEPING.

ORCHA THE FIERY COOK
Orcha was the head chef at Viper Manor up until the Porre Military rolled in. Then they shoved some special seeds from Hydra Marsh that turned him into an EVIL culinary master because... well, Porre is just cartoonishly evil and it seemed like a good idea at the time. However, Lynx and his entourage came and kicked the shit out of him and he got better. He soon joined for no particular reason soon after regaining his senses.
Terrible speech pattern:
One of the CHA family.

GROBYC THE CYBORG ASSASSIN
Grobyc is a err...well, a cyborg assassin. One who...doesn't actually ever assassinate people really too much. Or ever... He was apparently created by Luccia's brother back on the Zenan mainland and shipped out to El Nido post-Porre Invasion. There he...just sort of loitered about and leaned on walls nonchalant like until Lynx and friends showed up. He then got his ass kicked as he found his powers of hair spray and action figure rocket arm powers were useless. Decided Lynx was stronger than any in the Porre military and promptly switched sides to Lynx's cause.
Terrible speech pattern:
Being-a-bionic-commando-he-talks-like-this. He-also-refers-to-himself-in-the-third-person.

RIDDEL THE LADY OF VIPER MANOR
Riddel is the daughter of Another El Nido ruler General Viper. Being the aristocrat daughter of the high noble of the land, she spent most of her time mourning her late fiancee Dario (brother of Glenn) and just sort of milling about Viper Manor. She also has a very high tendency to be involved in hostage situation, kidnappings, abductions and general instances of damsel in distress nature. Upon Porre's invasion of El Nido, Riddel was captured and interrogated by the cartoonishly evil Porre Officer until Lynx and ZOAH showed up to free her. As thanks for her rescue, she joined the party upon her next meeting with Lynx to lend a hand to his cause.
Terrible speech pattern:
She speaks like a prim and proper lady. But, no obnoxious traits at least.

VIPER THE LORD OF EL NIDO
General Viper, along with the Acacia Dragoons, were the ruling faction in the Another World El Nido (and Home World up until they disappeared three years prior to the game.) He joined up with Lynx (the evil dick one) in hopes of finding the Frozen Flame to...do something or other...but got a dagger in the back for his trouble. After a lengthy recovery he joined up with Serge-Lynx, once his strength was up to snuff, in hopes of setting things right and likely to shove his boot up his attempted assassin's ass.
Terrible speech pattern:
Like his daughter, he speaks properly but has no annoying traits other than talking down a bit to those younger than him.

FARGO THE PIRATE CAPTAIN
Fargo is the captain of the S.S. Invincible and deadbeat father of Marcy and Ziggy. He has some vague grudge against Lynx and General Viper. But, he seemed to spend his days just hanging out in fog banks with the boys instead of doing anything about it. Though Serge had a run-in with him earlier, nothing really came of it. It wasn't until the Porre invasion when he was captured and imprisoned for...well...for being a pirate...and was freed by Lynx, that he decided to finally get off his ass and help out in the fight. Of course, he continues to dodge child support payments to this very day. He'd rather join Davy Jones' locker than help out with his bastard children.
Terrible speech pattern:
Piratese. With ample use of "y'arr".

MARCY THE 'DIVA' OF THE FOUR ACACIA DEVAS
Marcy is the youngest of the ill-named Four Acacia Devas and a general homicidal little nine year old all around. Having been abandoned as a child by her estranged absentee father, Fargo, she took to a Dexter Morgan-like path in life and started murdering small animals before catching the eye of General Viper. Now her violent tendencies are used toward enemies of the state. Following Porre's invasion and General Viper getting his shit wrecked, she attended to the deposed ruler of El Nido and nursed him back to help. When he sporadically decided he was instantly better, she joined Team Lynx alongside him and the rest of the Devas in order to feed the hunger of her Dark Passenger.
Terrible speech pattern:
Like, whatever. A total valley girl, ya know?

KARSH ANOTHER OF THE ACACIA DEVAS
Karsh is the third (out of three) of the four Acacia Devas and son of Zappa the blacksmith. He was tasked by Lynx to capture the "ghost boy" Serge. But, that didn't really pan out. He just kind of piddled about as a minor re-occurring boss for a while before having the same exact reason for joining up as Zoah. Though, Karsh was rejected and knocked back in line to a "me too!" role of joining Lynx. There's also some vague business with Karsh about some botched operation on the Isle of the Damned that resulted in the death of Glenn's brother, Dario. But, I'm sure that will never come up again...
Terrible speech pattern:
Arrogant twat. But, otherwise a bit brash but normal enough.

MIKI THE DANCER EXTRAORDINAIRE
Miki is a back-up dancer and occasional singer in Ziggy's "Magical Dreamers" glam rock band. Despite dressing like a stripper at Vegas at all hours of the day, she wants people to hear the message behind their music and not just the flashiness of their shows. Unfortunately, this is undermined by everyone just staring at her tits. Following the world's most embarrassing "rock opera" to save Marbule, she apparently just got kind of bored and joined Lynx's band. Sure, why not?
Terrible speech pattern:
None, thankfully. Her outfit is terrible enough.

LEAH THE CAVE GIRL
Leah is a err...cave girl. She apparently fell through some Time Gate or some shit from the Prehistoric Era and ended up in Gaea's Navel in present day. There she just sort of trotted around murdering the shit out of animals with her gigantic axe and freakish strength until Lynx and company fell out of the sky. Since she heard a story from her grandmother that her father disappeared when she was very young and went "into the sky"
because he died
she took it literally and thought Lynx might know her dad. She then joined Lynx's party and helped rid the area of all signs of life to establish human dominance in the area. Soon after, she decided she was having fun slaughtering shit with Lynx and joined the party for good.
Terrible speech pattern:
Leah refer-um to self in third person-um. Also Leah add-um "um" to the end of random-um words. Since that apparent how cave people talk now.

STEENA THE SHRINE MAIDEN
Steena is the resident shrine priestess of the Dragon Sage faith in Guldove. She took over the job after her predecessor and mentor, Direa, keeled over a few years prior in Home World (she's still alive and kicking in Another World and Steena is basically a holy secretary.) She guarded the Dragon's Tear until Lynx managed to defeat all six of the local deities in battle and gain their blessing. Following that, she joined Lynx to make sure he didn't fuck up his duties. Or she just lost faith in her religion if a mere furry could kick her lords' ass.
Terrible speech pattern:
None. Though, she isn't much for small talk in general.

ORLHA THE GLADIATRIX BARKEEP
Orlha is a Kung Fu waitress from Guldove and pals with Doc. She apparently has a twin sister, but hasn't seen her in years because her parents split up due to her dad being a booze hound and teaching her drunken fighting at an early age. As such, she is creepily obsessed with finding HER SISTER and being with HER SISTER and HER SISTER'S favorite color and what board games she played with HER SISTER. After getting the shit kicked out of her by Lynx and stoned off her gourd on painkillers from Doc (long story), she gave HER SISTER'S shared necklace to our hero. This is apparently one of a kind and proof that if Serge ever found his original body, she'd know it was him. Did I mention she'd known Serge for all of two minutes beforehand? Like I said, powerful painkillers. Doc is a terrible doctor. So, long story short: he gave it back to her after he got his old body back and she immediately quit her job and joined him.
Terrible speech pattern:
None. But, doesn't go for more than two minutes before talking about HER SISTER.

STEVE THE TOTAL VEGETABLE
Turnip
Steve is a fucking sentient turnip knight. How the fuck does that even work?! I
don't know!
The dumb pink dog Poshul pulled it out of the ground. Goddamit, Poshul!

Terrible speech pattern:
Ted Woosley's Frog accent. Aka Ye Olde Medievalese.

This is the final resting place for those who didn't make the cut of the primary playthrough via branching paths. They are unwanted and unloved. Though, outside just one of 'em, this is a rightful fate...

PIERRE THE SELF-PROCLAIMED HERO
Pierre is a floppish faux-Frenchman dressed up like a gay version of one of the Three Musketeers. Having obtained a "Hero Medal" certifying him as an official hero and protagonist, he thought that surely he was on his way to becomes a superstar amongst the Acacia Dragoons and filling the open slot in the Devas' ranks following Dario's death. Unfortunately for him, Serge never gave him the time of day and the guards thought he was some shitty street performer and turned him away at the gate.
Fate following rejection:
Getting the shit kicked out of him by the Shaker Brother's hulking cousin, Ketchop and crushed dreams of being a hero.
Terrible speech pattern:
Faux-French. He's not actually French, though. He just apparently watched a french movie or two and peppers his speech with borrowed words to sound special.

GUILE THE MASKED MAGICIAN
Guile was, early on in development, none other than Magus from Chrono Trigger like his masked magician counter-part from Radical Dreamers, Magil. Unfortunately for him. that whole aspect of his character was cut leaving just a black mage dressed like a masked fruity Vegas casino performer with absolutely no story. He had aspirations of breaking into Viper Manor to steal a trinket in order to win a wager with the Fortune Teller of Termina. Sadly, Serge was as bored with him as everyone else and he was left behind.
Fate following rejection:
He is disgraced following his lost bet against the Fortune Teller and cast out of the local Magician's Guild...never to be seen again.
Terrible speech pattern:
None. He is literally the blandest character ever in every way.

KORCHA THE FISHERMAN AND FERRYMAN
Korcha is a tremendous fuckface who parades around in a Speedo and vest (no shirt) all day long. He mostly hangs out with demi-humans because most normal people think the Mohawk sporting ginger is just an insufferable tool they cannot stand to be around. He also fights with a fishing pole, which is retarded too. Fuck Korcha.
Fate following rejection:
He gets pissed at Serge for not magicking up a solution to finding an extinct animal and acts like a total prick toward him the rest of the game. His mother, Macha thinks he is a big blubbering failure of a son and grounds him for being such a dick. He spends the rest of his life throwing an angsty tantrum in his room.
Terrible speech pattern:
Faux-Jamaican don'tCHA know?

RAZZLY THE FOREST FAIRY
Razzly is a fairy from Water Dragon Isle. She was hanging out around Hydra Swamp for some reason or another and got jumped by dwarves, tossed in a cage, and left to die as a meal for the Pentapus monster dwelling in the marshes. Why did the dwarves do this? Simple: They're huge douchebags! Unfortunately for her, Serge never bothered to enter Hydra Marsh in search of the titular beast of the swamps and Razzly was left to her fate.
Fate following rejection:
Devourer by a giant squid monster. Harsh...
Terrible speech pattern:
Making fairy puns and giggling a lot. Tee-hee!

MEL THE DOODLING BRAT
Mel is a babyheaded adopted daughter of Macha and sister of Korcha. She goes around stealing shit and throwing tantrums like s little asshole. She also wants to bang her adopted brother. Why are all JRPG kids so creepy? Fortunately, she never bothers to poke her head out of her room after Serge ditches the poisoned Kid.
Fate following rejection:
Doodles quietly in her room and tells everyone to piss off.
Terrible speech pattern:
Another of the CHA clan. She also refers to herself in the third person to be extra annoying.