Part 17: Episode XIV: The Dragoons Are Chatty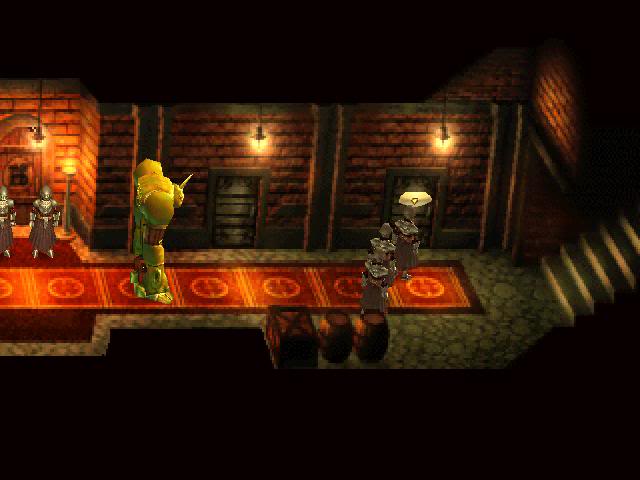 Well, that was an odd encounter. Let's finish up exploring the ground level of Viper Manor before we get to some of the verbose jerks in the upper reaches. You may notice that door with an eye on it.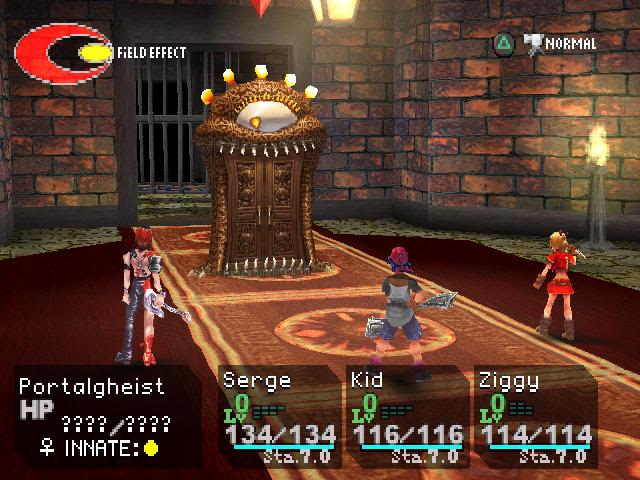 Said door is, of course, evil. What? You've never fought a door before? Very weak resistance against bashing weapons and axes.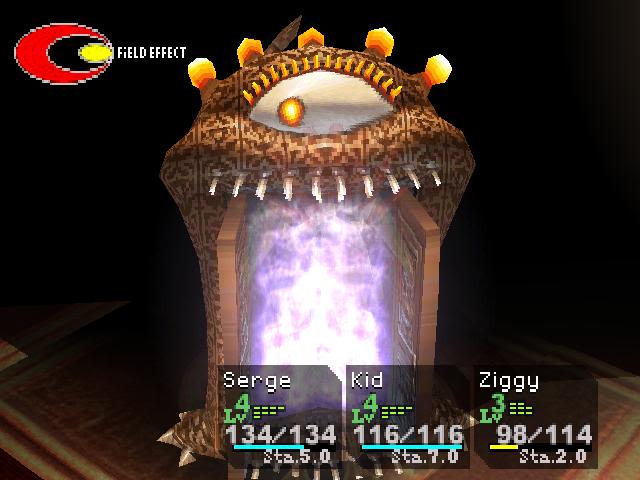 Anyhow, the "Portalgeists" aren't particularly threatening as a standalone enemy. But, they do possess an annoying gimmick. When their health falls to critical levels their err...door...swings open...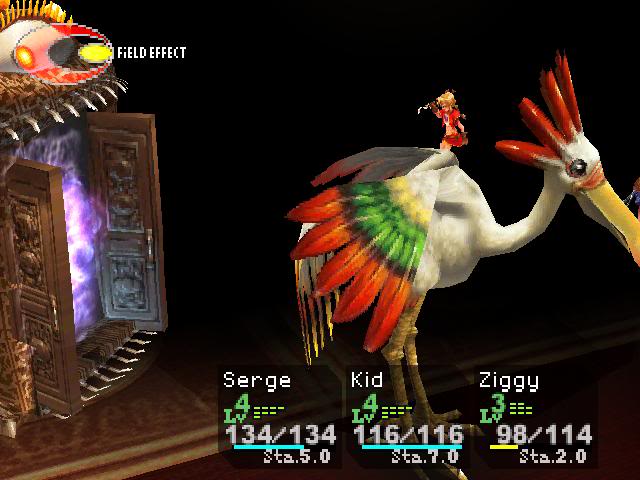 ...and out pops a random enemy. Portalgeists only crap out enemies of similar level to the party (i.e. most of the mobs you'd likely to have fought earlier) but it still tends to draw out the fight for an annoying amount of time.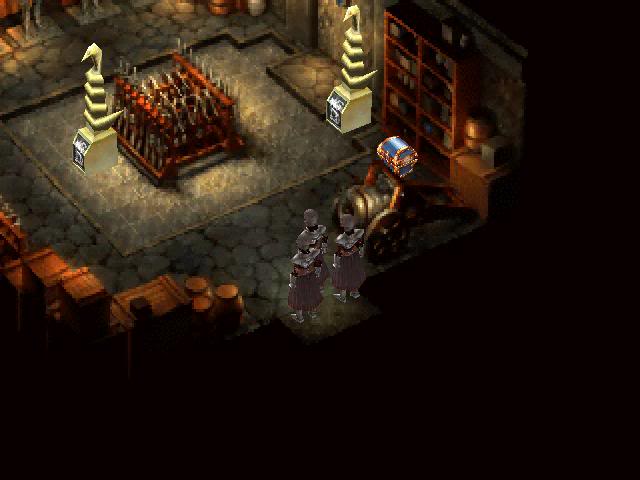 The sinister door gives way to the armory and another host of goodies. There's also a bit of simple puzzling to do.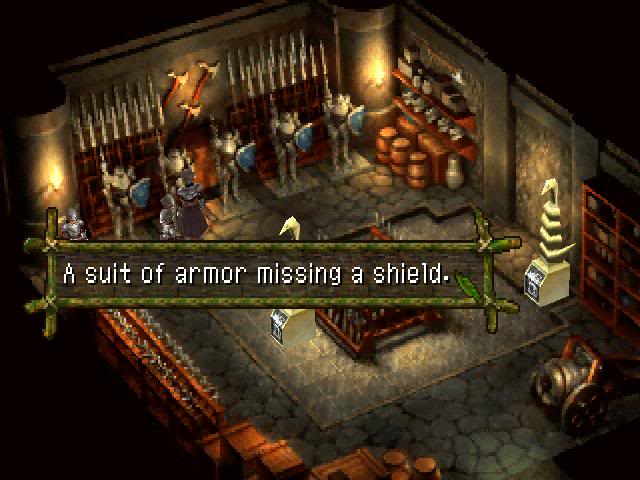 It mostly involves putting a shield on a missing suit of armor and pushing a statue into an obvious spot to unlock a hidden passage.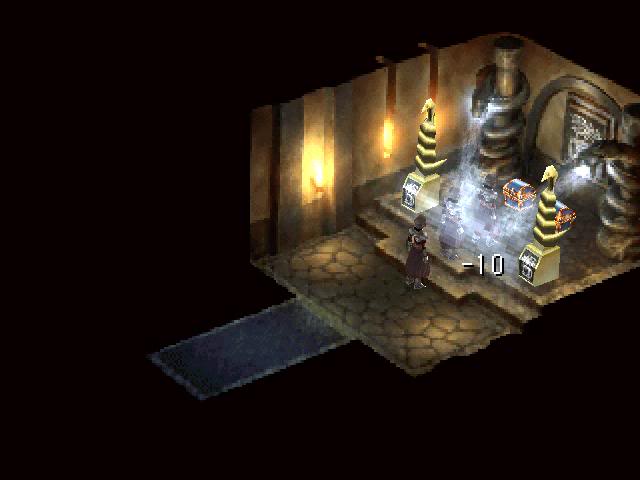 The problem is, the end of the secret passage is barred by statues that vomit acid making an impenetrable wall of vapor that damages the entire party for 10 HP a second if they go near. We'll just have to save this or later.
Heading upstairs...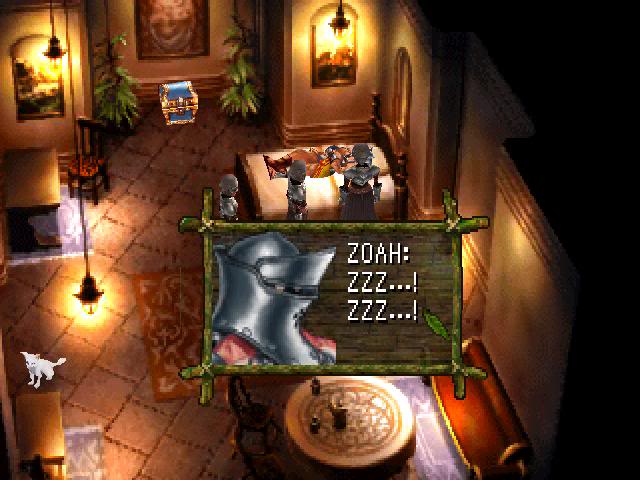 Our next destination is ZOAH'S BEDROOM. Christ, this guy even yells in his sleep.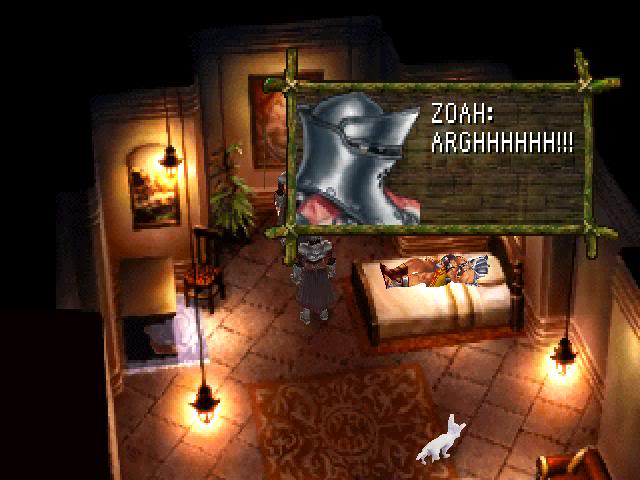 Messing with Zoah's chest or kitty cat will awaken the brute and allow us to play twenty questions. Sure, he just fought us a couple hours ago. But we're in uniforms now so we are obviously cool.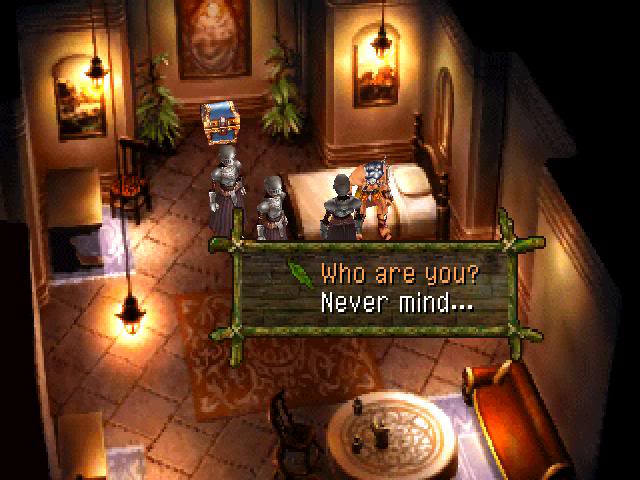 "HAH! I AM ZOAH. ONE OF THE 4 VALIANT DEVAS OF THE ACACIA DRAGOONS."

"The hell is a Deva?"


"Are you guys some type of band. We should rock some time!"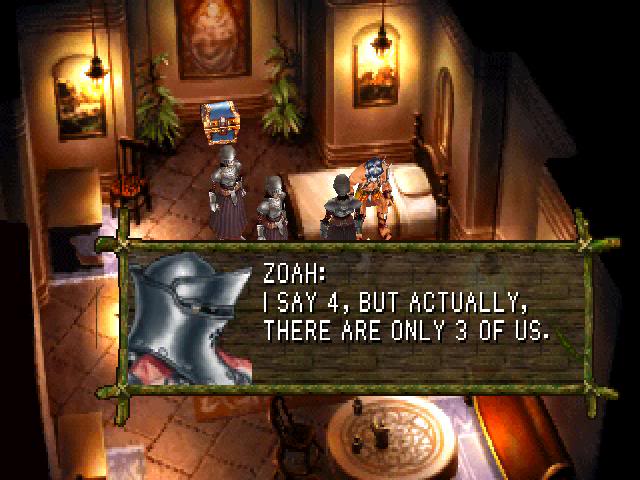 "I SAY FOUR, BUT ACTUALLY, THERE ARE ONLY THREE OF US. KARSH NEXT DOOR, MARCY IN THE LIBRARY, AND I. OUR LEADER, DARIO, DIED IN AN ACCIDENT 3 YEARS AGO..."

"Who's this Dario stiff?"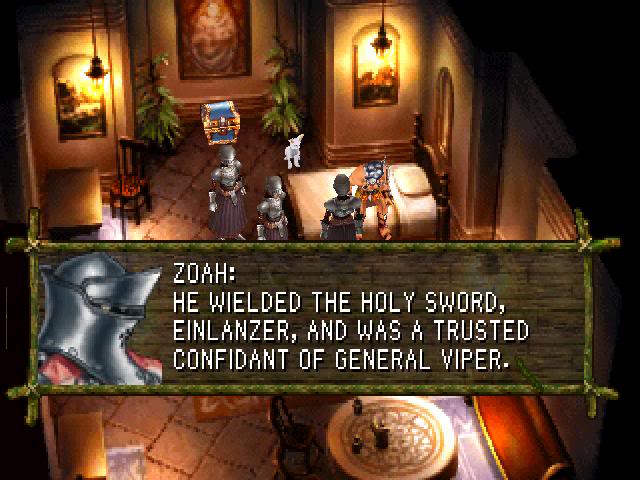 "HE WAS ENGAGED TO THE GENERAL'S DAUGHTER, MISS RIDDEL, AND WAS NEXT IN LINE TO BECOME THE HEAD OF THE VIPER CLAN. HOWEVER, HE DIED AN HONORABLE DEATH DURING HIS MISSION TO THE ISLE OF THE DAMNED 3 YEARS AGO. KARSH WAS ON THE SAME MISSION, BUT REFUSES TO SAY MUCH ABOUT IT. DARIO AND KARSH WERE CHILDHOOD FRIENDS, ALWAYS COMPETING WITH ONE ANOTHER. DARIO'S DEATH HAPPENED SOON AFTER HE WAS ENGAGED TO MISS RIDDEL. MANY RUMORS HAVE SURFACED REGARDING HIS DEATH."

"'kay...I think I am officially deaf now..."


"What?!"


"I said I am OFFICIALLY DEAF NOW!"


"I know about yer death. That's what we're here lookin' into aren't we?"


"Huh?!"
Let's see what Karsh is up to next door... Hopefully his didn't accidentally leave CAPSLOCKS on.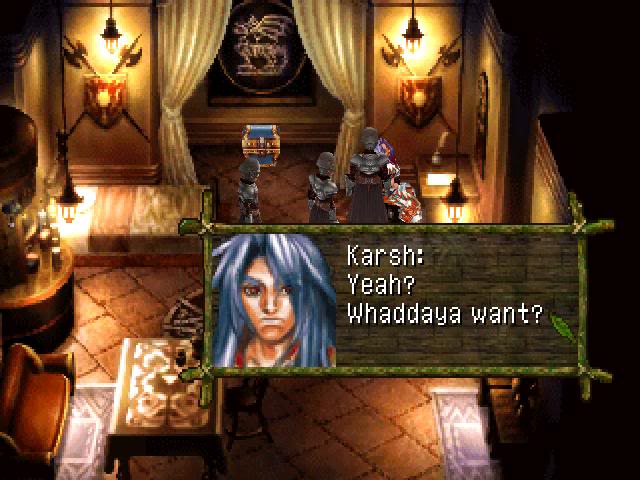 We find Karsh fixing his make-up in the next room. He'll answer all of our questions with no fuss. I guess once you take an expedition to the
Isle of the Damned
there's no real need to go seeking out new adventures or whatever high ranking dragoons do.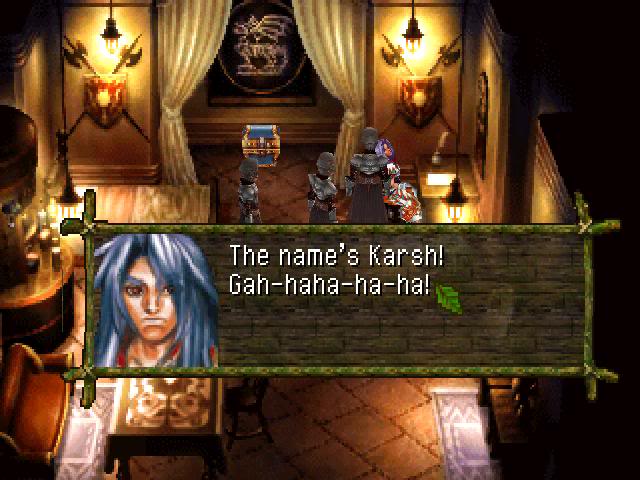 "Who is this Serge?"

"Oh, you mean, junior."

Junior...?

"I had orders to bring in the ghost of that boy who died 10 years ago. But we had unexpected company and he got away."

That's puttin' it lightly.

"He seemed too human to be a ghost, though... Aaah, I don't know what that guest from Porre wants with him."

"What's this Viper bloke's deal?"

"I'll just ignore how ridiculously suspicious a question that is to ask... Seeing as it's late and I am tired...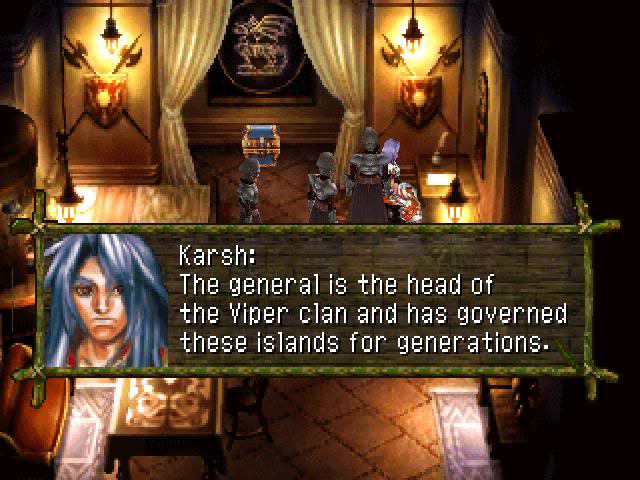 "But that's not all. When he was ordered to take up a new post on the main continent, he made quite an impact as the leader of the Acacia Dragoons and was promoted to general. He has retired from the army since then and currently serves as the lord of El Nido."

"What is the deal with this joint? We erm... Just got stationed here!"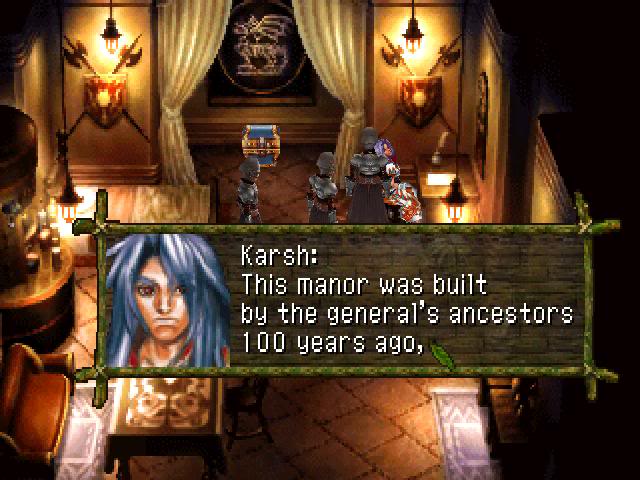 "...when people first began colonizing the El Nido Archipelago. Treat the place with respect!"

<spits> "Yea yea... So heard anythin' about this Frozen Flame dealie?"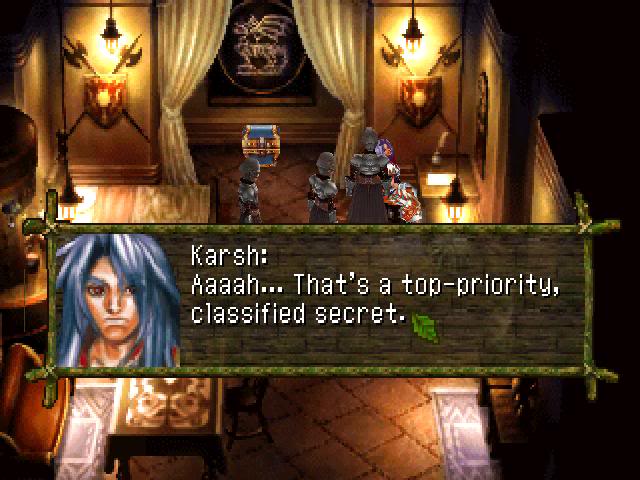 "But...eh...you seem legit."

"Its existence has been rumored in the northern countries for generations... Legend claims it contains mysterious powers which can guide anima and change history... But no details are known."

"So it's basically going to be plot magic, then?"


"It's a safe bet."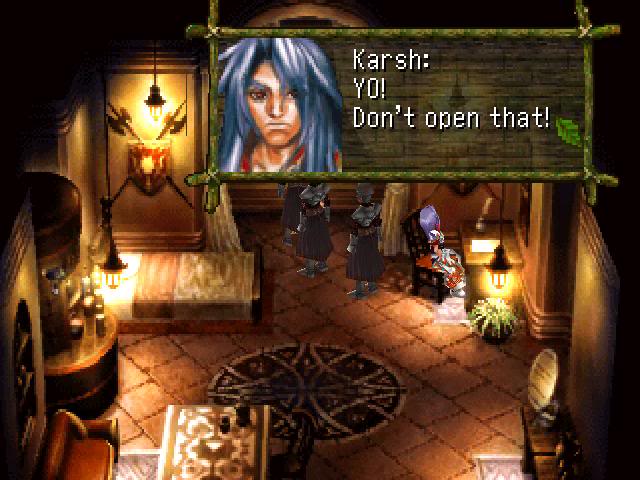 Karsh is also keeping a treasure chest in his room he doesn't want people to mess with. Though, unlike ZOAH he just needs a
little
bit of coaxing to part ways with his possessions...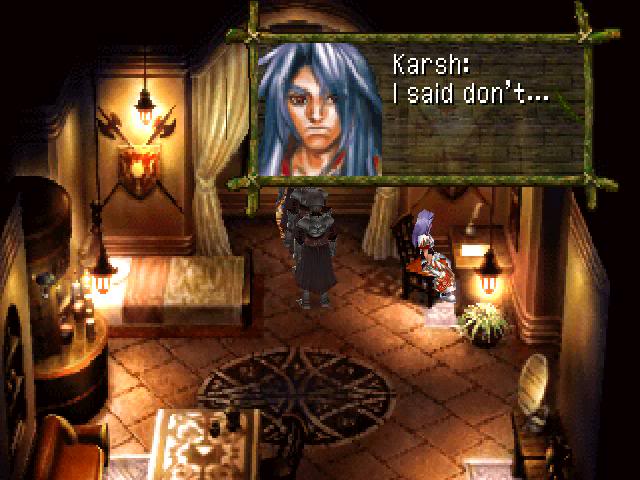 "You're a pesky one, aren't ya...?"

"CUT IT OUT!!!"

"You're still at it!?"

"You must be really bored..."

"That's 7 times, now..."
13 times later...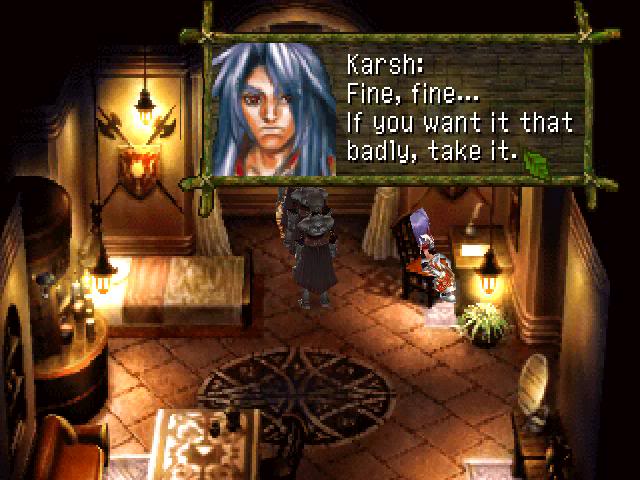 Yep...he counts each time all the way up to 20. I'm not sure what the deal was with PSX games and clicking a ridiculous amount of times on an area for prizes... The chest contains a Dragoon Gauntlet accessory, which is a pretty decent little offensive stat booster.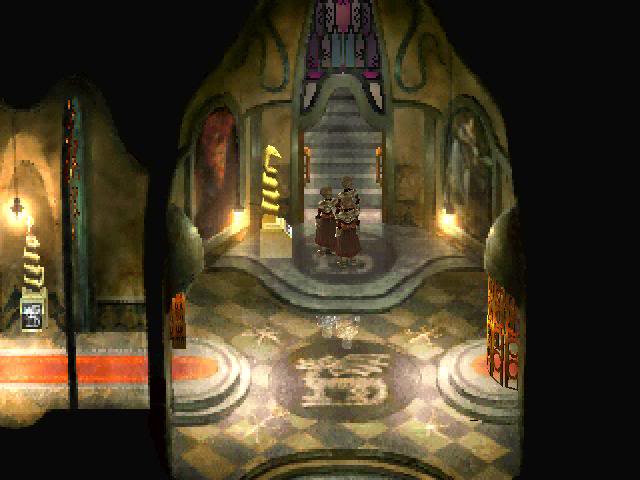 There's a bit of other minor crap on this floor, but it is largely forgettable. Returning to the snake statue from the main hallway and spinning it about as the writing on Glenn's wall said (it is randomly generated...no cheating) will unlock the upper halls.
Heading upstairs...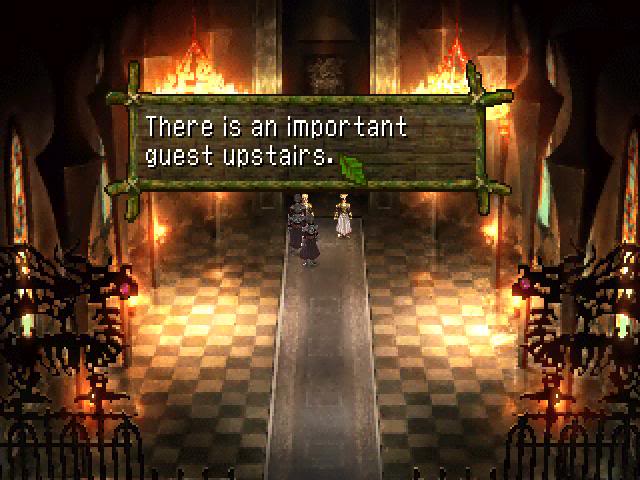 The central grand hall of Viper Manor has a pair of guards posted blocking entry to the executive suite. We cannot just murder them and continue, as we did before, as there's also some manner of trick to summoning the elevator. Terrific...
Oh well, there's a pathway to the southwest that can be entered.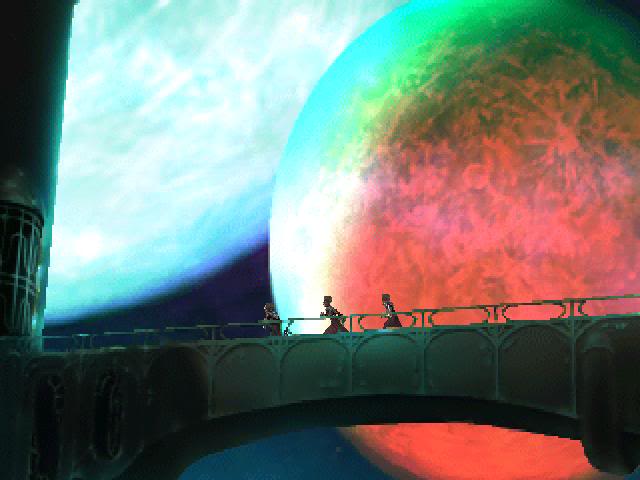 Sheesh...places named Termina and moons just do not mix well, do they?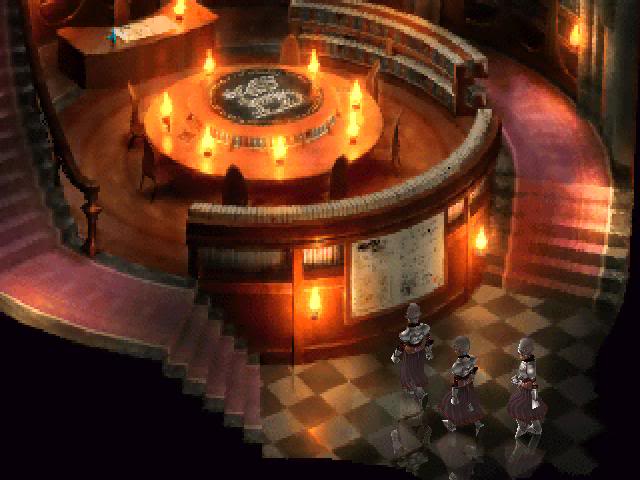 The western bridge leads to the library of the manor and a new couple of faces to gab with. And good lord, does one of them gab...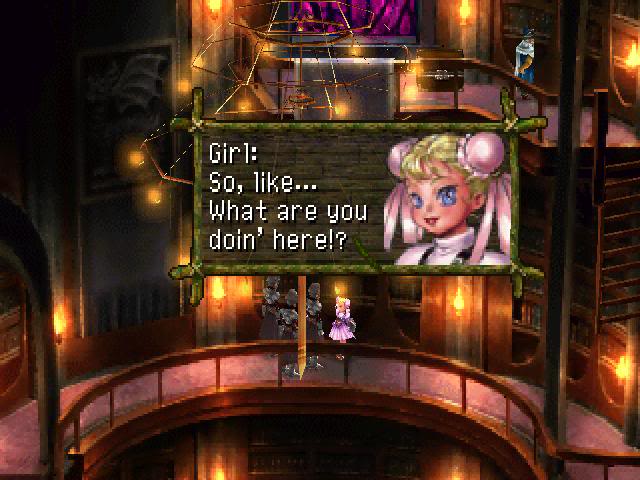 "Dragoons aren't allowed up here, you know?

"We're not really dragoons."

"What are you talkin' about?"

"The hell are you doing?!"


"Sheesh... Don't get yer panties in a bunch. She's just a harmless little brat. What's she gonna do? Call her mommy?"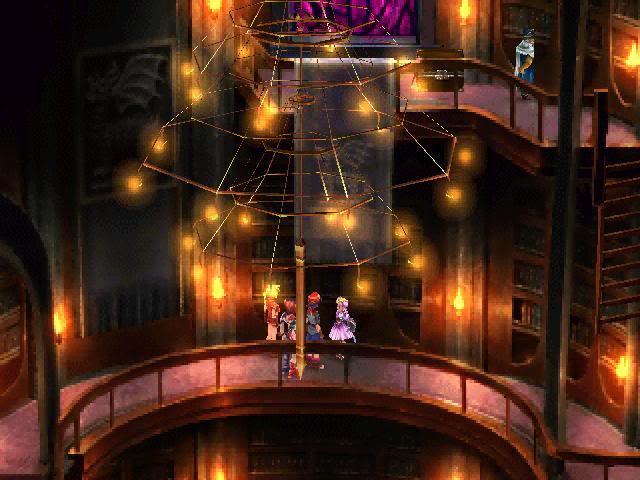 The party inexplicably casts off their disguises while conversing with this kid. Granted, Zoah just told us one of the Acacia Dragoon Devas was a girl named Marcy in the library and there's a 99.995% chance this is that Marcy (especially since we are running on JRPG logic where a pre-teen child being ridiculously strong is a common occurrence.) But, sure... Whatever...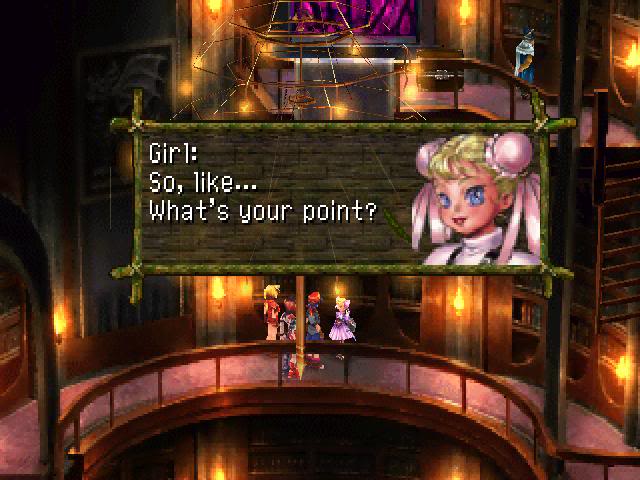 This sums up Chrono Cross pretty well.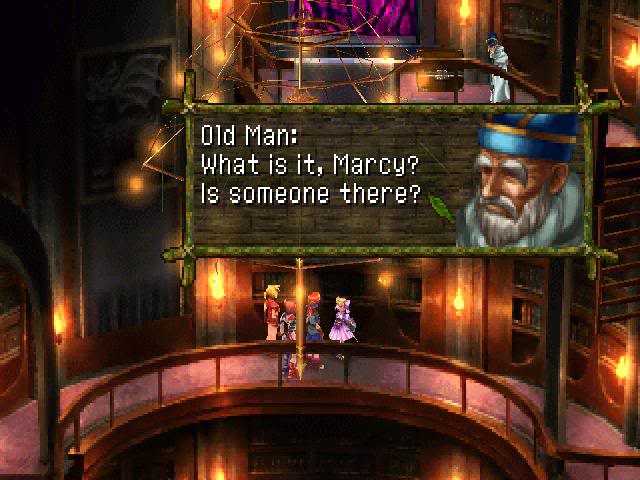 Especially, parts of Chrono Cross dealing with this old fuck. Grab yourselves a sandwich. Once this geriatric jerk starts running his mouth, you're in it for the long haul.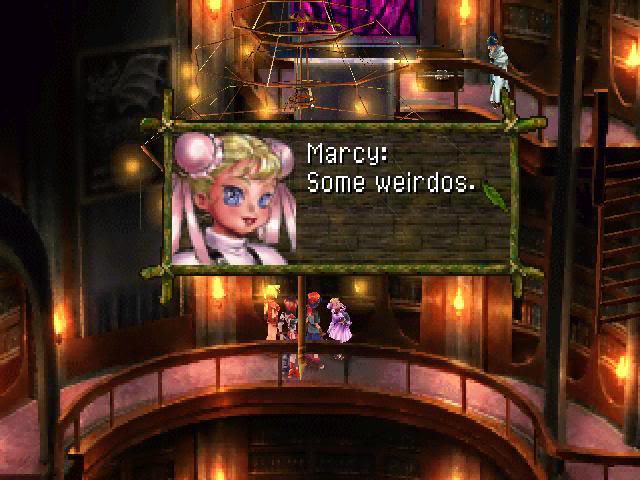 "Hmmm... Marcy, lower the ladder, please."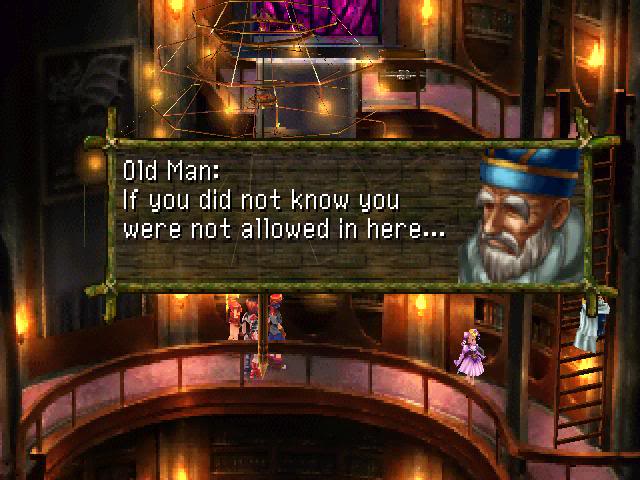 This fellow is the grand marshal of exposition 'round these parts. Indeed, you can trace a good portion of people who bitch about Chrono Cross' plot straight back to this dickhead.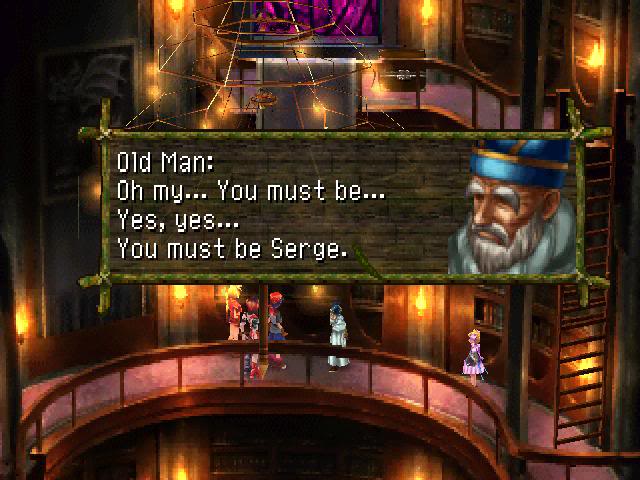 "My, how you have grown."

"Like, can I kill 'em yet?"

"Patience child, patience! I need to have a word with these people..."

"Many, many, many words with them indeed."

"Who are ya? And how do ya know Serge?"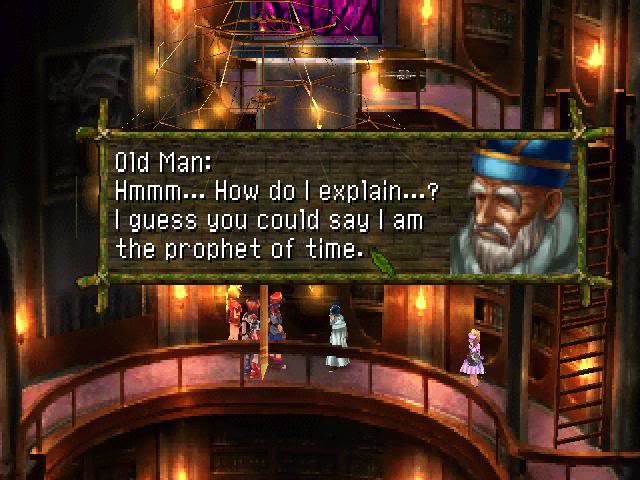 The prophet of time, eh...? You know... You seem kind of familiar... Where have I...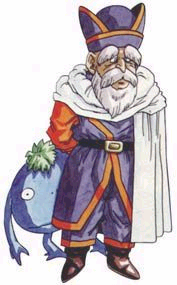 ...seen you before? Definitely feeling some déjà vu.
The Prophet of Exposition is going to give a huge info dump here. I'll leave it unaltered just to show how ridiculously much this guy rambles on and on... Enjoy!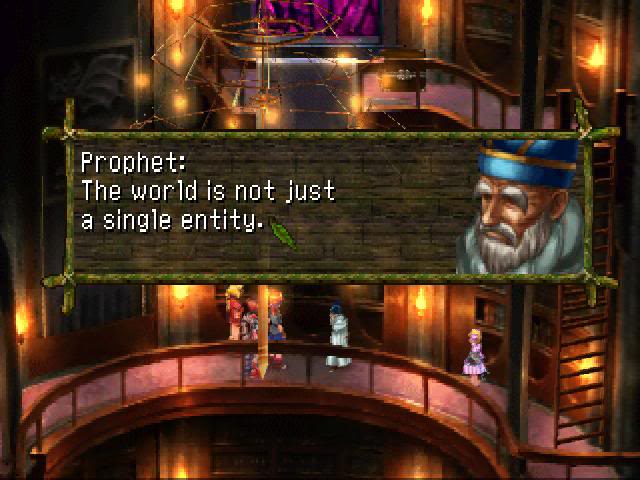 "Another world similar to our own exists in another dimension. There you might find what you might have become, a world of possibilities that might have existed, a whole history that has not been written yet... It is out there somewhere... We are simply unable to see, feel, or experience it. Serge, this is not the world you grew up in."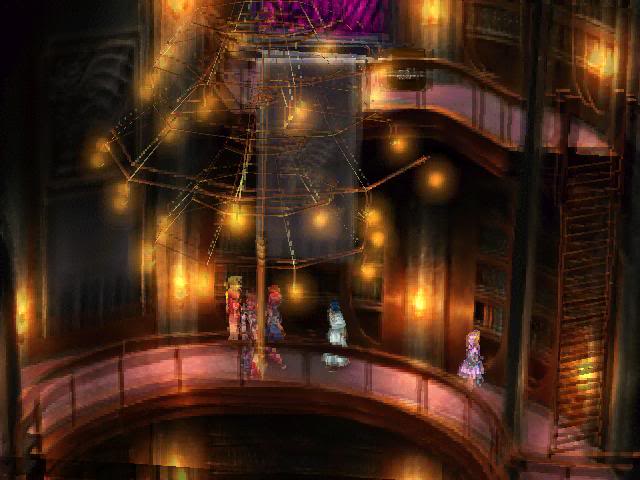 The Prophet uses his power of time-space eroding exposition to produce a trippy visual aide.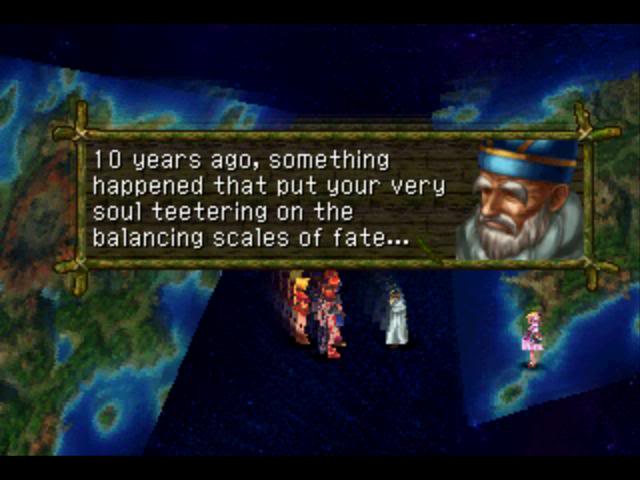 "...with a fifty-fifty chance of life or death! This is when your future was split in twain. In your home world, you survived to live a happy and prosperous life. That is how you made it to the present point in time. However, here in the 'alternate' world, you are, in fact, very dead and buried. You died 10 years ago, but this world's time line has flowed on regardless. You have no place in this world... Here, you are but a ghost brought back from the past! I do not know what happened 10 years ago... Nor can I guess what triggered your entrance into this world."
Catches breath...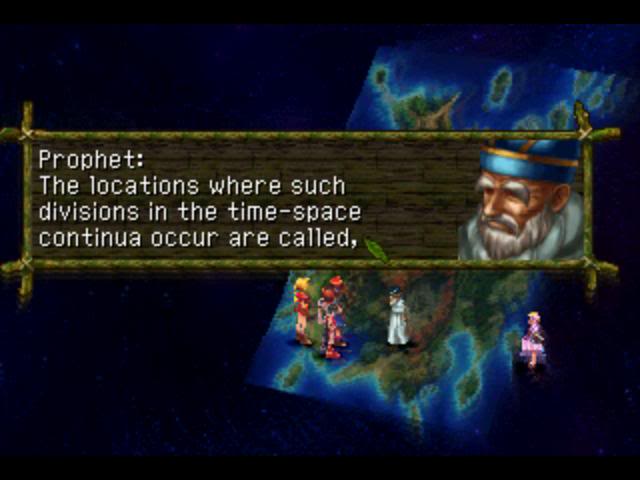 "The locations where such divisions in the time-space continua occur are called, 'ANGELUS ERRARE' - 'Where Angels Lose Their Way.' It is said that, there, the borders of two dimensions fluctuate in such a way as to make the passage between the parallel realities a possibility. Perhaps in this world, you are the missing piece from a giant puzzle. And maybe, just maybe...the vacuum created by your non-existence here has drawn you across the border between the dimensions to fill the void in that puzzle. Of course, no one can say for sure."
The laser light show of two spinning maps ends...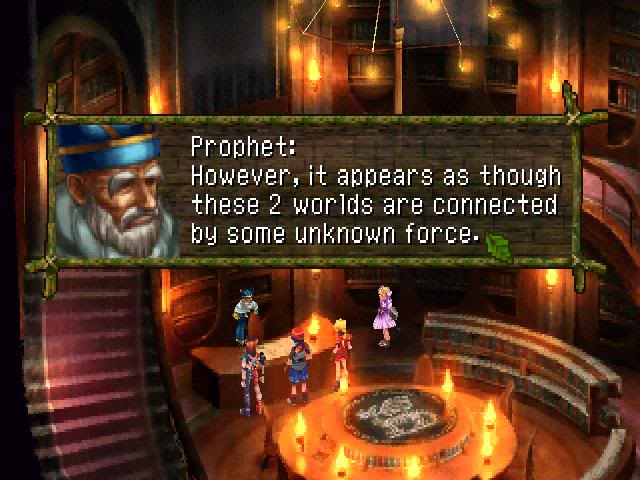 "I am quite certain there is a wormhole that connects the 2 parallel worlds..."

"..."


"..."


"You know what...? I'm giving up talking for a while... Just to balance out the universe..."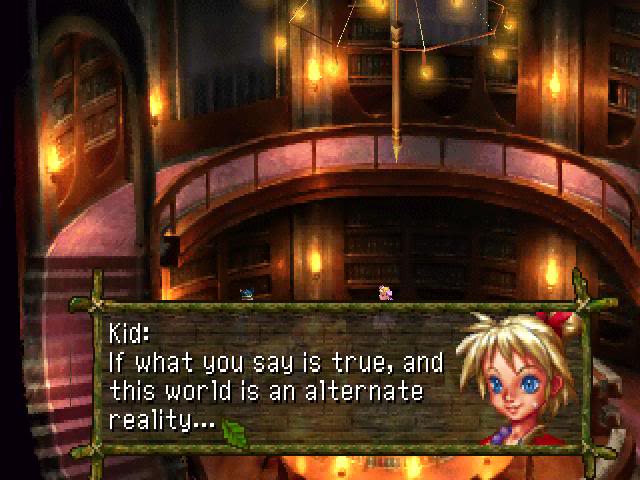 "Then why the bloody hell did Serge die...? The reason has to be somethin' that happened 10 years ago!"

"You can only find out by moving on..."

"..."


"So basically..."


"I thought you weren't going to talk anymore?"


"I changed my mind because this is DUMB."


"So what you're basically saying is you have no idea?"


"No... I am sure fate has a plan for you. I am simply here to guide your pro-"


"You have no idea at all, do you?"


"Now, even a prophet of time must know when to hold his hand in revealing too much of the intricacies of such matters."


"Crud... Gramps is all outta steam, ain't he?"


"Ergh... Marcy..? A little help here...?"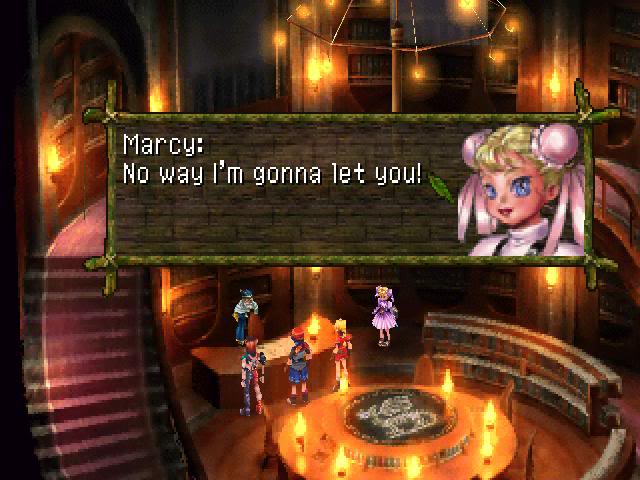 "Shut up, you little brat!"
Kid is great with kids, isn't she? Ziggy decides to pipe up.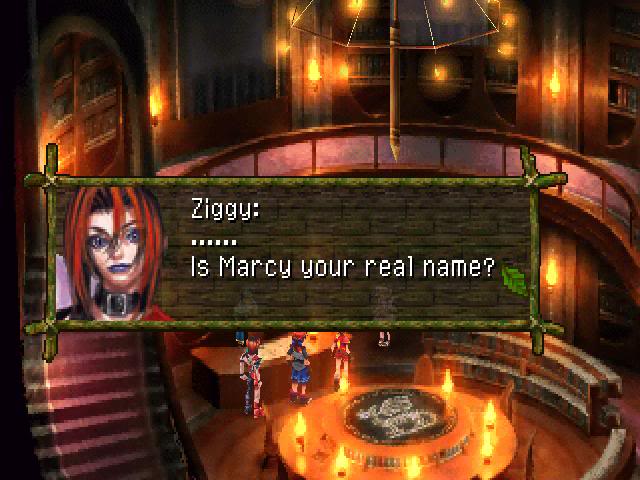 "Like... Whatever...!"

"You... You look just like...mother..."

"This is getting' kinda creepy..."


"How do we keep ending up watching these weird family moments?"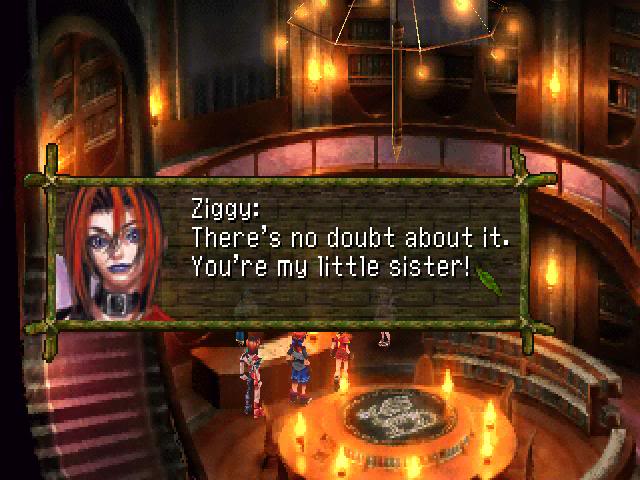 I guess
creepy
fucking eyes runs in the family.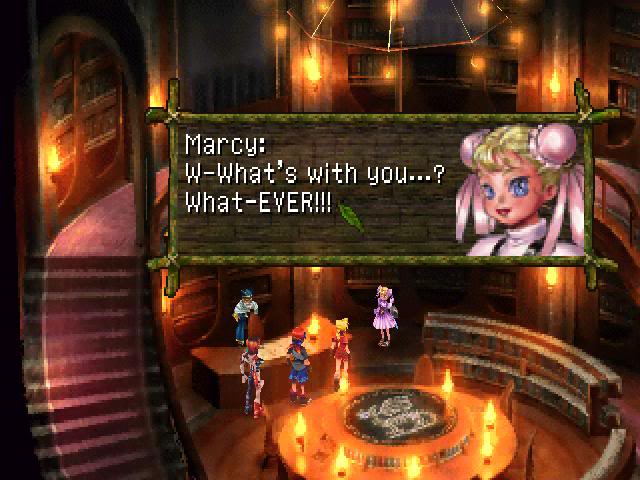 "Can I!? Can I!?"

"I guess it cannot be helped... This may be fate in itself."

"We ain't here to play jacks!"

"I advise you not to take Marcy lightly. This child is one of the 4 Devas, the highest rank of the Acacia Dragoons."

"WHAT?! This little brat?"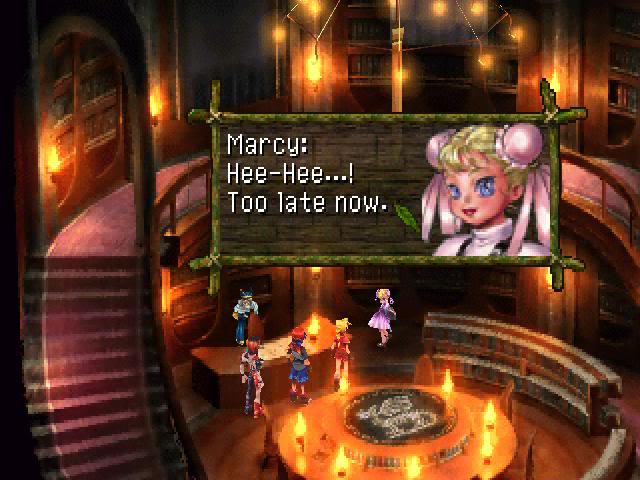 "You must be kidding. Marcy, think it over."

"Shut up, shut UP, SHUT UP!!! I don't know you and I don't have a family!!!"

"ANGST!!!!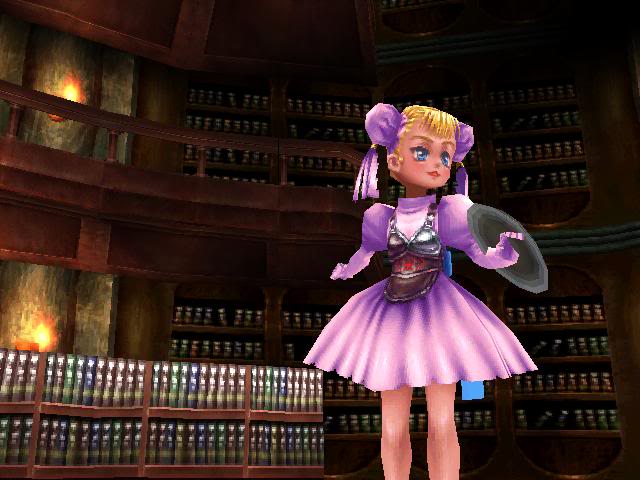 Yep...we'll now be battling a nine year old girl. She is easily the most difficult boss thus far. Oh, Japan...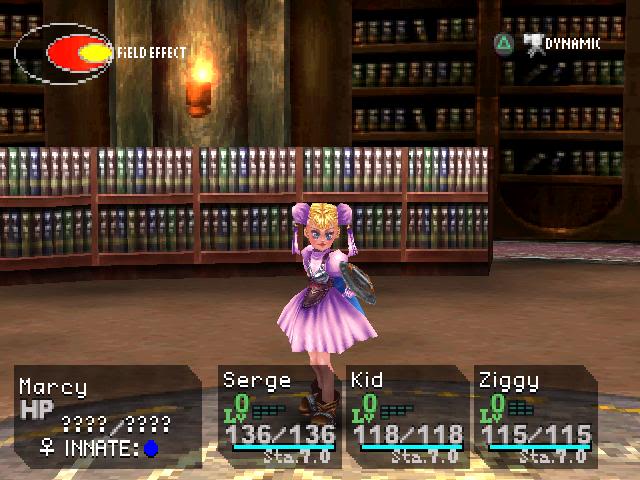 Maybe it's just me, but I find it kind of a dick move to stick the most powerful enemy in the game up to this point after a massive unskippable info dump. Marcy comes packing more HP than both Karsh and Zoah combined (Karsh had 115, Zoah had 200, Marcy has friggin' 525 HP.) She also has double the strength of the two combined. The only real thing she has going against her is that her defense is pretty pitiful.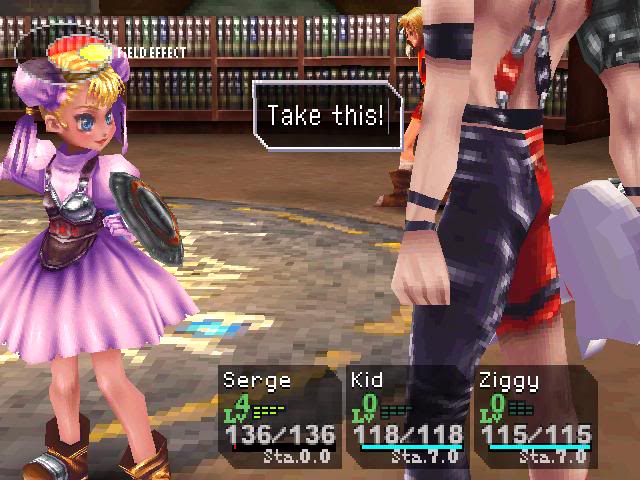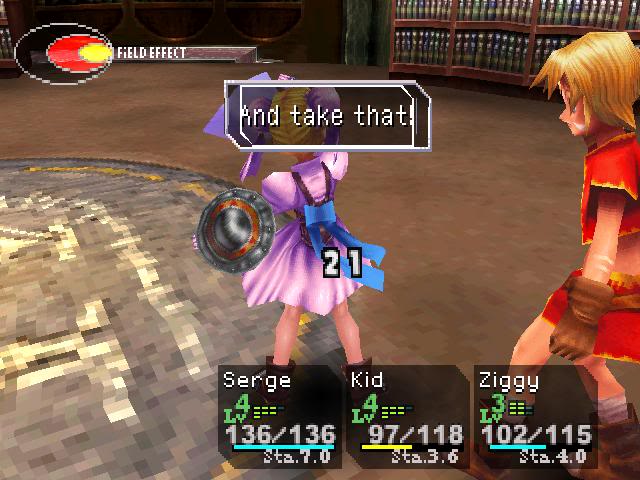 Despite only kicking people in the shins and smacking them across the face, Marcy does between 20-30 HP damage per hit.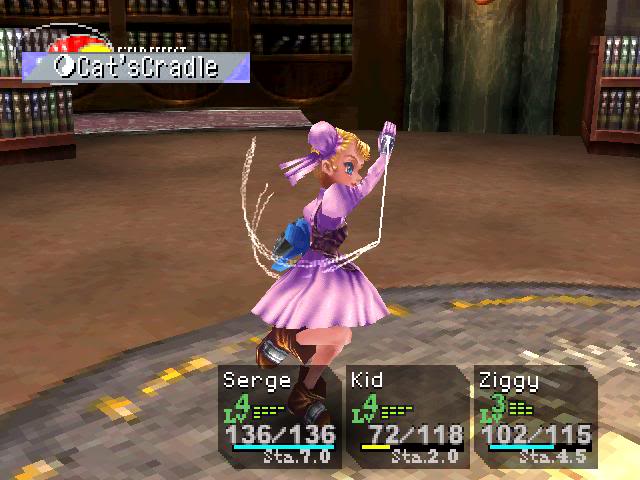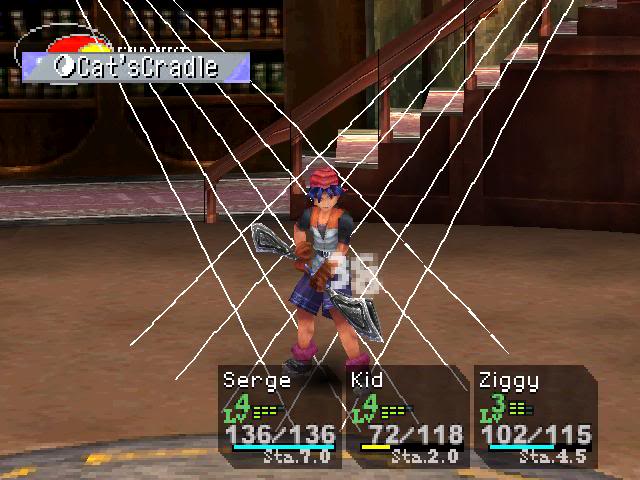 She also can spam a unique tech that knocks off 35-50 HP each time.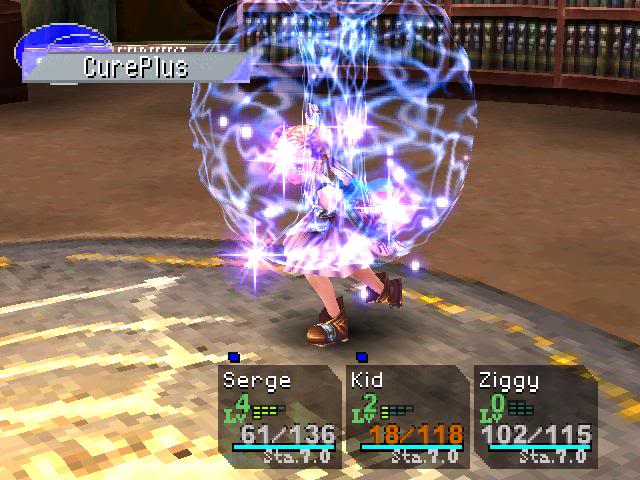 Too add insult to injury, she also has a cure spell she almost always uses the first time her health dips to a critical level. Meaning she really has around 725 hit points.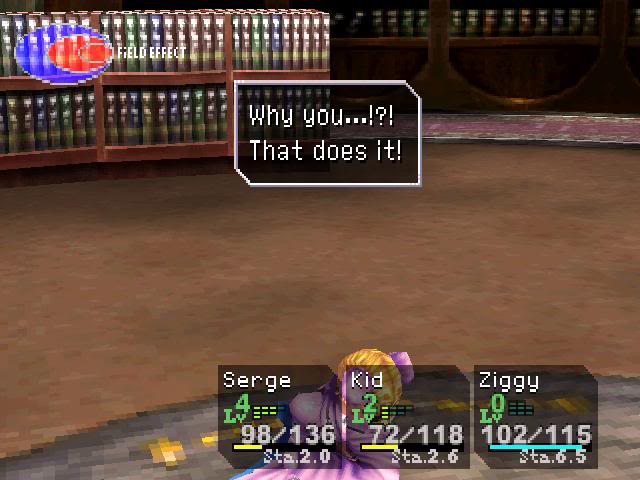 Speaking of critical HP, she also gets pissed and likes to use the following attack on two characters: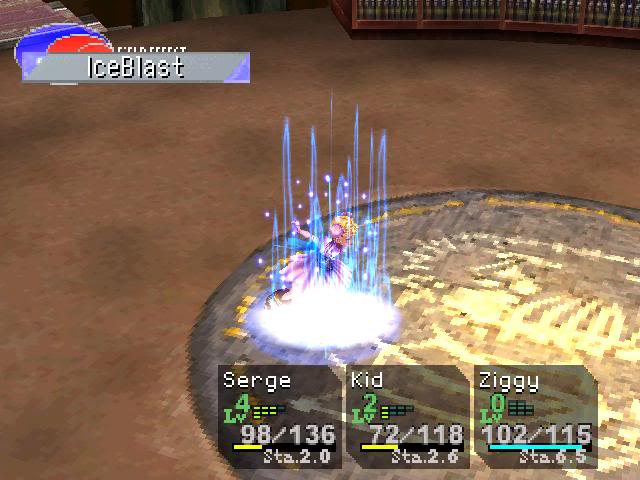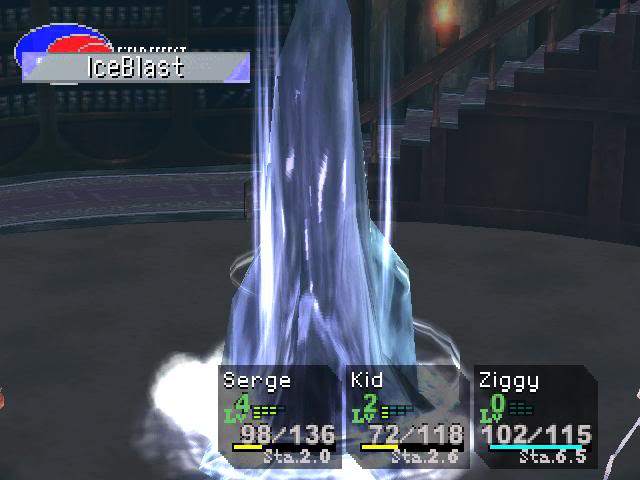 IceBlast inflicts the Freeze status. This is akin to Stop in Final Fantasy. There's not much in the way of curing it at this point in the game, meaning two characters are out of the fight for a couple turns each.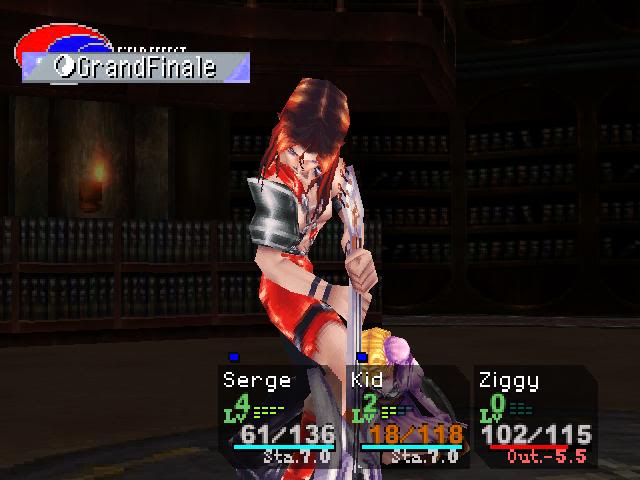 During my battle with her, she decided to freeze Serge and Kid (i.e. the powerhouse and the one with magic attacks she's weak against.) But, Nikki managed to come through before she could heal again.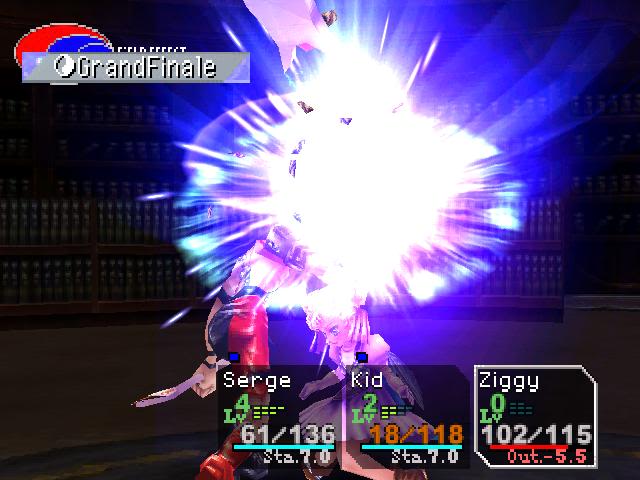 Nothing says reuniting with long lost family members like bludgeoning them unconscious with a musical instrument. It's always a real bonding moment.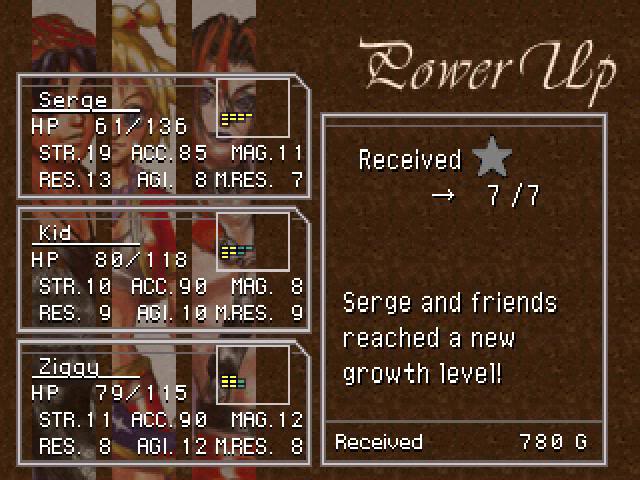 Lucky number seven. At this rate we'll be in the double digits in no time.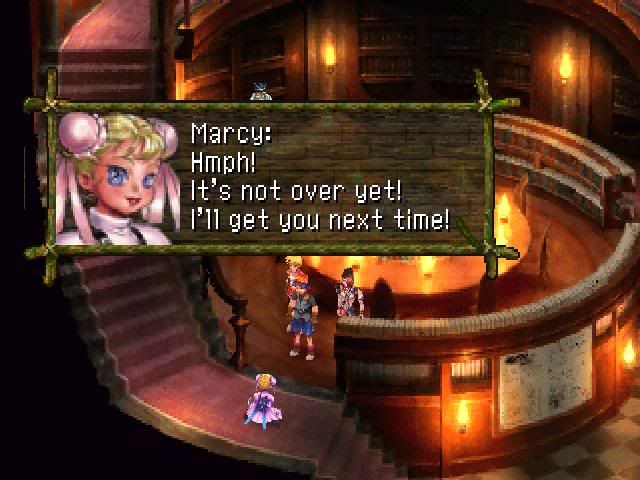 Marcy and her pals will of course appear again. Though, strangely enough she will be much weaker next time.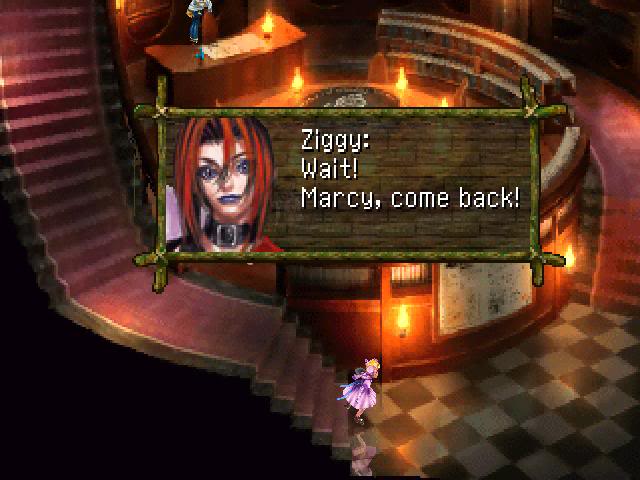 Sorry, Ziggy. But beating the shit out of your sibling might not have made the best of first impressions. Also, dressing like a clown whore with a leather fetish might not have been the smoothest idea either.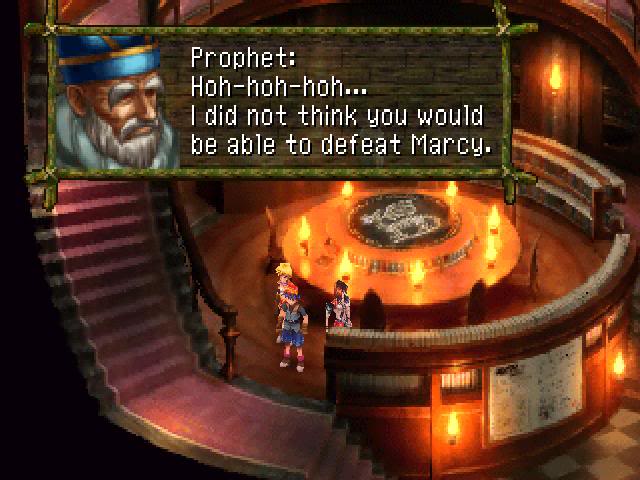 Hoh hoh ho. Yeah, and fuck you too Grandpa.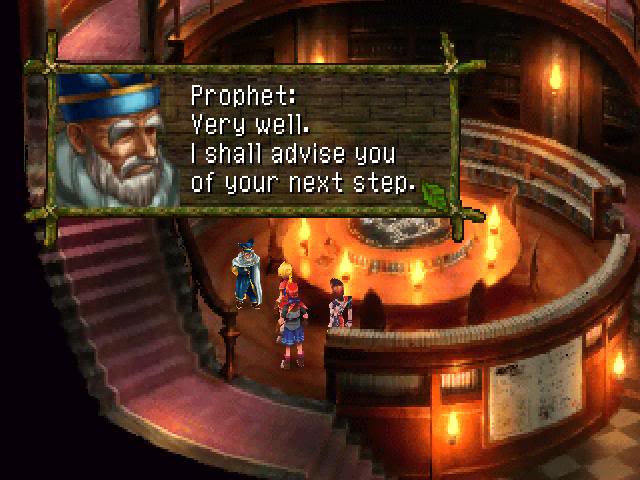 "I mean, I know everything that is going on in the entire plot and could explain it all right now. But, it was pretty amusing watching you all fight for your lives before. So, I think stringing you kids about with a carrot through perilous situations could be good for a laugh."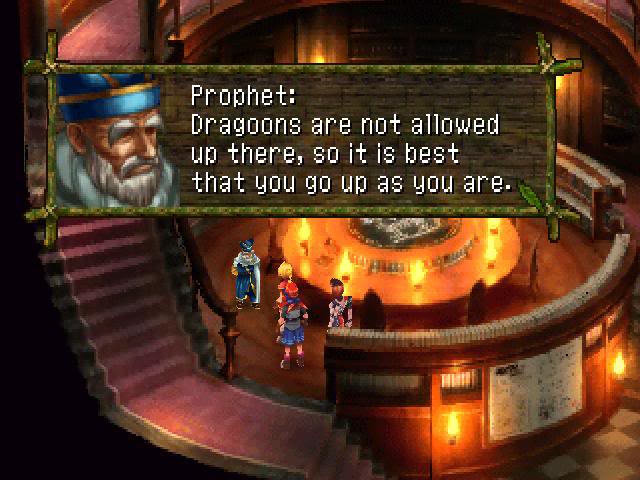 The Prophet tells the party that the second to last pillar on the left hand side of the grand hall from earlier has a secret button that summons the elevator. He also warns the big boss of the bad guy castle is camping out there. In case you have never played a video game in your life before or something.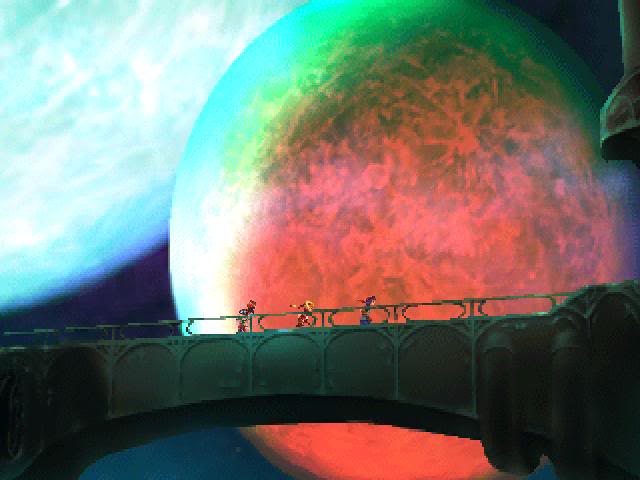 Welp, time is a wasting. I don't think I can afford to have my eyes glaze over from another monologue from that old nutter again...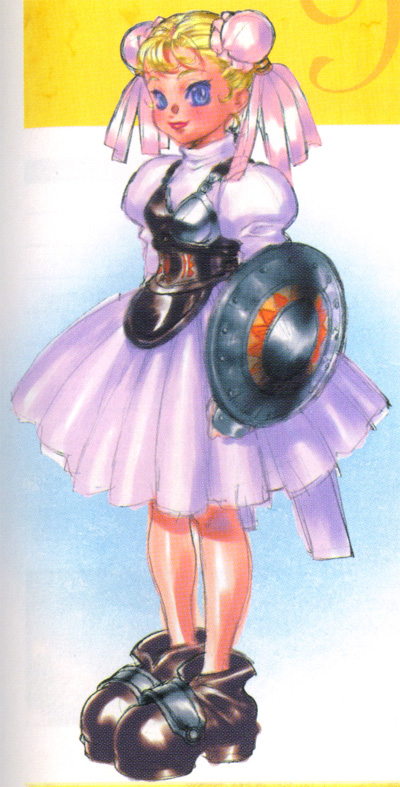 Marcy Official Art - Chun Li called. She wants her hair buns back.

Marcy is a shortened version of Marcella. Her full name is used in the Japanese version.