Part 44: Number Six - Part Two
So, let's talk about Anti-Matter.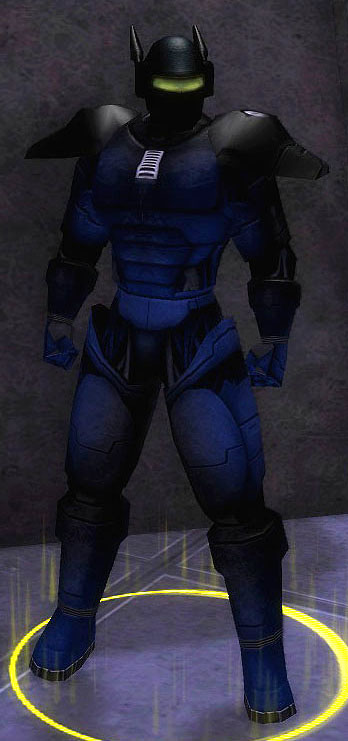 Dr. Raymond 'Anti-Matter' Keyes is the Praetorian version of Positron, the current leader of the Freedom Phalanx. Like his Primal Earth counterpart, Anti-Matter is a scientist who can use his power armor to channel energy - mainly, the small amounts of antimatter that he can naturally generate as a superpower.

Anti-Matter used to be the Praetor of Science in Praetoria, having designed or invented the advanced technology used throughout the city. His notible accomplishments include: creating the sonic fencing that keeps the Devouring Earth at bay; designing the Clockwork robots that constantly clean the streets (as well as designing the massive War Walker robots used to attack Primal Earth); and building the Keyes Island Reactors - three antimatter reactors that power all of Praetoria and are his pride and joy.

Unfortunately, his day in the sun passed long ago; between his one-sided love for Praetor Megan 'Dominatrix' Duncan (who frequently abused his love and used him as a scapegoat), and his rivalry/hatred of Praetor Steve 'Neuron' Berry (who repeatedly stole his designs and replaced him as Praetor of Science), Anti-Matter became miserable and bitter, trying to work on his own projects but dreading the day if/when Neuron's technology would fail - believing that he would be called onto the chopping block to clean up the mess. Praetorian characters who worked with him as a contact would deal with the early probing of the Primal Earth 'invasion' from Longbow and Arachnos.

On top of that, Anti-Matter is either directly or indirectly responsible for the creation of Metronome, the Praetorian version of the Clockwork King. The game doesn't directly say how or why - another Praetorian contact notes that Metronome used to be Anti-Matter's assistant who died a month before A-M unveiled the Clockwork. Metronome himself says that Anti-Matter stole his work and his life, but he might be unreliable, given that he's a crazy psychic presence with a fixation on Asian teenage girls. Who are also psychics.

During the war between Praetoria and Primal Earth, Anti-Matter was last seen protecting the Keyes Island Reactors, having linked his suit to both the reactors and his orbiting space station. Between the increased power the reactors gave him and the orbital bombardment from his space station, Incarnates had a hell of a time meeting all the requirements needed to receive badges.
Fighting Anti-Matter himself wasn't too hard (despite little tricks like 'stopping time' or 'healing most of his life bar after hitting someone with his Disintegrate beam'), but fuck having a league coordinated enough to get the Loves a Challenge badge or the Avoids the Green Stuff badge.

Anyway, the Keyes Reactor Incarnate trial doesn't detail what happened to Anti-Matter afterwards. You may recall Number Six mentioning that the Keyes Reactors exploded at the end of mission two...
-----
Anti-Matter's Personal Story
Unavoidable Fate

While Isawa Koi was in the forests outside of Last Bastion, Anti-Matter, the former Praetor Keyes, returned to Neutropolis. He was horrified at what had become... of his beautiful reactors. He could care less about Neutropolis - it was built by that idiot, Praetor Berry. Anti-Matter knew it would never last.
Anti-Matter returned in order to reach his space station via a shuttle that was in an underground hangar near the reactors. His armor had been badly damaged in the fight for his reactors, forcing him to flee. He did not fare any better in the wilds, where he was forced to fight off Hamidon's forces.
Anti-Matter knew that he could use all the power in his space station to reseal his suit. He would have to escape from the station at that point, as it would lose all power and crash into the Earth. There was just one problem...
This is a personal story mission. In this mission, you will assume the role of Anti-Matter. This is a solo mission.
(I really like personal story missions. They're used mainly to foreshadow future events, add a little bit of backstory to characters that's fun to watch, and most importantly for me, reward badges at the end.
Badges hit that 'Steam/Xbox Achievement' scratch for me, and sometimes give minor bonuses/temp powers to characters.)
There was someone else trying to get to the shuttle. The scanners on Anti-Matter's suit indicated it was Metronome. The thought caused Anti-Matter to twitch. Metronome was one of his greatest failures - a brilliant scientist who died on his watch. He had been too focused on his role of a Praetor to care for what happened... and it created the monstrosity of Metronome that went on to cause chaos in Neutropolis and Imperial City with some of Anti-Matter's clockwork. Well, at the very least, Metronome also made Berry look bad.
Anti-Matter realized that Metronome was also trying to get to the space station. He deduced that Metronome's actions were to reach the space station and use it to fight the Hamidon. Of course, the space station could fight Hamidon. It was the creation of the great Anti-Matter, the great Raymond Keyes!
Anti-Matter's suit indicated that the shuttle and Metronome would be lost - there were too many Devouring Earth heading towards the position. Anti-Matter, with a heavy heart, knew what had to be done. If he went to the station, he would be saved, and the station
(this is probably a typo and should be 'shuttle')
destroyed, along with Metronome. If he could stop the Devouring Earth and get Metronome to the station... then the legacy of Dr. Raymond Keyes would live on in the two.
-----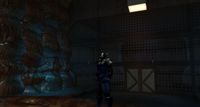 You might recognize the map as the last section of the Underground Incarnate trial.

Besides looking like him while in the mission, this personal story also replaces the normal power tray and gives us to access to some of Anti-Matter's powers. You might recognize them from the Radiation Blast set, but this also includes his Disintegration attack from the Keyes Incarnate trial.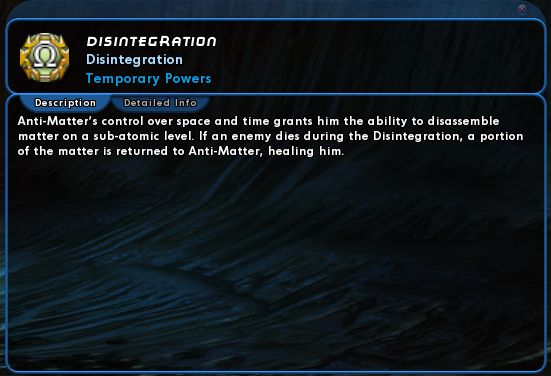 It's not very useful, as you're completely immune to damage during personal storyarcs, but it's a nice touch.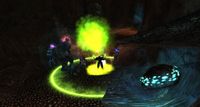 WARNING. LONG RANGE JETS IN SUIT HAVE SHUT DOWN. MULTIPLE CRACKS HAVE APPEARED IN THE HULL.
(all the dialog here is done in the floating caption box style, including the parts where A-M is talking to himself, below.)

TELEPORTER FUNCTIONALITY HAS BEEN LOST. SUIT INTEGRITY IS AT 45%.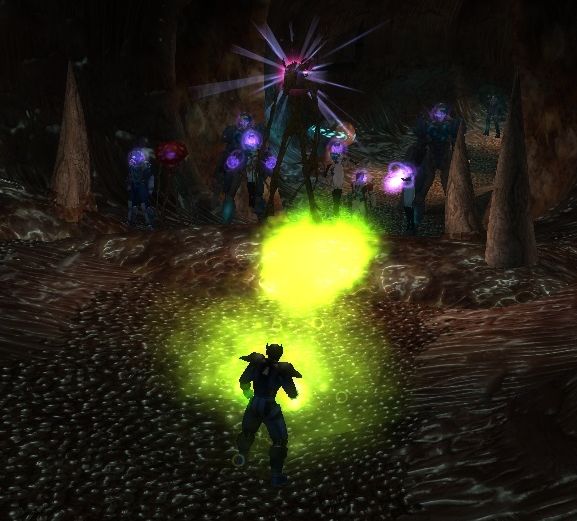 COMMUNICATION WITH SPACE STATION IS NON-FUNCTIONAL. SUIT INTEGRITY IS AT 30%.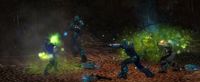 SUIT INTEGRITY IS AT 20%. DOCTOR KEYES, PLEASE ENSURE YOU ARE NOT NEAR A CIVILIAN POPULATION.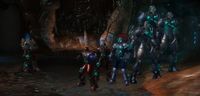 SUIT INTEGRITY IS AT 10%. WARNING! SELF-DESTRUCTION IS IMMINENT.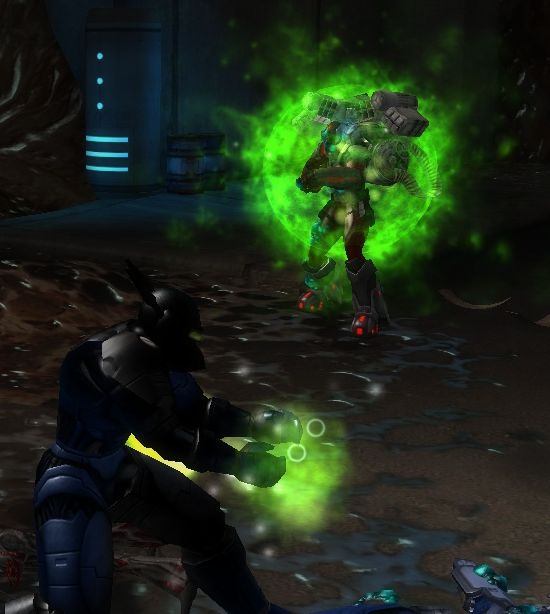 A quick shot of a mob under the effects of Disintegration.

SCANNERS INDICATE AVATAR OF HAMIDON IS HEADING TOWARDS METRONOME.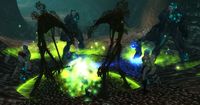 'Just... A little... Longer...' Anti-Matter thought, 'just keep... a track... on Metronome.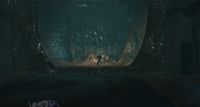 'Who would've thought... the great Raymond Keyes... would be... like this...'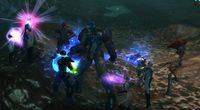 'Where did it all go wrong... did it all start... with you... Duncan... with that blasted woman...?'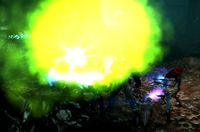 'I was respected, dammit...! I was the best... and I was thrown aside... hah... did it really all matter?''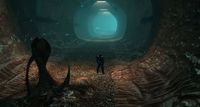 'All that I worked for... to gain power... to hold onto it... it was all washed away... so easily...'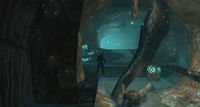 'All I have left... are my reactors... and my space station. And I won't...'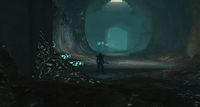 'My... I won't live to even see... them used. The reactors will hurt the Hamidon... my station...'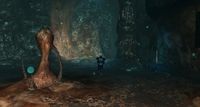 'They won't even know... that I did all of this... you're a fool, Raymond Keyes...'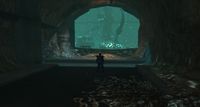 'I suppose... it's time to finish this... once and for all.'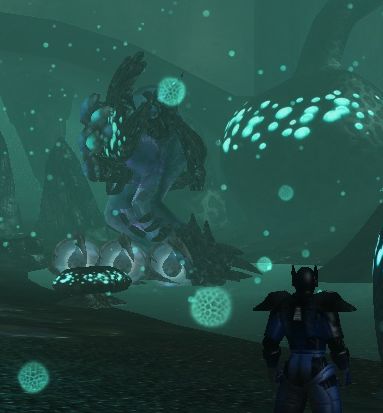 (Click for video)

W-WARN-IN-IN-ING! Suit de-de-destru-tru-truction is immin-en-en-ent!

Urgh... get me a status update... on Metronome...!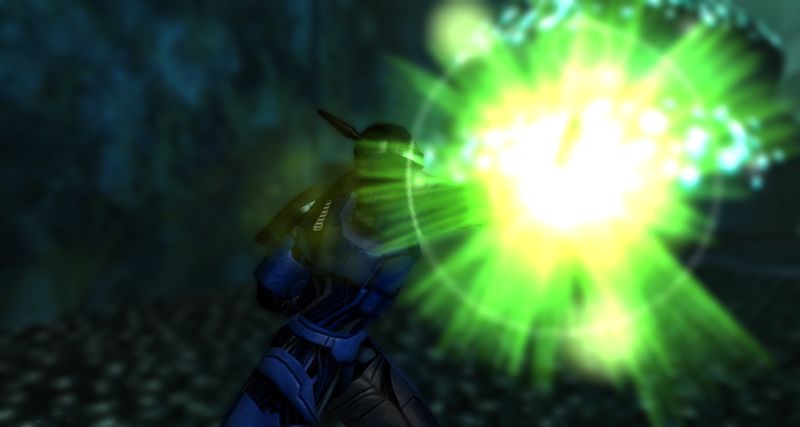 M-Met-Metronome has b-bro-broken into up-upper atmosphere.

Alright... get me the... reactor... controls... force... force the self-destruct...!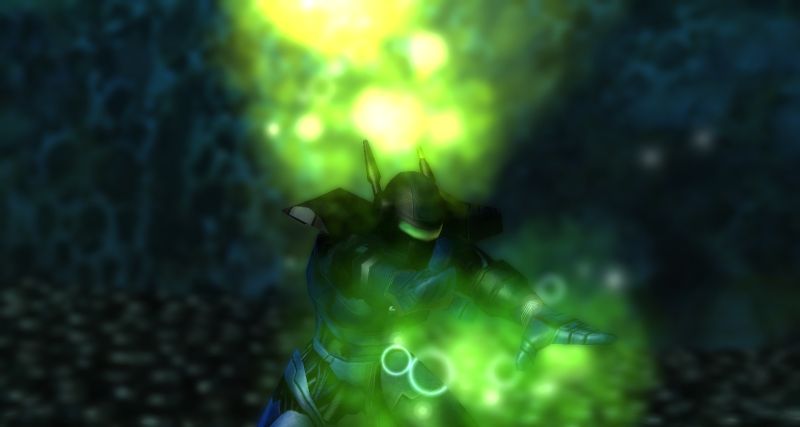 Command finished. Re-reactors expl-os-os-osion is imminent.

Alright... Hamidon... You remember me... you... REMEMBER... ME!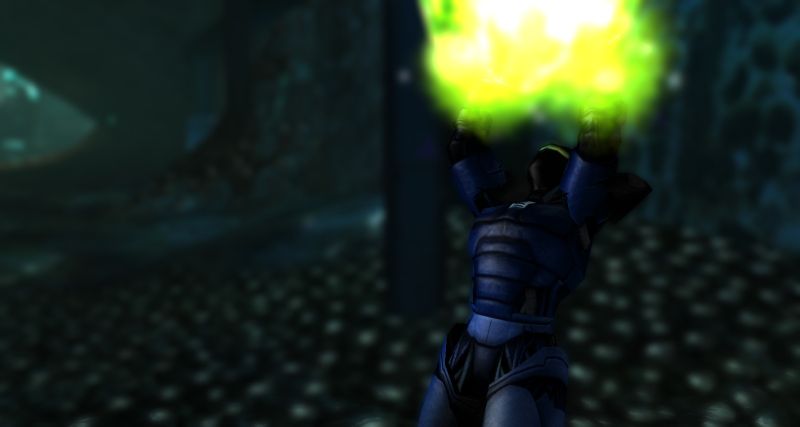 I... AM... DOCTOR... RAYMOND... KEYES!!!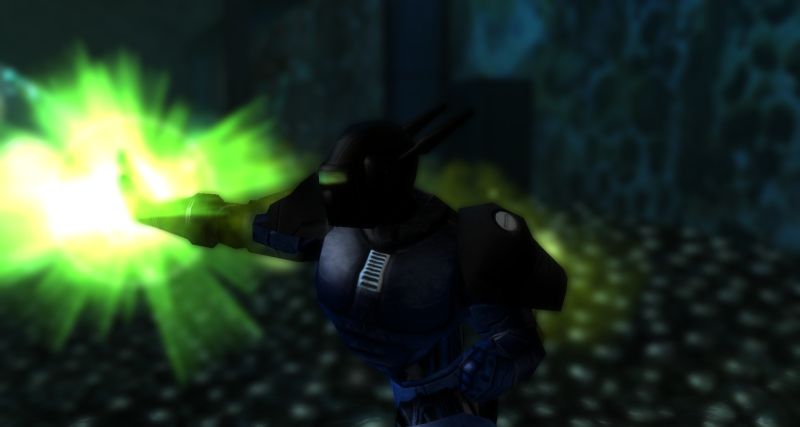 SUIT DESTRUCTION IN T-T-T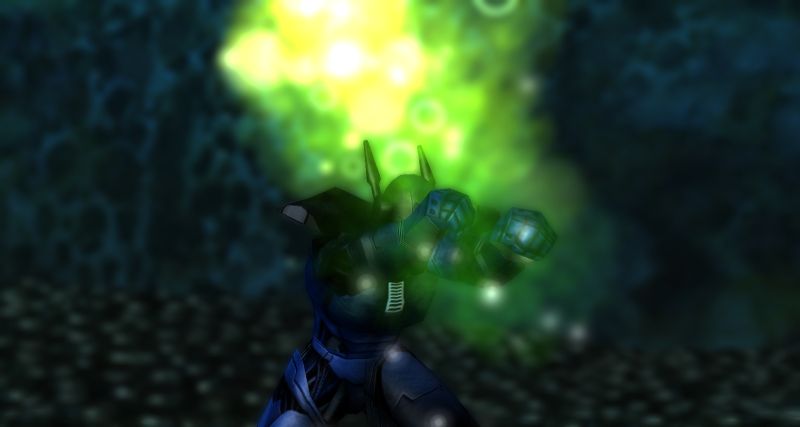 YOU WILL REMEMBER ME HAMIDON!

EVEN IF NO ONE ELSE WILL!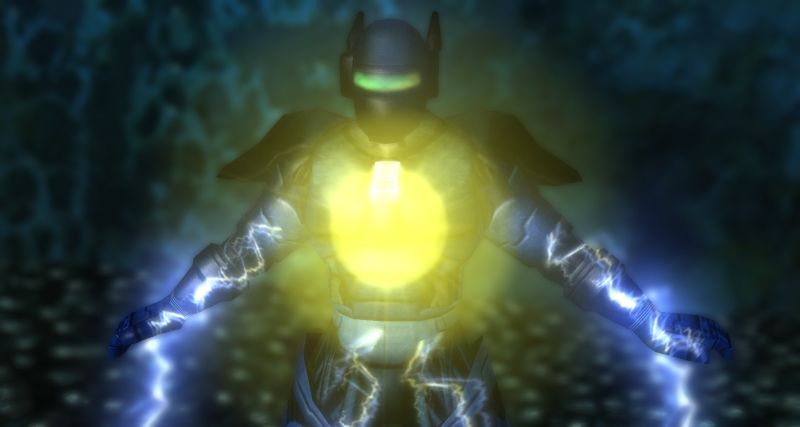 Dr. Keyes?! This is Metronome, you can't do this!

Hah... finally... recognition...!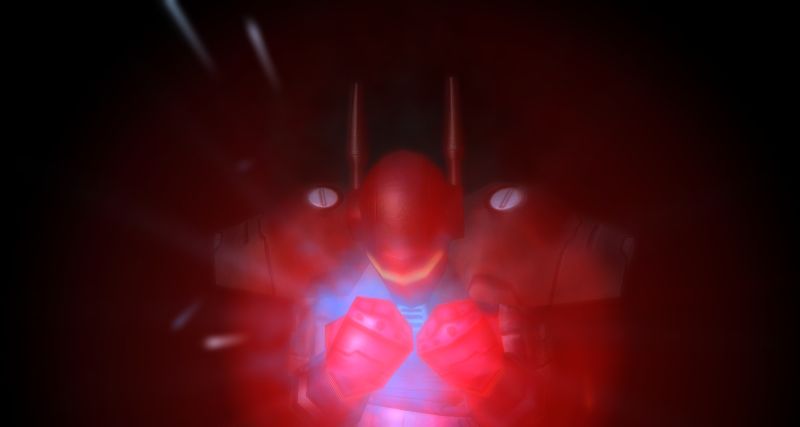 quote:
Souvenir: Anti-Matter's Personal Story

Anti-Matter discovered that Metronome was trying to access a launch pad to reach Anti-Matter's space station. Metronome's goal was to use the space station to fight Hamidon. However, the Hamidon's forces were moving in to destroy Metronome and the launch pad.

Anti-Matter's armor was badly damaged from fighting at the reactor and the Hamidon. He made a choice that few, if any, of the other Praetors would make: Anti-Matter would use the last of his life to hold off the Devouring Earth and save Metronome. He forsaked the chance of survival in his space station for this one moment.

Even in his last moments, Anti-Matter felt unappreciated, knowing that not one person would know what he had done, that he had given his life to send what may be the savior of Praetoria in space.

Metronome contacted Anti-Matter seconds before the self-destruct, urging him not to go through with this.

It was then, in his last moments, that Anti-Matter received something he was always looking for all of his life: recognition. No one would ever know that his face was smiling wide a second before the explosion.