Part 9: Nod Mission 09
NOD Mission 09
https://www.youtube.com/watch?v=XuB2Qv-iNgA
NOD Mission 09

EGYPT
Population: 23,154,000
Expendability: 45%
Capital: Cairo
Government: Democracy
Govt Corruptability: 3%
Net Worth: $39.2 Billion
Point of Conflict: Luxor
Military Strength: Reasonable
Military Resistance: 100%
Jobbo_Fett posted:
NOD MISSION 02


EGYPT
Population: 56,386,000
Expendability: 75%
Capital: Cairo
Government: Republic
Govt Corruptability: 18%
Net Worth: $39.2 Billion
Point of Conflict: Al-Alamyn
Military Strength: Formidable
Military Resistance: 82%

Author's note: Since we last visited Egypt, its population has declined by 33,232,000 people. Cairo is less expendable, although is this a value that Kane gives or is it related to its current strategic importance? Its gone from a Republic to a Democracy, with corruptability dropping to near zero. Military strength and resistance have also increased. Is this a result of the fighting between NOD and GDI forces? Is it more indicative of Tiberium's effects on the area's population?

Recover an abandoned NOD base and use it to eliminate all GDI forces in the area. Kane gives us a new weapon, the Flame Tank, which I proceed to... not actually use in this mission

Location: Luxor, Egypt
Objective: Recapture an abandoned NOD base and use it to eliminate all GDI forces in the area.
Briefing: GDI is attempting to retake Egypt. Use eveyr available resource in your efforts to stop them. The populace has once again swayed in support of GDI forces, so show no mercy in dealing with the villagers.
Author's note: Kane places a white King chess piece on a board (presumably) and tells us its our move. Is this supposed to mean that Kane is a step ahead of everyone else? Is GDI the reactionary player, or is the Commander the 2nd player in this game? Maybe I shouldn't try to read too much into this.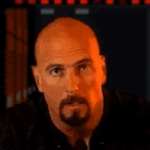 Name: Kane
Aliases: Caine, Jacob; al-Quayym, Amir
Affiliation: NOD
Occupation: Leader of the Brotherhood of Nod
Voiced/Played by: Joseph D. Kucan
The leader of the Brotherhood of Nod, Kane is shrouded by mystery. No one knows much about him, and the mythos surrounding him tells of tales of alternate identities, immortality, or simply rumours and hearsay. Murdered Seth after he tried to usurp control of the Brotherhood of Nod.


COMMANDO
ARMOR: NONE
COST: 1000
SECONDS TO PRODUCE: 67
RANGE: LONG
WEAPON: SNIPER RIFLE AND C-4 EXPLOSIVE PACKS
The Commando uses a Raptor 50cal. assault rifle with suppressor that is able to take out infantry units from extreme range. In addition, the Commando also carries C-4 explosives. When placed in enemy structures, these explosives will level the target structure in seconds.
Author's note: The best infantry in the game, bar none. Sure, he can't snipe helicopters or A-10s, but the Commando can eliminate any infantry unit at the drop of a hat, and blow up any building left unguarded. The only downside, apart from the lack of anti-armor, is the fact that blowing up buildings produces enemy soldiers, which get first dibs at shooting the Commando.


MOBILE ARTILLERY
ARMOR: MEDIUM
COST: 450
SECONDS TO PRODUCE: 30
RANGE: LONG
WEAPON: 155MM BALLISTIC CHARGES
This massive cannon has great range and ballistic power. This unit is very slow. Any attacks using this unit have to be orchestrated carefully—just getting the unit to its target can be difficult. However, once it gets within range, little stands in the way of its firepower. By nature, artillery is somewhat innacurate.
Author's note: I overvalue their cost in the next video (I think), but that still doesn't mean I'll take an artillery piece over a Light Tank. Slow to turn, slow to move, slow to shoot. Its just slow. Oh, and the typo is in the manual.

FLAME TANK
ARMOR: MEDIUM
COST: 800
SECONDS TO PRODUCE: 53
RANGE: SHORT
WEAPON: TWIN FLAME CANNONS
Especially useful against infantry and structures, the Devil's Tongue Flame Tank can mow through swarms of infantry with little or no damage to itself. To top off its destructive capabilities, the flame tank is fast, able to avoid some of the slower firing weapons and get close to its target quickly.
Author's note: So it turns out you need a Comms. Centre to build these guys. Damnit... The flavor text is serious, they will absolutely slaughter infantry and scorch buildings. Truly a force to be reckoned with.
Oh and I found out the Cargo Plane has its own entry

CARGO PLANE
ARMOR: HEAVY
COST: N/A
SECONDS TO PRODUCE: N/A
RANGE: N/A
WEAPON: NONE
This carrier ships purchased units to the Brotherhood of Nod via the Airfield. Any units ordered will be shipped in as soon as possible. Only one transport plane can be on the board (per Airfield) at any one time.
Author's note: You go, plane!

TURRET
ARMOR: HEAVY
COST: 600
SECONDS TO PRODUCE: 17
POWER USAGE: 20
PURPOSE: BASE DEFENSE
For broad sweep, short-range protection against heavy assault vehicles. This is the staple of Nod's base defense, so be sure to have several of these around your base entrances. Fire-power wise, they are the equivalent of a medium tank's cannon—without the mobility.
Author's note: Its a strong defensive building, able to dispatch vehicles with relative ease, but suffers from a slow turret rotation and lackluster performance against infantry (unless its accurate!)

REPAIR FACILITY
ARMOR: LIGHT
COST: 1200
SECONDS TO PRODUCE: 80
POWER USAGE: 30
PURPOSE: VEHICLE REPAIR
The repair facility allows you to repair damaged units. Moving a vehicle onto the repair pad will begin the repair process. All repairs are deducted from your credits. If you run out of credits while repairs are in progress, repairs will stop. Damage to the facility significantly slows repair work.
(Unless the Rules.ini file is lying, these are the following stats for the Repair facility
RepairPercent=20% ; percent cost to fully repair as ratio of full cost
RepairRate=.008 ; minutes between applying repair step)
Author's note: Extremely useful if running on a small income or to save powerful units! If you have neither, you can skip it.

CHAIN LINK BARRIER
ARMOR: MEDIUM
COST: 75
SECONDS TO PRODUCE: 5
POWER USAGE: NONE
PURPOSE: BASE DEFENSE
Chain Link function in the same way that the sandbags so, but they provide more defense. Only explosive weapons such as grenades, missiles, and shells can damage a Chain Link fence.
Author's note: Woo?!