Part 12: Nod Mission 12
NOD Mission 12
https://www.youtube.com/watch?v=nbAez2hY2TA
NOD Mission 12

BOTSWANA
Population: 1,300,000
Expendability: 2%
Capital: Gabarone
Government: Republic
Govt Corruptability: 12%
Net Worth: $3.1 Billion
Point of Conflict: Ghanzi
Military Strength: Laughable
Military Resistance: 92%

Capture GDI's orbital satellite control center and gain control of GDI's superweapon.
Location: Ghanzi, Botswana
Objective: Locate a suitable location to construct your base, then attack the nearby GDI base and capture their satellite control center.
Briefing: Somewhere in this area there is a GDI Advanced Communications Center. Inside this center are the firing codes for their orbiting Ion station. The Brotherhood must have these codes. Capture the Center and retrieve the codes, do not destroy the center.
Author's note: Time to infiltrate yet another GDI base, but this time we're faced against the GDI superweapon, the Ion Cannon. Kind of sucks that half the map is useless once you finally build your base, but it could be worse.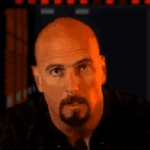 Name: Kane
Aliases: Caine, Jacob; al-Quayym, Amir
Affiliation: NOD
Occupation: Leader of the Brotherhood of Nod
Voiced/Played by: Joseph D. Kucan
The leader of the Brotherhood of Nod, Kane is shrouded by mystery. No one knows much about him, and the mythos surrounding him tells of tales of alternate identities, immortality, or simply rumours and hearsay. Murdered Seth after he tried to usurp control of the Brotherhood of Nod. Discoverer of Tiberium (Unsubstantiated) and believes it is the future of mankind. Appears to always carry a pistol at his side, a Beretta 92FS. May have plans to use the Ion Cannon against GDI.


ADVANCED POWER PLANT
ARMOR: MEDIUM
COST: 700
SECONDS TO PRODUCE: 47
POWER USAGE: NONE
PURPOSE: PROVIDES POWER TO BASE
This high-yield structure handles the energy strains of some later, more power-intensive structures. It may cost a bit more than the original Power Plant, but it generates double the amount of power (200 units).
Author's note: Costs more than twice that of a Power Plant but only gives twice the power output? Why? Only real reason to build it is to save space in your base. -Only learned this after this mission-