Part 23: GDI Mission 06
GDI Mission 06
https://www.youtube.com/watch?v=5ikb4ffO0AM
GDI Mission 06

CZECH REPUBLIC
Population: 10,400,000
Geographic Area: 30,449 Square Miles
Capital: Prague
Government: Republic
Gross Domestic Product: $120 Billion
Point of Conflict: Ostrava
Military Power: National Guard

Apparently, Nod is jamming communications and Carter needs our help. Or maybe the cut funding is messing with our comms?
Location: Ostrava, Czech Republic
Objective: Use the Commando to infiltrate the Nod base and destroy the... damnit.
Briefing: Use a GDI Commando to infiltrate the Nod base. **** ** destroy the ********** so that the base is incapacitated. Get in, hit it, and get the **** out.
Author's note: Another commando mission!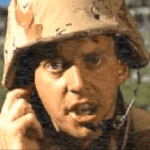 Name: Commander Carter
Aliases: Unknown
Affiliation: GDI
Occupation: Commander within the Global Defense Initiative
Voiced/Played by: Bill Collins
Author's note: We've had quite a bit of back and forth with Carter, and sometimes I wonder if he's supposed to be the main character with the GDI. Certainly more personable than Sheppard.


TRANSPORT "CHINOOK" HELICOPTER
ARMOR: MEDIUM
COST: 1500
SECONDS TO PRODUCE: 100
RANGE: N/A
WEAPON: NONE
Provides field transportation for all infantry, rapidly deploying new troops into, or out of battle. This unit is basically an aerial version of the APC without the weapon.
Author's note: Great if your opponent is missing air defense weapons in critical areas, and even better if you can combine it with attacks to distract. Its usually a one-way trip for this unit, when moving into an enemy base.

COMMANDO*
ARMOR: NONE
COST: 1000
SECONDS TO PRODUCE: 67
RANGE: LONG
WEAPON: SNIPER RIFLE AND C-4 EXPLOSIVE PACKS
The Commando is part of the GDI Elite Forces Unit. This unit uses a Raptor 50cal. assault rifle with suppressor that is able to take out infantry units from extreme range. In addition, the Commando carries C-4 explosives.
When placed in enemy structures, these explosives will level the target structure in seconds.
Author's note: The lore text here is why I think that Nod has one Commando, whereas GDI has an entire team of them. GDI also started out as a SpecOps group. Maybe one of them defected to Nod? Its all headcanon, loosely based on text from the manual, which could just be an error/typo anyways, but I like the interpretation.