Part 27: GDI Mission 10
GDI Mission 10
https://www.youtube.com/watch?v=vUdvxCpifgI
GDI Mission 10

ROMANIA
Population: 23,169,000
Geographic Area: 91,699 Square Miles
Capital: Bucharest
Government: Republic
Gross Domestic Product: $71.9 Billion
Point of Conflict: Arad
Military Power: National Guard

We get a re-view of a cutscene from the Nod campaign, without Kane's snarky commentary. This is one of the indications that you should play the GDI campaign first. Sheppard gives us the ability to build and deploy Orca helicopters now, after "securing more U.N. funding".
Location: Arad, Romania
Objective: Destroy the Nod presence in the area.
Briefing: U.N. funding has been re-established. You now have access to a new aircraft, the Orca. This unit is to be used to scout out the immediate area. Destroy all Nod presence in this region.
Author's note: I hate everything about this map. The location and quantity of Tiberium in the fields, the maze-like valleys you need to go through to attack the enemy, the hill behind your base to harass you. All of it. Its strange too that the briefing says to scout with the Orcas, which is a thing aircraft decidedly cannot do. Aside from landing, but that's really not how "scouting" should work.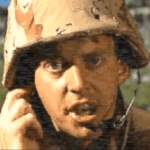 Name: Commander Carter
Aliases: Unknown
Affiliation: GDI
Occupation: Commander within the Global Defense Initiative - KIA
Voiced/Played by: Bill Collins
Its unknown if Commander Carter is of an equal rank as the GDI Commander, nor if he's Navy, Army, or something else. Regardless, he and the GDI Commander have worked together on numerous occasions, to good effect. Is believed to be the originator of the "the naughties" [Sometimes said "Noddies"] term. Has recently come down with Tiberium poisoning, yet has chosen to remain in command. Killed in action while leading his forces against a Nod base.
Author's note: It's okay, Carter, I'll acknowledge your sacrifice for GDI.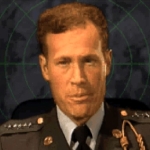 Name: Brigadier General Sheppard
Aliases: Unknown
Affiliation: GDI
Occupation: Supreme Commander of GDI
Voiced/Played by: Eric Martin
Stoic, and seemingly unemotional, Sheppard is the upper echelon of GDI command. He's also the first to come under fire by the media, and spends considerable time at press events and in meetings with political and military leaders.
Author's note: We've been over this, but I really don't like Sheppard, and the fact that he omits mentioning Carter's sacrifice seems strange.


HELIPAD
ARMOR: MEDIUM
COST: 1500
SECONDS TO PRODUCE: 100
POWER USAGE: 10
PURPOSE: HELICOPTER LANDING
Building the Helipad allows the use of the ORCA attack aircraft. The Helipad is also the rearming station for the ORCA. If the Helipad is lost, the ORCA will not be able to reload. Any ORCA can use any Helipad on your side.
Author's note: Comes with a free Orca on deployment, I constantly forget to simply sell the helipad and rebuild another instead. Offers no protection to an Orca on the landing pad if attacked.

ORCA VTOL ASSAULT CRAFT
ARMOR: LIGHT
COST: 1200
SECONDS TO PRODUCE: 80
RANGE: LONG
WEAPON: DRAGON TOW ROCKETS
This vertical takeoff and landing (VTOL) craft carries five salvos of TOW rockets. ORCAs are exceptionally useful for taking out enemy armor like Harvesters. When used in conjunction with Ion Cannon strikes, then can easily destroy enemy structures. When an ORCA runs out of rockets, it must return to base for reloading.
Author's note: Aside from not being able to reveal LOS itself, this unit has few drawbacks. No GDI force is complete without a few of these to harass and destroy Nod forces on the map.
Edit: Apparently I missed a few buildings with GDI.

GUARD TOWER
ARMOR: LIGHT
COST: 500
SECONDS TO PRODUCE: 33
POWER USAGE: 10
PURPOSE: DEFENSE
Armed with a high-velocity machine gun, this structure provides manned defense against Nod ground attack. The Guard Tower is exceptionally useful against infantry and other light units, and since it doesn't require any power, it will remain functional when your base loses power. It can also detect Nod Stealth Tanks when they are near.
Author's note: Your basic defensive building for GDI. Personally, I don't like it as much as NOD's turret,

SILO
ARMOR: LIGHT
COST: 150
SECONDS TO PRODUCE: 10
POWER USAGE: 10
PURPOSE: HOLDS REFINED TIBERIUM
This unit stores up to 1,500 credits of processed Tiberium. When the Refinery fills to its maximum capacity of Tiberium, you will want to build Silos to handle the excess storage load. Guard it carefully. If destroyed or captured, the amount stored is deducted from your account.
Author's note: Performs the same function as NOD's silo.

WEAPONS FACTORY
ARMOR: MEDIUM
COST: 2000
SECONDS TO PRODUCE: 133
POWER USAGE: 30
PURPOSE: PRODUCES HEAVY VEHICLES & AIR POWER
This structure builds GDI's vehicles. It is well armored, but is also a favorite target for enemy Engineers. If your Weapons Factory is captured, not only do you lose the ability to build vehicles, but the enemy is able to build your vehicles in addition to his own. Building multiple Weapons Factories will decrease the amount of time it takes to create a vehicle.
Author's note: As far as I know, the "bonus" for multiple Weapons Factories is capped at 2, but to be honest I never have enough cash to build more than that.