Part 60: PSX Missions 04
Ah fuck it lets finish it for good
PSX NOD Mission 01
https://www.youtube.com/watch?v=pLqmi1rekho
PSX NOD Mission 01

UNKNOWN

Location: Unknown, Unknown
Objective: Use your forces to destroy the nearby village and exterminate its inhabitants.
Briefing: The civilians here occupy an area the Brotherhood needs. Destroy the whole town and all the civilians. Be sure none escape to the GDI base in the north.
Author's note: A basic, straightforward map. Nice!

N/A

N/A
PSX NOD Mission 02
https://www.youtube.com/watch?v=yBSICGnlB14
PSX NOD Mission 02

UNKNOWN

Location: Unknown, Unknown
Objective: Using an abandoned NOD outpost, capture a nearby GDI post and use it to destroy the larger base in the area.
Briefing: The GDI base in this area must be destroyed. The Brotherhood has no resources to spare, so you will have to "acquire" some.
Author's note: Personally, I'm just not a fan of the "capture derelict buildings to sell off and capture an enemy base" mechanic.

N/A

N/A
PSX NOD Mission Map Dissection
PSX NOD Mission 01
scb31ea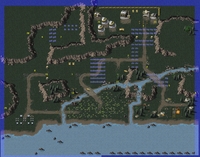 GDI actually gets A10s in this map, so killing the Comms Center is actually useful!
PSX NOD Mission 02
scg32ea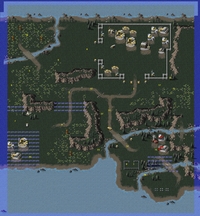 I don't know why those engineers bugged out, and I just don't like the layout of this map all that much.