Part 4: Prologue, Part 4

: Once again, for these introductions, you can watch the whole update in video form to get a feel for how the characters sound and act when you play the game.

Click here to watch this whole update!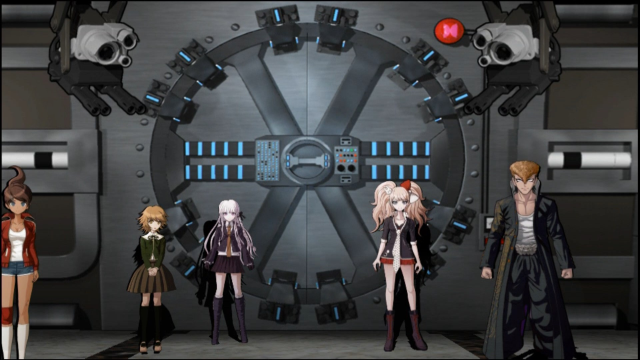 Okay, now to talk to those five people over there.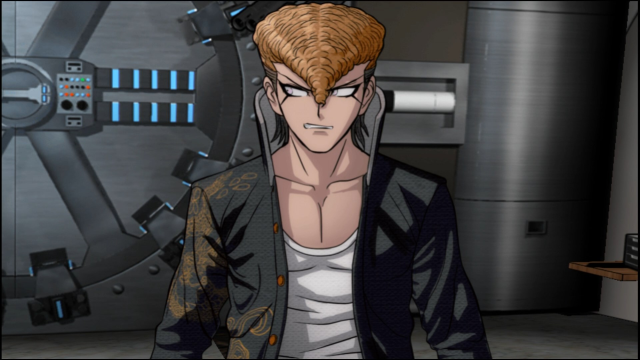 : Name's Mondo Owada. Nice to fuckin' meetcha.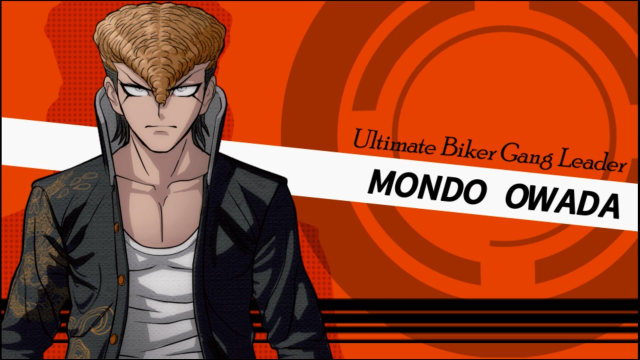 : Voice Actor: Keith Silverstein
Mondo Owada, huh? Which means...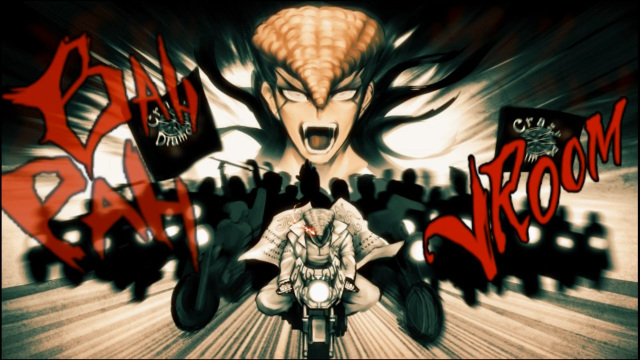 He's the current leader of the largest biker gang in Japan. He's earned respect, ever awe, from every gang in the country. He's the Ultimate Biker Gang Leader...

: ...Umm...Nice to meet you, too.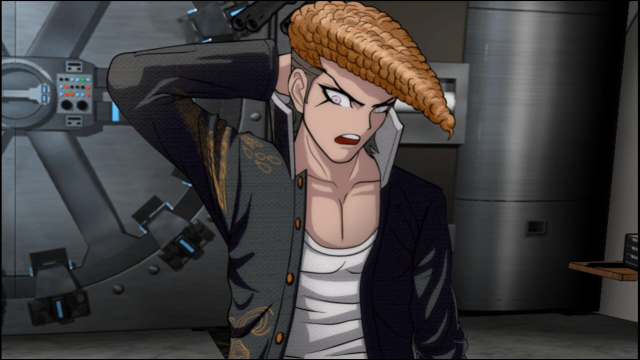 : Hell yeah.
I'd better be careful around him. One wrong word and I could wake up at the bottom of the sea...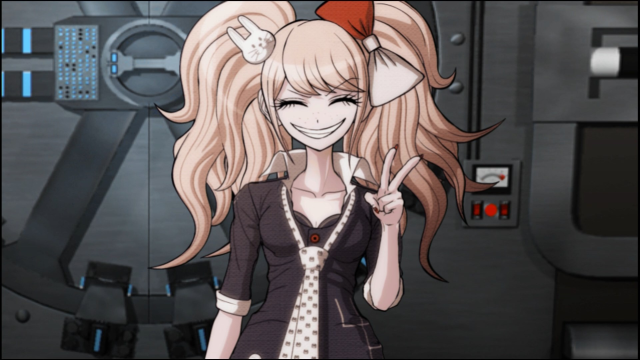 : Hiii! I'm Junko Enoshima. Charmed, I'm sure!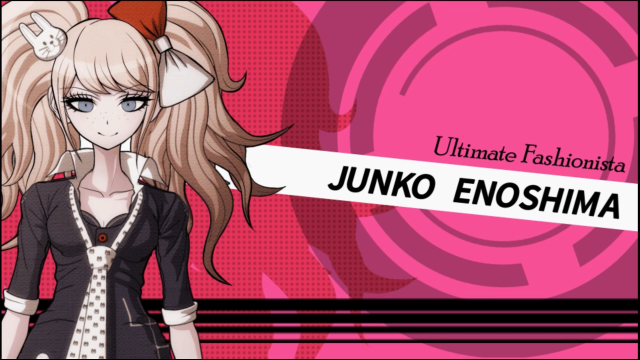 : Voice Actress: Amanda Celine Miller
Anybody would recognize this one...





She's got more charm and presence than any high school girl in the country. She's the Ultimate Fashionista. I've seen her on tons of magazine covers, but...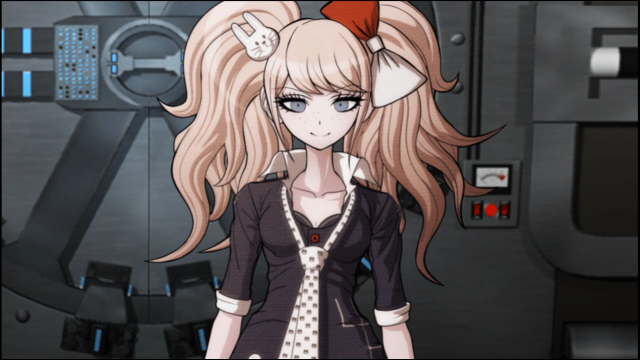 : I feel like that doesn't quite match up to reality.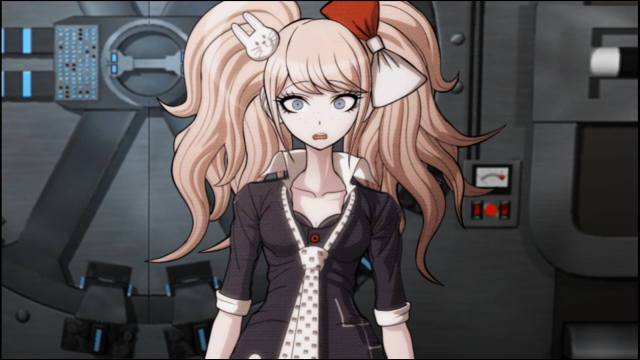 : Huh...?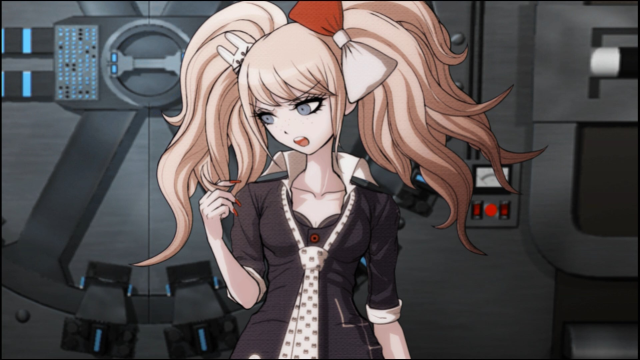 : Oh, are you talking about my cover photos and junk?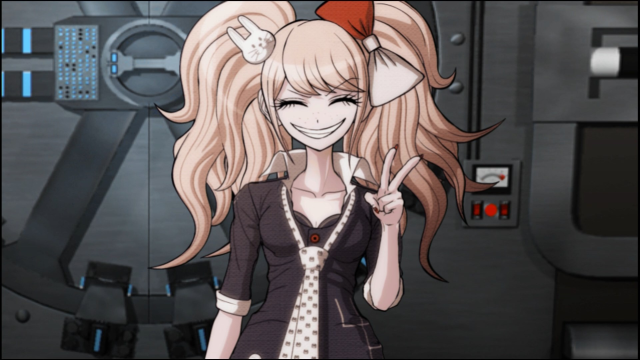 : Ahaha, well of course! Those are totally photoshopped.

: Photoshopped...?

: Yeah, you know--edited to hell and back. With like, computers and junk?

: Oh, so they aren't real...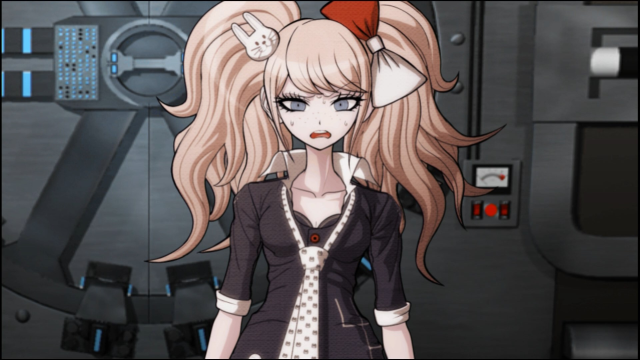 : Come on, don't act so surprised! You're gonna make me all depressed.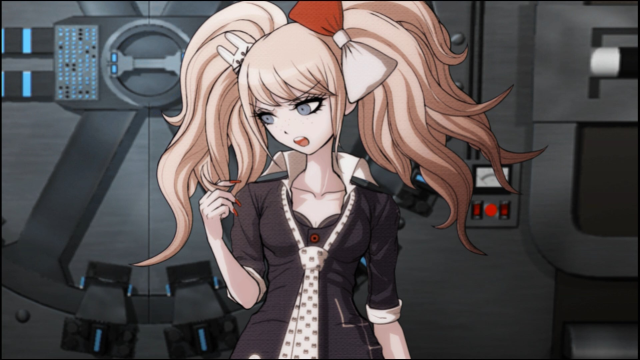 : It's totally normal these days to photoshop the crap out of cover photos. If you're surprised by that, you'd be totally blown away by a certain dangerous little diva of ours...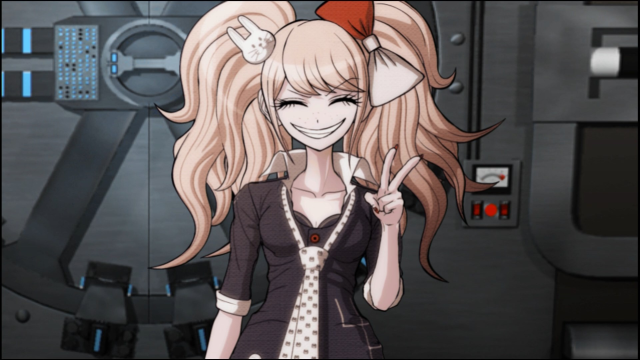 : They make the eyes and junk super big, and tweak the skin so it looks all ceramic and porcelain.

: Oh...
So many dreams are getting crushed today...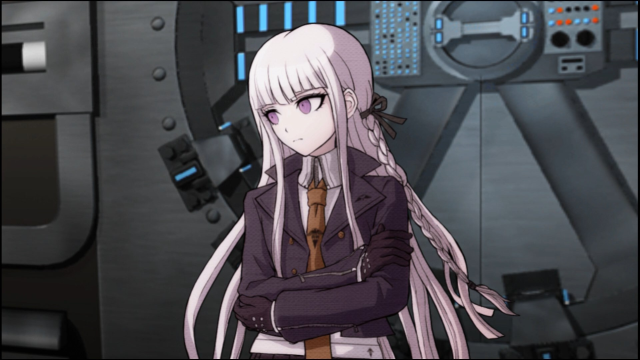 : ...

: ...

: ...

: Um... Can I ask you your name?


: ...My name is...Kyoko Kirigiri.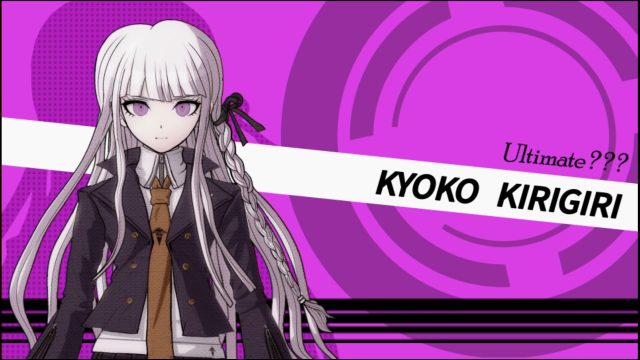 : Voice Actress: Erica Harlacher
She's pretty tight-lipped, huh? Oh but you know... Her name didn't show up anywhere in that Hope's Peak Academy thread.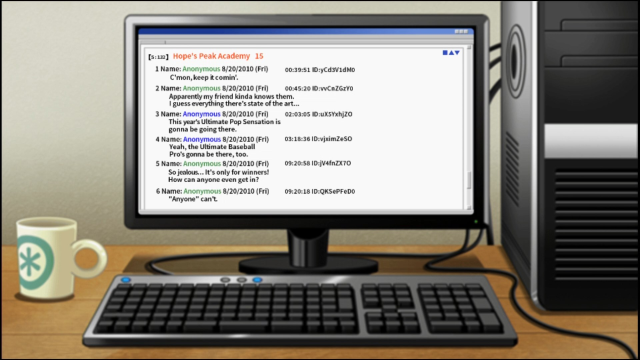 And I did see that there were students like me... Ones who didn't have any real identity or presence. Could this girl be one of them...?

: Um, so...what are you doing at this school?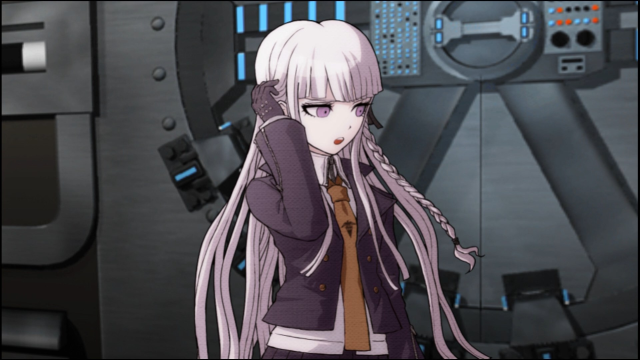 : What's that supposed to mean?

: No, I just meant... Getting invited here means you're some kind of "ultimate" something, right? So what ultimate something are you?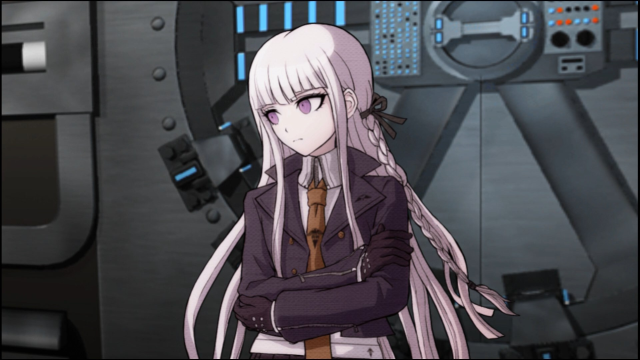 : ...Why should I tell you?

: Huh...? Well...I guess you don't have to tell me.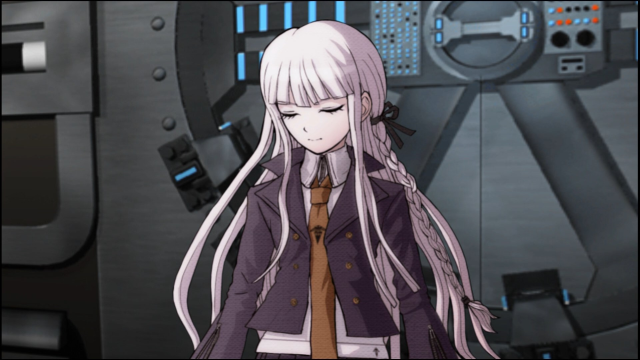 : No, I *don't* have to tell you. So I'm not going to.
Nothing about her turned up online, so I was thinking maybe she got picked by chance like me, but...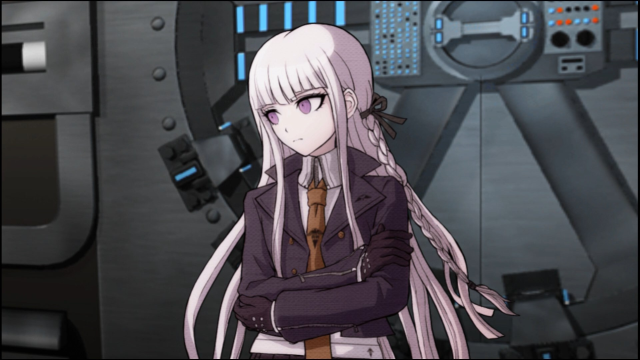 Her face is like an iron mask. If she doesn't want to tell me anything, no point in asking.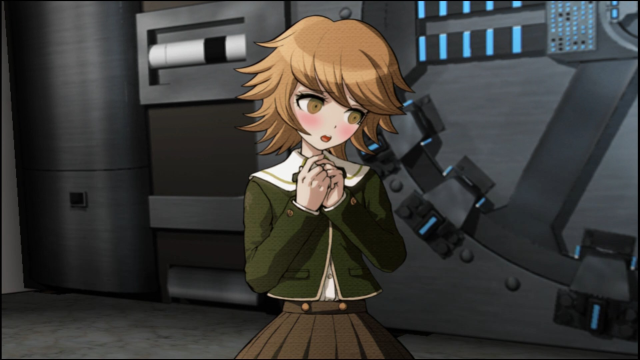 : Hello, nice to meet you. I'm Chihiro Fujisaki...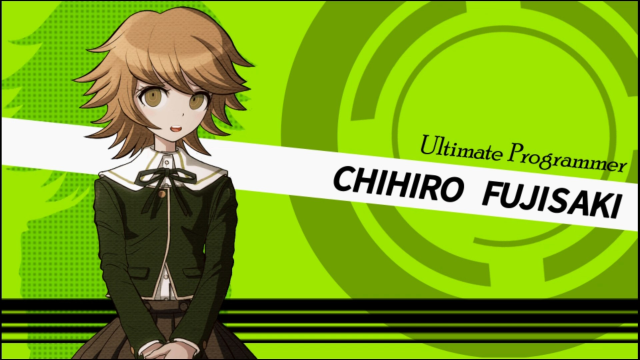 : Voice Actress: Dorothy Elias-Fahn

: Sorry, I get kinda embarrassed whenever I introduce myself like this...

: Anyway, I hope we can get along...

: Same here. Nice to meet you.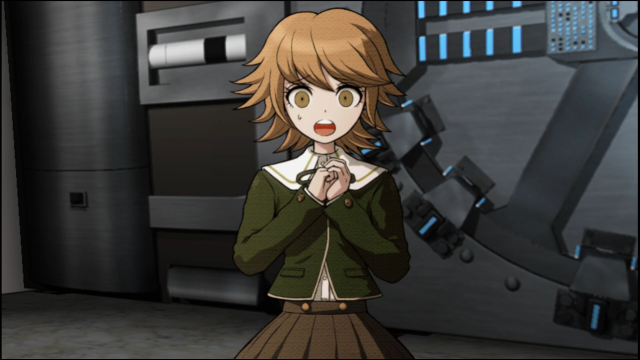 : ...Huh? Maybe it's just my imagination, but...have we met before?

: Um, I don't think so. We just met for the first time. Which is why I said "nice to meet you."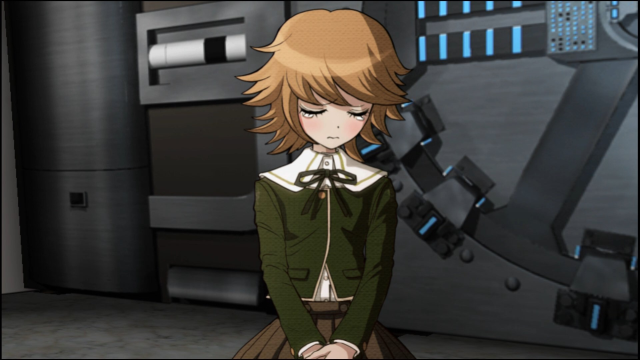 : Oh, yeah. Good point. Sorry...

: Y-You don't have to apologize for that.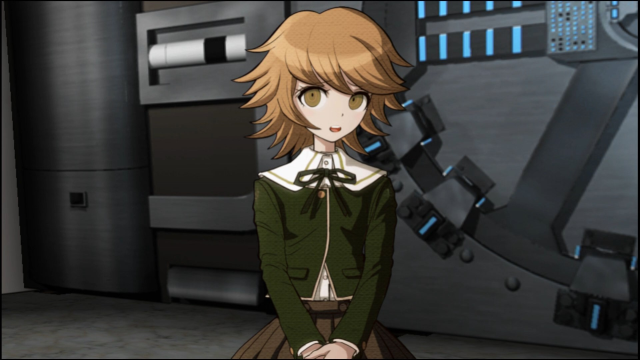 : Oh, yeah...
Chihiro Fujisaki is known for all the cutting-edge programs she's created. She's the Ultimate Programmer. She's also got that timid little bunny type thing going, which has endeared her to her legion of fans.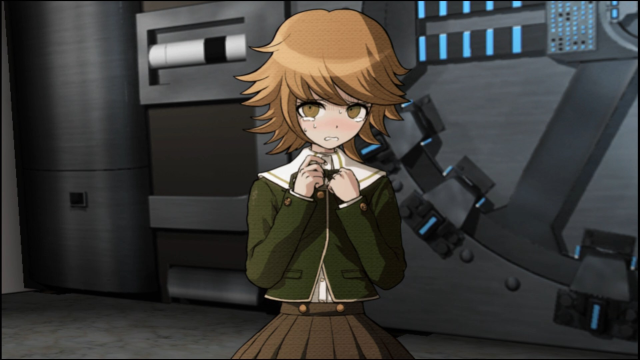 : Hey, so listen...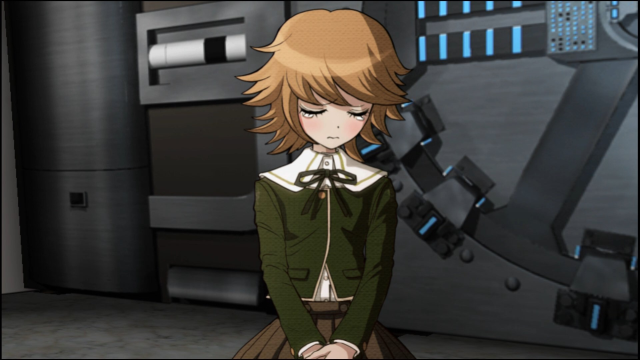 : I-I'm really sorry.

: Huh? What are you apologizing for now?

: Well, just cuz...you seem upset. You must be mad at me, right?

: No, not at all! I was just lost in thought about something.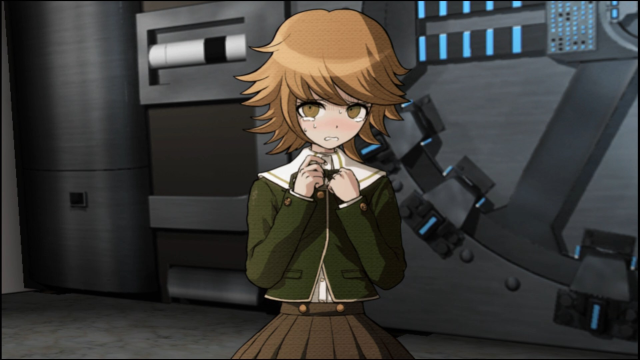 : Huh? Lost in thought...?

: Yeah! It had nothing to do with me being upset or anything.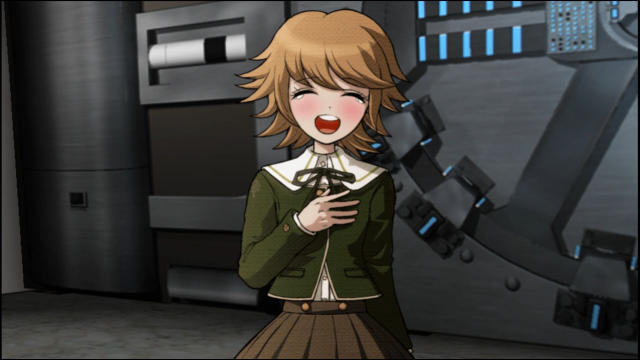 : Oh, that's good. I was afraid maybe you didn't like me.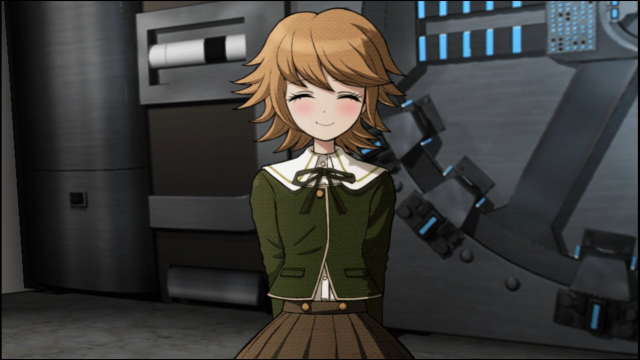 : Hehe... I'm glad!
...I'm starting to understand why her fans are so into her...


: Heya! I'm Aoi Asahina! But my friends just call me Hina. 'Sup?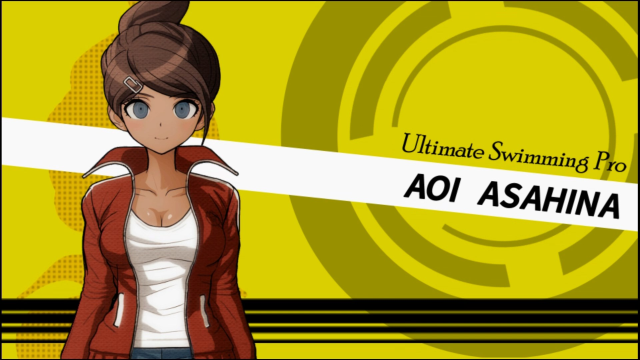 : Voice Actress: Cassandra Morris
Aoi Asahina... She's been breaking records in every competition she's been in since elementary school. She's even been chosen as an upcoming Olympic cadet. She is, without a doubt, the Ultimate Swimming Pro. The combination of her ability, appearance, and, um... proportions has been widely discussed online...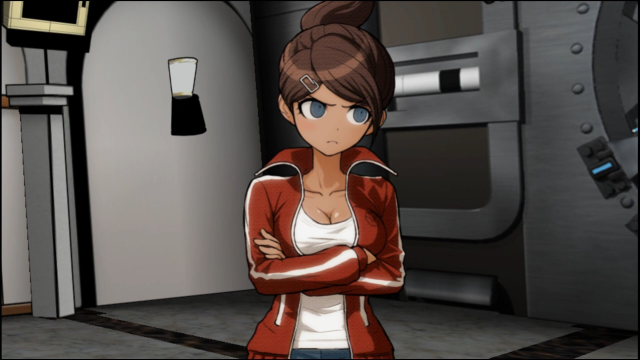 : So uh...what was your name again? Sorry, totally forgot!

: Makoto Naegi.

: Oh yeah, I knew it was something like that!

: No, not "something" like that. It *is* that...

: Sure, sure, got it! Here, I'll hammer it into my brain right now!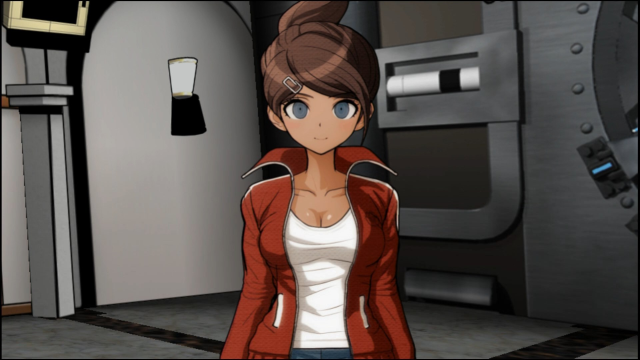 : Makoto...Naegi... Makoto...Naegi...
She just kept repeating my name and moving her finger across her palm like she was writing something...

: What are you doing?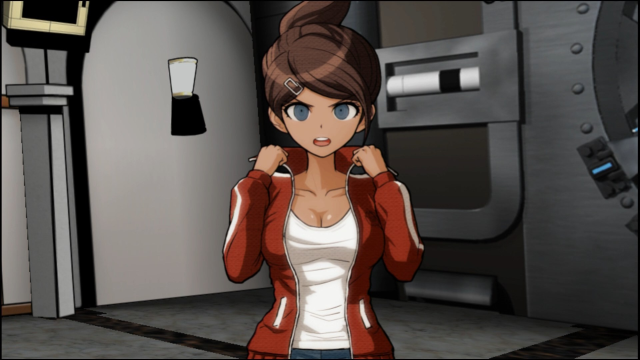 : You don't know? If you wanna remember someone's name, you gotta write it on your hand three times!

: I've never heard of that before in my life...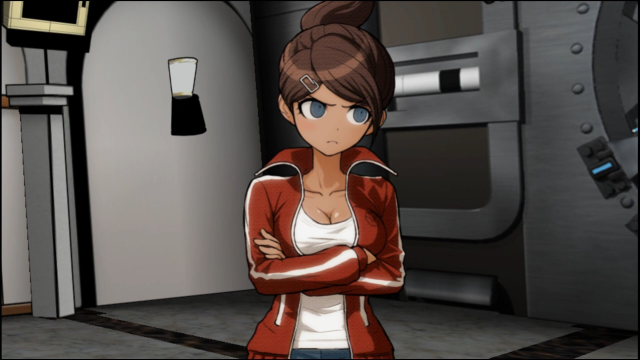 : Hey, by the way...how do you spell your last name?

: You spell it exactly like it sounds.

: Umm......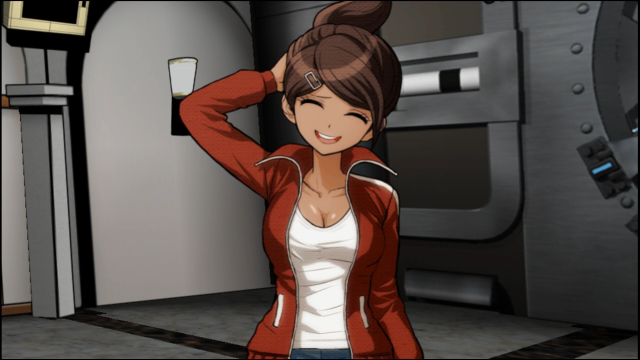 : Well, I have no idea. Hahaha! I'll just figure it out later and write it down.

: Anyway, glad to meet ya!

: S-Sure, same here...
Well, one thing I learned is she's totally easygoing and bursting with energy.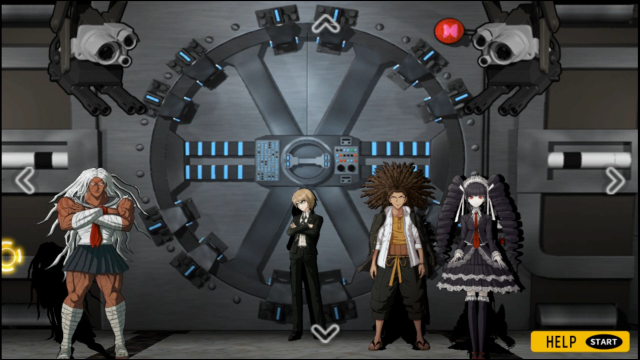 : Next time, we meet the last four students.