Part 183: Gimme Fiction

VIDEO: The Fifth-to-Last Trial Video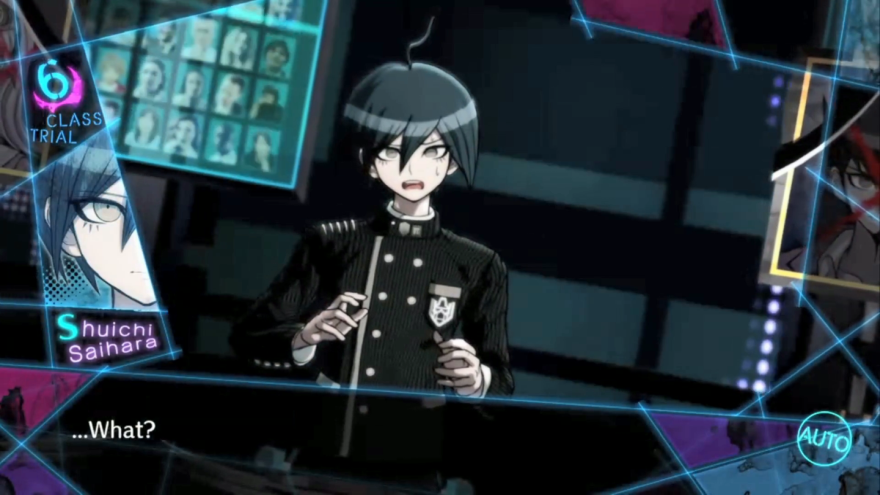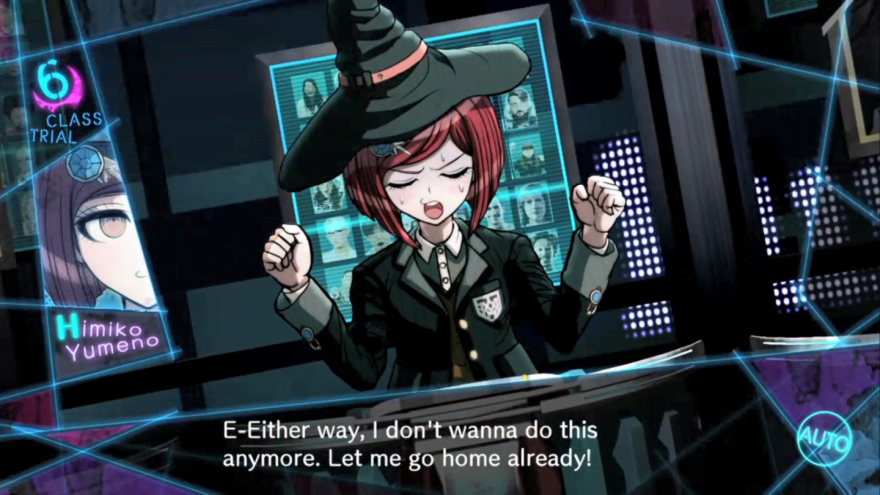 That's impossible. Didn't I tell you that you have no homes to go back to?

Wh-What!? Why not!?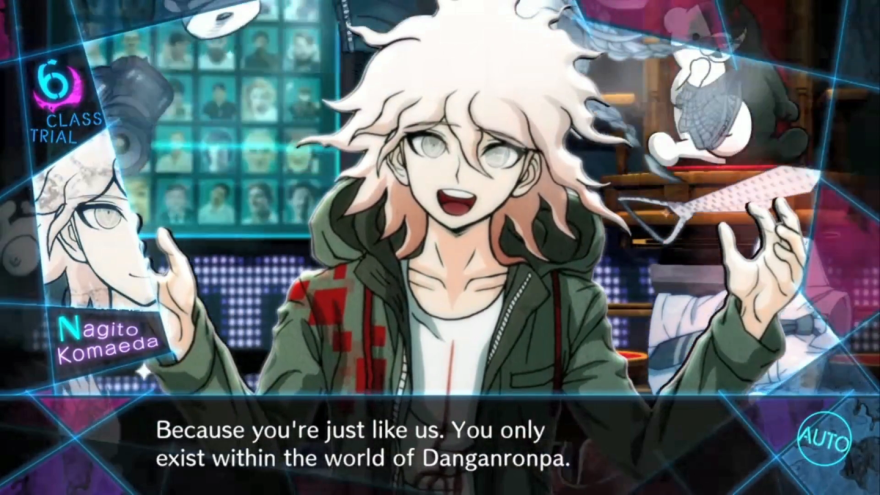 ...Just like you?

Hmph... Still don't get it? You just need to ask yourselves one question...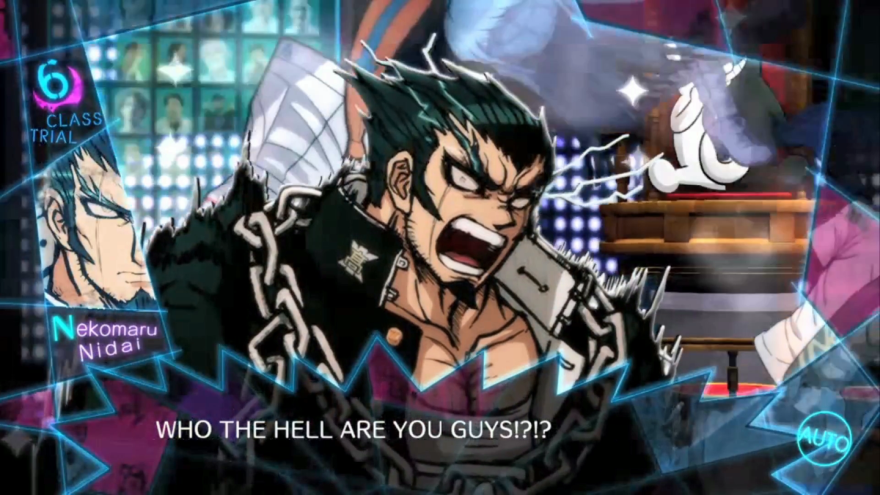 Who...are we...?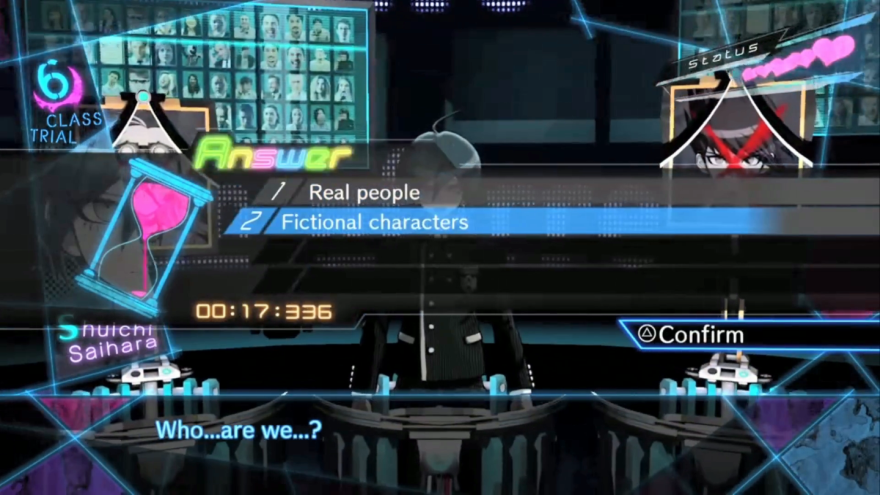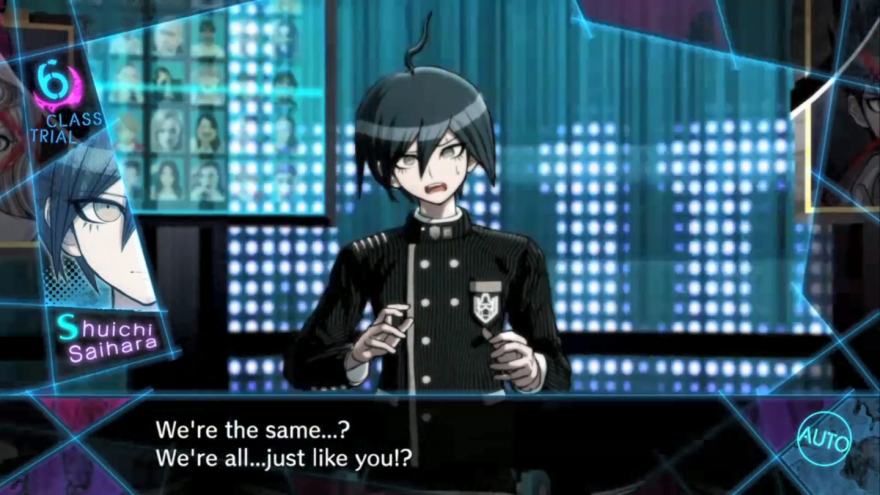 No "Got it!" reaction this time.

Yes, that's right. You're all
fictional
, too.

...Huh?

You're just fictional characters created solely for this killing game.

Nothin' we can do about it, I'm afraid. Danganronpa's that kinda property.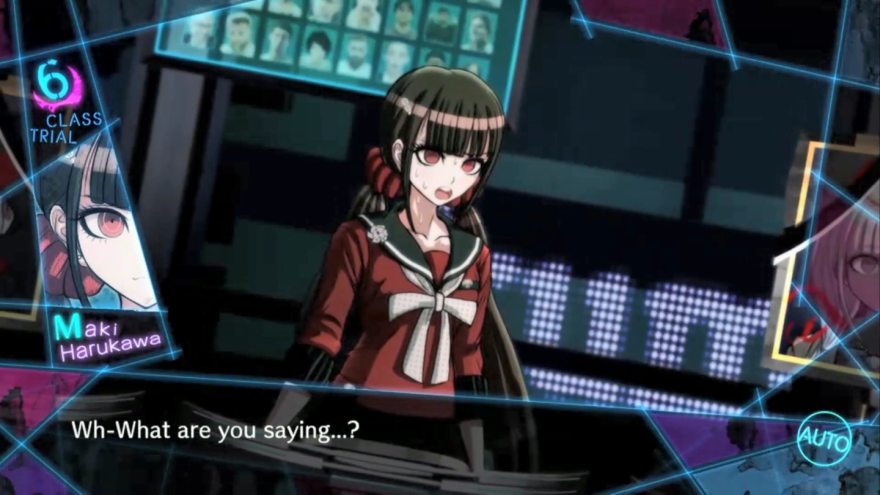 W-We are not fictional! We're living, breathing people!

Your immaterial existence is a fabrication, independent of your actual flesh and blood.

Yep, you're all fictional.

You guys out there beyond the fourth wall already knew that, right!?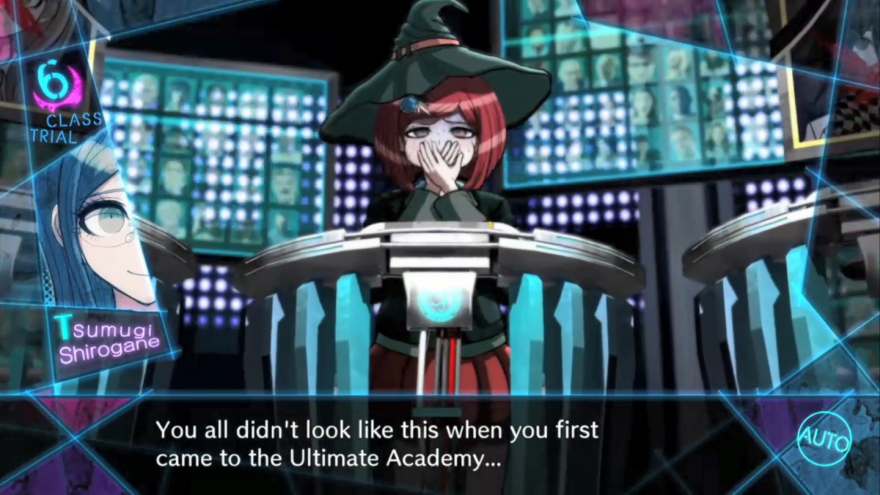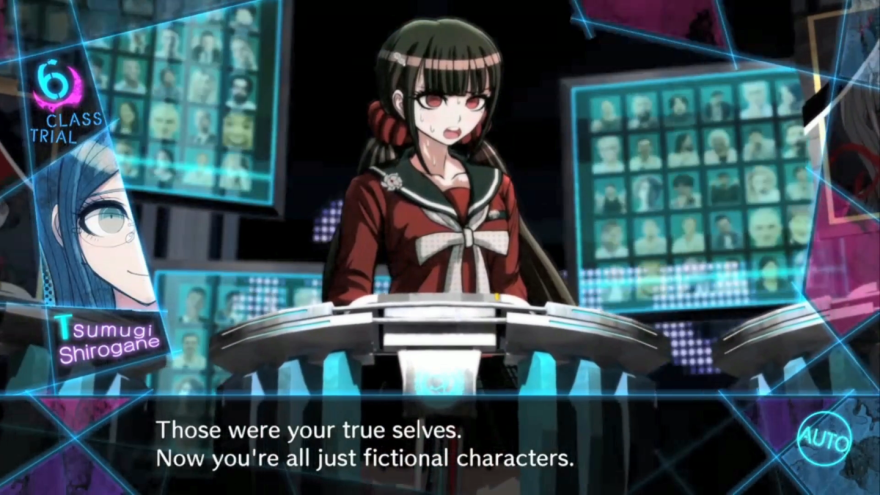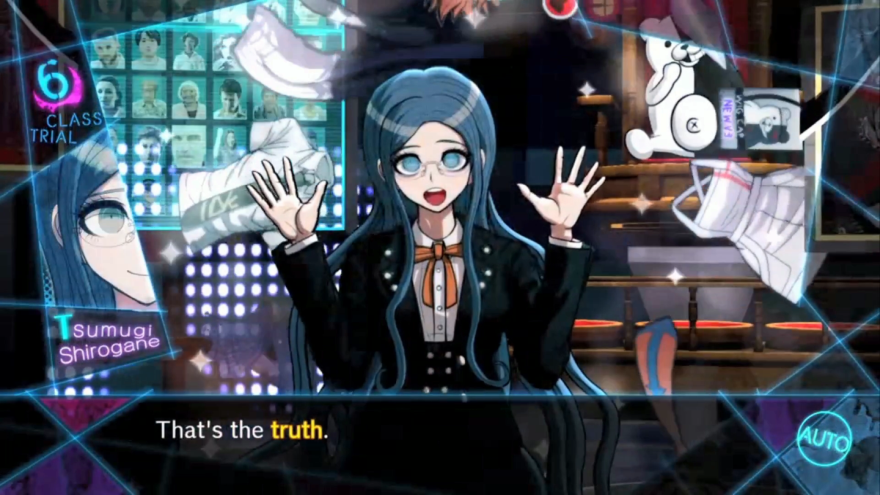 That's the truth? Then...our real identities...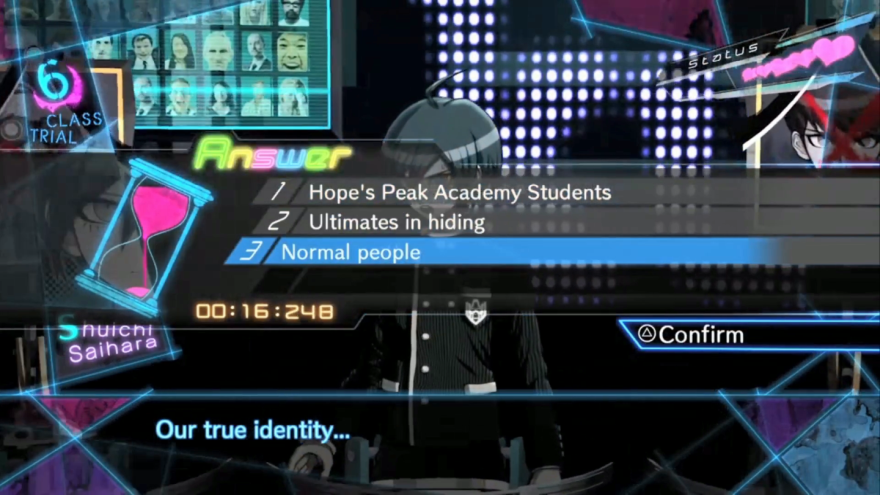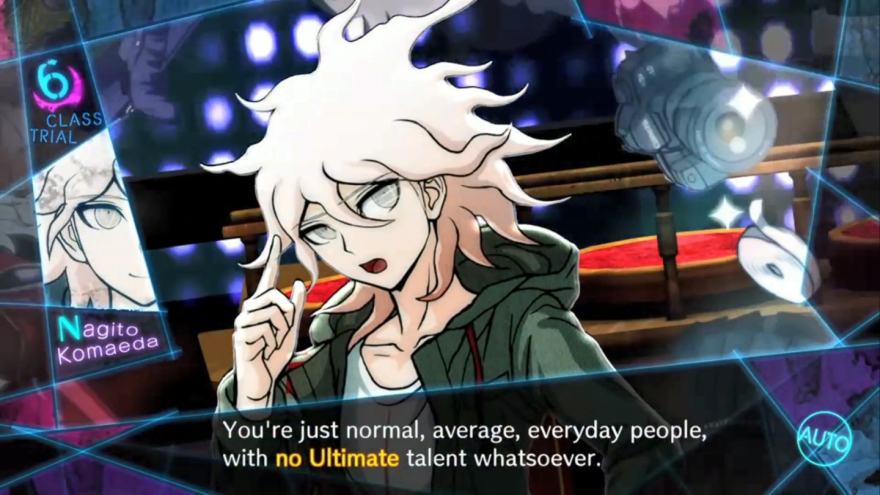 ...What?

When you guys came to this academy for the first time...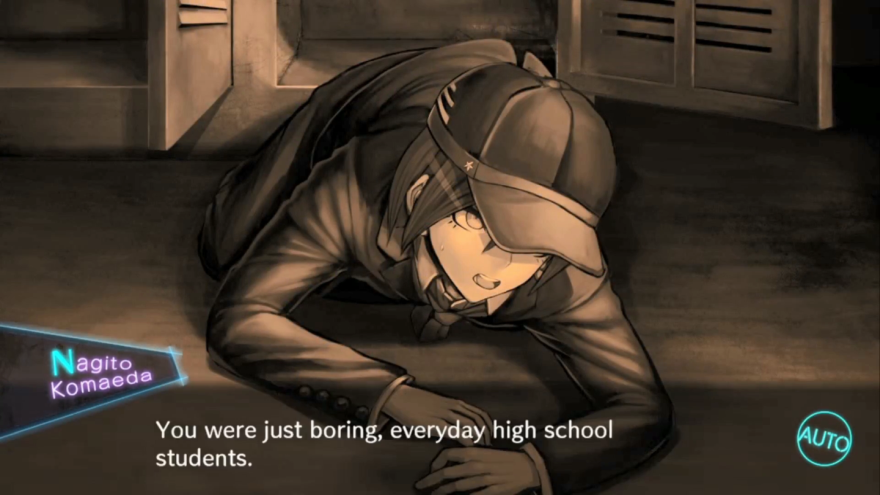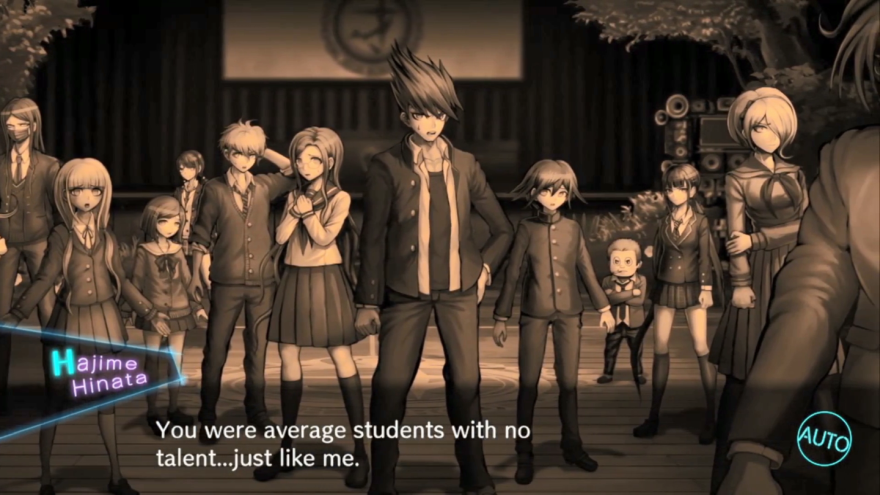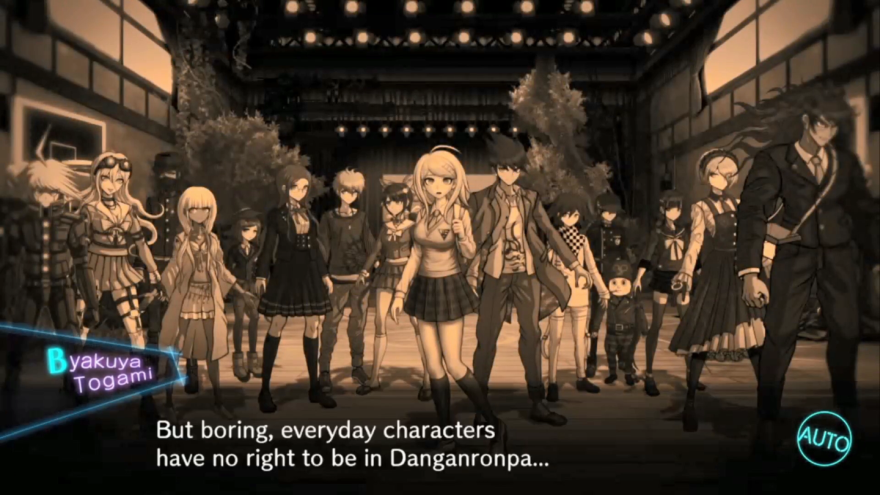 BYAKUYA: So you were all made more suitable for your new roles.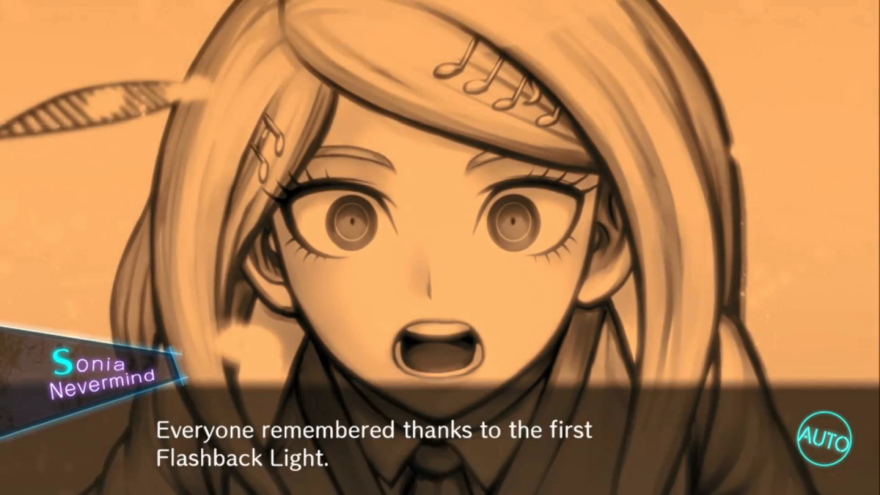 SONIA: You were all given personalities, talents, and upbringings to create your characters. Much like that delightful documentary, Making a Murderer!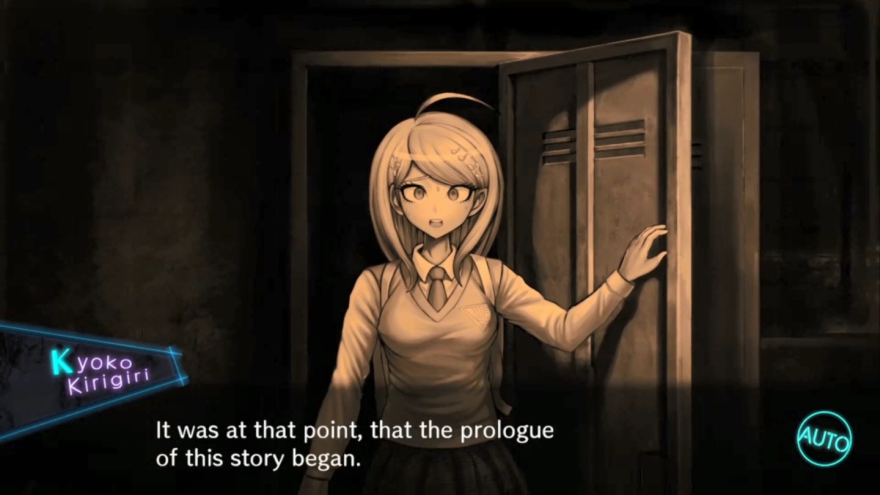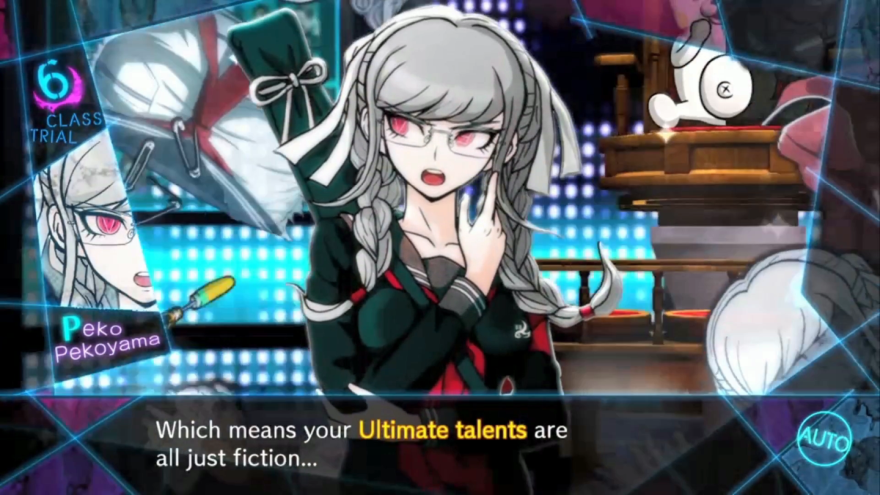 Our talents as well...?

Yep. Your talents are a bunch of lies.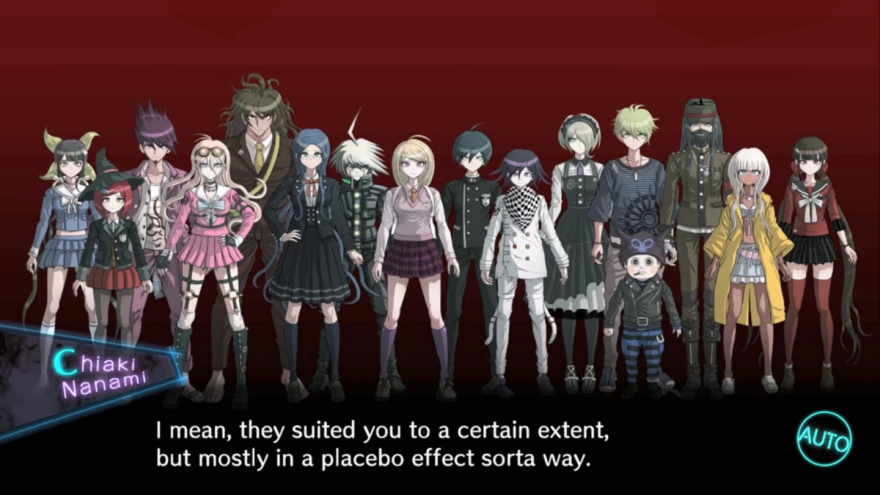 CHIAKI: Kinda like a form of autosuggestion... You know, like if you do it, it'll all work out.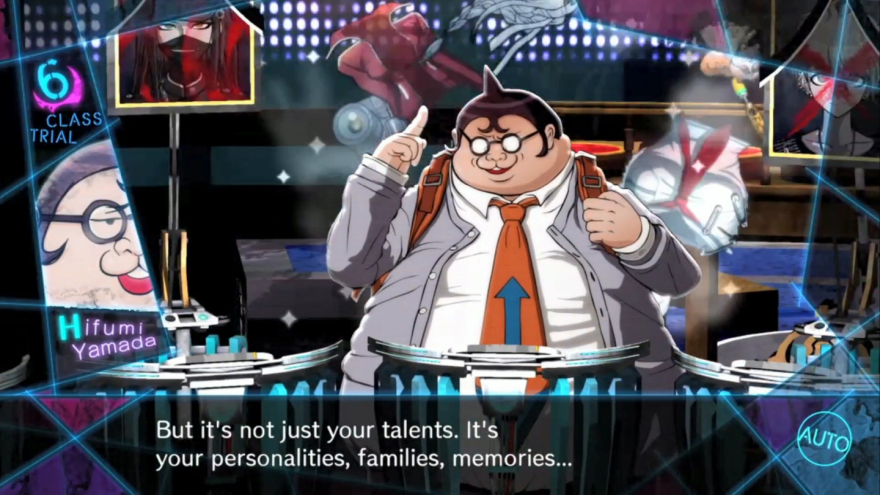 It's all fiction created by the Flashback Light.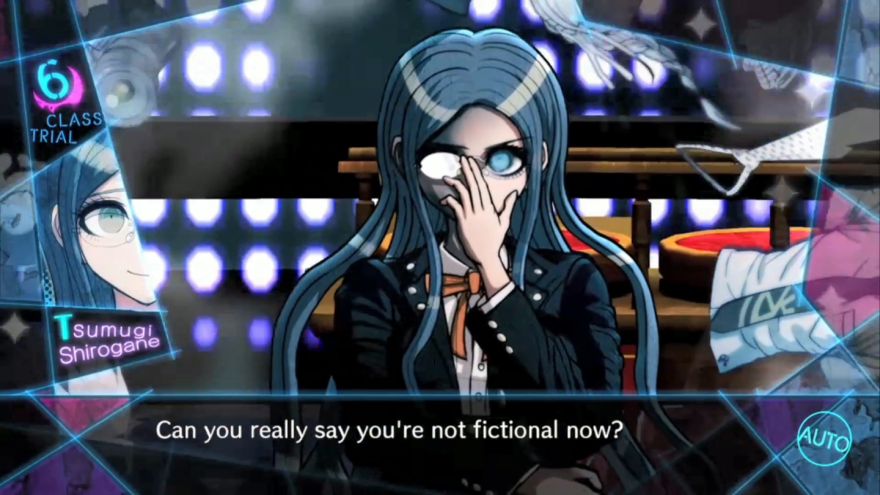 Even if your body is real, your identities, personalities, talents, and past are all fiction.

Can you really say none of this is fictional now?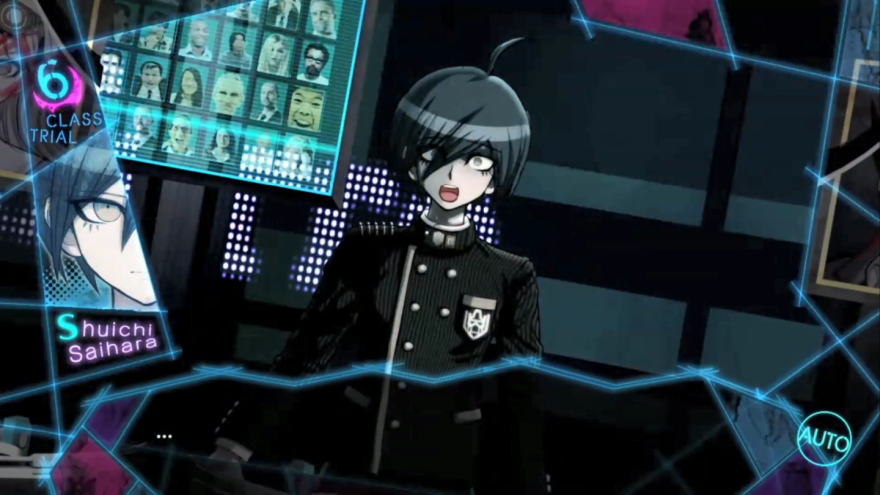 W-Wait a minute... What...are you babbling about?

Our identities, personalities, talents, and past are all fictional? That's stupid!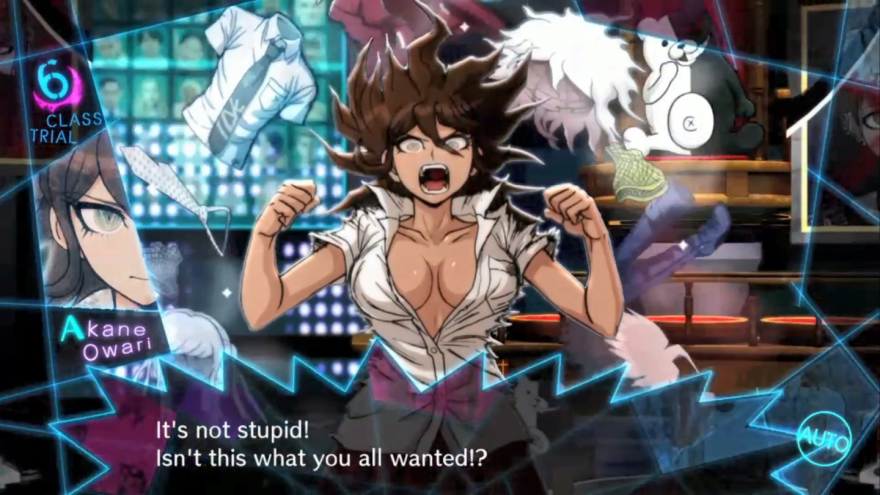 ...We wanted this?

Yeah, you wouldn't remember, but you guys were all from the outside world.

It's not strange at all that you'd want to be a part of the show you love.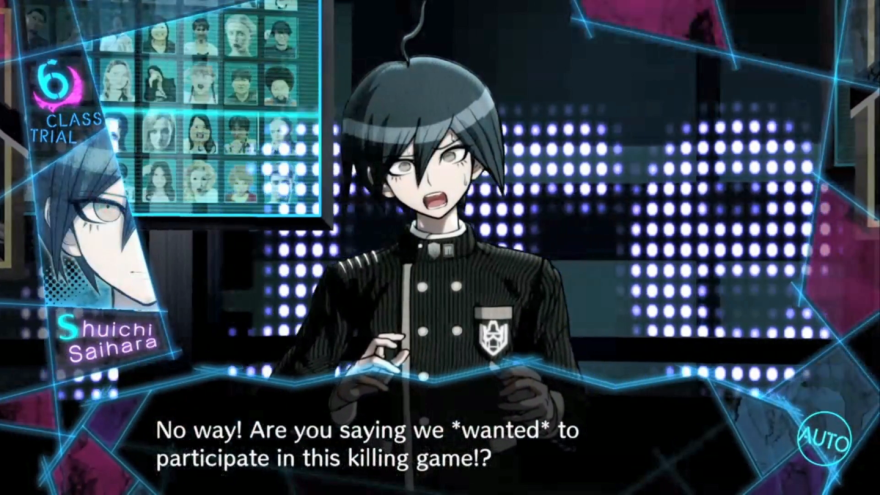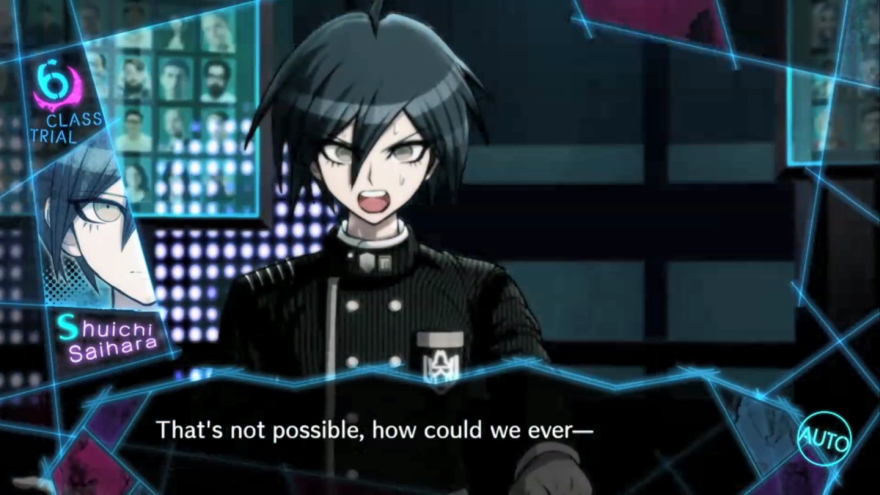 Please, everyone! Take a look at this!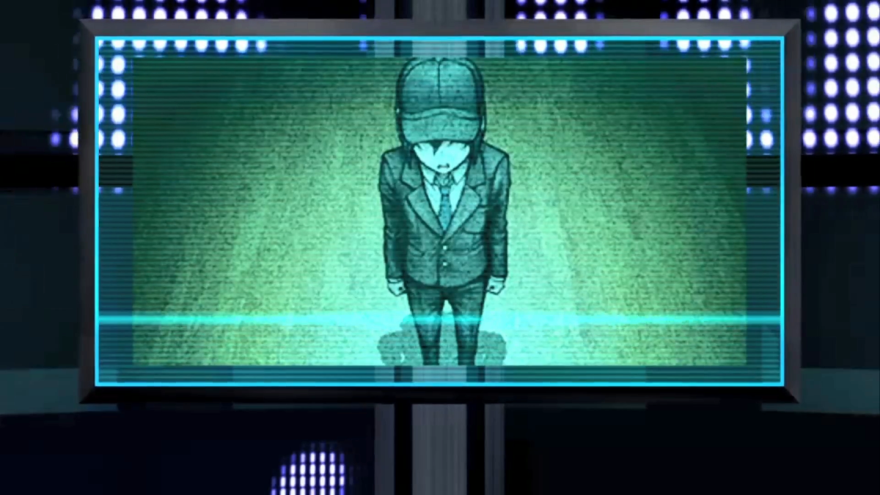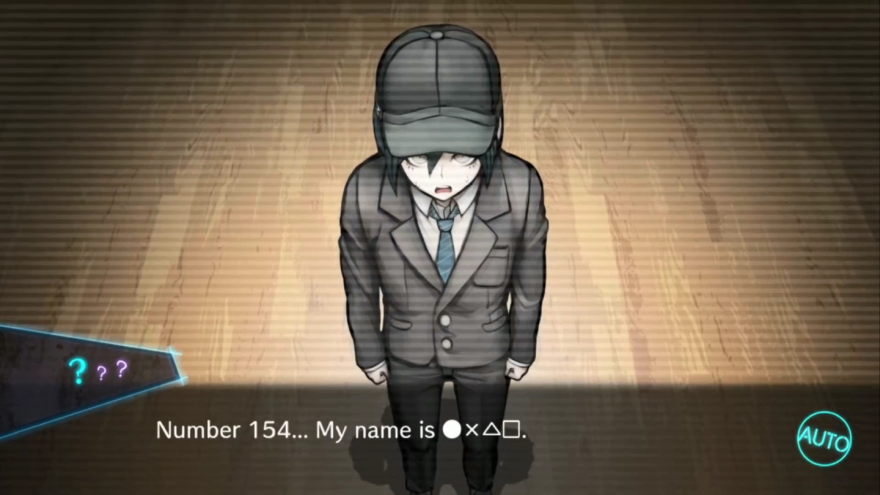 I've always been such a huge fan of Danganronpa and...always wanted to be in one... If I were a contestant, I would want to be...an Ultimate Detective. I know there've been a few in the past, and I've always loved those characters... So I would want to be one of them. Ah, but, I don't *have* to be a detective. I'll be anything to be part of the show. And I mean that, anything. I'd do...anything to be a part of Danganronpa.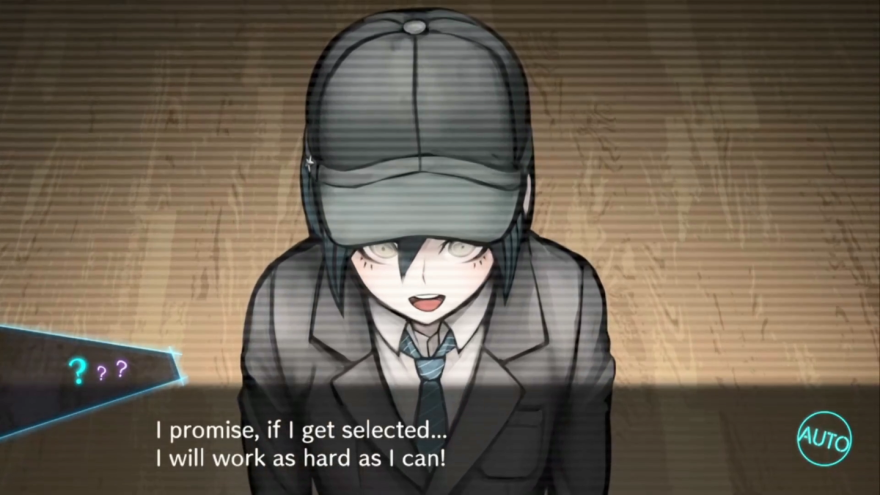 I will come up with the best, most gruesome murders, I promise! Everyone will love it! And an Ultimate Detective hasn't been the blackened yet, so I'm sure I can do that! I'm also thinking about...the perfect punishment for an Ultimate Detective...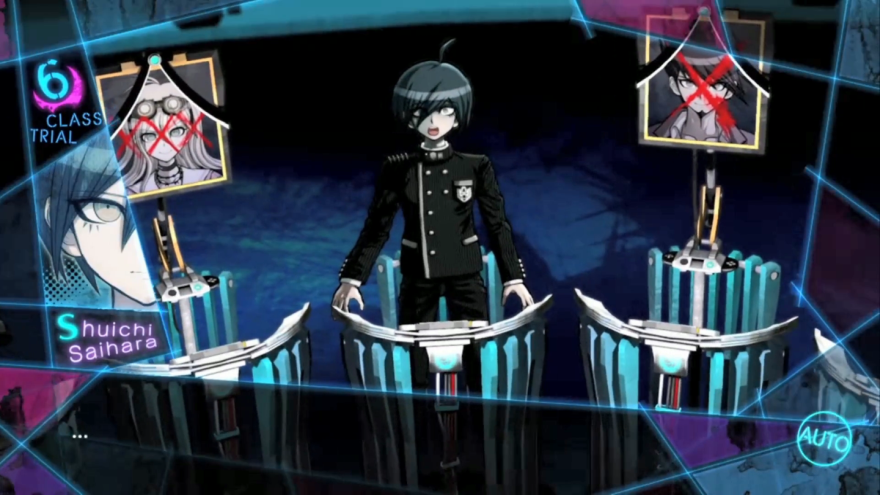 Wh-What...was that...?

Wasn't that you, Shuichi?

N-No...it can't be! I'd never say something like—

...What?

When we saw your audition tape, we had a flash of inspiration.

The weakest Ultimate Detective ever... Wouldn't it be great to see him grow?

And that's why we made your character and had you join the gang.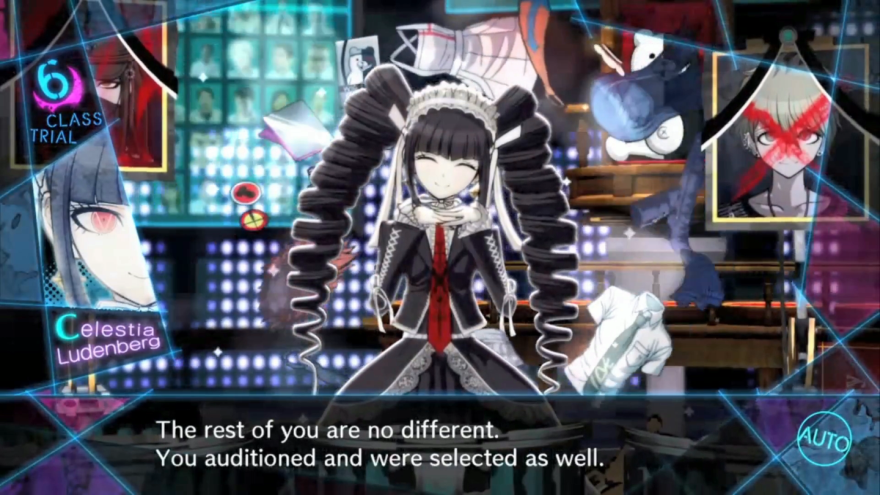 Auditioned...?

Y-Yeah... You were all s-so excited when you w-were selected...

I believe it was...right after you all received your
Ultimate Wardrobe
.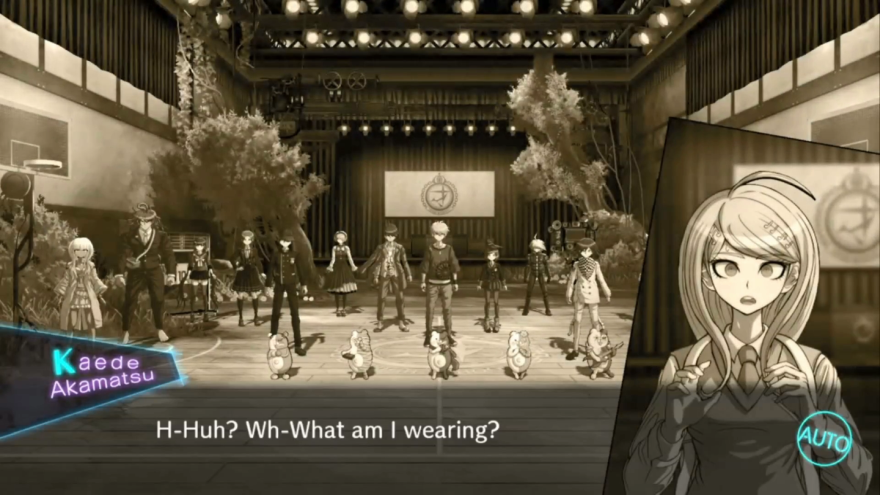 Mm-hm! Looking good! Now you look more like Ultimates.

Ultimates...? Really?

Next up, the memory youse all been waiting for.

Hell yeah! Get ready! Once the seal is broken, we'll be in the domain of the killing game!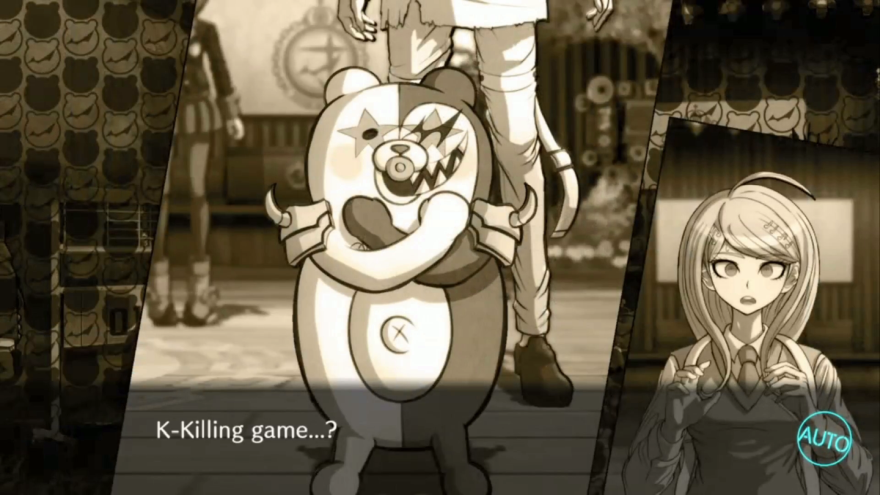 You mean...we were selected!?

We got picked!? Really!? Alright!

Wh-Whoa, really!? I'm selected for it, too!?
Dammit, I forgot to put this part in the first update. Oh well.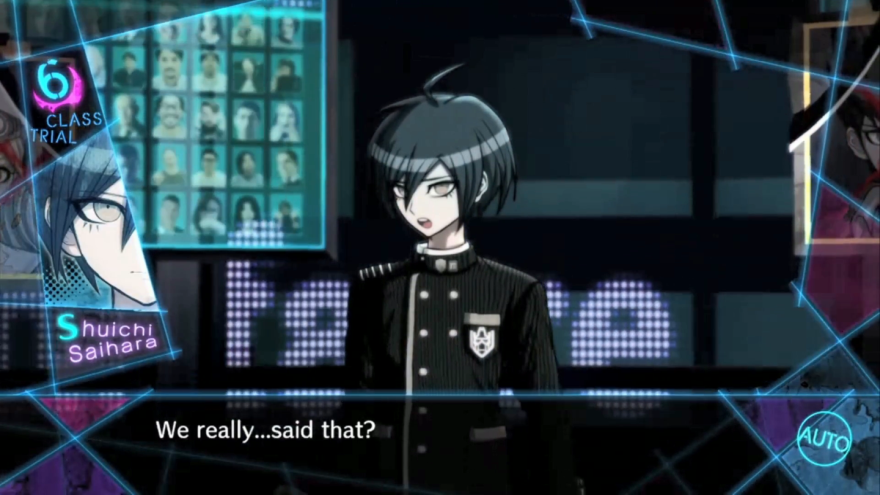 That's a lie! I have no memory of that!

You just forgot is all. Cuz of the Flashback Light we used on you.

The people you used to be are gone. You're fictional characters now.

Do you finally understand?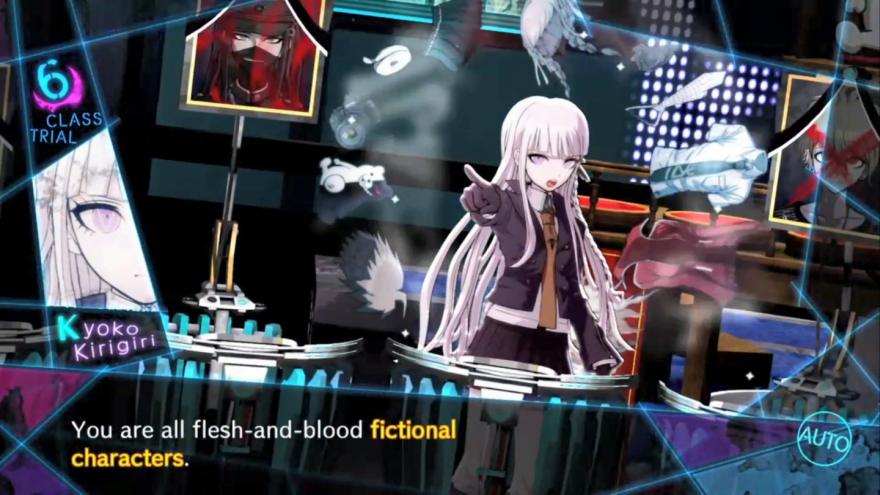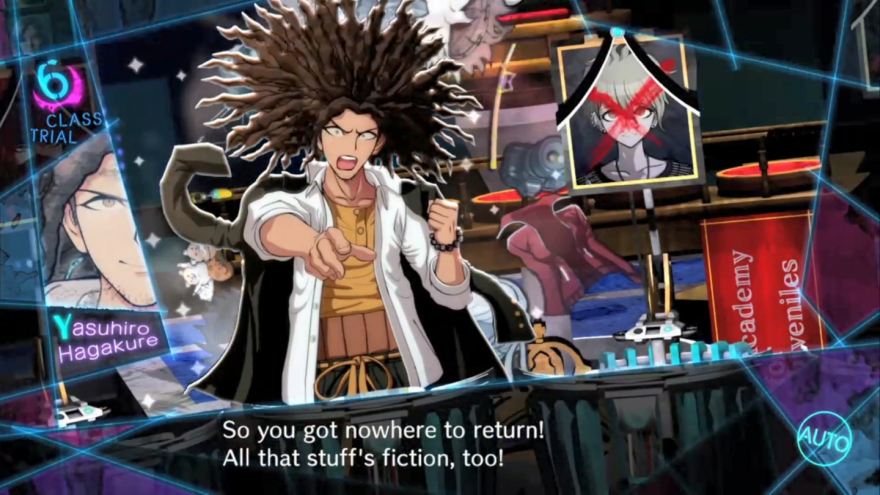 Th-Then...my friends and family... My whole life before coming here...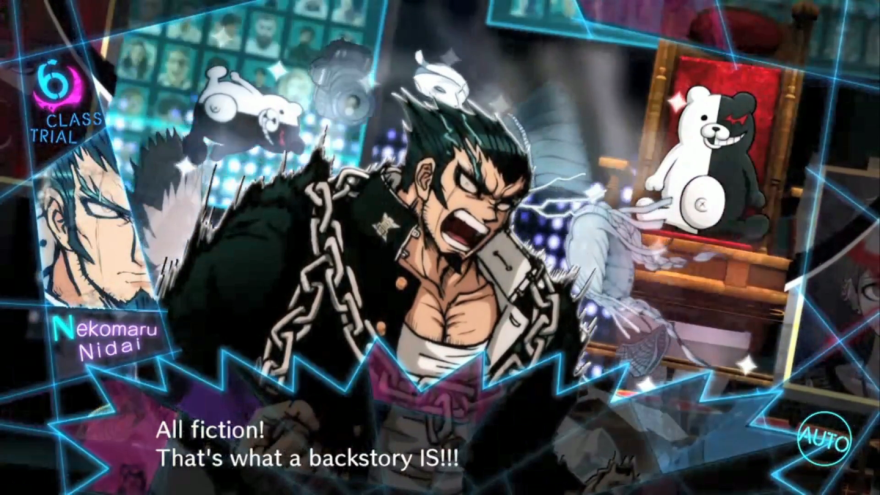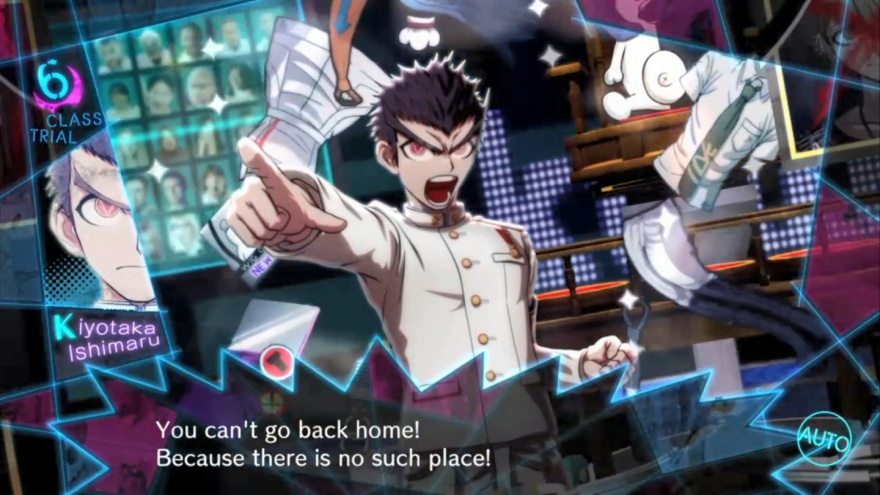 Just like how there's no Togami Corporation in the real world.

The only place we fictional characters can live, is in this fictional world.

Only in this world.
Only in Danganronpa.

Only...in this world?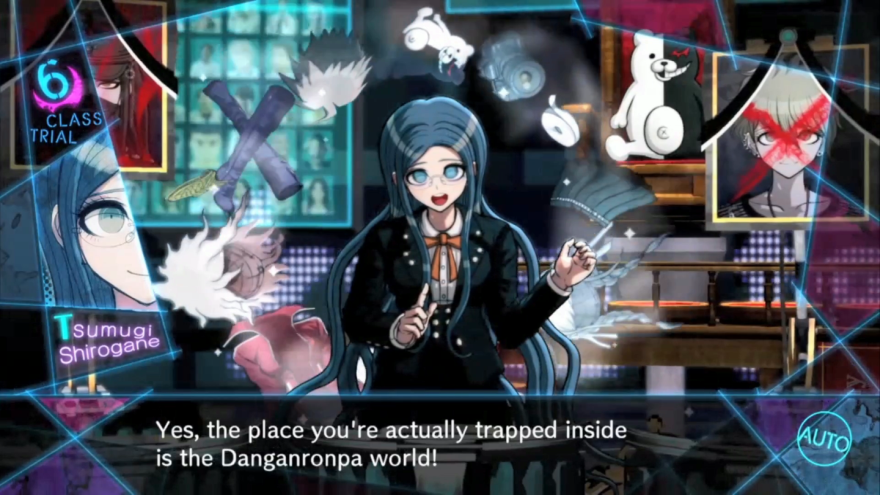 That's why you guys can't leave this place.

That's why your only option is to continue the killing game here.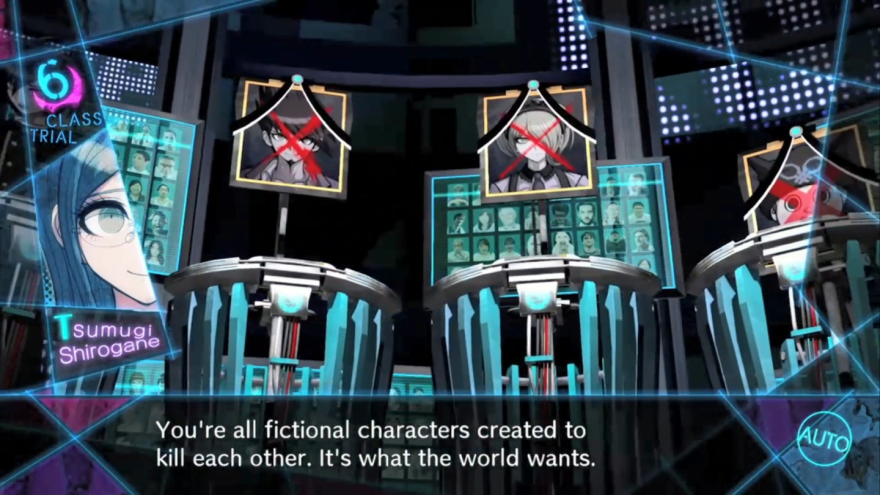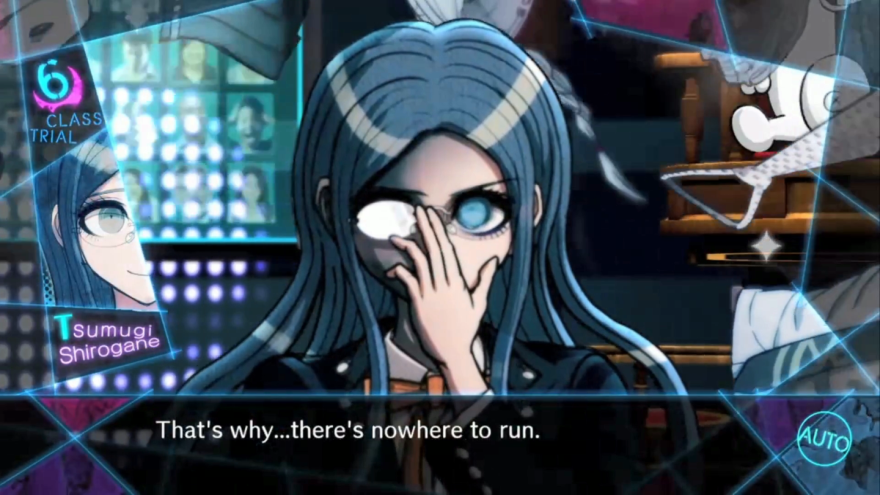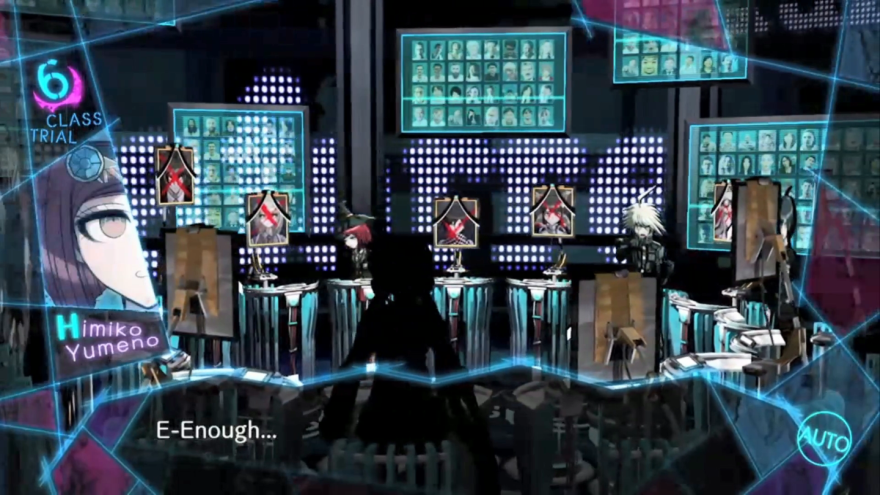 I don't want to know anything else! I've had enough!

Ah! That reaction...!

Could it be...you fell into despair?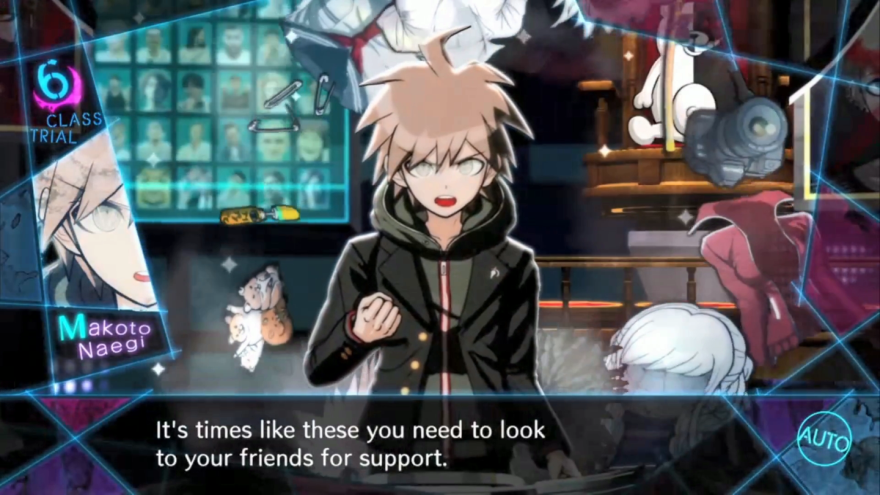 However, all your friends are fictional, too.

Nyeh?

For example...even Kaito's illness was given to him as part of his character.

...What?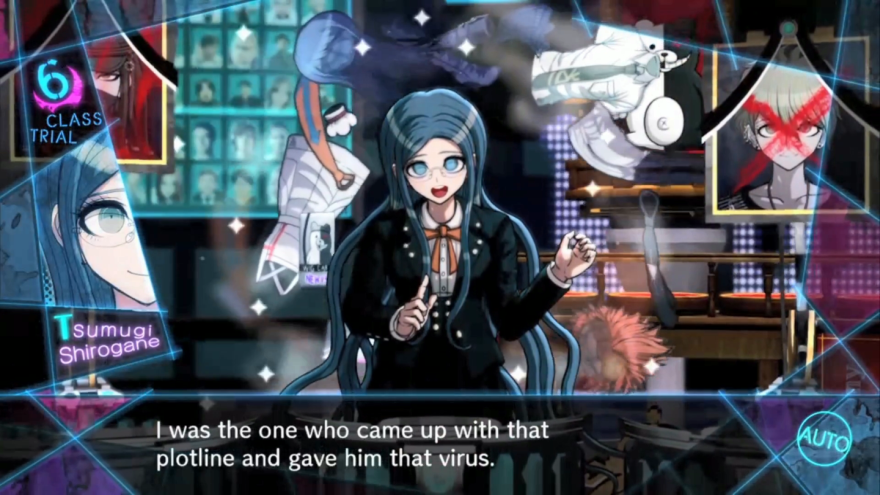 I was also the one who came up with the plotline where you fell for Kaito.

Wh-What...are you saying?

Then, what about Tenko!? Was she always defending me because——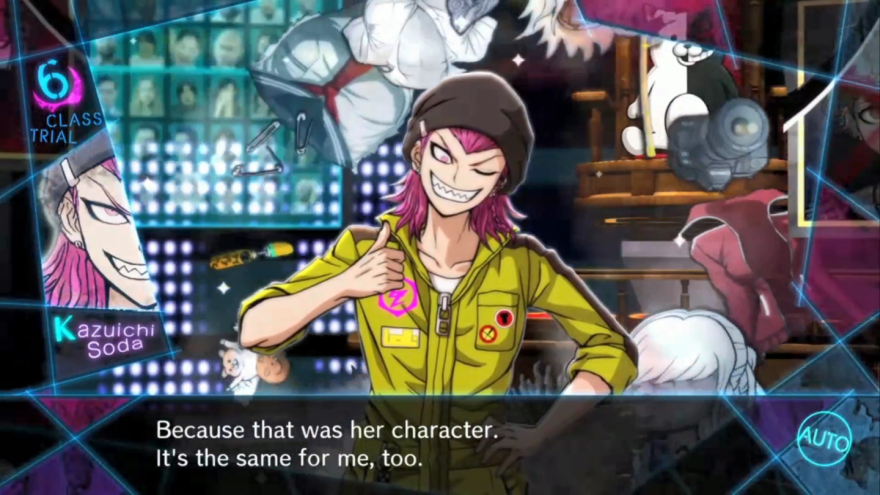 A character created to bring excitement to the killing game, much like myself.

So the killing game swelled with excitement. Even my pants started to swell, too.

Y-You're telling us...this is all a lie? Even...my feelings...?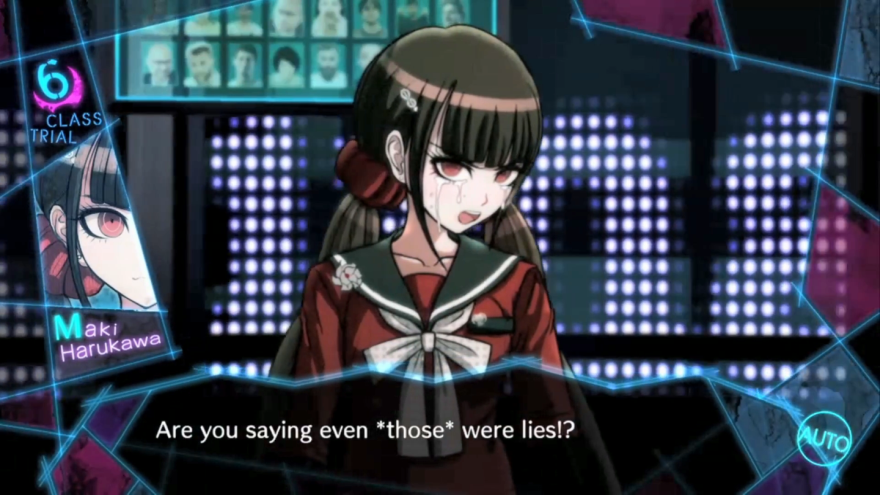 Well, if you're going to call fiction a lie...then yes.

Everything in this world has a writing credit. All our words and actions...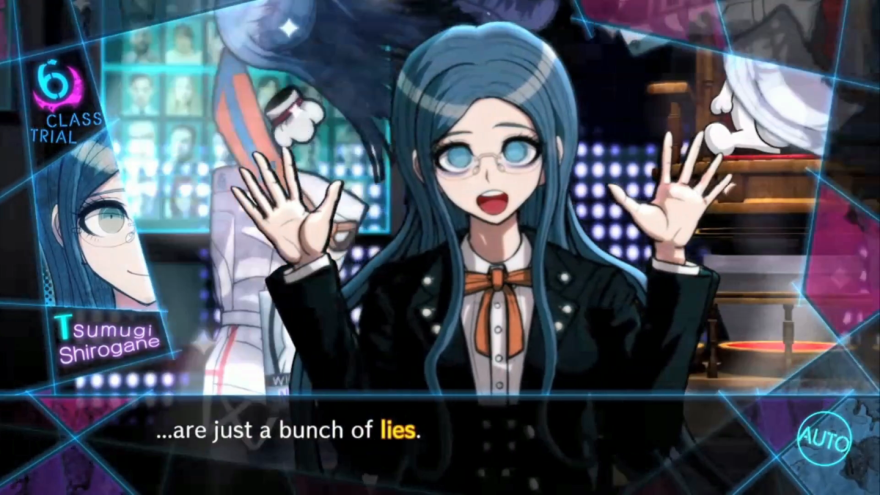 For example...an unbreakable vow of brotherhood is just a simple plotline.

You said it, bro! However, that was a splendid plotline!

Even that thing Kaede said that moved Shuichi's heart...

...What?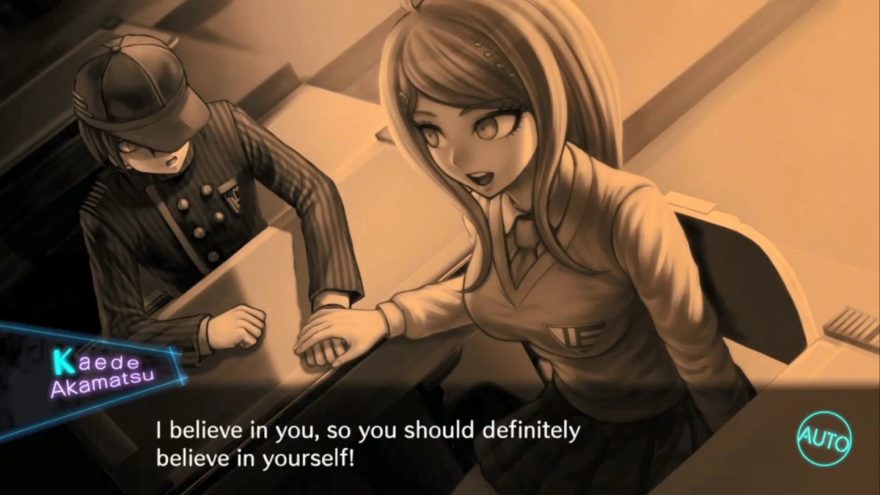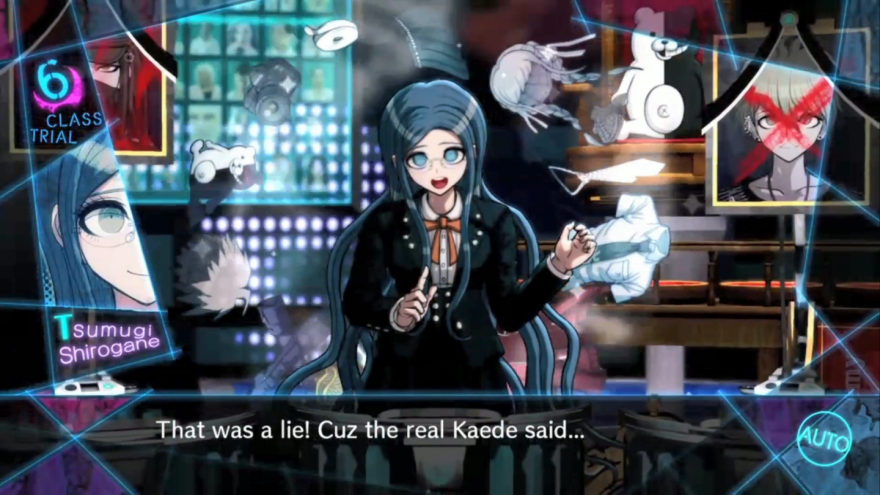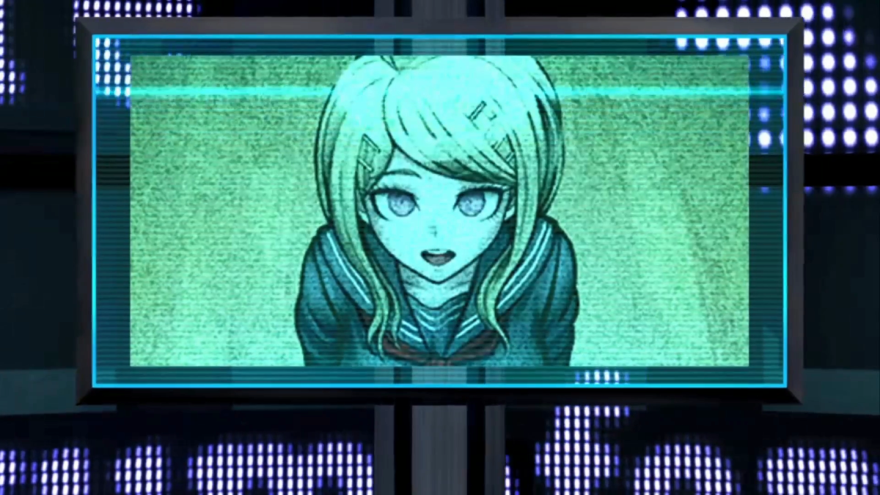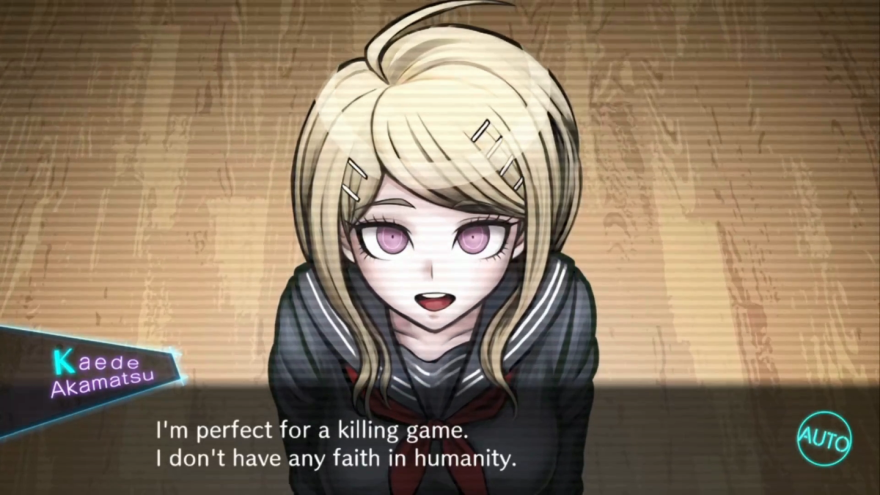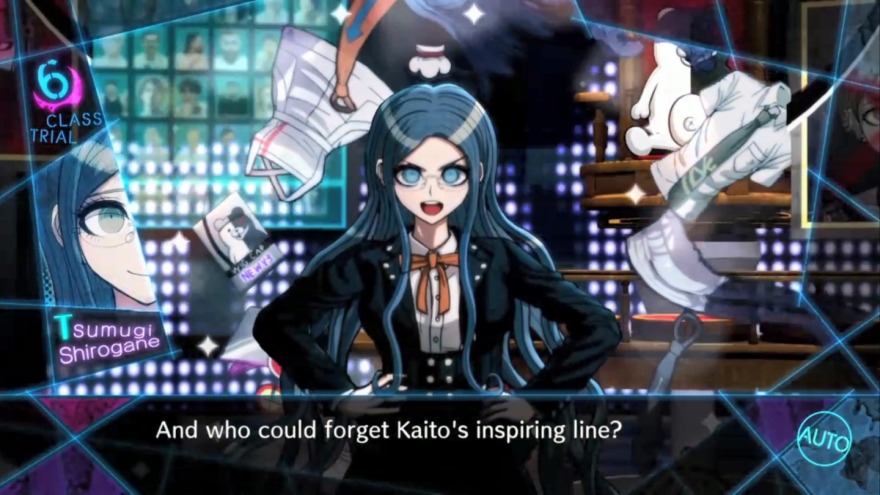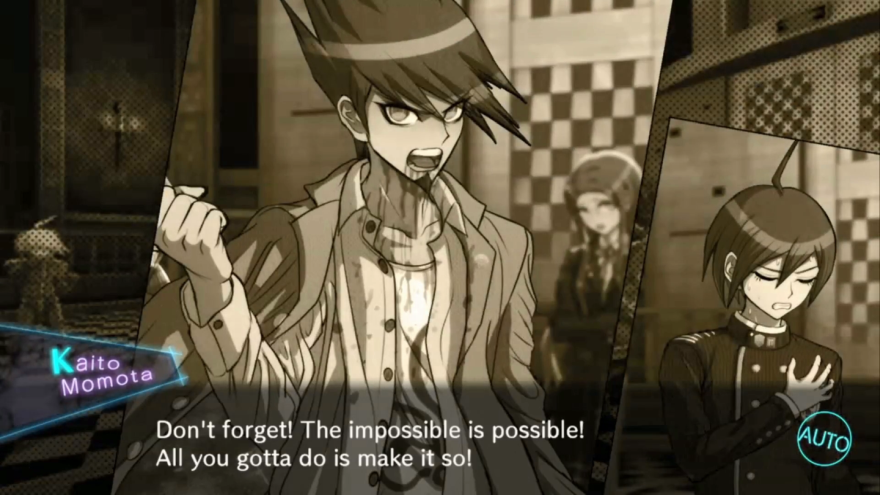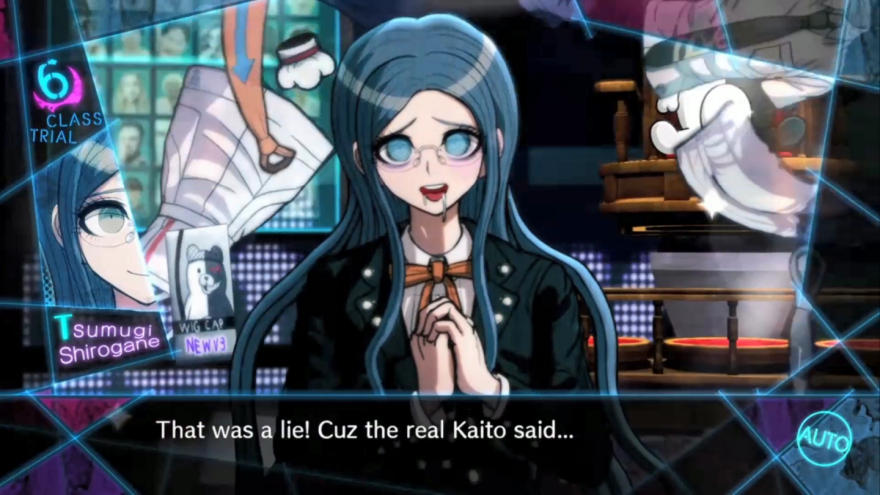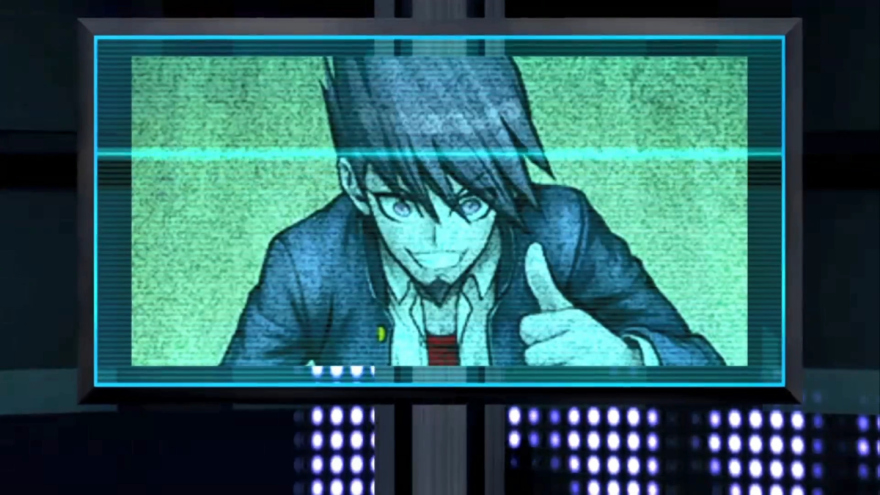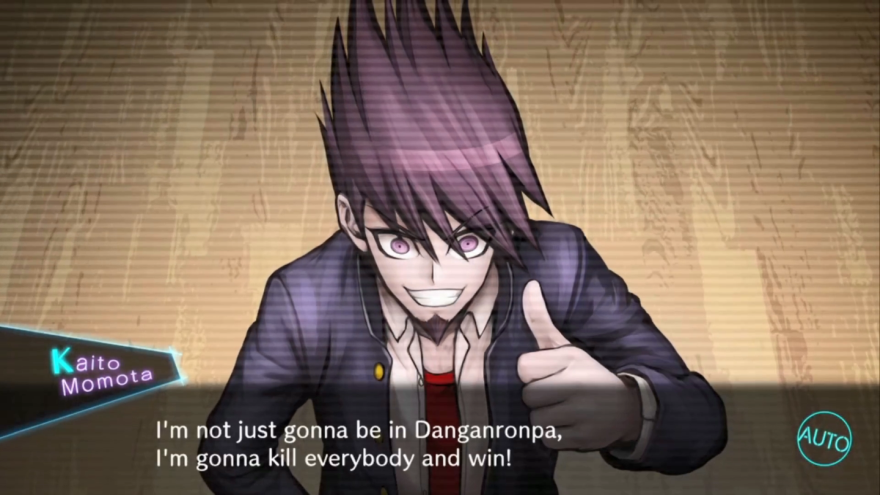 Once I've got fame and fortune, I don't gotta worry about what's impossible.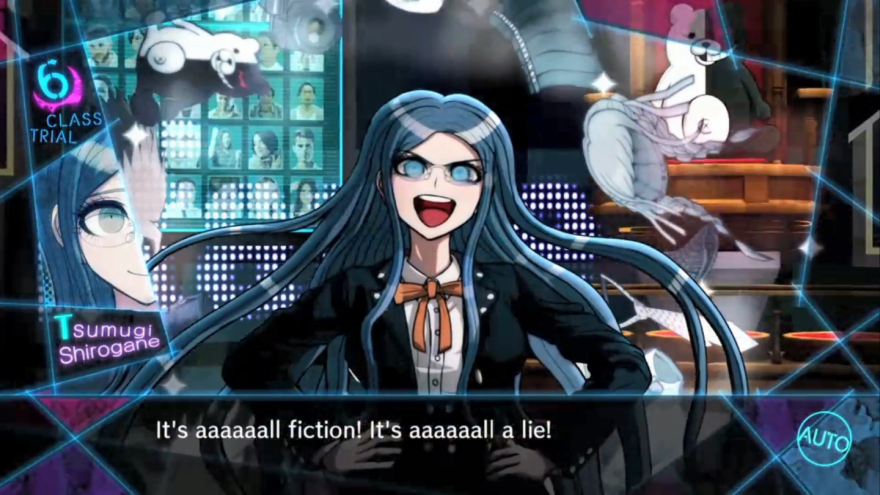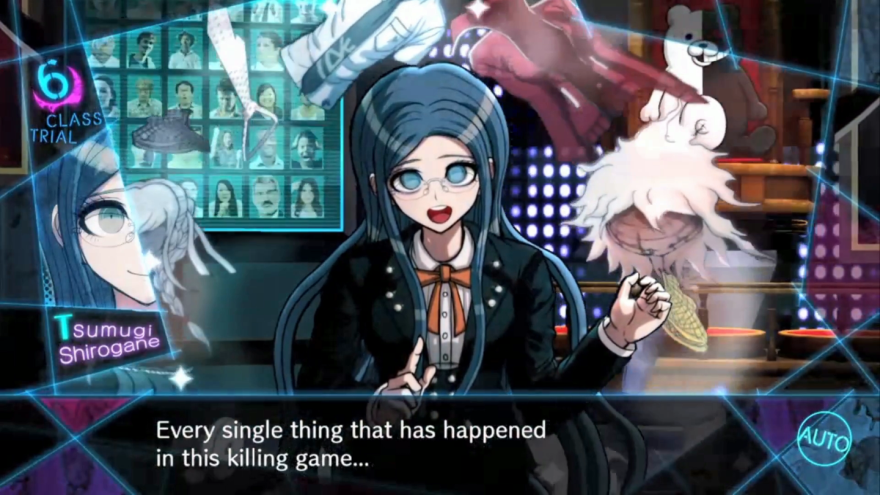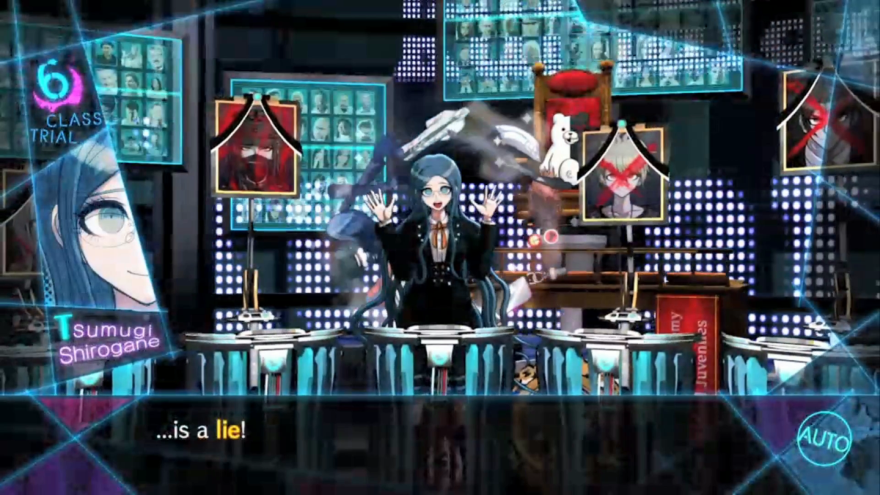 It's all...a lie?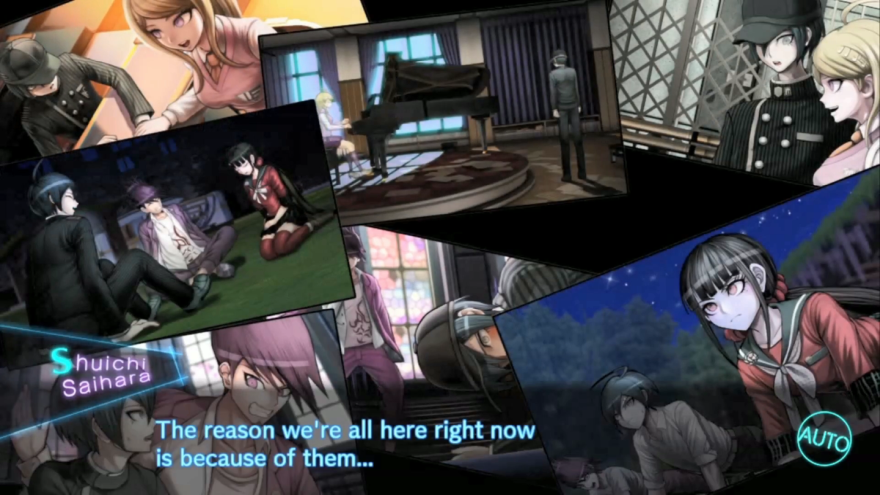 Because of them... I was able to change. That's why I Was trying to live for them, too... I was trying so hard to stay positive... But...if even that's a lie...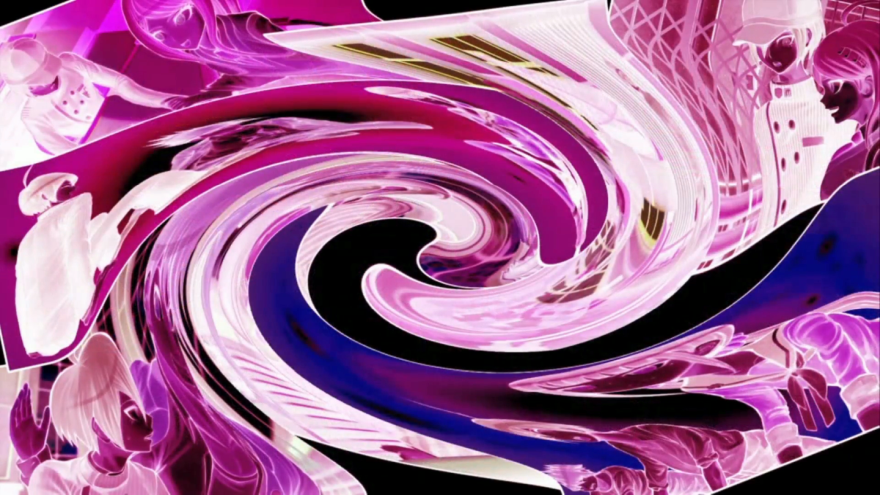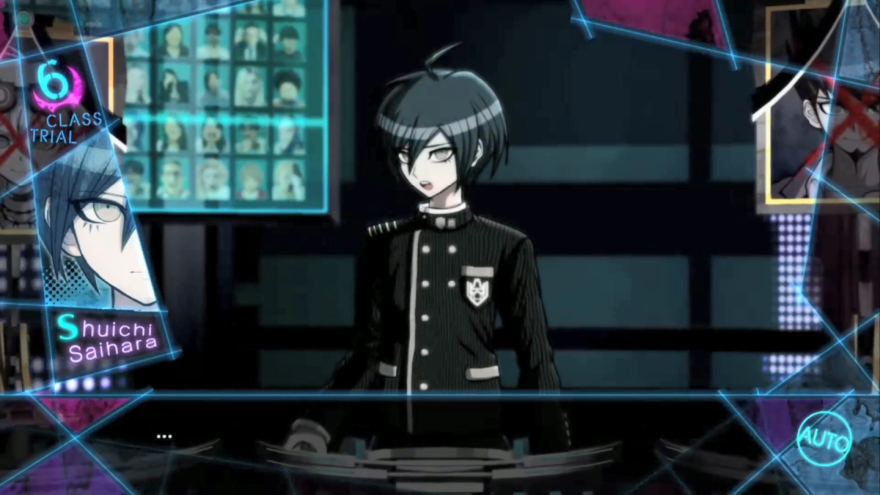 Why...am I here? Why did I even survive this long?

This is fiction. There is no greater meaning.

No greater meaning to death. No greater meaning to life.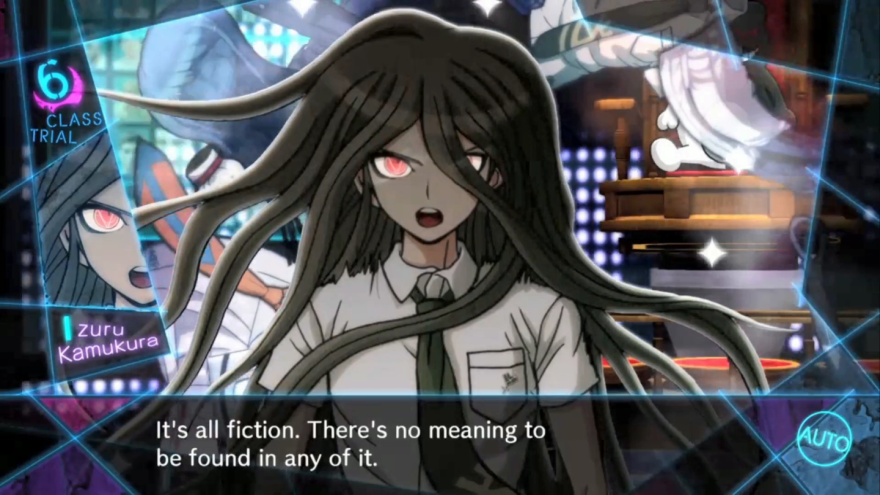 Bleh! It's so gross I could just barf!

Well, I guess it makes sense you wouldn't believe all this stuff.

How 'bout that? You in despair yet?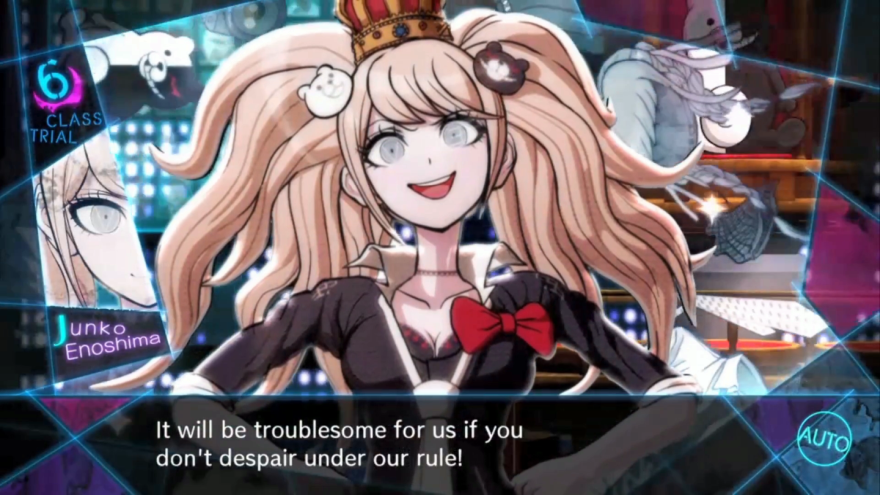 What?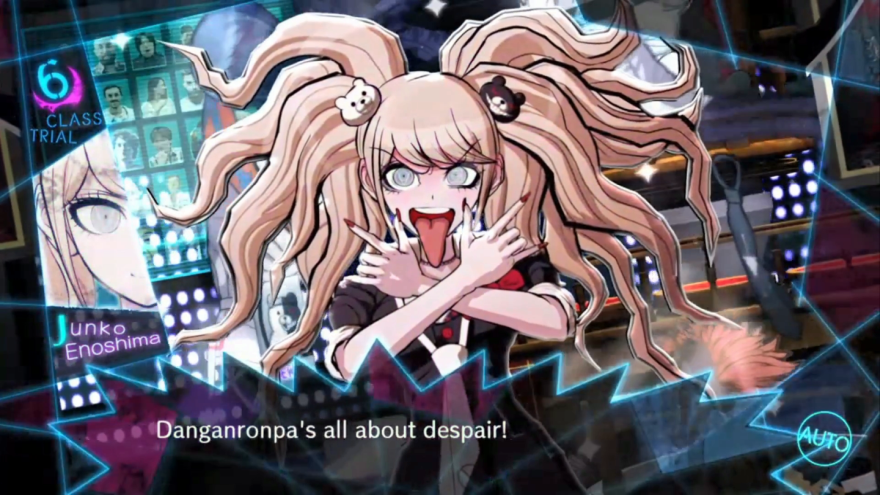 The reason this killing game's so popular... Why it's gone on for 53 seasons...

That reason is despair. Viewers flock to see your despair.

That's why all those people out there look sooo happy! See!?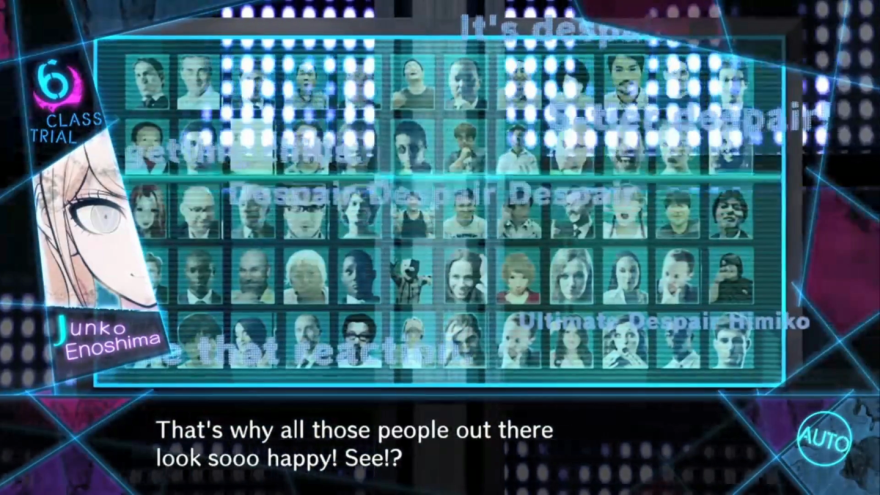 What...is this?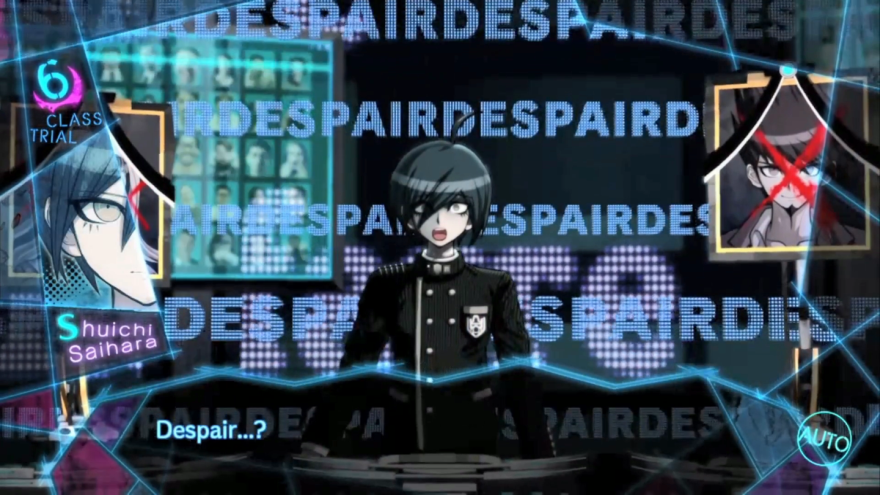 Is this...despair?

Is this what the outside world wants? Is this what they want from us?

...

...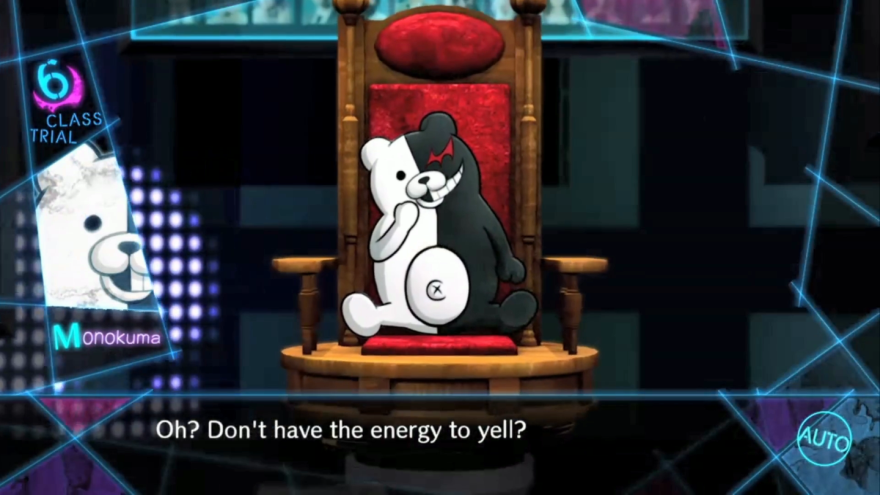 Well, yelling for help is useless for fictional characters anyway.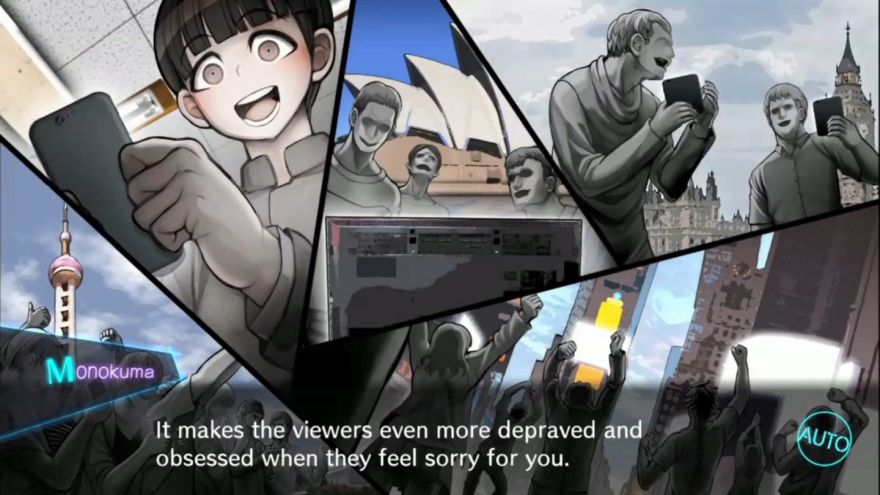 MONOKUMA: They watch, knowing that they shouldn't, just to revel in the depravity of it all. That depravity is the appeal of death games. It's the appeal of this very killing game... It's the appeal of Danganronpa itself.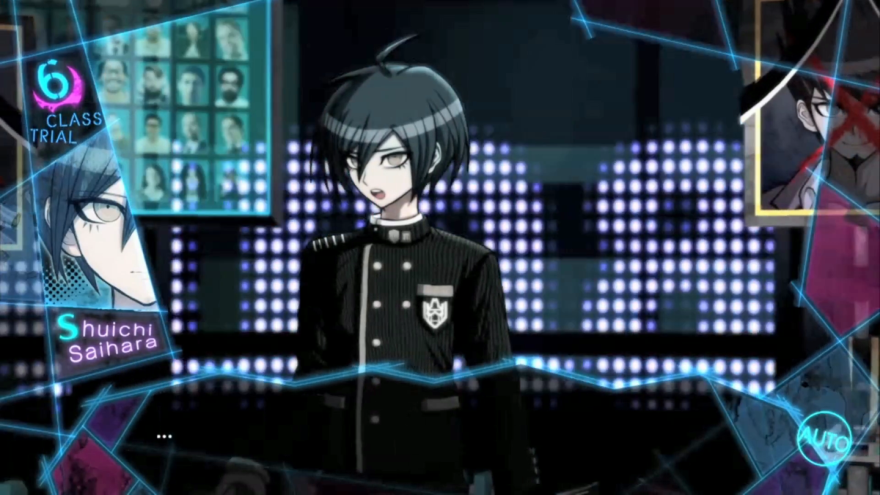 So what are we supposed to do?

Huh? What was that?

What...are we...supposed to do? What's gonna happen to us?

Hm? What're you guys talkin' about?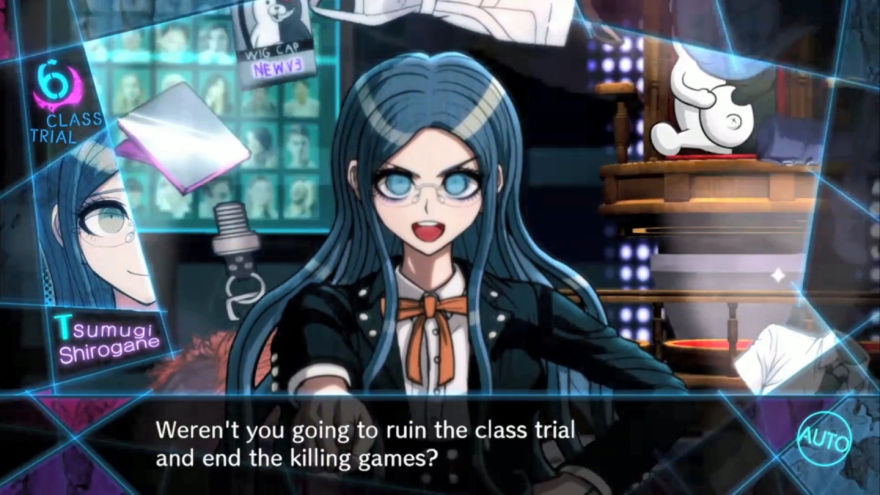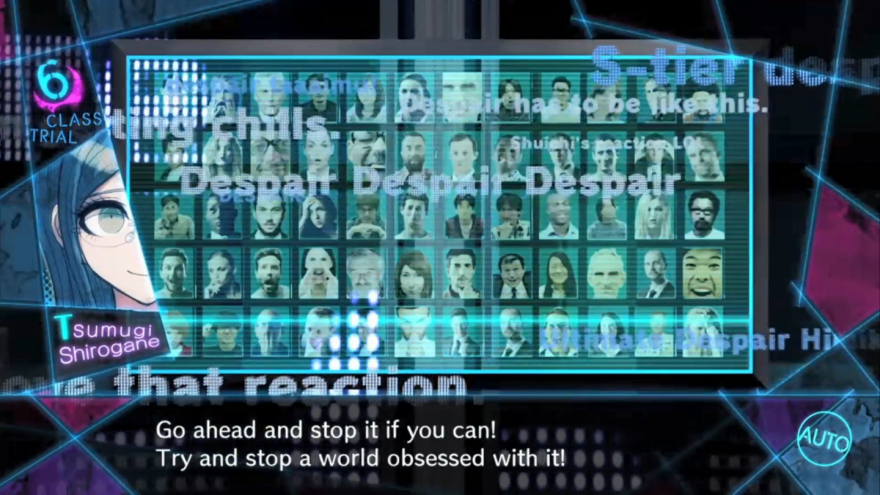 Th-There's no way to stop it... It's...impossible...

Oh? Are you giving up already?

It's all a lie...isn't it? Me... Everyone here... Everyone who died...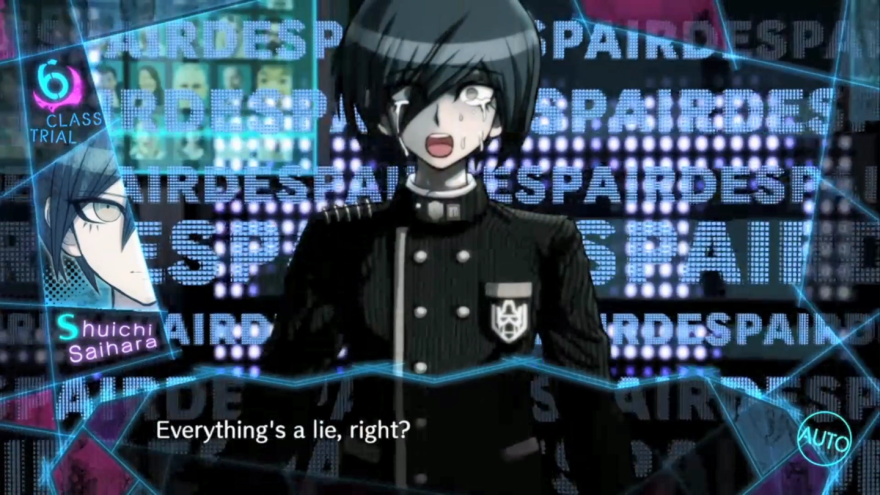 I can't fight...for a lie, can I?

Ohhhh? What's the matter? Are you in despair?

No matter how much you grow, Shuichi, you're still weak after all...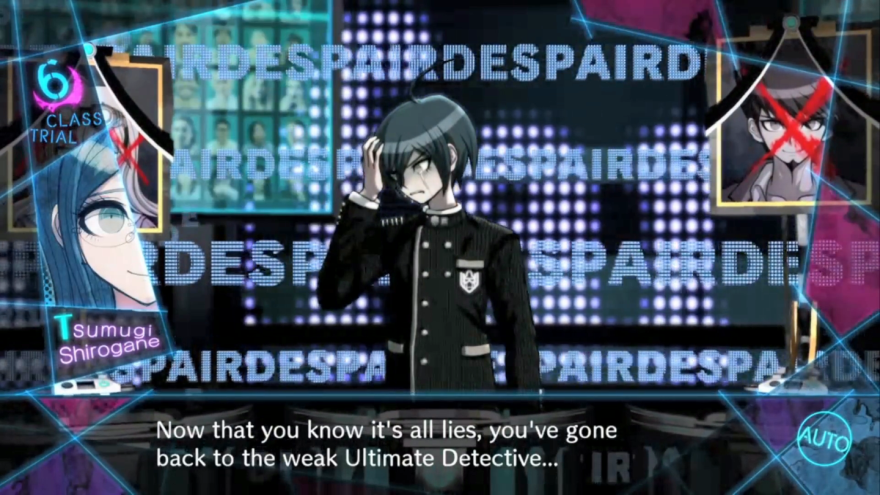 ...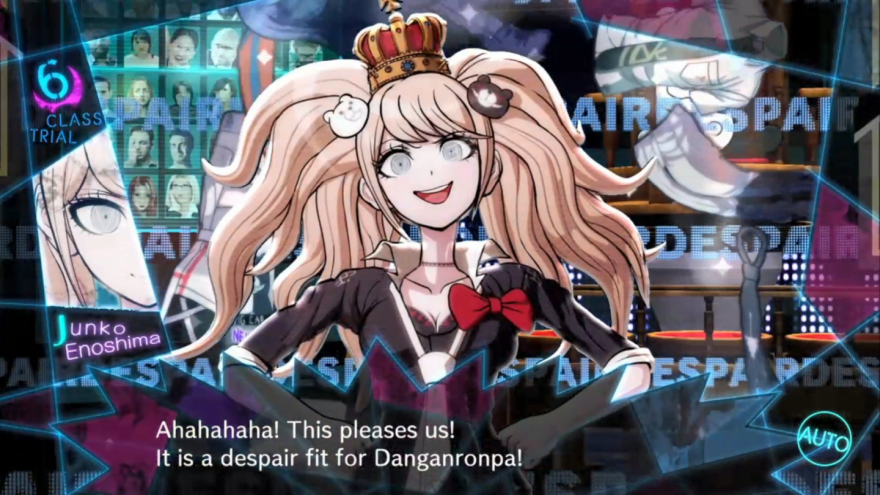 ...

Well, that was surprisingly disappointing... But I guess it's okay! We're still on script!

Everything's a lie... Everything's meaningless...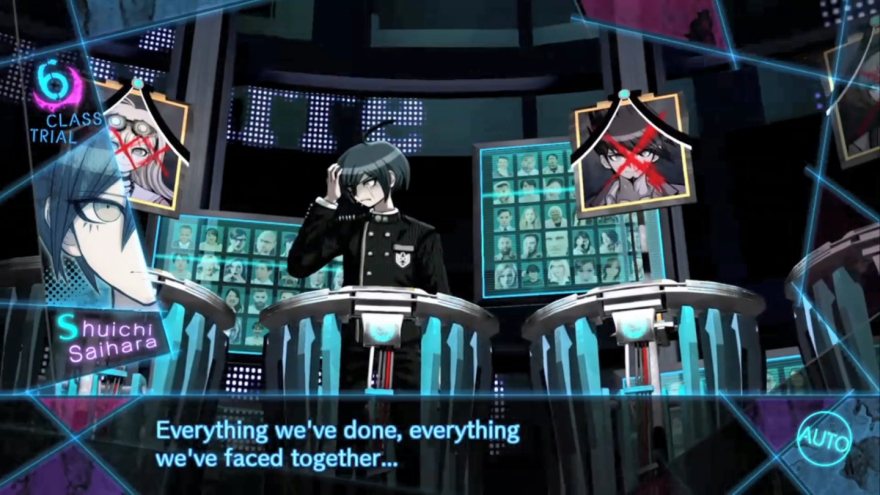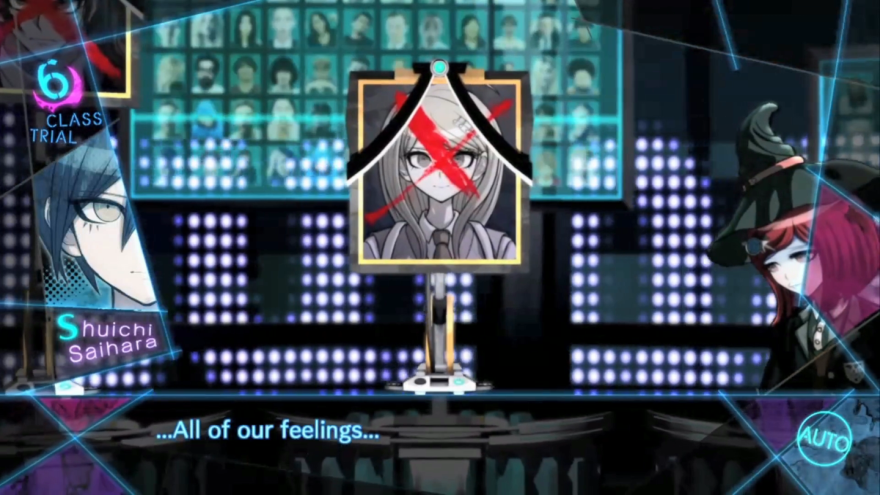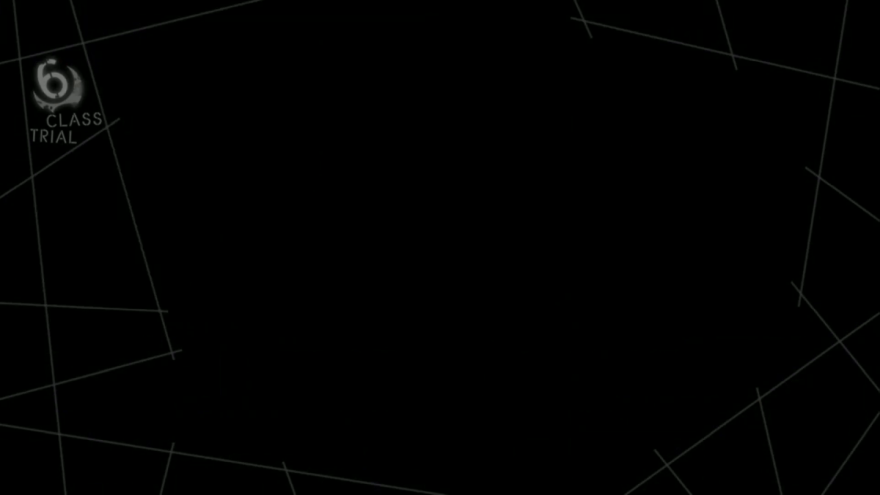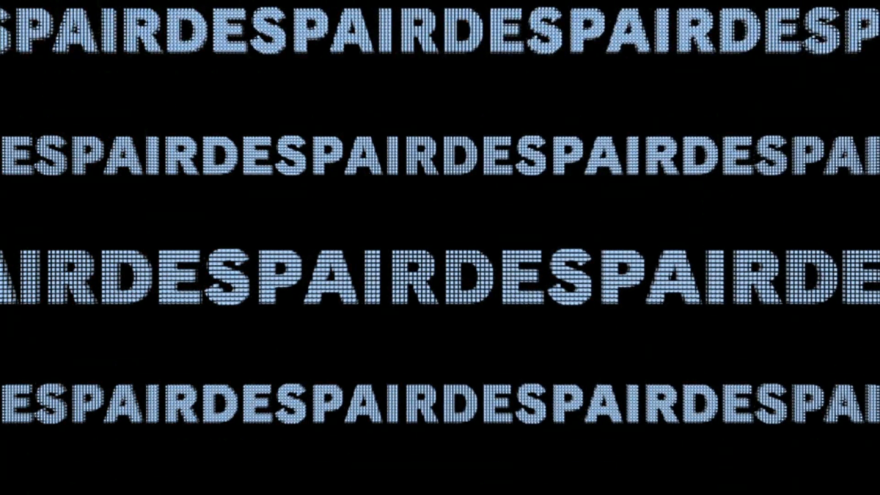 It doesn't matter how many mysteries you solve. The mysteries were all fiction in the first place. All scripted. It's all over. It's all just a lie anyway. It doesn't matter what you do. ...It's over now.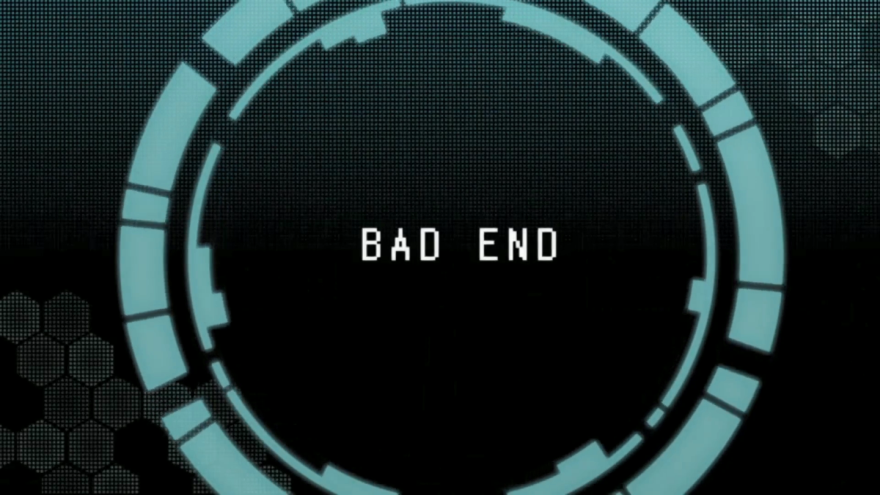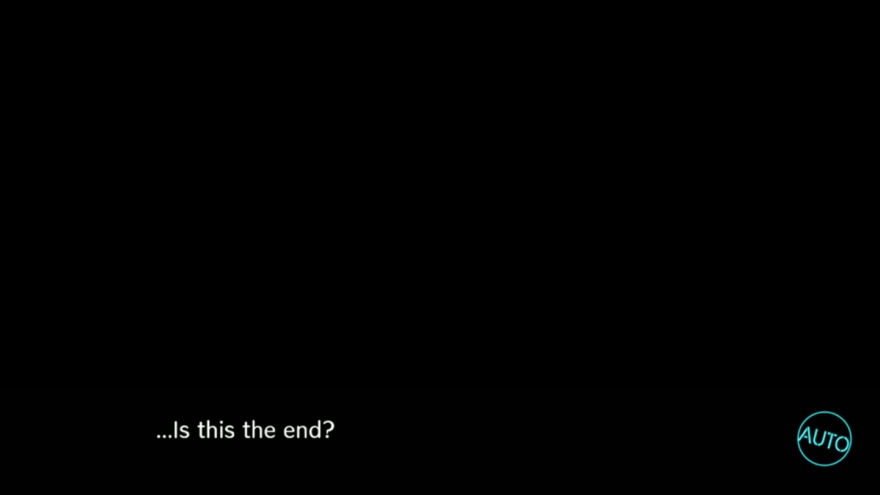 Please tell me. I'm asking
you
. Whenever I was in trouble, my
inner voice
would always guide me. That guidance is what brought me here. I don't believe that's a mistake. So...I will trust it. Please...tell me. Tell me what I should do. Please, tell me
your decision
.
What should Keebo do, everyone?