Introduction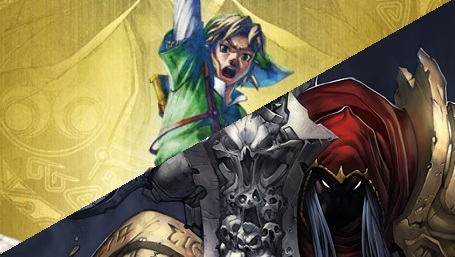 As you might know, we
kind of like Zelda games.
That's why A Wooden Palisade and I are going to play two (and a half) of them!
On this LP's agenda, we've got
Skyward Sword
, the newest installment in the series, and
Darksiders
, which isn't actually a Zelda game, but it might as well be.
Updates will be
three times a week, generally with two Skyward Sword videos and then one Darksiders at the end of the week.
whenever, but generally pretty frequently.
A few words about
Darksiders
, as well...
Everyone always talks about how Darksiders is basically a huge ripoff of Zelda, God of War, Warhammer, Warcraft, and pretty much anything else with the word "war" in it. They're right. But it's a
damn good ripoff.
Everything's put together in a very smart way, and there's really only one or two places in the game where it kind of falls apart and actually sucks. The combat feels good, most of the puzzles are good enough to please me, and the art style's laughably goofy.
Commentary here's going to be done live. I'm streaming the game to A Wooden Palisade (and if we have guests, anyone else watching) so they'll have a couple seconds of delay. It shouldn't be a big deal, but it might make our commentary seem a little odd if you don't know this already. We'll try not to make it glaringly obvious.
If you want some timely updates over twitter, we've got a few over here
:
The Official Palisagrus Twitter
or our personal ones...
Ambisagrus
A Wooden Palisade
Now then, let's get to the videos! Enjoy!

Darksiders