Introduction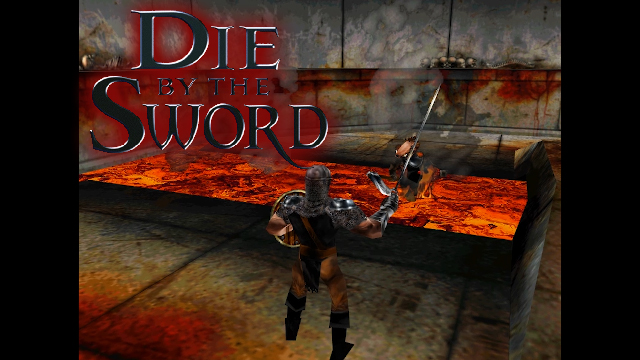 Introduction
Die By The Sword is a classic PC hack and slash game in the purest sense. It's all about brutal sword fights where you can dismember your foes while shouting them down with boisterous taunts. The other big draw of the game is the innovative method of controlling your sword arm, which can be done via keyboard, mouse, or joystick. The game was developed by Treyarch and published in 1998 by Tantrum Entertainment, a now defunct (to the best of my knowledge) subsidiary of Interplay. You may know Treyarch from their more recent work on the Call of Duty franchise. They also made a game called Draconus: Cult of the Wyrm for the Dreamcast, which is considered by many to be a spiritual successor to this one. I have a thread going for that game over
here
if you want to check it out.
We play as Enric, who grew up as a farmer, but became a soldier in the King's army after his family was slaughtered by dwarves. Eventually Enric was sent into dwarven lands during the ensuing war between dwarves and humans, but when his unit killed an unarmed dwarven family, he realized that he had become what he hated and deserted. From there he lived as a mercenary and eventually found his way to a human caravan being attacked by orcs and ogres. He joined the fight, which is where he met Maya, his implied lover.
Maya was a street rat and thief for much of her life. She fell in with a group of thieves, but eventually a job went south and some were caught or killed. Maya escaped custody and continued to ply her trade as a thief or even assassin. A capable fighter, she is eventually hired to guard a caravan, the same one that Enric happens upon.
About the Playthrough
I played the demo of this game a bunch as a kid, but never owned the full version. I've always wanted to go back and play it, and there's not time like the present.
The playthrough will be mostly blind
, but I did play through the first level a bunch and the very beginning of the second level as I was getting stuff configured. Either way, I guarantee I'll die. Probably a lot.
This game was a bitch to get set up and running the way I wanted, but I finally did it. I'm using a cocktail of applications to play the game with an XBox 360 controller (vJoy, UJR, Xpadder), but in the end it was worth it. In my opinion, the joystick is the best way to control your sword arm, though the keyboard is possibly easier and the mouse can produce some amusing results as well. I'm also using a mod called Die By The Sword Xtender, made by someone named Hazard. Xtender fixes some graphical annoyances and helps improve the visual quality / FPS of the game a bit. I've also installed the optional "Cuss Pack" for a bit of extra fun, though I'll probably be talking over Enric half the time. We may or may not do the Limb from Limb expansion. We'll see how we fare in the main quest first. If you want to check out the game for yourself, I got my copy over at
GoG
, though you may be able to buy it elsewhere.
Videos
Series Playlist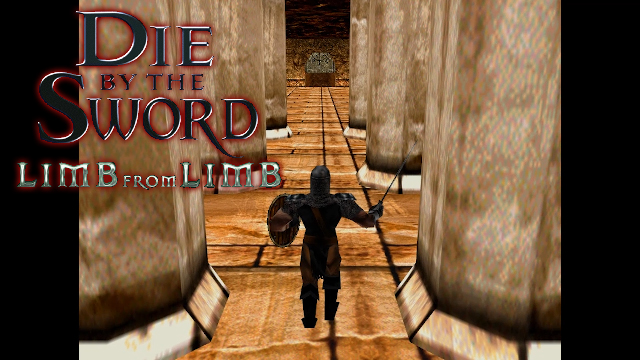 Introduction
This is a playthrough of the Limb From Limb expansion to Die By The Sword. I decided to keep it in the same thread. It seems that this quest takes place a little while after the first one. Maya has been having some nightmares and there's talk of an "Evil Queen Maya" spreading around. Of course she has to investigate to sort it all out. That means canonically speaking this is Maya's quest, but we'll be going through it as Enric because Cuss Pack. Enric does seem to have his own stuff to say about the adventure, though.
Videos
Series Playlist