Part 1: Prologue Landmark Guide
This is the first installment of showing off SF landmarks and covers some of the places passed in the prologue video. Without knowing where the LP will take us I've screenshotted or wrote down every place I recognized, but I try to space them out a bit. Most of these early entries will probably be minor landmarks as I figure it will be easier to get good screenshots of well known landmarks during cut-scenes. Most will simply be in the format of name, screenshot, location, and either a wiki or history page when available. I figure each update I'll pick out one scene to showcase. I'll also include a few pedantic entries where I complain about things they messed up.
Lefty O'Doul Bridge -
Screenshot
-
Wiki
-
Streetview
AT&T Park -
Screenshot
-
Wiki
-
Streetview
Schmidt Lithography Co. Clock Tower -
Screenshot
-
Wiki
-
Streetview
-
History
Union Square -
Screenshot
-
Wiki
-
Streetview
Public Utilities Commision -
Screenshot
-
Streetview
Forbes Island -
Screenshot
-
Wiki (Pier 39)
-
GoogleMap
Pier 43 -
Screenshot
-
Streetview
-
History
Lombard -
Screenshot
-
Wiki
-
Streetview
Civic Center -
Screenshot
- Wiki (left to right)
City Hall
,
Davies Symphony Hall
,
The War Memorial
-
Streetview
Transamerica Pyramid-
Screenshot
-
Wiki
-
Streetview
After its construction in 1972 the Transamerica Pyramid took the title of tallest skyscraper west of the Mississippi. That record only held for two years, though I believe it is still the tallest in the city. The building it beat out was the
Bank of America
building (Visible to the right of the pyramid in the screencap) which had only been completed 3 years prior. In the streetview you can see the
American Zoetrope
building which was mentioned.
Feature: Soma Ramps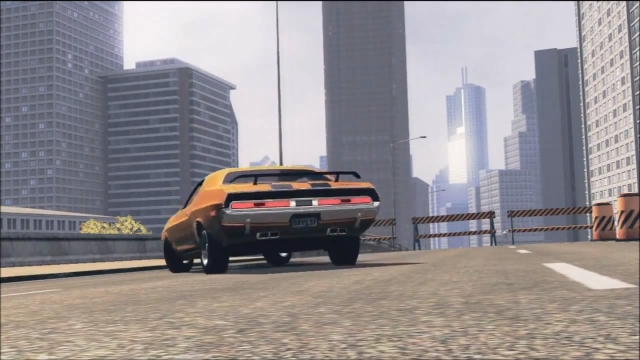 The scene of a car sitting at the edge of an incomplete freeway seems like one of those movie cliches, but in this case it's somewhat plausible. In the 1960s, the
Embarcadero Freeway
was constructed as a quick route that connected the Bay Bridge in the East to the Golden Gate in the North West. This double decker freeway ran along the waterfront and throughout its life generated a lot of controversy. Businesses loved it, everyone else thought it was ugly. In 1989, the
Loma Prieta Earthquake
damaged the structure forcing the city to make the decision of whether it should stay or go. The mayor at the time, Art Agnos (
Seen here with me on his lap
), made the decision to tear it down despite strong opposition. While the destruction of the main freeway was swift, many of the off/onramps sat for years, only being destroyed when redevelopment called for it. The onramp in this screenshot is most likely supposed to be the one by the transbay terminal, but it's hard to say as that one was torn down (along with the terminal) a few years ago. The only remaining signs of any onramp (that I know of) is the
Hayes Valley Onramp (GoogleMaps)
.
The building with the spikes in the background is the
Mandarin Oriental (wiki)
.