Part 205: MortuusLupus: Update 6
The
SPAWNCATCHER
is prepared. I must commend our new engineering team, they did a fine job of rigging the cages and the breakaway bridge. Their talents have not gone unnoticed by other citizens.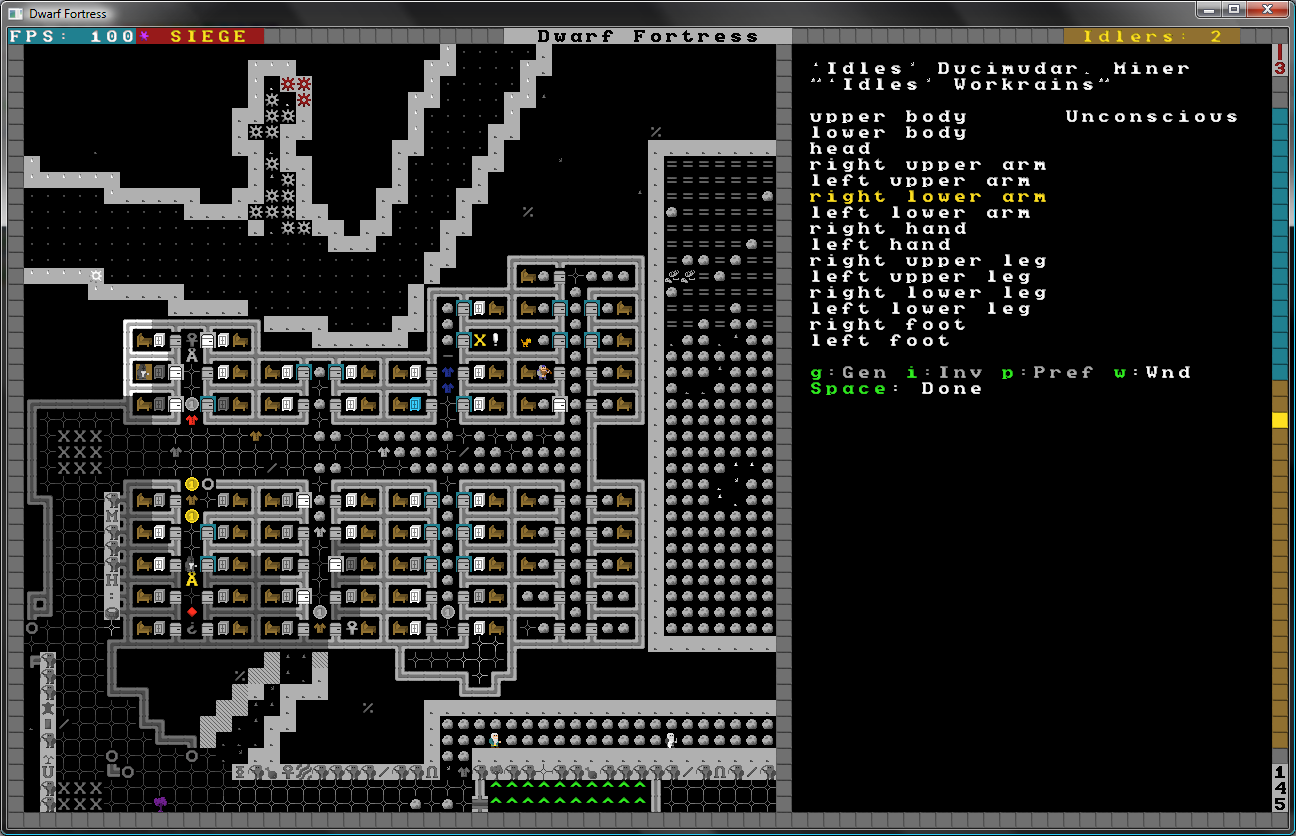 Even with his broken arm, Idles still feels confident in his ability to construct a worthy tribute to these fine citizens.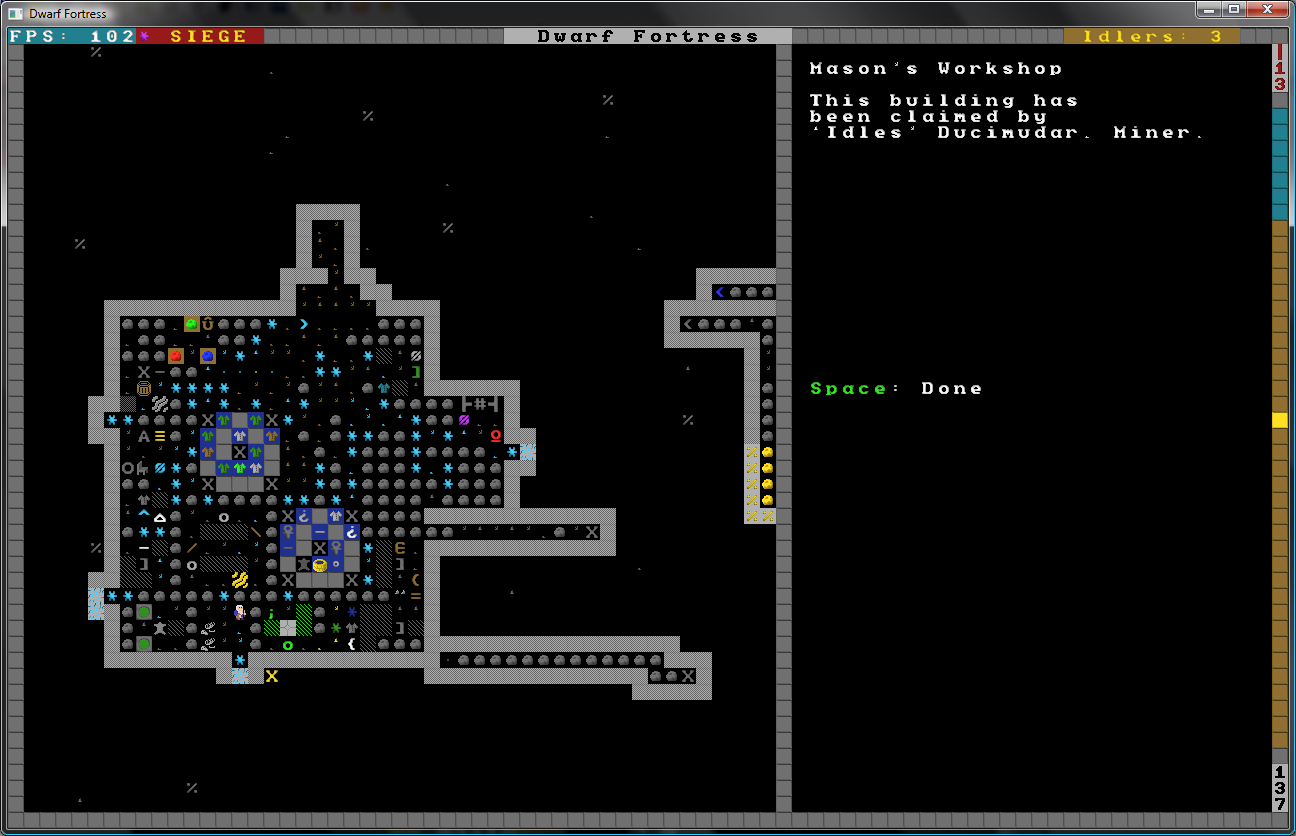 Formal celebrations will have to wait, however, as the device has yet to be used under actual test conditions. I am supremely confident, however, in my design. It should be simple enough even for the least of the people of this fortress to operate, so I do not worry.
There is one unknown variable in all this. That would be the spawn themselves. The only data available on their migration patterns comes from the late Chance II, a scientist I hold in great esteem. Even these reports, however, are incomplete. The fragments I have seen hit at an underlying social hierarchy, and there are reports that they even have chieftans, perhaps a queen, and they will retreat from battle should these leaders fall. More data is needed to corroborate these tales, however, and nothing I can find can explain their current behavior.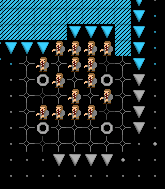 What is it about that gazebo that has enthralled them so? For a week they have gathered on that frozen structure, grunting and howling. A fascinating ritual.
It would appear that the spawn were conducting some sort of battle dance, preparing themselves for what they expect to be a slaughter of legends. The dance concluded they begin their final advance. Their movements are slow. It has taken another week for them to arrive at the ramps. Where is the fabled speed, the ferocity of these creatures that has the people of this fortress cowering in terror, despite my and Mother's calm?

There it is! Three have broken off from the main pack and are advancing with incredible speed! Mother, now, the lever must be pulled!
"HEY SOMEONE PULL THE LEVER HURRY THE ONE ON THE LEFT!!!"


This Dwarf, The Deadly Hume, shall be commended for his swift response.

The rest of the pack has begun their charge now, as the first scout enters the golden hallway. It is all I can do to contain my excitement, but I fear I may have soiled my rags. My vindication is at hand! I

What? What is this? Oh no, no, this is disasterous! An animal, a stray cat, bolted for the doorway as soon as the spawn kicked it open. Why these creatures cannot be content living inside underground where it is warm and safe is beyond me, but it has ruined everything! The spawn, so easily distracted, have given up their charge and instead turned their attention to that worthless creature. My plans, so carefully laid, have been for naught.

The lever worked perfectly, the bridge retracted with remarkable speed, but there was no one on it. Nothing in the trap. No specimins. No glory.
Fine.
This is only a momentary setback.
...
If you want something done right, you must do it yourself. Mother, we must pull that lever and extend the bridge. The timing on this is critical. I need you to do exactly as I say. Do you understand?
"BABY I LOVE YOU LET'S GO PULL SOME LEVERS YOU JUST TELL ME WHEN!!!!"
My life and the lives of everyone in this fortress are in the hands of a woman who has demanded crystal glass for many years, despite it being physically impossible for it to be produced here. At least this tiny body has fewer pain receptors. Should we fail, the end will be quick. For me.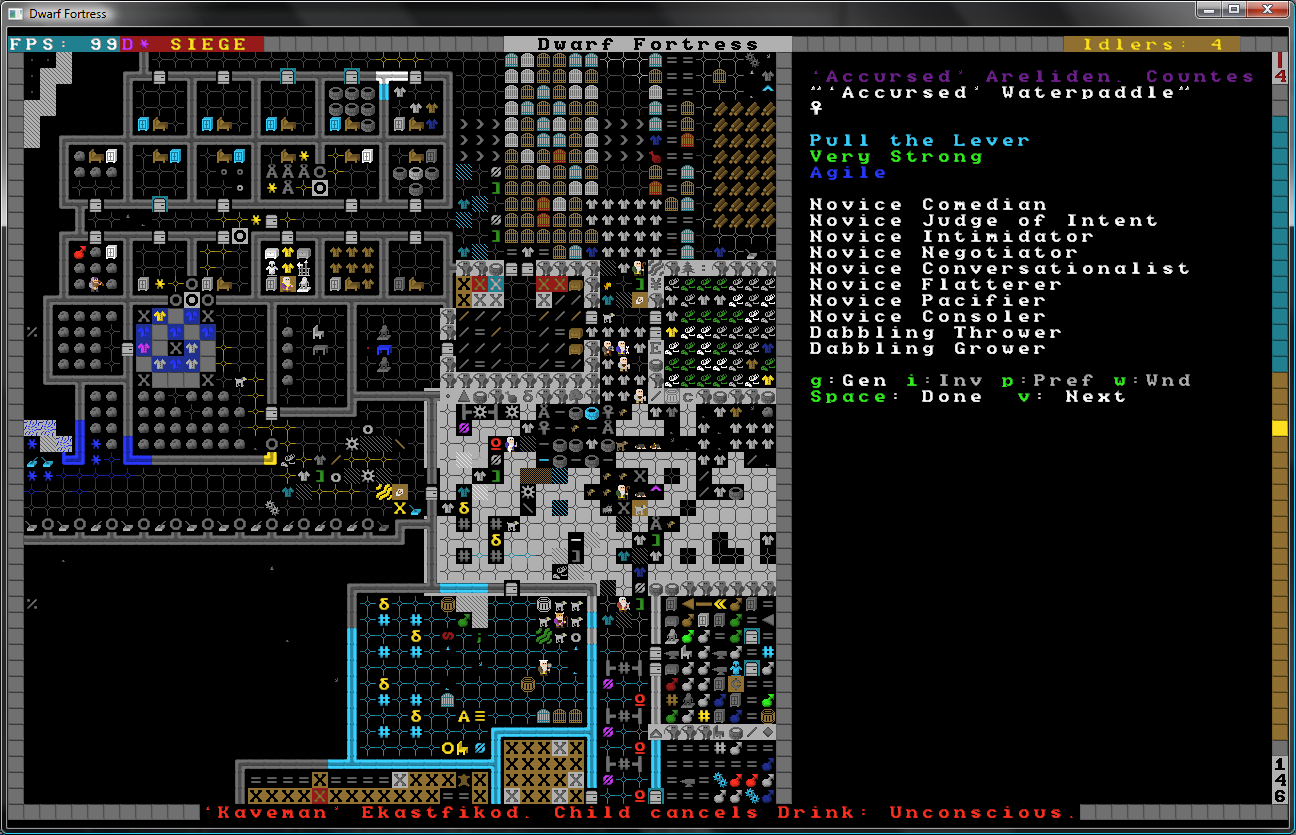 Yes Mother, that one on the left. Now quickly, we will have to wait for the bridge to extend, then pull the lever again, so that the spawn will fall.
"OH SWEET BABY YOU JUST LOOOOOVE THESE LEVERS DON'T YOU? THEY ARE SO PRETTY!!"

"HA HA, THAT WAS FUN I WANT TO DO IT AGAIN!!!"

No, Mother, that was too quick. Please, FOCUS. The spawn must be on the bridge when it is released or they won't fall, and they must all be on the bridge or they will invade the fortress and slay us all!
"Countess! Your grace, wait!" It was Manuel Calavera, leader of the small contingent of armed forces still remaining. "My men and I are almost in position, we will keep the spawn from getting inside."
"OH YOU ARE SO BRAVE YOU GO DO THAT I'M PULLING THIS LEVER FOR THE BABY!!"
A braver man I have never met.

The bridge was re-extended, and the spawn began to march across.
"HEY BABY THAT WAS FUN BUT I WANT TO GO DO SOMETHING ELSE NOW!! I KNOW LET'S GO SEE HOW THE GLASS IS DOING!!!!"
No, Mother, NO WE CAN'T GO NOW!
I hear the roar of the spawn, sensing their moment has arrived. The taste of dwarf flesh dances upon their frightful tongues. 61 men, women, and children await their massive jaws. Nothing stands in their way but these three men in metal. This one they call Manuel Calavera, standing before them, unmoveable like a statue.
His second, the elite wrestler rodbeard, whose prowess in battle is untested, but whose heart is made of steel. This one will not end without a fight.
And there, the third man standing. He can barely be called a man, for he only recently grew into adulthood. This child. markus_cz.
The spawn begin their charge, swift and terrible, and that is when a single cry is heard throughout the fortress.
YOU. SHALL. NOT. PASS!


More than a dozen spawn swarm this lone warrior, his fists flying in a whirlwind of martial prowess. He alone is halting the advance of the spawn as his squad recoils in terror.
"OK BABY IT'S LEVER TIME!!!"
Finally, Mother turns around and heads back for the lever. I fear it may be too late, Manuel Calavera is fighting on the very bridge that will soon fall away from under him. The spawn are practically inside the fortress, and our defenses are weak.
But she pulls the lever. The bridge retracts with the efficiency only a masterful engineering team could allow.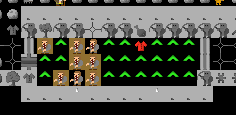 And the spawn fall.
But with them is our guardian. The fall knocked the wind out of him, and while stunned the spawn quickly set upon him.

Fourteen spawn have fallen into the pit, but two made it past, to the fortress. The door is in their sights. The suffering they will bring upon the people is at hand.
With a snap, one of the foul creatures falls to the ground, his spine twisted in a full circle. The second recoils in terror at the ferocity of this new challenger, but his surprise is momentary as he is propelled backwards into the wall with such force that his organs are liquified on impact. The fortress is safe. Thanks to this young recruit.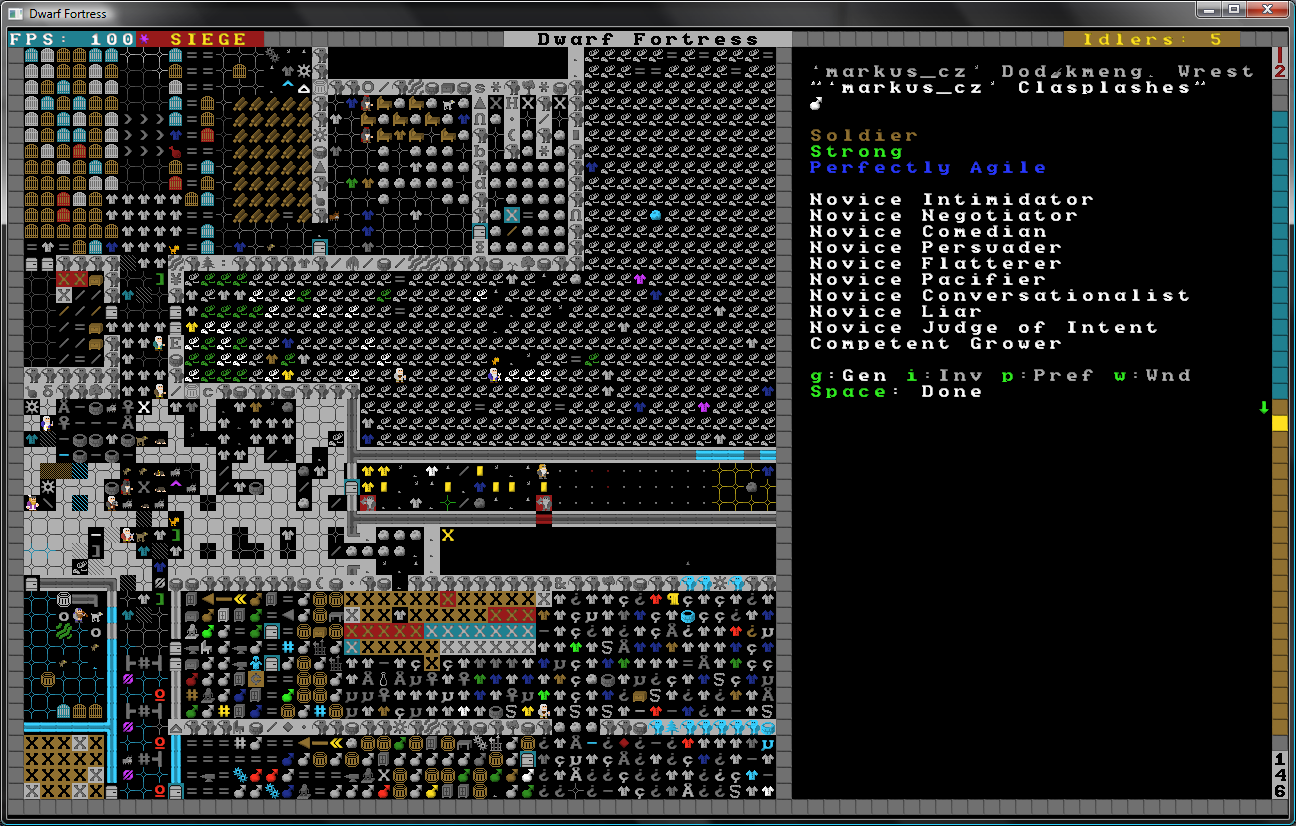 ---
Screaming Idiot wrote :-
Markus_cz panted heavily, worn from his battle with the dreadful spawn. He was scarcely more than a child and unused to battle, and yet he defeated two of the most twisted abominations to ever plague the world. He knew he could not have done it on his own--something guided his hand as he struck down the abberants. He caught a faint whiff of engine grease, sweat, and cigar smoke... and then it was gone.

He shook his head and continued on--he'd other things to do than to worry about impossibilities.

--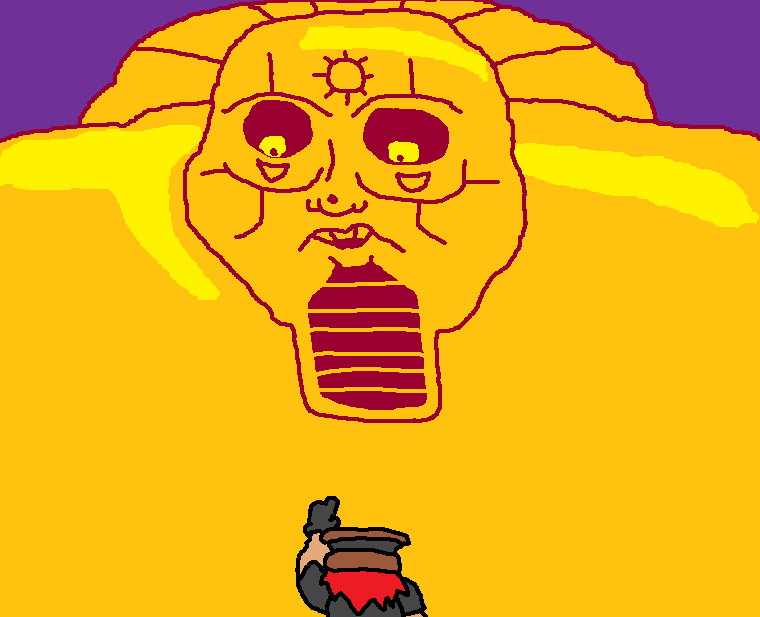 YOU HAVE BEEN GRANTED AN ETERNITY IN DWARFHALLA. THE PLEASURES AND JOYS YOU HAVE BEEN DENIED IN YOUR LIFETIME ARE YOURS TO SAVOR FOR ALL TIME, UNTIL ARMOK AWAKENS ONCE MORE. WHY DO YOU PERSIST IN YOUR MEDDLING?

The short, rotund dwarf scratched his ragged, unkempt beard and straightened his filthy leather cap. "Well, yer goldeneness, I cannae sit back an' let tha lad get taken so soon. 'Twouldnae be proper!"

YOU ARE NOT A GOD. YOU ARE NOT EVEN A WARRIOR. YOU ARE BUT A SIMPLE DWARFLING WHO BY CHANCE EARNED THE PRIVILEGE OF DWARFHALLA BY DYING IN GLORIOUS COMBAT AGAINST YOUR ALTERED KIN. DO YOU SEEK TO DENY THE BOY HIS DESTINY?

"Nay!" cried the dwarf. "'Sjus' that tha lad... well, he's real special ta me. I taught 'im practactually everythin' I know. I want 'im ta end 'is life in tha proper way o' course, but 'e needs ta prove 'imself. Tha more 'e kills an' tha more blood 'e spills in righteous combat, tha more honor tha lad'll attain when 'e meets 'is end."

YOU SPEAK LIES. YOU FEAR FOR HIS LIFE DESPITE KNOWING THAT DEATH IS A RELEASE. YOU ARE A FOOL.

"Now jus' a moledoggin' minute," cried the dwarf. "It's a rough, unkind world fulla things what donnae belong, but that donnae make it worth any less! He be a good lad an' 'e doesn't deserve ta die so soon!"

AND WHAT OF MANUEL CALAVERA? HE ALSO PASSED AWAY AND YET YOU DID NOT AID HIM. WHAT MAKES CALAVERA, A CHAMPION OF YOUR PEOPLE, LESS WORTHY OF EXISTENCE THAN THE MANCHILD?

"Well, tha stupid bastard wouldnae stop arguin' with me 'bout tha similarities 'tween bone pipes an' bone flutes... ach! Nay, that ain't tha point!" The dwarf tugged off his cap and ran his stubby fingers through his greasy, matted red hair. "Ol' Manny was a champion, a master o' 'is craft, an' a fine dwarf all aroun'. He done proved hisself, both ta tha gods an' tha fortress. 'Is death was as dwarfy as ya'd ever want! But Markie! Ah, he be but a youngin', an' 'e deserves ta live 'is life before it be taken away from 'im."

FEW DWARVES LIVE TO BECOME ADULTS. YOUR MARKUS_CZ HAS ALREADY LIVED A FULLER LIFE THAN MOST CAN HOPE FOR. WHAT MAKES HIM WORTHIER THAN THE REST?

"I..." the dwarf sighed and buried his face in his hands. "I donnae know. But 'e is worthy, Doren. Mark me words, 'e'll do tha lot o' them right proud, 'e will."

WHO ARE YOU TO USE MY NAME SO CASUALLY, LITTLE DWARF?

The dwarf took in a deep breath. "I'm a man what paid 'is debt to both dwarf an' tha gods. I donnae think it'd be wrong ta ask fer a favor. What good be an eternity o' wealth an' pleasure knowin' that I laid back an' did nothin' while those closest ta me suffered?"

YOUR HEART IS HEAVY WITH GUILT. YOU KNOW YOU HAVE COMMITTED WRONGS IN YOUR LIFETIME, WRONGS THAT WERE NEVER PAID FOR. YOU WERE LAZY, COWARDLY, AND IGNORANT.

"An' yet I was allowed in," the dwarf replied. "Goddess, me request is humble--lemme offer a 'and to those who need it. I'll do what I can ta give Dwarfhalla tha champions it deserves--sometimes all a dwarf needs is a 'elpin' 'and."

I SHALL CONSIDER. YOU HAVE ALREADY MEDDLED--PERHAPS IT SHALL NOT DO THE WORLD HARM TO ALLOW THE FALLEN TO AID THOSE WHO STILL LIVE. IT MAY EVEN PROVIDE A FOIL TO THE CHILDREN OF HOLISTIC, FOR THEY, TOO, HAVE FALLEN AND ARE A GREAT AND VILE BLIGHT UPON OUR CREATION.

LITAST, WHAT SAY YOU?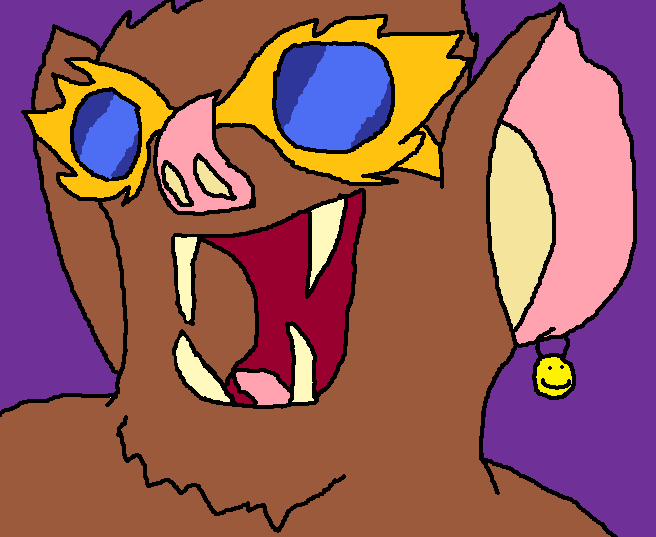 "B-B-B-B-Benny and the Jets!"
---
A Pair Of Ducks wrote :-
And now, Paradox Productions presents a one act teleplay of, "The Bearding of Markus_CZ"

Spawn: Rawrg!

Peasants: Run away!

Manual Calvera:

Have at thee demons!

Spawn: We keel you!

Mortuus: Pull the lever now!

Spawn:

Noo!

Manual:

Noo!

Spawn: We're in your trap, avoiding your cages



Spawn2: We're in your base, killing your doods

Markus:

Oh noes!

Screaming Idiot: Not today!

Markus:

YOU! SHALL NOT! PASS!

A Pair of Ducks:

Daaaaaaaamn
---