Introduction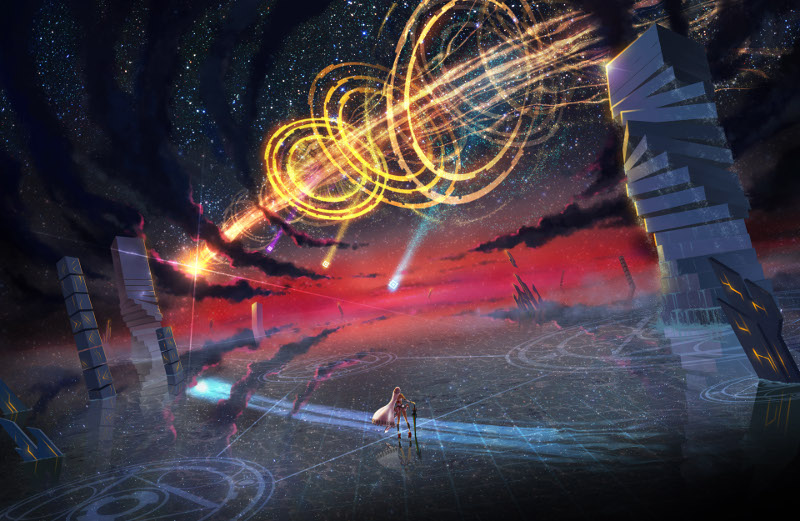 A brief overview
Fate/extella, to put it simply, a musou-style hack-n-slash game released for the Playstation 4, Vita, and (soon) the Switch, but it's also a game with a large amount of pedigree and tradition surrounding it. The game is the latest (new) entry in the long-running Fate series, a franchise created by the Japanese visual novel company Type-Moon back in 2004 and has come to encompass several genres, over many platforms. Like almost every entry in the series, extella is primarily written by Type-Moon co-founder Kinoko Nasu.
But extella is also the third entry in the Extra subseries, which concerns a series of wars fought on the moon in the digital world created by a giant future supercomputer. Although this is the third entry in the series, continuity is not a particular stumbling block for this game. Although this is technically a sequel to the PSP's Fate/EXTRA, there's not much backstory you need to know to understand the story of this game. It's almost entirely self-contained, with only a few references to previous entries. I'll point them out as the game mentions them.
Gameplay-wise, it is a musou-style game, of which Dynasty Warriors is probably the most famous example of this type of game. Simply put, you control one character, and you slaughter hordes of extremely weak enemies, and defeat more powerful ones to finish a particular stage. Of course, there is the occasional gimmick level / boss to not have you do the exact same thing over and over again, but the vast majority of gameplay is the above.
LP structure
Because Nasu is a writer, and he is a very...long-winded writer, at that, a certain amount of care needs to go into LPing a game like this. The gameplay is simple, but there is loads and loads of plot, dialogue, and exposition, which I believe makes this game worth LPing. So the general way this thread will develop, is that the introduction to a stage will be its own update, and then the stage and its outro will be another update. I will of course adjust this structure as I deem necessary, but that's the general idea. Plot -> Gameplay + little plot -> Plot should be a pretty easy theme to follow.
Spoiler policy
Again, there is a lot of story to this game, so I would appreciate keeping things secret, if you do know what's coming next. However, I don't think I'll have a lot of trouble with this.
Table of Contents
Prelude
Flame Poem Arc
Sign
Sing
Scholar
Skirmish
Conquest
Encounter
Rebound
Clash
Resolve
Duel
Titan
Hollow
Intermission
Orchid Words Arc
Queen
Sakura
Passion
Contact
Sun
Concert
Corroded
Magic
Megami
Golden
Ataraxia
Dawn Arc
Darkness
King
Invader
Elite
Sword
Body
Messenger
Fall
Warpath
March
Mousetrap
Sunset
Choice
Alter
Sunrise
Golden Poem
Message
Path
Counterattack
Flame Poem - Epilogue
Change
Gathering
Orchid Words - Epilogue
War
Home
Dazzle
Turn
Servant Side Stories
Hunter of the Red Plains - Nameless
Part 1
Part 2
Part 3
Conqueror of the Moon - Iskandar
Part 1
Part 2
Part 3
Hero of the Poor - Karna
Part 1
Part 2
Part 3
Instant Vortex - Medusa
Part 1
Part 2
Part 3
God's Resolution - Jeanne d'Arc
Part 1
Part 2
Part 3
Blood-soaked Fist - Li Shuwen
Part 1
Part 2
Part 3
Radiant Sword - Gawain
Part 1
Part 2
Part 3
Spear Barbed With Death - Cu Chulainn
Part 1
Part 2
Part 3
Ruthless Warrior of the Turbulent Times - Lu Bu
Part 1
Part 2
Part 3
He Who Saw The Deep - Gilgamesh
Part 1
Part 2
Part 3
Cinderella Girl - Elizabeth
Part 1
Part 2
Part 3
Idylls of the King - Artoria
Part 0.5
Part 1
Part 2
Part 3
Shooting Star - Archimedes
Part 1
Part 2
Part 3
Golden Poem - Resumed
Dawn Arc - Epilogue
Golden Poem - Interlude
Impact
Fate
Extella