Introduction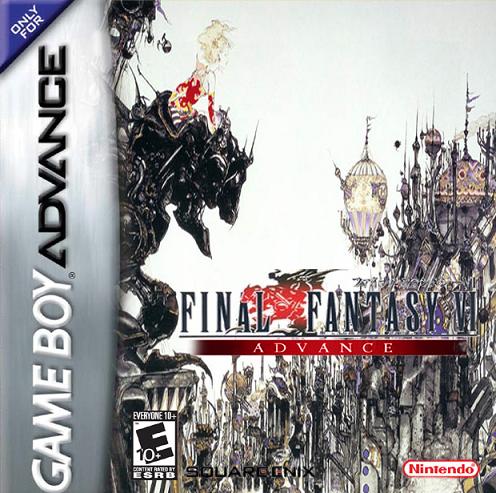 hello everybody,
i'm starting my new lp, final fantasy vi advance. it's probably one of my top favorite rpgs of all time. i've got a couple different things planned for the lp to try to keep it focused on the story... and to keep it fresh as it's a pretty well known game. first and foremost i'm not fighting random battles using the aid of the gameshark. so i'm essentially playing a low level game but i'm not going to be as hardcore about it as most people are. i've got a couple cheats character-wise that i'm going to use but will not be revealed until later. the cheats aren't going to be lame though like super-powering certain characters, just to let you guys know.
if anybody wants to see anything in particular during the course of this lp let me know. character names, wearing certain equipment, fighting particular random battles, anything you can think of is up for grabs. nothing is too ridiculous...
i'll update daily by editing this initial post in a list type order and then i'll make a reply at the end of the topic... well i appreciate everyone's time reading this and thanks a lot!
Videos
| | |
| --- | --- |
| video 1 - getting my feet wet | YouTube |
| video 2 - saving the princess | YouTube |
| video 3 - fun times at figaro castle | YouTube |
| video 4 - sloot let's talk | YouTube |
| video 5 - the dog eats strangers | YouTube |
| video 6 - duncan's wife is lonely | YouTube |
| video 7 - genji glove of murder | YouTube |
| video 8 - octopussy | YouTube |
| video 9 - sloot and boner's tromp through narshe | YouTube |
| video 10 - murder tries on outfits | YouTube |
| Video 11 - Damsel in distress | YouTube |
| Video 12 - Tunnel Armor | YouTube |
| Video 13 - Don't cry Prune! | YouTube |
| Video 14 - ALL ABOARD!!! | YouTube |
| Video 15 - Where'd I put that phoenix down? | YouTube |
| Video 16 - USPS at your service! | YouTube |
| Video 17 - Veldt action | YouTube |
| Video 18 - Sabin and Cyan get wet | YouTube |
| Video 19 - H-Humpty!? D-Dumpty!? | YouTube |
| Video 20 - Protect the esper | YouTube |
| Video 21 - Narshe battle royale | YouTube |
| Video 22 - Hairy pink monster | YouTube |
| Video 23 - Narshe aftermath | YouTube |
| Video 001 - The sensless genocide of a culture that is Doma | YouTube |
| Video 24 - Sdaddy goes emo | YouTube |
| Video 25 - Murder was the case that they gave me | YouTube |
| Video 26 - Rachel's back door | YouTube |
| Video 27 - What time is it? | YouTube |
| Video 28 - Dada... Dada... | YouTube |
| Video 29 - Opera House Part 1 | YouTube |
| Video 30 - Opera House Part 2 | YouTube |
| Video 31 - Opera House Part 3 | YouTube |
| Video 002 - Final Fantasy VI Advance opera scene full | YouTube |
| Video 32 - It's time to explore the world | YouTube |
| Video 33 - Exploring and fighting | YouTube |
| Video 34 - Vector | YouTube |
| Video 35 - The plot thickens | YouTube |
| Video 36 - Killing espers | YouTube |
| Video 37 - Hate sex with Celes | YouTube |
| Video 38 - Esper World | YouTube |
| Video 003 - Request nonstandard game over | YouTube |
| Video 39 - Arvis blows Banon | YouTube |
| Video 40 - The ultimate party! | YouTube |
| Video 41 - I'm figuring it out | YouTube |
| Video 42 - Loose ends | YouTube |
| Video 43 - Summit at Camp Vector | YouTube |
| Video 44 - Next on 24... soldiers | YouTube |
| Video 45 - Secret scene at end | YouTube |
| Video 46 - Sloot gets serious | YouTube |
| Video 47 - Yoda and Dumguy | YouTube |
| Video 48 - Yoda is a brown mage | YouTube |
| Video 49 - Revenge of ultros | YouTube |
| Video 50 - The End? | YouTube |
| Video 51 - Get shocked! | YouTube |
| Video 52 - Tentacle rape | YouTube |
| Video 53 - Floating continent | YouTube |
| Video 54 - Gigantos the giant turd | YouTube |
| Video 004 - Intangir vs. ??? | YouTube |
| Video 005 - Reviving General Leo Part 1 | YouTube |
| Video 006 - Reviving General Leo Part 2 | YouTube |
| Video 55 - This is pretty ultimate | YouTube |
| Video 56 - Forever! | YouTube |
| Video 57 - Eat this Cid | YouTube |
| Video 58 - Serpent Trench WoR | YouTube |
| Video 59 - Sloot likes kids | YouTube |
| Video 60 - Tracking Renob | YouTube |
| Video 61 - More tentacle rape | YouTube |
| Video 62 - Never give up! | YouTube |
| Video 63 - Recent final fantasy video | YouTube |
| Video 64 - Dull a han | YouTube |
| Video 65 - Very pretty paintings | YouTube |
| Video 66 - Misty I love you | YouTube |
| Video 67 - 56000 | YouTube |
| Video 68 - Dear Lola | YouTube |
| Video 69 - Duncan Donuts | YouTube |
| Video 70 - See Description | YouTube |
| Video 71 - Ghost of Xmas Past | YouTube |
| Video 72 - Holding my breath | YouTube |
| Video 73 - Getting FREEKY | YouTube |
| Video 74 - Getting things done | YouTube |
| Video 75 - Exciting Fighting! | YouTube |
| Video 76 - Shadow's nightmare at Doma | YouTube |
| Video 77 - Prune takes Nyquil | YouTube |
| Video 78 - Prune's mind | YouTube |
| Video 79 - Gung-hoeeeeeeee | YouTube |
| Video 80 - I count coral | YouTube |
| Video 81 - Death Gaze was goze upon | YouTube |
| Video 82 - Little Turdy and a yeti | YouTube |
| Video 83 - Excalipoor and daddy | YouTube |
| Video 84 - Gilgamesh | YouTube |
| Video 85 - Phoenix Cave | YouTube |
| Video 86 - Phoenix Cave part duece | YouTube |
| Video 87 - Narshe and Ragnarock | YouTube |
| Video 88 - Kefka's Tower part 1 | YouTube |
| Video 007 - Extra Endgame Content | YouTube |
| Video 89 - Kefka's Tower part 2 | YouTube |
| Video 008 - Extra Endgame Content 2 | YouTube |
| Video 90 - Kefka's Tower part 3 | YouTube |
| Video 91 - Kefka's Tower part 4 | YouTube |
| Video 92 - Kefka's Collapsing Tower | YouTube |
| Video 93 - End Credits | YouTube |
| Video X1 - Dragons Den part 1/5 | YouTube |
| Video X2 - Dragons Den part 2/5 | YouTube |
| Video X3 - Dragons Den part 3/5 | YouTube |
| Video X4 - Dragons Den part 4/5 | YouTube |
| Video X5 - Dragons Den part 5/5 | YouTube |
| Video Finale! - ????? Weapon | YouTube |