Part 53: Cool it, manimal
I'm pretty sure I've posted updates with one-quarter as many images as this one. Ah well, let's get to it.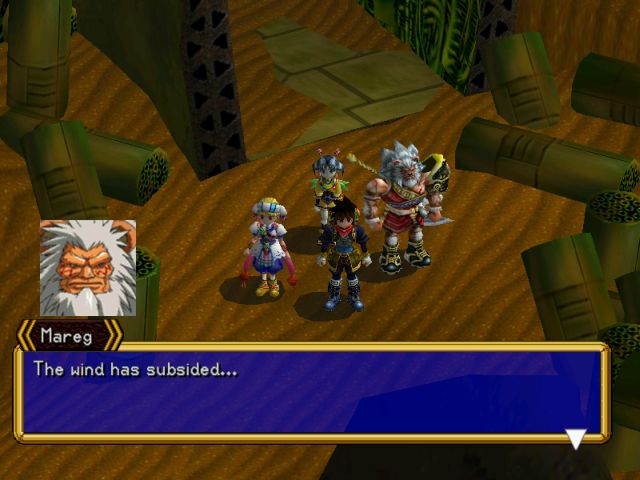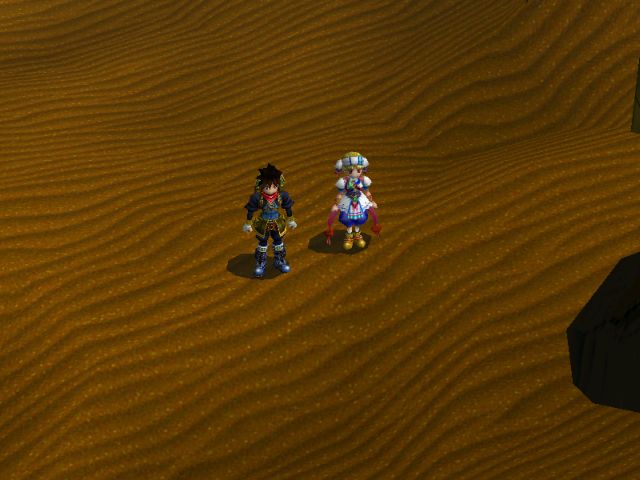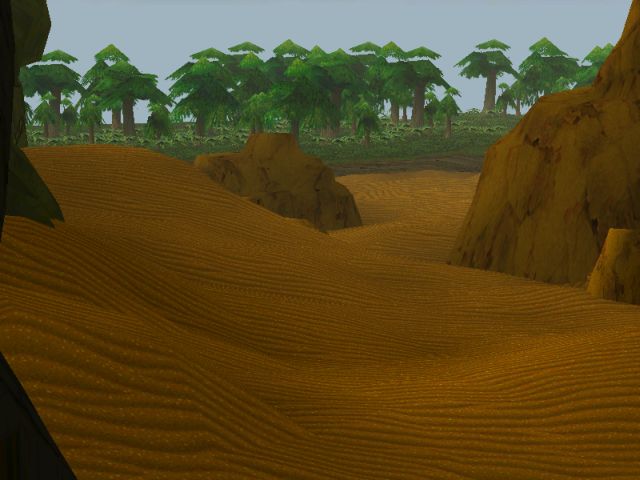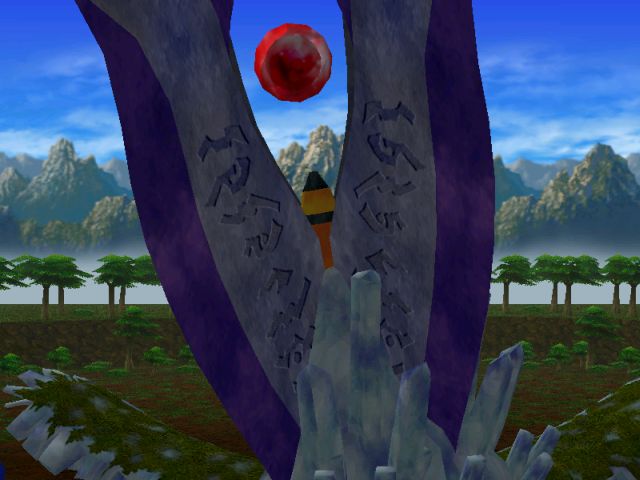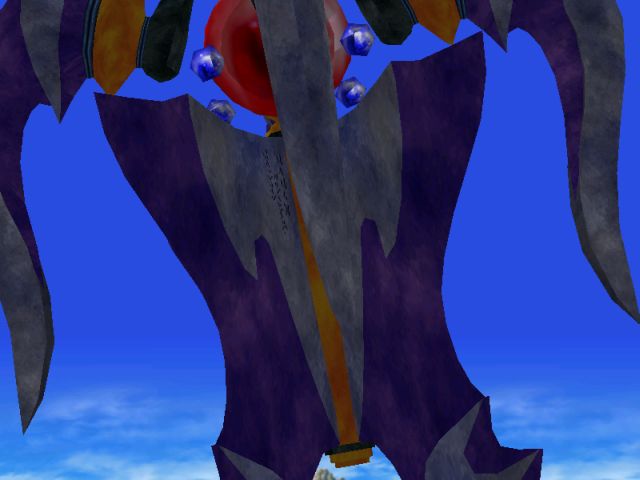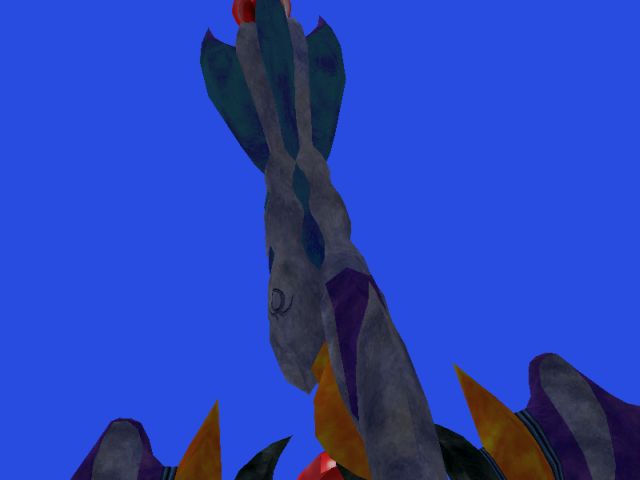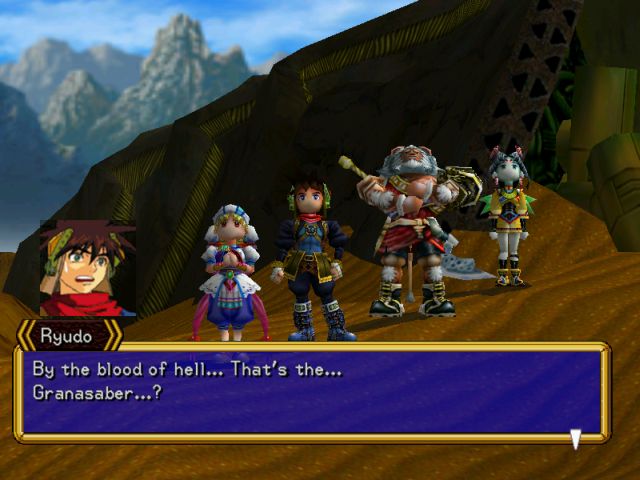 Th- That is the... Divine Sword? It is huge...

For the first time... I see... there are things greater than myself...

In more ways than one... Truly, this blade would cleave mountains, yet who among us has the strength to lift it?
With the wind barrier down, we can proceed to the fourth and final part of the Great Rift.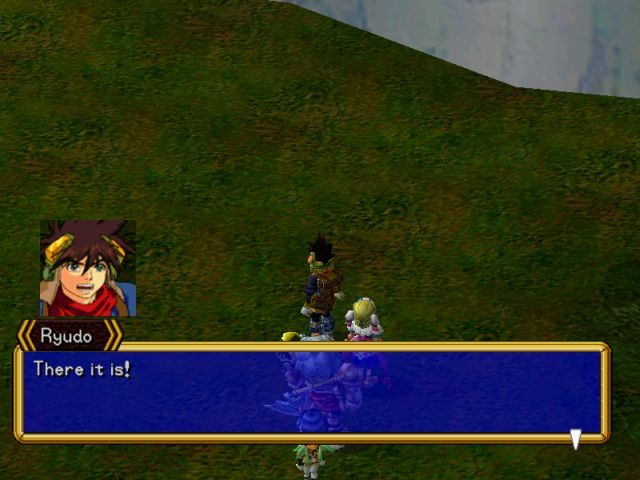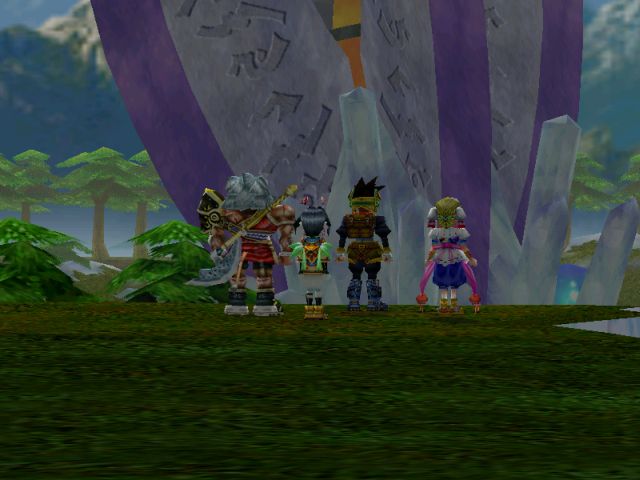 You should almost definitely
click here for video.
I had a lot of trouble putting this one together due to having to thread FMVs into it - apologies for the resulting low framerate. "Video ends" to skip screenshots, as usual.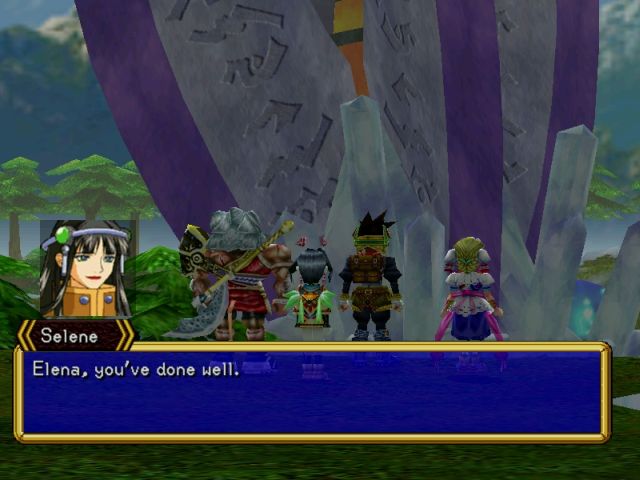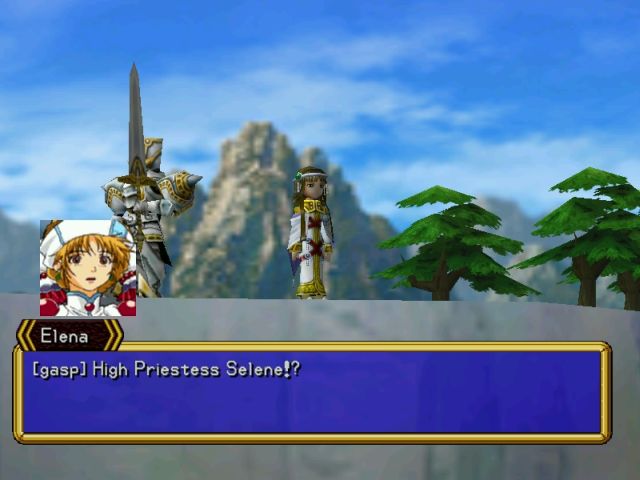 What are YOU doing here!?

Your work has impressed us. His Holiness Zera will be overjoyed. I have come to help you.

Come, awaken, Body of Valmar! The time of revival is nearly upon us!
The "Body" of Valmar!?

Where?! I don't see it.

Take my blood and be born again, O Body of Valmar.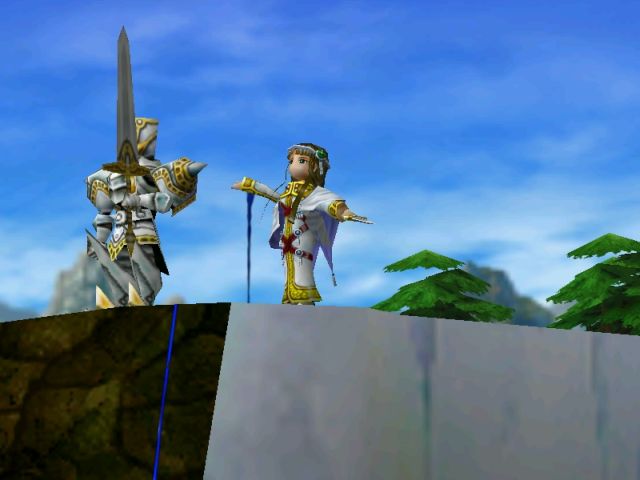 I'm not sure if her blood being blue is just weird censorship or not.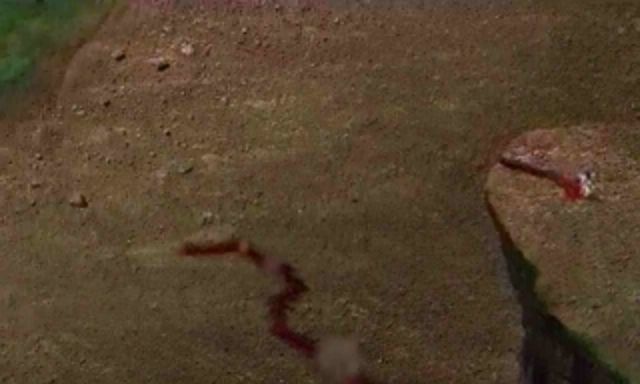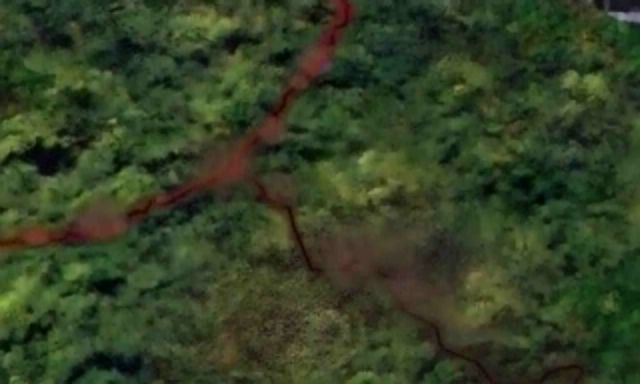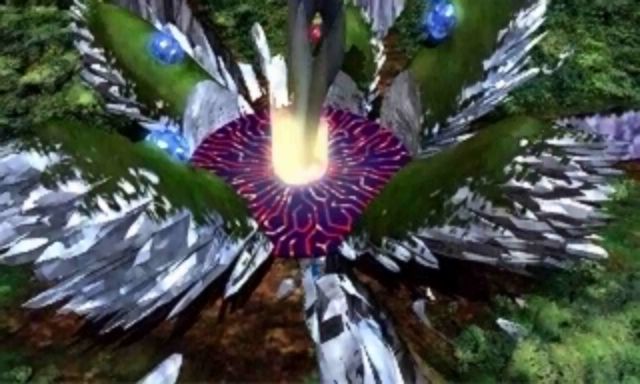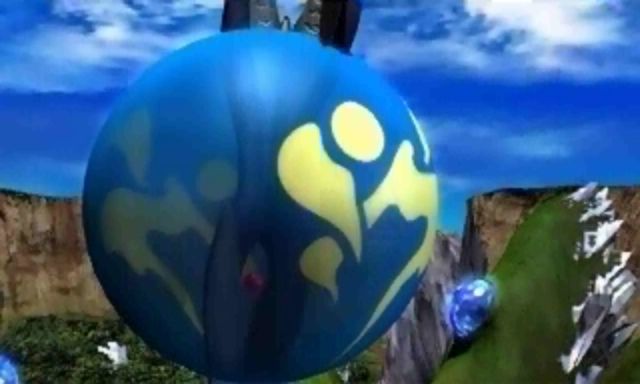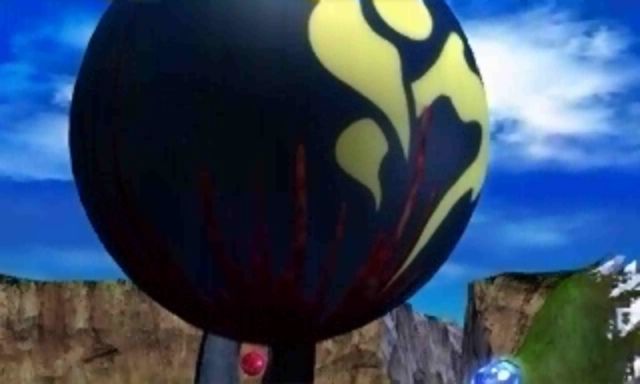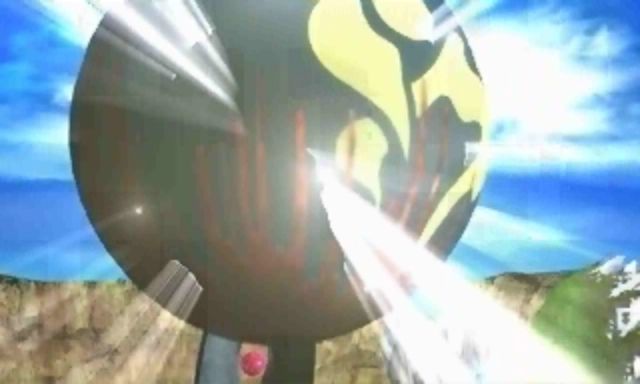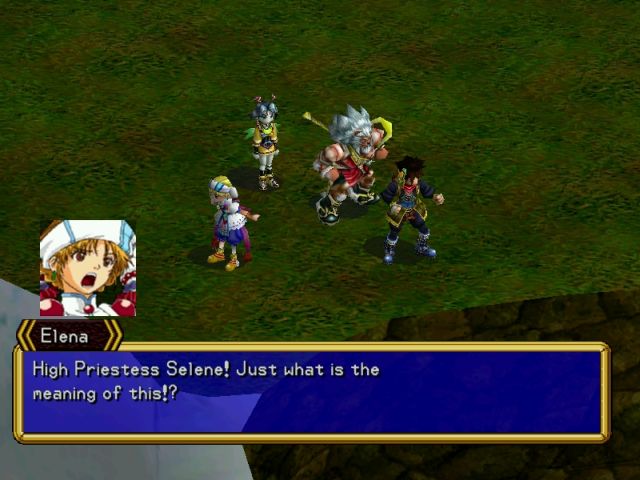 O Body of Valmar! I sacrifice this one to you!
MUSIC:
Silence.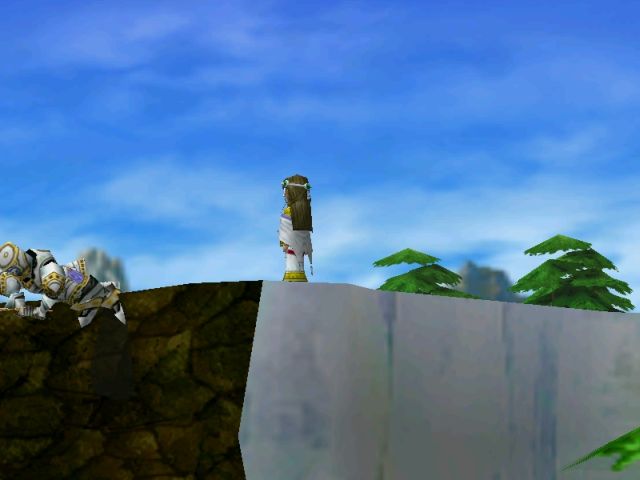 * R U M B L E *

Elena, you must fulfill your role exactly as ordained.

What is that WOMAN doing...? This SMELL...? It- it must not BE!!

HEY!! Has she gone NUTS!? Wha- what IS this?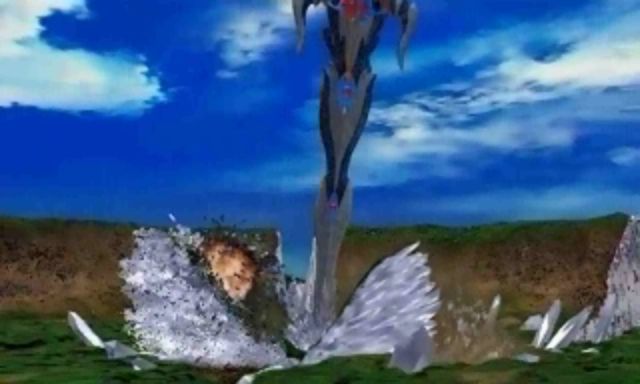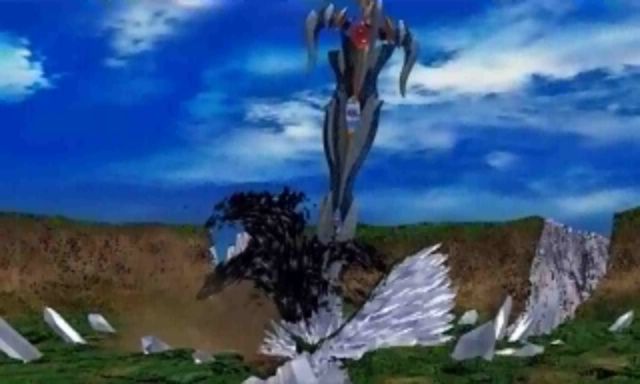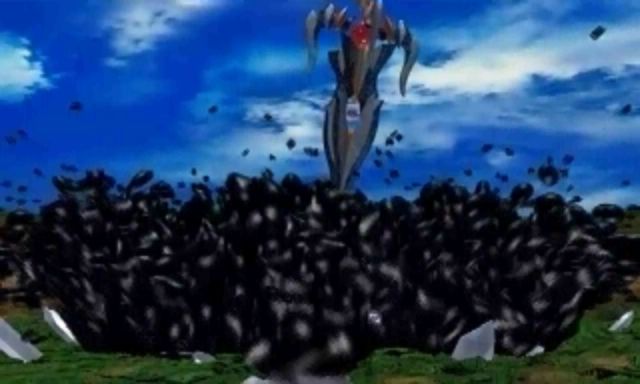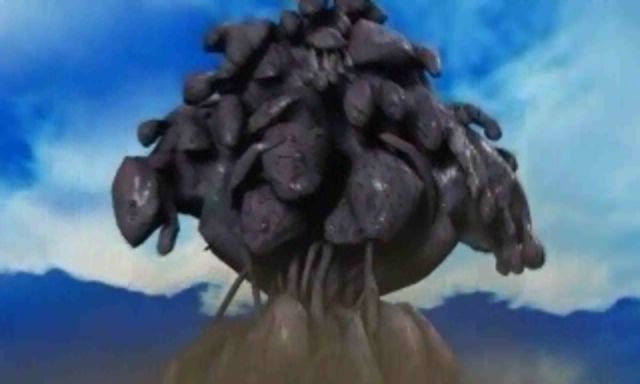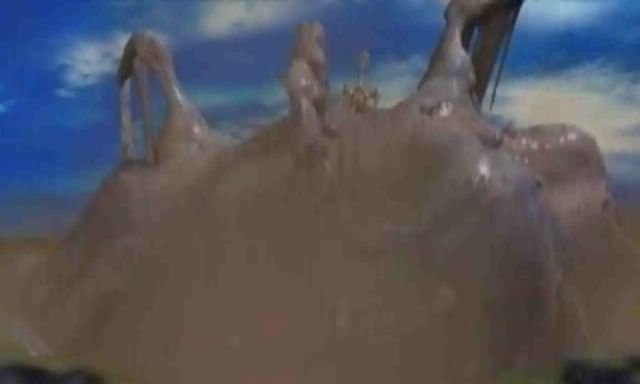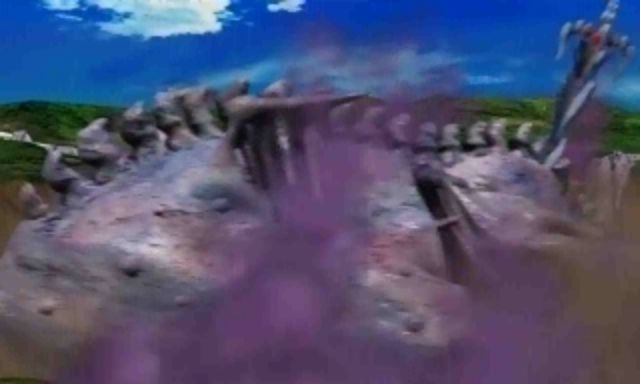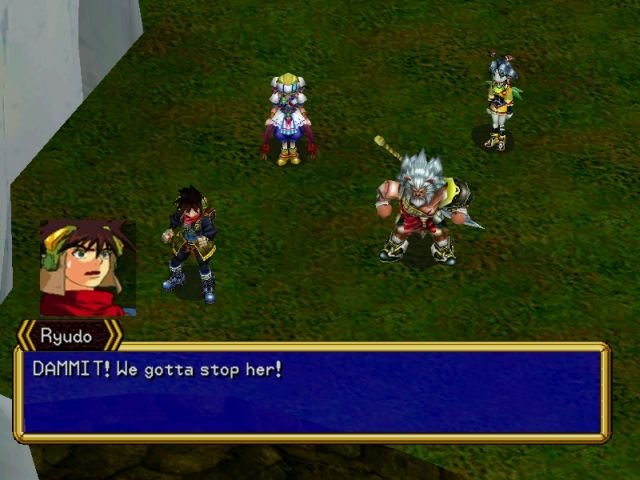 But, how can we?

This is my mission... I see...

E-Elena! What's the matter?

Millenia... Millenia! Do as you wish!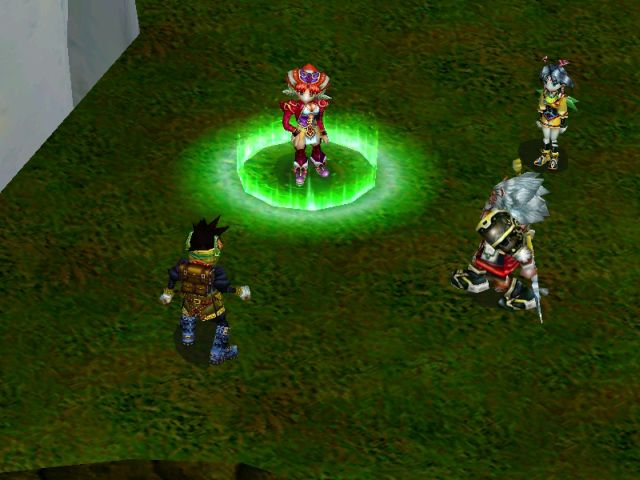 Ugh. Just as they planned... eh? Well, the best laid plans...

Millenia? What's going on?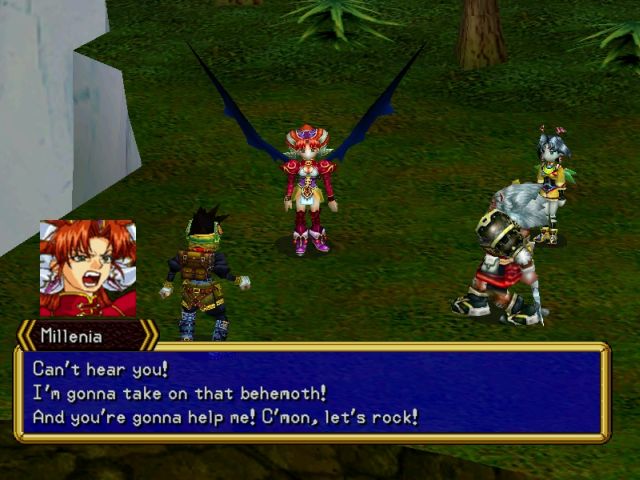 This is probably my favorite single line of Jodi Benson's performance as Millenia.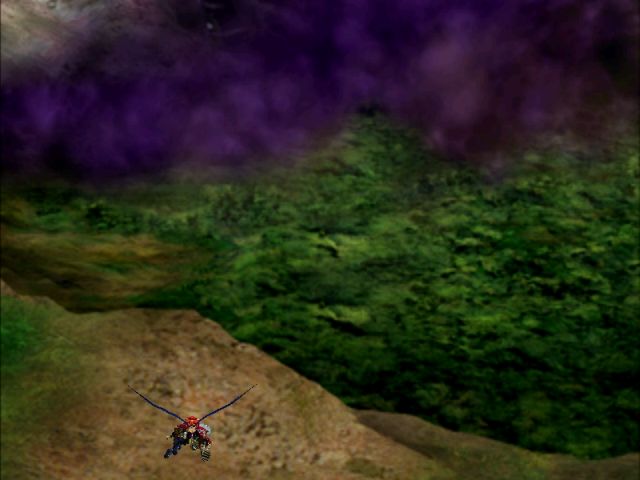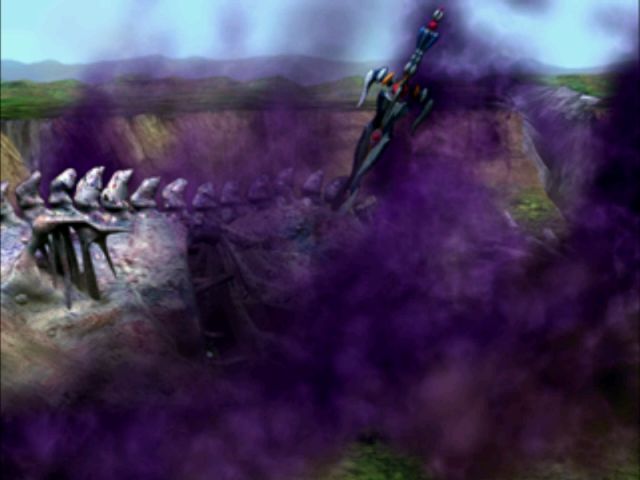 Video ends.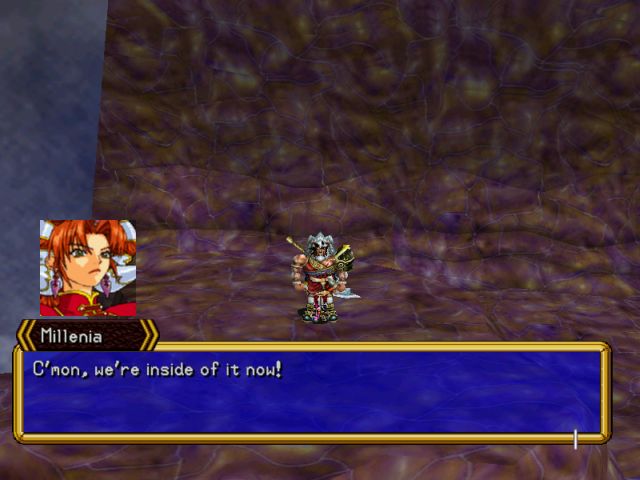 Just what the hell are we supposed to do?

If we take out its core, there's no way in hell the thing will keep moving - I don't give a damn HOW big it is.

Right. Then let's do some damage.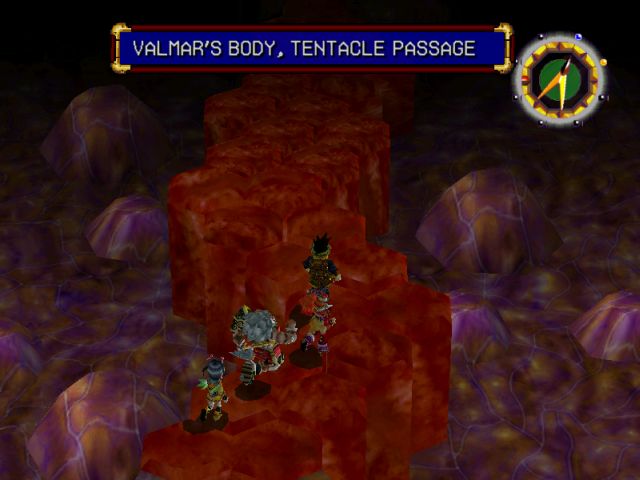 Dungeon #4: The Body of Valmar, a study in invasive veterinary medicine.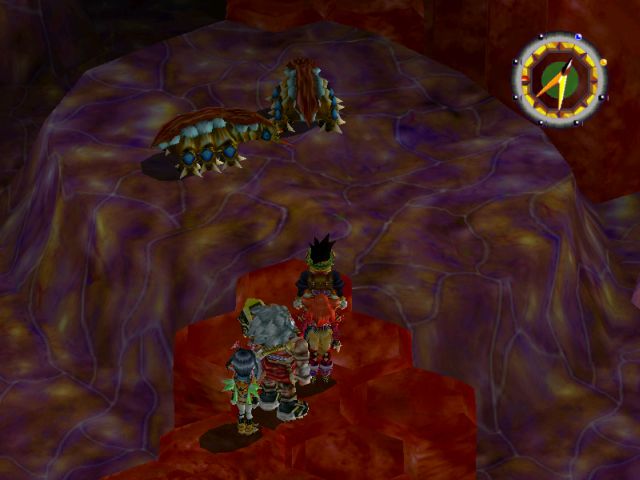 First up, we've gotta deal with its heartworm problem.
Venomous Larva
(reskin of:
Huge Caterpillar
)

Difficulty:

HP:
6000 (from 1620)
Attack:
~1200
Special:

/

/

/

, -1 to a random stat on hit
Resistant
to

Lots of beef, one of the nastiest on-hits in the game and a very relevant elemental resistance add up to what would be one of the scariest enemies in the game were they not, instead, the slowest. Their attack animation from start to finish takes about two seconds, meaning they're incredibly easy to evade and counter while building up an immunity to their attacks through MOV buffs.
At one point, while one was puffing up to attack Ryudo, he Tenseiken Slashed a different larva halfway across the battlefield. The first larva's attack animation took so long that Ryudo still had time to run back and get hit by it afterwards.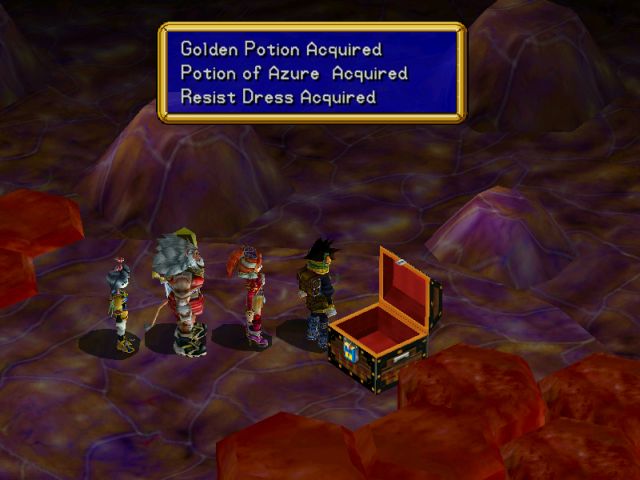 You need to keep your Valmar away from small objects with sharp edges like this, it'll just eat them and get sick.
(The Resist Dress gives a good chunk of defense and Level 1 resist to all elements; the Golden Potion restores all SP)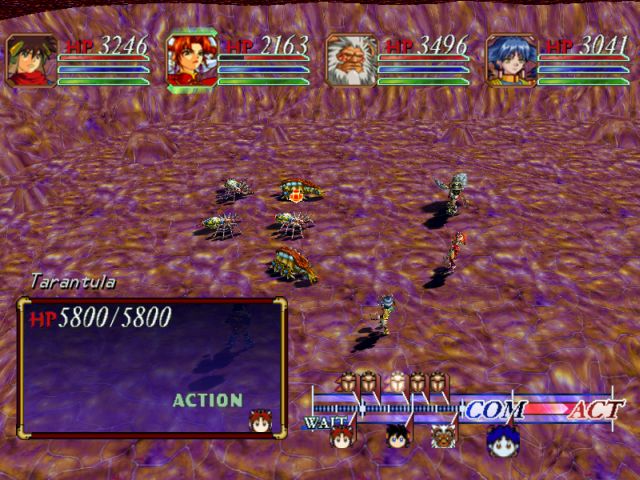 If you insist on feeding your Valmar live spider eggs, please make sure it chews them before swallowing.
Tarantula
(Reskin of
Mottled Spider
)

Difficulty:

HP:
5800 (from 1270)
Attack:
~1200
Special:
Lifesteal,

on hit
Abilities:

Plague Net (~900 damage,

-2,

, Cancel)
Pretty much every part of Plague Net is at least a little nasty and they're much faster than the larvae, but they're still not that much of a threat - more of a nuisance as both of their attacks do a great job of slowing the fight down.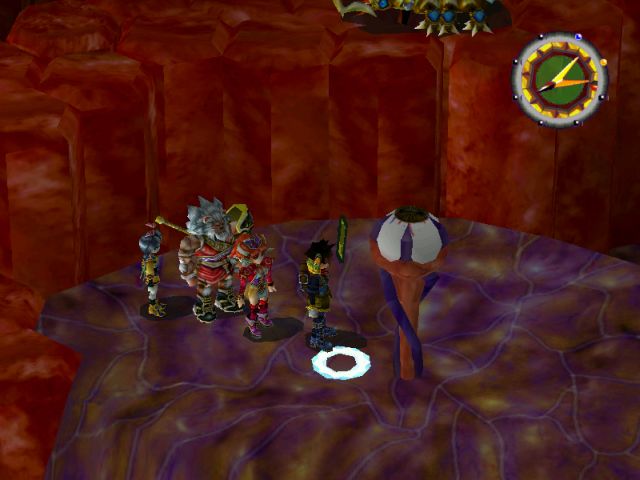 Hm, no, I don't think it swallowed that one, I think that's a genetic defect.
Interacting with the eyeball raises some tentacle-stairs.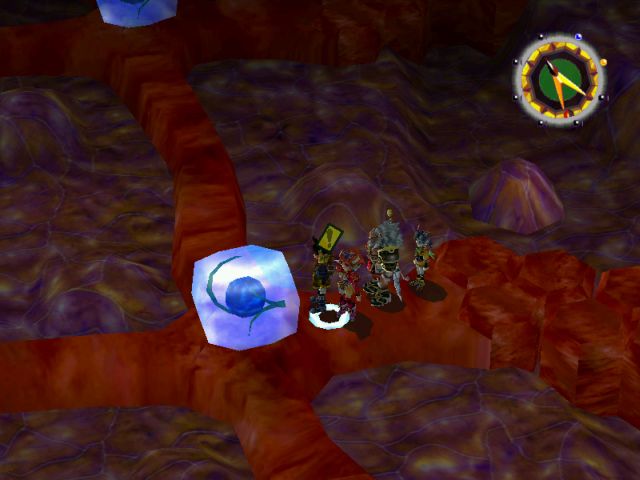 Following them leads to this square-shaped area with blocks at each intersection, each of which can only be pushed once. The upshot of this is that we can only go through counter-clockwise, blocking off several paths as we go.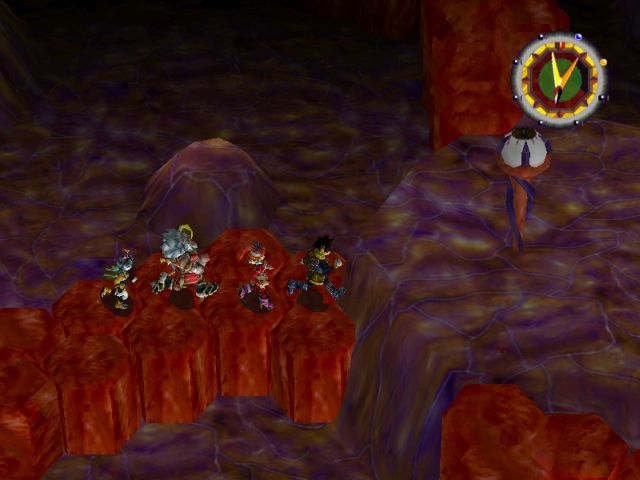 Thankfully, as this dead end illustrates, we'll be coming back from the other side.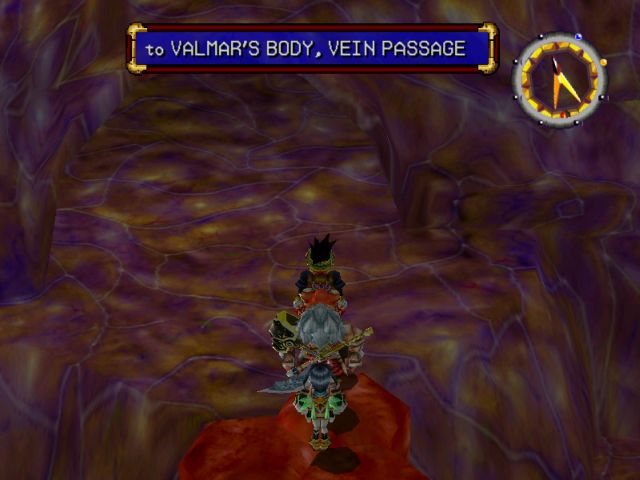 Now, for one of maybe two genuinely interesting bits of dungeon design in this game.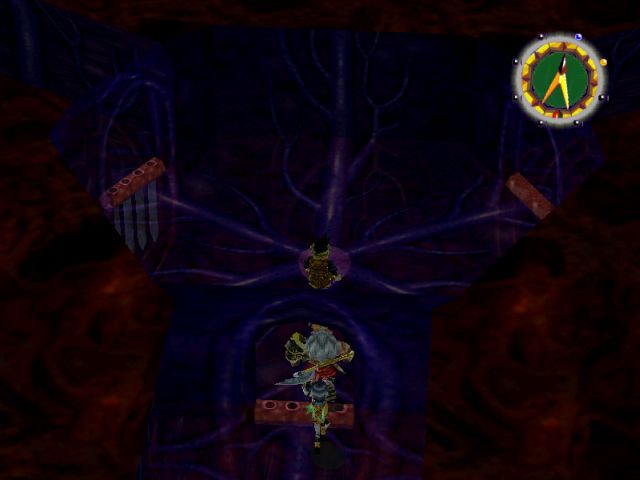 I'll get to that in a second, though. For the moment, we need to be very careful, as it's quite easy for enemies in this area to surpr-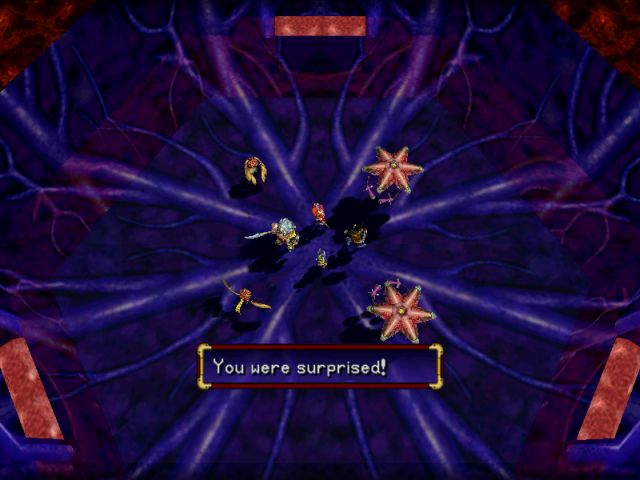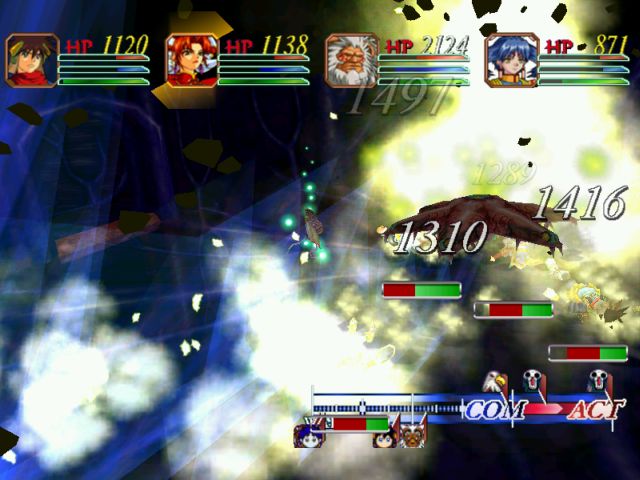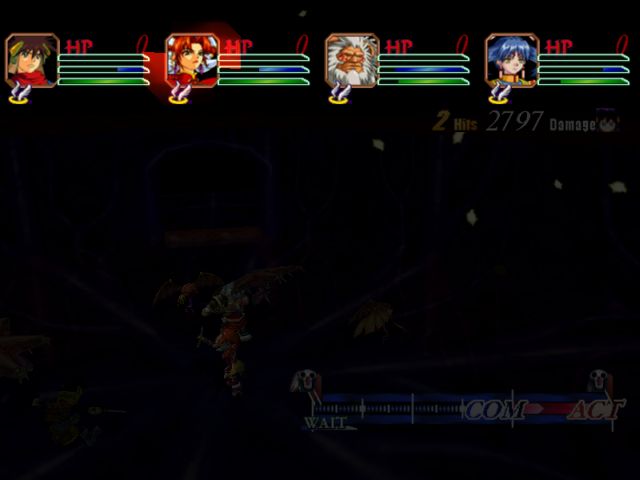 Good grief.
Brain Bat
(reskin of
Vein Brain
)

Difficulty:

HP:
4666
Attack:
~900
Special:
All stats -1 on hit
Abilities:

Howlslash (~1400),

Howlnado (~1200),

Shhh!
I don't think there's much I can say about these guys that the above screenshots don't illustrate. You can silence them, thankfully, so if they don't get the jump on you they're pretty manageable.
Immune Cell
(reskin of
Star Mirage
)

Difficulty:

HP:
6400 (from 1540)
Attack:
~1500
Special:

-1 on hit
Abilities:
Spark Press (~1000 damage,

, Cancel)
Immune
to

Completely unthreatening, save for their one special ability outside of combat - phasing out of existence, taking their Brain Bat friends with them. If you're unlucky enough to be on top of them when they phase back in, your only recourse against the double Howlslash is crossing your fingers and hoping it doesn't happen. Or wind resistance, I suppose.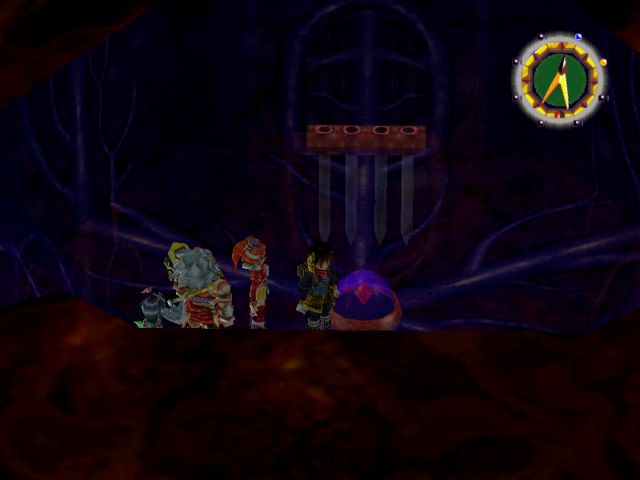 Anyway, here's why this dungeon is interesting. These buttons toggle the positions of all adjacent gates. Notice how the ground is transparent and you can see one blocking an upside-down door?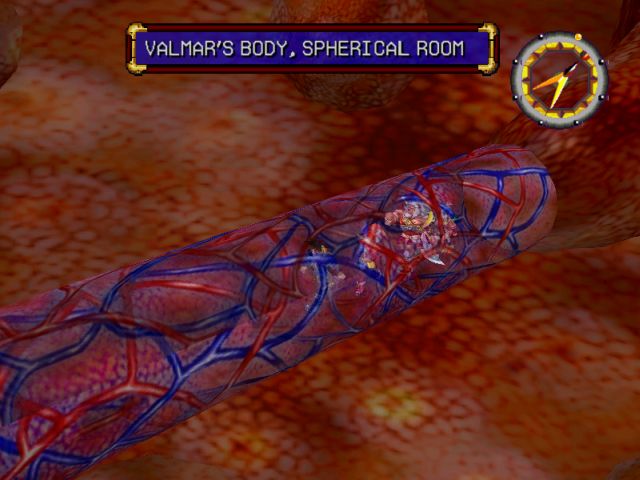 At the end of the Vein Passage is the Spherical Room.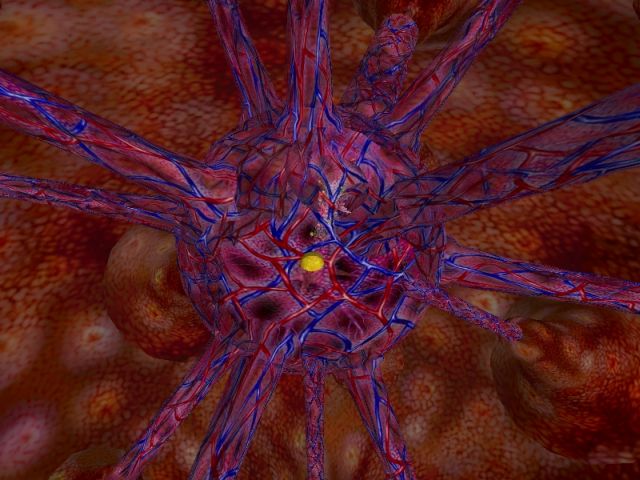 Hitting the button in the center...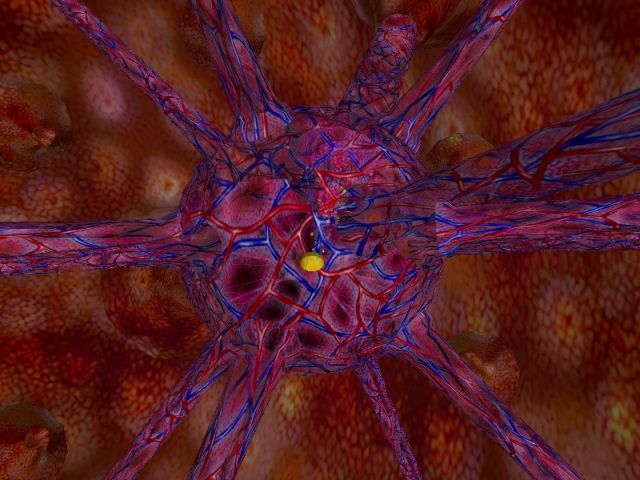 ... rotates everything around us, allowing access to the Artery Passage.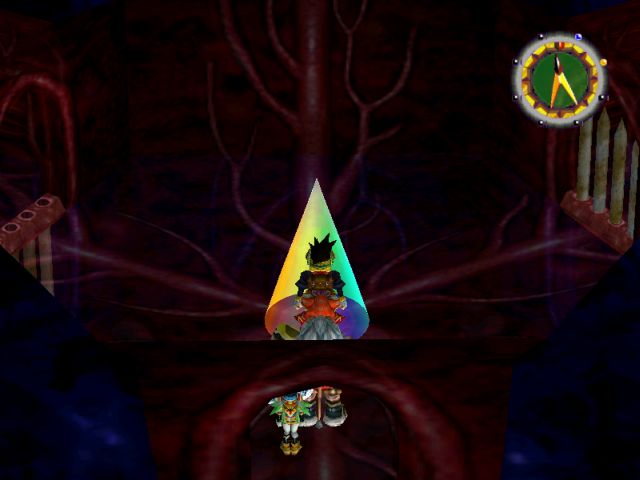 Any gates that were down in the Vein passage are up here and vice-versa. I thought it was a pretty neat concept for a dungeon, though mostly what they did is make you backtrack through the Spherical Room once if you left the wrong gate down in the very last room.
I made some simple maps of the
Vein
and
Artery
passages so you can see the structure of the place - if you mirror one, you can superimpose them and see that most of the rooms overlap. The Artery Passage has a few gates that can only be controlled from the Vein side.
I'll spare you any more screenshots of the area, it all looks the same. I'm just glad to have some novel dungeon design in a game in which it is sorely lacking.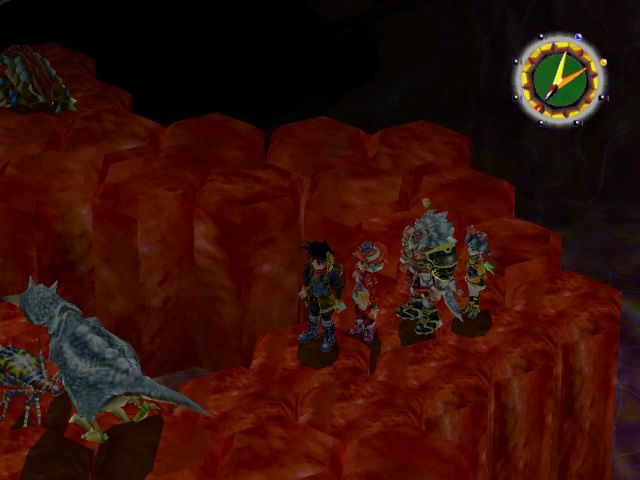 We emerge in a different part of the Tentacle Passage, where I am forced to make a diagnosis of Parasitic Dinosaurs.
Dino Freezer
(reskin of
Hammerhead
)

Difficulty:

HP:
6700 (from 1830)
Attack:
~1500
Immune
to

,
Weak
to

Abilities:

Freeze Breath (~1200 damage in a cone,

-2,

-1)
Eh.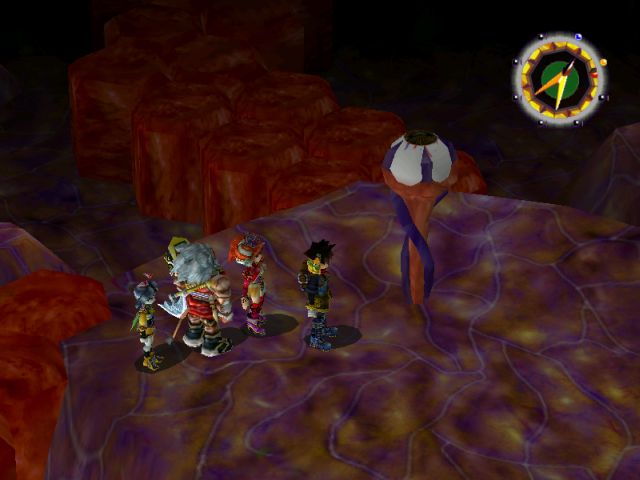 A little ways in, we find the second eyeball we saw earlier, allowing us to run the block square backwards.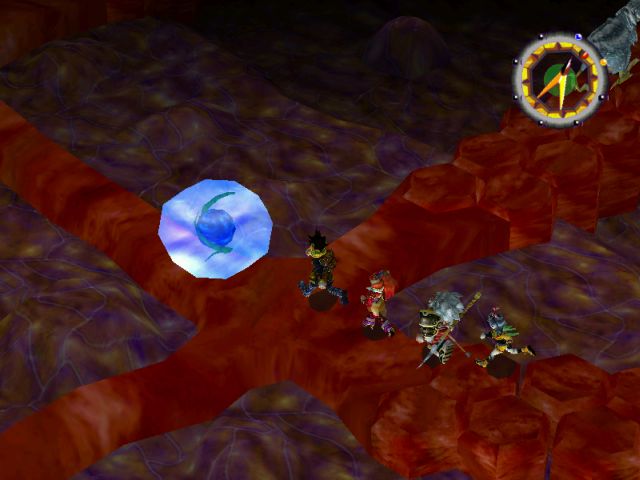 This leads to a little more treasure and finally, the core. It's time to put the ol' beast down, I'm afraid.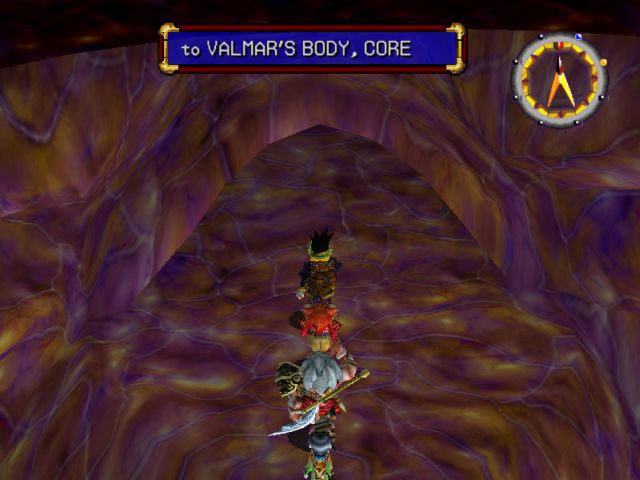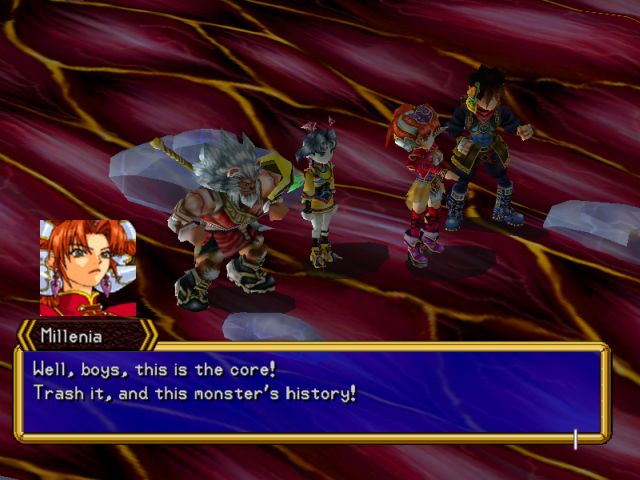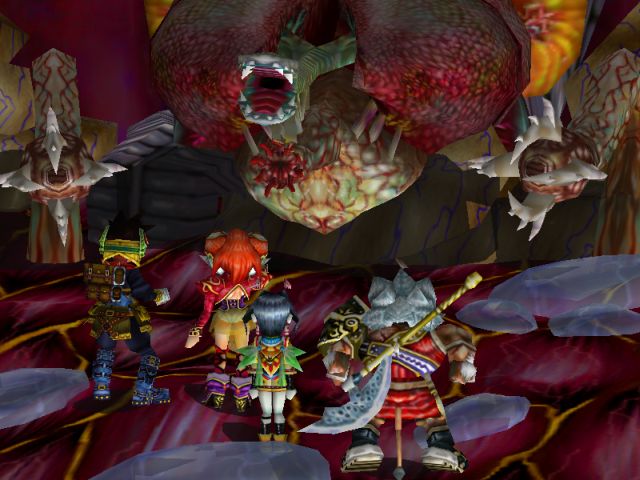 Valmar's Body

Difficulty:

HP:
~40000 / 13000x2
Attack:
~900 (on the tentacles; they also cancel, sleep and moveblock)
Abilities:

Suck In,

Strangulation (~2200 damage, all stats -1),

Zap! (~1800),

Stram,

Poizn (~300),

Def-Loss,

Shhh!,

Fiora
Weak
to

The Body has a very simple battle plan.
Step one: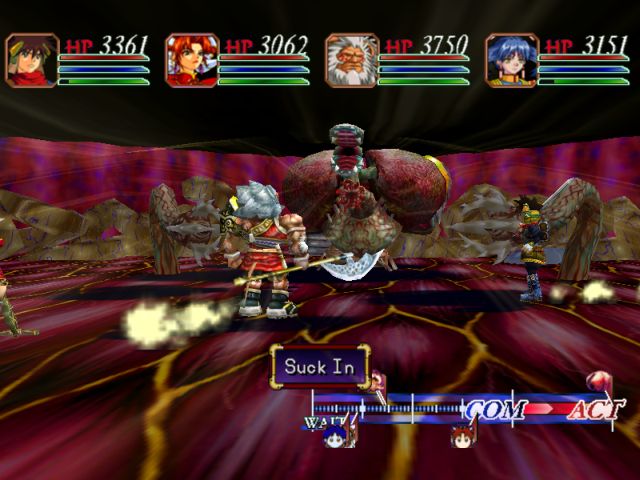 Step two, hopefully cast

Zap! and get two attacks in with the tentacles, killing the party in one fell swoop.
Unfortunately for it, this will basically never happen. For one, you can dodge the tentacles' attacks, meaning they pretty much have to both attack within 3-4 seconds of the

Zap! or your +MOV buffs will render them useless. The chances of this sort of triple threat sneaking up on you are minimal and you can equip lightning resistance to mitigate it anyway.
The tentacles can only hit you when you're up close and the Body loves to waste time casting debuffs, so if even half your party survives the wombo combo then you can probably recover from it every time. Then, you cast 3000 damage Burnstrikes because the poor thing's weak to fire.
Oh, and it doesn't even have a cool Valmar attack. Instead it has
whatever this is
. If anyone's still trying to fit these into the seven deadly sins, well, good luck.
MUSIC:
Silence.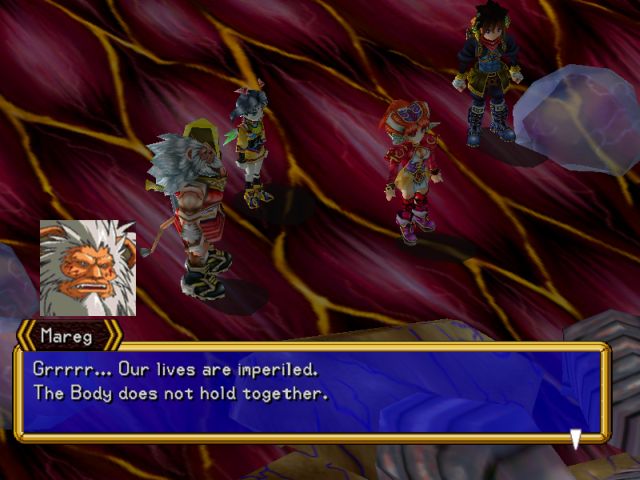 Cool it, manimal. We'll have enough time.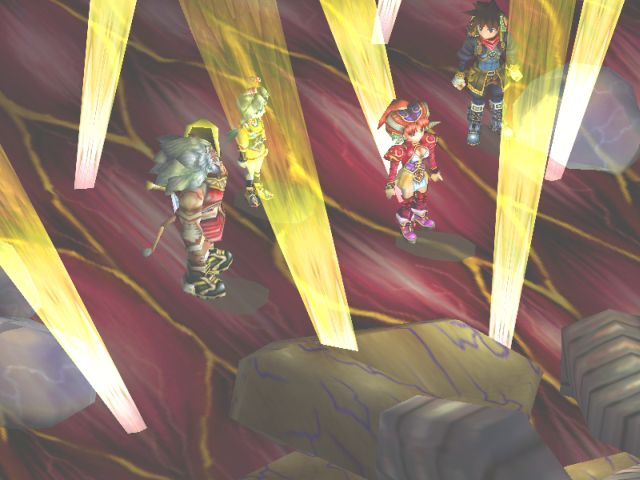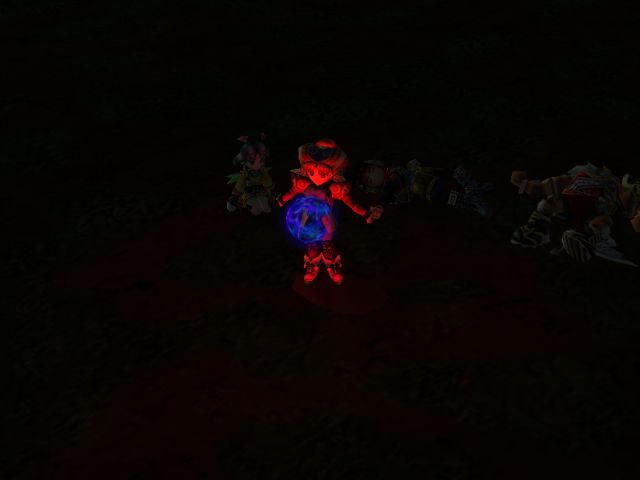 Now I have the "Body..."

Ugh, that was rough.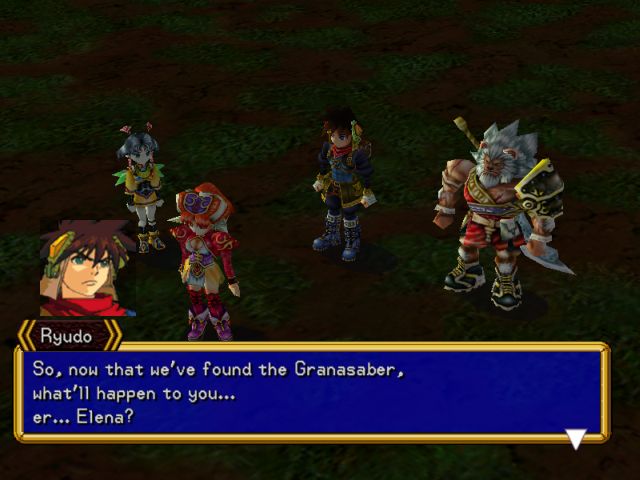 How should I KNOW?!

Why did it have to end up like this?

I just wanted a body of my own... Ryudo? Was I wrong?

: Mi- Millenia...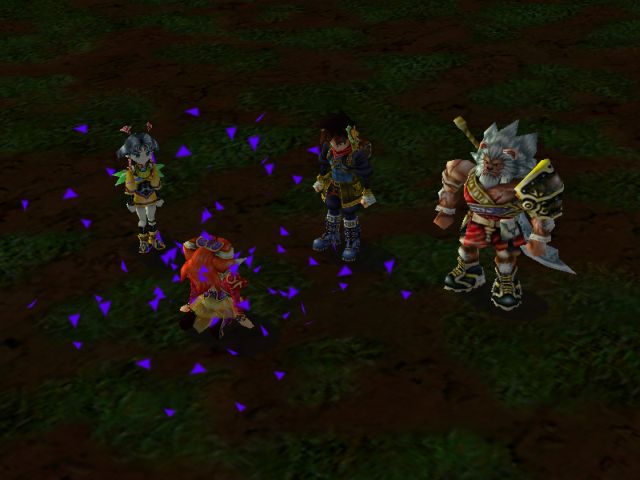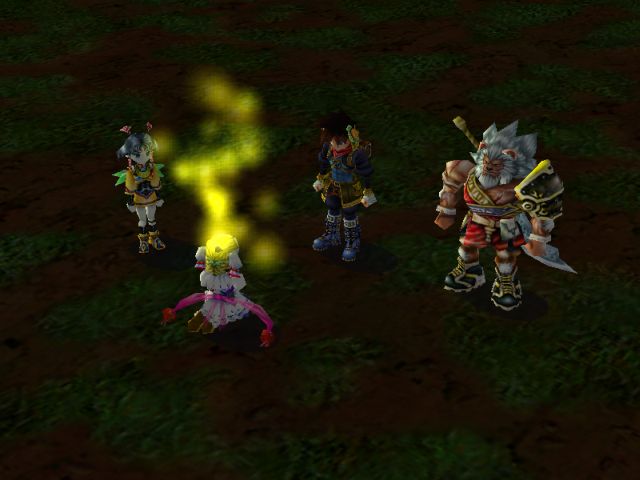 It appears that monster has left.
I really hope he means Selene, because I love the idea that we just fought our way through the guts of a doomhell leviathan and he still saved that appellative for her.

Whatever. Anyway, we got the Granasaber. Finally.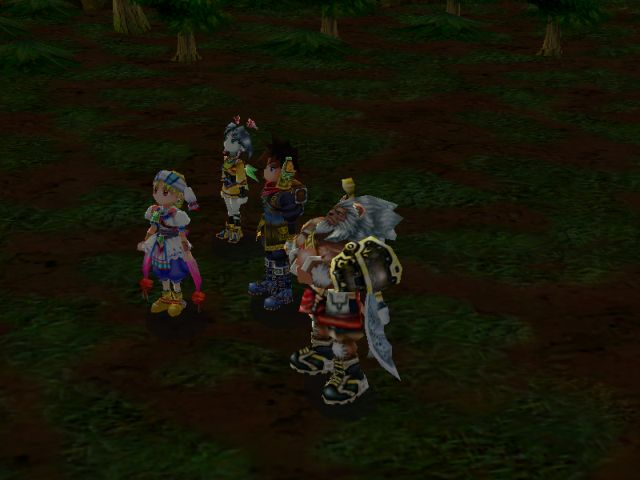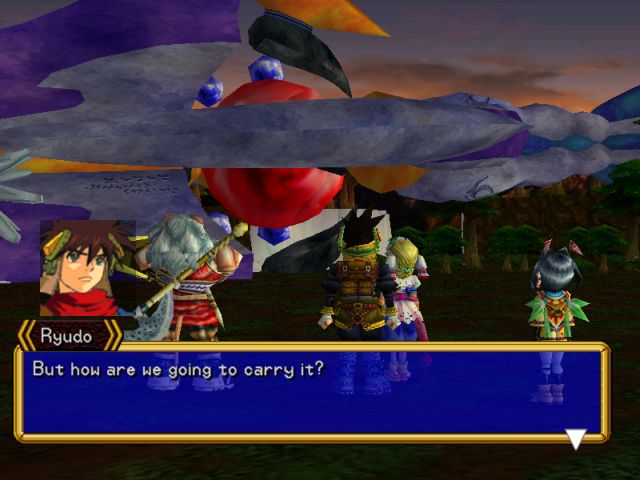 A thousand men could not bear its weight.

Do not worry. I shall control it.

Huh? What the hell are you talking about?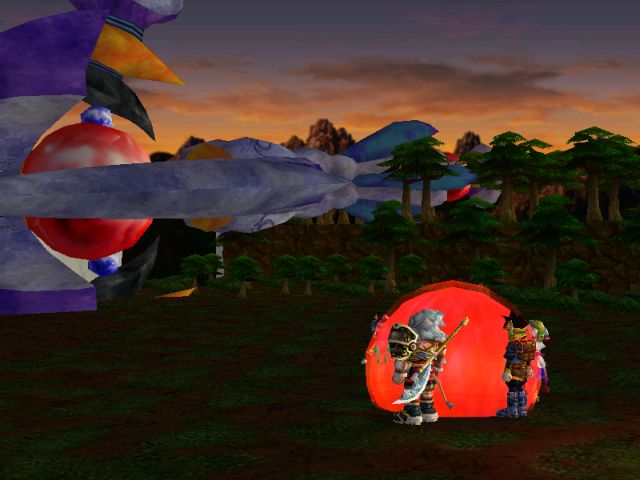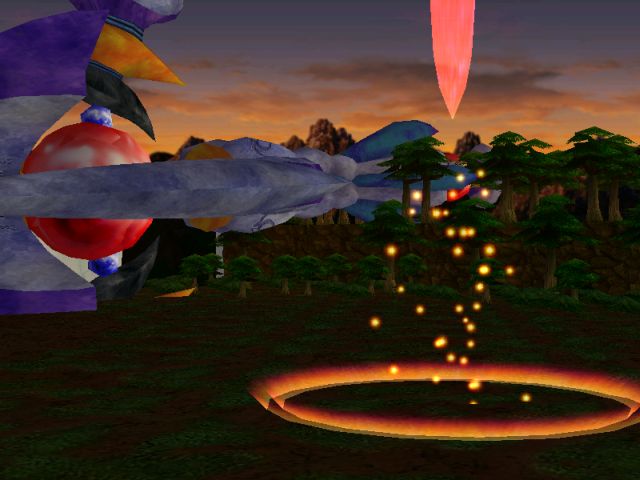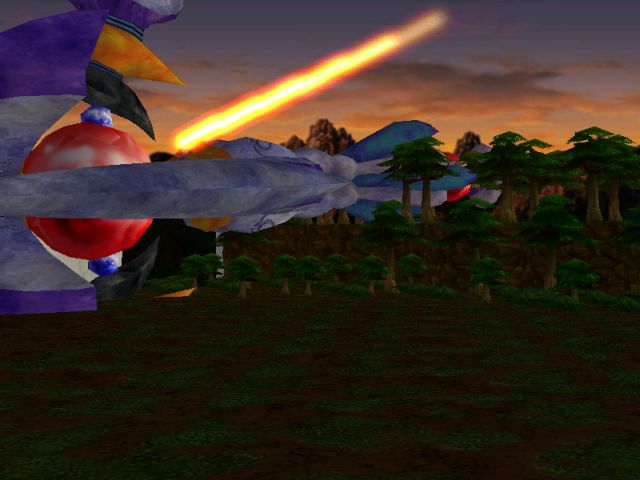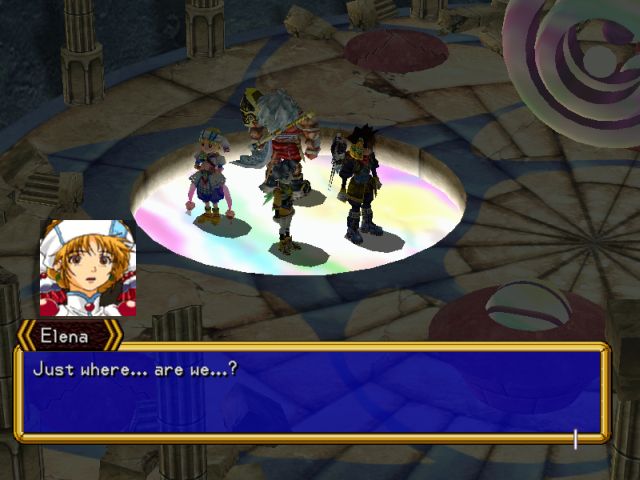 This is the main control room of the Granasaber.

Control room...? We're INSIDE the Granasaber?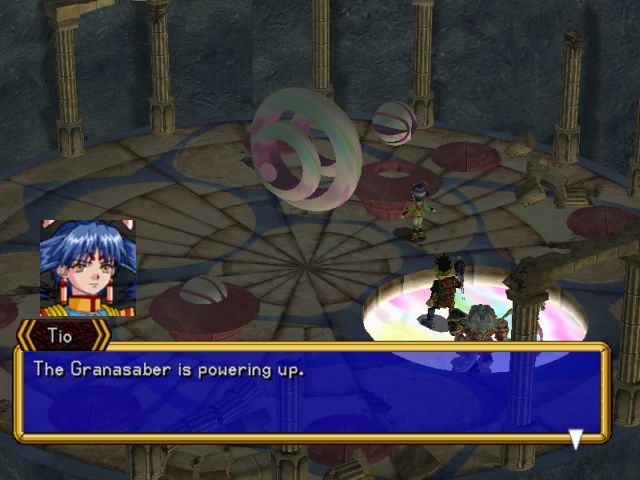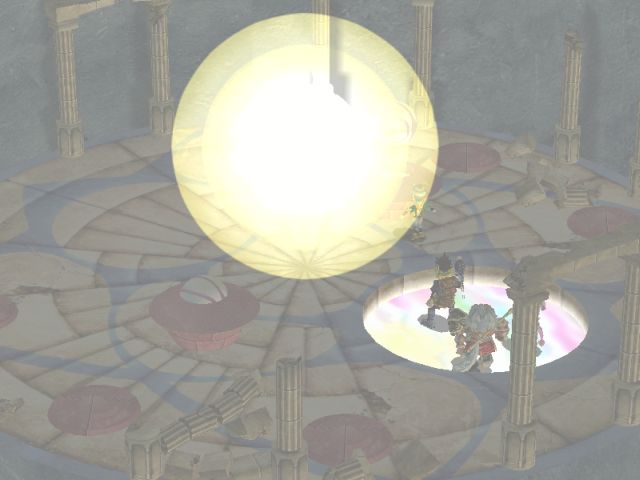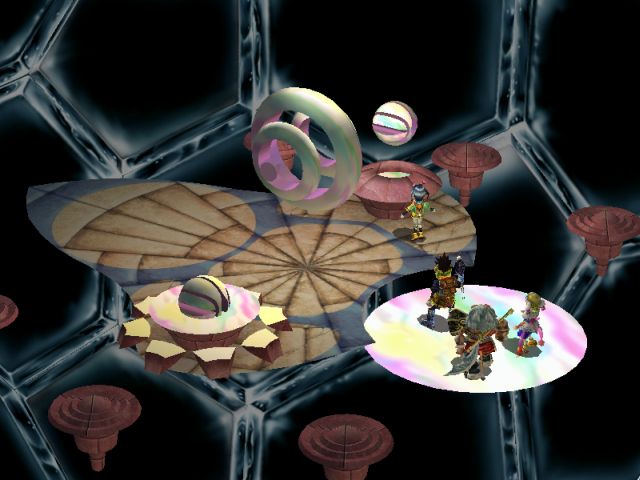 Video.
Keep the music playing if you watch it, it's just the next few screenshots.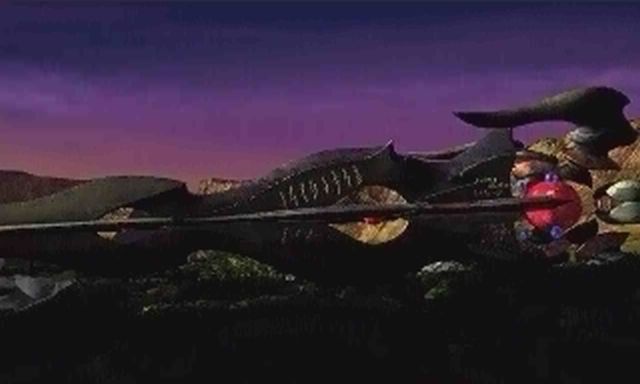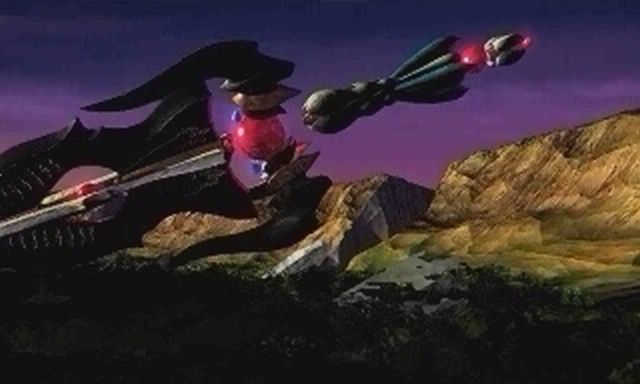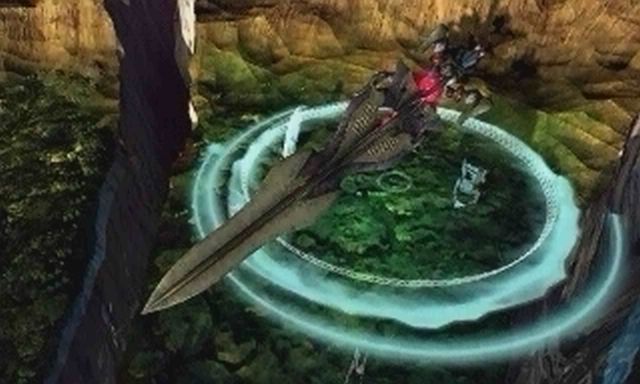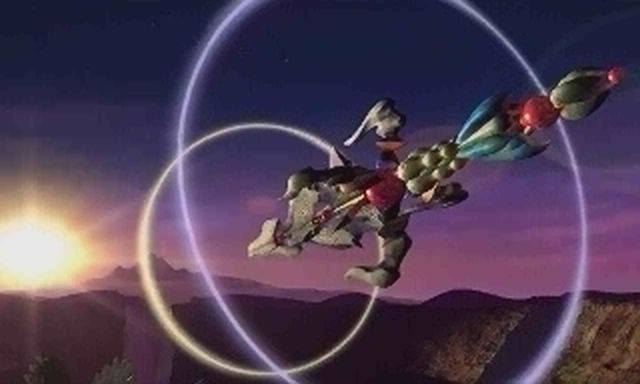 MUSIC:
A low humming.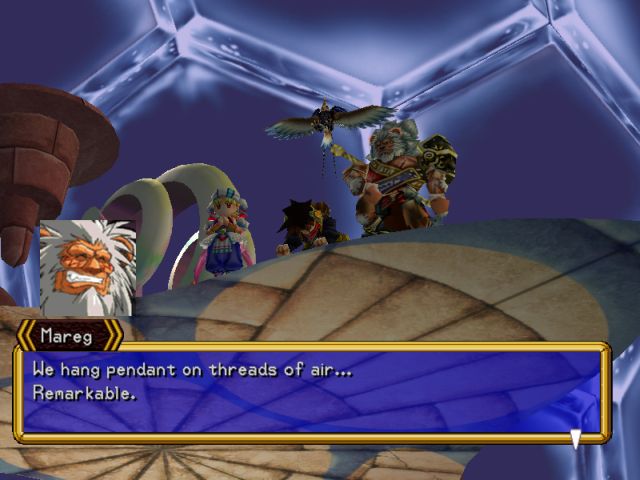 We are really... high up! I feel just like I am about to fall!

So this is the power of the Granasaber... It fights evil and has plenty of leg room.

... I have set the Granasaber to land automatically at St. Heim Papal State. Is that alright, Ryudo?

Perfect. Thanks, Tio. And so yet another job is finished... We did it!

And now the earth itself shall be safeguarded. It is good that this is so.

Yes...

... But what about that Selene? I'm guessing she was trying to off us. What the hell was she THINKING?

...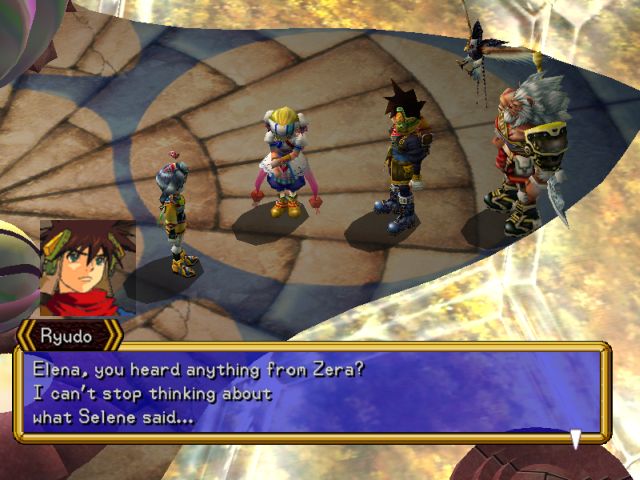 No... I have heard nothing.

Well, when we get back to the Papal State, Zera's going to have a little confessional sessoin with me.

I am a little tired... Tio, can I rest somewhere?

Yes. Elena, please come with me.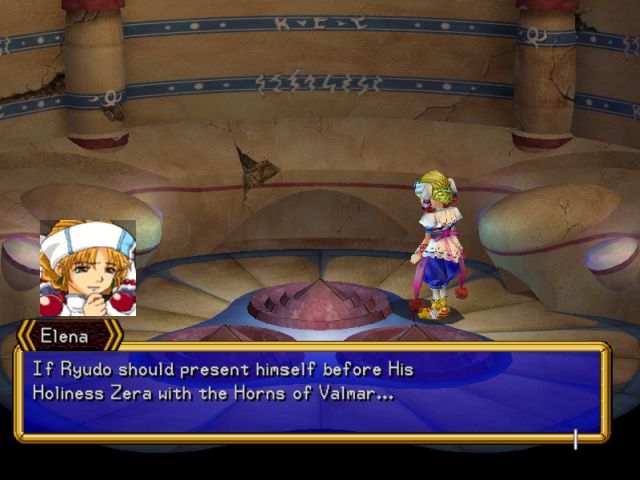 O Lord Granas, I, I...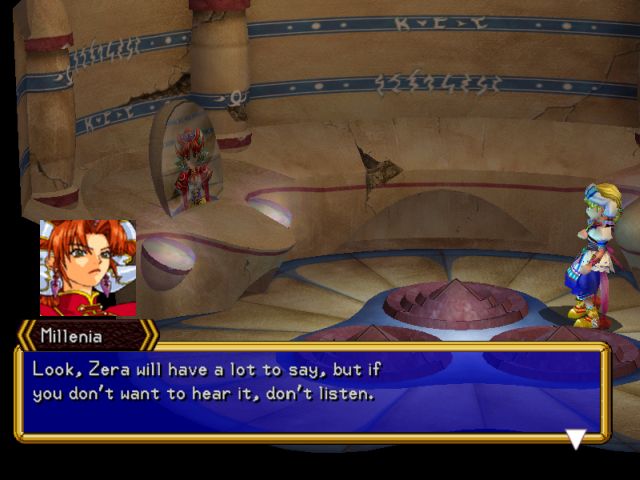 Like, I never listen to you. Why must I always do what you want? I'm my own person! Sorta...
Mi- Millenia!?

That Zera really pisses me off. I HATE him. All he wants to do is take away people's freedom.

All he wants is to make you his slave. So why do you listen to everything he says like a loyal dog?

You lie! His holiness Zera is trying to save me!

See! It's always about you! Or the stupid world! What about Ryudo? Don't you care about what'll happen to him?!

You really think you can be safe AND happy?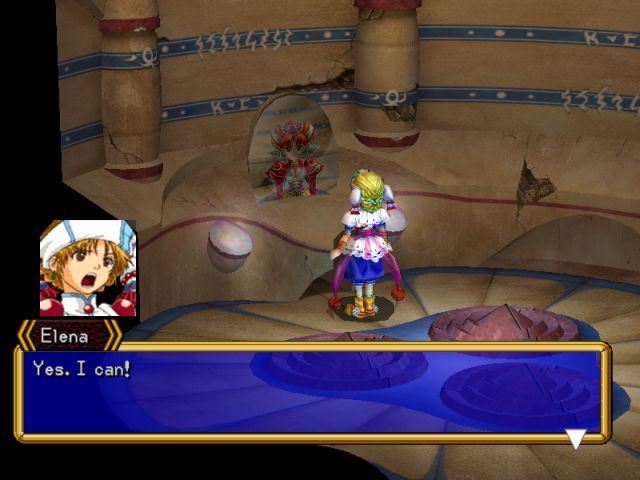 You can't get safety from the Light. You can only get it from the Darkness.

NO! You are Valmar! Do not attempt to deceive me! Leave me be!
Millenia's image begins to flicker.

Ha! Even if you close off your heart, I'm not going to go anywhere, Elena.

GO AWAY! I HATE YOU!
The flickering intensifies.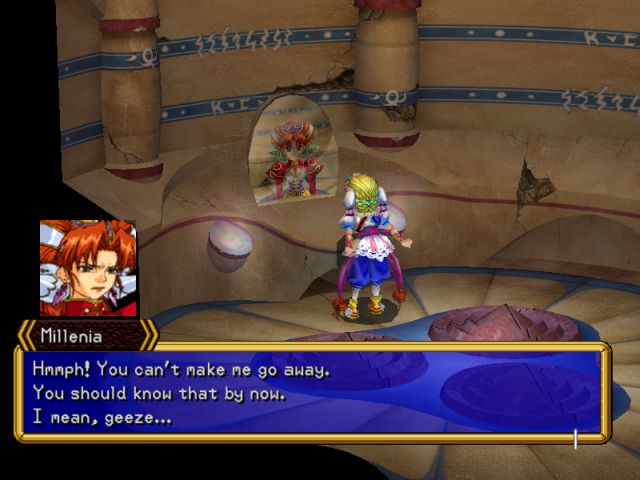 You are the Wings of Valmar! That is ALL! I have no room for you in my heart!

GO AWAY, Millenia!

You blockhead! St- stop...

I'll never... ever let you have... your way with Ryudo...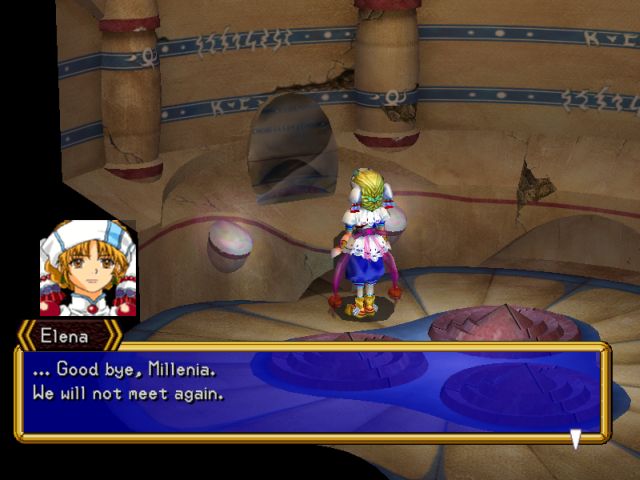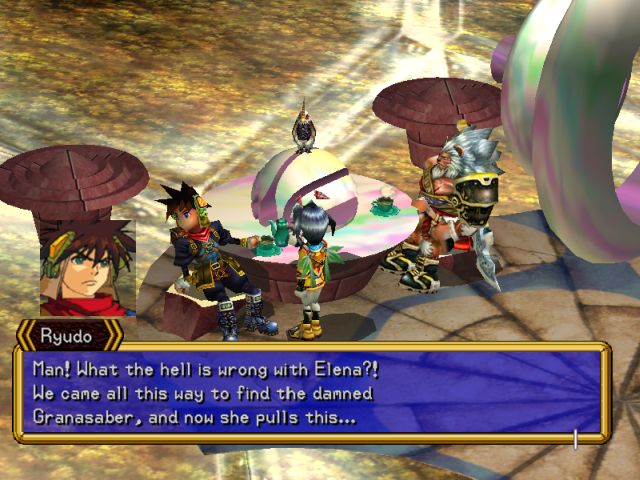 Tio pours Ryudo more tea.

Elena may still have some unfinished business.

Still, we got the Granasaber. The hard part is over.

All that's left is to put the big toy in its big chest, and the job is done. Can't she be just a LITTLE happier?
Ryudo drinks from his cup and slams it on the table; Tio resumes pouring.

Let it be. You will only make matters worse, for your tone rarely bespeaks your true sentiment.

The kid's just fishing for praises from Elena.

Indeed, it is so.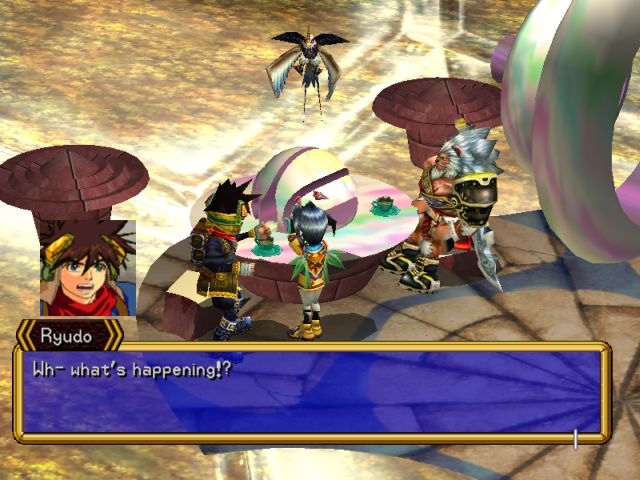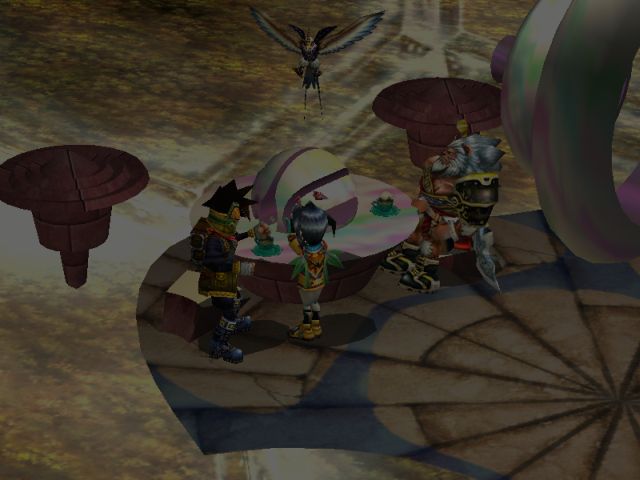 WHAT? Just what is this...?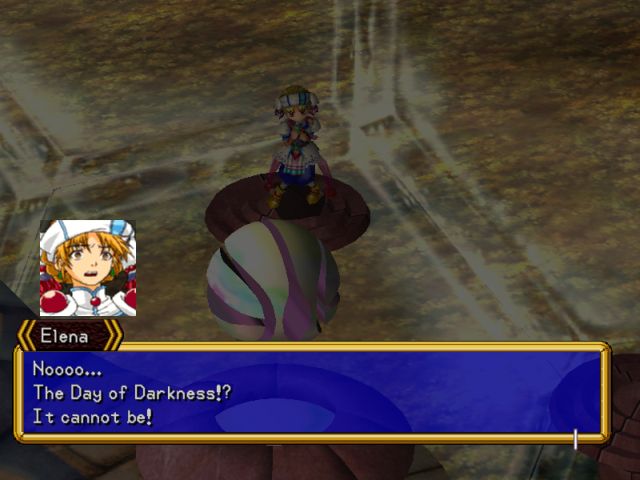 Video.
Once again, the music accompanies it.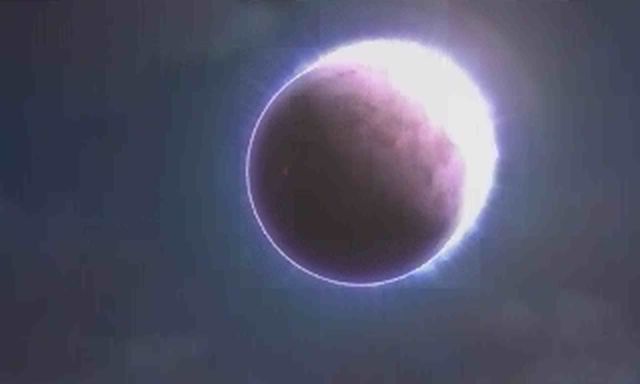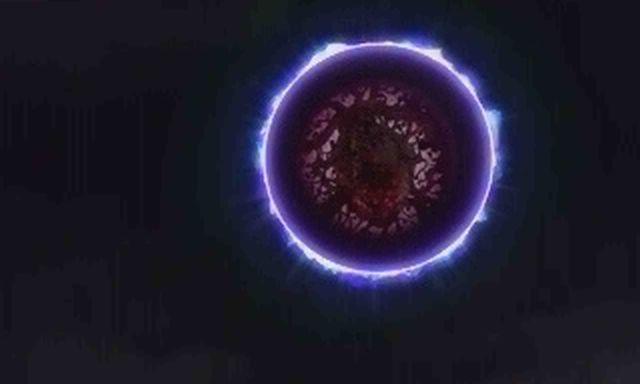 The shadow comes.
Official Art:
Millenia