Part 15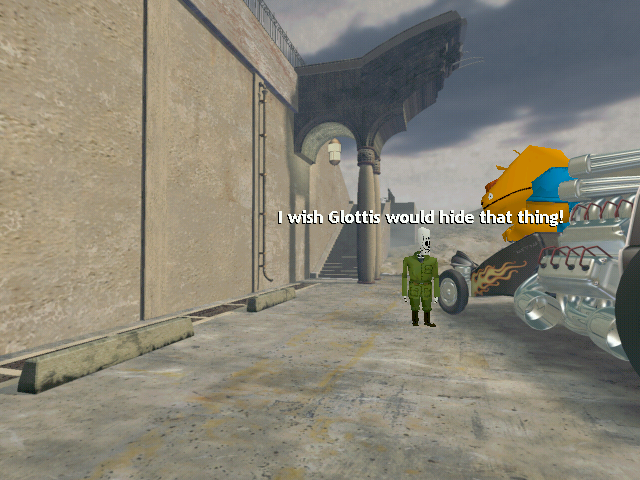 Oh sure, you really liked it a while ago.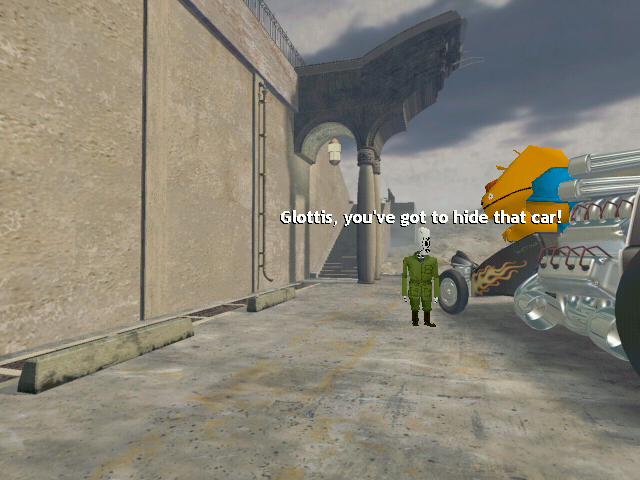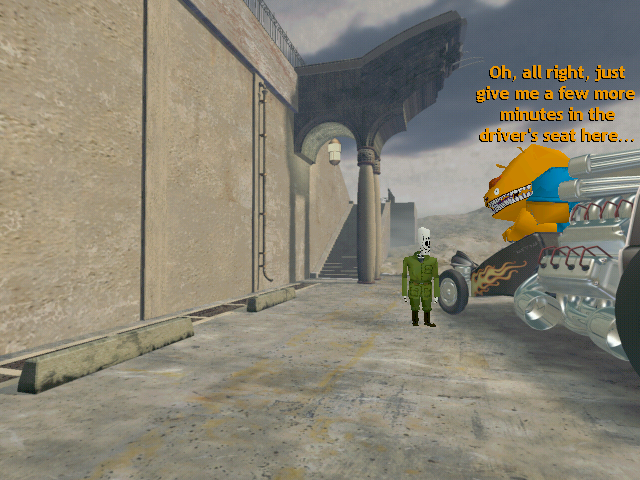 Video time! Meet Velasco!
Video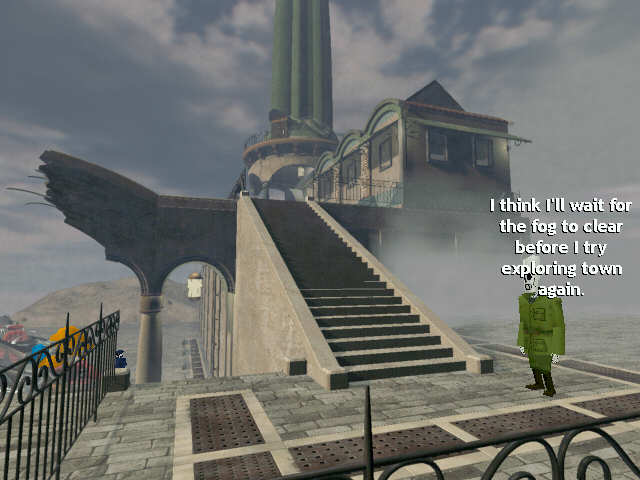 Let's go back and see Velasco and Glottis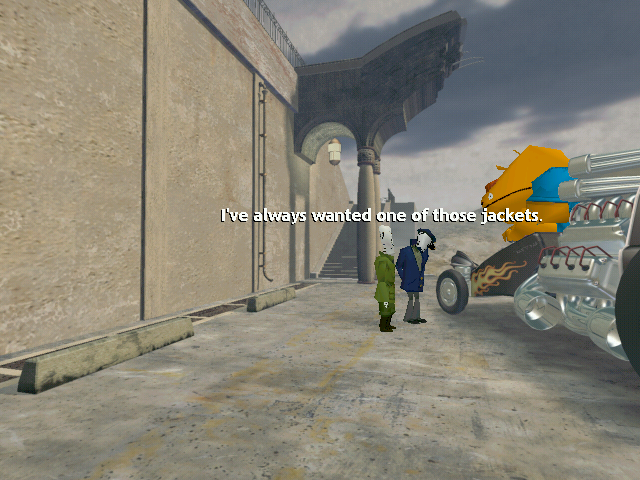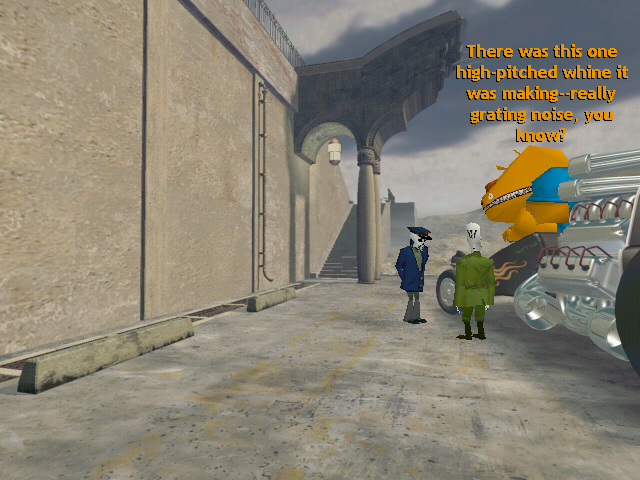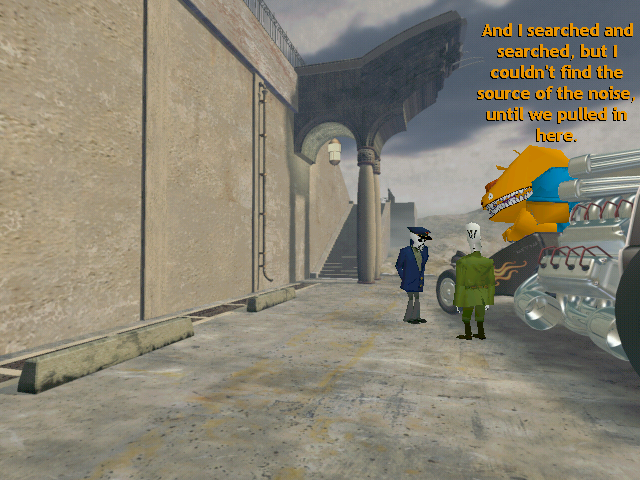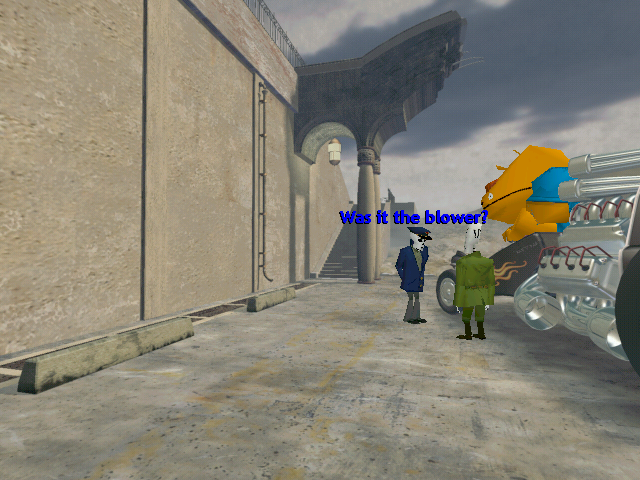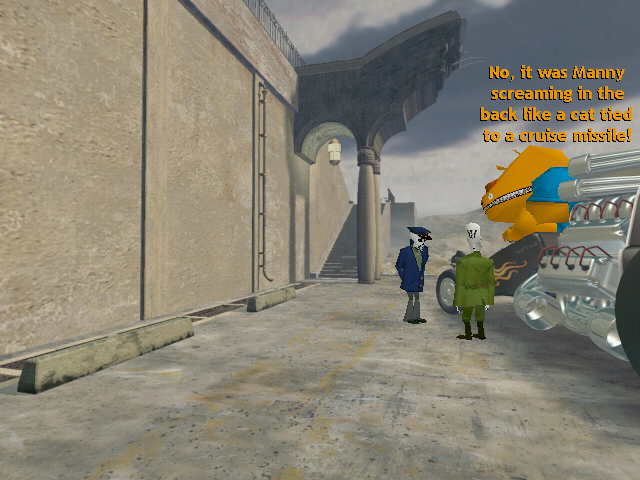 hah.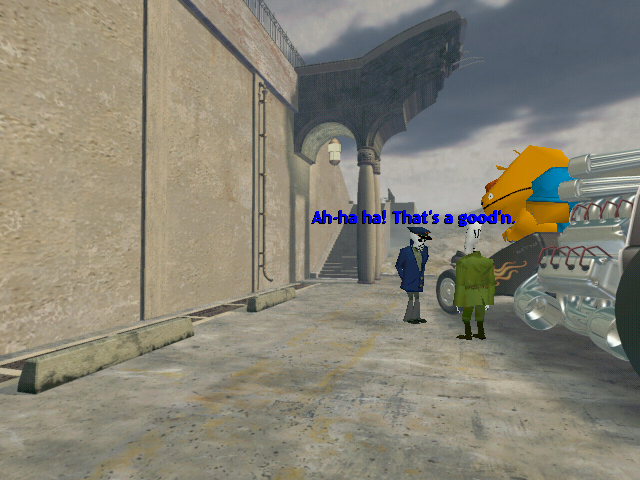 Velasco agrees.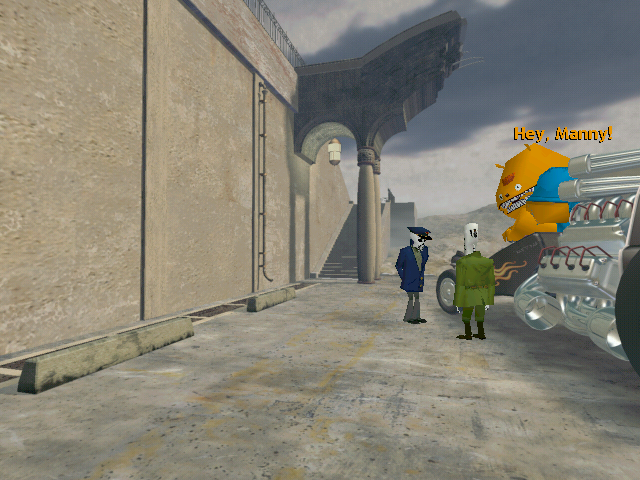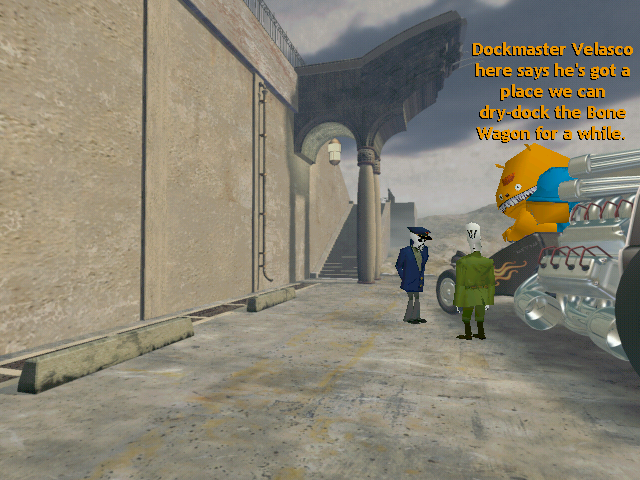 Well, that's fixed.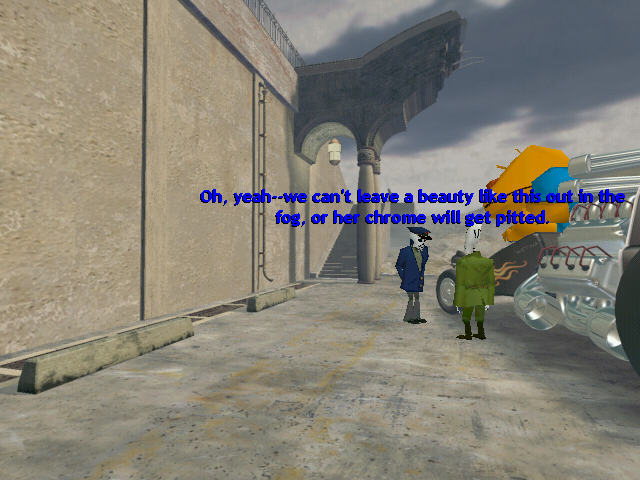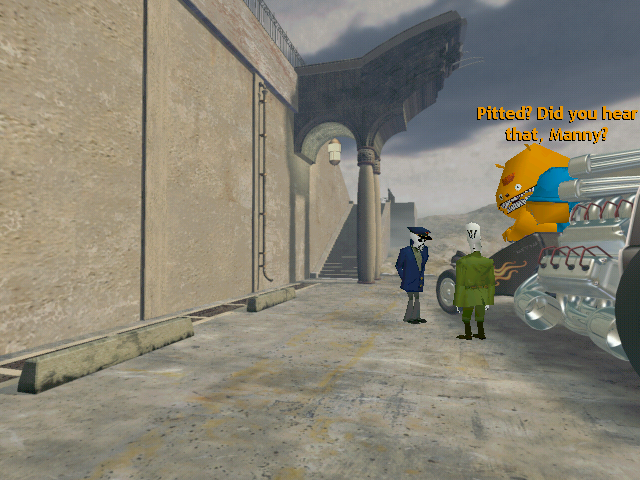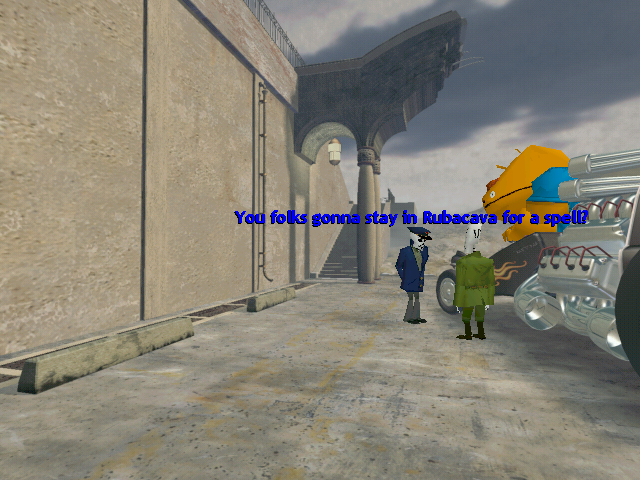 I think that the answer is "yes"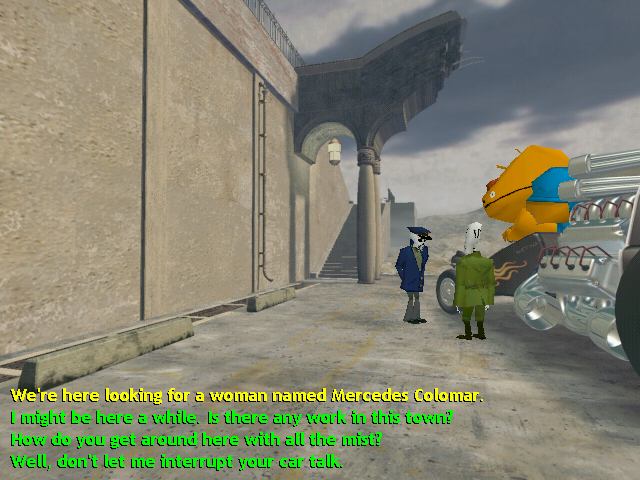 Time for the dialog tree.
Manny
We're here looking for a woman named Mercedes Colomar.
Velasco
I'm not too good with names...
Did she have any distinguishing marks or a tattoo?
Manny
Not that she showed me.
Velasco
Well, like I said, I'm as good with names as you are with the fog...
Heh heh.
Manny
I might be here a while. Is there any work in this town?
Velasco
Oh, there's lot's of work down at the docks, but it's all union work.
Eh-heh, a-and I just don't see you in that union (huh, huh, huh).
Manny
How do you get around here with all the mist?
Velasco
Ah-uh, when you've strolled these docks as long as I have, pilgrim...
You know where you are by smell of the sea, by the sound of the lonely fog horn...
...by the icy touch of the cold, salty air.
Glottis
Wow...
Manny? Could I have an eyepatch?
Manny
Can I just ask--what IS under the eyepatch?
...because I KNOW it's not an eye.
Velasco
Oh, well, when I was alive I had an eye patch like this...
...this one's just for the phantom pain...
And that one eye socket used to scream like a banshee when the trade winds blew, so I plugged her.
Glottis
Hey, Manny, we WERE in the middle of a conversation here...
Manny
Hey, hey, okay.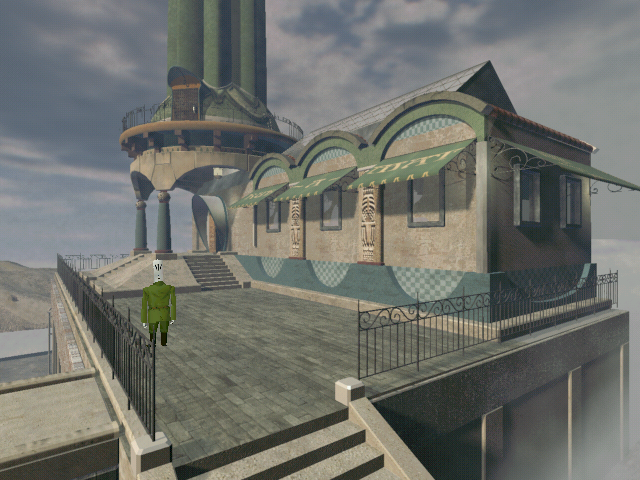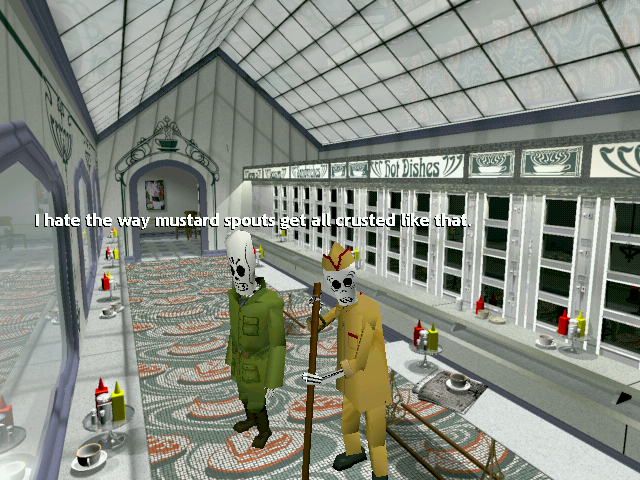 That guy looks familiar.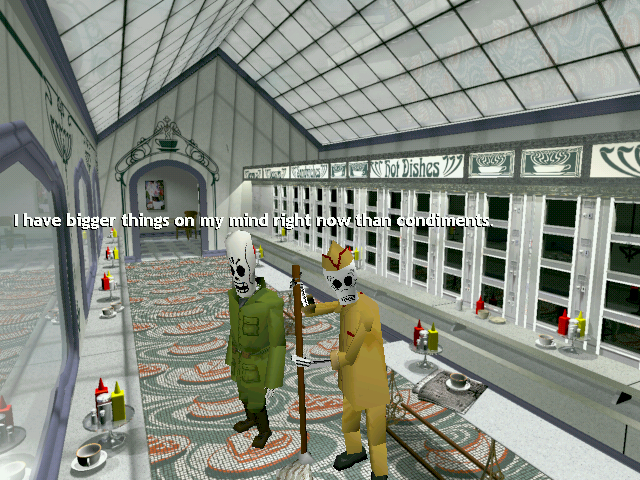 Sure you do.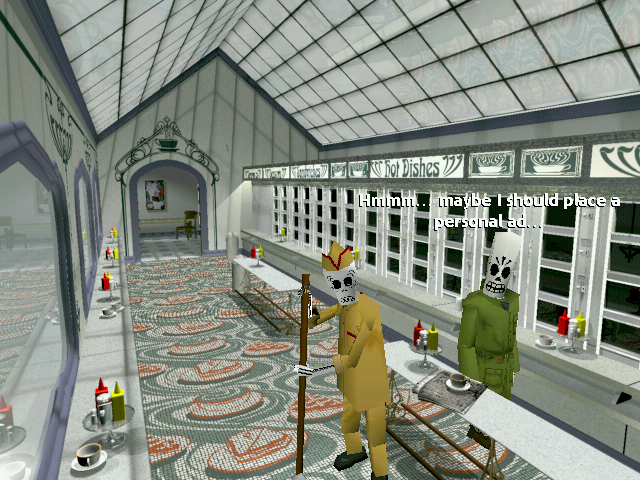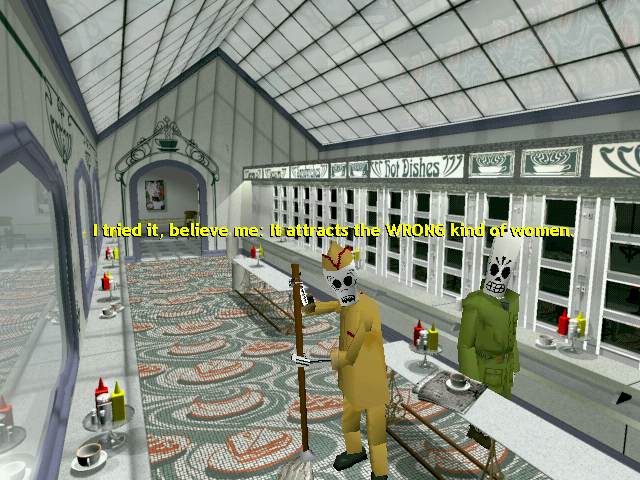 Heh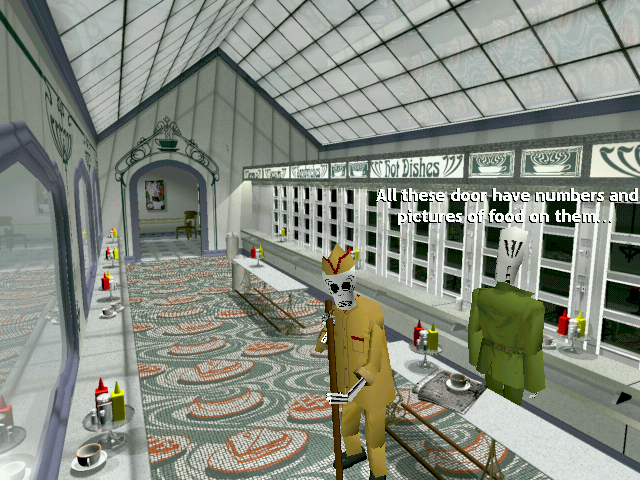 Manny
All these door have numbers and pictures of food on them...
What's number #22
Celso
Lengua.
Manny
Wow. It's been a long time since I had a tongue.

Durr.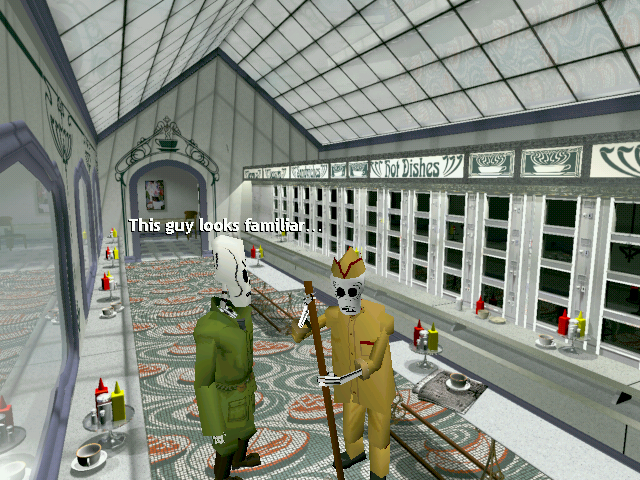 Manny
Mr. Flores?
I'm ready to take you now.
Celso
Manny Calavera? Is that you?
Didn't you used to be...
TALLER?
Manny
I'm here to reclaim that walking stick.
Celso
I broke it over the head of some hideous monsters in the forest.
Manny
I'm looking for a woman named Mercedes Colomar.
Well, no one's come through town by that name, and you can take it from me.
I, too, am looking for someone, so I watch the comings and goings around here VERY carefully.
Manny
Who are you looking for?
Celso
Well, if you must know, it's about my wife...
I got word that she passed away not long after I, and that she, too, was crossing the Land of the Dead on foot.
It is said that all lost souls come to Rubacava, so I came here to wait for her.
Manny
How do you know your wife hasn't gone ahead of you?
Celso
Oh, Manny--If she had arrived here first, SURELY she would have waited for me!
Manny
I'll help you find your wife. What did she look like?
Celso
Oh, here. *gives Manny a photograph*
I got this from the DOD, and made copies to hand out.
Isn't she something?
Manny
She must have been beautiful with skin.
Celso
Weren't we all?
Manny
So, know a good place to stay in town?
Celso
What's your price range?
Manny
Somewhere around the high-end of nothing.
Celso
Then maybe, young man, it's time you started thinking about a job.
Manny
You must love her very much, Celso.
Celso
Yes, this is true...
Of course, she also has all of my money...
Manny
Can you get me a job here?
Celso
Have any skills?
Manny
Sales.
Celso
Well, that does qualify you for a certain position, but...
We only have one mop.
I'm sorry Manuel, I've got to get this place ready to open...
Manny
Right. I'll let you know if I see your wife.
Celso
She'll be the one asking for her beloved Celso.
Manny
Good to see one of my clients doing well.
Are you sure I can't sleep in the back?
Celso
There's only room for one.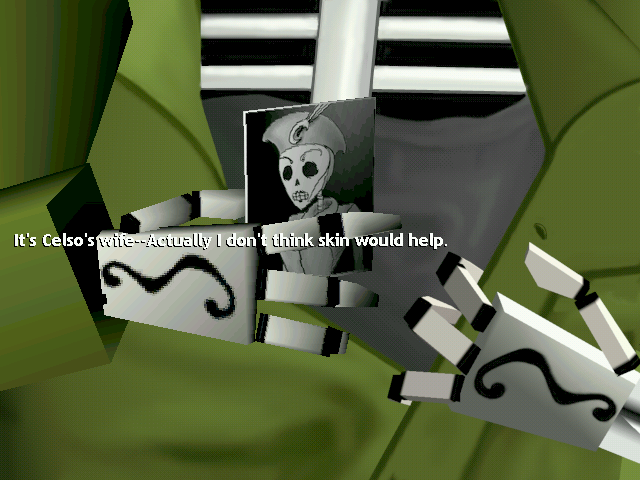 When one shows the picture to Velasco, we have this:
Video
And that is the end of Year 1, and the beggining of Year 2. Next update: Awesome Year 2 music and stuff.