Part 16
Have some Year 2.
Update #14
First, some videos. Year 2 begins this way.
Video
Notice that in the beggining, there is someone walking down there. That's who Lupe said we should meet.
Manny rigging the Roulette will also be important later.
When Manny calls Glottis "Carnal", it is kind of like calling one "bro".
Neeext (yes, did this with video, I liked the voice acting in this one. Also with the Velasco conversation, would have been useful to show the two pronunciations that characters have for a name, Manny's being the correct one, but eh, whatever. Maybe in the next update)
Video
Fat in more ways than one. Heh.
Third Video:
Video
Some foreshadowing, as you'll see in later updates.
Fourth Video: Just had to do this one, the music shifts amused me for some reason.
Video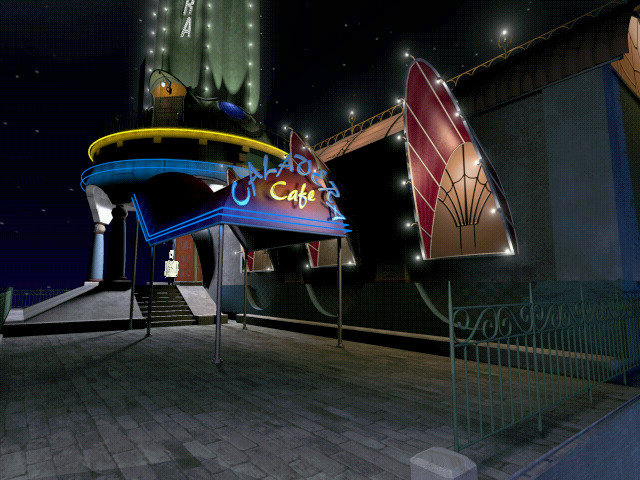 The new Rubacava place thing. Manny sure made some changes in one year, eh?
Fifth video:
Video
FMV, duh.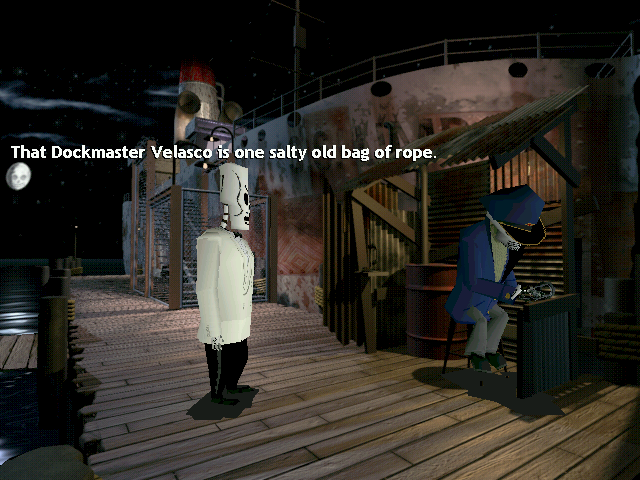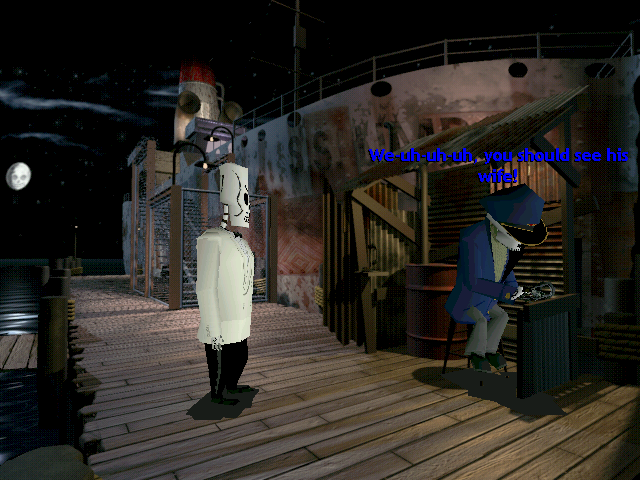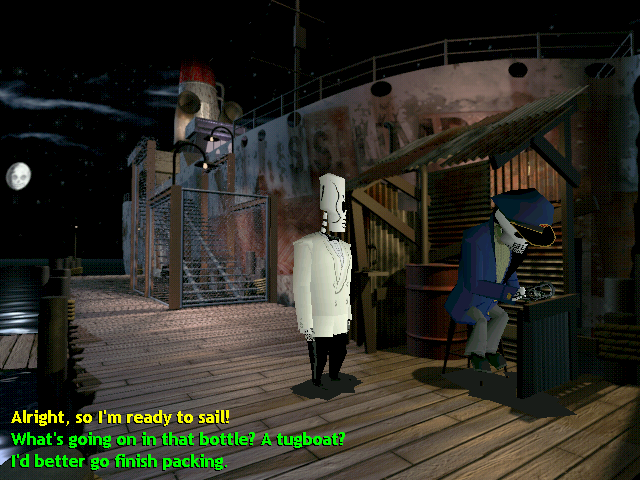 conversation time!
Manny
Alright, so I'm ready to sail!
Velasco
On what?
Manny
On the Limbo, Man, let's go!
Velasco
Manny, Manny, Manny... The Limbo's not a passenger ship!
She's small cargo, son, and every hand on board works!
Manny
I'll work!
Velasco
What are your skills?
Manny
Sales and restaurant management.
Velasco
Ohhhh...hey, there is ONE opening on the Limbo's crew...
Manny
Yeah?
Velasco
Yeah, it's in the engine room, and your buddy Glottis would be perfect for it!
But he'd have to get his own tools...
Manny
Okay, if I get Glottis some tools, can we board?
Velasco
Uh, HE can, yes.
No offense, Manny, but there's just no place for you aboard the Limbo.
She's fully manned already.
In fact, her whole crew is on board, ready to sail at dawn...
...except for that one guy...
Manny
Who's the one guy who hasn't boarded yet?
Velasco
Yeah, well-uh, Seaman Naranja's a little late, but he'll be here before they sail.
Manny
What job did Naranja have?
Velasco
He ran the galley...
Manny
Ah ha! Restaurant management!
Velasco
Yeah, it's similar to what you're doing now, except the fish is fresher on the Limbo.
Manny
What if Naranja doesn't show up? I can fill his spot, right?
Velasco
Manny, you're not even in the maritime union!
Manny
I know that, and you know that, but we're two guys who can keep secrets, right?
Velasco
Glottis is exempt, but the captain will ask for YOUR card, and if you don't have one...
...They'll serve you to the sharks like chum, and what's worse...
I'll get fined!
It's a tough union, boy, and I don't mess with 'em!
Manny
So let me get this straight...
Manny
If I get Glottis some tools...
Velasco
Then I can get him a job on the Limbo.
Manny
...and if Seaman Naranja doesn't show up for work...
Velasco
But he will.
Manny
...and I get a maritime union card...
Velasco
...which you'll never get.
Manny
Then I can sail on the Limbo in the morning?
Velasco
Sheeese.
I GUESS SO.
Manny
What kind of tools does Glottis need?
Velasco
Authentic Sea Bee equipment only.
Manny
Where do I get Authentic Sea Bee equipment?
Velasco
Why don't you ask a Sea Bee?
Afraid of gettin' stung?
HA HA HA, HA-HA!!!
Manny
Where do you think Naranja is?
Velasco
Probably home selecting recipes for the trip!
Manny
What's going on in that bottle? A tugboat?
Velasco
This happens to be a perfect scale replica of the SS Lumbago!
I'm just having a little trouble getting the walking beam to fit in the neck, here...
Manny
Hm-that's funny because a lumbago is usually more of a problem in the lower back than the neck...
Velasco
Eh-hmmm?
Manny
Nothing.
I'd better go finish packing.
Velasco
Aye, you do that, son.
Notice: The way Velasco pronounces Naranja is wrong. The way Manny says it is right. Video fo the pronunciation differences next update. It is something that irks me in Year 2.
Next update: Finding stuffs. yes. And more Year 2 videos.