Part 7
Warning: Big linked gifs.
Also: If no one else does a LP for monkey Island 1 or 2, when I am done with this I could make one.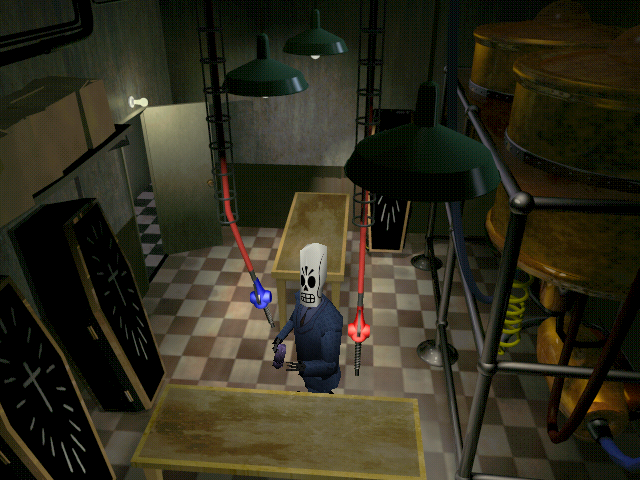 That's one chemical filled balloon, a quick trip to the outside and a bit of pestering to the clown, and we can get a second one, for the other chemical. After all, he said that there were no limits on those.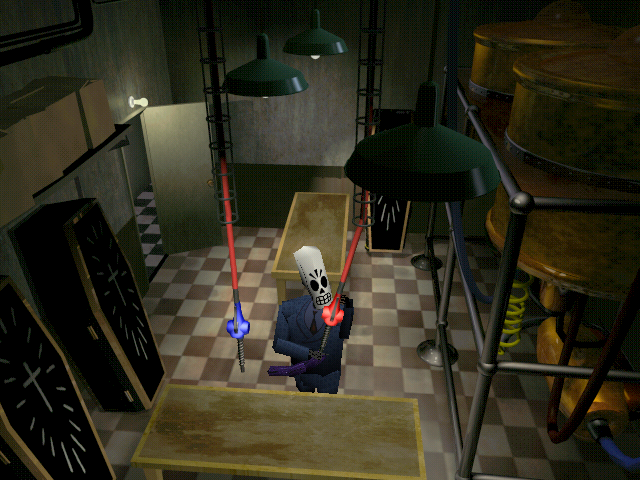 Well, that's that, we got the two chemical filled balloons. Let us check the other room.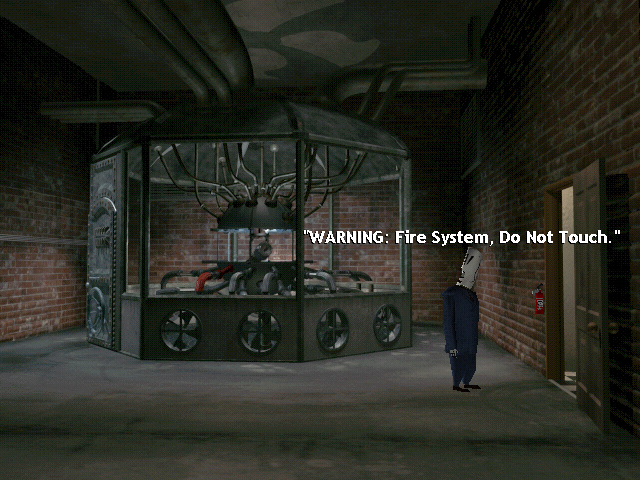 Manny: WARNING: Fire System, Do Not Touch."
That red tube looks familiar.
I think that's the other end of Domino's message tube...
If I could just get in there...
Can't reach.
It's the sophisticated and delicate hub of all communications here in the Department of Death.
As a rule, I never touch anything more sophisticated and delicate than myself.
The wheel won't turn, and the door won't budge.
Hm, the fire extinguisher looks handy, I am sure that we will have to use it later.
We should find a way to get in there, it is closed now, and we can't access the tube

Oh well, we'll see later.
Hm, let us cause some mayhem with our own tube, maybe then the demon will open the door for us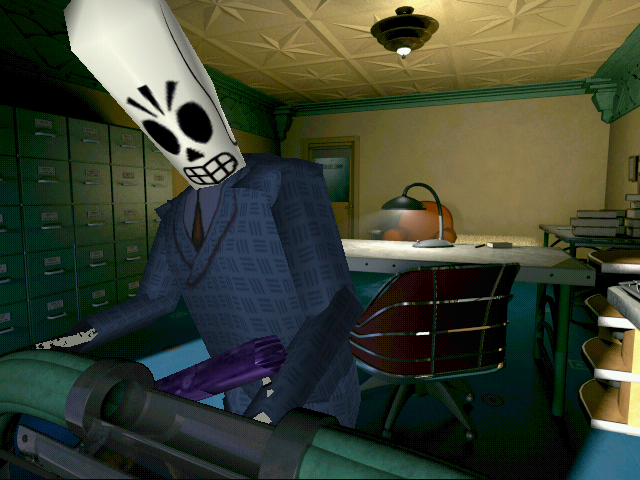 There goes one of the chemicals.
Weird graphic error, don't think I have seen it go that way in my earlier playthroughs.
*inserts the other balloon in a similar way*
There goes the light one.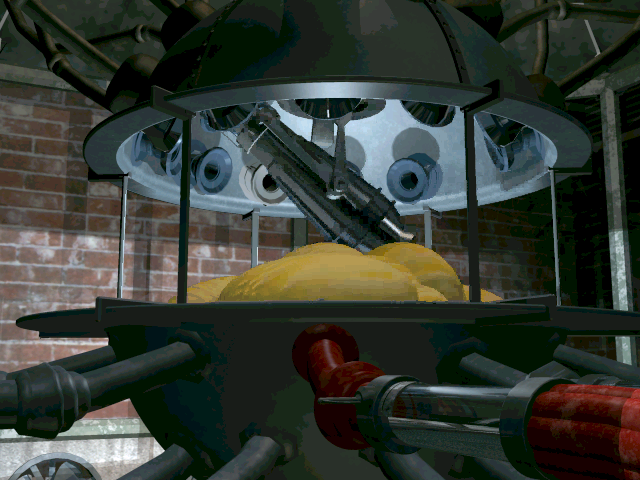 Mmm. Delicious mayhem. That should cause enough problems there to allow me access to Domino's tube.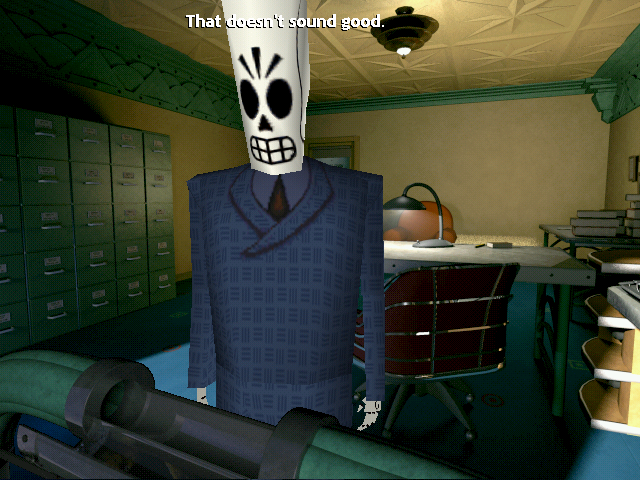 Nope, it does not.
When one passes through the corridor, Eva says "Server's down again", and Manny responds "What else is new?", apparently, it is a common problem in the DoD, as the demon said. I wonder who is the one that blocks it the most?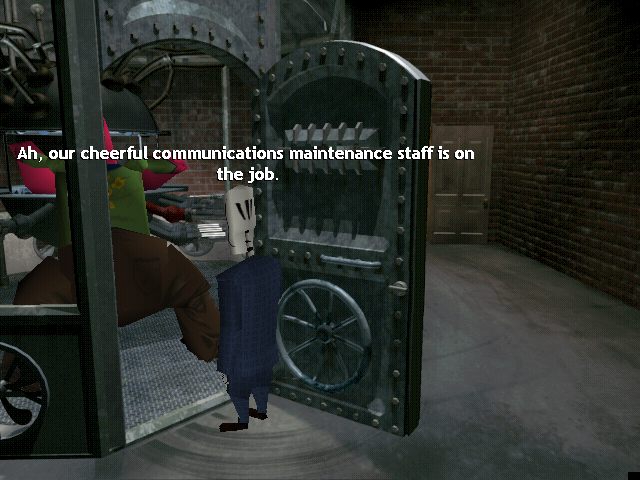 Ah, open at last, but there's a big demon butt blocking the access to the tube, damnit. Let us talk to him.
Manny
Hi. I'm not getting any messages. Is the server down?
Tube-Switcher Guy
This is their idea of a joke?
They think it's funny?
I'd like to jam THEIR tubes with packing material, see how they like that!
Manny
So, you're saying the server is down, is that it?
Tube-Switcher Guy
The server is not down, it's never DOWN.
It's just temporarily unavailable while I'm doing some maintenance, that's all.
Manny
So, how long is it going to be down?
Tube-Switcher Guy
With a job like this you never can tell.
Probably hours.
Manny
Or until no one's around to see you sneak out, Aye?
Tube-Switcher Guy
Whichever comes first.
Manny
Can I squeeze in there, just for a sec?
Tube-Switcher Guy
Are you kidding?
This is a highly secured area.
No one's allowed in here who ain't me.
Manny
What's so special about you?
Tube-Switcher Guy
I, sir, am an elemental spirit, summoned from the Land of the Dead itself...
Manny
Yeah, yeah, let me guess...
You were given one purpose, one skill, one desire: fixing pneumatic tube switchers?
Tube-Switcher Guy
No, I was created to run the elevators, but they put in those dang motion detectors...
...and put me outta work!
Manny
Just curious--How'd you get in there?
Tube-Switcher Guy
I squeezed down one of these tubes, like a pixie!
How d'ya think I got in here?
Through the door, just like you!
Manny
Who would do a terrible thing like this?
Tube-Switcher Guy
It's those punks in the mail room!
They think this baby's going to put them out of a job.
And they're right!
Manny
You know, I really think it's clean enough.
Tube-Switcher Guy
Oh, it's clean enough to run, all right.
I'm just fiddling around to be safe, you know...
Gotta cover my ass!
Manny
Yes you do.
Tube-Switcher Guy
Say, uh, Chatty Cathy...
Tube-Switcher Guy
I got a lot of tubes to flush here...
Manny
Hey, me too. I'll let you go.
Tube-Switcher Guy
Ah, not again!
*Tube-Switcher guy's shirt catches on fire*
AAAAY-AY-AY!
*Manny pulls the extinguisher out*
Tube-Switcher Guy
You trying to blow this joint sky high?
That's a magnesium-compound fire extinguisher!
Spray that on this packing foam and we'll both be riding the giant roman candle out of here.
Manny
What? Why would they put something so dangerous in here?
Tube-Switcher Guy
I guess they didn't expect this room to be full of hazardous waste!
let us lock the door, to prevent it from closing down properly.
Manny
I've just locked an open door.
Manny
Strange, yet symbolically compelling...
We go out, and then the Tube Switcher Guy goes out of the room.
Let us manipulate the tube we need something to block the messages with. Fortunately, we have a punched card.
Should do the trick.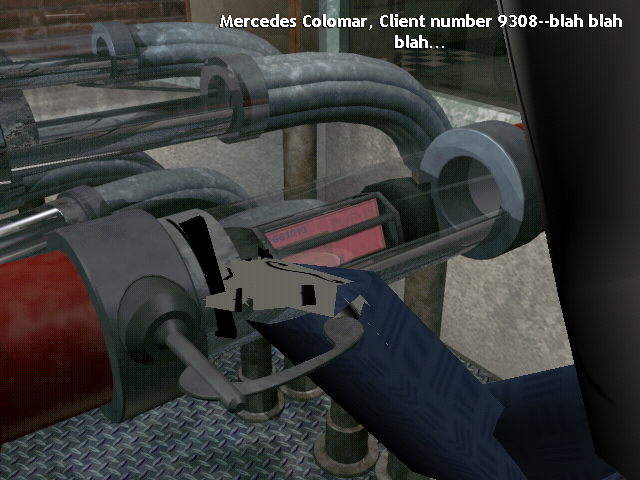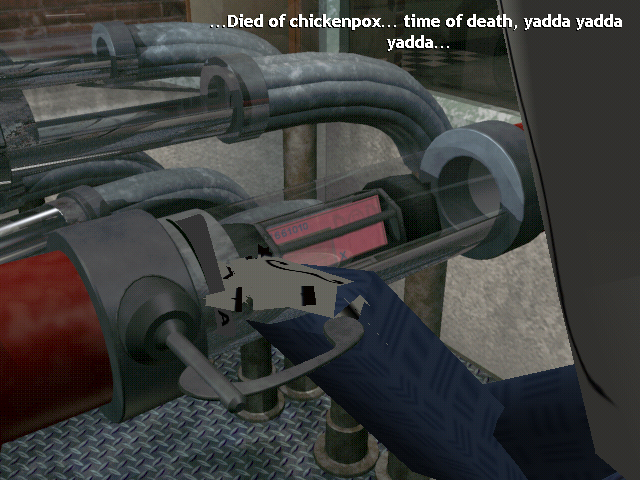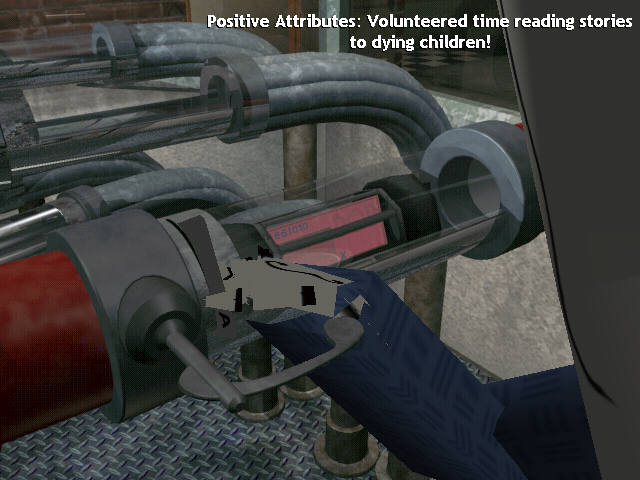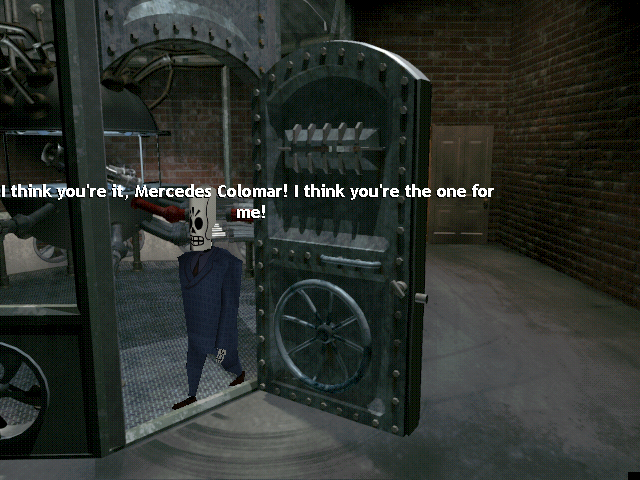 Take that, Domino, you bastard, this premium sale is MINE!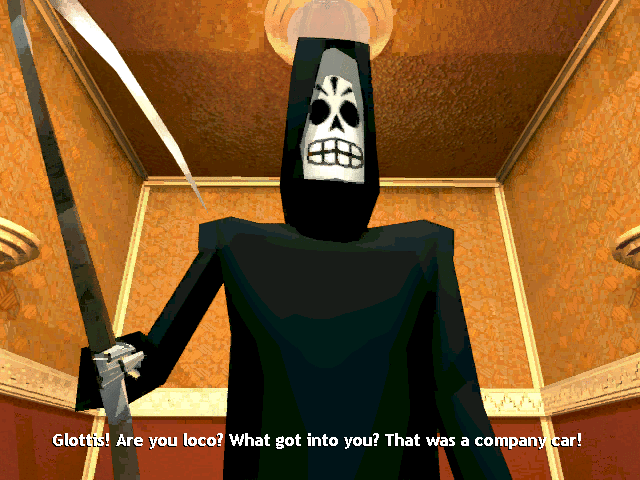 Manny: Glottis! Are you loco? What got into you? That was a company car!

Glottis: Oh yeah! And it's even better company now! Hop in! Yeeeeaha! Woo!

Manny: Buenos dias.

Meche: You're not the nurse.

Manny: No.

Meche: You're not here to give me my medication?

Manny: No, but I am here to ease your pain.

Meche: Guess they couldn't save me, eh?

Manny: No, but there's still a chance you could save me.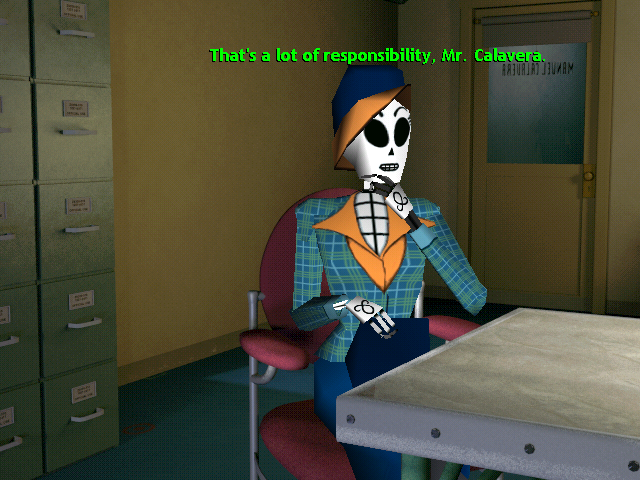 Meche
What makes you think I've been all that good?
Manny
Ms. Colomar--
Meche
Meche. Please.
Manny
Meche. I can see it in your face.
And in your file here, where it says you're entitled to a first-class ticket to...
...nowhere?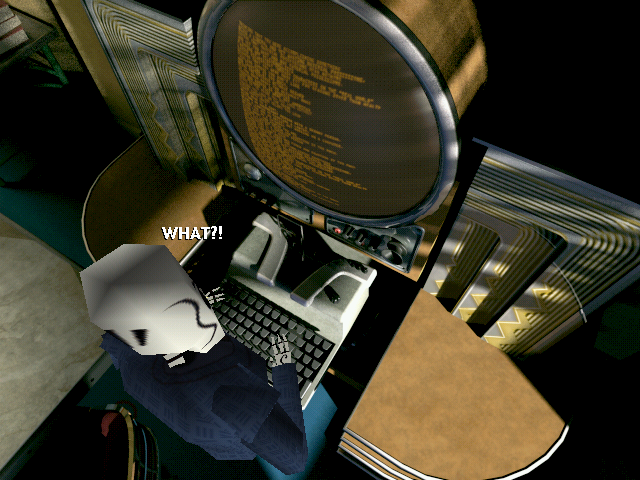 Alrighty something is wrong. Something is very, very wrong.
Meche
Did I do something wrong?
Manny
Not according to your bio! It was spotless!
...at least the part I read was.
Meche
I'm not sure I like the implication, Mr. Calavera.
Manny
The only implication here is that I'm fired.
Meche
Is it something I did?
Manny
Are you SURE you're Mercedes Colomar?
Meche
Yes, would you like to see my birthmark?
Manny
Sure. Where is it?
Meche
It's wherever you guys put my skin!
Manny
Anything about your past you haven't told me?
Meche
Quite a bit, considering I've told you nothing.
Manny
Did you kill much when you were alive?
Meche
Very little.
Manny
Never killed anybody?
Meche
I have to confess, I never killed anybody.
Manny
Not even a teensy bit of killing?
Meche
Maybe I just wasn't trying hard enough.
Manny
Were you a big shoplifter?
Meche
Well, they accused me of it once...
Manny
Really?
Meche
But it wasn't my fault. That puppy followed me out of the store.
Manny
Oh.
Manny
Mean to animals?
Meche
Oh no! I love animals.
Once, when I was volunteering at an animal shelter--
Manny
Just stop right there.
Ever cheated on your taxes?
Meche
I've never paid taxes in my life.
Manny
Ah-ha!
Meche
I've never made enough money to be taxed.
You know, it's mostly been all volunteer work...
Manny
Uh-huh.
Ever cheated on your husband?
Meche
Mr. Calavera, there's no ring on my finger.
Manny
There's no skin on it either...
Meche
I guess you'll just have to trust me then.
Manny
Litter?
Meche
Oh, Manny. Is that the best you can do?
Manny
Work with me Meche. Give me some dirt.
Meche
Well, I could do something bad right now if that would help.
Manny
Wouldn't count. Sorry.
Manny
I give up.
Meche
Don't say that, Manny.
Manny
You know what I have to do, I just have to go straighten this mess out.
Meche
Sorry to be so much trouble, Mr. Calavera.
Manny
It's no trouble, but please...
Call me Manny.
Aaand that's it for now, next: We see what we can do about this mess.
I still require a GIF optimizer, Trout's GIF optimizer removes the delay from frame to frame, and that's no good.