Part 9
The same number as the Underworld Manny is in! Whee!
Seems like Manny is stuck there. Let us see what we can find there. And how the hell did Glottis manage to fit in this place anyway?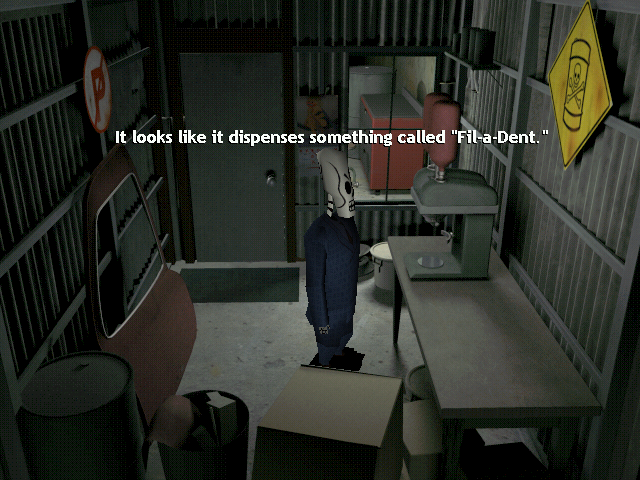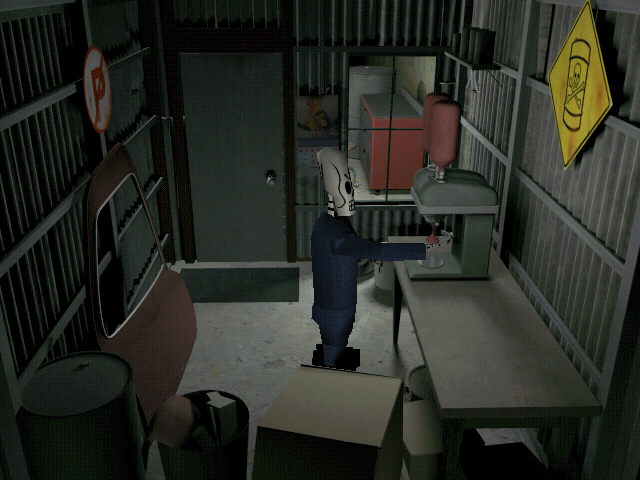 Using it...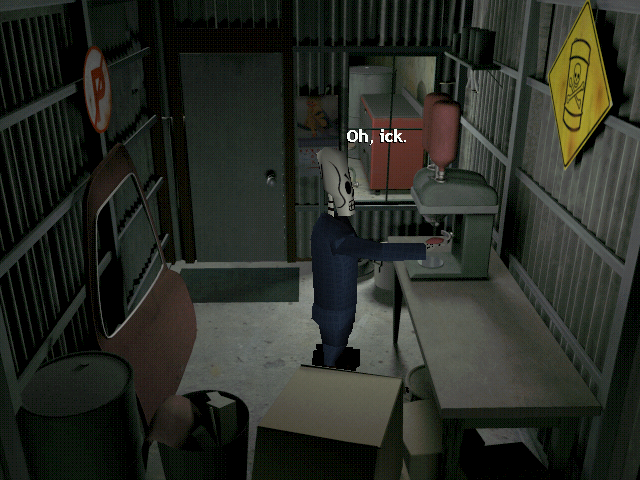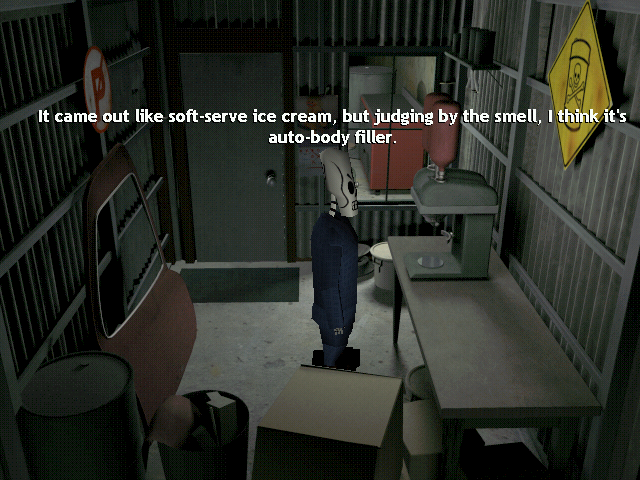 Ew. There must be a use for that later, I think.
Let's see what happens when one tries to interact with the window, examination and use.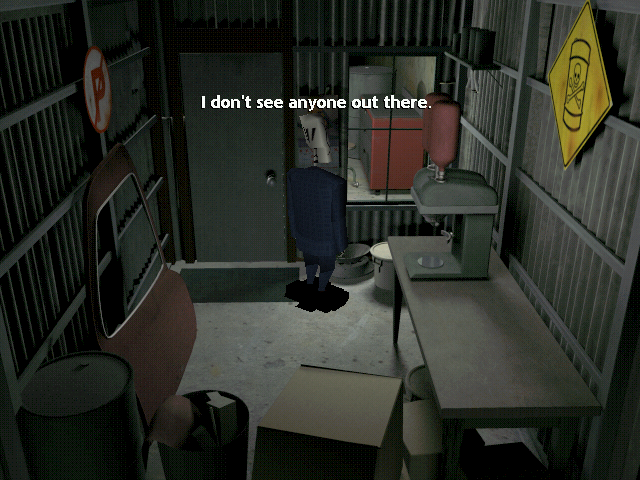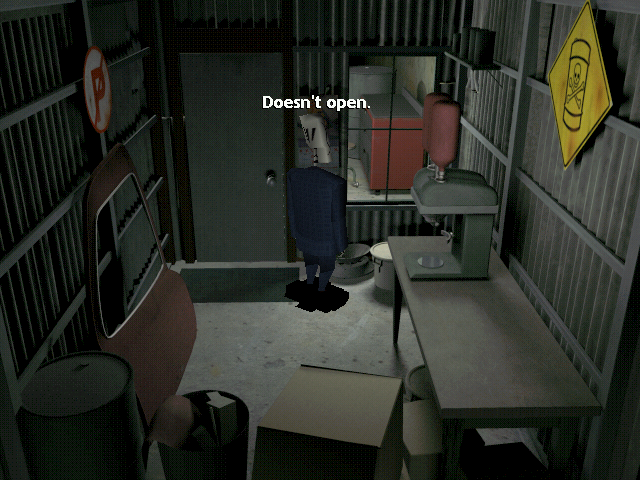 Bah, would've been too easy.
Let's try the door.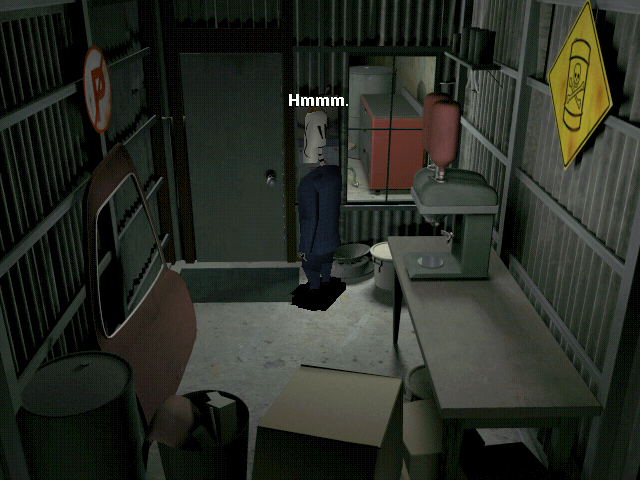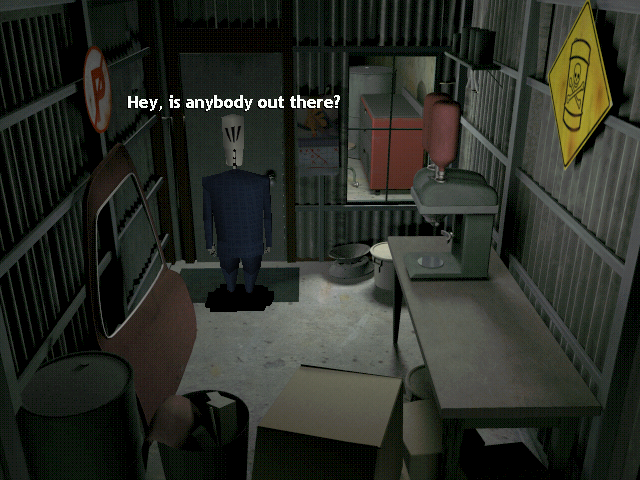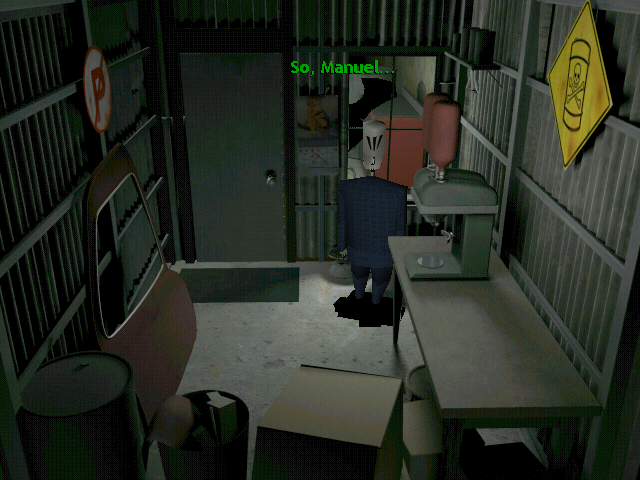 Yup, there is someone there.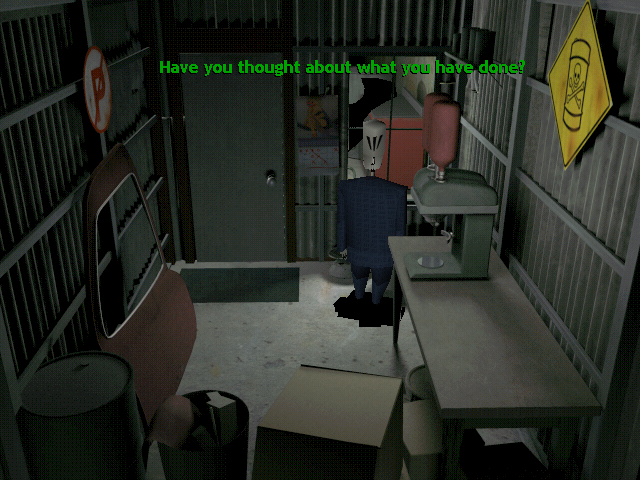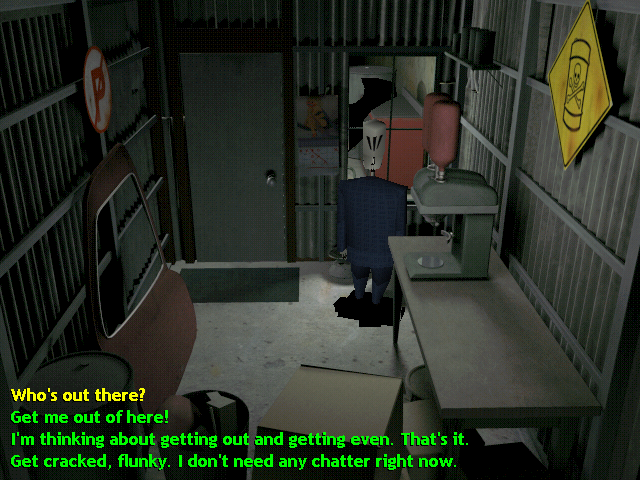 That person out there is Salvador Limones, as you will see in a moment.
Dialog tree time!
Manny
Who's out there?
Salvador
I'm you.
Or rather, I was you years ago.
Manny
Yeah, well I'm me now, so get lost.
Get me out of here!
Salvador
The only way out, Manuel, is to be taken back in.
If you are truly still loyal to this company, declare it loudly.
The management might hear and stick you right back in their fold.
Manny
Yeah, well I got something they can stick in their fold...
Salvador
You have to try harder than that Manuel.
A man's loyalties decide his destiny.
Manny
My loyalty is still to the DOD, believe it or not.
Salvador
Hmmm...Good boy.
You just keep up that spirit, and I'm sure you'll get out of here soon enough.
Manny
Hey, guard!
Salvador
How's my little Count of Monte Cristo?
Manny
No, really. Who ARE you?
Salvador
I am a fellow prisoner, my friend.
Manny
Maybe, but your cell is a lot bigger than mine, jailmate.
What are they going to do to me?
Salvador
I don't want to alarm you, Agent Calavera...
But have you ever seen a man SPROUTED?
Manny
What do you mean, "sprouted?"
Salvador
Then you don't know...
...there's nothing more horrible than the bite of the sprouter.
Its deadly stinger spreads a green disease through every calcified pore on your body...
...leaving you veined with roots and flocked with grass...
...steadily growing thicker and thicker until you crash and bloom out...
...in a horrifying bouquet of pain and fragrant suffering...
...screaming until your mouth fills with petals and your nostrils shoot out thorny stems...
...and the bulbs sprout in your eyes...
...leaving you nothing but a patch of wildflowers on the ground, swarming with butterflies.
Manny
Are you done?
Salvador
Yes.
Manny
No, I've never seen that.
Look, you gotta open that door for me, amigo.
Salvador
If you are still loyal--
Manny
Lay down and roll over and bark the company fight song, I know.
The DOD runs a crooked game, and I intend to prove it.
Salvador
You would do that?
That could cause this agency a lot of trouble...
Manny
I'm gonna blow the lid off this place!
Salvador
Young man, you are an enemy of the Department of Death!
Welcome to the club!
Video!
Video
Next: We explore that room.