Part 6
Last time we were here, we had just reaped a new client, Bruno, and sent him to his not very confortable 4 year journey of the Soul. And saw Manny get threatened by his boss. We NEED toget that elusive premium client as soon as possible. But how? Let us go back to the Lobby and talk with Eva.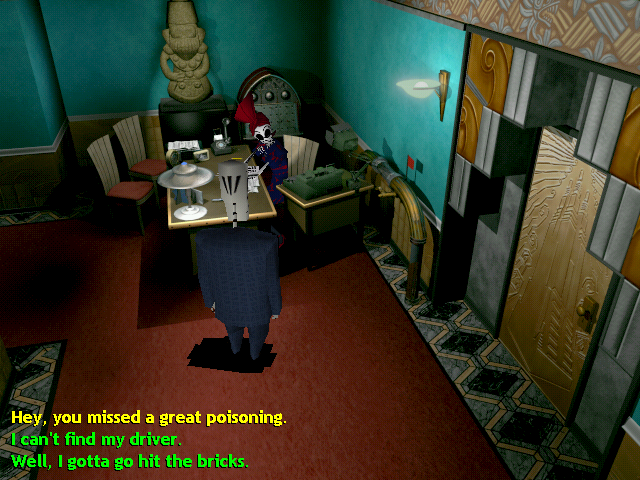 Manny
Hey, you missed a great poisoning.
Eva
Yeah, and you missed a great client.
Eva
Domino came back from there with a nun.
Manny
Híjole - I got a tiny little man with a mean temper and no commission.
Eva
Well, at least you don't work for one.
Manny
I can't find my driver.
Eva
Manny, you know what to do.
Eva
Stop playing dumb just to flirt with me.
Eva
Manny, if you don't mind, I've got a lot of filing here to do...
Manny
Right. Hay te huacho.
Well, that was pretty damn useless. Let's see if something has changed around here.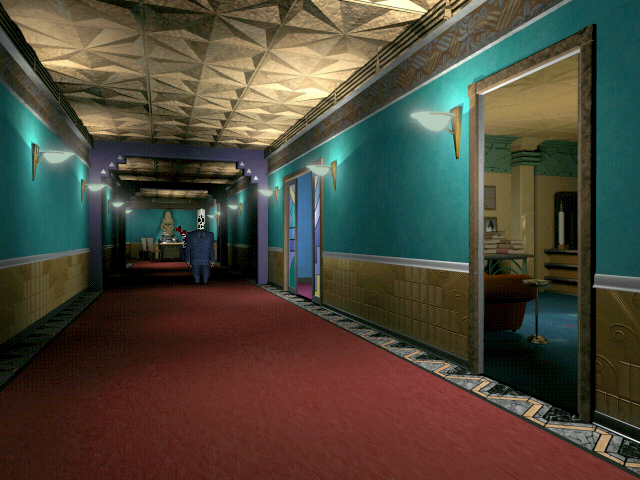 Why yes! Domino's door is open, let us see what he has to say.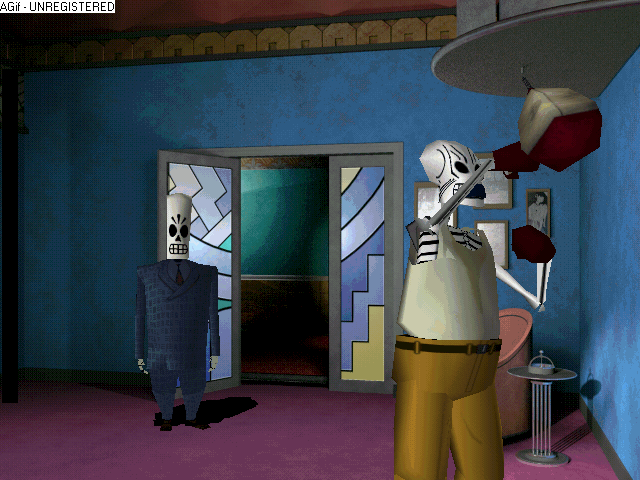 Manny: It's Domino Hurley, sweatiest man in the office.

Domino: You gotta sweat to sell, Cally, and you know it.
How can he sweat if he is... A skeleton? Huh.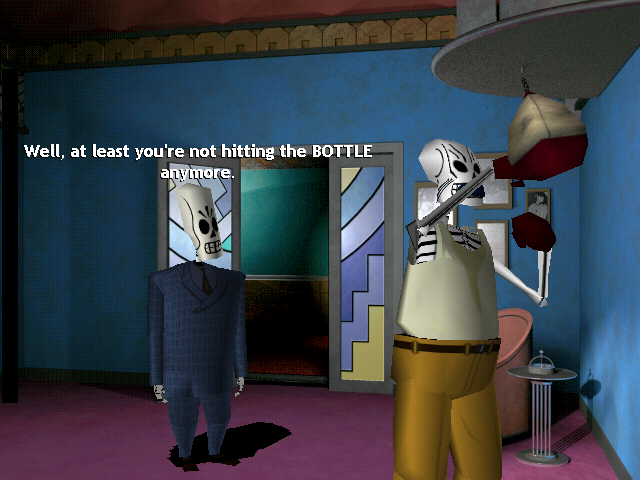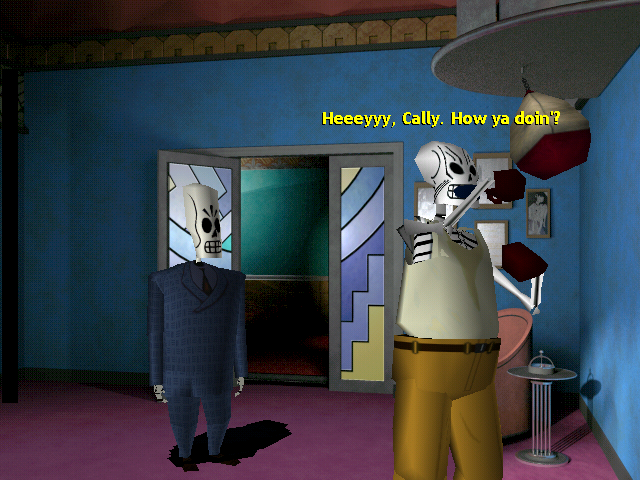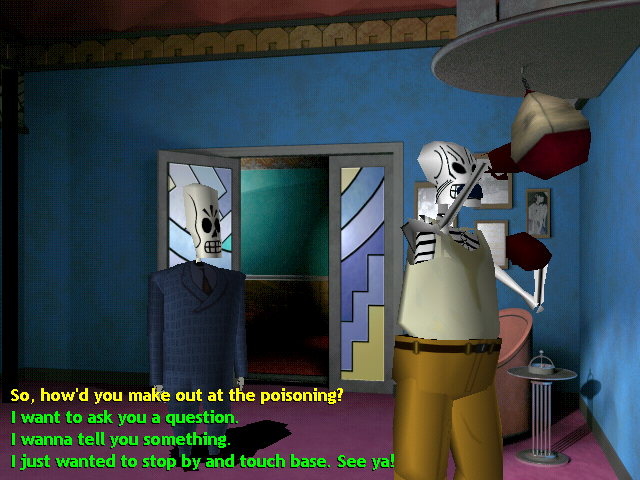 Manny
So, how'd you make out at the poisoning?
Domino
Well, let's just say that Sister Calabaza has a secret passion...
Domino
...for trains.
Manny
You got a nun?
Domino
Hail Mary.
Manny
And you sold her a ticket on the Number Nine train?
Domino
Choo-choo, little buddy.
Domino
Say, how'd you score?
Manny
I got a mean midget I had to send parcel post.
Domino
Ah, cheer up, Buddy. Another day, another death, am I right?
Manny
I want to ask you a question.
Domino
Shoot, slugger.
Manny
Is it hard to kiss up to the boss so much with no lips?
Domino
Hey, I got all the lip I need.
Domino
I get it from you.
Manny
Can I have one of your clients?
Domino
Sure, Cal.
Domino
Just as soon as I get one I think you could handle...
Manny
I can handle anything you got.
Manny
Especially if that's your best right jab.
Manny
Why do you get all the good clients?
Domino
You're asking the wrong guy.
Domino
You should be taking a good long look at the man in the mirror.
Manny
No thanks. I don't enjoy that the same way you do.
Manny
What did you do to get this job?
Domino
You mean, what's my secret to success?
Manny
No, I mean how did you screw up and get stuck here at the DOD?
Manny
What sin did you commit and how long are you going to have to work here to pay it off?
Domino
I could easily ask the same question of you.
Manny
But I don't know the answer. I still don't know what I've done.
Domino
How convenient! Then neither do I.
Manny
I wanna tell you something.
Domino
Good, go on and let it all out.
Domino
There's no reason for you to be afraid of me.
Manny
You know, this used to be my office.
Domino
Yeah, I know.
Domino
I found your name on some comic books in the desk.
Manny
I want my office back.
Domino
Don't worry, you'll have years and years to enjoy it after I get promoted out and you're still here.
Manny
I think you're up to something.
Domino
Yeah, I'm up to about four premium sales this week.
Domino
Heh heh.
Manny
I think we should team up, be partners.
Domino
Oh, Manny, I would, but I'm too intimidated.
Domino
I could never be partners with someone who was so much more of a man than me.
Manny
Oh, come on.
Manny
I've seen your wife.
Manny
I wanna punch you in the mouth.
Domino
Oh, no. Not the Christmas party all over again.
Manny
What happened at the Christmas party?
Domino
Blacked out on the whole thing, huh?
Domino
Maybe you should switch to lemonade, kid.
Manny
Well, you sound pretty out of breath, so I'm going to blow.
Domino
Always a pleasure, Cal.
After that conversation, let us see what we can find in his office.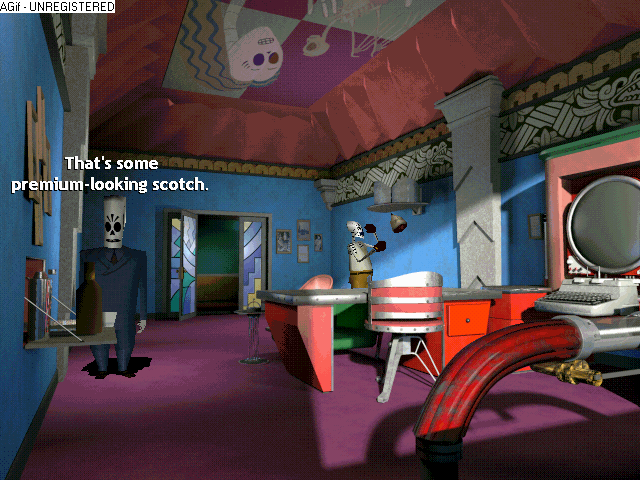 Manny: That's some premium-looking scotch.

Domino: Have some, Manny, just so you don't forget what premium tastes like.

Manny: Look at all the diplomas!

Domino: You have to have the proper attitude to get diplomas like those, Manny!

Manny: Really? I thought you just had to have the proper postage.
No messages in Dom's fancy red tube.
He's got a lock on it!
I can't believe he doesn't trust me!
Hey, Dom, what's your screen-saver password?

Domino: Get away from my computer, Manny.

Manny: Desk drawers? I don't have desk drawers!

Domino: Hey! Get out of there, Calavera!
When trying to interact with Domino's tube, he says the same thing he says when trying to interact with Don
Copal's tube.
Well, his office is definitely bigger than Manny's. And prettier. And with better stuff. I like the ceiling's
painting.
Let's see what Manny has to say about his new client, he should have his file open in his computer.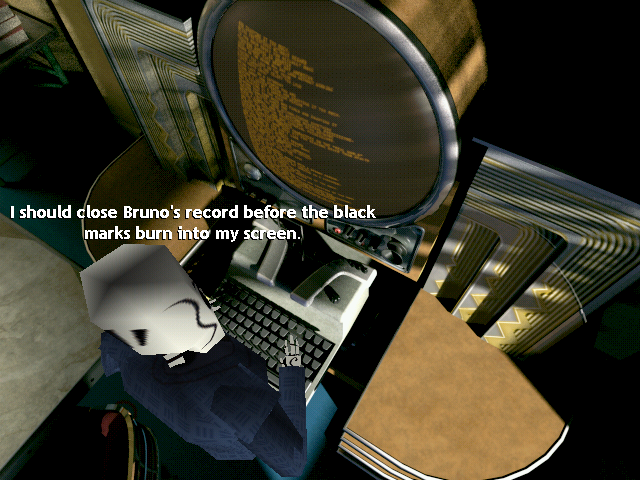 Must not have been a good person eh? But then again, why would a good person deserve to be delivered in a
package like that?
Let us check how Glottis is doing. And WHAT he is doing.
He is not there? Hm. Let us see what kind of stuff he has in his shack then.
But first let us see that thing on the side of the shack.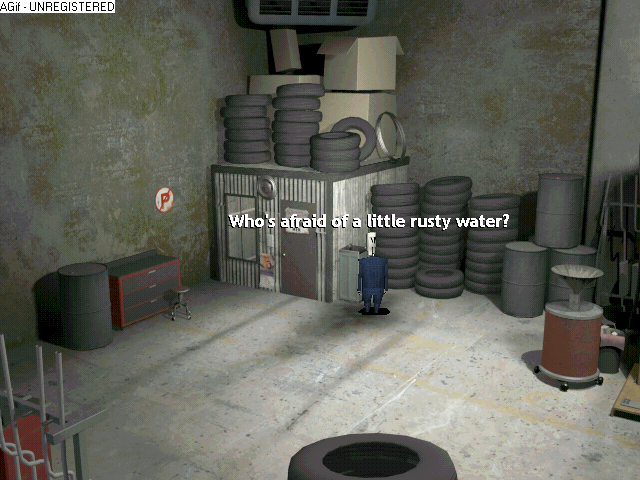 Manny: Who's afraid of a little Rusty water?
Bah, doesn't even have water, only clanking noises.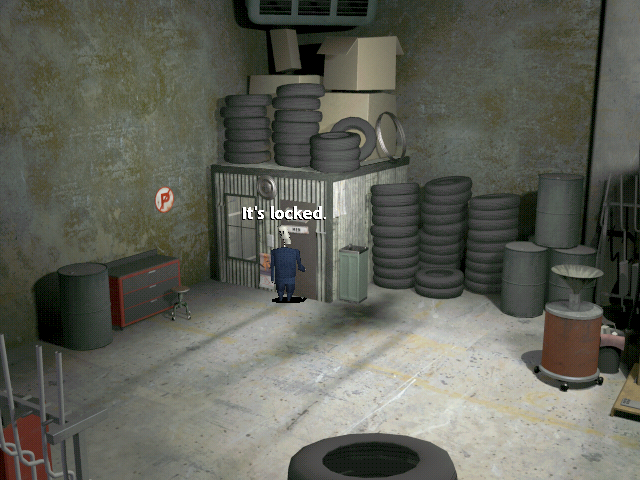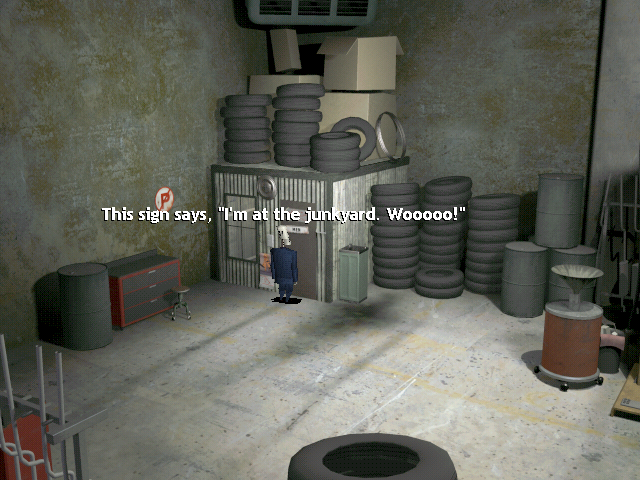 Damn. Can't check this either. Let us go to the other rooms then.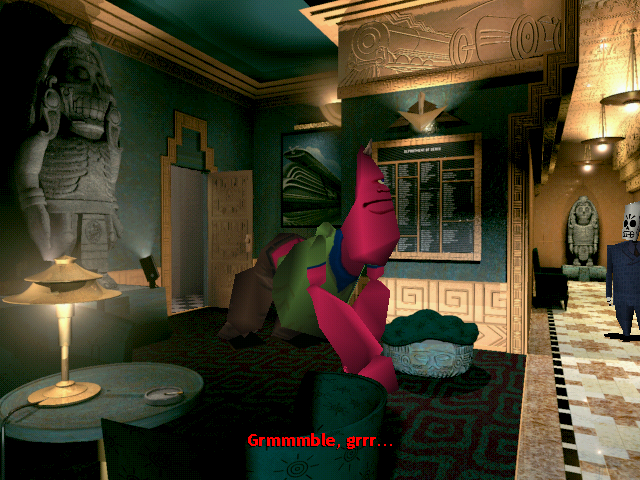 Holy hell what's that?
Hm. A demon thing. Or something.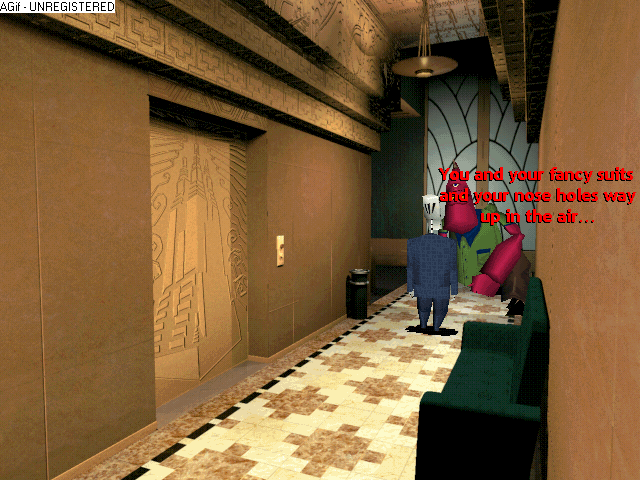 Other: You and your fancy suits and your nose holes way up in the air...
Sticking your empty beer bottles down the message tubes, how fancy is that?
Huh? Don't you boys upstairs realize the tube switcher is a sophisticated and delicate piece of machinery?
You think you're better than me??

Manny: No.
"Good"
Hmm. Blocking the machinery. Not really a bad idea, I think. Could work to... Um. Don't know what it would work
for, but being an asshole to others is always amusing in adventure games.
Let's see what is in the room where we treated Bruno.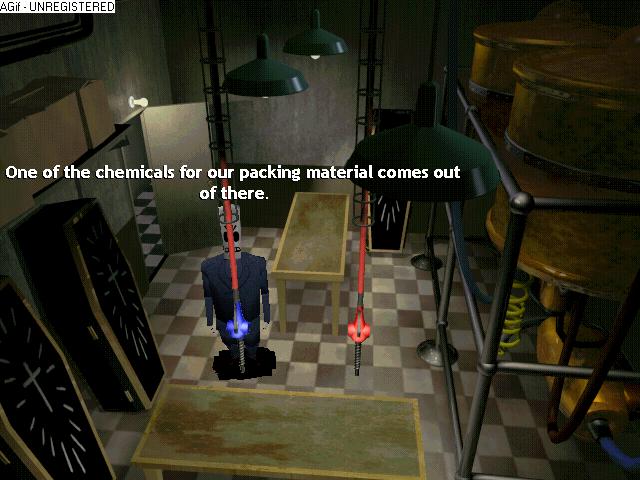 Manny: One of the chemicals for our packing material comes out here.
For those who enjoy no-hassle travel.
Bruno? You in one of those?
Must have picked him up already.

It's a nasty chemical puddle.

Ah! That smell!
It's a lump of our packing foam.
That could be useful. What could we use to contain that?
A BALLOON! Tha's it.
Next update: Filling the balloons with the chemicals, causing mayhem.