Introduction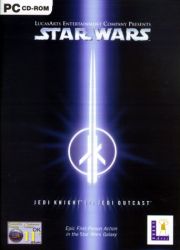 Hello and welcome to Star Wars: Jedi Knight 2 - Jedi Outcast. After the relative success of my Dark Forces 2 thread, I decided that I would play through Jedi Outcast, to continue the story of everyone's favourite "Fair-weather Jedi". However after watching some of the videos in my thread, Stabbey the Clown also got very nostalgic and pulled out his copy of Jedi Outcast for some lightsaber swinging action. Upon his completion he decided he also wanted to do a Lets Play of this game.
Back Story
Kyle Katarn once again returns to be the protagonist of this game, after his brief absence for the end of Mysteries of the Sith. Lets take a moment to do a quick rundown of his achievements so far. In "Dark Forces" after leaving the Imperial's Kyle set out as an agent of the rebellion to aid them in what ever way he could. After stealing the death Star plans, he is ordered to hep the rebels with an Imperial where he encounters a new enemy. This information leads to the discovery of the Dark Trooper Project, which he eventually destroys ending all Dark Troopers. In the universe after the battle of Endor, many Jedi and Sith are starting to reappear. One of the new Dark Jedi, Jerec, kills Kyle's father Morgan Katarn and delivers the message to Kyle, by the droid 8t88. During
"Jedi Knight"
Kyle becomes a Jedi and hunts down Jerec and his 6 Dark Jedi assistants, following them to the Valley of the Jedi and killing each one. During the process he withstands the draw of the dark side and saves his pilot Jan Ors. After killing Jerec he and Jan vow to keep the valley safe to prevent Dark Jedi from abusing the power of the valley. In
"Mysteries of the Sith"
Kyle saves a New Republic base from destruction by Imperial forces, before leaving to investigate a temple on Dromund Kaas. It is here his pupil Mara Jade discovers he has fallen to the dark side, and travelling to the middle of the Sith temple, duels with him before turning him back to the Light side. Kyle then severs his connection with the force as he feels he can no longer control the force, and cannot risk falling to the dark side.
So here we are at Jedi Outcast, armed with only bacta tanks and an overactive quicksave button we will be playing through this game for your viewing pleasure. Since both Stabbey and I wanted to play this game, we shall both be playing. I shall be doing videos with audio commentary, whilst Stabbey shall be doing videos with subtitled commentary. We hopefully should be posting our videos 1 after another, so that you can get double the content for each level. This should make for an interesting thread, as Stabbey and I have different play styles and different tactics on how to handle certain sections.
Conditions
We shall be playing through this game on Jedi Knight difficulty, the second hardest, and we shall be showing all of our deaths, and mission failure. We shall also be quicksaving, a lot, and using everything the game gives us. I shall not be using healing items during lightsaber duels, nor will I use force speed during duels; all other force powers including force healing are permitted.
And so without further ado, to the action:
Videos
| | | |
| --- | --- | --- |
| Mission | Next Tangent | Stabbey the Clown |
| Mission 1 - Kejim Outpost | Part 1, Part 2 | Part 1, Part 2 (Apologies for low video quality) |
| Mission 2 - Kejim Base | Part 1, Part 2 | Part 1, Part 2, Part 3, Part 4 |
| Mission 3 - Artus Mine | Part 1, Part 2 | Part 1, Part 2, Part 3, Part 4 |
| Mission 4 - Artus Detention Facility: | Part 1, Part 2 | Part 1, Part 2, Part 3, Part 4 |
| Mission 5 - Artus Topside: | Part 1, Part 2 | Part 1, Part 2, Part 3 |
| Mission 6 - Yavin Jedi Academy | Part 1 | Part 1 |
| Mission 7 - An Outcast's Trial | Part 1 | Part 1 |
| Mission 8 - Nar Shaddaa Streets | Part 1, Part 2 | Part 1, Part 2, Part 3 |
| Mission 9 - Reelo's Hideout | Part 1, Part 2 | Part 1, Part 2, Part 3 |
| Mission 10 - Nar Shaddaa Starport | Part 1, Part 2 | Part 1, Part 2, Part 3 |
| Mission 11 - Bespin Undercity | Part 1, Part 2 | Part 1, Part 2 |
| Mission 12 - Bespin Streets | Part 1, Part 2 | Part 1, Part 2, Part 3 |
| Mission 13 - Bespin Platform | Part 1, Part 2 | Part 1, Bonus! |
| Mission 14 - Cairn Hanger Bays | Part 1, Part 2 | Part 1, Part 2 |
| Mission 15 - Cairn Assembly Bays | Part 1 | Part 1, Part 2, Part 3 |
| Mission 16 - Cairn Reactor | Part 1, Part 2 | Part 1, Part 2 |
| Mission 17 - Cairn Docking Bay | Part 1, Part 2 | Part 1, Part 2 |
| Mission 18 - Doomgiver Communications | Part 1, Part 2 | Part 1, Part 2a, Part 2b, Part 3 |
| Mission 19 - Doomgiver Detention Centre | Part 1, Part 2 | Part 1, Part 2, Part 3, Bonus |
| Mission 20 - Doomgiver Shields | Part 1, Part 2 | Part 1, Part 2, Part 3 |
| Mission 21 - Yavin Swamp | Part 1, Part 2 | Part 1, Part 2, Part 3 |
| Mission 22 - Yavin Canyon | Part 1 | Part 1, Part 2 |
| Mission 23 - Yavin Courtyard | Part 1 | Part 1, Part 2, Bonus 1, Bonus 2, Bonus 3 |
| Mission 24 - Yavin Temple | Part 1 | Part 1, Part 2, Bonus |