Part 18: Chapter 5, Stage 3

I have a brief moment of reliable internet access, so I will take this time to post a double update in honour of the major plot dump we're about to receive--
5.3
Aboard the ISA SD Platforms.
Enter [General] Vaughton and Ari L. Caliban [with ISA Soldiers]
CALIBAN
Hail! General Adams awaits your presence, ser.
Enter [General] Adams
ADAMS
General.
VAUGHTON
General. Pray, we must move swiftly.
Adams and Vaughton activate the platform systems with the keys.
Very good. My soldiers tell me the defence system is readied. Hath they told it true?
ADAMS
Aye, tis one hundred percent A-1 correct, General.
Enter [General] Lente [and Helghast Soldiers]
VAUGHTON
Heavens have mercy, what is the meaning--
ADAMS
You seeketh the meaning? The meaning is simple, my friend: thou hath failed.
VAUGHTON
And thou art a traitor!
ADAMS
Your words wither and die, like yourself shortly. Slay him.
[Adams dies]
LENTE
Thou hath done well, General. I shalt ensure that our Autarch, Scolar Visari, is made known of your strident effort.
ADAMS
Nay, many thanks, but I shall relay it to him myself. First and foremost, this beautiful maiden of the sky, this heavenly goddess of death, she must accompany me for a waltz around the ballroom floor.
Exeunt
Meanwhile, on the ground below.
Enter Luger, Hakha, Templar, and Rico
HAKHA
Stay yourselves, the intelligence I procured must needs be analyzed. Ah, tis the mainframe--
TEMPLAR
Nay, onward, good ser. A shuttle awaits, and ye must be aboard one.
HAKHA
It must be analyzed. Here!
VELASQUEZ
Hey! Didn't you hear the captain? We're deliverin' the package. The package is you!
LUGER
Stay, Rico. What tugs at your mind, Hakha?
RICO
What? You just gonna let some unknown freak hack into the mainframe? How do we know he's not a double agent, huh? What's to say he's not on the other side?
HAKHA
And do tell, of the "other side", how many do you suppose I have slain in this hour alone? I do not brag, but by my actions, I am nary a brigand nor a cheat.
RICO
Heh,you bastards don't even give a shit about your own!
[BLIND SALLY NOTE: Interesting foreshadowing for the second and third games. We will see that Helghast society is a pretty dog-eat-dog one and that compassion amongst themselves is in short supply.]
[Hakha and Rico and Luger draw weapons on each other]
Try it, scum. Come on. Try it. Back. Off. Bitch!
LUGER
Surely thou knowest. If thou fire, thou art dead.
TEMPLAR
God's blood! Cease your alarm! Tis a nigh endless journey to the fortress, and our odds are not favoured. Should we put aside our quarrel and work as brothers, we would still be facing a Herculean task. Thus, I say this once and for all: cease your fighting! Stay your arms, and act like the soldiers you purport to be. Hakha, what is it that can't wait?
HAKHA
A terminal on the SD Platform has come under duress. It is controlled by the Helghast, and was used to terminate our control of the defence system. I must locate it for General Adams, and so must access the mainframe.
TEMPLAR
Then quickly now, get on with it!
[Hakha begins typing]
TEMPLAR
How goes your progress?
HAKHA
Nearly there.
TEMPLAR
Nay, time is up!
HAKHA
I have it! But say it cannot be true!
LUGER
Oh?
HAKHA
It cannot be. I must not be. The computer under Helghast control is General Adams's personal computer.
TEMPLAR
Forsooth, General Vaughton's in danger!
LUGER
If Adams's is a traitor, then he controls the SD weapons.
HAKHA
Yet there is more, they can be aimed--
VELASQUEZ
Oh Jesus, look!
Scene ends in a flash of white as the SD Platforms destroy the ISA Fortress.

Exeunt
5.4
At the edge of the dock. The rain has let up, and the ISA Fortress burns in he distance.
Enter Templar, Luger, Rico, and Hakha
VELASQUEZ
There's your ticket outta here up in smoke, Hakha.
LUGER
Have we a contingency plan?
TEMPLAR
We make for the uplink. An orbital transfer station is there and doth link to the relay direct. Tis our only hope.
VELASQUEZ
You're kidding, right? That's like 90 clicks through a giant shit heap of Helghast. And I ain't ugly enough to pass as one of them.
[BLIND SALLY NOTE: Hahahahahaha! At some point in a future game, Rico WILL have to pass himself off as a Helghast.]
HAKHA
We must not falter. The Earth Fleet cometh our way, so we must try.
VELASQUEZ
How do you now this shit?
HAKHA
I am but a spy, tis my job.
LUGER
Aye, but when the Fleet arrives Adams can lay waste to them. Jan?
TEMPLAR
The remains of the Fortress, that is our route. Tis the only path to the uplink, and t'will be a good place to get the lie of the land.
VELASQUEZ
How come I get to share with the rat?
Exeunt [In Fast Attack Boats]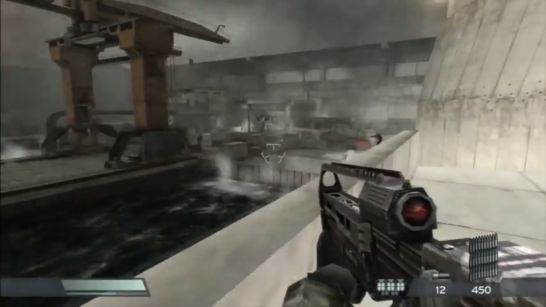 Gorgeous. Simply gorgeous. Look at that rain-soaked jungle of concrete and metal. Perhaps it's because I live on the coast and have always been around dock machinery, but I love the atmosphere this section evokes. The waves and wind battering against the dead monolith of commercial sea trade--it's beautiful. Especially for the PS2 era.
But crow doesn't like it, so whatever. I cannot dispute the fact that this level kinda drags on. I feel it doesn't overstay its welcome, though, as this is only a tiny sign of things to come: levels are going to really start dragging on. (Apologies to Putty for inviting him to commentate on the most boring level of the whole game).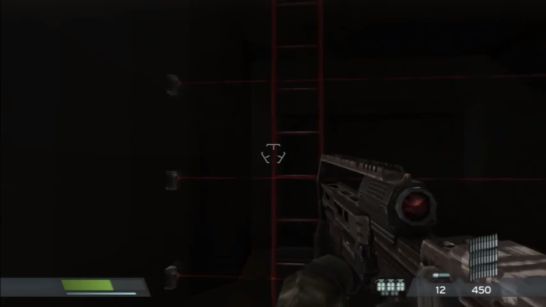 This here is a still of the special DNA scanners that the Helghast use to keep out all non-Helghast. I dunno how it works, but they activate trip mines for any non-Helghast user. So while Hakha can phase through, the rest can't. If you play as anyone but Hakha, one of your AI companions will warn you about the danger, although you can still blow yourself up.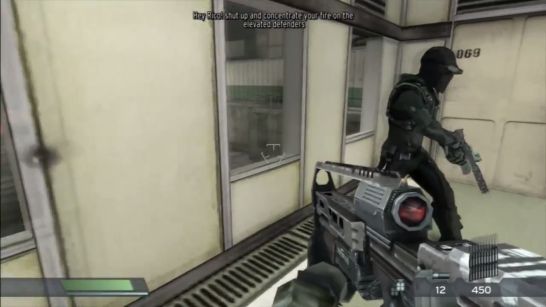 This pic is only here because it's always gratifying to hear someone to tell Rico to shut up.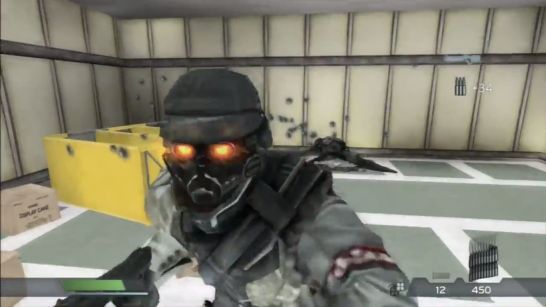 We also bump into an oddly coloured Helghast soldier. I'm assuming it's some sort of command figure? Interestingly enough, this grey-ish armour is reminiscent of a character we will encounter in the next game,
Killzone: Liberation
, and their rank is that of a Colonel. So, yeah. We won't see too many of these guys. In fact, this is the first time I've noticed the colour difference, thanks to crow's eagle-eye. Or, uh, crow-eye?
Fast-forwarding to the cutscene: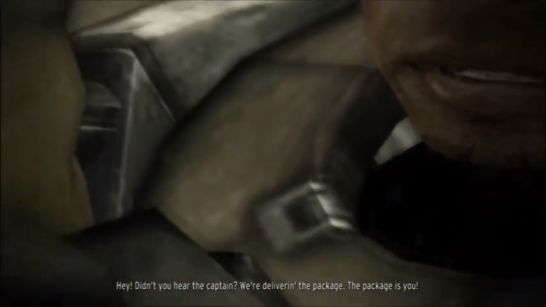 Here's another instance of Rico being over-aggressive and over-bearing. He's clearly trying to intimidate Hakha by ignoring his personal boundaries, but it's a bit horrifying that the camera cuts in close as well. It makes the player feel like Rico is invading OUR personal space

Which is fitting, I suppose, because we're playing as Hakha at the moment. It's too bad this is a stock cutscene and it would occur this way no matter who you played the level as, otherwise this would be a clever bit of scene manipulation.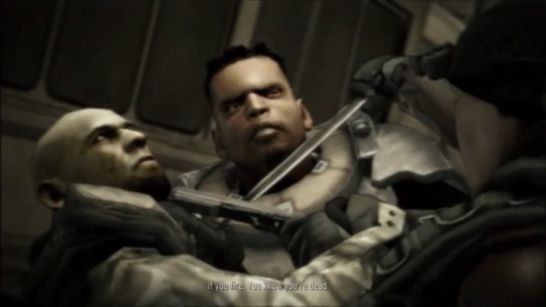 And here we have a Vektan Stand-off! Ahyuk!
But while our heroes bicker, the bad guys are making their power-play: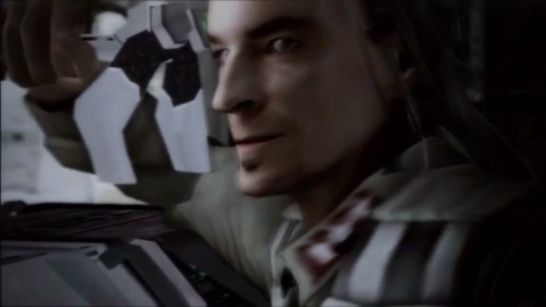 If it wasn't totally obvious yet that General Anime here is some sort of super-villain, with his weird monologue about technological gods, they ramp up the foreshadowing at the last second by throwing in some suspicious glances.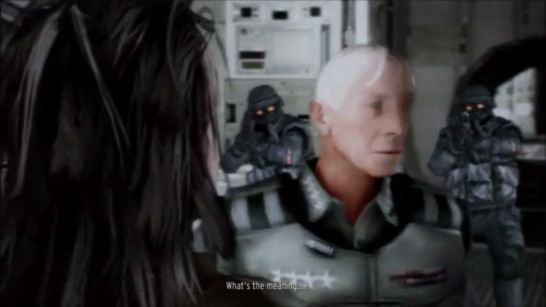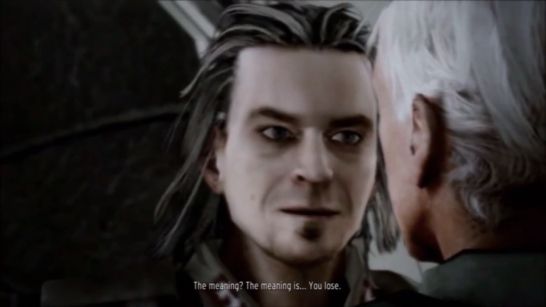 Cause hey-yo! General Anime is a Helghast traitor. Which means I can remove one of the earlier redacted names from our
Killzone
history bits: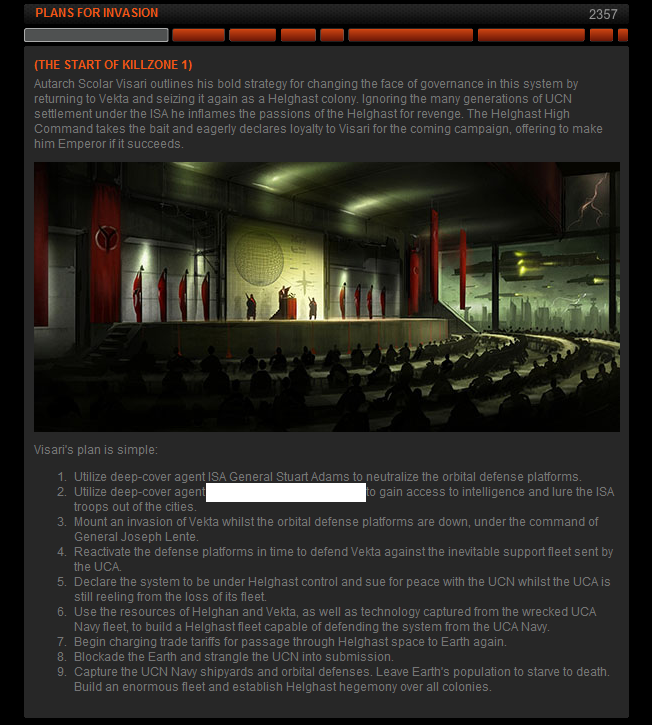 Yup, this capture of the SD Platforms was planned all along and was the crux of this invasion. But we'll go into Helghast battle plans more in a later update. For now, let's meet our tertiary villain (aside from Visari and Adams):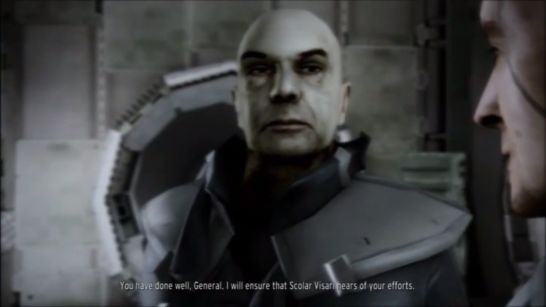 General Lente, the leader of the Helghast invasion that we are currently fighting, the Helghast Third Army. I'll save more about him in his character post.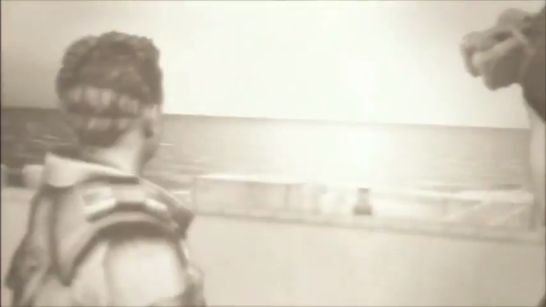 And things go boom. That's the ISA Fortress up in smoke, and with it, the ISA high-command in Northern Vekta. Things look bleak, but we only have the view of the big bads and our grunts on the ground. That's one of the interesting things about
Killzone
--there's a larger war going on, but you only ever get to see either the absolute ground-eye view where the action is so funneled that you don't get a bigger picture of what's going on, or so bird's-eye with the high-command that they feel out of the loop of what's happening down below. This is a theme throughout the series and provides an interesting disconnect between the regular soldiers and their C/Os. That all said, the ISA aren't totally helpless, as there are many other Generals around the planet organizing their own counterattack. It's just the forces here in Vekta City that are in complete disarray.
Which of course means it's up to our gang of four to pull them out of the fire.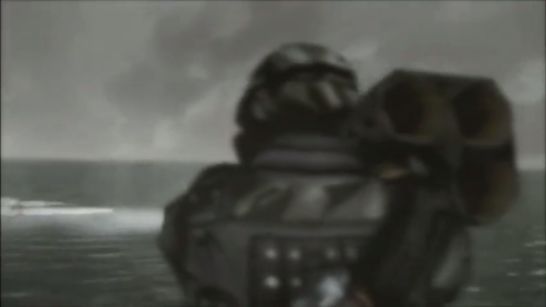 Screened this because crow thought it was an ISA friendly fire accident. That looks to me like the blurred outline of a Helghast soldier, but what really gives it away is that they're using a Helghast-made rocket launcher from off planet. At this point, the ISA have their own rocket launchers, so I doubt they'd be cannibalizing the Helghast weapons this early in the invasion.
Oh yeah, did I say our heroes were going to save the day?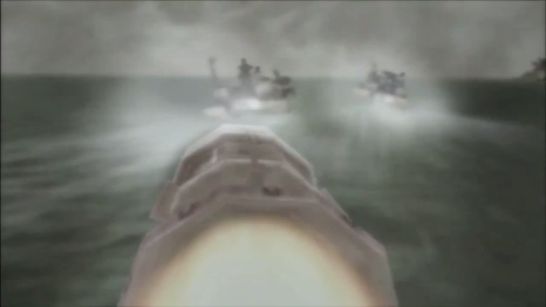 Uhhh--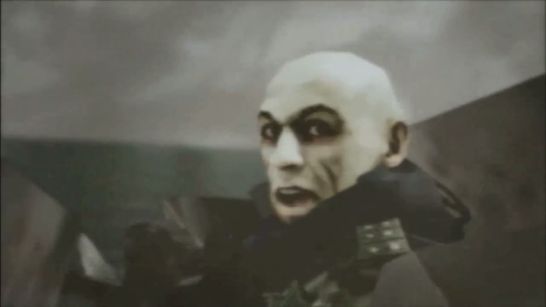 Cliffhanger!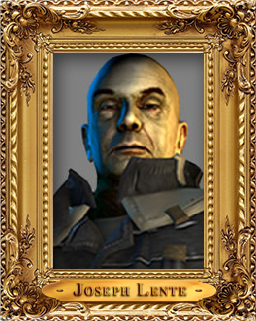 Voiced by Steven Berkoff
Joseph Lente is the leader of the Helghast Third Army, the spear-head of the Vekta Invasion. He answers only the Visari. A staunch supporter of Visari, Lente joined the military during the Great Helghast Depression and quickly rose in the ranks thanks to his loyalty and strong leadership qualities. Suffered a personal embarrassment and career setback when many of his support staff deserted his office due to his increasingly radical and fanatical points-of-view. Well, at least Visari likes him. Ah well, whatever you want to say about Lente, he's at least a brilliant strategist, being largely responsible for organizing plans for the invasion. As with other characters, there are some more plot-crucial details that I'm leaving out for now until they become more relevant.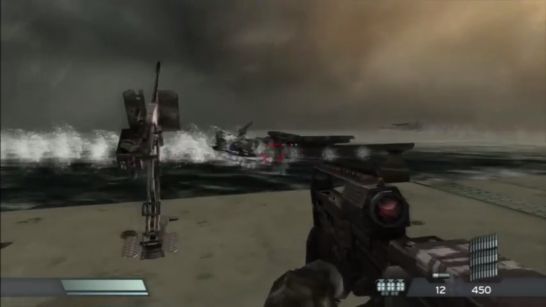 Helghast Fast Attack Boat
The Fast Attack Boat is the aquatic version of the Jet Bike. It's stupid. No really. The Jet Bike is already an extremely flimsy vehicle, but at least it has the advantage of speed and maneuverability. The
Killzone Wikia
tries to argue that the speed and mounted heavy machine gun of the Attack Boat make up for the lack of armour, but it really doesn't. Stuck on the surface of the ocean, unable to perform the aerial stunts the Jet Bike can, the Fast Attack Boat is easy prey for ISA soldiers.
There only real use in the game is to get Templar and co. from the Docks to the (spoiler alert) Vektan Swamps.