Part 21: Chapter 6, Stage 3

LP note: in the video I say that Killzone: Mercenary takes place after the original trilogy. Not so, Mercenary actually takes place throughout Killzone 2, 3, and Liberation. Thanks, IBlameRoadSuess!
6.3
Interior: ISA base
Enter Templar, Hakha, Velasquez, and Luger
TEMPLAR
Hakha, attend to the communications device.
Relay a message about General Adams, post-haste.
HAKHA
And thus, I shall endeavour.
Enter Billinghurst
BILLINGHURST
Stay your hands, fiends! Stay!
TEMPLAR
Stay yourself, soldier, we are not your foes.
BILLINGHURST
Step thyself away from the console! Now move not a muscle!
TEMPLAR
Thou art making a grave mistake. General Adams--
BILLINGHURST
General Adams warned us of thou, thou gorbellied spur-galled canker-blossom!
TEMPLAR
Nay, 'tis Adams be the traitor.
BILLINGHURST
Thou shalt not try such words with me! I know, oh ho ho, I know.
The traitor Vaughton and his rebel dogs did waylay the SD platform.
Such luck we have that Adams has reasserted control.
TEMPLAR
Do tell me, soldier, what targets doth thou believe Adams strikes now?
BILLINGHUSRT
And yet, thou doth try such words. Tis but wasted breath.
Know thy not? A Private such as myself is not privy to such matters.
VELASQUEZ
Gettin' real tight, people.
BILLINGHURST
Speak no more! No one shall move lest--
Luger disarms Billinghurst
TEMPLAR
Pray tell, what is the fate of General Vaughton?
BILLINGHURST
Why, Adams did lodge a bullet in his skull cap.
LUGER
Private. Locate thy squad. Go, now.
Exit Billinghurst
VELASQUEZ
We gotta get goin'. Now!
LUGER
Vaughton is no more, Jan, but our charge remains the same.
TEMPLAR
Such cold words, yet thus was he not your friend too?
LUGER
Our charge remains the same.
Exeunt
Elsewhere, high above Vekta on the SD Platform
Enter Adams and Lente
ADAMS
Lo, General, attend, hark, and see. All our work is according to plan.
Thus, I trust the concerns you parlayed to our leader have been put to earth.
LENTE
The Autarch and I have a singular goal: victory.
We seek it above all else, even if it means collaborating with sympathetic humans.
Enter Pvt. Caliban
ADAMS
Even now, the ISA are oblivious to my nature.
I say, then, that our work is according to plan.
CALIBAN
Sir, I bring news from below. Your personal computer hath been hacked.
Our sources have concluded thusly: twas Colonel Hakha, the spy, my lord.
LENTE
Hakha? Could it be? What an interesting development.
ADAMS
I was led to understand that said spy was, at present, our captive.
CALIBAN
Aye, yet he was released, my lord, by a three person team.
We believe they acted at General Vaughton's behest.
They are presumed to be the perpetrators of the dock shoot-out,
As well as the razing of a Code 3-3 Firebase.
LENTE
You say a four-man squad laid bare a 3-3 Firebase? I tell you, tis impossible.
ADAMS
Could it be? It must.
LENTE
Do you know the culprit, General?
ADAMS
Templar. Naught but Vaughton's lap-dog.
He is a firebrand, but thou shalt not concern thyself.
Caliban, Templar squad must reach the uplink to reach me.
Thus, they must pass the GPS Beacon.
Alert the Beacon staff: prepare for my arrival.
LENTE
Thou one of them is a Helghast, tis doubtful an 'army' of four could reach us.
ADAMS
I repeat, have them prepare for my arrival.
Exeunt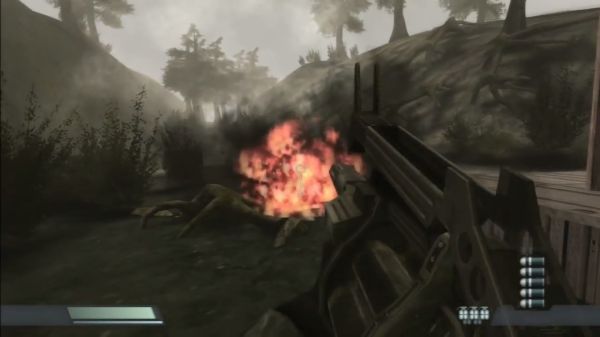 crow mistakenly refers to the Helghast drum grenade launcher as an RPG. How could you, crow. How could you make such a mistake! If anything, it's more like a
riot gun
, sharing a lot of visual similarity to the US made M-32: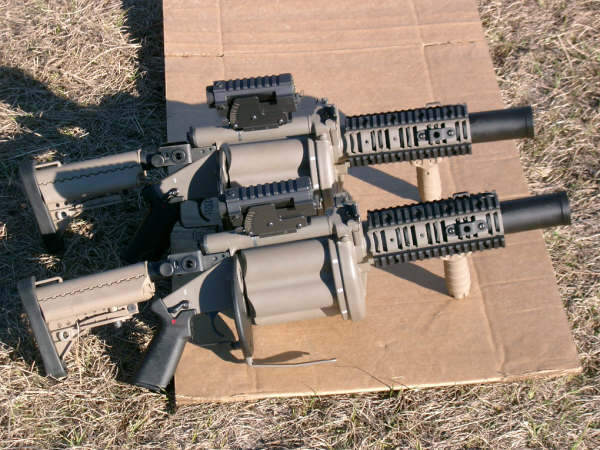 The weapon's lethality depends on the ammunition used. I'm not super versed on guns, so if any wants to share information about these types of weapons to help me make crow feel bad, please do so!
chitoryu12 posted:
Rotary grenade launchers like that are really common nowadays. The Milkor MGL you posted (in use with the US military as the M32) is the most famous example, as it's widely produced and used by Western nations, but there's examples from other places like Russia and Croatia. You always see them simply acting like double-action revolvers, but the massive weight of the cylinder means the MGL uses a spring that the user winds up before loading. It still has a double-action trigger (where the firing pin is cocked and released by the trigger pull), but it actually uses a gas system like a rifle to unlock the cylinder and allow it to rotate to the next chamber. It's a very neat mechanical device that typically gets glossed over in fiction in favor of rapid fire explosions.

In terms of their riot use....well, go watch videos from Ferguson.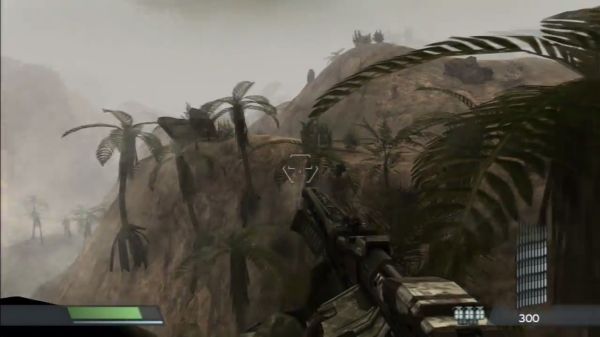 Just a shot of the scenery, because this game actually does look really beautiful at times.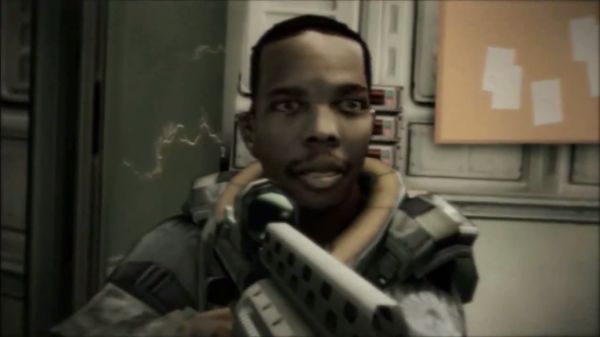 Oh, hey, and Private Billinghurst is still around! Glad he didn't die! (Well, honestly, I know he doesn't die because he makes a cameo in
Killzone 2
shortly before he, uh, dies--presumably). Anyways, I didn't recognize him here because the role he played in earlier stages was even smaller and more meaningless than poor Pvt. Sanchez's.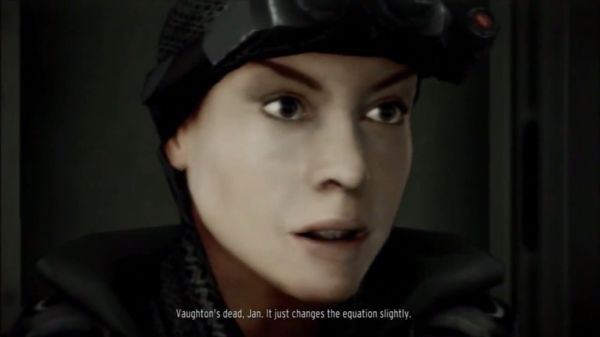 This bit of cold, pragmatism rubs Templar the wrong way. Obviously, judging by his comments, Vaughton was friends to both Templar and Luger. I'm sure Luger regrets the loss of Vaughton, so it's hard to fault her for compartmentalizing her emotions to stay focussed on, you know,
stopping the Helghast invasion of Vekta
. Still, I can also empathize with Jan. It's a hard blow to him, losing what amounted to the father figure of his life. You'd think Luger would give him a few moments to grieve.
Anyways, what's interesting about this scene is that it marks a shift between Templar and Luger's relationship. And by shift, I mean that Templar finally recognizes that whatever was once between him and Luger is gone. In a different action movie, the ex might act more compassionate towards her grieving ally. Whatever the ally's response (e.g., embracing the emotional gesture, or brushing it off before swearing revenge, etc.), it shows that the ex-lover still cares for the protagonist, showing genuine concern for their emotional well-being, and leaves open the possibility of rekindling a romance. Instead, Luger reacts no differently than the other members of the squad. Okay, I'm projecting here, but as we aren't privy to a reaction from either Hakha or Rico, I'm going to guess they aren't to broken up about it. I'm sure they regret the loss of a C/O from the perspective of losing an ally, but war is war, and they are soldiers. They're used to and expect this sort of thing. In this way, Luger has done nothing different. Only, she gets to voice the cliched "we've still got a job to do" line because we need to see that the emotional relationship between her and Jan is dead--
and because we need to see that Jan recognizes that it's dead
.
A subtle moment, but a good one, because we're going to start seeing Templar acting more professional from here on out. Which is great, because, you know, we're in the middle of a battlefield. A "killzone", if you will.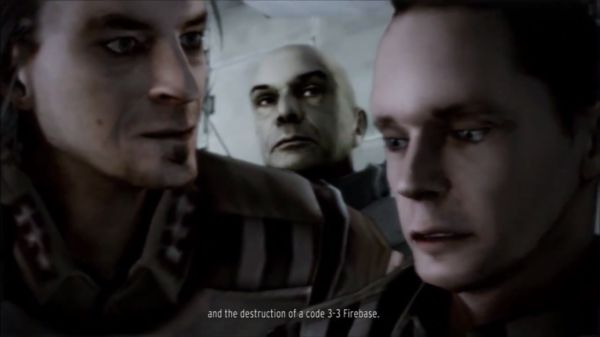 Oh, and I loved the shots of Lente, Adams, and Caliban on the SD platform. The framing is great. There you have the so-called superior Helghast person looking down on those he deems his inferiors: the Vektans. Of the Vektans, you have the creepy, anime, washed-up rock star staring down the perpetual bearer of bad news.

I asked crow how the Chapter 7 videos were going. He sent me this image in reply: